Research article

Open Access
Combinatorial analysis of lupulin gland transcription factors from R2R3Myb, bHLH and WDR families indicates a complex regulation of chs_H1 genes essential for prenylflavonoid biosynthesis in hop (Humulus LupulusL.)
BMC Plant Biology
2012
12:27
Received: 21 July 2011
Accepted: 20 February 2012
Published: 20 February 2012
Abstract
Background
Lupulin glands of hop produce a specific metabolome including hop bitter acids valuable for the brewing process and prenylflavonoids with promising health-beneficial activities. The detailed analysis of the transcription factor (TF)-mediated regulation of the oligofamily of one of the key enzymes, i.e., chalcone synthase CHS_H1 that efficiently catalyzes the production of naringenin chalcone, a direct precursor of prenylflavonoids in hop, constitutes an important part of the dissection of the biosynthetic pathways leading to the accumulation of these compounds.
Results
Homologues of flavonoid-regulating TFs HlMyb2 (M2), HlbHLH2 (B2) and HlWDR1 (W1) from hop were cloned using a lupulin gland-specific cDNA library from the hop variety Osvald's 72. Using a "combinatorial" transient GUS expression system it was shown that these unique lupulin-gland-associated TFs significantly activated the promoter (P) of chs_H1 in ternary combinations of B2, W1 and either M2 or the previously characterized HlMyb3 (M3). The promoter activation was strongly dependent on the Myb-P binding box TCCTACC having a core sequence CCWACC positioned on its 5' end region and it seems that the complexity of the promoter plays an important role. M2B2W1-mediated activation significantly exceeded the strength of expression of native chs_H1 gene driven by the 35S promoter of CaMV, while M3B2W1 resulted in 30% of the 35S:chs_H1 expression level, as quantified by real-time PCR. Another newly cloned hop TF, HlMyb7, containing a transcriptional repressor-like motif pdLNLD/ELxiG/S (PDLNLELRIS), was identified as an efficient inhibitor of chs_H1-activating TFs. Comparative analyses of hop and A. thaliana TFs revealed a complex activation of Pchs_H1 and Pchs4 in combinatorial or independent manners.
Conclusions
This study on the sequences and functions of various lupulin gland-specific transcription factors provides insight into the complex character of the regulation of the chs_H1 gene that depends on variable activation by combinations of R2R3Myb, bHLH and WDR TF homologues and inhibition by a Myb repressor.
Keywords
ChalconeGlandular TrichomeTransient Expression SystemAnthocyanin PathwayFlavonoid Biosynthetic Pathway
Background
Hop (Humulus lupulus L.) plants are mainly cultivated for the brewing industry, as a source of flavor-active secondary metabolites contained in the lupulin glands, i.e. glandular trichomes that develop in the hop female inflorescences (cones). In addition, hop has been known for a long time in traditional medicine and recently several compounds in the lupulin metabolome, including hop bitter acids and prenylated flavonoids, have received particular attention in view of their highly interesting medicinal properties e.g., [1–3]. Xanthohumol (X), the principal prenylated chalcone in the lupulin glands is a fascinating cancer-chemopreventive compound exhibiting a broad spectrum of inhibition mechanisms at all stages of carcinogenesis [4]. Although X was shown to be poorly bioavailable [2, 5–7], interesting anti-inflammatory in vivo results have been obtained in specific target tissues such as the liver [8]. Another lupulin-derived prenylflavonoid, 8-prenylnaringenin (8-PN), is one of the most potent phytoestrogens known to date [9, 10]. Together with its precursor isoxanthohumol which can be metabolized in the body by the gut microbiota to 8-PN [11], these compounds are indicated as the active ingredients of hop extracts targeting relief of menopausal symptoms [12, 13].
The biosynthesis of naringenin chalcone in hop cones as a prenylflavonoid precursor is attributed to the gene encoding the CHS_H1 protein having a so-called "true" chalcone synthase (EC 2.3.1.74) activity, by which it efficiently catalyzes the production of naringenin chalcone by condensation of three malonyl-CoA units and p-coumaroyl-CoA [14, 15]. Moreover, recombinant CHS_H1 can utilize isovaleryl and isobutyryl CoA substrates, albeit at a low rate, and, therefore, could also be involved in the biosynthesis of hop bitter acids [15]. CHS_H1 is encoded by an oligofamily of genes having very specific expression in hop cones [16]. Other chalcone synthase-like enzymes associated with lupulin glands have been described. For instance, valerophenone synthase (VPS) [17] is an enzyme which may be considered as a major component in the biosynthesis of hop bitter acids. The VPS-like homologue CHS4 also shows high expression in lupulin glands, however the enzyme does not catalyze the formation of naringenin chalcone and its function is currently still unknown [15, 18].
The complexity of the promoter elements of the chs_H1 genes suggests the involvement of several types of transcription factors (TFs), mainly from Myb, bHLH, and bZip families [16, 19–21], in either independent or combinatorial pathways [22]. Independent or combinatorial activity of TFs in the regulation of flavonoid biosynthetic pathways has been described in several recent reviews [23–26]. Three TFs, i.e., R2R3Myb (M), bHLH (B), and WDR (W), exert combinatorial activation by formation of ternary complexes (MBW complexes) through protein:protein interactions [26]. Such MBW complexes are highly organized and each subunit fulfills a specific function such as binding to DNA, activation of expression of a target gene or stabilization of the transcription factor complex [23]. MBW complexes have been clearly identified in the flavonoid biosynthetic pathway of Arabidopsis thaliana and Petunia hybrida, respectively, as a TT2/TT8/TTG1 complex (Transparent Testa 2/Transparent Testa 8/Transparent Testa Glabra 1) driving coloration of the seed coat [27, 28] and a triple combination complex AN2/AN1/AN11 (Anthocyanin 2/1/11) regulating anthocyanin accumulation in the corolla; for reviews, see also [23, 26, 29]. The regulation of the flavonoid biosynthesis pathway by ternary complexes has also been shown in peas [30] and Lotus japonicus [31] and has been proposed for Perilla frutescens [32], Japanese morning glory [33], grapevine [34] and Pyrus [35].
Besides triple combinations, numerous examples from classic genetic or molecular genetic studies using ectopic TF expression analysis have documented or predicted enhanced flavonoid biosynthesis by binary complexes composed of two TFs from the R2R3Myb, bHLH, and WDR classes [34, 36–40].
For the hop chs_H1 genes, direct promoter activation by the heterologous PAP1 TF from Arabidopsis thaliana and HlbZIP1 and HlbZIP2 TFs from hop has been demonstrated previously using a transient expression system [16, 21]. Two hop R2R3Myb TFs, i.e. HlMyb1 and HlMyb3, have been characterized in our previous studies [19, 20] and diverse biological effects caused by HlMyb3 subvariants have been demonstrated in heterologous transgenotes [20]. Although these Myb TFs were suggested to be involved in the lupulin metabolome production based on sequence similarity and specific expression in hop cones [19, 20], their influence on the activation of chs genes has not been investigated in detail.
In the present work, we cloned novel lupulin-specific TFs and showed by a combinatorial transient expression assay that the HlbHLH2 and HlWDR1 TFs strongly activate the chs_H1 genes in combinations with HlMyb2 and HlMyb3 TFs from hop, suggesting the formation of ternary complexes. This study confirms that the mode of action of the TFs strongly depends on the composition of the chs promoter and that HlMyb7 acts as a repressor of activating complexes.
Discussion
Sequences and functional properties of lupulin gland-associated transcription factors and their potential role as regulators of the biosynthesis of the lupulin metabolome
Four new transcriptional regulators, i.e., HlMyb2, HlMyb7, HlbHLH2, and HlWDR1, were isolated and cloned from the Czech hop variety, Osvald's 72 in this study. All these TFs show a highly specific expression in the lupulin glands and display high similarity to established Myb, bHLH and WDR TFs, that are known regulators of the flavonoid biosynthetic pathway in various plant species. Some of these regulators of flavonoid biosynthesis [24, 61] form ternary MBW activation complexes like (PhAN2/AN1/AN11) in P. hybrida [29] and (AtTT2/TT8/TTG1) in A. thaliana [28] as well as recently described TF complexes in peas [30] and Lotus japonicus [31]. MBW complexes have been described to regulate not only pigmentation, but also the fate of epidermal cells, including the initiation and further development of trichomes [26, 62]. Hop lupulin glands are glandular trichomes and, therefore, it was anticipated from the evolutionary point of view, that the combinatorial MBW machinery could be involved in the activation of genes related to the lupulin metabolome biosynthesis. Using a combinatorial transient expression system, it was shown that a M2B2W1 combination synergistically induced a very strong activation of native chs_H1. This gene is coding for a crucial hop "true" chalcone synthase endowed with the ability to produce naringenin chalcone with a high catalytical rate [16] and, therefore, it is likely playing an important role in the biosynthetic pathway leading to the accumulation of prenylated chalcones in lupulin glands, including xanthohumol and desmethylxanthohumol (a direct precursor of the potent phytoestrogen 8-PN) [14, 16].
The newly isolated HlMyb2 shows a typical sequence motif [DE]Lx2[RK]x3Lx6Lx3R within the R3 domain that is characteristic for a possible interaction with a member of the sub-group of IIIf bHLHs [24, 38, 46]. This finding is in accordance with the ability of HlMyb2 to strongly activate Pchs_H1 in a M2B2W1 combination using a combinatorial transient expression system. On the other hand, clear synergistic effects were also observed for subvariants of the polyfunctional HlMyb3 (cloned and characterized previously [20]), although the bHLH-interacting motif is missing in its amino acid sequence. Especially the shorter subvariant s-HlMyb3 resulted in a significant activation of the chs_H1 gene in both binary s-M3B2 and ternary s-M3B2W1 combinations. This suggests that HlbHLH2 is able to interact with s-HlMyb3 by either involving alternative hydrophobic residues in these positions exposed on the protein surface, or some alternative way. According to our unpublished results, Electrophoretic mobility shift assay (EMSA) showed some physical interaction between radioactively labeled Pchs_H1 and proteins extracted from leaves infiltrated with s-M3B2 and s-M3B2W1 complexes. More experiments are necessary to clarify this interaction. The different length of the N-terminal domain of HlMyb3 has a crucial effect on its ability to activate Pchs_H1 in M3B2 and M3B2W1 combinations, as practically no synergism was observed for the l-M3B2W1 combination. The divergent effects of overexpressed l- and s-HlMyb3 TFs was observed earlier as reflected by changes in the composition of metabolites in petunia leaves, as well as in changes of the morphogenesis of A. thaliana and P. hybrida transgenotes [20]. The functional analyses presented in Table 2 confirmed the complementation of hop lupulin gland-specific Mybs by selected A. thaliana Mybs in various binary or ternary combinations, suggesting not only sequential but also functional similarity of these TFs. For instance, AtPAP1 in combination with HlbHLH2 and HlWDR1 resulted in a strong synergistic effect. Interplay between PAP1 and other components of MBW complexes in A. thaliana has been described previously [28]. In our experiments the highest synergism in the ternary MBW combination was also observed with AtMyb23, while the flavonoid regulator AtMyb12 responded synergistically only to the binary BM and BW combinations, suggesting some specificity of protein:protein interactions among these TFs. In addition to R2R3 Mybs, we confirmed the functional complementation of HlWDR1 by TTG1 from A. thaliana (not shown).
The newly cloned HlMyb7 appears to be a potential negative R2R3Myb regulator of both chs_H1 and chs4 genes in hop as it showed significant suppressor activity in a transient expression system. This is consistent with the identification of a PDLNLELRIS sequence in the C-terminal part of this protein conforming to the consensus pdLNLD/ELxiG/S sequence characteristic for subgroup 4 R2R3Mybs [63], which is conserved in repression region of the AtMyb4 repressor [42]. The repression caused by HlMyb7 was found to be independent on the Myb-P box positioned on the 5'region of Pchs_H1, but it remains to be established whether it exerts its repressive activity via an interaction with MBW components, other proteins or binding to other elements in the promoter sequence.
Upregulation of chs_H1 genes by both s-M3B2W1 and M2B2W1 combinations may increase the pool of available naringenin chalcone-precursors for further production of lupulin prenylchalcones co-determined by expression of downstream hop genes including prenyltransferase [64], and O-methyl transferase 1 [41]. While hop transformed by a single AtPAP1 gene was characterized by a significantly higher production of anthocyanins, rutin and isoquercetrin in cones and flowers in comparison to wild type plants [65], anthocyanins were not accumulated in the lupulin glands [52], most likely due to the lack of expression of the specific enzymatic machinery in these specialized structures. Conversely, hop TFs in s-M3B2W1 and M2B2W1 combinations were unable to co-activate the anthocyanin pathway in P. hybrida as found for the AtPAP1B2 combination, thereby supporting the idea about functional specialization of lupulin-specific TFs. According to our unpublished results, neither the s-M3B2W1 nor the M2B2W1 combination was able to induce other promoters of hop genes like valerophenone synthase or the O-methyl transferase1 (Pomt1) [21], confirming its specificity for the chs_H1 gene.
Neither the ternary combinations s-M3B2W1, M2B2W1 nor the Pchs_H1-activating s-M3B2, M2B2 complexes were able to induce anthocyanin pigments in petunia leaves. The significantly elevated level of leaf metabolites and blue anthocyanins resulting from the AtPAP1B2 combination is probably due to an ability of AtPAP1B2 complex to activate also downstream genes in petunia, like chalcone isomerase (CHI), flavanone 3-hydroxylase (F3H), dihydroflavonol 4-reductase (DFR), and anthocyanidin synthase (ANS) [66]. Indeed, the metabolome and mRNA screenings shown that the overexpression of the AtPAP1 gene is resulting in the activation of at least 25 petunia genes and also some new metabolites were produced [67]. Thus, further investigations are required to clarify the profile of hop genes that may be up-regulated by combinatorial action of isolated hop TFs.
Proposed regulation of hop chsgenes as predicted from combinatorial analysis
To analyze the functional properties of the newly cloned hop TFs it was opted to use a combinatorial transient expression system because hop transformation [
68
] and cultivation to reach flowering are very laborious and time-consuming especially for the investigation of the TFs in various combinations. While this transient expression assay is characterized by a negligible background signal i.e. signal originating from endogenous
N. benthamiana
TFs [
21
], it enabled us to efficiently compare the activation of different promoter constructs by various combinations of hop TFs. A comparison of truncated promoter constructs revealed a major dependence of P
chs
_H1 activation by s-M3B2W1 and M2B2W1 combinations on a single Myb-P box characteristic for binding the P1 TF of
Zea mays
[
53
]. However, other binding boxes such as the Myb-like box, the Myb-P-related box, the MYB IIG-like box and the G-binding sites characteristic for bHLH G-box binders driving the flavonoid pathway [
23
] also contribute to the overall activity. Therefore, each component of the promoter seems to impact on the degree of activation and it is the integral composition of the promoter that dictates the involvement of particular TFs in specific combinations. This is apparent on a comparison of two
chs
promoters both driving chalcone synthases having high expression in lupulin glands, i.e.,
chs
_H1 and
chs
4 (see Figure
7
, Table
2
). A proposed schematic overview of the interactions of the investigated TFs with the different promoters is shown in Figure
10
. The two promoters having a different spatial composition of similar potential Myb and bHLH binding boxes are activated differently by the same transcription factors. P
chs
_H1 is predominantly activated not only by M2B2W1/s-M3B2W1 ternary complexes, but also by B2W1 and MB binary combinations and by action of
Hl
bHLH2 independent on hop B2 and W1 (Figure
10a,b,c,e
). Single Myb and MW binary combinations did not result in activation of P
chs
_H1. This is in sharp contrast with P
chs
4, where "direct activation" by
Hl
Myb3 or the binary s-M3W1 combination is preferred (Figure
10d,e
). Activation of P
chs
4 by the M2B2W1 ternary complex is negligible (see Table
2
), as well as any combination including
Hl
bHLH2 (Figure
10
). Interestingly, both promoters can be negatively regulated by the
Hl
Myb7 repressor (Figure
8
; Figure
10
). The general dependence of the combinatorial action of TFs on the specific promoter composition is illustrated in many studies summarized in recent reviews [
23
,
24
,
69
]. Although we did not observe any significant activation of P
chs
_H1 with
N. benthamiana
TFs, we cannot exclude some influence of endogenous
N. benthamiana
TFs on the combinatorial regulation of P
chs
_H1 in this heterologous system. Further study will be conducted to confirm proposed regulation pattern. The specific co-regulation of the lupulin metabolome biosynthesis genes depends on the steady state levels of individual TFs forming the actual TF balance. It is, therefore, conceivable that misbalancing of such complexes like M2B2W1 by the downregulation of a specific TF complex component could lead to a significant decrease in gene expression and thus in the production of the lupulin metabolome. In support of this idea, it should be noticed that we recently detected a misbalanced expression of TFs in decolored petioles of diseased hop plants infected with hop stunt viroid (HSVd) (unpublished).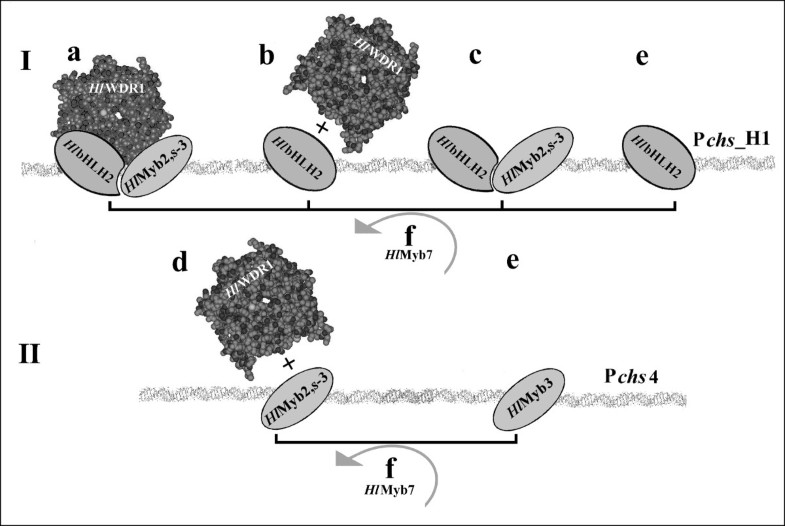 Conclusions
In the present study new TF homologues corresponding to the plant R2R3Myb, bHLH and WDR families were cloned using a cDNA library derived from hop (Humulus lupulus L.) lupulin gland tissue. The cloned HlMyb2 and -7, HlbHLH2 and HlWDR1 TFs display a high similarity to known TFs regulating the flavonoid biosynthesis pathway and were found to be highly specifically expressed in lupulin glands. The functional activity of these TFs was investigated using a combinatorial transient expression system in infiltrated leaf sectors of Nicotiana benthamiana. These experiments provided new insight into the complexity of the regulation of chs_H1 genes, as well as into the differential activation of chs_H1 promoter and the lupulin-specific chalcone synthase 4 promoter. The regulation involves variations of ternary, binary and independent TFs action. Complementation of hop and A. thaliana TFs was shown in particular combinations. The hop chs-activating TFs, HlMyb2 and 3, HlbHLH2 and HlWDR1 in various combinations did not enable the induction of the anthocyanin pathway in P. hybrida suggesting the specialization of the MBW machinery in the specialized tissue of hop glandular trichomes. HlMyb7 was characterized as an R2R3 repressor that could act as a potential co-regulator of the lupulin metabolome biosynthesis.
Abbreviations
8-PN:

8-prenylnaringenin
ANS:

anthocyanidin synthase
EMSA:

electrophoretic mobility shift assay
F3H:

flavanone 3-hydroxylase
GADPH:

glyceraldehyde-3-phosphate dehydrogenase
GUS:

ß-glucuronidase
HPLC:

high performance liquid chromatography
HSVd:

hop stunt viroid
CHI:

chalcone isomerase
CHS:

chalcone synthase
OMT:

O-methyl transferase1
P:

promoter
PLACE:

Plant Cis-acting Regulatory DNA elements database
RT qPCR:

real-time quantitative PCR
TF:

transcription factor
VPS:

valerophenone synthase
Declarations
Acknowledgements
The authors would like to thank Helena Matoušková, Olga Horáková, Lidmila Orctová and David Pech from Biology Centre AS CR v.v.i., Institute of Plant Molecular Biology (IPMB) for excellent technical assistance. Authors thank Jan Stehlík from IPMB for his help with RT qPCR. The authors would like to acknowledge Denis De Keukeleire, professor emeritus of Ghent University, Belgium for valuable discussions on the manuscript topic and for proofreading the manuscript. This work was supported by the Czech Science Foundation GACR 521/08/0740, by the National Agency for Agricultural Research of the Ministry of Agriculture of CR project QH81052, by GA ASCR AV0Z50510513 and by the grant of an international co-operative project FP7-REGPOT-2008-1 MOBITAG No.229518.
Authors' Affiliations
(1)
Biology Centre ASCR v.v.i, Institute of Plant Molecular Biology, České Budějovice, Czech Republic
(2)
Hop Research Institute, Co. Ltd, Žatec, Czech Republic
(3)
Faculty of Science, University of South Bohemia, České Budějovice, Czech Republic
(4)
Laboratory of Pharmacognosy and Phytochemistry, Faculty of Pharmaceutical Sciences, Ghent University, Ghent, Belgium
Copyright
© Matousek et al; licensee BioMed Central Ltd. 2012
This article is published under license to BioMed Central Ltd. This is an Open Access article distributed under the terms of the Creative Commons Attribution License (http://creativecommons.org/licenses/by/2.0), which permits unrestricted use, distribution, and reproduction in any medium, provided the original work is properly cited.