Research article

Open Access
Expression of FcFT1, a FLOWERING LOCUS T-like gene, is regulated by light and associated with inflorescence differentiation in fig (Ficus caricaL.)
BMC Plant Biology
2013
13:216
Received: 8 October 2013
Accepted: 5 December 2013
Published: 16 December 2013
Abstract
Background
Because the floral induction occurs in many plants when specific environmental conditions are satisfied, most plants bloom and bear fruit during the same season each year. In fig, by contrast, the time interval during which inflorescence (flower bud, fruit) differentiation occurs corresponds to the shoot elongation period. Fig trees thus differ from many species in their reproductive growth characteristics. To date, however, the molecular mechanisms underlying this unorthodox physiology of floral induction and fruit setting in fig trees have not been elucidated.
Results
We isolated a FLOWERING LOCUS T (FT)-like gene from fig and examined its function, characteristics, and expression patterns. The isolated gene, F. carica FT (FcFT1), is single copy in fig and shows the highest similarity at the amino acid level (93.1%) to apple MdFT2. We sequenced its upstream region (1,644 bp) and identified many light-responsive elements. FcFT1 was mainly expressed in leaves and induced early flowering in transgenic tobacco, suggesting that FcFT1 is a fig FT ortholog. Real-time reverse-transcription PCR analysis revealed that FcFT1 mRNA expression occurred only in leaves at the lower nodes, the early fruit setting positions. mRNA levels remained a constant for approximately 5 months from spring to autumn, corresponding almost exactly to the inflorescence differentiation season. Diurnal variation analysis revealed that FcFT1 mRNA expression increased under relative long-day and short-day conditions, but not under continuous darkness.
Conclusion
These results suggest that FcFT1 activation is regulated by light conditions and may contribute to fig's unique fruit-setting characteristics.
Keywords
Bearing habit
Floral differentiation
Flowering locus T
Light regulation
Background
Fig (Ficus carica L.) is a deciduous, subtropical, semiarboreal fruit tree belonging to Ficus, a genus of 600 to 1,900 species in the family of Moraceae [1, 2]. It is considered one of the earliest domesticated plants of the Neolithic Revolution [3]. The fig tree has unique fruit-bearing characteristics and is traditionally associated with abundance and fertility.
The details of fig fruit (inflorescences) growth and development have been described in many previous studies [
4
]. When terminal and axillary buds of the pre-fruit-bearing branches (2-year-old shoots) elongate in spring, the cover scales abscise and the apical meristem develops into a shoot that produces leaves and new inflorescences [
5
]. The inflorescence differentiation process occurs sequentially, starting from the lower nodes, which first bear fruit, and progressing toward the higher ones. Because fig fruits are composed of an enlarged receptacle with hundreds to thousands of florets inside (a syconium), it is reasonable to assume that differentiation of inflorescences and fruits occurs simultaneously [
6
]. Succession in maturation towards the distal end continues as long as environmental conditions are favorable [
7
]. In autumn, fruits differentiate at nodes near the tip of fruit-bearing branches (1-year-old shoots) and then, become dormant. Because of low temperatures, they do not ripen during winter. Fruit hypertrophy begins the following spring with ripening during summer (Figure
1
A,
1
B).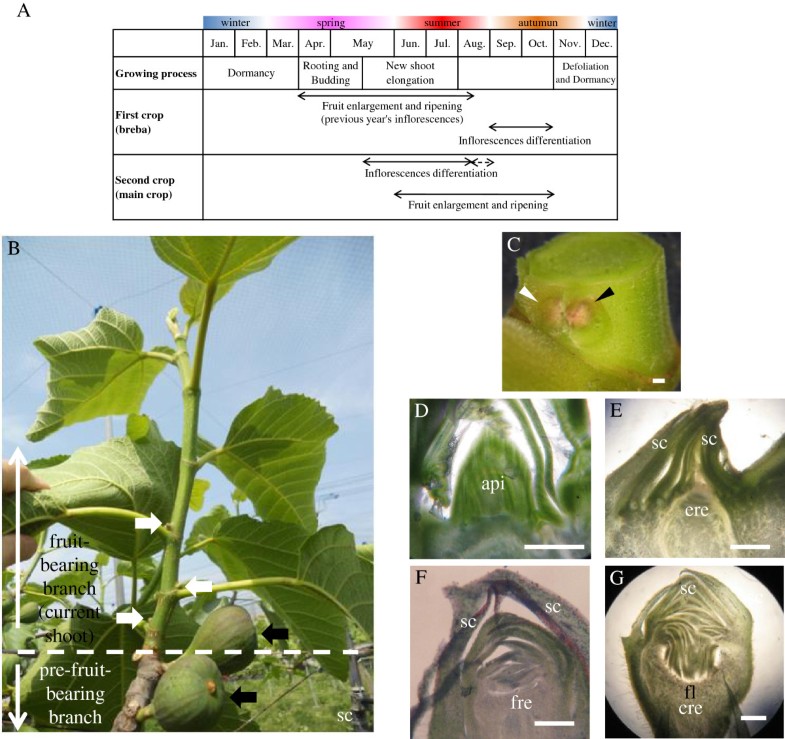 Fig trees consequently produce two fruit crops per year, one in early summer (first crop) and the other in early autumn (second crop) [8]. However, this does not mean that the inflorescence differentiation event occurs only twice annually. Inflorescence differentiation actually takes place throughout the shoot elongation period [7]. The first and second crops only appear to have differentiated at independent times because the first crop's differentiation and developmental seasons are separated by low-temperature-induced winter dormant period (Figure 1A).
Because floral induction occurs in many plants when specific environmental conditions, such as day length, temperature, autonomous factors, or some combination thereof, are satisfied, it usually occurs annually at a certain time. For example, in Arabidopsis, flowering occurs frequently in response to long-day conditions during spring or summer [9]. In rice, flowering (termed heading) is promoted by short-day conditions during summer or autumn [10]. In poplar, a woody perennial, cold temperatures promote reproductive onset during winter [11]. By contrast, fig reproductive growth continues for most of the growing season, a long period extending from spring through autumn. Fig is, thus, presumed to follow a floral induction model that differs from those of most other plant species. To date, however, the molecular mechanisms underlying this unorthodox physiology of inflorescences differentiation and fruit-setting in fig trees have not been identified.
Decades of studies have revealed many genes that control floral induction in various plants, including the model organism Arabidopsis[12–17]. Among these genes, FLOWERING LOCUS T (FT) and its associated family are well known as integrative genes that induce flowering, because they encode possible florigen components [18–21] and serve as crossover points for photoperiodic and vernalization pathways [20]. As a first step in elucidating the mechanisms that underlie and control flowering in fig trees, it is therefore important to investigate the function and features of the fig FT homolog.
In this study, we cloned and characterized the first known FT-like gene from fig, FcFT1. In addition, we confirmed that FcFT1 can enhance floral induction and that its expression mode is unique. FcFT1 may therefore be responsible for the unique flowering and fruit-setting characteristics of fig trees.
Discussion
In many fruit plants, including apple, grape, and persimmon, flower buds (inflorescences) differentiate not in the current year of bearing, but in the previous year [37–40]. In apple, for example, floral primordia appear in summer, with the final formation of flower parts observed in spring. The floral development cycle often lasts 9–10 months [38]. Although the fig inflorescence growth process was investigated by Kimura and Hishiya (1951) [4], no direct evidence has been found to rule out differentiation in the year prior to fruiting. In this study, we found no inflorescences in apical bud meristems before bud flushing (Figure 1D). We were able to confirm that new inflorescences differentiated only after elongation of current shoots (Figure 1E,F,G). In addition, continuous fruit bearing was seen after the first differentiations. These observations demonstrate that generation of new fig inflorescences and floral transitioning occur only after May in the year of fruit bearing, and that floral induction continues even later (Additional file 2: Figure S1).
Our study is the first to report cloning of an FT homolog in the genus Ficus. Among all known FT sequences, FcFT1 showed the highest identity at the amino acid level with apple MdFT2[41]. Based on the DNA gel blot analysis, FcFT1 exists in a single copy in the fig genome, as single bands were detected with one exception: probe A hybridization combined with XbaI digestion, where an XbaI recognition site existed in the probe sequence. In that case, the size of the smaller band of 'Masui Dauphine' differed from that of 'Houraishi' and 'Toyomitsuhime', although the number of bands was the same for all three cultivars. This result suggests that some varietal polymorphisms exist in the FcFT1 flanking region. Because no differences were observed in FcFT1 cDNA sequences or fruit-bearing styles among these three cultivars, these polymorphisms are assumed to exist in non-coding regions.
The number of days from sowing to flowering, number of leaves, and plant height were reduced in both PR1a::FcFT1 and El2-35S-Ω::FcFT1 transgenic lines compared with the wild type (Table 1; Figure 3). In fact, FcFT1 transgenic tobacco produced small buds, even under Petri dish culture conditions, and showed solid and stable early flowering over subsequent generations. This result provides clear evidence that FcFT1 has a flower promoting function similar to that of FT genes in Arabidopsis and other plants [14, 42].
FcFT1 expression levels in leaf tissue were more than 30 times higher than levels detected in stems and fruit (Figure 4), and many mesophyll-specific expression motifs, such as CACTFTPPCA1, were identified in the FcFT1 promoter sequence (Additional file 1: Table S1). FcFT1 is therefore presumed to be functional mainly in the leaf, like the FT gene of Arabidopsis[43]. However, MdFT2, which is most similar to FcFT1, is expressed mainly in the reproductive organs [37].
As mentioned previously, fig inflorescences differentiate from lower to upper nodes. FcFT1 mRNA levels were higher in lower, older nodes with some inflorescences (1st to 6th nodes) than in upper, younger nodes (7th to 10th nodes) (Figure 5). This result suggests a possible correlation between inflorescence differentiation and FcFT1 expression. We note, however, that fruit-bearing and FcFT1-expressing nodes do not correspond completely, as FcFT1 expression was detected even in basal nodes that usually bear no fruits in fig. A spatial gradient expression pattern for the FT gene has also been reported in tomato [44]. Because the vegetative growth stage is advanced in the lower parts of shoots, degree of vegetative growth may be a regulating factor for FcFT1 expression.
FcFT1 mRNA levels increased in May, soon after leaf emergence, and remained constant until October (Figure 6). 'Houraishi', at the experimental site, has the ability to differentiate inflorescences and bear fruit over a long time period (Additional file 2: Figure S1). The continuous FcFT1 expression thus corresponds to this fruit-bearing trend. The fact that the first clear receptacles differentiate at the same time as FcFT1 expression levels begin to increase, in mid-May, also supports a relationship between FcFT1 expression and flowering and fruiting (Figure 6).
FcFT1 was activated above a fixed level under both relatively long-day and short-day conditions, whereas no FcFT1 activation occurred under continuous darkness (Figure 7). This result suggests that FcFT1 activation is light mediated. Because expression levels increased immediately upon exposure to light and were higher under a greater light volume, it is likely that FcFT1 activation is directly influenced by light with higher light levels more favorable for FcFT1 activation (Figure 7; Additional file 5: TableS2). In addition, the possibility exists that FcFT1 has lost photoperiodic responsiveness: its diurnal activation pattern is consistent with its seasonally stable expression pattern, whereas day-length changes from season to season (Figure 7). It is not known why the expression level peaks 12 h after dawn. All of these behaviors may serve as clues for the further elucidation of the FcFT1 light-mediated regulation mechanism.
Many studies on the relationship between light conditions and fig fruit bearing have been published. Matsuura and Araki (1995) reported that inflorescence differentiation and growth could not reach stage I (about 2 mm, the same size as a leaf bud) above the 12th nodes at 75% shading. They also reported that as shading rates increased, a larger number of inflorescences ceased growth before becoming fruit, more fruit yellowed and dropped, and more fruit failed to set above the shoots' 5th nodes [45]. Teragishi et al. (1998) reported that 8.5-klx light and 14-h day length conditions during the seedling period increased the number of fruit borne, especially below the 5th nodes [46]. These data support the hypothesis that FcFT1 expression activated by light is indispensable to fruit bearing, including inflorescence differentiation. However, Teragishi et al. (1998) also found that no differences in the fruit-bearing rates between 10 h and 14 h day-light conditions during seedling growth [47]. These data imply that a light volume greater than the fixed amount has little effect on the number of fruit borne. Levels of photosynthesis and the resulting-assimilation products are considered important for fig fruit bearing [5, 45, 46]. This observation may be linked to the fact that both photosynthesis and FcFT1 activation are regulated by the same factor.
Taken together, our data strongly suggest that FcFT1 is a key gene in fig floral induction. In previous studies, large quantities of FT transcripts were observed for only 1 or 2 months annually in poplar (PtFT1 and PtFT2) [48–50] and citrus (CiFT1, CiFT2, CiFT3) trees [51]. Although MdFT1 in apple trees shows a relatively long-term stable expression pattern, it still has an expression peak in July [41]. FT and Hd3a coordinated by temperature and day length conditions, as described in Background section, are also activated only during specific seasons in Arabidopsis[52] and rice [53]. Considering the difference in expression patterns between FcFT1 and FT genes in other species, the distinctive flowering and fruit-bearing characteristics of fig are likely due to the long-term stable expression of FcFT1.
To our knowledge, no description has appeared of an FT ortholog of a wild-type species that is impervious to variations in photoperiod conditions. In contrast, many such situations have been reported in various mutant lines [54]. In the Arabidopsis phyB mutant, the CONSTANS (CO) protein is maintained at a high level, which leads to the promotion of FT expression [54, 55]. Similar mutants have also been identified in rice and soybean [56–59]. A further example may be the Arabidopsis quintuple mutant cdf1-R cdf2-1 cdf3-1 cdf5-1, which escaped from the repression of CO transcription by the CYCLING DOF FACTORS (CDF) family and induced FT mRNA [60].
In Arabidopsis, CO mRNAs are translated into CO proteins through the light-induced relief of CDFs, with CO proteins stabilized by light through phytochromes and other molecules to induce FT gene expression [5, 61, 62]. We thus hypothesize that malfunction of these factors in the light-dependent pathway in fig causes the apparent light activation of FcFT1 expression by canceling the repression of CO transcription or CO activity. We have identified several CO, phytochrome, and CDF genes in fig (unpublished data); to test our hypothesis, we need to examine the relationship between these genes and FcFT1. Any such information uncovered regarding FcFT1 regulation would prove valuable in terms of providing a novel floral physiology system.
Conclusions
We isolated an FT homolog, FcFT1, from F. carica and studied its function in transgenic plants. We examined its spatial, seasonal, and diurnal expression patterns in fig, and investigated its association with floral induction (inflorescence differentiation). Our data suggest that FcFT1's unique expression features are responsible for the distinctive flowering and fruit-bearing characteristics of fig, and imply that it plays an important role in fig floral induction. The number of functional FT-like genes present in fig, aside from FcFT1, is still unknown, however. If other FT genes are identified in the future, we will need to also consider their relationship to fig flowering and fruit-bearing characteristics. Nevertheless, the information regarding FcFT1 obtained in this study should advance understanding of the unique floral transition mechanism of fig trees.
Declarations
Acknowledgments
This work was supported in part by a Ministry of Education, Culture, Sports, Science and Technology/Japan Society for Promoting Science KAKENHI grant (Grant No.23780037). The authors thank Edanz (http://www.edanzediting.co.jp) for English language editing.
Authors' Affiliations
(1)
Fukuoka Agricultural Research Center, Chikushino, Japan
(2)
Fukuoka Prefectural Control Station for Pests, Chikushino, Japan
(3)
Fukuoka Agricultural Research Center Buzen Station, Yukuhashi, Japan
(4)
Grape and Persimmon Research Station, National Institute of Fruit Tree Science, National Agriculture and Food Research Organization, Hiroshima, Japan
(5)
Ishikawa Prefectural University, Nonoichi, Japan
(6)
Fukuoka Agricultural Research Center Yame Station, Kuroki, Yame, Japan
Copyright
© Ikegami et al.; licensee BioMed Central Ltd. 2013
This article is published under license to BioMed Central Ltd. This is an Open Access article distributed under the terms of the Creative Commons Attribution License (http://creativecommons.org/licenses/by/2.0), which permits unrestricted use, distribution, and reproduction in any medium, provided the original work is properly cited. The Creative Commons Public Domain Dedication waiver (http://creativecommons.org/publicdomain/zero/1.0/) applies to the data made available in this article, unless otherwise stated.