Research article
Open Access
Ectopically expressed glutaredoxin ROXY19 negatively regulates the detoxification pathway in Arabidopsis thaliana
BMC Plant Biology
BMC series – open, inclusive and trusted
2016
16:200
Received: 17 May 2016
Accepted: 1 September 2016
Published: 13 September 2016
Abstract
Background
Glutaredoxins (GRXs) are small proteins which bind glutathione to either reduce disulfide bonds or to coordinate iron sulfur clusters. Whereas these well-established functions are associated with ubiquitously occurring GRXs that encode variants of a CPYC or a CGFS motif in the active center, land plants also possess CCxC/S-type GRXs (named ROXYs) for which the biochemical functions are yet unknown. ROXYs physically and genetically interact with bZIP transcription factors of the TGA family. In Arabidopsis, ectopically expressed ROXY19 (originally named GRX480 or GRXC9) negatively regulates expression of jasmonic acid/ethylene-induced defense genes through an unknown mechanism that requires at least one of the redundant transcription factors TGA2, TGA5 or TGA6.
Results
Ectopically expressed ROXY19 interferes with the activation of TGA-dependent detoxification genes. Similar to the tga2 tga5 tga6 mutant, 35S:ROXY19 plants are more susceptible to the harmful chemical TIBA (2,3,5-triiodobenzoic acid). The repressive function of ROXY19 depends on the integrity of the active site, which can be either CCMC or CPYC but not SSMS. Ectopic expression of the related GRX ROXY18/GRXS13 also led to increased susceptibility to TIBA, indicating potential functional redundancy of members of the ROXY gene family. This redundancy might explain why roxy19 knock-out plants did not show a phenotype with respect to the regulation of the TIBA-induced detoxification program. Complementation of the tga2 tga5 tga6 mutant with either TGA5 or TGA5C186S, in which the single potential target-site of ROXY19 had been eliminated, did not reveal any evidence for a critical redox modification that might be important for controlling the detoxification program.
Conclusions
ROXY19 and related proteins of the ROXY gene family can function as negative regulators of TGA-dependent promoters controlling detoxification genes.
Keywords
Detoxification programRepressionROXY-type glutaredoxinsTGA transcription factors
Background
Plants live in challenging environments in which they have to recognize different stress cues and initiate appropriate responses. The activation of stress-opposing genes is accomplished by the action of transcriptional regulators that alter gene expression patterns to favor the anti-stress program over other metabolic processes.
The three related class II-TGA transcription factors TGA2, TGA5 and TGA6 and their interacting transcriptional co-activator SCARECROW-LIKE (SCL) 14 are required for the activation of genes of the detoxification program after plants encounter potentially harmful chemicals [1–3]. Moreover, these TGA factors require the interacting redox-regulated regulatory protein NPR1 (NON EXPRESSOR OF PR-GENES1) to activate the plant immune response "systemic acquired resistance" [4].
In addition to interacting with transcriptional co-activators, TGA factors directly interact with land-plant specific glutaredoxins (GRXs) [5–7], also known as CC-type [8] or class III GRXs [9]. Class III GRXs differ from the well characterized class I and class II GRXs by their active site, which is CCxC/S rather than CPYC (class I) or CGFS (class II). Like the canonical GRXs, they might function as oxidoreductases or as iron-sulfur cluster (Fe-S) binding proteins [10]. The model plant Arabidopsis thaliana encodes 21 class III GRX genes, which are named ROXYs [11].
Similar to the ROXY gene family, the family of TGA factors has expanded during evolution and specific members play distinct roles in development, metabolism and defense. Examples for a functional connection between TGAs and ROXYs have been found for each of these three processes. In development, ROXY1 negatively regulates TGA transcription factor PERIANTHIA (PAN) to control meristematic activity during floral organogenesis [12]. In microsporogenesis, ROXY1 and ROXY2 operate in one pathway with TGA factors TGA9 and TGA10 [13]. In nitrate metabolism, a functional connection between ROXY11 to ROXY15 with TGA1 and TGA4 seems likely [14]. Finally, ten of the 17 tested ROXYs interfere with transcriptional activation of the master regulator of an important anti-microbial defense pathway, ORA59 [7]. This defense pathway is activated by the stress hormones jasmonic acid (JA) and ethylene (ET) and contributes to fending off necrotrophic pathogens [15, 16]. The ORA59 promoter contains an essential TGA binding site (TGACGT) which is occupied in vivo by class II-TGA factors [17]. By interfering with ORA59 expression, ectopically expressed ROXY19 blocks the activation of JA/ET-induced defense processes and confers higher susceptibility to the necrotrophic pathogen Botrytis cinerea [7, 18]. Since ROXY19 is induced at the transcriptional level by the defense hormone salicylic acid (SA), it was suggested to be responsible for the conserved negative effect of SA on the JA/ET pathway [5].
In this study, we addressed the question whether other yet unknown processes are influenced by ROXY19. Due to the potential redundancy of members of the large ROXY gene family, we deployed transgenic plants expressing ROXY19 under the control of the constitutive Cauliflower Mosaic Virus 35S (CaMV 35S) promoter. We took an unbiased approach and analysed the transcriptomes of unchallenged whole seedlings. Gene Ontology (GO) term and Motif Mapper analysis of the negatively regulated genes revealed that TGA-dependent genes potentially involved in the detoxification of reactive chemicals were repressed by ROXY19. Consistently, 35S:ROXY19 plants are more susceptible to the halogenated electrophilic xenobiotic TIBA.
Discussion
ROXY19 belongs to a 21-membered gene family of proteins which are classified as glutaredoxins. ROXY19 was found in a modified yeast screen using bZIP transcription factor TGA2 bound to the TGACGT motif as a bait [5]. Ectopically expressed ROXY19 represses the JA/ET pathway by interfering with the expression of the transcriptional master regulator ORA59 [7]. Since TGA factors bind in vivo to the ORA59 promoter [17], it was speculated that ROXY19 is recruited to the promoter through its interaction with TGA factors. Indeed, direct recruitment of ROXY19 to its own TGA-regulated promoter was shown by chromatin immunoprecipitation analysis [33].
In this study, we asked the question whether ROXY19 can target further promoters. To this end, transgenic plants ectopically expressing HA-tagged ROXY19 were subjected to microarray analysis. Consistent with the idea that ROXY19 negatively regulates class II TGA factors, genes containing TGACGT motifs in their promoter regions were repressed. GO term analysis revealed that ROXY19-down-regulated genes might serve to detoxify reactive chemicals. This assumption is derived from the observation that genes representing catalytic activities typical for the three phases of the detoxification process [35] are over-represented. First, oxidoreductases might reduce carbonyl to hydroxyl groups in the first phase, which serves to activate compounds for conjugation processes in phase 2. Indeed, (UDP) glucosyl-transferases were over-represented. In phase 3, these compounds are transported to the vacuole or the apoplast. Consistently, transmembrane transporters were also enriched in the set of genes that are less well expressed in 35S:ROXY19 plants. The impaired growth of 35S:ROXY19 plants on TIBA-containing MS plates/1 % sucrose can be explained by the reduced expression of these genes. However, it is very likely that further target genes can be identified by analyzing the transcriptomes of soil-grown plants either treated with a combination of those signals that induce ROXY19 expression like treatment with SA, JA, SA/JA, or sodium chloride (roots) or infection with pathogens.
Based on the phenotype of the 35S:ROXY19 lines, it was expected that the detoxification pathway might be hyper-activated in roxy19DS plants. However, expression of target genes of ROXY19 was not altered. Since the mutant was generated in the Nossen background and since the transposon insertion is upstream of the ATG start codon, results may not yet be conclusive. Therefore, studies with a roxy19 allele in the Columbia background, which have become feasible with the advent of the CRISPR-Cas-mediated genome editing technology, have to be awaited.
Still, potential redundancy of other ROXYs has to be taken into account especially in consideration of the increased TIBA-susceptibility of 35S:ROXY18 plants. Likewise, expression of a number of ROXYs under the ROXY1 promoter can restore the wild-type flower phenotype in the roxy1 background [12]. Moreover, at least 10 ROXYs can repress the ORA59 promoter in transient assays [7]. In both experimental systems, all functional ROXYs encode a conserved ALWL motif at their very C-terminal end. Therefore, the hypothesis was put forward that ROXYs might principally operate through the same mechanism and that their specific expression pattern determines when and where they become functional. This concept seems likely for reproductive tissues, where the expression of developmental genes in specific cell types follows a fine-tuned protocol. However, in differentiated leaves, several ROXYs are constitutively expressed (e.g. the potentially redundant ROXY10 and ROXY18 proteins (Additional file 6: Figure S3). Thus, TIBA-induced expression of ROXY19 should only slightly increase the amount of potentially redundant ROXYs.
We therefore do not claim a specific role for ROXY19 but rather hypothesize that basal levels of redundant ROXYs might repress the detoxification pathway in the absence of a toxic compound (Fig.
7
), similar to the repressive activities of redundant JAsmonate ZIM-domain (JAZ) proteins in the absence of JA [
36
,
37
]. Xenobiotic chemicals would inactivate ROXYs through post-transcriptional (redox?) modifications. To reconcile this hypothesis with the constitutive repressive capacity of ectopically expressed ROXY18 and ROXY19, we have to postulate that the inactivation might involve a mechanism that is not effective if the pool of ROXYs is too large. ROXY19 inhibits own expression as well as the expression of
ROXY18
(ROXY18 is the most stringently down-regulated gene in both
35S:ROXY19
plant lines; see Additional file
2
: Table S2). This suggests that the expression levels of these proteins have to be tightly controlled since abnormally high expression levels might lead to permanent repression. Given that regulatory circuits are often interwoven, it might even be that ROXYs can interfere with the inactivation mechanism. These assumptions would explain the strong and permanent repressive capacity of ectopically expressed ROXY19. This hypothesis might be challenged by higher order mutants or transgenic lines expressing a dominant negative ROXY protein.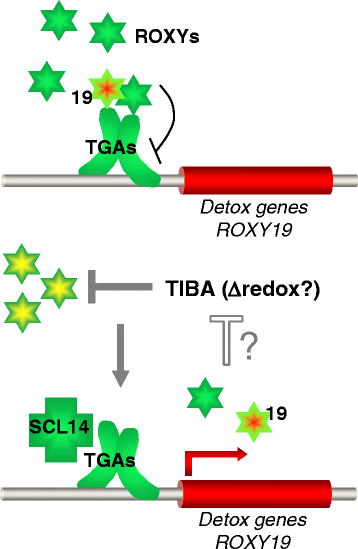 Furthermore, we observed that ROXY19 interferes with TGA-regulated processes if the active site is CCMC or CPYC. However, mutating the site into an SSMS sequence abrogated its function. Thus, either oxidoreductase activity or assembly of an iron sulfur (Fe-S) cluster might be important for repression. Until now, biochemical analyses are only available for a His-tagged CC-type GRX from poplar in which the hydrophobic ALWL motif at the C terminus had been replaced by the C-terminal amino acids of poplar class I GRXC4 [10]. Absorption peaks of the recombinant protein measured at 322 and 415 nm indicated the association with a 2Fe-2S cluster. However, the protein had poor enzymatic activity with the artificial substrate 2-hydroxyethyldisulfide. Whether TGA factors are redox-modified by ROXYs has remained an open question. ROXY1 requires the first cysteine of the CCMC active site to complement the roxy1 phenotype [38]. In addition, the TGA transcription factor PAN cannot complement the pan flower phenotype if a critical cysteine residue is mutated into serine [12]. This might indicate that the oxidized version of PAN is the active protein and that ROXY1 interferes with its function by catalyzing the reduction. In the case of class II TGA factors, we found that the pseudo-reduced protein TGA5C186S was still functional: the target genes CYP81D11 was repressed in the absence of TIBA and activated to wild-type-like levels in the presence of TIBA. Therefore, we consider it unlikely that the redox state of TGA factors is crucial with respect to the regulation of the detoxification pathway.
Since the CPYC sequence does not compromise the ability of ROXY19 to repress TGA-regulated genes, the importance of the CCMC sequence has remained elusive. One hypothesis is that the CCMC motif is important for the relief of the repressive activities.
Conclusion
Glutaredoxins are of major importance for sensing the redox state of cells and relaying the signal to a wide variety of metabolic and regulatory processes. In the evolution of higher plants, particularly the CC-type GRXs have undergone a major expansion resulting in large gene families such as the 21-membered ROXY family in Arabidopsis. While the biochemical and molecular functions of CC-type GRXs are still largely unknown, a functional link with TGA transcription factors in the regulation of reproductive organ development, nitrate metabolism and defense pathways has been established. We have identified the detoxification pathway as another process ROXY proteins may be involved in. Both, ROXY18 and ROXY19 have the potential to negatively regulate TGA-dependent expression of genes characteristic for the three phases of the detoxification process. These findings further emphasize the close functional relation between ROXY proteins and TGA transcription factors. Furthermore, we have shown that the cysteines in the active site of ROXY19 are required for this function. This suggests that in this context ROXY19 may function as an oxidoreductase, which, however, very likely does not act on class II TGA factors. Identification of potential targets of ROXY-mediated redox modification will be a matter of future research.
Abbreviations
9-HOT:

9-hydroxy-10,12,15-octadecatrienoic acid
BOA:

Benzoxazolin-2(3H)-one
CaMV 35S:

Cauliflower Mosaic Virus 35S
Col-0:

Arabidopsis thaliana accession Columbia
DMSO:

Dimethyl sulfoxide
ET:

Ethylene
FC:

Fold change
Fe-S:

Iron-sulfur cluster
GO:

Gene Ontology
GRX:

Glutaredoxins
JA:

Jasmonic acid
JAZ:

Jasmonate ZIM-domain
MS:

Murashige and Skoog
NPR1:

NON EXPRESSOR OF PR-GENES1
OPR:

OPDA REDUCTASE
PAN:

PERIANTHIA
PCA:

Principal component analysis
qRT-PCR:

Quantitative Reverse Transcription PCR
RMA:

Robust Multi-array Average
SA:

Salicylic acid
SCL:

SCARECROW-LIKE
TIBA:

2,3,5-triiodobenzoic acid
TNT:

2,4,6-trinitrotoluene
Declarations
Acknowledgements
We thank Dr. Julia Köster for the microarray analysis of TIBA-induced plants and Dr. Julia Imkampe and Dr. Mark Zander for initiating the generation or 35S:ROXY18 plants. Support from the German Research Foundation is gratefully acknowledged.
Funding
This work was supported by the University of Göttingen (fellowship to Li-Jun Huang and Ning Li) and the German Research Foundation (SPP1710 Dynamics of Thiol-based Redox Switches in Cellular Physiology, Grants to CG, MW and RH).
Availability of data and materials
The datasets supporting the conclusions of this article are included within the article and its additional files.
Authors' contribution
LJH and NL did the experiments, CT performed the bioinformatic analysis of the microarray data, MW and RH managed the microarray experiment, CG participated in the design of the study and wrote the manuscript. All authors read and approved the final manuscript.
Competing interests
The authors declare that they have no competing interests.
Consent for publication
Not applicable.
Ethics approval and consent to participate
Not applicable.
Open AccessThis article is distributed under the terms of the Creative Commons Attribution 4.0 International License (http://creativecommons.org/licenses/by/4.0/), which permits unrestricted use, distribution, and reproduction in any medium, provided you give appropriate credit to the original author(s) and the source, provide a link to the Creative Commons license, and indicate if changes were made. The Creative Commons Public Domain Dedication waiver (http://creativecommons.org/publicdomain/zero/1.0/) applies to the data made available in this article, unless otherwise stated.
Authors' Affiliations
(1)
Albrecht-von-Haller-Institute for Plant Sciences, Molecular Biology and Physiology, Georg-August-University Göttingen, Göttingen, Germany
(2)
Centre for Organismal Studies, Heidelberg University, Heidelberg, Germany