Research article

Open Access
In vitro analyses of mitochondrial ATP/phosphate carriers from Arabidopsis thaliana revealed unexpected Ca2+-effects
BMC Plant Biology
2015
15:238
Received: 25 June 2015
Accepted: 12 September 2015
Published: 6 October 2015
Abstract
Background
Adenine nucleotide/phosphate carriers (APCs) from mammals and yeast are commonly known to adapt the mitochondrial adenine nucleotide pool in accordance to cellular demands. They catalyze adenine nucleotide - particularly ATP-Mg - and phosphate exchange and their activity is regulated by calcium. Our current knowledge about corresponding proteins from plants is comparably limited. Recently, the three putative APCs from Arabidopsis thaliana were shown to restore the specific growth phenotype of APC yeast loss-of-function mutants and to interact with calcium via their N-terminal EF-hand motifs in vitro. In this study, we performed biochemical characterization of all three APC isoforms from A. thaliana to gain further insights into their functional properties.
Results
Recombinant plant APCs were functionally reconstituted into liposomes and their biochemical characteristics were determined by transport measurements using radiolabeled substrates. All three plant APCs were capable of ATP, ADP and phosphate exchange, however, high preference for ATP-Mg, as shown for orthologous carriers, was not detectable. By contrast, the obtained data suggest that in the liposomal system the plant APCs rather favor ATP-Ca as substrate. Moreover, investigation of a representative mutant APC protein revealed that the observed calcium effects on ATP transport did not primarily/essentially involve Ca2+-binding to the EF-hand motifs in the N-terminal domain of the carrier.
Conclusion
Biochemical characteristics suggest that plant APCs can mediate net transport of adenine nucleotides and hence, like their pendants from animals and yeast, might be involved in the alteration of the mitochondrial adenine nucleotide pool. Although, ATP-Ca was identified as an apparent import substrate of plant APCs in vitro it is arguable whether ATP-Ca formation and thus the corresponding transport can take place in vivo.
Keywords
Mitochondria
calcium
Ca2+
Signaling
Energy
Adenine nucleotide transport
Plant
ATP
ADP
Phosphate
Background
The mitochondrial carrier family (MCF) comprises structurally related but functionally diverse proteins that are characteristic for and generally restricted to eukaryotes [1–5]. MCF proteins represent the main solute carriers in the inner mitochondrial membrane and catalyze the translocation of various metabolites, such as nucleotides, cofactors, carboxylates, amino acids etc (for review see [6]).
Mitochondrial ATP-Mg/phosphate carriers (APCs) represent a specific MCF subgroup comprising carriers from different eukaryotes that are phylogenetically related to the well characterized ADP/ATP carriers (AACs) required for mitochondrial energy passage (for review see [6, 7]). Over the past years the physiological and biochemical properties of the single yeast APC isoform Sal1p (suppressor of ∆aac2 lethality) as well as of various mammalian homologs became more and more clarified [8]. Initially, Sal1p was shown to suppress the growth phenotype of yeast impaired in mitochondrial energy transport (due to AAC deletion or inhibition). In a similar fashion, AAC compensates the loss of functional Sal1p [8]. Subsequent studies revealed that Sal1p and its mammalian homologs mediate the counter exchange of adenine nucleotides and phosphate [9–13]. Therefore, the redundant physiological function of Sal1p and AAC supposedly was not primarily energy exchange but adenine nucleotide translocation, most likely ATP entry into mitochondria [13, 14].
Alteration of the mitochondrial adenine nucleotide pool by adenine nucleotide exchange with phosphate was shown to affect different physiological processes, such as glucose metabolism, oxidative phosphorylation, mitochondrial biogenesis and DNA maintenance in yeast or mammals [9–13]. APC proteins apparently prefer two-fold negatively charged substrates, either ATP in complex with Mg2+ (ATP-Mg2−), protonated ADP (HADP2−) or HPO4 2−, which makes the catalyzed transport electroneutral [15]. The composition (respective concentrations) of the different substrates at the matrix and cytosolic sides of the carrier determine whether adenine nucleotides preferentially become exported or imported [11, 15].
Interestingly, addition of Ca2+ to isolated mitochondria as well as metabolic situations that result in increase of free cytosolic Ca2+ were shown to enhance mitochondrial adenine nucleotide levels by stimulation of APC activity in mammals and yeast [8, 16–18] (for review see [19]). In one aspect APC proteins considerably differ structurally from typical MCF proteins; they are N-terminally extended by a domain that is exposed to the inter-membrane space of the mitochondrion and contains up to four putative Ca2+-binding EF-hand motifs [20–22]. Very recent structural studies with the N-terminal domain of human APC isoform 1 (also termed SCaMC1 for short Ca2+-dependent mitochondrial Carrier 1) showed that the Ca2+-bound state is quite compact and rigid whereas the apo (Ca2+-free) state appeared more flexible [21, 22]. Moreover, interaction studies with the two individual SCaMC1 domains, the Ca2+-binding part and the C-terminal transmembrane region, led to the assumption that the apo state of the N-terminal domain forms a cap that closes the translocation pathway whereas Ca2+-binding causes cap removal/opening and thus transporter activation [21, 22].
In contrast to yeast and mammals [8, 12, 16, 18, 23–25] analyses concerning the net adenine nucleotide transport of mitochondria in plants are still rudimentary. Previous studies led to controversial results but have indicated that plant mitochondria are capable of net adenine nucleotide uptake [26–31]. Arabidopsis thaliana possesses three putative APC proteins (AtAPC1-3) that exhibit high amino acid sequence similarities to their human and yeast counterparts. Phylogenetic analysis of MCF proteins shows that APCs cluster together and that plant APCs form a sister group to the human and yeast orthologs [6]. Similar to yeast or mammalian APCs, the plant pendants contain an N-terminal extension with four putative EF-hand motifs and were recently shown to interact with Ca2+ at least in vitro [32]. Moreover, all three plant isoforms were able to rescue the specific growth phenotype of ∆sal1p yeast mutants [32]. Therefore, AtAPC1-3 isoforms were suggested to represent Ca2+-regulated ATP-Mg/phosphate transporters. To gain first insights into the biochemical characteristics of the three APCs from A. thaliana we reconstituted the heterologously expressed proteins into liposomes and investigated their capacity for adenine nucleotide transport. Our data indicate that plant APCs mediate antiport of ATP, ADP and phosphate and therefore might be involved the alteration of the mitochondrial adenine nucleotide pool. Moreover, the determined transport characteristics suggest that in the in vitro system, the plant APCs preferentially import the Ca2+- and not the Mg2+-complexed form of ATP.
Discussion
Transport capacities of plant APCs allow energy exchange as well as net adenine nucleotide provision
Diverse biological conditions, such as ATP-loading during mitochondrial biogenesis or physiological and environmental changes, require modulation of the mitochondrial adenine nucleotide pool size [9, 17, 18, 46]. During the past decades net influx or efflux of adenine nucleotides into or out of the organelle as well as the involved carriers have been well studied in mammals and yeast [9, 11, 12, 14–18, 46]. However, much less is known about these processes in plants.
It is quite obvious that also plant mitochondria have to adapt the adenine nucleotide concentration in the mitochondrial matrix in accordance to the respective metabolic demands. Already in the 1970s isolated corn and cauliflower mitochondria were shown to exhibit (carboxy)atractyloside insensitive (AAC independent) uptake of adenine nucleotides [26–28]. In the beginning, net import of ADP into plant mitochondria was identified to occur via exchange with Pi [31]. Later on, ADP transport was shown to be influenced by Mg2+ and Ca2+ and it was suggested that exogenous rather than endogenous Pi drives net ADP uptake [29]. These inconsistencies might be due to the fact that mitochondria harbor various carriers and enzymes directly or indirectly involved in adenine nucleotide transport and metabolism and that these proteins are differently affected by the respective test conditions and metabolic states of the organelle.
Arabidopsis thaliana encodes three MCF proteins (AtAPC1-3) that represent promising candidates for net adenine nucleotide transport. First of all, AtAPC1-3 exhibit significant amino acid similarities to APCs from animals or yeast and contain the characteristic N-terminal domain with EF-hand motifs (Additional file 7: Figure S7 and Additional file 8: Figure S8). Secondly, these proteins can compensate the growth defect of yeast ∆sal1p mutants inhibited in AAC mediated transport [32]. Thirdly, transport assays performed in this work with the reconstituted, recombinant carriers revealed that AtAPC1-3 act in a strict antiport mode (Fig. 1, Additional file 2: Figure S2); they can catalyze homo-exchanges of ATP and ADP as well as ATP/ADP hetero-exchange but most importantly also ATP and ADP hetero-exchange with Pi in vitro (Fig. 1, Additional file 2: Figure S2, Tables 1, and 3). The latter capacity was also shown recently in a study by Palmieri and coworkers that was published while this manuscript was in revision [47]. Based on the in vitro characteristics growth-restoration in the yeast complementation assay by the three AtAPC isoforms [32] can be attributed to their capacity for net adenine nucleotide supply (complementation of Sal1p activity) and/or for energy provision (complementation of AAC activity).
Plant mitochondria possess a high affinity ADP uptake system that is sensitive to AAC-specific inhibitors and a low affinity ADP uptake system that apparently does not involve AAC activity [30]. Biochemical characterization of single isoforms suggest that AAC proteins mediate the high affinity ADP transport [48] whereas APCs catalyze or contribute to the low affinity ADP transport (Table 3) [47].
Interestingly, APC genes show more or less ubiquitous expression with highest rates in growing tissues of enhanced mitochondrial propagation (Aramemnon, BAR eFP browser; [49, 50]). The recent work by Palmieri and coworkers showed that the promoter of Atapc1 exhibits enhanced activity when compared to the remaining two APC isoforms [47]. Moreover, expression of specific isoforms (Aramemnon, GENEVESTIGATOR [49, 51]) is induced by growth-promoting plant steroids (brassinosteroides) or in response to abiotic stressors, like hypoxia or phosphate limitation; conditions assumed to be associated with altered mitochondrial metabolism/respiration [45, 47, 52–54]. In future studies it will be interesting to determine whether specific developmental stages or stress situations characterized by enhanced or reduced APC expression correlate with the establishment or alteration of the mitochondrial adenine nucleotide pool.
Substrate preferences and impact of divalent cations on transport
The fact that recombinant AtAPC3 and AtAPC1 apparently prefer homo-exchanges of ATP and ADP over the corresponding hetero-exchanges with Pi (Fig. 1, Additional file 2: Figure S2) might be indicative of transport reduction due to unfavorable charge imbalances generated in the liposomes by the electrogenic hetero-exchange. Similar to net ATP uptake by yeast and mammalian mitochondria [11, 15, 16, 18] ATP transport of AtAPC1 and AtAPC3 is markedly stimulated by Mg2+ (Fig. 1, Table 1). This stimulation occurs during homo- and hetero-exchange and suggests that AtAPC1 and AtAPC3 generally prefer ATP-Mg2− over ATP4− as import substrate independent of the generation of charge imbalances.
In contrast to AtAPC1 and AtAPC3, rates of homo- and hetero-exchange of recombinant AtAPC2 are quite similar (Fig. 1, Additional file 2: Figure S2) and ATP uptake was only slightly enhanced by Mg2+ addition (Fig. 1c and d). These observations suggest that either a strong preference of AtAPC2 for Pi as exchange substrate compensates possible negative effects of the charge imbalance of ATP/Pi (and ADP/Pi) hetero-exchange or that hetero-exchange with Pi is not electrogenic at all. Interestingly, ATP transport of AtAPC2 was totally inhibited by EGTA or EDTA and could be restored by Mg2+ or Ca2+ (Fig. 5). This result strikingly argues for the requirement of divalent cations for ATP translocation. Whether this is due to their function as co-substrate and/or as effectors of the carrier protein cannot be unambiguously stated yet.
In contrast to our studies, Palmieri and coworkers investigated the capacity of ATP-Mg to act as export and not as import substrate and under those conditions ATP-Mg transport is rather unfavorable when compared to ATP [47]. Summarily, the current data therefore suggest that the plant APCs possess different substrate preferences at their exterior and interior side (Fig. 1, Table 1) [47].
Although Ca
2+
-dependent activity regulation of human and yeast APCs has been well known for a long time, first insights into the mechanistic principle were only gained recently. Sophisticated interaction studies with human SCaMC1 suggest that in absence of Ca
2+
the quite flexible N-terminal domain caps the transmembrane part whereas Ca
2+
-binding turns the N-terminal domain into a more rigid state which leads to its dissociation and opening of the translocation pore [
21
,
22
]. Superimposition of the corresponding regions in a structural alignment visualizes a high degree of conservation among the N-terminal domains of plant APCs and human SCaMC1 (Fig.
7
). These structural similarities as well as computer based docking analyses (Additional file
8
: Figure S8) suggest that the N-terminal domains of the plant APCs also interact with four Ca
2+
ions. Moreover, amino acid sequence similarity to Sal1p and human SCaMC isoforms suggest that plant APCs are likewise regulated by Ca
2+
(Additional file
7
: Figure S7, Fig.
7
).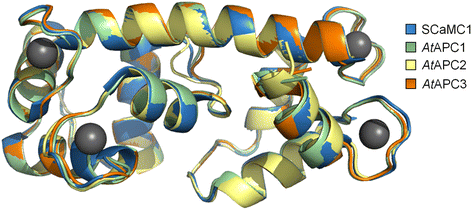 The fact that reconstituted APC isoforms from human [12] and A. thaliana were already active without extra Ca2+-addition led to the assumption that Ca2+ contaminations in the buffer media were sufficient for carrier activation. Because increase in Ca2+-concentrations resulted in transport stimulation of all recombinant AtAPC isoforms one might conclude that under the reconstitution conditions a mix of active and non-active carries occurs and addition of Ca2+can thus activate additional carriers (Fig. 2). However, the rates of Ca2+-stimulation were not identical and varied depending on the kind of substrate transported (Table 2).
Assuming that Ca2+ exclusively operates in carrier activation by displacement of the N-terminal domain from the translocation pathway we would expect the same degree of (i) Ca2+-dependent transport stimulation, (ii) Vmax increase (proportional to the amount of functional carriers), and (iii) transport reduction by Ca2+-depletion (with EGTA) independent of the exchanged substrates. Moreover, truncation of the N-terminal domain should cause constantly active carriers that are no longer influenced by Ca2+. However, the data obtained in this work suggest that this is not the case. We therefore hypothesize that in the in vitro system ATP-Ca acts as substrate of the plant APCs and is even favored over ATP-Mg or free ATP. By contrast, ADP-Ca seems to be rather discriminated against when compared to free ADP. Ca2+-induced alterations of the apparent transport affinities most likely reflect these specific substrate preferences of the respective APC isoforms e.g. higher preference for ATP-Ca (when compared with the Mg-complexed or free ATP) and lower preference of ADP-Ca (when compared to free ADP) (Table 3). Accordingly, Ca2+ complexation of ATP enhances and that of ADP reduces the amount of favored substrates and by this the respective transport capacity of the reconstituted protein. It is also imaginable that in the liposomal system, Ca2+ co-transport with ATP prevents charge accumulation of the ATP/Pi hetero-exchange and with ADP3− (ADP-Ca1−) enhances the imbalance caused by the ADP/ATP hetero-exchange. In addition, effects of EGTA, EDTA, Mg2+ and Ca2+ on ATP transport inhibition, stimulation or reactivation suggest a competition between these cations during complex formation and provide further evidences for ATP-Ca as a potential in vitro substrate of recombinant plant APCs (Table 2 and Figs. 3, 4, 5). We conclude that the influence of Ca2+ on transport by the reconstituted APCs is a consequence of diverse factors, such as substrate preferences, charge accumulation/compensation and competition with Mg2+ during complex formation.
Transport characteristics obtained with AtAPC2 and the N-terminally truncated version support the assumption that ATP-transport stimulation by Ca2+ is not (or not exclusively) caused by activation of previously inactive (Ca2+-free) carriers. ATP transport of both, the full-length carrier and the truncated version, can be stimulated by Ca2+ and inhibited by EGTA whereas ADP transport was not significantly affected (Figs. 3 and 4). These results verify that solely ATP but not ADP transport activity is highly dependent on the presence of Ca2+ and that removal of this cation did not cause carrier deactivation in general. The ineffectiveness of EGTA in the inhibition of total transport activity is surprising. The possibility that plant APCs are generally not regulated in a Ca2+-dependent manner is apparently not applicable. Important structural similarities of the plant, yeast and mammalian isoforms are suggestive for a similar regulatory principle but most importantly, a corresponding regulation could be demonstrated in the recent study by Palmieri and coworkers [47]. It remains unclear whether in our in vitro system the functionality of the N-terminal domain of the recombinant AtAPC2 is somehow impaired or its affinity for Ca2+ is higher than that of EGTA. However, the possibility that insight-out orientation of reconstituted AtAPC2 and hence inaccessibility of the N-terminal domains caused ineffectiveness of EGTA in transport inhibition can be ruled out since proteoliposomes internally loaded with EGTA were still capable to import ATP in exchange with Pi (Additional file 5: Figure S5).
The fact that external but not internal EGTA caused inhibition of AtAPC2 mediated ATP import in exchange with Pi demonstrates that ATP but not Pi transport requires the presence of Ca2+ (or divalent cations). Moreover, this observation also demonstrates that the chelator at the liposomal interior is apparently physically separated from Ca2+ at the exterior (at least during the analyzed time span) which indicates that both, EGTA and Ca2+, do not pass the lipid barrier freely.
Notwithstanding or even because of the missing Ca2+-dependent regulation, we were able to identify the in vitro function of Ca2+ as co-substrate with the applied system.
Although uptake studies with α[32P]-ATP provided evidence for a possible ATP-Ca transport it would still have been imaginable that Ca2+ stimulates transport of unchelated ATP and impedes ATP-Mg transport in a different way. However, the specifically adapted uptake assay using [45Ca] provided a direct proof that ATP-Ca is de facto transported via reconstituted (Fig. 6). Time dependent uptake of [45Ca] via AtAPC2 is tightly connected to its antiport activity because Pi loaded proteoliposomes accumulated higher amounts of [45Ca] than non-loaded vesicles. Competition experiments further verified that ATP-Ca transport is favored over ATP-Mg transport in vitro since quite high concentrations of Mg2+ are required to reduce ATP-transport associated Ca2+ uptake (Fig. 6c, Additional file 6: Figure S6). When compared to full-length AtAPC2 the N-terminally truncated carrier shows reduced Ca2+ import capacity (Fig. 6b). Whether absence of the N-terminal domain affects transport activity directly or rather indirectly (via impairments in refolding and membrane insertion) cannot be deduced from these experiments.
Further studies with the reconstituted proteins as well as with transgenic APC plants and isolated mitochondria will be required to completely decipher, evaluate and compare in vitro and in vivo characteristics of APC proteins. Moreover, it will be interesting to determine the stoichiometry of the ATP and Ca2+ co-transport. Preliminary estimation suggests that these substrates are not transported in a 1:1 stoichiometry. However, in this context it is important to mention that uptake assays had to be adapted to make Ca2+ transport determination feasible and furthermore that Ca2+ and Mg2+ contaminations of the media have to be considered. Therefore, in future studies we want to further optimize Ca2+-transport measurements in liposomes and intent to decipher the impact of divalent cations on AtAPC1-3 function in vivo.
Can ATP-Ca transport via plant APCs occur in vivo?
SCaMCs as well as yeast Sal1p seem to prefer ATP-Mg whereas our initial studies indicate that at least one of the AtAPC isoforms clearly favors ATP-Ca over both, ATP-Mg and ATP, as import substrate in the liposomal system. Due to the high structural similarity to ATP-Mg it is - from a biochemical point of view - not surprising that at least certain APCs can in principle accept ATP-Ca as substrate in vitro. However, the intriguing question arises whether ATP-Ca formation and correspondingly APC mediated Ca2+-transport can and will take place under physiological conditions. Generally, ATP-Ca formation is a rather unlikely phenomenon in plant cells. The concentration of free Ca2+ is usually low when compared to Mg2+, which represents a dominating divalent cation and also is Mg2+ favored over Ca2+ in ATP-complex formation. However, one could envision specific situations that might support possible ATP-Ca formation in close proximity to the carrier.
Although plant mitochondria contribute to Ca2+ storage, the majority of internal Ca2+ is probably transiently fixed as amorphous phosphate precipitate and thus the resting concentration of free Ca2+ in the matrix only slightly exceeds that of the cytosol (200 nM vs. 100 nM) [55–57]. Moreover, due to high Mg2+ concentrations within plant mitochondria ATP is nearly completely complexed with Mg2+, which argues against any potential ATP-Ca formation in the matrix [45]. Although lower Mg2+ levels in the cytosol increase the accessibility of free ATP, it is unclear whether conditions or microdomains of high Ca2+ availability at the mitochondrial surface might allow ATP-Ca formation [55, 58–63]. In the liposomal system Ca2+ uptake via AtAPC2 was low and completely blocked by 25-fold excess of Mg2+. If these characteristics (the biochemical properties in combination with a high Mg2+ to Ca2+ ratio next to the carrier) also represent the in vivo situation, ATP-Ca transport via plant APCs is highly unlikely to occur.
Although, a direct role of plant APCs in ATP-Ca transport is therefore arguable, recent data suggest an indirect function of a mammalian isoform in Ca2+ translocation. SCaMC3 was shown to physically interact with the (low affinity) Mitochondrial Calcium Uniporter (MCU) and lack of SCaMC3 apparently decreases ATP and Ca2+ import into mitochondria [24, 64]. Accordingly, SCaMC3 was supposed to represent an important component of the mitochondrial Ca2+ uptake system, a supercomplex formed by channels and carriers in microdomains for enhanced Ca2+-sensitivity [64]. Whether certain plant APC isoforms fulfill a function related to that described for SCaMC3 is unclear, however, physical proximity to proteins involved in Ca2+ release might be advantageous to guarantee fast Ca2+-dependent activation and response of plant APCs.
Conclusions
Determination of the biochemical characteristics of three putative APC isoforms from A. thaliana in the liposomal system revealed that the recombinant carriers mediate ATP, ADP and phosphate exchange. Accordingly, plant mitochondria harbor a subset of carriers capable of net adenine nucleotide translocation, however in contrast to yeast and mammalian orthologs they show no high preference for ATP-Mg as import substrate. Surprisingly, we instead obtained evidence for a possible ATP-Ca transport by the reconstituted plant APCs in the liposomal context but it is arguable that physiological Mg2+ and Ca2+ concentrations most likely prevent ATP-Ca formation and its subsequent transport in vivo. Although we were not able to detect EF-hand based Ca2+-dependent carrier regulation, this was shown recently to exist in plant APCs [47]. Summarily, the current data suggest that low Ca2+ concentrations regulate activity of plant APCs via EF-hands of the N-terminal domain whereas high Ca2+ concentrations can induce its own transport as co-substrate of ATP in vitro. While this study deepens our knowledge about mitochondrial net nucleotide transport of plants it also gives rise to new intriguing questions. In the future, it is important to investigate the in vivo function of plant APCs and the impact of divalent cations on the corresponding transport.
Declarations
Funding
The project was financially supported by the Deutsche Forschungsgemeinschaft (Reinhard Koselleck-Grant). Work in the lab of UCV was supported by the Deutsche Forschungsgemeinschaft (Center for Integrated Protein Science Munich, CIPSM and VO656/5-1).
Open AccessThis article is distributed under the terms of the Creative Commons Attribution 4.0 International License (http://creativecommons.org/licenses/by/4.0/), which permits unrestricted use, distribution, and reproduction in any medium, provided you give appropriate credit to the original author(s) and the source, provide a link to the Creative Commons license, and indicate if changes were made. The Creative Commons Public Domain Dedication waiver (http://creativecommons.org/publicdomain/zero/1.0/) applies to the data made available in this article, unless otherwise stated.
Authors' Affiliations
(1)
Cellular Physiology/Membrane Transport, University of Kaiserslautern, Kaiserslautern, Germany
(2)
Department of Biology I, Botany, LMU Munich, Planegg-Martinsried, Germany
(3)
Plant Physiology, University of Kaiserslautern, Kaiserslautern, Germany