Research article
Open Access
Transcriptome analysis of 20 taxonomically related benzylisoquinoline alkaloid-producing plants
BMC Plant Biology
2015
15:227
Received: 3 April 2015
Accepted: 15 August 2015
Published: 18 September 2015
Abstract
Background
Benzylisoquinoline alkaloids (BIAs) represent a diverse class of plant specialized metabolites sharing a common biosynthetic origin beginning with tyrosine. Many BIAs have potent pharmacological activities, and plants accumulating them boast long histories of use in traditional medicine and cultural practices. The decades-long focus on a select number of plant species as model systems has allowed near or full elucidation of major BIA pathways, including those of morphine, sanguinarine and berberine. However, this focus has created a dearth of knowledge surrounding non-model species, which also are known to accumulate a wide-range of BIAs but whose biosynthesis is thus far entirely unexplored. Further, these non-model species represent a rich source of catalyst diversity valuable to plant biochemists and emerging synthetic biology efforts.
Results
In order to access the genetic diversity of non-model plants accumulating BIAs, we selected 20 species representing 4 families within the Ranunculales. RNA extracted from each species was processed for analysis by both 1) Roche GS-FLX Titanium and 2) Illumina GA/HiSeq platforms, generating a total of 40 deep-sequencing transcriptome libraries. De novo assembly, annotation and subsequent full-length coding sequence (CDS) predictions indicated greater success for most species using the Illumina-based platform. Assembled data for each transcriptome were deposited into an established web-based BLAST portal (www.phytometasyn.ca) to allow public access. Homology-based mining of libraries using BIA-biosynthetic enzymes as queries yielded ~850 gene candidates potentially involved in alkaloid biosynthesis. Expression analysis of these candidates was performed using inter-library FPKM normalization methods. These expression data provide a basis for the rational selection of gene candidates, and suggest possible metabolic bottlenecks within BIA metabolism. Phylogenetic analysis was performed for each of 15 different enzyme/protein groupings, highlighting many novel genes with potential involvement in the formation of one or more alkaloid types, including morphinan, aporphine, and phthalideisoquinoline alkaloids. Transcriptome resources were used to design and execute a case study of candidate N-methyltransferases (NMTs) from Glaucium flavum, which revealed predicted and novel enzyme activities.
Conclusions
This study establishes an essential resource for the isolation and discovery of 1) functional homologues and 2) entirely novel catalysts within BIA metabolism. Functional analysis of G. flavum NMTs demonstrated the utility of this resource and underscored the importance of empirical determination of proposed enzymatic function. Publically accessible, fully annotated, BLAST-accessible transcriptomes were not previously available for most species included in this report, despite the rich repertoire of bioactive alkaloids found in these plants and their importance to traditional medicine. The results presented herein provide essential sequence information and inform experimental design for the continued elucidation of BIA metabolism.
Keywords
SanguinarineOpium PoppyEnzyme Commission NumberNoscapineIllumina Library
Background
Benzylisoquinoline alkaloids (BIAs) are a diverse class of plant specialized metabolites that includes approximately 2500 known compounds. Although BIAs present a wide range of structural backbone arrangements, they are united in their common biosynthetic origin, which begins with the condensation of two tyrosine derivatives forming the first dedicated BIA, (
S
)-norcoclaurine (Fig.
1
). Several of humanity's most ancient medicines, poisons, hunting aids, and ceremonial preparations derive from plants accumulating BIAs, with examples found in both Old World and New World cultures [
17
]. Notable BIA-accumulating plants include morphine, codeine, and noscapine-accumulating opium poppy (
Papaver somniferum
), members of the berberine-accumulating barberry (
Berberis
) genus, Japanese goldthread (
Coptis japonica
), meadowrue (
Thalictrum flavum
), and species producing the antimicrobial sanguinarine, such as Mexican prickly poppy (
Argemone mexicana
) and California poppy (
Eschscholzia californica
). These plants form a core group of model species studied extensively in past decades, leading to the near-complete elucidation of major pathways at the biochemical and molecular genetic levels. Most or all enzymes responsible for the biosynthesis of papaverine, morphine, sanguinarine, berberine and noscapine have been cloned and characterized (Fig.
1
) [
6
,
17
]. A restricted number of enzyme families have been implicated in BIA metabolism, which likely reflects a monophyletic origin for the pathway [
34
]. This feature has enabled homology-based enzyme discovery strategies, where predictions are made regarding enzyme type(s) acting at unresolved points along the BIA metabolic network. For example,
C-C
or
C-O
coupling reactions are almost exclusively catalyzed by cytochromes P450 with homology to one of CYP80, CYP82, or CYP719 families, or 2-oxoglutarate/Fe
2+
-dependent dioxygenases. Resolution of previously uncharacterized steps in sanguinarine and noscapine metabolism has been achieved through homology-based querying of transcriptome resources coupled with targeted metabolite analysis [
1
,
6
,
7
]. This approach was used recently for the discovery of dihydrosanguinarine benzophenanthridine oxidase (DBOX), a FAD-dependent oxidase with homology to berberine bridge enzyme (BBE) [
15
]. Other enzyme types found repeatedly within BIA metabolism include
O
- and
N
-methyltransferases, BAHD acylating enzymes [
5
] and reductases belonging to either aldo-keto (AKR) [
39
] or short-chain dehydrogenase/reductase (SDR) [
23
] superfamilies. Only the first step of BIA biosynthesis is catalyzed by a unique protein family, pathogenesis-related 10 (PR10)/Bet v1 allergens, otherwise absent within alkaloid metabolism (
i.e.
NCS; (
S
)-norcoclaurine synthase). Nonetheless, homologues of NCS appear to play this key entry-point role across different plant taxa [
27
].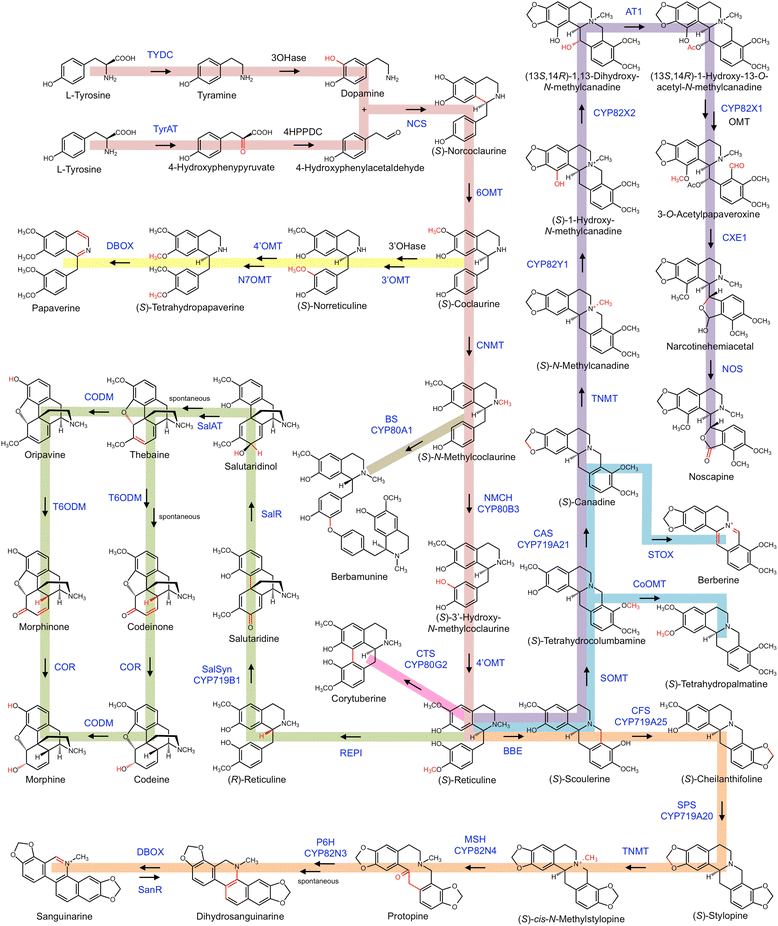 Beyond model species, a myriad of other plants are known to accumulate BIAs. The structural diversity of these alkaloids is remarkable, yet their biosynthesis is largely or entirely unexplored. Many of these compounds have potent pharmacological activities, and plants accumulating them boast long histories of use in traditional medicine. Members of the Cissampelos genus, which accumulate novel bisbenzylisoquinoline, aporphine, and promorphinan-type alkaloids (Additional file 1) have been employed for centuries as hunting poisons and herbal remedies, particularly in South America and sub-Saharan Africa [45]. Trilobine, a highly crosslinked, atypical bisbenzylisoquinoline alkaloid, is thought to confer antiamoebic activity to herbal Cocculus preparations for the treatment of infant diarrhea [41]. Many plants of the Papaveraceae produce alkaloids featuring unique variations on the basic protoberberine and benzophenanthridine backbones, and some genus such as Corydalis accumulate a surprising variety of BIA types, including protopine, pthalideisoquinoline, spirobenzylisoquinoline, and morphinan alkaloids [21]. How these alkaloids are formed is poorly understood, and scarce resources are available for the non-model plants capable of producing them. To enable pathway elucidation and novel enzyme discovery, we have generated expansive datasets for twenty BIA-accumulating plants using Roche 454 and Illumina sequencing platforms. Data mining frameworks were constructed using a multitude of annotation approaches based on direct searches of public databases, and associated information was collected and summarized for every unigene, including Kyoto Encyclopedia of Genes and Genomes (KEGG) pathway maps, Gene Ontology (GO) and Enzyme Commission (EC) annotations. A comprehensive, broad-scope metabolite survey was performed in tandem with the herein presented transcriptome analysis, on identical plant tissues [18]. Used together, these unprecedented resources will allow the assembly of biochemical snapshots representing BIA metabolism in largely unexplored systems, guiding pathway elucidation and search efforts for new catalysts. Moreover, the availability of enzyme variants mined from different plant species will dramatically expand the 'toolbox' essential to synthetic biology efforts.
Conclusions
The establishment of fully annotated, deep-sequencing transcriptomes for twenty BIA-accumulating plants represents an immense resource for novel catalyst discovery. BLAST-accessible transcriptomes were not previously available for most plants included in this report, despite the rich repertoire of bioactive alkaloids found in these species and their importance in traditional medicine. The results presented herein, together with accompanying metabolite profiles [18] and relevant literature, are intended to provide necessary tools (i.e. gene sequences) and also inform experimental design for the continued elucidation of the BIA metabolism.
Abbreviations
AKR:

Aldo-keto reductase
BBE:

Berberine bridge enzyme
BIA:

Benzylisoquinoline alkaloid
CDS:

Coding sequence
COR:

Codeinone reductase
CXE:

Carboxylesterase
CYP:

Cytochrome P450 monooxygenase
DIOX:

2-oxoglutarate/Fe2+-dependent dioxygenase
FADX:

FAD-dependent oxidoreductase, FPKM, Fragments per kilobase of exon model per million mapped reads
OAT:

O-acetyltransferase
OMT:

O-methyltransferase
NCS:

Norcoclaurine synthase
NOS:

Noscapine synthase
SalR:

Salutaridine reductase
SanR:

Sanguinarine reductase
Declarations
Acknowledgments
We are grateful to Stéphane Bailleul and Renée Gaudette from the Jardin Botanique de Montréal for invaluable assistance and access to plant collections. This work was funded through grants from Genome Canada, Genome Alberta and the Government of Alberta. CDB and SCF were recipients of Natural Sciences and Engineering Research Council of Canada graduate scholarships. SCF also received an Alberta Ingenuity Technology Futures graduate scholarship. PJF held the Canada Research Chair in Plant Metabolic Processes Biotechnology.
Open Access This article is distributed under the terms of the Creative Commons Attribution 4.0 International License (http://creativecommons.org/licenses/by/4.0/), which permits unrestricted use, distribution, and reproduction in any medium, provided you give appropriate credit to the original author(s) and the source, provide a link to the Creative Commons license, and indicate if changes were made. The Creative Commons Public Domain Dedication waiver (http://creativecommons.org/publicdomain/zero/1.0/) applies to the data made available in this article, unless otherwise stated.
Authors' Affiliations
(1)
Department of Biological Sciences, University of Calgary, Calgary, Canada
(2)
Department of Biochemistry and Molecular Biology, University of Calgary, Calgary, Canada
(3)
Current address: Département de Chimie, Biochimie et Physique, Université du Québec à Trois-Rivières, Trois-Rivières, Canada
(4)
Current address: Institute of Molecular Biotechnology, Graz University of Technology, Graz, Austria
References
Beaudoin GAW, Facchini PJ. Isolation and characterization of a cDNA encoding (S)-cis-N-methylstylopine 14-hydroxylase from opium poppy, a key enzyme in sanguinarine biosynthesis. Biochem Biophys Res Commum. 2013;431:597–603.Google Scholar
Blaskó G, Gula DJ, Shamma M. The phthalideisoquinoline alkaloids. J Nat Prod. 1982;45:105–22.View ArticleGoogle Scholar
Chen Y, McCarthy D, Robinson M, Smyth GK. edgeR: differential expression analysis of digital gene expression data. Bioconductor User's Guide. 2014;1–78.Google Scholar
Chevreux B, Pfisterer T, Drescher B, Driesel AJ, Müller WE, Wetter T, et al. Using the miraEST assembler for reliable and automated mRNA transcript assembly and SNP detection in sequenced ESTs. Genome Resource. 2004;14:1147–59.View ArticleGoogle Scholar
D'Auria JC. Acyltransferases in plants: a good time to be BAHD. Curr Opin Plant Biol. 2006;9:331–40.View ArticlePubMedGoogle Scholar
Dang TTT, Chen X, Facchini PJ. Acetylation serves as a protective group in noscapine biosynthesis in opium poppy. Nat Chem Biol. 2015;11:104–6.View ArticlePubMedGoogle Scholar
Dang TTT, Facchini PJ. CYP82Y1 is N-methylcanadine 1-hydroxylase, a key noscapine biosynthetic enzyme in opium poppy. J Biol Chem. 2014;289:2013–26.Google Scholar
Desgagné-Penix I, Facchini PJ. Systematic silencing of benzylisoquinoline alkaloid biosynthetic genes reveals the major route to papaverine in opium poppy. Plant J. 2012;72:331–44.View ArticlePubMedGoogle Scholar
Farrow SC, Facchini PJ. Dioxygenases catalyze O-demethylation and O, O-demethylenation with widespread roles in benzylisoquinoline alkaloid metabolism in opium poppy. J Biol Chem. 2013;288:28997–9012.Google Scholar
Farrow SC, Hagel JM, Facchini PJ. Transcript and metabolite profiling in cell cultures of 18 plant species that produce benzylisoquinoline alkaloids. Phytochemistry. 2012;77:79–88.View ArticlePubMedGoogle Scholar
Gaasterland T, Sensen CW. MAGPIE: automated genome interpretation. Trends Genet. 1996;12:76–8.View ArticlePubMedGoogle Scholar
Gözler B, Gözler T, Shamma M. Egenine: a possible intermediate in phthalideisoquinoline biogenesis. Tetrahedron. 1983;39:577–80.View ArticleGoogle Scholar
Guindon S, Gascuel O. A simple, fast and accurate algorithm to estimate large phylogenies by maximum likelihood. Syst Biol. 2003;52:696–704.View ArticlePubMedGoogle Scholar
Guo Z, Cai R, Su H, Li Y. Alkaloids in processed rhizoma Corydalis and crude rhizoma Corydalis analyzed by GC-MS. J Anal Methods Chem. 2014;2014:1–6.Google Scholar
Hagel JM, Beaudoin GAW, Fossati E, Ekins A, Martin VJJ, Facchini PJ. Characterization of a flavoprotein oxidase from opium poppy catalyzing the final steps in sanguinarine and papaverine biosynthesis. J Biol Chem. 2012;287:42972–83.PubMed CentralView ArticlePubMedGoogle Scholar
Hagel JM, Facchini PJ. Dioxygenases catalyze the O-demethylation steps of morphine biosynthesis in opium poppy. Nat Chem Biol. 2010;6:273–5.Google Scholar
Hagel JM, Facchini PJ. Benzylisoquinoline alkaloid metabolism: a century of discovery and a brave new world. Plant Cell Physiol. 2013;54:647–72.View ArticlePubMedGoogle Scholar
Hagel JM, Mandal, R, Han BS, Han J, Dinsmore DR, Borchers CH, et al. Metabolome analysis of 20 taxonomically related benzylisoquinoline alkaloid-producing plants. BMC Plant Biol. 2014. doi:10.1186/s12870-015-0594-2.
Hawkins KM, Smolke CD. Production of benzylisoquinoline alkaloids in Saccharomyces cerevisiae. Nat Chem Biol. 2008;4:564–73.Google Scholar
Huang X, Madan A. CAP3: a DNA sequence assembly program. Genome Res. 1999;9:868–77.PubMed CentralView ArticlePubMedGoogle Scholar
Iranshahy M, Quinn RJ, Iranshahi M. Biologically active isoquinoline alkaloids with drug-like properties from the genus Corydalis. RSC Adv. 2014;4:15900–13.View ArticleGoogle Scholar
Iwasa K, Takahashi T, Nishiyama Y, Moriyasu M, Sugiura M, Takeuchi A, et al. Online structural information of alkaloids and other constituents in crude extracts and cultured cells of Nandina domestica by combination of LC-MS/MS, LC-NMR, and LC-CD analyses. J Nat Prod. 2008;71:1376–85.View ArticlePubMedGoogle Scholar
Kavanagh KL, Jörnvall H, Persson B, Oppermann U. The SDR superfamily: functional and structural diversity within a family of metabolic and regulatory enzymes. Cell Mol Life Sci. 2008;65:3895–906.PubMed CentralView ArticlePubMedGoogle Scholar
Küppers FJEM, Salemink CA, Bastart M, Paris M. Alkaloids of Papaver bracteatum: presence of codeine, neopine and alpinine. Phytochemistry. 1976;15:444–5.View ArticleGoogle Scholar
Langmead B, Trapnell C, Pop M, Salzberg SL. Ultrafast and memory-efficient alignment of short DNA sequences to the human genome. Genome Biol. 2009;10:R25.PubMed CentralView ArticlePubMedGoogle Scholar
Le PM, McCooeye M, Windust A. Application of UPLC-QTOF-MS in MSE mode for the rapid and precise identification of alkaloids in goldenseal (Hydrastis canadensis). Anal Bioanal Chem. 2014;406:1739–49.View ArticlePubMedGoogle Scholar
Lee EJ, Facchini PJ. Norcoclaurine synthase is a member of the pathogenesis-related 10/Bet v1 protein family. Plant Cell. 2010;22:3489–503.PubMed CentralView ArticlePubMedGoogle Scholar
Lee JW, Na D, Park JM, Lee J, Choi S, Lee SY. Systems metabolic engineering of microorganisms for natural and non-natural chemicals. Nat Chem Biol. 2012;8:536–46.View ArticlePubMedGoogle Scholar
Li B, Dewey CN. RSEM: accurate transcript quantification from RNASeq data with or without a reference genome. BMC Bioinformatics. 2011;12:323.PubMed CentralView ArticlePubMedGoogle Scholar
Li W, Godzik A. Cd-hit: a fast program for clustering and comparing large sets of protein or nucleotide sequences. Bioinformatics. 2006;22:1658–9.View ArticlePubMedGoogle Scholar
Li L, Stoeckert CJ, Roos DS. OrthoMCL: identification of ortholog groups for eukaryotic genomes. Genome Res. 2003;13:2178–89.PubMed CentralView ArticlePubMedGoogle Scholar
Li S, Tighe SW, Nicolet CM, Grove D, Levy S, Farmerie W, et al. Multiplatform assessment of transcriptome profiling using RNA-seq in the ABRF next-generation sequencing study. Nat Biotechnol. 2014;32:915–25.PubMed CentralView ArticlePubMedGoogle Scholar
Liscombe DK, Facchini PJ. Molecular cloning and characterization of tetrahydroprotoberberine cis-N-methyltransferase, an enzyme involved in alkaloid biosynthesis in opium poppy. J Biol Chem. 2007;282:14741–51.View ArticlePubMedGoogle Scholar
Liscombe DK, MacLeod BP, Loukanina N, Nandi OI, Facchini PJ. Evidence for the monophyletic evolution of benzylisoquinoline alkaloid biosynthesis in angiosperms. Phytochemistry. 2005;66:2501–20.PubMedGoogle Scholar
Liscombe DK, Ziegler J, Schmidt J, Ammer C, Facchini PJ. Targeted metabolite and transcript profiling for elucidating enzyme function: isolation of novel N-methyltransferases from three benzylisoquinoline alkaloid-producing species. Plant J. 2009;60:729–43.View ArticlePubMedGoogle Scholar
Margulies M, Egholm M, Altman WE, Attiya S, Bader JS, Bemben LA, et al. Genome sequencing in microfabricated high density picolitre reactors. Nature. 2005;437:376–80.PubMed CentralPubMedGoogle Scholar
Martin JA, Wang Z. Next-generation transcriptome assembly. Nat Rev Genet. 2011;12:671–82.View ArticlePubMedGoogle Scholar
Meisel L, Fonseca B, Gonzalez S, Baeza-Yates R, Cambiazo V, Campos R, et al. A rapid and efficient method for purifying high quality total RNA from peaches (Prunus persica) for functional genomics analyses. Biol Res. 2005;38:83–8.View ArticlePubMedGoogle Scholar
Mindnich RD, Penning TM. Aldo-keto reductase (AKR) superfamily: genomics and annotation. Hum Genomics. 2009;3:362–70.PubMed CentralPubMedGoogle Scholar
Nagarajan N, Pop M. Sequence assembly demystified. Nat Rev Genet. 2013;14:157–67.View ArticlePubMedGoogle Scholar
Natajaran B, Paulsen BS. An ethnopharmacological study from Thane district, Maharashtra, India: traditional knowledge compared with modern biological science. Pharmaceut Biol. 2000;38:139–51.View ArticleGoogle Scholar
Nelson DR. Plant cytochrome P450s from moss to poplar. Phytochem Rev. 2006;5:193–204.View ArticleGoogle Scholar
Retief JD. Phylogenetic analysis using PHYLIP. In: Misener S, Krawetz SA, editors. Bioinformatics: Methods and Protocols. New York: Humana Press; 1999. p. 243–58.View ArticleGoogle Scholar
Sato F. Characterization of plant functions using cultured plant cells, and biotechnological applications. Biosci Biotechnol Biochem. 2013;77:1–9.View ArticlePubMedGoogle Scholar
Semwal DK, Semwal RB, Vermaak I, Viljoen A. From arrow poison to herbal medicine – the ethnobotanical, phytochemical and pharmacological significance of Cissampelos (Menispermaceae). J Ethnopharmacol. 2014;155:1011–28.View ArticlePubMedGoogle Scholar
SEQC/MAQC-III Consortium. A comprehensive assessment of RNA-seq accuracy, reproducibility and information content by the Sequencing Quality Control Consortium. Nat Biotechnol. 2014;32:903–14.View ArticleGoogle Scholar
Shamma M, Salgar SS. Pallidine and corydine from Thalictrum dioicum. Phytochemistry. 1973;12:1505–6.View ArticleGoogle Scholar
Thodey K, Galanie S, Smolke CD. A microbial biomanufacturing platform for natural and semisynthetic opioids. Nat Chem Biol. 2014;10:837–44.PubMed CentralView ArticlePubMedGoogle Scholar
Wang C, Gong B, Bushel PR, Thierry-Mieg J, Thierry-Mieg D, Xue J, et al. The concordance between RNA-seq and microarray data depends on chemical treatment and transcript abundance. Nat Biotechnol. 2014;32:926–32.PubMed CentralView ArticlePubMedGoogle Scholar
Wang W, Lu A-M, Ren Y, Endress ME, Chen Z-D. Phylogeny and classification of Ranunculales: evidence from four molecular loci and morphological data. Perpect Plant Ecol. 2009;11:81–110.View ArticleGoogle Scholar
Winzer T, Gazda V, He Z, Kaminski F, Kern M, Larson TR, et al. A Papaver somniferum 10-gene cluster for synthesis of the anticancer alkaloid noscapine. Science. 2012;336:1704–8.Google Scholar
Wu C, Yan R, Zhang R, Bai F, Yang Y, Wu Z, et al. Comparative pharmacokinetics and bioavailability of four alkaloids in different formulations from Corydalis decumbens. J Ethnopharmacol. 2013;149:55–61.View ArticlePubMedGoogle Scholar
Xiao M, Zhang Y, Chen X, Lee E-J, Barber CJS, Chakrabarty R, et al. Trancriptome analysis based on next-generation sequencing of non-model plants producing specialized metabolites of biotechnological interest. J Biotechnol. 2013;166:122–34.View ArticlePubMedGoogle Scholar
Yue W, Ming Q-L, Lin B, Rahman K, Zheng C-J, Han T, et al. Medicinal plant cell suspension cultures: pharmaceutical applications and high-yielding strategies for the desired secondary metabolites. Crit Rev Biotechnol. 2014. Early Online ed: 1–18.Google Scholar
Zerbino DR, Birney E. Velvet: algorithms for de novo short read assembly using de Bruijn graphs. Genome Res. 2008;18:821–9.PubMed CentralView ArticlePubMedGoogle Scholar
Zhang Z, Schwartz S, Wagner L, Miller W. A greedy algorithm for aligning DNA sequences. J Comput Biol. 2000;7:203–14.View ArticlePubMedGoogle Scholar