Methodology article

Open Access
High-throughput physical map anchoring via BAC-pool sequencing
BMC Plant Biology
2015
15:99
Received: 15 October 2014
Accepted: 20 January 2015
Published: 11 April 2015
Abstract
Background
Physical maps created from large insert DNA libraries, typically cloned in BAC vector, are valuable resources for map-based cloning and de novo genome sequencing. The maps are most useful if contigs of overlapping DNA clones are anchored to chromosome(s), and ordered along them using molecular markers. Here we present a novel approach for anchoring physical maps, based on sequencing three-dimensional pools of BAC clones from minimum tilling path.
Results
We used physical map of wheat chromosome arm 3DS to validate the method with two different DNA sequence datasets. The first comprised 567 genes ordered along the chromosome arm based on syntenic relationship of wheat with the sequenced genomes of Brachypodium, rice and sorghum. The second dataset consisted of 7,136 SNP-containing sequences, which were mapped genetically in Aegilops tauschii, the donor of the wheat D genome. Mapping of sequence reads from individual BAC pools to the first and the second datasets enabled unambiguous anchoring 447 and 311 3DS-specific sequences, respectively, or 758 in total.
Conclusions
We demonstrate the utility of the novel approach for BAC contig anchoring based on mass parallel sequencing of three-dimensional pools prepared from minimum tilling path of physical map. The existing genetic markers as well as any other DNA sequence could be mapped to BAC clones in a single in silico experiment. The approach reduces significantly the cost and time needed for anchoring and is applicable to any genomic project involving the construction of anchored physical map.
Keywords
Physical mapContig anchoringNext generation sequencing
Background
Physical maps are important tools for genomic studies both in animal and plant species. Among other, they facilitate positional gene cloning in crop plant species [1,2]. Thus, cloning of at least thirteen genes is currently underway in hexaploid wheat (Triticum aestivum), making use of physical contig map [3]. Apart from positional gene cloning, physical maps have been used in genome sequencing projects [4]. Although a majority of higher plant genomes have been sequenced by whole genome shotgun strategy [4], hierarchical approach of genome sequencing with the intermediate in form of physical contig map anchored to individual chromosomes is a prerequisite to obtain high-quality reference sequences [5,6]. Physical contig maps are typically constructed from bacterial artificial chromosome (BAC) libraries that are created from genomic DNA digested by restriction enzymes and cloned in a BAC vector [7]. After BAC library construction, High-Information Content Fingerprinting (HICF) technology [8] detects clone overlaps on the basis of sharing restriction spectrum [9] and fingerprinted data are statistically elaborated by Finger Printed Contigs (FPC) [10,11] or Linear Topological Contig (LTC) [12] software. A physical map consists from BAC clones organized into contigs (sets of overlapping clones) whose number depends on genome coverage and insert size of BAC clones.
The utility of physical maps for positional gene cloning and genomic studies is limited until the contigs of BAC clones are ordered along chromosomes, usually with the help of high density genetic maps. An indispensable step in integrating physical and genetic maps is the screening of BAC library, which assigns molecular markers to individual BAC clones. The screening has been done either by PCR with marker-specific primers [13], or by hybridization of markers to BAC DNA spotted on a filter [14]. Historically, BAC library screening was the most laborious and expensive step in constructing anchored physical map. The procedure has been gradually improved to achieve more effective anchoring of a majority of contigs. A BAC library could be screened using multidimensional pooling strategy [15,16]. A BAC pool is prepared by combining predefined set of BAC clones within or between 384-well plates in which the clones are stored [16]. Three-dimensional pooling strategy (plate, row, and column pools) [15,16] has been the most popular approach, which could be further improved by adding superpools to minimize the number of PCR reactions needed to link a marker with a BAC clone [17]. To simplify and speed up the anchoring process, it is also possible to use methods like multiplex tandem PCR with high resolution melt analysis [13], microarray platforms [18], or Illumina GoldenGate assay [19]. All these techniques avoid gel electrophoresis, which is most laborious part of PCR screening and cannot be done in a high-throughput manner.
Another critical aspect in contig anchoring is the availability of a high-density genetic map with a sufficient number of molecular markers covering evenly the whole genome. Such maps are becoming available for a growing number of species [20-22] thanks to progress in methodology and instrumentation of molecular biology and genomics, which resulted in negligible cost per data point. However, general problem of genetic maps is a poor resolution in centromeric and pericentromeric regions due to the lack of recombination. In fact, poorly recombining regions may represent 40% of chromosome as show in barley [23]. Alternative approaches have been developed to organize molecular markers along the chromosome independently on meiotic recombination, and included deletion bin mapping [24], HAPPY mapping [25] and radiation-hybrid mapping [26]. A recent addition is the approach called "GenomeZipper" [27]. GenomeZipper is a bioinformatic pipeline constructing a virtual gene order in a particular genome through comparative analysis using synteny conservation with species already sequenced. For crops belonging to tribe Triticeae, Brachypodium [28], rice [29] and sorghum [30] are typically used to order genes along chromosomes [31-33].
The crops in tribe Triticeae are characterized by large and complex genomes. Bread wheat (T. aestivum), one of the three major crops worldwide has hexaploid (2n = 6x = 42) genome of 17 Gbp, which comprises three closely related sub-genomes and contains more than 90% repetitive DNA. Special approach called "chromosome based genomics" has been developed to handle physical mapping and sequencing of the wheat genome [34]. BAC libraries have been constructed from DNA of flow sorted chromosomes and chromosome arms [35,36]. The availability of BAC libraries from individual chromosomes greatly simplifies the construction of ready to sequence physical maps and the analysis of the complex allohexaploid wheat genome.
Here we present novel approach for BAC library screening and contig anchoring based on Illumina sequencing of three-dimensional BAC pools prepared from minimum tilling path (MTP). Genetic markers as well as any other sequences can be mapped easily to BAC clones in a single in silico experiment. We used wheat chromosome arm 3DS to demonstrate the utility of our novel approach by anchoring about 750 sequences of intra- and inter-specific origin to the physical contig map.
Results and discussion
Ordered physical contig maps are valuable resources for genome analysis, production of reference sequences of complex genomes, and positional gene cloning. However, efficient use of physical maps requires that clone contigs are anchored to chromosomes and ordered along them using molecular markers. The aim of the present work was to develop
in silico
procedure for BAC contig anchoring. The approach we have validated makes screening of BAC library cost effective and more flexible. The procedure includes mas parallel sequencing three dimensional BAC pools, mapping sequence reads to marker sequences, positive pool identification and BAC address deconvolution (see Figure
1
).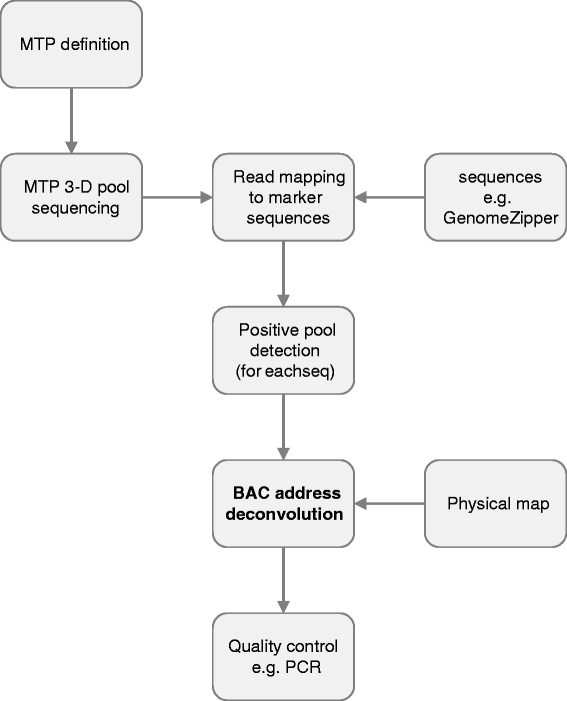 Conclusion
The first step after BAC contig building is anchoring the contigs to genetic map as it increases the utility for physical map based cloning and genomic studies. Here we present novel approach for contig anchoring based on mass parallel sequencing 3-dimmensional BAC pools prepared from MTP of physical map. We demonstrate that genetic markers as well as other sequences can be easily mapped to BAC clones in a single in silico experiment. We used physical contig map of wheat chromosome arm 3DS in a pilot experiment to validate the utility of this approach by anchoring 758 sequences of intra- and inter-specific origin. The approach described in present study could significantly reduce anchoring costs and time needed and is applicable to any genomic project aiming at constructing anchored physical map. The only prerequisite is the availability of sequenced markers ordered along the chromosome. However, such markers can be easily obtained by mass parallel sequencing and linearly ordered through the comparative analysis and synteny conservation with the sequenced model species [27].
Methods
Preparation of DNA pools
BAC library specific for wheat chromosome arm 3DS (TaaCsp3DShA; [37]) was used to validate the BAC pool sequencing strategy for physical map anchoring. The library comprises 36,864 clones with mean insert size 110 kbp. A physical map was build using HIFC technique [8] in Fingerprinted Contigs software (FPC V9.3; [11]) following "physical map assembly guideline" established by TriticeaeGenome project and accepted by the International Wheat Genome Sequencing Consortium (IWGSC). Briefly, each clone was fragmented using a cocktail of five restriction enzymes. Fragment ends produced by four of them were labelled by one of four different fluorescent dyes. DNA fragments were subsequently analysed using capillary electrophoresis, and physical map was built based on the number of shared fragments (with the same size and label) among clones at stringency cutoff 1e-75 to produce robust contigs. The cutoff represents significance threshold for clone overlap and it is based on a probability that two clones share particular number of fragments by chance. If two clones share enough fragments, the probability of random similarity is below the given threshold and the clones match each other and overlap within one contig. Singletons were then added to existing contigs and contigs were merged at successively increasing cutoff up to 1e-45. The complete guideline is available at http://www.wheatgenome.org/News-and-Reports/Meetings-and-Workshops/Physical-mapping-standard-protocol-workshop. Finally, the physical map consisted of 1,360 contigs built using a cutoff of 1e-45 (Cviková et al., unpublished, https://urgi.versailles.inra.fr/gb2/gbrowse/wheat_phys_3DS_v1/). At this stage, MTP was selected corresponding to 3,823 BAC clones re-ordered into ten 384-well plates. Three-dimensional pooling strategy was selected for DNA preparation in an effort to reduce sequencing costs [15]. In total, fifty BAC pools were constructed (10 plate pools, 16 row pool, and 24 column pools) as follows. Each of ten plate pools (labelled p01 – p10) was prepared by pooling all 384 BAC clones deposited in one of the ten MTP plates. Each of sixteen row pools (labelled rA – rP) was prepared by pooling 240 BAC clones deposited in a particular row (e.g. row A) in all ten plates. Similarly, each of 24 column pools (labelled c01 – c24) was prepared by pooling 160 BAC clones deposited in a particular column (e.g. column 1) in all ten plates. BAC clones of each pool were transferred using GeneTAC G3robot (Genomic Solutions, Huntingdon, UK) onto solid 2YT medium and incubated for 16 hours at 37°C. Bacterial colonies were then washed to liquid 2YT medium and incubated for 8 hours at 250 rpm and 37°C. DNA was isolated by standard alkaline lysis with minor modifications.
BAC-pool sequencing
2.5 μg DNA of each of 50 BAC pools was randomly fragmented in 5 μl Fragmentase (New England Biolabs, Hitchin, UK) at 37°C for 5.5 hours. Paired-end libraries were prepared for each BAC pool as recommended by Illumina for multiplexing using the NEB-Next modules from New England Biolabs and oligonucleotide primers for enrichment-PCR with six base indexes. Equimolar amounts of each library were pooled, gel-recovered in the fraction 400-600 bp and sequenced on Illumina HiSeq2000 with 100 cycles per read. To test the read mapping performance, reads representing desired coverage of pool rP were randomly selected. Data for individual BAC pools were reduced to the maximum of 30x coverage if needed prior final read mapping experiment.
Sequences used for the mapping
We mapped two different sequence datasets to BAC clones from MTP of 3DS arm. The first was produced using GenomeZipper pipeline [27]. Briefly, the chromosome arm was flow-sorted, its DNA amplified according to Šimková et al. [46] and sequenced using Genome Sequencer FLX. One full run resulted in 945,769 reads [NCBI-SRA: SRR1611613] which were used for GenomeZipper calculation. The GenomeZipper pipeline reconstructs gene order based on comparative analysis and synteny conservation with already sequenced grass species. We used Brachypodium [28], rice [29] and sorghum [30] genome sequence in this study. The GenomeZipper of 3DS comprises 578 non-redundant reads, which correspond to 498 unique positions on the chromosome arm (see Additional file 6 for complete GenomeZipper data sheet). 567 stringent non-redundant reads with length 504 ± 53 bp were used in this work. The remaining eleven reads had multiple positions in the linear gene order and hence were excluded from the analysis. The second dataset was derived from genetic map of Aegilops tauschii. Sequences with length 477 ± 170 bp underlying 7,136 SNPs [47] which mapped to any of the seven Ae. tauschii chromosomes were selected and used in this work (see Additional file 7 for list of sequences used).
Read alignment
Sequence reads of individual BAC pools were aligned using Mosaik 1.1.0021 [48] to both sequence datasets. First, the sequence datasets and paired-end reads from individual BAC pools were converted to binary data format using MosaikBuild. Then, paired-end reads of each BAC pool were mapped to sequence data set using MosaikAligner. "Hash size" (k-mer length for alignment) and "alignment candidate threshold" (minimal alignment length to map the read) parameters were pre-optimized prior to the analysis with respect to alignment sensitivity and time needed for the analysis. To calibrate the parameters, we mapped one row pool (rP) against the GenomeZipper sequence dataset with hash size ranging from 10 to 30, and alignment candidate threshold ranging from 20 to 80. Final alignment was done with the following settings: hash size 20; alignment candidate threshold 40; number of mismatches 3 with the GenomeZipper dataset, and 5 with the Ae. tauschii sequence dataset. Number of mismatches should be selected carefully. It strongly depends on divergence of genotypes (or even species) used to produce reads and reference sequence and also on quality of sequence reads and reference used for alignment. For our data, we optimized number of mismatches for GenomeZipper with row pool rP (see Additional file 8). To estimate number of mismatches for Ae. tauschii sequence data set we aligned sequences available for bread wheat D genome and Ae. tauschii using blastn (data not shown). Non-uniquely mapped reads were resolved and filtered using MosaikSort. Finally, coverage statistics for each sequence in both datasets was calculated using MosaikCoverage. Text files produced by MosaikCoverage were used in further analysis to anchor sequences to BAC clones.
BAC address deconvolution
A home-made perl script (https://github.com/cvikova/seq_anchoring) was developed for deconvolution of read-mapping information to positive BAC clone(s). For each sequence in both datasets the length of sequence region covered by reads from a particular pool was parsed from MosaikCoverage text files (we call this parameter here after covered region). The BAC pool was considered positive for the sequence if its covered region was at least 80% of the sequence length. BAC clone addresses were then calculated from positive pools in three steps. 1) For sequences with only one positive result in each dimension (plate, row and column: 1-1-1) BAC address could be immediately assigned (anchor_type_1). 2) For sequences with more than one positive result in at least one dimension, all candidate BAC addresses were calculated. After that, the file containing the FPC results of the physical map was parsed for the position of BAC clones in contigs. If two (or more) clones, overlapped in the same contig, the particular sequence was assigned to both (all) clones (anchor_type_2). 3) In the third round of analysis, end clones of physical-map contigs were compared in FPC to each other at the cutoff 1e-25 (the physical map was built at 1e-45). If two clones among candidate clones had significant hit, particular sequence was assigned to both of them (anchor_type_3) and corresponding contigs could be merged in the physical map. With respect to the low sequence depth of some DNA pools and the outcome of BAC address deconvolution and PCR validation, we performed the same analysis for decreasing successive covered regions down to 30% of sequence length of each particular sequence.
PCR validation
PCR reaction contained 1 × PCR buffer, 0.01% Cresol Red, 1.5% sucrose, 0.2 mM each of dNTPs, 0.5 U Taq polymerase, 1 μM primers (for primer list see Additional file 4), 10 ng DNA of particular pool or 0.5 μl of BAC clone DNA (10 – 50 ng/μl). PCR was performed using a C1000 Touch Thermal Cycler (Bio-Rad, Hercules, California, USA) as follows: initial denaturation at 95°C for 5 min; 35 cycles of denaturation at 95°C for 30 sec, annealing (at Ta) for 30 sec and extension at 72°C for 30 sec; final extension at 72°C for 5 min. PCR product were separated on 1.5% agarose gel, stained by ethidium bromide and visualised on IN Genius Syngene Bio Imaging system (Syngene, Cambridge, UK).
Declarations
Acknowledgement
We are grateful to Marie Seifertová and Radomíra Tušková for excellent technical assistance and Jan Vrána and Marie Kubaláková for chromosome arm sorting. We thank Michael Abrouk for careful manuscript reading and critical comments. This work was supported by the Czech Science Foundation (grant No. 13-08786S) and Ministry of Education, Youth and Sports (grant No. LO1204 from the National Program of Sustainability I) and computing was supported by the National Grid Infrastructure MetaCentrum (grant No. LM2010005 under the programme Projects of Large Infrastructure for Research, Development, and Innovations).
Authors' Affiliations
(1)
Institute of Experimental Botany, Centre of Region Haná for Biotechnological and Agricultural Research, Olomouc-Holice, Czech Republic
(2)
Istituto di Genomica Applicata, Udine, Italy
(3)
INRA, UR1164 URGI - Research Unit in Genomics-Info, INRA de Versailles, Versailles, France
(4)
Leibniz Institute of Plant Genetics and Crop Plant Research, Stadt Seeland, Germany
(5)
Plant Genome and Systems Biology, Helmholtz Zentrum München, Neuherberg, Germany
Copyright
© Cviková et al.; licensee BioMed Central. 2015
This is an Open Access article distributed under the terms of the Creative Commons Attribution License (http://creativecommons.org/licenses/by/4.0), which permits unrestricted use, distribution, and reproduction in any medium, provided the original work is properly credited. The Creative Commons Public Domain Dedication waiver (http://creativecommons.org/publicdomain/zero/1.0/) applies to the data made available in this article, unless otherwise stated.