Research article

Open Access
Genome-wide analysis of eukaryote thaumatin-like proteins (TLPs) with an emphasis on poplar
BMC Plant Biology
2011
11:33
Received: 3 September 2010
Accepted: 15 February 2011
Published: 15 February 2011
Abstract
Background
Plant inducible immunity includes the accumulation of a set of defense proteins during infection called pathogenesis-related (PR) proteins, which are grouped into families termed PR-1 to PR-17. The PR-5 family is composed of thaumatin-like proteins (TLPs), which are responsive to biotic and abiotic stress and are widely studied in plants. TLPs were also recently discovered in fungi and animals. In the poplar genome, TLPs are over-represented compared with annual species and their transcripts strongly accumulate during stress conditions.
Results
Our analysis of the poplar TLP family suggests that the expansion of this gene family was followed by diversification, as differences in expression patterns and predicted properties correlate with phylogeny. In particular, we identified a clade of poplar TLPs that cluster to a single 350 kb locus of chromosome I and that are up-regulated by poplar leaf rust infection. A wider phylogenetic analysis of eukaryote TLPs - including plant, animal and fungi sequences - shows that TLP gene content and diversity increased markedly during land plant evolution. Mapping the reported functions of characterized TLPs to the eukaryote phylogenetic tree showed that antifungal or glycan-lytic properties are widespread across eukaryote phylogeny, suggesting that these properties are shared by most TLPs and are likely associated with the presence of a conserved acidic cleft in their 3D structure. Also, we established an exhaustive catalog of TLPs with atypical architectures such as small-TLPs, TLP-kinases and small-TLP-kinases, which have potentially developed alternative functions (such as putative receptor kinases for pathogen sensing and signaling).
Conclusion
Our study, based on the most recent plant genome sequences, provides evidence for TLP gene family diversification during land plant evolution. We have shown that the diverse functions described for TLPs are not restricted to specific clades but seem to be universal among eukaryotes, with some exceptions likely attributable to atypical protein structures. In the perennial plant model Populus, we unravelled the TLPs likely involved in leaf rust resistance, which will provide the foundation for further functional investigations.
Keywords
Long Terminal Repeat
Leaf Rust
Glucanase Activity
Protein Kinase Domain
Poplar Genome
Background
Plants respond to challenge from pathogens by activating an inducible protein-based defense system that includes 17 families of pathogenesis-related (PR) proteins termed PR-1 to PR-17 [1, 2]. Proteins of the PR-5 family have high sequence identity with thaumatins, which are sweet-tasting proteins isolated from the West African shrub Thaumatococcus daniellii and are thus referred to as thaumatin-like proteins (TLPs) [3]. For decades, TLPs have been studied extensively in plants for their antifungal properties. The recent identification of TLPs in animals [4] and fungi [5] indicates that these proteins are more widely distributed and not only restricted to plants [6].
Molecular studies of TLP expression, localisation and activity support a role for TLPs in host defense during pathogen infection. TLP up-regulation has been described in many higher plants infected by pathogens such as bacteria, oomycetes and fungi [7, 8]. Localisation studies revealed that plant pathogen-inducible TLPs are secreted into the apoplast [9, 10]. More than 20 TLPs from animals, fungi and plants have been shown to exhibit an antifungal activity [7], although the mechanisms by which TLPs exert this activity remain unclear. Several antifungal modes of action have been described such as membrane permeabilization [11], β-glucan binding and degradation [5], inhibition of enzymes such as xylanases [12], α-amylase, or trypsin [13], as well as an apoptosis-inducing mechanism reported in yeast [14]. Other functional properties have been reported for TLPs, including antifreeze activity [15], protection from abiotic stress [16] and binding to proteins such as actin, viral CMV-1 protein, yeast glycoproteins and G-Protein Coupled Receptor (GPCR) or to hormones such as cytokinins [7].
Most typical TLPs described to date have a molecular weight ranging from 20 to 26 kDa, and generally possess 16 conserved cysteine residues that form eight disulfide bonds [17]. Recently, small TLPs (sTLPs) have been identified in monocots and conifers. These are characterized by a smaller molecular weight (around 17 kDa) and only 10 conserved cysteine residues that form five disulfide bonds [18–20]. Seven TLP structures have been solved so far, revealing a strongly conserved 3D organisation with a characteristic acidic cleft domain that comprises the five highly conserved amino acids REDDD that are dispersed in the primary sequence [21]. Despite good conservation of these amino acids in sTLP primary sequences, they do not organize into an acidic cleft at the 3D level [22]. Unusual TLP and protein kinase fusion proteins referred to as PR5-kinase or TLP-kinase (TLP-K) have also been reported in a few plant species [23, 7].
The analysis of the Populus trichocarpa 'Nisqually-1' genome revealed a substantial over-representation of genes encoding disease resistance proteins compared with annual species such as Arabidopsis thaliana, and this increase is not solely attributable to the genome expansion in Populus [24]. In particular, 55 putative TLP genes were initially identified in P. trichocarpa versus 24 for A. thaliana [24]. Populus spp. are economically important and hybrid poplars in particular are used extensively worldwide for wood production. Breeding programs particularly target resistance to Melampsora spp. fungi, which are responsible for leaf rust, a major disease of poplars that severely impacts tree growth and wood production [25]. With the availability of both P. trichocarpa and M. larici-populina genome sequences, the biotrophic poplar-rust interaction is emerging as a model pathosystem in forest biology [26]. Several transcriptome-based studies revealed transcriptional reprogramming in poplar leaves infected by Melampsora spp., including the up-regulation of many PR proteins [26]. In particular, transcript profiling of poplar leaves during an incompatible interaction (i.e. host-specific resistance) with M. larici-populina established a set of host-defense marker genes, including several TLPs [27].
The present study describes the annotation of 42 TLP gene models in the P. trichocarpa 'Nisqually-1' genome version 2.0. In addition, comparison of expression studies conducted on poplar subjected to biotic (i.e. Melampsora spp. infection) and abiotic stresses identified stress-responsive clades. The comparison of 598 complete eukaryote TLP amino acid sequences, of which 410 come from the 18 plant genome sequences currently available, allowed us to establish a link between function and phylogeny by systematically mapping functional data mined from the literature to the phylogenetic tree. In silico structural analysis confirmed that, with the exception of sTLPs, the acidic cleft domain is strongly conserved among eukaryote TLPs.
Results
Annotation, phylogeny, genomic distribution and gene expression of poplar TLPs
In contrast to Tuskan and collaborators [24], we identified a total of 59 putative TLP genes in the P. trichocarpa 'Nisqually-1' genome version 1.1. In version 2.0 of the genome, now integrated in the Phytozome portal [28, 29], 17 of these TLP gene models are not validated. These 17 invalidated models include 11 predicted alleles that were previously considered to be independent genes and six probable pseudogenes that are interrupted by stop codons (Additional file 1). The remaining 42 TLP genes that are validated in version 2.0 of the genome comprise 38 typical TLPs and four genes with strong homology to TLP-K from A. thaliana, including fusion to a putative protein kinase (Pfam: PF00069) ([23], Additional file 2).
A phylogenetic tree constructed with the validated poplar TLPs reveals four well-defined clades, numbered here from 1 to 4. Among these clades, the REDDD residues are highly conserved with only small variations for five TLPs (Figure
1
). The size of the proteins varies from 225 to 319 amino acids (~24 to 34 kDa) for the 38 typical TLPs and is approximately 650 amino acids (~73 kDa) for the four TLP-Ks. The predicted isoelectric points vary from 4.15 to 9.07 and correspond well with the TLP phylogeny (Figure
1
). Analysis of the protein domain organisation showed that the thaumatin domain (Pfam: PF00314) covers almost 95% of the entire mature TLPs, except 10 TLPs in clades 3 and 4 that have approximately 40 additional amino acids in their C-terminal region. The four TLP-Ks are grouped in a specific branch of clade 3, suggesting that they are monophyletic in poplar. The gene structure of poplar
TLPs
is well conserved within clades 1-3, with genes belonging to clade 1 formed by a single exon,
TLPs
from clade 2 by two exons and
TLPs
of clade 3 by three exons (Figure
1
); clade 4 is an exception with genes composed of one, two or three exons.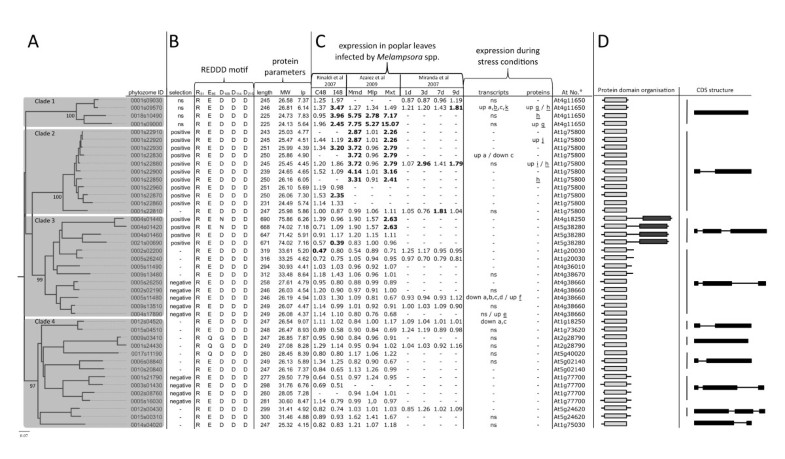 The version 2.0 of the
P. trichocarpa
genome incorporates a greatly improved physical map compared with version 1.1. This helped localise 41 of the 42 annotated
TLP
genes on 13 of the 19 chromosomes (i.e. scaffolds 1 to 19 on the Phytozome portal [
29
]) (Figure
2
). Scaffold 1 contains 16
TLP
genes, including all 11
TLP
genes from clade 2 which are located within a 350 kb segment that encodes
TLPs
exclusively. We named this region the TLP cluster. Transposable elements (TE) cover 52% of this 350 kb region, with a particular over-representation of long terminal repeat (LTR) Gypsy elements that cover 37% of the cluster (Figure
2
and Additional file
3
).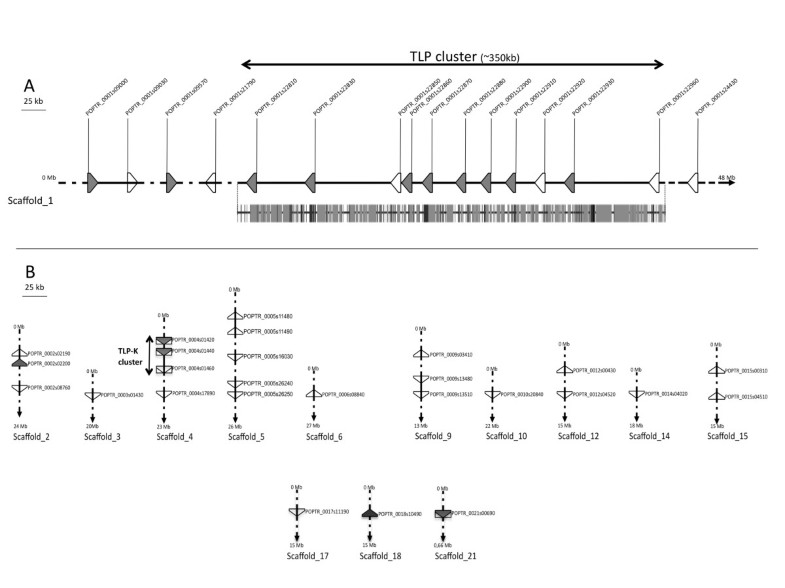 Results compiled from three different previously published transcriptome analyses of poplar leaves infected by Melampsora spp. fungi [27, 30, 31] indicate that, of the 42 TLP genes, 14 are significantly up-regulated and two are significantly down-regulated (Figure 1). Among the 14 up-regulated TLP transcripts, 12 belong to clades 1 and 2 and 11 of these are located on scaffold 1 (Figure 1 and 2). Interestingly, five TLP genes are up-regulated during an incompatible poplar/rust interaction, of which three are grouped in clade 1. Under abiotic stress conditions, five poplar TLP transcripts showed differential accumulation. In addition, six TLPs were identified by different proteomic studies, of which four were shown to accumulate during biotic or abiotic stress (Figure 1). More specifically, the PopTLP1 gene (P. trichocarpa geneID Poptr_0001s09570) from clade 1 is associated with several biotic and abiotic stresses and we confirmed with a detailed time-course analysis by RT-qPCR that PopTLP1 expression increases in poplar leaves challenged by M. larici-populina (Additional file 4).
TLPs in green plant genome sequences
We performed an exhaustive genomic analysis of plant
TLPs
by collecting
TLP
gene models from 18 sequenced plants available at the Phytozome portal [
29
]. Models encoding proteins with an incomplete thaumatin domain were ignored (Table
1
). A single but incomplete
TLP
gene was identified in the unicellular green algae
Chlamydomonas reinhardtii
, which represents the evolutionary starting point of viridiplantae, and thus makes the origin of complete TLPs in the green lineage unclear (Table
1
). Three complete
TLP
genes were identified in the moss
Physcomitrella patens
and 12 were found in the vascular plant
Selaginella moellendorffii
, indicating that an important gene expansion occurred in the transition from bryophytes to tracheophytes. Among the 15 angiosperm genomes, the
TLP
gene number varies from 16 in the barrel clover
Medicago truncatula
to 42 in the black cottonwood
P. trichocarpa
, whereas
A. thaliana
has 22
TLP
genes. An average of 26
TLP
genes are present in angiosperms, with similar numbers of
TLPs
in dicots or monocots (Table
1
). sTLP-encoding genes were identified exclusively in monocots (from 2 in
Zea mays
to 9 in
Sorghum bicolor
), whereas TLP-Ks have been identified in both monocots and dicots, although dicot TLP-Ks were restricted to the
A. thaliana
and
P. trichocarpa
genomes. To identify the genes that are most similar to TLP-Ks in the remaining dicots, we performed homology searches with the kinase domain of TLP-Ks and retrieved only lectin-kinase genes, confirming the absence of
TLP-Ks
in these dicot genomes (data not shown). In
S. bicolor
, a small-TLP-kinase (here termed sTLP-K) composed of a N-terminal sTLP domain and a C-terminal protein kinase domain, separated by a predicted transmembrane (TM) domain, was identified (Additional file
5
). The origin of this arrangement is puzzling and has apparently evolved independently of TLP-Ks. To our knowledge, this is the first report of such a domain organisation.
Table 1
TLP gene content in sequenced plant species
| organism | code | common organism name | phylum | class | order | TLP blast resulta | complete TLP domainc | small-TLP/TLP-Kd |
| --- | --- | --- | --- | --- | --- | --- | --- | --- |
| Chlamydomonas reinhardtii | Chlre | Green algae | Chlorophyte | Chlorophyceae | Volvocales | 1 | 0 | 0/0 |
| Physcomitrella patens | Phypa | Moss | Bryophyte | Bryopsides | Funariales | 5 | 3 | 0/0 |
| Selaginella moelledorffii | Selmo | Lycophyte | Tracheophyte | Sellaginellopsides | Selaginellales | 18 | 12 | 0/0 |
| Oryza sativa | Orysa | Rice | Angiosperm | Monocotyledon | Cyperales | 37 | 26 | 4/1 |
| Brachypodium distachyon | Bradi | Purple false brome | Angiosperm | Monocotyledon | Poales | 32 | 24 | 3/2 |
| Sorghum bicolor | Sorbi | Sorghum | Angiosperm | Monocotyledon | Poales | 45 | 36 | 9/1(1e) |
| Zea mays | Zeama | Maize | Angiosperm | Monocotyledon | Poales | 38 | 29 | 2/2 |
| Mimulus guttatus | Mimgu | Common monkey-flower | Angiosperm | Dicotyledon | Lamiales | 33 | 23 | 0/0 |
| Vitis vinifera | Vitvi | Grapevine | Angiosperm | Dicotyledon | Rosales | 27 | 18 | 0/0 |
| Carica papaya | Carpa | Papaya tree | Angiosperm | Dicotyledon | Brassicales | 18 | 16 | 0/0 |
| Arabidopsis thaliana | Arath | Thale cress | Angiosperm | Dicotyledon | Brassicales | 30 | 22 | 0/3 |
| Cucumis sativus | Cucsa | Cucumber | Angiosperm | Dicotyledon | Cucurbitales | 29 | 28 | 0/0 |
| Glycine max | Glyma | Soya | Angiosperm | Dicotyledon | Fabales | 58 | 38 | 0/0 |
| Medicago truncatula | Medtr | Barrel clover | Angiosperm | Dicotyledon | Fabales | 21 | 16 | 0/0 |
| Prunus persica | Prupe | Peach tree | Angiosperm | Dicotyledon | Rosales | 37 | 28 | 0/0 |
| Manihot esculenta | Manes | Manioc | Angiosperm | Dicotyledon | Malpighiales | 34 | 27 | 0/0 |
| Ricin communis | Ricco | Castor oil plant | Angiosperm | Dicotyledon | Malpighiales | 24 | 22 | 0/0 |
| Populus trichocarpa | Poptr | Poplar | Angiosperm | Dicotyledon | Malpighiales | 59b | 42 | 0/4 |
Eukaryote TLPs: linking phylogeny with protein structure and function
Discussion
The recent release of the P. trichocarpa genome, the first tree genome available, paved the way for high-throughput genomic and computational analyses of multigene families, and has defined Populus as a model organism in forest biology [34]. Considering that leaf rust fungi are responsible for considerable damage in poplar plantations, the Populus/Melampsora interaction has emerged as a model pathosystem in forest pathology [26]. In order to decipher the molecular basis of poplar resistance against this biotrophic fungus, in-depth and exhaustive studies of defense-related functions require a reliable annotation of gene families before we can understand their structural and functional diversity. We have therefore performed a genome-wide analysis of the TLP multigene family, which comprises many stress-inducible proteins in P. trichocarpa. Extension of the phylogenetic analysis to include TLPs from other eukaryotes extends our knowledge about the evolution of TLPs.
Conclusion
TLPs are eukaryote proteins that constitute small and monophyletic families in invertebrate animals and fungi whereas they are more diverse and are organized in large multigene families in plants. Regardless of their origin, it appears that many typical TLPs possess an antifungal activity, which is probably linked to a conserved acidic cleft in their 3D structure. In plants, TLPs have undergone a drastic evolutionary diversification including the evolution of tree-enriched clades and of TLPs fused to protein kinase domains. The poplar genome encodes 42 validated TLP gene models, including four TLP-kinases. Some poplar TLP transcripts accumulate specifically under abiotic or biotic stress conditions, which can be strongly correlated with their phylogeny. In the poplar genome, a tree-specific and stress-responsive cluster of tandemly-duplicated TLP genes should be of interest for understanding the unique attributes of defense against pathogen attacks that have evolved in trees.
Abbreviations
TLP:

thaumatin-like protein
PR:

pathogenesis-related
GPCR:

G protein-coupled receptor
sTLP:

small-TLP
TM:

transmembrane domain
TLP-K:

TLP-kinase
CDS:

coding DNA sequence
sTLP-K:

small-TLP-kinase
TE:

transposable element
3D-SA:

3D structure alignment
AM-3D:

alignment mapping on 3D structure
OLP:

osmotin-like protein
JGI:

joint genome institute
RLK:

receptor-like kinase
EST:

expressed sequence tag
hpi:

hour-post inoculation
NB-LRR:

nucleotide binding-leucine rich repeat
LTR:

long terminal repeat.
Declarations
Ackowledgements
We warmly thank our colleagues Francis Martin, Annegret Kohler and Pascal Frey at INRA Nancy for regular and fruitful discussions about the poplar/rust pathosystem and gene family annotation in the poplar genome. We also thank Christine Delaruelle and Patrice Vion for great technical help during RNA extraction and poplar culture respectively, Claude Murat for valuable advice on transposable elements and phylogenetic analyses, Bénédicte Favre for M. larici-populina spore conservation and Stéphane Hacquard for very helpful discussions on genome annotation and quantitative PCR. This work was funded by the 'Institut National de la Recherche Agronomique', 'Région Lorraine' and support grants to Sébastien Duplessis and Nicolas Rouhier.
Authors' Affiliations
(1)
INRA†/Nancy Université, Unité Mixte de Recherche 1136 'Interactions Arbres/Micro-organismes', Champenoux, France
(2)
Plant Research Laboratory, 122 Plant Biology Laboratory, Michigan State University, East Lansing, USA
Copyright
© Petre et al; licensee BioMed Central Ltd. 2011
This article is published under license to BioMed Central Ltd. This is an Open Access article distributed under the terms of the Creative Commons Attribution License (http://creativecommons.org/licenses/by/2.0), which permits unrestricted use, distribution, and reproduction in any medium, provided the original work is properly cited.