Research article

Open Access
Temperature desynchronizes sugar and organic acid metabolism in ripening grapevine fruits and remodels their transcriptome
BMC Plant Biology
BMC series – open, inclusive and trusted
2016
16:164
Received: 4 December 2015
Accepted: 8 July 2016
Published: 20 July 2016
Abstract
Background
Fruit composition at harvest is strongly dependent on the temperature during the grapevine developmental cycle. This raises serious concerns regarding the sustainability of viticulture and the socio-economic repercussions of global warming for many regions where the most heat-tolerant varieties are already cultivated. Despite recent progress, the direct and indirect effects of temperature on fruit development are far from being understood. Experimental limitations such as fluctuating environmental conditions, intra-cluster heterogeneity and the annual reproductive cycle introduce unquantifiable biases for gene expression and physiological studies with grapevine. In the present study, DRCF grapevine mutants (microvine) were grown under several temperature regimes in duly-controlled environmental conditions. A singly berry selection increased the accuracy of fruit phenotyping and subsequent gene expression analyses. The physiological and transcriptomic responses of five key stages sampled simultaneously at day and nighttime were studied by RNA-seq analysis.
Results
A total of 674 millions reads were sequenced from all experiments. Analysis of differential expression yielded in a total of 10 788 transcripts modulated by temperature. An acceleration of green berry development under higher temperature was correlated with the induction of several candidate genes linked to cell expansion. High temperatures impaired tannin synthesis and degree of galloylation at the transcriptomic levels. The timing of malate breakdown was delayed to mid-ripening in transgressively cool conditions, revealing unsuspected plasticity of berry primary metabolism. Specific ATPases and malate transporters displayed development and temperature-dependent expression patterns, besides less marked but significant regulation of other genes in the malate pathway.
Conclusion
The present study represents, to our knowledge the first abiotic stress study performed on a fleshy fruits model using RNA-seq for transcriptomic analysis. It confirms that a careful stage selection and a rigorous control of environmental conditions are needed to address the long-term plasticity of berry development with respect to temperature. Original results revealed temperature-dependent regulation of key metabolic processes in the elaboration of berry composition. Malate breakdown no longer appears as an integral part of the veraison program, but as possibly triggered by an imbalance in cytoplasmic sugar, when efficient vacuolar storage is set on with ripening, in usual temperature conditions. Furthermore, variations in heat shock responsive genes that will be very valuable for further research on temperature adaptation of plants have been evidenced.
Keywords
GrapevineFruit developmentTemperature stressMalic acidSecondary metabolismRNA-SeqMicrovine
Background
The grape berry is one of the most valuable horticultural crops with a total production of 7 109 kg (http://faostat3.fao.org). Due to its various uses as fresh or dry fruit, wine and liquor, its economic impact is far greater than for other fleshy fruits, which are mainly consumed as fresh. Facing global warming with an expected rise of global surface temperature between 1.8 and 2.5 °C during the next century [1], many horticultural crops are already suffering from reduced productivity and altered composition which is likely to threaten global food supply [2–6].
High temperatures display various direct and indirect effects on the physiology of the grapevine fruit depending on the developmental stage. An accelerated malic acid breakdown [7, 8], a decrease in anthocyanins with possible variations in acylation in red-berry cultivars [9–12] and changes in the aromatic potential [13] are the most problematic consequences of elevated temperature on fruit quality. A rather moderate warming favored sugar concentration, which may lead to excessively alcoholic wines masking varietal aroma [13, 14] whereas extreme heat was reported to imped sugar accumulation and ripening [10, 15]. A shift of wine growing regions to higher altitudes or latitudes can be expected as a consequence of global warming [16] whereas traditional regions will not disappear [17] but might need varieties better adapted to elevated temperatures [18, 19]. New cultivars are thus needed to support a sustainable and more environmental-friendly viticulture in the long term. To develop tools for breeding programs, it is of utmost importance to understand the regulatory mechanisms underlying the response of grapevine fruit to temperature fluctuations.
Several genes have been directly related to thermotolerance in grapevines leaves [20] and fruits [21], still very few high throughput transcriptomic studies were performed to target global changes induced by temperature in fruits. These previous studies gave new insights in the possible adaptation of the berry to high temperatures, but they were limited to short heat stress [22] or to only one developmental stage during ripening [23]. In order to minimize biases and interferences in gene expression responses to one specific abiotic factor like temperature, other environmental conditions obviously need to be maintained as stable as possible. However the specific reproductive features and plant size of the grapevine makes experimental designs under strictly controlled conditions almost impossible. To circumvent these obstacles, the present study relies on microvine grown under controlled environments in small-scale climatic chambers. This new grapevine model is the Pinot Meunier L1 Vvgai1 mutant [24] recently used for research on berry physiology [25], ecophysiology [26] and genetics [27]. This genotype is closely related to the PN40024 reference genome, facilitating the interpretation of RNAseq data.
The grapepevine berry displays a typicall double sigmoidal growth pattern that mostly results from the succession of two periods of vacuolar expansion [28] marked by a pronounced shift in the nature of prevalent osmoticums. During the green stage, proanthocyanidins are formed quite rapidely after berry set, quite simultaneously with cell divisions, and growth relies on the accumulation of 0.5 Eq of tartric and malic acid (pH 2.7) until a plateau is reached at lag phase. Ripening sets in with berry softening, the resumption of growth due to the onset of sugar accumulation, a simultaneous exponential decay of malic acid and accumulation of anthocyanin pigments [29–32]. A major transcriptomic reprogramming occurs during the abrupt drop in berry firmness that marks the transition between the lag phase and ripening, which is named véraison [33]. The heterogeneity in the timing of berry ripening within single clusters complexifies studies on berry development [34]. To evade biases introduced in gene expression by such asynchronous development, RNA-seq analyses were performed on homogeneous batches reconstituted after single berry biochemical analyses.
Daily fluctuating environmental conditions such as light and temperature as well as a molecular circadian clock are known to impact gene expression in plants and mammals [
35
–
38
]. Night transcriptomic profiling revealed many additional developmentally-regulated genes in addition to day regulated ones [
25
]. Circadian changes in genes expression were shown to be highly developmental stage-dependent, with very little transcripts exhibiting a continuous day-night pattern all along fruit development. Subsequently, it has been demonstrated that short heat stress triggered different transcriptomic responses depending on the photoperiod [
22
]. Further studies revealed similarities as well as important differences amongst daily gene regulation pattern in different cultivars [
39
]. Aware of these important advances, the present study on the effect of prolonged stress was conducted at day and night time on several berry developmental stages (Fig.
1
).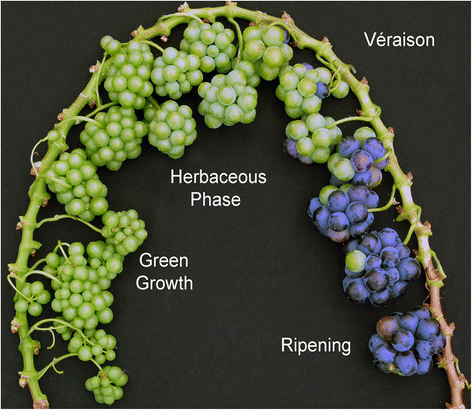 In the present work, RNA-seq has been used to study the transcriptomic response to long-term temperature stress of grapevine fruits at five key developmental stages. Combining the use of the microvine model to be phenotyped in strictly controlled conditions (VPD, PAR, water supply) and an innovative sampling approach to circumvent berry heterogeneity, the study provides novel insights in temperature adaption of fleshly fruits.
Results
Temperature impact on berry physiology
Green berries were exposed to a similar night temperature of 15 °C whereas day temperature changed from 30 °C for hot to 20 °C for cold treatment (Fig.
2
). Regarding the 30–15 °C regime, the experiment was stopped at 30 DAA (Days After Anthesis), when berry weight reached 0.6 g, close to the completion of the first growth phase which occurred at 0.64 g in preliminary experiments at 30–20 °C (Additional file
1
: Figure S1). Tartrate synthesis ceased 20–25 DAA, reaching a plateau at ca 95 μEq.berry
−1
in the 30–15 °C treatment. Malate content reached 150–200 μEq.berry
−1
at 30 DAA. The temperature drop of 10 °C during the day delayed berry growth and the accumulation of the three major osmolytes by 5.5 days, without affecting their maximal accumulation rates (Fig.
2
).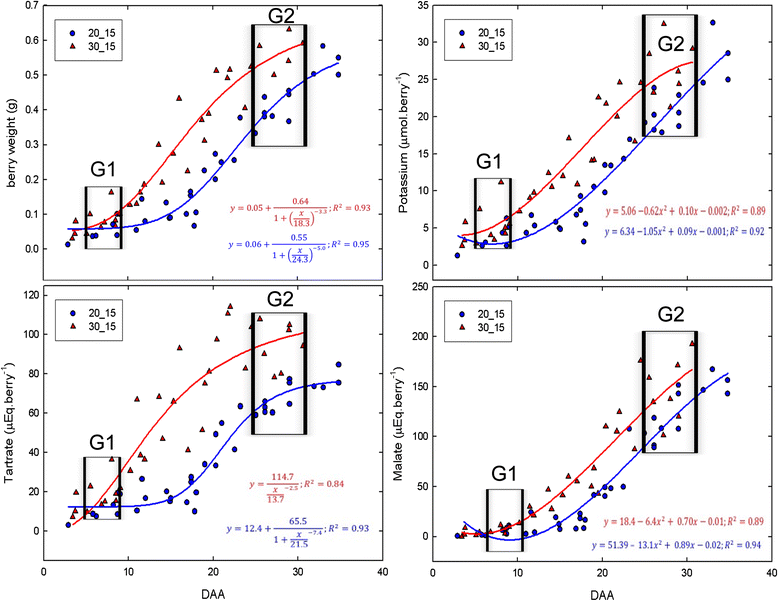 To analyze the impact of temperature on the fruit transcriptome during green phase, two stages were selected during the first growth phase, sampled two hours before the onset of day and night, respectively. Stage Green 1 (G1) was selected right after fruit set, when intense cell division occurs simultaneously with tartaric acid and proanthocyanidins accumulation, and stage Green 2 (G2; Fig. 2) corresponded to the late-green phase, when tartaric acid synthesis was nearly complete, but before the cessation of growth and malic acid accumulation in lag phase.
During the second growth period known as ripening, higher temperature gradients (25/15 °C and 30/25 °C; day/night) were applied in order to mimic the temperature increase that occurs during the summer. Furthermore, it is known that night temperatures during ripening noticeably impact final berry composition [
9
,
40
]. In Fig.
3a
, the sugar concentration of average clusters is plotted against the malate/tartrate (MA/TA) ratio. Tartaric acid per berries was unaffected by temperature (Table
1
). The breakdown of malic acid began when sugar accumulation started, and it was more pronounced under higher temperatures, as widely described in the literature [
41
,
42
]. This typical pattern was nevertheless strikingly modified in transgressively cool conditions, since the synthesis of malic acid unambiguously persisted following the induction of sugar storage at 22–12 °C, its breakdown being delayed untill 0.4–0.5 M hexoses were accumulated (Fig.
4
). Such uncoupling of malate breakdown from the onset of sugar storage has never been reported before. Noticeably, base 10 Growing Degree Days was doubled between the cold and hot conditions in this last experiment, without marked departure in the timing of the onset of sugar storage (veraison) (typically : 45–50 Julian days after anthesis, see Additional file
1
: Figure S1).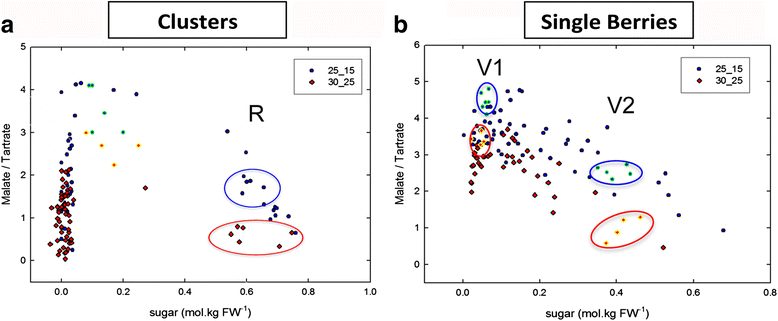 Table 1
Biochemical analysis of post-véraison berry batches selected for RNA-seq analysis
| Sample | Berry weight (g) | Malate (μEq.berry−1) | Tartrate (μEq.berry−1) | Sugar (mg.g FW−1) |
| --- | --- | --- | --- | --- |
| V1_cold | 0.9 ± 0.2 | 635 ± 43 | 149 ± 13 | 0.11 ± 0.02 |
| V1_hot | 1.0 ± 0.1 | 649 ± 77 | 160 ± 9 | 0.12 ± 0.01 |
| V2_cold | 0.9 ± 0.1 | 354 ± 80 | 138 ± 24 | 0.43 ± 0.01 |
| V2_hot | 0.8 ± 0.1 | 155 ± 94 | 141 ± 34 | 0.4 ± 0.02 |
| RDay_cold | 1.5 ± 0.1 | 230 ± 25 | 147 ± 27 | 0.6 ± 0.04 |
| RDay_hot | 1.4 ± 0.25 | 85 ± 20 | 139 ± 22 | 0.57 ± 0.02 |
| RNight_cold | 1.4 ± 0.2 | 235 ± 45 | 130 ± 22 | 0.62 ± 0.03 |
| RNight_hot | 1.55 ± 0.15 | 79 ± 40 | 140 ± 14 | 0.66 ± 0.08 |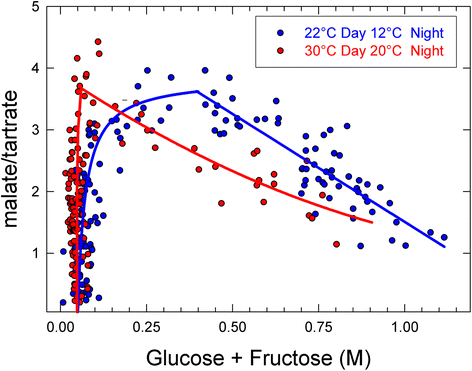 To reduce biases introduced by the asynchrony in the onset of berry ripening [34], individual berries were analyzed separately in clusters displaying first signs of véraison (either softening or very initial coloration of one berry at least) (Fig. 3). Based on sugar concentration, the distribution of individual berries (Fig. 3b) inside these clusters (Fig. 3a) displayed virtually all developmental stages from mid green phase to mid-ripening, `regardless of their coloration, which was still green for most of them. Two batches of homogeneous berries were reconstituted based on their sugar and organic acid content for further RNAseq analysis (V1: Véraison 1 and V2: Véraison 2; Fig. 3b). Average clusters, where all berries were fully colored were then selected for ripe stage (highlighted in Fig. 3a: R-Ripening), taking advantage of the grouping of berries during late ripening [34].
Biochemical analysis (Table 1) confirmed the fast evolution of berries between the two temporarily very close stages V1 and V2, with the same berry weight but a 4 times higher sugar content in V2 than in V1. Sugar accumulation just started in V1, before malate breakdown could be observed. 50 % of malate was respired in V2 in the cold, increasing to 75 % in the hot. From V2 to R, the sugar concentration increased by 30 % only, but it was accompanied by a 70 % increase in berry weight. This thus seems as if the apoplasmic pathway of sugar loading [90] was fully activated after V1, and closer to V2. The decrease in malate was as expected quicker under warm temperatures with another 50 % drop as compared to a 35 % under cold conditions. Notably it was not as quick as between V1hot and V2hot. The tartrate content per berry is invariant from V to R and from hot to cold (Table 1), which validates the use of the dimentionless malate/tartrate ratio as a proxy for malate per berry in Figs. 3 and 4. It can then be concluded from Fig. 3b that berries at V1 have just started to accumulate sugars but that malate breakdown has not started yet. In V2, with 0.4 M hexoses, sugar loading certainly occurs at maximal speed (see Additional file 1: Figure S1). Malate breakdown (net flux) has started in V2 cold, but is close to completion in V2 hot. The situation is not fundamentally different in R, except that malate has reached its lower limit in hot.
Temperature impact on the berry transcriptome
Overview of heat induced transcriptomic changes
A total of 674 millions reads have been sequenced from all selected berry stages exposed to different temperature regimes and sampled during the day or at night. Following filtration and alignment with the CRIBI unigene set, analysis of differential expression between the two temperature conditions at each stage and time point yielded in a total of 10 787 differentially expressed genes (DEG; padj < 0.05, fold change (fc) > 2; Additional file 2: Table S1). Hierarchical clustering performed on normalized counts including all biological triplicates confirmed consistency of stage selection and temperature conditions (Additional file 3: Figure S2). In this analysis, day and night conditions can only be clearly distinguished under high temperatures in green stages, whereas they are less well separated under cold temperatures. Interestingly, the reconstituted first véraison stage in cold conditions (V1cold) was more different from V2cold than from V1hot and V2hot and the closest one to the green berry, confirmed by principal component analysis (Additional file 4: Figure S3). In the first PCA (Additional file 4: Figure S3A), where the first two PCs account for 92 % variance and explain mainly development, daytime and temperature induced changes cannot be distinguished. However all four véraison conditions are very well separated from the others. This highlights the transcriptomic shift occurring at véraison [33] and the importance of a precise distinction of berry stages notably during this decisive and abrupt transition period. Temperature regime can be distinguished on PC 3 (Additional file 4: Figure S3B). Temperature seemed to have induced more important changes in green stages than in ripening stages. Stage separation between G1 and G2 was more obvious under hot condition and this was inversed on previous short heat stress studies [22]. Puzzlingly, this was still observed two hours after the stress has ceased when plants were maintained in rather cool conditions (15 °C), at night.
The number of heat modulated transcripts (lfc > 1, padj < 0.05; Fig.
5
); Additional File
12
: Figure S7 greatly changed according to berry developmental stage and daytime. The total number of heat-induced transcripts at day was similar in both green stages, with 1896 G1D_up and 1833 G2D_up, half of them being still induced at night, whenever the temperature gradient was collapsed. In this respect, additional 710 G1N_up and 852 G2 N_up were only detected at night. A similar distribution can be observed regarding heat repressed genes in green berries, with 1576 G1D_down, with half of them still repressed at night, plus an additional set of 751 specifically repressed at night (G1N_down). In G2, as much as 2195 genes were repressed at day (G2D_down) therein 50 % were down-regulated at night, with an additional 780, which only responded at night (G1N_down). This pattern changes at the ripe stage (R), where only a small number of genes were commonly heat modulated at day and at night. Remarkably, in ripening berries (R) a high number of genes (98) even inversed their temperature response from day to night (Additional file
5
: Figure S4). Due to the limited number of berries at véraison, only day sampling was conducted in V1 and V2, with 3.4 times more heat induced genes in advanced berries (V2). A similar tendency was observed in short heat stress studies where the more advanced post-véraison berries showed a larger number of heat modulated genes [
22
]. A global pageman analysis of enriched functional categories has been conducted for all heat-modulated transcripts in all conditions (Additional file
6
: Figure S5A-C). Additionally, functional categories of transcripts modulated only at one stage and time point upon heat were analysed separately for green stages and ripening (Additional file
7
: Figure S6). Within temperature-induced genes heat shock related functional categories (protein folding, chaperon mediated protein folding, HSP-mediated protein folding; Additional file
6
: Figure S5B) were significantly enriched in most developmental stages at day and night. Whereas primary and secondary metabolisms such as amino acid synthesis (Additional file
6
: Figure S5B) and phenylpropanoid related pathways were mainly repressed in advanced green berries (Additional file
6
: Figure S5C).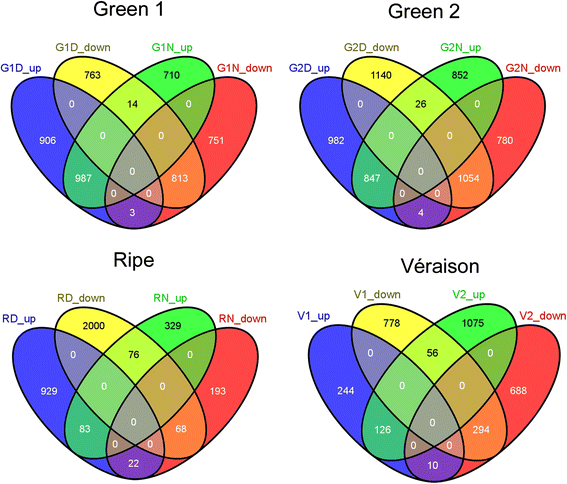 To decipher day/night specific gene modulation, a two-class maSigPro time series analysis [
43
] was conducted treating daily mean temperature as quantitative variable and day and night as qualitative variables. Thereby 1254 DEGs (padj < 0.05) could be identified and allocated to nine clusters by hierarchical clustering (Fig.
6
). In this way, transcripts whose temperature response diverged significantly at day or night could be detected (Additional file
8
: Table S2). Since average temperatures changed as well from green (17.5 and 20 °C) to ripening phases (22.5 and 27.5 °C) a developmental stage effect is as well detected this way.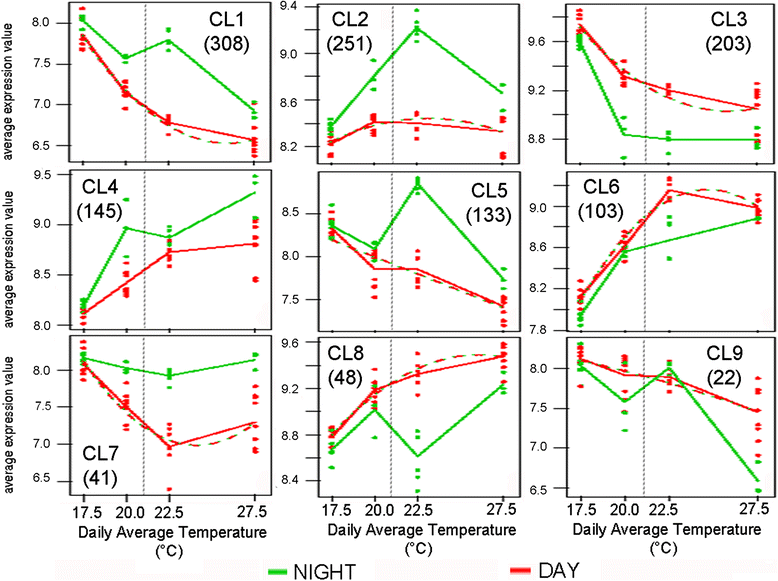 Considering that night temperatures were maintained for green berry treatments (17.5 & 20 °C) the somehow opposed clusters Cl3 and Cl4 as well as Cl2 and Cl9 are particularly interesting since their day/night differences are very pronounced during these phases.
Significant functional enrichment (padj < 0.05) was only detected in two clusters (Cl2 & Cl3). In cluster 2, which showed a stable pattern along different temperatures at day but a strong increase at night up to 22.5 °C, enriched categories were related to Regulation of genes expression and Transcription factors. TFs included a trehlix transcription factor (VIT_00s0204g00020) that binds light regulated genes and would be putatively involved in salt and pathogen stresses [44].
In addition to chaperone/HSP mediated protein folding, primary metabolism was overrepresented in Cl3, more precisely respiratory chain phosphorylation, and transport overview, with the noticeable exemples of AHA10 and AHA4 H
+
ATPases (VIT_09s0002g00130, VIT_15s0048g00170, Fig.
7
). Several putative transcription factors (TFs) were allocated to cluster 4. A TCP family TF (TCP 11 (VIT_08s0040g01600) involved in growth, cell proliferation, and organ identity in plants circadian regulation in Arabidopsis thaliana [
45
], a Scarecrow TF (TF14; VIT_06s0004g04980) and a PLATZ transcription factor (VIT_16s0039g01560).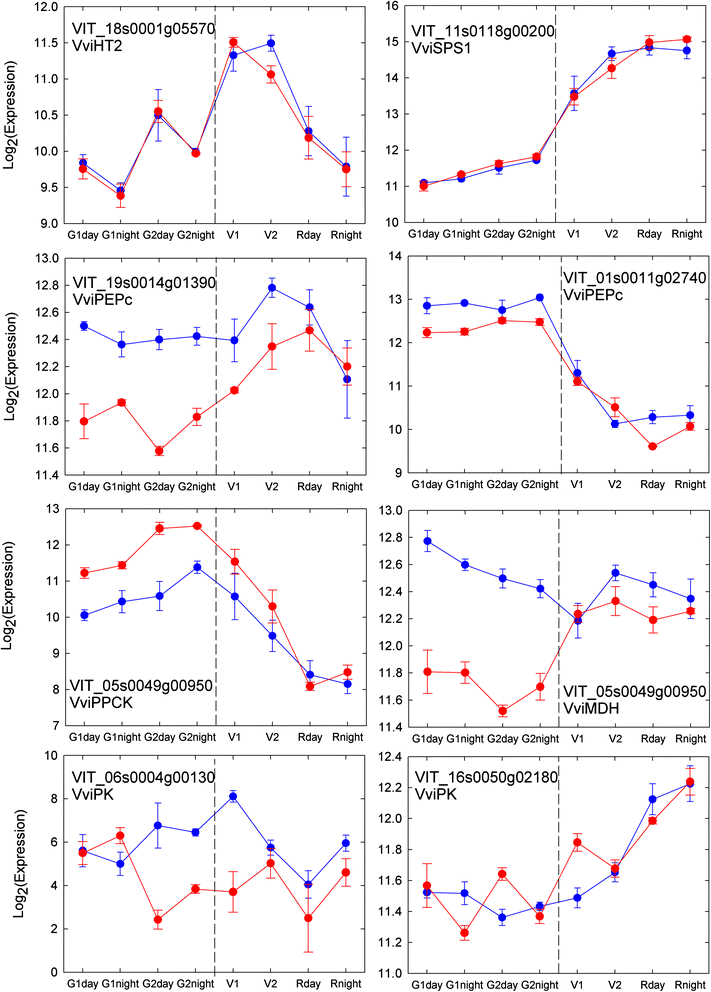 Conclusions
In the present study, whole grapevine plants were exposed to different temperature gradients for one month periods at least, under fully controlled environment. The consequences on berry development and the evolution of the main osmoticums were described, and related to changes in gene expression observed on day and night samples at five key stages. A total of 674 mio reads were sequenced leading in a total of 10 787 transcripts that were differentially expressed due to temperature. High temperatures induced an acceleration of early berry development and activated several candidate genes reported in previous studies. However, a two-fold change in base 10 growing degree day did not markedly affect the typicall 1.5 month delay between flowering and the onset of ripening. Sample reconstitution through single berry biochemical analysis was performed to mitigate intra-cluster heterogeneity at the onset of ripening and this original procedure considerably improved the accuracy of transcriptomic patterns. Malic acid respiration was favored by heat and genes involved in its membrane transport displayed a marked regulation by both development and temperature. For the first time a decorrelation of malic acid respiration and sugar accumulation was observed in the grapevine fruit at the beginning of ripening. The whole set of data suggests photoassimilate availability plays a key role in the adaptation of the fruit development to environmental changes. A role of consideration of whole plant carbon status and allocation seems to be crucial in further abiotic stress studies.
Secondary metabolism was found repressed by elevated temperature at the transcriptomic level, with a possible impact on the galloylation of proanthocyanidin. In the present study, the regulation of heat shock related genes in the fruit could be precisely deciphered, evidencing their dependence on photo vs. nyctiperiod, as well as, for some of them, their different responses to long-term temperature adaptation, when compared to short heat stress.
Abbreviations
ABA, abcissic Acid; AHA, Arabidospsis H+ -ATPase; ALMT, aluminium-activated malate transporter; CHS, Chalcone Synthase; DAA, Day After Anthesis; DEG, Differentially Expressed Gene; DRCF, Dwarf Rapid Cycling and Flowering; Exp, Expansin; G (1 or 2), green stage (1 or 2); GT, Glucosyl Transferase; HSF, Heat Stress transcription Factor; HSG, Heat Stress Gene; HSP, Heat Stress Protein; LAR, Leuco-Anthocyanidin Reductase; MA, Malic Acid; MIP, Membrane Intrinsic Protein; N, Night; PA, Proanthocyanidin; PAL, Phenylalanin Ammonia Lyase; PAR, Photosynthetically Active Radiation; PCA, PC, Principal Componant Analysis, Principal Component; PIP, Plasma membrane Intrinsic Protein; R, Ripe stage; TA, Tartric Acid; V (1or 2), Véraison (1 or 2); VPD, Vapor Pressure Deficit
Declarations
Acknowledgements
For the access to experimental facilities we would like to thank the LEPSE department of Montpellier. For technical assistance during climatic chamber experiments, support during sampling and sample processing, we express our gratitude to Nathalie Luchaire, Anne Pellegrino, Ratthaphon Chatbanyong, Mary Kelly, Clea Houel, Angélique Adivèze, Gilbert Lopez and Marc Farnos. A great thank you goes as well to David Lecourieux for fruitful discussions.
Fundings
This study was supported by ANR-Genopole (project DURAVITIS ANR-2010-GENM-004-01) and the Poupelain foundation.
Authors' contributions
MR, LT and CR conceived and designed the experiments, analyzed and interpreted the data and wrote the manuscript. SG treated NGS raw data. MA constructed cDNA librairies. JMB contributed in PA biochemical analysis and interpretation of results. All authors read and approved the final manuscript.
Competing interest
The authors declare they have no competing interests.
Consent for publication
Not appliquable.
Ethics approval and consent to participate
Not Appliquable.
Open AccessThis article is distributed under the terms of the Creative Commons Attribution 4.0 International License (http://creativecommons.org/licenses/by/4.0/), which permits unrestricted use, distribution, and reproduction in any medium, provided you give appropriate credit to the original author(s) and the source, provide a link to the Creative Commons license, and indicate if changes were made. The Creative Commons Public Domain Dedication waiver (http://creativecommons.org/publicdomain/zero/1.0/) applies to the data made available in this article, unless otherwise stated.
Authors' Affiliations
(1)
Montpellier SupAgro-INRA, UMR AGAP-DAAV Amélioration Génétique et Adaptation des Plantes méditerranéennes et tropicales-Diversité, Adaptation et Amélioration de la Vigne, Montpellier, France
(2)
Fondation Jean Poupelain, Javrezac, France
(3)
CHANGINS, haute école de viticulture et œnologie, Nyon, Switzerland
(4)
INRA Montpellier UMR SPO- Science pour l'œnologie, Montpellier, France