Research article

Open Access
Histone chaperones in Arabidopsis and rice: genome-wide identification, phylogeny, architecture and transcriptional regulation
BMC Plant Biology
2015
15:42
Received: 25 July 2014
Accepted: 5 January 2015
Published: 12 February 2015
Abstract
Background
Histone chaperones modulate chromatin architecture and hence play a pivotal role in epigenetic regulation of gene expression. In contrast to their animal and yeast counterparts, not much is known about plant histone chaperones. To gain insights into their functions in plants, we sought to identify histone chaperones from two model plant species and investigated their phylogeny, domain architecture and transcriptional profiles to establish correlation between their expression patterns and potential role in stress physiology and plant development.
Results
Through comprehensive whole genome analyses of Arabidopsis and rice, we identified twenty-two and twenty-five genes encoding histone chaperones in these plants, respectively. These could be classified into seven different families, namely NAP, CAF1, SPT6, ASF1, HIRA, NASP, and FACT. Phylogenetic analyses of histone chaperones from diverse organisms including representative species from each of the major plant groups, yeast and human indicated functional divergence in NAP and CAF1C in plants. For the largest histone chaperone family, NAP, phylogenetic reconstruction suggested the presence of two distinct groups in plants, possibly with differing histone preferences. Further, to comment upon their physiological roles in plants, we analyzed their expression at different developmental stages, across various plant tissues, and under biotic and abiotic stress conditions using pre-existing microarray and qRT-PCR. We found tight transcriptional regulation of some histone chaperone genes during development in both Arabidopsis and rice, suggesting that they may play a role in genetic reprogramming associated with the developmental process. Besides, we found significant differential expression of a few histone chaperones under various biotic and abiotic stresses pointing towards their potential function in stress response.
Conclusions
Taken together, our findings shed light onto the possible evolutionary trajectory of plant histone chaperones and present novel prospects about their physiological roles. Considering that the developmental process and stress response require altered expression of a large array of genes, our results suggest that some plant histone chaperones may serve a regulatory role by controlling the expression of genes associated with these vital processes, possibly via modulating chromatin dynamics at the corresponding genetic loci.
Keywords
NucleosomeHistone chaperonesRiceArabidopsisPhylogenyMicroarrayqRT-PCRDevelopmentAbiotic stressBiotic stress
Background
Eukaryotic nuclear DNA is condensed as chromatin in such a dynamic manner that allows its access for various processes including DNA replication, repair, recombination, and transcription. Chromatin comprises nucleosomal repeats in which each nucleosome is composed of a histone octamer with 146 base pairs of DNA wrapped around it [1]. Two molecules of each of the core histones – H2A, H2B, H3, and H4 together comprise the histone octamer [1]. Cellular processes involving DNA often require transient disruption of nucleosome structure via eviction of histones which requires the action of various nuclear factors [2]. Therefore, in order to maintain the dynamic nature of chromatin, histones must be transported, shuttled or 'piggy-backed' into the nucleus, assembled onto DNA as nucleosomes, transiently disassembled, replaced or exchanged [3].
Fundamentally, there are two types of components which define chromatin features: DNA binding factors such as transcription factors which regulate specific gene expression, and histone-associated chromatin factors which possess the capacity to change nucleosome structure and hence alter gene expression [4]. The latter class includes enzymes catalyzing covalent modifications of histones such as histone acetyl transferases (HATs), histone deacetylases (HDACs) and histone methyl transferases; ATP-dependent chromatin remodeling factors; and nucleosome assembly/disassembly factors, also known as histone chaperones [4]. Histone chaperones function to assemble or disassemble chromatin both in replication-coupled as well as replication-independent pathways, without the requirement of ATP [4,5]. Their specific function during chromatin assembly and disassembly is to deposit or evict canonical histones and histone variants. In addition, some histone chaperones such as Nucleosome Assembly Protein 1 (NAP1) are involved in the transport of newly synthesized histones into the nucleus, a prerequisite for their incorporation in nucleosomes [6].
While the nucleosomal organization contributes to the regulation of virtually all the cellular processes operating on DNA [5], not the complete pool of cellular histones is found in association with DNA at any given time. Instead, a soluble reservoir of histones is maintained to address challenges during replication stress conditions [7]. Due to the highly basic nature of histones, their presence in a free state may have detrimental effects on the cell due to non-specific charged interactions and aggregation. Histone chaperones prevent such deleterious effects associated with the presence of free histones, by binding to the non-DNA bound histones [7]. Owing to these activities, histones chaperones aid in controlling histone supply and their incorporation into nucleosomes and thus serve a critical role in fundamental processes of the cell such as DNA replication, DNA repair, recombination, and transcription [5,8-12]. Further, recent studies have suggested that histone chaperones might serve as potent effectors of histone modifications [13]. Thus, histone chaperones are of crucial importance in the maintenance of epigenetic information and genome integrity [14,15].
Histone chaperones constitute quite a diverse group of proteins. They share very little sequence similarity among themselves and the only common feature among them is their acidic nature [4,5]. Histone chaperones generally show preferential binding to a particular class of histones. While most are either H3/H4-specific or H2A/H2B-specific, some bind preferentially to linker histone H1 [5,14]. However, some histone chaperones have been shown to bind to more than one class of histones [16]. Evolutionarily, most of the families of histone chaperones are conserved throughout eukaryotes [4,5,14]. They have been extensively studied in yeast and human and have been classified into various families viz. NPM (Nucleoplasmin/Nucleophosmin), NAP (Nucleosome assembly protein), CAF1 (Chromatin assembly factor I), ASF1 (Anti-silencing factor 1), HIRA (Histone regulatory homolog A), FACT (Facilitates chromatin transcription), NASP (Nuclear Autoantigenic Sperm Protein), and SPT6 (Suppressor of Ty element 6). All but CAF1 complex and FACT complex are single subunit proteins. CAF1 consists of three subunits, CAF1A, CAF1B, and CAF1C in case of humans while CAF1p90, CAF1p60, and CAF1p50 in yeast [4]. The FACT complex consists of two subunits viz. SSRP/Pob3 and SPT16 in both human and yeast [4,17].
The physiological roles of histone chaperones in various organisms and the regulation of pathways operating during nucleosome assembly and disassembly are still not very well understood. Nonetheless, mutations in a few genes encoding histone chaperones have been implicated in causing defects in genome stability and gene expression [15]. In humans, altered expression of some histone chaperones has been linked to cancer and other diseases [15]. In plants, genetic studies for a few histone chaperones have been carried out. For example, it has been shown that the simultaneous loss-of-function mutation in three genes of NAP family (triple mutation) results in hypersensitivity to UV-C radiation in Arabidopsis [18]. Besides, mutant analyses have also revealed that the conserved histone chaperone ASF1 is required for cell proliferation during development in Arabidopsis [19]. Further, publicly available microarray-based expression data has suggested differential expression of some histone chaperones viz. ASF1B, FAS1 and NAP1;3 in a few abiotic stress conditions in Arabidopsis [20]. However, not much is known about the complete pool of histone chaperones in plants and their physiological roles remain to be described. Moreover, the regulatory mechanisms contributing toward nucleosome assembly and disassembly in response to various cellular needs in plants and the functions of various classes of histone chaperones vis-à-vis plant development and responses to various stimuli largely remain enigmatic.
In the present study, we have carried out systematic genome-wide analyses to identify histone chaperones belonging to seven different families in the model plants Arabidopsis and rice. Phylogenetic analyses comprising putative histone chaperones from these two plants besides those from an alga, two basal land plants, a conifer, yeast and human suggested several possibilities about their evolution and possible diversification of function in plants. Besides, we have carried out a comparative analysis of their primary architecture and found unique as well as common sequence elements therein. Further, to gain insights into their potential physiological function in plants, we have studied their expression at different stages of plant development, across various plant tissues, and under biotic and abiotic stresses using public microarray repositories and via qRT-PCR. Our findings suggest interesting links between regulation of gene expression mediated by nucleosome assembly/disassembly and various physiological and developmental aspects of the life cycle of plants, which may serve as a starting point for functional characterization studies for an important class of factors regulating chromatin dynamics – histone chaperones.
Discussion
Regulation of gene expression is a fundamental process in a cell and plays a critical role in physiological and developmental processes in plants. Further, plants being sessile regulate the expression of hundreds and thousands of genes in order to successfully respond to stimuli generated by biotic and abiotic stresses. Gene expression and its regulation involve a network of numerous cellular processes and factors involved in them. By altering the DNA accessibility via eviction and deposition of histones onto the DNA, histone chaperones represent an important regulatory hub in the gene expression webs and hence can potentially exert considerable influence on developmental and physiological processes in plants. In contrast to their yeast and human counterparts, however, plant histone chaperones remain poorly studied and their physiological role in plants remains elusive. Therefore, there is a need to comprehensively identify and dissect the roles of histone chaperones in plants.
We identified and classified histone chaperones from two model plants – rice and Arabidopsis, and studied their phylogenetic relationship with histone chaperones from other organisms including yeast, human, algae, basal land plants and one conifer. Our finding that plant histone chaperones comprise majorly multi-membered families partly due to some events of segmental duplication leading to gene-family expansion suggests towards interesting links between histone chaperones and evolution and divergence of dicots and monocots. Our analysis indicates that while most duplication events might be common to dicots and monocots, we do find dicot-specific and monocot-specific expansion of some histone chaperone families (Figure 1). Segmental duplication has been considered to be a common process in plants leading to expansion of gene families [30,31], and histone chaperones present no exception.
Phylogenetic analyses of histone chaperones from diverse organisms such as yeast, algae, bryophyte, pteridophyte, gymnosperm, angiosperms, and human indicate that most histone chaperones from yeast and human, except those belonging to NASP and HIRA families and the CAF1C sub-family, are more closely related to each other than to histone chaperones from plants (Figures 2, 3, 4, 5). Besides, histone chaperones (excluding those belonging to NAP, ASF1, and CAF1C) from the alga Chlamydomonas reinhardtii formed a distinct group within their respective families indicating their distant evolutionary relationship with counterparts from other species (Figures 2, 3, 4, and 5). The phylogenetic trees further indicate interesting possibilities about the link between evolution and function of histone chaperones. For instance, the highly similar pattern of evolution of the two subfamilies (SSRP and SPT16) of the FACT family (Figure 5A and B) suggests that since the two subunits (SSRP and SPT16) of the FACT multi-subunit complex often function together, their evolution, possibly, might have been on similar lines. Another intriguing example is the CAF1C subfamily, plant members of which showed diversity both across species (interspecific) and within a single species (intraspecific). Plant CAF1C proteins from the same species are separated in distinct phylogenetic groups (Figure 3C). Most of the CAF1C proteins from the studied plant species were found to be separated in two phylogenetic classes. However, CAF1C members from rice, Arabidopsis and P. patens formed part of three different phylogenetic classes. Thus, CAF1C sub-family in plants shows both intra- and inter-specific variation. This suggests a possible functional divergence in the CAF1C subfamily in plants; that is not found in yeast and human. Because this sort of divergence is absent in CAF1A and CAF1B (Figure 3A and B), divergence in the CAF1C subfamily in plants might contribute to regulate the function of CAF1 complex via replacing one CAF1C subunit with another in the CAF1 multi-subunit complex. Since the CAF1 multichaperone complex is involved in histone deposition during replication and repair of DNA [5], this possible mechanism may serve as a means to respond to various stimuli during these processes. The replacement of components of a multi-subunit complex in order to regulate biological function has been found to be a feature of some macromolecular complexes, the most striking example being histones as part of the histone octamer [32]. However, validating the possibility, as to if the activity of the CAF1 complex is regulated by replacing one CAF1C subunit with another, warrants further biochemical evidence and remains to be worked out in future.
Histone chaperones are also classified based on their histone binding specificity as most of them show preference towards a particular class of histones, either H2A/H2B or H3/H4 [5]. Amongst the NAP family proteins, HsSET shows preferential binding towards H3-H4 class of histones [33], while ScNAP1 and other NAP-proteins from human are considered to be H2A-H2B chaperones [5,34]. The clustering of AtNAPL5, AtNAPL6, OsNAPL5, and OsNAPL6 (and at least one putative NAP protein from each of the studied plant species) with HsSET, while other members constituting a different clade with NAP members from yeast (ScNAP1) and human (Figure 2) indicated functional divergence in the NAP family in higher eukaryotes. This suggests similar histone-specificity for the corresponding homologs in Arabidopsis and rice, with Group I and II possibly being H3/H4- and H2A/H2B-specific, respectively (Figure 2). Further, our results explain the differential phenotypic information obtained via mutant analysis in previous studies. In Arabidopsis, it has been shown that double mutants of AtNAPL6 (NRP1) and AtNAPL5 (NRP2) which are clustered with HsSET in the tree (Figure 2), show growth defect in roots [35] while the triple mutant of AtNAPL1(AtNAP1;1), AtNAPL2 (AtNAP1;2) and AtNAPL3 (AtNAP1;3) shows sensitivity to ultraviolet radiation [18]. This indicates that apart from being evolutionary distinct, these two groups of the NAP family perform different physiological functions in plants.
Primary structure analysis of histone chaperones in plants reveals that a common feature of most of the histone chaperones is the presence of one or more low complexity regions – LCRs (Figure 6). LCRs are characterized by low sequence diversity and possess the ability to expand in a shorter time via slippage during replication [36], thus generating diversity in the protein families based on the number of LCRs. We observed that in case of many histone chaperones, the LCRs present at the C-terminus are rich in acidic residues aspartate (D) and glutamate (E) (Figure 6; Additional file 4: Figure S1, Additional file 5: Figure S2, Additional file 6: Figure S3, Additional file 7: Figure S4, Additional file 8: Figure S5, Additional file 9: Figure S6, Additional file 10: Figure S7, Additional file 11: Figure S8, Additional file 12: Figure S9, Additional file 13: Figure S10), conserved D/E residues are shown in purple in the alignments). Portions of these LCRs are known to be sites of post-translational modifications [37], and hence may be involved in modulating interaction and the specificity of interaction with other proteins including histones [38]. Furthermore, all the families of histone chaperones except CAF1B possess at least one domain not found in other families. CAF1B is a unique histone chaperone insofar as it possesses only WD40 domain in multiple copies across its sequence (Figure 6B). WD40 domain is also present in other proteins including histone chaperones CAF1C and HIRA (Figure 6B and F), and has been considered to be majorly a eukaryotic domain functioning in protein-protein interaction [39]. That CAF1B, CAF1C, and HIRA are all known to function as part of macromolecular complexes [4], elucidates the importance of the presence of these repeats in them, since protein-protein interactions are the very basis of the assembly of such complexes.
Several mechanisms such as regulation at the transcriptional, post-transcriptional, translational or post-translational level and interaction with other macromolecules influence the final activity and function of a protein. Amongst these, transcriptional regulation is a major means to regulate the cellular levels and hence the activity of an encoded protein. Consistently, gene expression-based studies in plants have shown that transcript profiles of genes usually correlate well with their role in physiology and development [29,40]. Hence, studying the transcript profiles of genes which do not have well described role during the course of a plant's life cycle, may provide meaningful insights into their function. We, therefore, analyzed the expression of histone chaperones of both Arabidopsis and rice during development and across different plant tissues. Because histone chaperones serve several vital functions inside the cell, their levels are not expected to vary considerably at different stages in life cycle and across various tissues. However, in contrast to yeast, plants possess multiple histone chaperones in most of the families and mutant analyses have shown that cellular function of the members of some of the families is redundant [19,35,41]. This gives a scope for modulating the expression of a few histone chaperones in order to respond to developmental and stress signals via altering chromatin accessibility at the target loci. In our analysis, we found that while several histone chaperones maintain their transcript levels, either high or low, throughout development and across different tissues, many others are expressed at a higher level at a particular developmental stage or in specific plant tissues (Figures 7 and 8).
The genetic reprogramming associated during developmental processes and formation of different tissues from the embryo requires coordinated expression of specific suites of genes. Epigenetic regulation of gene expression is an important means of controlling cellular levels of gene products and maintaining both intra-generational and trans-generational memory [42]. Since histone chaperones are important players in these processes, our data suggest that histone chaperones may be involved in the epigenetic programming and reprogramming associated with development and formation of organ identity. Though not always the case, many factors regulating gene expression and functioning to contribute towards grain yield have been shown to be expressed differentially at various developmental stages [29]. Nevertheless, differential expression of a gene across different panicle development stages per se is only an indication of its probable function in contributing towards grain yield. Hence, even though we have found that a few histone chaperones are differentially expressed during reproductive phases, further detailed studies using tools of functional genomics are required to delineate the contribution, if any, of such histone chaperones towards grain yield.
Stress response requires altered expression of a large number of genes [43-45]. Switching on and off the expression of so many genes under stress conditions is associated with the action of several transcription factors like DREB, LEA, WRKY, AP, DST and NAC [46-48]. However, the action of transcriptional activators requires a transcriptionally competent chromatin state and that of repressors is associated with a restrictive chromatin conformation. Histone chaperones, due to their ability to assemble/disassemble nucleosomes, function together with other epigenetic factors like ATP-dependent chromatin remodeling factors, HDACs, and HATs to alter the transcriptional competence of a chromatin region [49]. Hence, histone chaperones can potentially play a major role in stress response in plants. There is a paucity of reports validating the possible function of histone chaperones in stress response in plants. Nevertheless, the expression profile obtained in our study shows that some histone chaperones are differentially regulated under one or more biotic and abiotic stress conditions while the levels of others remain unchanged. In agreement with the results of the present study (Figure 10A), recently, it has been shown via mutant analyses that Arabidopsis histone chaperones belonging to ASF1 family play a role in transcriptional activation in response to heat stress [50]. Besides, previously, it has been found using expression values from public databases that ASF1B in Arabidopsis (AtASF1L1) is downregulated under heat stress conditions [19]. Our observations (Figures 9, 10, 11) supported by these findings suggest that altered levels of a few histone chaperones, including ASF1, may be instrumental in promoting or restricting DNA accessibility at stress-responsive regions of DNA, depending on whether the chaperone in question primarily functions in eviction or deposition of histones. Considering that gene expression is a complex interplay of hundreds of diverse factors, to facilitate a holistic understanding of gene regulation during stress response, it is imperative to generate a comprehensive picture taking into account both genetic as well as epigenetic factors, including histone chaperones.
Several stresses are associated with DNA damage and in order to survive under stressful conditions, the damaged DNA must be repaired [51]. DNA repair machinery requires the aid of histone chaperones in order to gain access to the damaged DNA [52,53]. Therefore, for an efficient DNA damage response, altered expression and function of histone chaperones might be required. Previously, it has been shown that double mutation in AtNAPL6 (AtNRP1) and AtNAPL5 (AtNRP2) is associated with a down regulation of DNA repair components [35]. In our study, genes for both these histone chaperones were found to be upregulated during drought stress conditions (Figure 10). These findings together indicate that AtNAPL5 and AtNAPL6 may positively regulate the expression of some components of the nucleotide excision repair machinery and thus possibly play an indirect role in DNA repair. However, precisely which histone chaperones are involved directly in DNA repair pathways in plants is not known, to date, and further interaction studies are required to fish out the histone chaperones interacting with the DNA repair machinery.
Conclusions
By affecting the accessibility of DNA for various DNA-related processes, histone chaperones represent an important class of 'master regulators' which can modulate the expression of several genes. Therefore, histone chaperones can potentially play a key role during physiological and developmental processes in plants. However, histone chaperones have not been well studied in plants and their precise number, architecture, and transcriptional regulation remain poorly understood. Our study, for the first time has identified the members of all the seven families of histone chaperones in two model plants – Arabidopsis and Rice. Our attempt to trace the evolutionary trajectory of histone chaperones in plants by including representative species from every major plant group for a phylogenetic reconstruction has provided insights with intriguing biochemical and functional implications which remain to be studied in a greater detail. Further, the expression pattern during both development and stress response, obtained in the present study, suggests novel roles for histone chaperones vis-à-vis these processes. Based on the cellular role of histone chaperones and the results of the present study, we hypothesize that histone chaperones, in conjunction with other factors involved in regulation of gene expression, play an important and possibly a regulatory role in stress response and during development in plants (Figure
12
). Future studies may aim to functionally characterize the differentially regulated histone chaperones furthering our understanding of the underlying regulatory networks of gene expression and delineating the precise role of histone chaperones therein.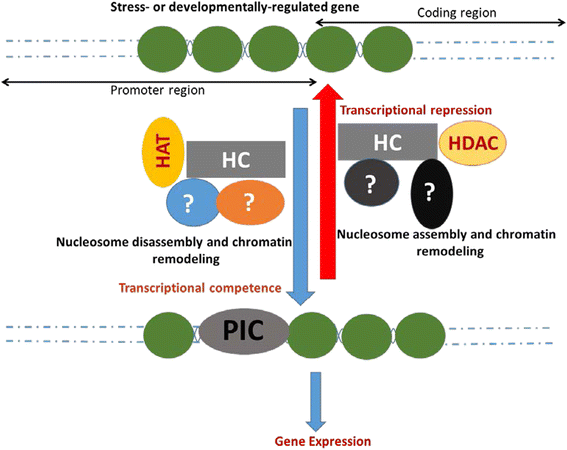 Declarations
Acknowledgements
SLS-P acknowledges funding from International Centre for Genetic Engineering and Biotechnology (ICGEB), New Delhi, and the Department of Biotechnology, Government of India. Senior Research Fellowship (PhD) from the Department of Biotechnology, Government of India awarded to AKT is gratefully acknowledged. We are grateful to the Joint Genome Institute, CA, USA and Phytozome for providing genome information. Further, we also wish to extend our gratitude to Prof. Stefan Rensing, Principal Collaborator of the P. patens genome project for allowing the usage of P. patens genome v3.0.
Authors' Affiliations
(1)
Plant Molecular Biology Group, International Centre for Genetic Engineering and Biotechnology, New Delhi, India
(2)
Stress Physiology and Molecular Biology Laboratory, School of Life Sciences, Jawaharlal Nehru University, New Delhi, India
Copyright
© Tripathi et al.; licensee BioMed Central. 2015
This is an Open Access article distributed under the terms of the Creative Commons Attribution License (http://creativecommons.org/licenses/by/4.0), which permits unrestricted use, distribution, and reproduction in any medium, provided the original work is properly credited. The Creative Commons Public Domain Dedication waiver (http://creativecommons.org/publicdomain/zero/1.0/) applies to the data made available in this article, unless otherwise stated.