Research article
Open Access
Arabidopsis PHOSPHATE TRANSPORTER1 genes PHT1;8 and PHT1;9 are involved in root-to-shoot translocation of orthophosphate
BMC Plant Biology
2014
14:334
Received: 21 July 2014
Accepted: 11 November 2014
Published: 27 November 2014
Abstract
Background
In plants, the uptake from soil and intercellular transport of inorganic phosphate (Pi) is mediated by the PHT1 family of membrane-spanning proton : Pi symporters. The Arabidopsis thaliana AtPHT1 gene family comprises nine putative high-affinity Pi transporters. While AtPHT1;1 to AtPHT1;4 are involved in Pi acquisition from the rhizosphere, the role of the remaining transporters is less clear.
Results
Pi uptake and tissue accumulation studies in AtPHT1;8 and AtPHT1;9 knock-out mutants compared to wild-type plants showed that both transporters are involved in the translocation of Pi from the root to the shoot. Upon inactivation of AtPHT1;9, changes in the transcript profiles of several genes that respond to plant phosphorus (P) status indicated a possible role in the regulation of systemic signaling of P status within the plant. Potential genetic interactions were found among PHT1 transporters, as the transcript profile of AtPHT1;5 and AtPHT1;7 was altered in the absence of AtPHT1;8, and the transcript profile of AtPHT1;7 was altered in the Atpht1;9 mutant. These results indicate that AtPHT1;8 and AtPHT1;9 translocate Pi from the root to the shoot, but not from the soil solution into the root.
Conclusion
AtPHT1;8 and AtPHT1;9 are likely to act sequentially in the interior of the plant during the root-to-shoot translocation of Pi, and play a more complex role in the acclimation of A. thaliana to changes in Pi supply than was previously thought.
Keywords
Phosphate transportersArabidopsisGene expressionLocal signalingSystemic signaling
Background
Phosphorus (P) is a major essential nutrient for plant growth, development and reproduction. Plants acquire P from the soil in its most oxidized inorganic form, phosphate (Pi) [1]. The uptake of Pi into the plant occurs against a steep electrochemical gradient. While the concentration of Pi in the soil solution is generally less than 2 μM, the Pi concentrations within plant tissues can be greater than 10 mM [2]. However, cytosolic Pi concentrations are tightly controlled, rarely exceeding 60–80 μM Pi [3]. Pi uptake from the soil and transport within the plant against this concentration gradient is mediated by Pi transporters. The first eukaryotic Pi transporter protein to be described was the PHO84p H+ : Pi symporter in yeast [4], followed by plant homologs [5],[6]. From the numerous plant sequences now available, four PHOSPHATE TRANSPORTER (PHT) families are recognised: PHT1 (plasma membrane), PHT2 (plastid inner envelope), PHT3 (mitochondrial inner membrane) and PHT4 (mostly plastid envelope and one Golgi-localized transporter) [7],[8].
The Arabidopsis AtPHT1 family has nine members. The family is composed of several high-affinity Pi transporters having Km values in the range of 2.5 μM to 12.3 μM [9] and other members that may have lower affinities for Pi [10],[11]. Transcripts from most of the AtPHT1 genes are detected in both roots and shoots [12]-[15], while AtPHT1;6 transcripts are most abundant in flowers [12]. Transcripts from all AtPHT1 genes except AtPHT1;6 accumulate upon Pi starvation [16]. Transcriptional regulation of AtPHT1 expression seems to be mainly controlled by the internal P status [13],[15],[17],[18]. Sugars and cytokinins can also direct the expression of some AtPHT1 family members [19].
Several strategies have evolved in plants that help them acclimate to variation in Pi availability, including the modulation of PHT1 gene expression. The deployment of these strategies is modulated by local and systemic signaling networks. The best characterized systemic signaling module involved in the responses to changes in Pi supply includes the phloem-mobile microRNA Atmir399d, its target gene AtPHO2 and a family of regulatory, non-coding RNAs encoded by the AtIPS1 and AtAT4 genes [20],[21]. These functions form a circuit where AtPHO2 activity in the root, which mediates the ubiquitination of AtPHT1 proteins in the post-endoplasmic reticulum compartment [21], is modulated by Atmir399d as the shoot experiences variations in P levels [14],[22]. The activity of Atmir399d in silencing AtPHO2 transcripts is itself antagonistically modulated by AtIPS1 and AtAT4 transcripts during prolonged periods of Pi starvation [23],[24]. On the other hand, local signaling networks control many of the characteristic changes in root system architecture that accompany changes in Pi availability. Thibaud et al. [18] identified a set of genes that are induced by local signaling networks during Pi starvation. These genes include the ethylene-responsive AtERF1 transcription factor gene, the metalloproteinase At2-MMP gene, the jasmonate-inducible AtGSTU12 and AtLOX4 genes and the AtWRKY75 transcription factor gene, which encodes a modulator of both the Pi-starvation response and root development [25].
Functional characterization of AtPHT1;1 and AtPHT1;4 validated their roles in Pi acquisition from the soil solution under both Pi-sufficient and Pi-deficient growth conditions [26]. AtPHT1;5 plays a role in translocating Pi from source to sink organs [27]. Analysis of a Atpht1;9–1 mutant and pht1;8/pht1;9 silencing lines suggested a role for AtPHT1;9 and AtPHT1;8 in Pi acquisition at the root-soil interface during prolonged Pi limitation [28]. However, based on the increased transcript abundance from these two AtPHT1 genes in the pho2 mutant [22], we hypothesize that AtPHT1;8 and AtPHT1;9 each have a role in translocating Pi from the root to the shoot. In this study we examined the physiological functions of AtPHT1;8 and AtPHT1;9 by characterizing their transcriptional regulation and the phenotypes of corresponding T-DNA insertion mutants in response to changes in Pi supply. Genetic interactions within the AtPHT1 gene family were also examined by analyzing the transcript patterns of its members in each mutant in response to Pi availability. Furthermore, the placement of these two AtPHT1 gene functions within the plant response to variations in Pi supply was determined by analyzing the transcript patterns of several genes associated with systemic and local signaling networks in each mutant.
Discussion
A clear response in
Arabidopsis
to changes in P status is the reversible repression of
AtPHT1
gene expression [
20
]. The modulation of
AtPHT1
expression alters the Pi transport activity within the plants in response to the prevailing Pi availability [
10
]. Here we provide evidence that
AtPHT1;8
and
AtPHT1;9
were instrumental in the movement of Pi from the root to the shoot. In addition, we show that these genes had overlapping but distinct functions, as well as interactions at the transcript level with
AtPHT1;7
and other genes that are involved in controlling P nutrition (Figure
8
).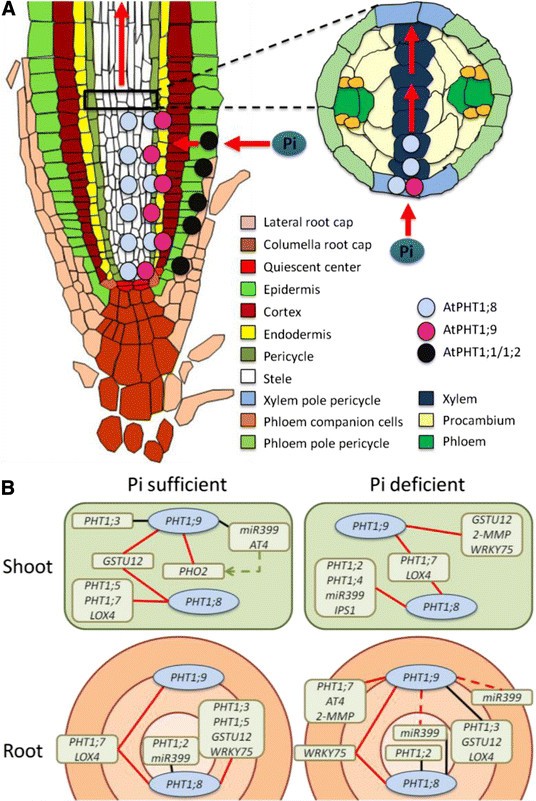 Conclusion
The products of the AtPHT1;8 and AtPHT1;9 genes are involved in the translocation of Pi from the roots to the shoot in Arabidopsis. When supplied with moderate Pi for an extended period, the reduced Pi translocation to the shoots in Atpht1;8 and Atpht1;9–1 did not affect shoot Pi concentration, but instead lowered the organic P concentration. Some of the observed effects on growth and P allocation in the Atpht1;8 and Atpht1;9–1 mutants may be indirect, as mutations in these genes caused changes to the transcript abundance of other AtPHT1 genes. The loss of AtPHT1;9 also had an indirect effect on the transcript abundance of genes involved in systemic signalling mediated by the PHO2/mir399 network. Thus, AtPHT1;8 and AtPHT1;9 have a wider role in the control of P nutrition in Arabidopsis than was previously reported.
Methods
Plant material and growth
Arabidopsis ecotypes Col-0 and T-DNA insertion lines SALK 088586C (Atpht1;1–2, At5g43350), SALK 056529 (Atpht1;8, At1g20860) and SALK 050730 (Atpht1;9–1, At1g7643) were obtained from the Arabidopsis Biological Resource Centre. Seeds were surface-sterilized in 70% (v/v) ethanol for 2 mins and 5% (v/v) sodium hypochlorite for 5 mins followed by five washes in sterile water for 5 mins each. Seeds were stratified at 4°C in the dark for 16 h before sowing. When determining the location of the T-DNA insertion, seeds were sown on solid B5 medium (Phytotechnology Laboratories, Kilsyth, VIC, Australia) containing 3% (w/v) sucrose. Seedlings were grown with the plates held in a vertical position.
For hydroponic growth of plants, a modified nutrient solution approximating one-half strength Hoagland's solution [56],[57] was used. The solution contained 2 mM Ca(NO3), 2 mM KNO3, 0.5 mM NH4NO3, 0.5 mM MgSO4, 0.25 mM KH2PO4, 50 μM KCl, 40 μM of Fe-EDTA, 25 μM of H3BO3, 2 μM MnCl2, 2 μM ZnSO4, 0.5 μM CuSO4, 0.15 μM of CoCl2 and 0.075 μM NH4Mo7O24. The seeds were sown on rock wool as described [58].
For the initial Pi re-supply experiments, Col-0 plants were grown in hydroponics. In the first four weeks, the nutrient solution was exchanged three times. In the depletion phase, nutrient solutions were exchanged twice a week for both the control and experimental plants. The controls were on nutrient solution containing 250 μM Pi while the experimental plants were on nutrient solution lacking Pi. After 12 days (d) of Pi deprivation on nutrient solution without Pi, experimental plants were transferred either to solutions containing 250 μM Pi or to solutions lacking Pi. To ensure a stable osmotic environment the solutions were exchanged daily during this period.
For the long-term Pi depletion study, the standard nutrient solution was changed once within the first four weeks of hydroponic growth, then alternating on every 2 d or 3 d for plants grown on Pi-containing nutrient solution, or every 7 d for plants grown on nutrient solution lacking in Pi. Tissues were harvested after 14 d of treatment.
For the experiment to measure the short-term rate of Pi depletion from the medium the seedlings were grown in nutrient solution containing 250 μM Pi, exchanged three times within 30 d. The seedlings were then transferred to solutions without Pi to deplete plant P pools, where the nutrient solution was changed every 7 d. After 18 d of Pi deprivation plants were then transferred to solutions containing 250 μM Pi. Tissues were harvested every 30 mins for 6 h after the last transfer.
For root-growth assays plants were grown on vertical plates of solid one-half-strength Hoagland's nutrient solution containing 0.5% sucrose and 8 g/L of agar (Plant Micro Agar, Phyto Technologies Laboratory LLC, Shawnee Mission, Kansas, USA). Seedlings were grown for 5 d on solid medium containing 250 μM Pi before transfer to fresh medium containing either 250 μM Pi (High Pi) or 5 μM Pi (Low Pi) for 12 d.
All plants were grown with 10 h light (160 μmol m−2 s−1 PAR) at 21°C and 14 h dark at 18°C. Plant tissues were harvested with appropriate staggering starting 3 h after the beginning of the light period to ensure that plants were at a comparable physiological and metabolic state for each harvest.
For seed production, seedlings were transferred to pots with soil after 3 weeks and grown for a month under 10 h/14 h short-day conditions as above, before transfer to long-day conditions (16 h light [100 μmol m−2 s−1 PAR] at 22°C and 8 h dark at 19°C) until harvest.
Characterization of T-DNA insertion mutant lines
Genomic DNA was isolated from leaves of 4-week-old plants using a cetyl trimethylammonium bromide (CTAB)-based method [59]. PCR genotyping was performed using primers specific for the T-DNA left border and gene-specific primers corresponding to the regions of At5g43350 (AtPHT1;1), At1g20860 (AtPHT1;8) and At1g76430 (AtPHT1;9) reported to be flanking the T-DNA inserts (see Additional file 11: Table S2).
RNA isolation and quantitative reverse-transcription PCR
Poly-A+ RNA was isolated from up to 40 mg of plant tissue using oligo-dT magnetic beads (Dynabeads, Invitrogen Life Technologies, Grand Island, NY), followed by cDNA synthesis (Bioscript RT, Bioline, Alexandria, NSW) on the beads [60]. Primers for quantitative reverse-transcription PCR (qRT-PCR) (see Additional file 11: Table S2) were designed against candidate cDNA sequences using two software packages (Primer Express, Applied Biosystems, Life Technologies; BLAST Primer3, http://www.ncbi.nlm.nih.gov/tools/primer-blast). PCR primer efficiencies were determined using LinRegPCR [61]. Efficiencies did not change significantly between different cDNA samples (Additional file 11: Table S2). AtPDF2 [29], AtYLS8 [30] and AtACT7 (At5g09810) were used as reference genes. qRT-PCR was carried out using a commercial reagent kit according to the manufacturer's instructions (Power SYBR Green Master Mix, Applied Biosystems, Life Technologies). Reactions (10 μl) were performed in 96-well format and contained approx. 0.5 ng cDNA, 2.5 μl of a mixture containing 1.2 μM each of the forward and reverse primers, and 5 μl of master mix. The PCR conditions were one cycle of 50°C for 20 sec and 95°C for 10 min, followed by 40 cycles of 95°C for 15 sec and 60°C for 1 min (7500FAST Sequence Detection System, Applied Biosystems, Life Technologies) followed by a melt curve analysis to detect non-specific amplification products. The cycle threshold (Ct) and normalized fluorescence values were determined for each sample during the quantitative PCR cycling reaction (Prism Sequence Detector Software v. 2.0, Applied Biosystems, Life Technologies). The threshold fluorescence value for determining Ct was set to 0.2 relative units. A comparative Ct approach was applied, where the transcript level of a target gene was normalized to the average signal from the AtPDF2, AtACT7 and AtYLS8 reference genes [29]. Expression levels were given on a log2 scale expressed as 40-∆Ct, where ∆Ct is the difference between the Ct of the target gene and the average Ct reference genes [22]. Therefore, 40-∆Ct value equal to 40 represents a transcript amount that is equal to the average transcript abundance for the reference genes. The threshold 40-∆Ct value in this experiment was 25, using a theoretical lowest target Ct value of 40. According to the manufacturer's instructions, a Ct value of 35 (corresponding to a 40-∆Ct value of 30) marks the lower detection limit of the PCR instrument used. Changes in transcript levels compared to the corresponding tissues from plants continuously supplied with Pi are given on a log scale expressed as ∆∆Ct [62],[63].
P determinations and elemental analysis
Pi was measured using a modified ammonium molybdate method [64]. Fresh tissues were homogenized at a ratio of 1 mg sample fresh weight to 10 μl 1% (v/v) acetic acid. The homogenate was centrifuged twice at 12,000 × g for 15 min at 4°C. Samples were diluted and a 90 μl aliquot was combined with 210 μl 0.35% (w/v) NH4MoO4, 1.4% (w/v) ascorbic acid in 1 N H2SO4 and incubated in the dark for 60 min at 37°C. A standard curve was constructed using dilutions of KH2PO4. The absorbance of the reaction products was measured at 820 nm and the Pi concentration of the unknown sample extrapolated from the standard curve.
Total P was extracted from approx. 10 to 20 mg of dried tissue by digesting in 3 ml HNO3 at 100°C for 10 min. After cooling for 5 min, 1 ml of HClO4 was added. The acid digests were heated to 150°C until the vigorous reaction that takes place between the HClO4 and the organic residue had run to completion. Samples were heated to 180°C for 10 min to dehydrate any silica present. After the sample had cooled, 2 ml of de-ionized water were added. Samples were diluted as necessary before combining 150 μl with 50 μl malachite green and polyvinyl alcohol mixture [65] and allowed to stand for 8 min. The absorbance of the reaction was measured at 650 nm and the total P concentrations of the samples were extrapolated from a standard curve constructed using standard solutions of KH2PO4. Po was calculated from these data as total P minus Pi.
Root length measurement
For measuring root growth of seedlings on vertical plates, the position of the root tip was marked daily on the plate. At the end of the experiment, the plates were scanned and the incremental changes in root length were measured (LSM Image Browser, Carl Zeiss Microscopy GmbH, Jena, Germany).
Anthocyanin measurement
Anthocyanins were measured using a pH differential method [66]. Fresh tissue was homogenized at a ratio of 1 mg fresh weight to 10 μl 1% (v/v) acetic acid. The homogenate was centrifuged twice at 12,000 × g for 15 min at 4°C. A 60 μl portion of the final supernatant was diluted with 240 μl of 0.025 M potassium chloride solution, pH 1.0 and another 60 μl aliquot diluted with 240 μl 0.4 M sodium acetate buffer, pH 4.5. The two dilutions, which exhibit the pH-dependent structural transformation of the chromophore of anthocyanins, were equilibrated for 15 min. Sample absorbance was measured at 520 nm and at 700 nm to correct for overall background absorbance from other pigments. The concentration of monomeric anthocyanin pigments was calculated using the formula: Anthocyanin (μmol/g FW) = (A × MW × DF × 1000)/(ε × 1 cm) where: A is the absorbance of diluted sample, MW is the molecular weight of cyanidin-3-glucoside (MW = 449.2), DF is the dilution factor and ε is the molar absorption coefficient for cyanidin-3-glucoside (ε = 26,900 L mol−1 cm−1) [66].
Statistical analyses
Unpaired T-tests were done on the qPCR data (GraphPad Quick Calcs, GraphPad Software, Inc., San Jose, CA, USA). Analysis of Variance (ANOVA) followed by Tukey's Multiple Comparison of Means was done for the root-to-shoot ratio, anthocyanin and Pi measurements, lateral root density, and primary and lateral root lengths (R software, R Foundation for Statistical Computing, Vienna, Austria).
Availability of supporting data
The data sets supporting the results of this article are included within the article as additional files.
Abbreviations
ANOVA:

Analysis of variance
cDNA:

Complimentary deoxyribonucleic acid
CTAB:

Cetyl trimethylammonium bromide
Ct:

Cycle threshold
Col-0:

Columbio-0
d:

Days
DF:

Dilution factor
DNA:

Deoxyribonucleic acid
FW:

Fresh weight
MW:

Molecular weight
LB:

Left-border primer
LP:

Left gene-primer
P:

Phosphate
Pi:

Inorganic phosphate
PHT:

Phosphate transporters
qRT-PCR:

Quantitative reverse-transciption polymerase chain reaction
RB:

Right-border
RP:

Right gene primer
SD:

Standard deviation
WT:

Wild-type
Declarations
Acknowledgements
We thank Dr Khalil Kariman (University of Western Australia), Dr Xing Wang (University of Western Australia) and Dr Made Pharmawati (Undayana University, Bali, Indonesia) for their technical advice and assistance.
Authors' Affiliations
(1)
School of Plant Biology, University of Western Australia, Crawley (Perth), Australia
(2)
Institute of Agriculture, University of Western Australia, Crawley (Perth), Australia
Copyright
© Lapis-Gaza et al.; licensee BioMed Central Ltd. 2014
This article is published under license to BioMed Central Ltd. This is an Open Access article distributed under the terms of the Creative Commons Attribution License (http://creativecommons.org/licenses/by/4.0), which permits unrestricted use, distribution, and reproduction in any medium, provided the original work is properly credited. The Creative Commons Public Domain Dedication waiver (http://creativecommons.org/publicdomain/zero/1.0/) applies to the data made available in this article, unless otherwise stated.