Methodology article
Open Access
Prioritization of candidate genes in QTL regions based on associations between traits and biological processes
BMC Plant Biology
2014
14:330
Received: 15 September 2014
Accepted: 10 November 2014
Published: 10 December 2014
Abstract
Background
Elucidation of genotype-to-phenotype relationships is a major challenge in biology. In plants, it is the basis for molecular breeding. Quantitative Trait Locus (QTL) mapping enables to link variation at the trait level to variation at the genomic level. However, QTL regions typically contain tens to hundreds of genes. In order to prioritize such candidate genes, we show that we can identify potentially causal genes for a trait based on overrepresentation of biological processes (gene functions) for the candidate genes in the QTL regions of that trait.
Results
The prioritization method was applied to rice QTL data, using gene functions predicted on the basis of sequence- and expression-information. The average reduction of the number of genes was over ten-fold. Comparison with various types of experimental datasets (including QTL fine-mapping and Genome Wide Association Study results) indicated both statistical significance and biological relevance of the obtained connections between genes and traits. A detailed analysis of flowering time QTLs illustrates that genes with completely unknown function are likely to play a role in this important trait.
Conclusions
Our approach can guide further experimentation and validation of causal genes for quantitative traits. This way it capitalizes on QTL data to uncover how individual genes influence trait variation.
Keywords
Quantitative trait locusCandidate gene prioritizationGene function prediction
Background
The elucidation of genotype-to-phenotype relationships remains a major challenge in biology. The causal relationship between variation of a trait-of-interest and genotypic differences is important for understanding genome evolution and functioning. In plants, it is the basis for developing targeted strategies in molecular breeding [1],[2]. Technological developments in high-throughput phenotyping and next generation sequencing (NGS) are revolutionizing the scale of determination of phenotypes and genotypes [3],[4].
A current bottleneck is the integration of all these data to unravel the molecular mechanisms behind traits-of-interest. Quantitative Trait Locus (QTL) mapping is an attractive approach to link genetic determinants to phenotypes [5]-[8]. In combination with physical maps, QTL studies have identified numerous genomic regions of various plants responsible for variation in particular traits. QTL analyses often are the primer to candidate gene mapping [9], but experimental approaches to identify the causal genes underlying a QTL are labor-intensive, time-consuming and expensive [10]. The limited number of crosses that can reasonably be performed leads to a low number of recombinations, which in turn means that QTLs are generally mapped with a low resolution: QTL regions typically contain tens to hundreds of genes.
Therefore, methods that help prioritizing QTL candidate genes using a computational approach would be very helpful in unraveling genotype-to-phenotype relationships. Such prioritization is well developed in human disease genetics, where several criteria, such as the putative deleteriousness of a variant, evolutionary conservation, and known biological pathways, are taken into account [11]-[23]. However, in plant biology and breeding, QTL candidate gene prioritization is much less developed. One approach consists of using genes previously identified as influencing the trait under study and test whether these explain a QTL [24],[25], but this approach is limited to existing knowledge about genotype-to-phenotype relationships. Other approaches focus on integrating and visualizing existing information for prioritization [26]-[28] or merely give an overview of previously determined QTL candidate genes [29],[30]. Little use has been made of biological pathways or predicted gene functions [31]-[33].
As an alternative experimental approach, genome-wide association studies (GWAS), which take advantage of historical recombination events, are able to increase resolution. However, GWAS can suffer from problems such as confounding due to genetic background, or diminishing power to find associations for rare alleles [5]. Moreover, existing diversity in a population available for GWAS analysis need not be relevant for a trait-of-interest.
We here present a novel computational method for plant QTL candidate gene prioritization. In our approach (Figure
1
A), for each gene contained in every QTL region for a trait-of-interest, we first predict which biological processes it is involved in. This is done using our previously developed gene function prediction method BMRF, which uses sequence data and co-expression information as input [
34
]. Enrichment (overrepresentation) of biological process (BP) terms, preferably based on multiple QTL regions for a given trait, allows association of the trait-of-interest with specific biological processes. Overrepresented BP terms are used to prioritize the candidate genes from the QTL gene lists that are most likely to be the underlying causal genes responsible for the variation in the trait-of-interest.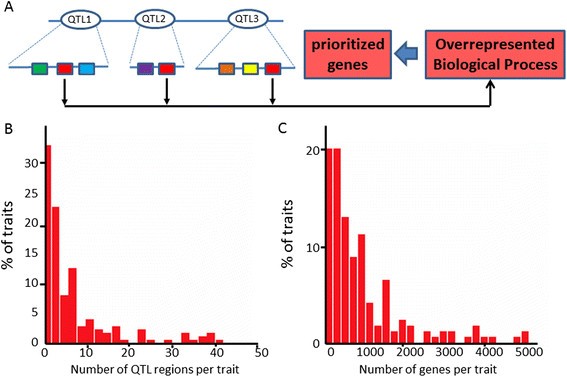 We applied this method in rice (Oryza sativa), chosen because of the large amount of QTL data available [35]. For a series of traits, we demonstrate the performance of candidate gene prioritization by comparing predictions with sets of genes known to be involved in the traits analyzed. On average, for 153 rice traits, a ten-fold reduction in the number of candidate genes was obtained by our prioritization. These results enable to capitalize on QTL data to uncover how individual genes influence trait variation.
Discussion
In order to exploit the information hidden in plant genomics data for breeding, better understanding of genotype-to-phenotype relationships is essential. The biological and molecular basis of most quantitative trait variation is poorly understood and QTL mapping approaches generally result in too large numbers of candidate genes to be able to identify causal genes easily. The prioritization of candidate genes is not only of fundamental interest, but also of high practical value, because causal genes for any trait-of-interest make perfect markers for breeding. Our results demonstrate that associations between overrepresented biological processes and traits help to prioritize candidate genes and zoom in on the potentially causal genes for the trait-of-interest. Our integrated analysis is the first large-scale application assessing explicitly the performance of overrepresentation of predicted gene functions for the identification of potentially causal genes for plant traits in genomic regions obtained by QTL mapping.
Our approach resulted in a reduction in total number of genes of more than ten-fold compared to the number of genes in the input QTL regions. Based on comparison with different experimental datasets, the predicted causal genes are clearly statistically significant. Although we could only compare the prioritized genes with a limited number of fine-mapped genes available in literature, our predictions enable to test potentially causal genes underlying QTLs at a larger scale. This paves the way towards obtaining more detailed insight into the role of specific genes underlying QTLs which in turn should enable further validation of our predictions in the future. As demonstrated by the example of genes prioritized for days to heading, included in the set of prioritized genes are genes with so far completely unknown function. Such genes will be particularly interesting targets for experimental verification.
Out of 179 traits, for 26 no predictions were obtained. It could be that for some of these 26 traits, causal genes underlying different QTL regions are not involved in the same biological process. If indeed for each QTL region for a trait-of-interest a different biological process would be underlying, our enrichment analysis would not be able to predict these biological processes. However, for ~30% (8 of 26) of these traits only one QTL region was available, two times the percentage of traits with only one QTL region observed overall (~15%). This indicates that traits with multiple QTL regions are more likely to indeed contain overrepresented BPs. In other words, the analysis of overrepresented BPs profits from the availability of multiple QTL regions. This is in line with the above mentioned assumption underlying our prioritization method, that multiple QTL regions for a trait reflect variation in genes involved in the same biological process. Taken together, our results clearly indicate that this assumption is often correct.
We found that transcription factors are prominently present among the prioritized candidate genes. This points towards an explanation for the fact that QTL studies preferably find large effect mutations [60]. It may also emphasize the important role of transcription factors in domestication. Half to two-third of genes known to be involved in domestication consist of transcription factors [76],[77] and many of the traits important for breeding are relevant in the context of domestication [78].
The input needed for prioritization as here developed consists of QTL regions and predicted gene functions. Incorporating the significance level of the association of genome regions with a trait using QTL Logarithm Of the Odds (LOD) scores could improve the analysis as could better assessment of the overrepresentation of biological process terms using e.g. gene set enrichment analysis [79], iterative group analysis [80], or approaches that take the hierarchy of the Gene Ontology into account [81]. Yet, in such enrichment analysis the importance of the source of the gene function annotations is often underestimated. Especially in case of agricultural crops, knowledge of what all the genes predicted to be present in the genome are actually doing, is scarce [82]. For example, existing databases describing rice gene functions only contain relatively small number of cases [59],[83]. Having a large set of high-quality gene function predictions [34] results in much higher numbers of significant associations between traits and biological processes compared to using existing annotations.
Conclusions
The set of potentially causal genes that results from the prioritization approach here demonstrated could be an important dataset for future applications in rice breeding. Other crops as well as relevant animal species could be addressed in a similar way. It may motivate research communities to generate the data necessary for such analyses. QTL data are available for various plant species and we generated sets of high-quality biological process predictions for different plant species, including major crops [34]. In the future it should be possible to analyze data from various species simultaneously to find overrepresented biological processes among QTL regions linked to the same trait in different species. Such comparative approach will help to extract more useful information from available data in order to elucidate and exploit the link between genotype and phenotype.
Declarations
Acknowledgements
This work was supported by the FP7 "Infrastructures" project transPLANT Award 283496 and by the BioRange program of the Netherlands Bioinformatics Centre (NBIC) which is supported by a BSIK grant through the Netherlands Genomics Initiative (NGI).
Authors' Affiliations
(1)
Applied Bioinformatics, Bioscience, Plant Sciences Group, Wageningen University and Research Centre, Wageningen, The Netherlands
(2)
Netherlands Bioinformatics Centre (NBIC), Nijmegen, The Netherlands
(3)
Laboratory of Bioinformatics, Plant Sciences Group, Wageningen University and Research Centre, Wageningen, The Netherlands
(4)
Laboratory for Plant Breeding, Plant Sciences Group, Wageningen University and Research Centre, Wageningen, The Netherlands
(5)
Biometris, Wageningen University and Research Centre, Wageningen, The Netherlands
Copyright
© Bargsten et al.; licensee BioMed Central Ltd. 2014
This article is published under license to BioMed Central Ltd. This is an Open Access article distributed under the terms of the Creative Commons Attribution License (http://creativecommons.org/licenses/by/4.0), which permits unrestricted use, distribution, and reproduction in any medium, provided the original work is properly credited. The Creative Commons Public Domain Dedication waiver (http://creativecommons.org/publicdomain/zero/1.0/) applies to the data made available in this article, unless otherwise stated.