Research article

Open Access
An expressed sequence tag (EST) library from developing fruits of an Hawaiian endemic mint (Stenogyne rugosa, Lamiaceae): characterization and microsatellite markers
BMC Plant Biology
2006
6:16
Received: 30 March 2006
Accepted: 23 August 2006
Published: 23 August 2006
Abstract
Background
The endemic Hawaiian mints represent a major island radiation that likely originated from hybridization between two North American polyploid lineages. In contrast with the extensive morphological and ecological diversity among taxa, ribosomal DNA sequence variation has been found to be remarkably low. In the past few years, expressed sequence tag (EST) projects on plant species have generated a vast amount of publicly available sequence data that can be mined for simple sequence repeats (SSRs). However, these EST projects have largely focused on crop or otherwise economically important plants, and so far only few studies have been published on the use of intragenic SSRs in natural plant populations. We constructed an EST library from developing fleshy nutlets of Stenogyne rugosa principally to identify genetic markers for the Hawaiian endemic mints.
Results
The Stenogyne fruit EST library consisted of 628 unique transcripts derived from 942 high quality ESTs, with 68% of unigenes matching Arabidopsis genes. Relative frequencies of Gene Ontology functional categories were broadly representative of the Arabidopsis proteome. Many unigenes were identified as putative homologs of genes that are active during plant reproductive development. A comparison between unigenes from Stenogyne and tomato (both asterid angiosperms) revealed many homologs that may be relevant for fruit development. Among the 628 unigenes, a total of 44 potentially useful microsatellite loci were predicted. Several of these were successfully tested for cross-transferability to other Hawaiian mint species, and at least five of these demonstrated interesting patterns of polymorphism across a large sample of Hawaiian mints as well as close North American relatives in the genus Stachys.
Conclusion
Analysis of this relatively small EST library illustrated a broad GO functional representation. Many unigenes could be annotated to involvement in reproductive development. Furthermore, first tests of microsatellite primer pairs have proven promising for the use of Stenogyne rugosa EST SSRs for evolutionary and phylogeographic studies of the Hawaiian endemic mints and their close relatives. Given that allelic repeat length variation in developmental genes of other organisms has been linked with morphological evolution, these SSRs may also prove useful for analyses of phenotypic differences among Hawaiian mints.
Keywords
Gene Ontology
Arabidopsis Proteome
Plant Reproductive Development
Abnormal Floral Organ
Hawaiian Mint
Background
It has frequently been noted that many island plant lineages show little genetic sequence divergence compared with their continental relatives [e.g., [
1
,
2
]]. This phenomenon can be associated with recent radiations and/or extensive gene flow, and in the case of young plant lineages, as in the Hawaiian Islands, it is often contrasted with considerable morphological and ecological diversity. An example is the native Hawaiian mints (Lamiaceae), which represent a major island radiation that likely originated from polyploid ancestors in North American
Stachys
(Fig.
1
) [
3
].
Stachys
is a large (ca. 300 species) and widespread genus belonging to the subfamily Lamioideae. Based on sequence variation in the rapidly-evolving nuclear ribosomal 5S non-transcribed spacer (5S-NTS), the Hawaiian mints are most closely related to temperate North American
Stachys
, whereas with chloroplast (cpDNA) sequence data, they group with a largely Mesoamerican
Stachys
lineage (see Fig.
1
). This phylogenetic incongruence between nuclear and organellar DNA data probably indicates a reticulate ancestry for the Hawaiian mints. Their closest relatives appear to be bird-pollinated
Stachys chamissonis
and insect-pollinated
S. quercetorum
.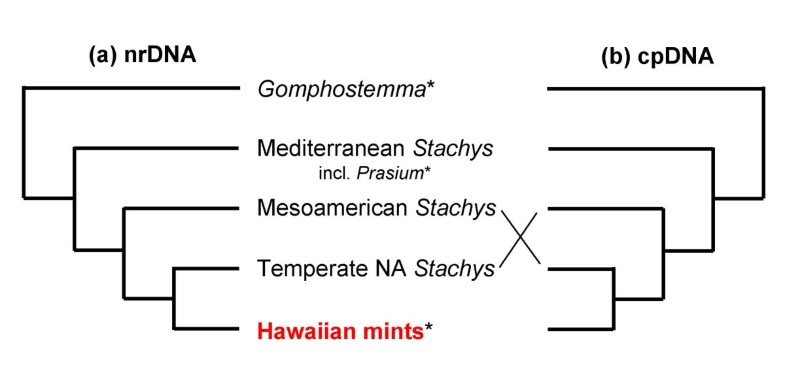 The Hawaiian mints comprise a total of 58 species in three genera. Dry-fruited Haplostachys and fleshy-fruited Phyllostegia and Stenogyne exhibit broad morphological and ecological variation. The sole extant member of Haplostachys (a genus of 5 species total), H. haplostachya, has fragrant white flowers typical of insect-pollination and is found in the xerophytic shrubland of Hawai'i. The flowers of Phyllostegia resemble those of Haplostachys. The 32 species of Hawaiian Phyllostegia are herbs, lianas or subshrubs and are mainly found in mesic to wet forest habitats. In Stenogyne the flowers are axillary and the tubular corollas, displaying a range of sizes and colors, usually have a reduced lower lip, suggestive of bird-pollination. The 21 species of Stenogyne are mainly perennial vines found in lower elevation, mesic-wet forests to higher elevation, subalpine woodland. In contrast to this extensive morphological and ecological diversity among the Hawaiian taxa, DNA sequence variation has been found to be remarkably low, resulting in a lack of phylogenetic resolution among accessions of Phyllostegia and Stenogyne [4]. It is apparent that faster evolving markers are necessary to study the presumed hybrid origin and adaptive evolutionary aspects, such as development of fleshy fruits, of the Hawaiian endemic mints.
In the search for suitable molecular markers to elucidate recent radiations, non-coding regions of chloroplast and nuclear gene sequences and sometimes variation within DNA fragment data, e.g., from restriction fragment length polymorphism (RFLP), random amplified polymorphic DNA (RAPD), and amplified fragment length polymorphism (AFLP), have been used in a diverse array of plants. Genomic microsatellites or simple sequence repeats (SSRs) have only had limited use for studies of natural plant populations, since they have to be developed each time in different plant species, which can be time consuming and expensive. However, among the advantages of microsatellite markers are their high reproducibility, multiallelic nature, codominant inheritance, relative abundance, that they usually have good genome coverage, and that only a small amount of DNA template is required [5].
In the past few years, expressed sequence tag (EST) projects have generated a vast amount of publicly available sequence data from plant species. These data are not only useful for gene discovery and comparative genomic investigation of transcriptomes and certain developmental processes, but they can also be mined for SSRs (typically referred to as EST or intragenic SSRs). These EST SSRs are useful as molecular markers in plant genetic and evolutionary studies because (i) they represent transcribed genes, (ii) a putative function can often be deduced by a homology search, and (iii) since they are derived from transcripts, they are useful for assaying functional diversity in natural populations [6]. Another important feature of EST-SSR markers is their expected higher levels of transferability to related species than genomic SSR markers. Several studies have now demonstrated not only high rates of infra-generic transferability but also transferability to other closely related genera [see [6]], which is also very promising for comparative mapping and genomic investigations of natural populations. However, EST projects have largely focused on crop or otherwise economically important plants, although EST data from other plants are emerging [7–9]. One example is the Floral Genome Project [10], which as part of a comparative genomic investigation of the floral transcriptome, has constructed a large set of ESTs from phylogenetically basal angiosperms specifically selected to bridge the evolutionary gaps between model plants [11].
We constructed an EST library from developing fleshy fruits (nutlets) of
Stenogyne rugosa
(Fig.
2
). Fleshy fruits are rare in the mint family and are only found in few other genera within the entire subfamily Lamioideae (Fig.
1
). However, studies of fruit pericarp structure have shown that the fleshy nutlets of the Hawaiian mints are not anatomically homologous to other fleshy-fruited genera in the subfamily [
12
]. It is possible that fixation of this novel feature after the colonization of the Hawaiian Islands along with sorting out of floral morphotypes ensuring greater pollinator specialization has had a major adaptive impact on the evolution of the Hawaiian mint lineage [
4
].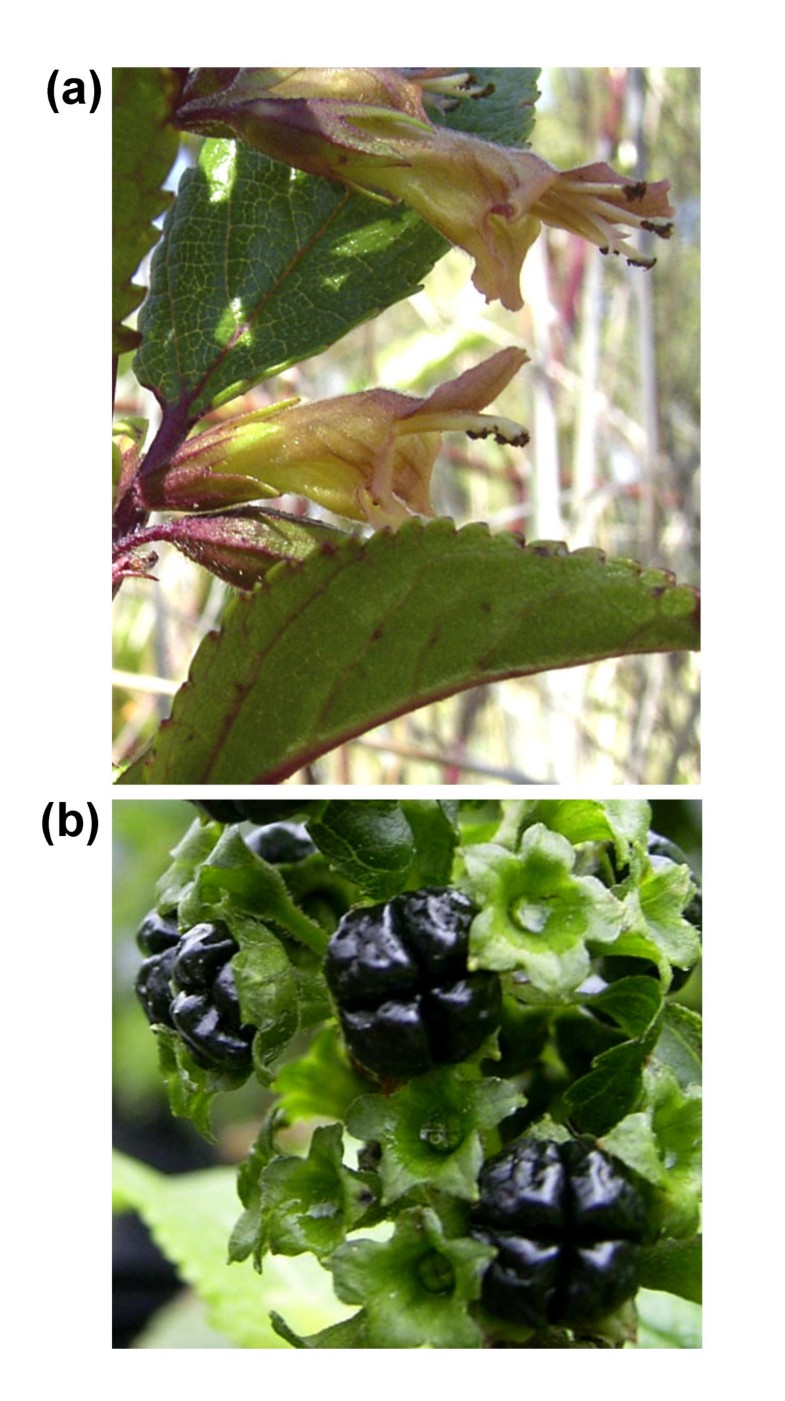 By constructing a Hawaiian mint fruit EST library we primarily wished to search for and develop genetic markers for our Hawaiian endemic mint research. Furthermore, we wished to enable comparative reproductive transcriptome studies, e.g., with unigene sets from the Floral Genome Project and tomato (also an asterid angiosperm) [13]. In this paper we describe the EST library and show how a relatively small fruit EST data set can cover a broad functional representation of the general angiosperm transcriptome. Furthermore, we discuss several potential uses of this database, in particular as related to our search for genetic markers.
Discussion
The Hawaiian endemic mints represent one of the largest plant lineages in the archipelago, exhibiting extensive vegetative, habit and reproductive diversity. Targeting single genes and comparing DNA sequences of already developed phylogenetic markers have proven very limited for understanding the molecular basis for this fascinating morphological radiation. Recent efforts have demonstrated that expressed sequence tag (EST) sequencing can be used as an efficient and relatively economical approach for large-scale gene discovery and comparative genomics research. Great potential for addressing many questions in evolutionary biology will be afforded as more data from non-model organisms emerge and are mined for functional information. We constructed a fruit EST library from an Hawaiian endemic mint as a further step toward understanding the molecular basis for the radiative evolution of the Hawaiian mint lineage and to provide resources for comparative genomics investigations of plant reproductive development.
Conclusion
The Hawaiian endemic mints are a conspicuous example of an island radiation within which morphological and ecological diversity outweighs known genetic diversity. The Arabidopsis-annotated unigenes assembled from our Hawaiian mint EST library were broadly distributed in terms of GO Biological Processes and Molecular Function categories when compared with the Arabidopsis transcriptome. Many genes were annotated to reproductive development, and several to flowering time function. A comparison of Hawaiian mint and tomato ESTs suggests that the new library may be useful for comparative fruit developmental research. Particularly, further studies of the SSR resources described here will permit more detailed genetic research on the Hawaiian mints, and possibly, the role that particular repeat sequences may play in their morphological or ecological evolution.
Declarations
Acknowledgements
This study was funded through the Research Council of Norway (grant number 27741), the Floral Genome Project (NSF Plant Genome Research Program, project DBI-0115684), the Soltis Laboratory (Department of Botany and Florida Museum of Natural History, University of Florida), the Natural History Museum, University of Oslo, and a Kristine Bonnevies travel award to ACS. We also thank Teri M. Solow (Cornell University) for additional bioinformatics, and Mika Bendiksby for assistance in the field.
Authors' Affiliations
(1)
Natural History Museum, University of Oslo, Blindern, Norway
(2)
Department of Botany, University of Florida, Gainesville, USA
(3)
Department of Biology and Huck Institutes of the Life Sciences, The Pennsylvania State University, University Park, USA
(4)
Florida Museum of Natural History, University of Florida, Gainesville, USA
Copyright
© Lindqvist et al; licensee BioMed Central Ltd. 2006
This article is published under license to BioMed Central Ltd. This is an Open Access article distributed under the terms of the Creative Commons Attribution License (http://creativecommons.org/licenses/by/2.0), which permits unrestricted use, distribution, and reproduction in any medium, provided the original work is properly cited.