Research article

Open Access
Construction of two genetic linkage maps in cultivated tetraploid alfalfa (Medicago sativa) using microsatellite and AFLP markers
Received: 10 October 2003
Accepted: 19 December 2003
Published: 19 December 2003
Abstract
Background
Alfalfa (Medicago sativa) is a major forage crop. The genetic progress is slow in this legume species because of its autotetraploidy and allogamy. The genetic structure of this species makes the construction of genetic maps difficult. To reach this objective, and to be able to detect QTLs in segregating populations, we used the available codominant microsatellite markers (SSRs), most of them identified in the model legume Medicago truncatula from EST database. A genetic map was constructed with AFLP and SSR markers using specific mapping procedures for autotetraploids. The tetrasomic inheritance was analysed in an alfalfa mapping population.
Results
We have demonstrated that 80% of primer pairs defined on each side of SSR motifs in M. truncatula EST database amplify with the alfalfa DNA. Using a F1 mapping population of 168 individuals produced from the cross of 2 heterozygous parental plants from Magali and Mercedes cultivars, we obtained 599 AFLP markers and 107 SSR loci. All but 3 SSR loci showed a clear tetrasomic inheritance. For most of the SSR loci, the double-reduction was not significant. For the other loci no specific genotypes were produced, so the significant double-reduction could arise from segregation distortion. For each parent, the genetic map contained 8 groups of four homologous chromosomes. The lengths of the maps were 2649 and 3045 cM, with an average distance of 7.6 and 9.0 cM between markers, for Magali and Mercedes parents, respectively. Using only the SSR markers, we built a composite map covering 709 cM.
Conclusions
Compared to diploid alfalfa genetic maps, our maps cover about 88–100% of the genome and are close to saturation. The inheritance of the codominant markers (SSR) and the pattern of linkage repulsions between markers within each homology group are consistent with the hypothesis of a tetrasomic meiosis in alfalfa. Except for 2 out of 107 SSR markers, we found a similar order of markers on the chromosomes between the tetraploid alfalfa and M. truncatula genomes indicating a high level of colinearity between these two species. These maps will be a valuable tool for alfalfa breeding and are being used to locate QTLs.
Keywords
Mapping Population
Homology Group
Segregation Distortion
AFLP Marker
Double Reduction
Background
Alfalfa (Medicago sativa L.) is the most cultivated forage legume, with about 32 millions hectares over the world [1]. Its agronomical interest is based on its high protein content, suitable feeding value and favourable environmental balance (perenniality and no nitrogen fertilizer required). However the genetic progress in this species is slow because of its autotetraploidy [2], with 2n = 4x = 32 [3, 4], its allogamy and the synthetic structure of the varieties. The development of a genetic linkage map would be a significant breakthrough, either to map candidate genes, to search for QTL of agronomical traits, or to make marker-assisted selection. Such analysis requires working on cultivated material, either in terms of genetic background or ploidy level.
In the past years, low density linkage maps were obtained on diploid forms of the Medicago sativa species complex [5–7]. The parental plants originated from CADL plants (Cultivated Alfalfa at the Diploid Level, diploid plants produced from cultivated tetraploid alfalfa) [6] or from natural populations, the crosses being made at the sub-specific level [5, 7]. All these maps comprised from 89 to 153 RFLP, RAPD or isozymes markers, and spanned from 467.5 cM [7] to 659 cM [6]. A denser map based on a cross between M. coerulea and M. quasifalcata, was published in 2000 [8] and covered 754 cM for a haploid genome, with 868 markers (mainly RAPDs and RFLPs). A linkage map of tetraploid alfalfa was constructed with 82 RFLP markers, using two backcross populations of 101 individuals, and covered about 470 cM, with 7 homology groups only [9]. The number of polymorphic RFLP markers is clearly a limiting factor to the development of a saturated map at the tetraploid level in alfalfa.
Until recently, mapping procedures in autopolyploids plants were based on SDRF (single-dose restriction fragments) segregation in mapping populations analysed as pseudo-test crosses [
10
,
11
]. Genetic maps were obtained in autotetraploid species such as potato [
12
,
13
], alfalfa [
9
], tea [
14
], rose [
15
], birdsfoot trefoil [
16
] and in autooctoploid species such as sugar cane [
17
–
19
] and strawberry [
20
]. Recently, theoretical studies were published to analyse gene segregation and to perform the mapping in autotetraploid species [
21
–
24
] or even autooctoploid species [
25
]. All types of markers can be used: a dominant marker present in one parent in single dose (simplex or SDRF) or double dose (duplex), a dominant marker present in both parents (double simplex), and codominant markers (Figure
1
). It is now possible to develop a map in autotetraploid species, based on all codominant or dominant markers, and to calculate linkage between pairs of markers, either in coupling phase or in repulsion phase. The software TetraploidMap, released in 2002 [
26
] is suited for this type of calculation. A method aiming at ordering the markers into a linkage map of autotetraploid species using simulating annealing was also proposed [
27
], but no specific software is presently available.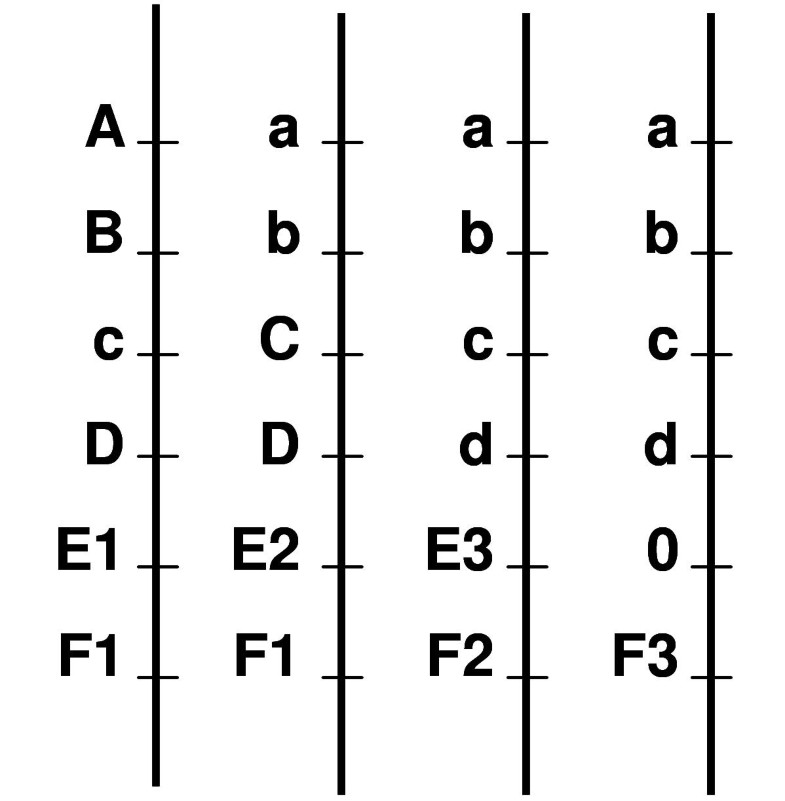 In autopolyploid species, two facts are usually unknown: (1) does the whole genome show a tetrasomic inheritance, or do some parts of the genome have a disomic inheritance ? (2) what is the frequency of double-reduction ? Indeed, two sister chromatids could segregate in the same gamete after formation of a tetravalent during meiosis. Consequently, double-reduction creates new types of gametes and modifies the probabilities of each type of gametes in a segregating population [28–30]. Its frequency can be calculated by TetraploidMap software on codominant markers.
In this article, we report the construction of a genetic map for each of the parents of an F1 population obtained by crossing one individual from each of the Magali and Mercedes alfalfa cultivars and using the mass-revealed dominant AFLP markers together with codominant microsatellite (SSR) markers. We have used a set of SSRs identified in the EST database of Medicago truncatula and mapped on M. truncatula Recombinant Inbred Lines (Huguet et al., unpublished results) to construct alfalfa genetic maps. In the recent years, M. truncatula, an annual, diploid species of the Medicago genus, was chosen as a model species for the legume family [31, 32]. A genetic map was recently developed using an F2 population [33] and preliminary evidence was given that diploid M. sativa and M. truncatula genetic maps were aligned. Considering the phylogenetic proximity of M. truncatula and alfalfa, we used these EST-based SSR, and some other SSR markers published in M. truncatula ( [34], Santoni et al. unpubl.) or M. sativa [35], to build alfalfa linkage maps and to align all genetic maps.
Based on 599 AFLP and 107 SSR markers, we identified, for both parents, 8 groups of 4 homologous chromosomes each. The total length of the maps covered between 88 to 100% of the genome. We have numbered the homology groups of alfalfa as for M. truncatula [8, 33].
Discussion
The development of a dense genetic linkage map in cultivated tetraploid alfalfa is the first step in understanding the genetic control (QTLs) of traits of agronomic interest. Agronomic traits are not well evaluated in wild M. sativa because of its prostrate growth habit, so the dense map obtained in wild diploid M. sativa [8] can hardly be used for QTL detection of agronomic traits. As in other heterozygous species, and especially in autotetraploid ones [21], we used a F1 population for mapping. Indeed, even if a F2 generation could be a valuable tool in terms of number of recombination events, a selfing generation could lead to genetic skewing through the death of some inbred plants. We chose easy to use handy PCR markers: AFLPs and SSRs. AFLPs, because they are mass-revealed, help in covering the whole genome. SSRs mainly originated from EST databases of M. truncatula, are codominant, locus-specific and portable. They were previously mapped in this model species, and thus allow the analysis of synteny between the two species, alfalfa and M. truncatula.
Conclusions
We have obtained genetic linkage maps of cultivated tetraploid alfalfa using a combination of AFLP and SSR markers, with length and marker density close to saturation. Their comparison to M. truncatula maps through the common SSR markers reflects the synteny between these two species. The inheritance of the codominant SSR markers indicates a true autotetraploidy of alfalfa, with complete random pairing of chromosomes at meiosis. The orders of the markers on the chromosomes are very similar. The use of such maps to identify QTLs for agronomical traits is in progress in our laboratory.
Author's contributions
BJ carried out the statistical and mapping analyses and drafted the manuscript, SF carried out most molecular analyses, TH, GC and SS provided information on
M. truncatula
SSR markers and contributed to the comparisons of alfalfa and
M. truncatula
maps, PB gave technical advice and contributed to the design of the study, CH coordinated the study and contributed to the discussion. All authors read and approved the manuscript.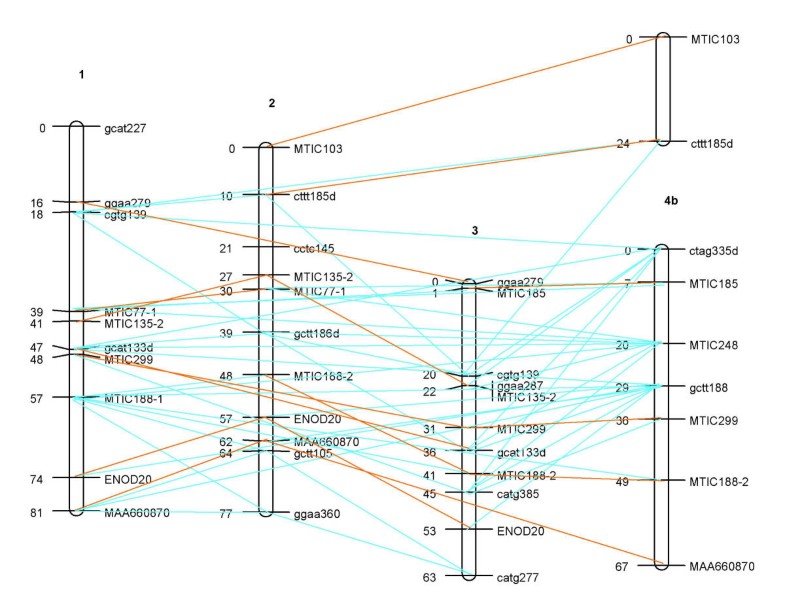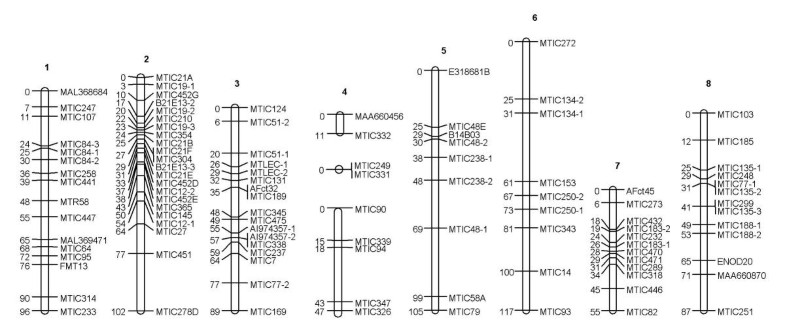 Declarations
Acknowledgements
We are very grateful to C.A. Hackett (Biomathematics & Statistics Scotland, Scottish Crop Research Institute, Dundee, UK) for her assistance in using TetraploidMap software. We thank F. Durand, P. Cormenier, C. Ecalle, A. Gilly, J. Jousse, D. Henri, D. Bousseau, J.B. Pierre, C. Gibelin and S. Berland for marker typing or plant maintenance. This program was supported by the Action Transversale Structurante "Medicago truncatula" of INRA (2000–2002).
Authors' Affiliations
(1)
INRA, Unité de Génétique et d'Amélioration des Plantes Fourragères, Lusignan, France
(2)
Jouffray-Drillaud, INRA, Lusignan, France
(3)
Laboratoire des Interactions Plantes-Microorganismes, UMR CNRS-INRA 2594/441, BP27, Castanet Tolosan cedex, France
(4)
INRA, Station de Génétique et d'Amélioration des Plantes, Domaine de Melgueil, Mauguio, France
Copyright
© Julier et al; licensee BioMed Central Ltd. 2003
This article is published under license to BioMed Central Ltd. This is an Open Access article: verbatim copying and redistribution of this article are permitted in all media for any purpose, provided this notice is preserved along with the article's original URL.