Research article
Open Access
PT-Flax (phenotyping and TILLinG of flax): development of a flax (Linum usitatissimumL.) mutant population and TILLinG platform for forward and reverse genetics
BMC Plant Biology
2013
13:159
Received: 5 July 2013
Accepted: 9 October 2013
Published: 15 October 2013
Abstract
Background
Flax (Linum usitatissimum L.) is an economically important fiber and oil crop that has been grown for thousands of years. The genome has been recently sequenced and transcriptomics are providing information on candidate genes potentially related to agronomically-important traits. In order to accelerate functional characterization of these genes we have generated a flax EMS mutant population that can be used as a TILLinG (Targeting Induced Local Lesions in Genomes) platform for forward and reverse genetics.
Results
A population of 4,894 M2 mutant seed families was generated using 3 different EMS concentrations (0.3%, 0.6% and 0.75%) and used to produce M2 plants for subsequent phenotyping and DNA extraction. 10,839 viable M2 plants (4,033 families) were obtained and 1,552 families (38.5%) showed a visual developmental phenotype (stem size and diameter, plant architecture, flower-related). The majority of these families showed more than one phenotype. Mutant phenotype data are organised in a database and can be accessed and searched at UTILLdb (http://urgv.evry.inra.fr/UTILLdb). Preliminary screens were also performed for atypical fiber and seed phenotypes. Genomic DNA was extracted from 3,515 M2 families and eight-fold pooled for subsequent mutant detection by ENDO1 nuclease mis-match cleavage. In order to validate the collection for reverse genetics, DNA pools were screened for two genes coding enzymes of the lignin biosynthesis pathway: Coumarate-3-Hydroxylase (C3H) and Cinnamyl Alcohol Dehydrogenase (CAD). We identified 79 and 76 mutations in the C3H and CAD genes, respectively. The average mutation rate was calculated as 1/41 Kb giving rise to approximately 9,000 mutations per genome. Thirty-five out of the 52 flax cad mutant families containing missense or codon stop mutations showed the typical orange-brown xylem phenotype observed in CAD down-regulated/mutant plants in other species.
Conclusions
We have developed a flax mutant population that can be used as an efficient forward and reverse genetics tool. The collection has an extremely high mutation rate that enables the detection of large numbers of independant mutant families by screening a comparatively low number of M2 families. The population will prove to be a valuable resource for both fundamental research and the identification of agronomically-important genes for crop improvement in flax.
Keywords
FlaxTILLinGMutantsFiberLigninLignanOilFatty acids
Background
Flax (Linum usitatissimum L.) is an economically important oil and fiber crop that has been domesticated and grown by mankind for thousands of years. Oil extracted from flax seeds (linseed) is a considerable source of the omega-3 fatty acid, α-linolenic acid (ALA) and seeds also contain biologically active lignans with beneficial effects on human health [1]. Flax phloem fibers have cell walls rich in cellulose and are used for textiles (linen) and for reinforcing composite polymers as an environmentally-friendly substitute for glass fibers [2]. Flax is also used as a biological model to study the molecular mechanisms involved in the formation of hypolignified secondary cell walls characteristic of different fiber species (e.g. flax, hemp, jute, kenaf etc.) [3–6].
Recently a number of different flax resources and approaches including high-density microarray platforms, physical and genetic maps, molecular markers, metabolomics and proteomics [6–12] have been developed. The recent sequencing of the genome [13] has also opened the way for flax genomics leading to rapid advances in the structural identification of genes and gene families [14, 15]. However, while all of these approaches allow the identification of large numbers of genes potentially involved in a wide variety of different biological processes, the confirmation of their biological role(s) requires functional characterization. Flax can be genetically engineered and a limited number of genes have been up-/down-regulated in this species thereby providing important functional information on the role of these genes [5, 16, 17]. In order to accelerate functional characterization of genes potentially associated with different agronomical traits for crop improvement we have developed a chemically mutagenized (EMS) flax population and TILLinG (Targeting Induced Local Lesions IN Genomes) platform.
TILLinG (Targeting Induced Local Lesions IN Genomes) is a high-throughput reverse genetic method used to obtain an allelic series of a targeted mutated gene in a mutagenized population [18, 19]. Chemical mutagenesis is complementary to other approaches such as T-DNA insertion or radiation and has been applied to a wide range of different plant species [20–24]. Currently, the most usual detection method depends on the use of the specific mis-match endonuclease ENDO1 to detect chemically induced SNPs. Nevertheless, high throughput sequencing by NGS technologies coupled with variant detection algorithms is also starting to be used to detect such mutations [25, 26]. The development of such an approach in flax is timely since although this species can be transformed by Agrobacterium, the process is time consuming and relatively inefficient [27]. Ethane Methyl-Sulphonate (EMS) has been previously used as a chemical mutagen to introduce genetic variability into flax, but has not yet been used for reverse genetics [28].
In this paper, we present the development and characterization of a flax EMS mutagenized population. Visual phenotyping and the successful identification of a large number of cad and c3h lignin gene mutants validated the use of our population as a valuable forward and reverse genetics tool. The use of this population in subsequent studies will greatly facilitate the functional characterization of different targeted genes in this economically important species.
Discussion
Flax is an ancient crop that has long been cultivated for its fibers and seeds. Current breeding programs aim at improving yield and quality in both fibers and seeds, as well as increasing resistance to different pathogens. The flax genome has recently been sequenced [
13
], physical and genetic maps have been developed and SNP markers identified [
10
]. In addition, flax specific microarrays, proteomics and metabolomics [
6
,
7
,
12
,
50
,
51
] have also been used to increase our knowledge of flax biology. In this paper we report the development of a flax TILLinG platform for forward and reverse genetics in this economically important species. 4,033 independent mutant families were phenotyped and the results organised in the UTILLdb database (
http://urgv.evry.inra.fr/UTILLdb
). UTILLdb is an open phenotypic and genomic mutant database containing information on mutant populations of pea [
37
], Brachypodium [
52
], tomato [
53
] and flax (this paper). The integration of our data into UTILLdb will enable flax breeders and scientists working on the flax model to search the database for particular mutant phenotypes. For example, detailed characterization of mutants showing altered stem/fiber morphology (Figures
2
and
7
), and/or flower/seed modifications (Figures
2
and
8
) will prove particularly interesting for scientists and breeders interested in fiber formation and seed oil/lignan biosynthesis. The database will be updated with information on mutations in specific genes that scientists will be able to access by sequence homology and/or keyword queries.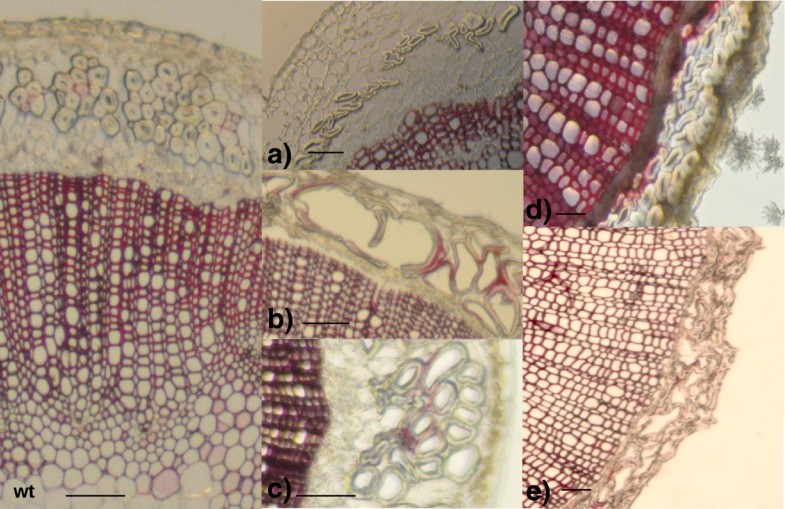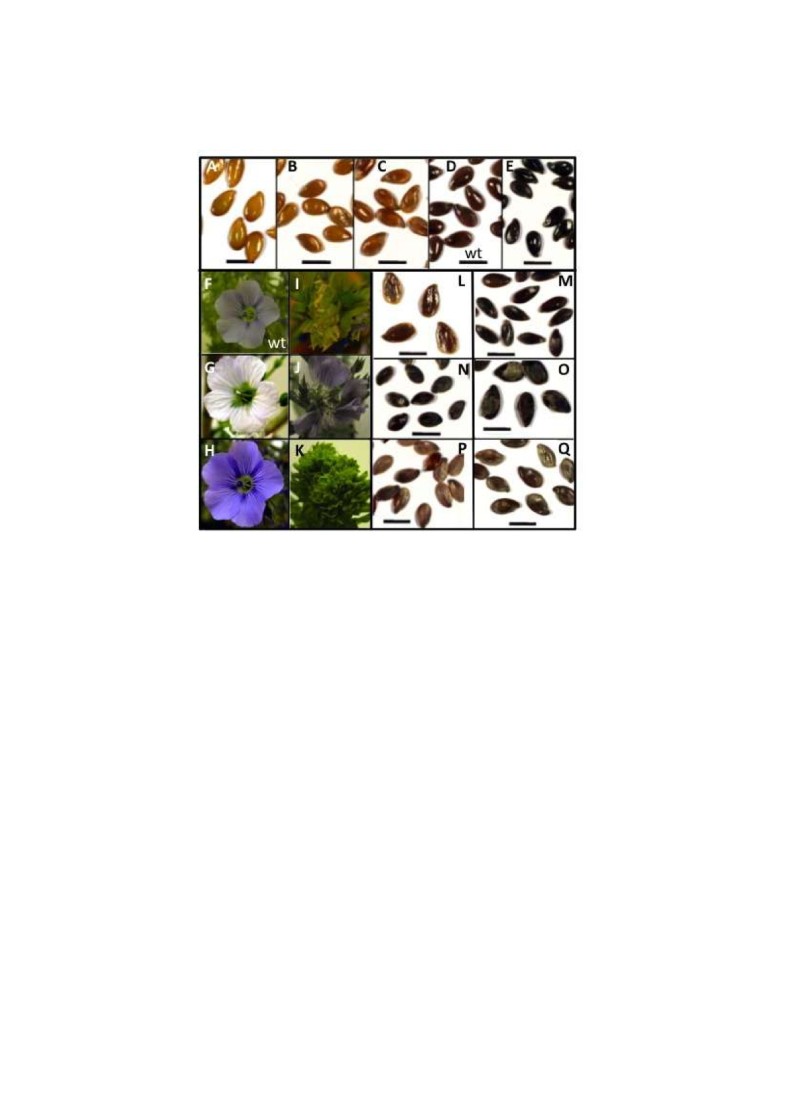 In order to validate the mutant collection as an efficient reverse genetics tool we extracted DNA from 3,515 lines and successfully TILLed 2 genes involved in lignin biosynthesis using the ENDO1 enzyme as previously described [
37
,
54
]. Our results indicated that our population had an average mutation rate of 1/41 Kb. This is a high value as compared to mutation rates observed in other EMS-generated mutant populations (Table
6
) and is similar to values observed for
Triticum aestivum
L.;
Brassica napus
L.;
Avena sativa
and
Triticum durum
L
.
However, all these populations are polyploid allowing them to tolerate loss-of-function mutations [
55
]. The highest mutation rates previously obtained in diploid species are those observed in
Triticum monococcum
(1/92 Kb) and
Arabidopsis thaliana
(1/89 Kb), approximately half that observed in our flax population.
Table 6
Mutation frequencies and ploidy levels in different published EMS plant populations
Model

Ploidy level

EMS concentration (%)

Frequency of mutation

Source

Linum usitatissimum L.

2x

-0.3, 0.6, 0.75%

-1/41 kb

Triticum monococcum

2x

-0.24%

-1/92 kb

[32]

Triticum aestivum L.

6x

-0.8%

-1/47 kb

[31]

-0.6, 0.9%

N.A

[56]

-0.9%

-1/38 Kb

[57]

-0.5, 0.6, 0.7%

-1/25 Kb

[58]

-0.75, 1%

-1/24 Kb

[59]

Triticum durum

4x

-0.7%

-1/51 Kb

[57]

-0.75%

-1/40 Kb

[59]

Brassica napus L.

4x

-0.5, 0.8, 1, 1.2%

-from 1/12 to 1/22 kb

[60]

-1%

-from 1/27 to 1/60 kb

-0.3%

1/130.8 kb

[61]

-0.6%

1/41.5 kb

Brassica rapa

2x

-0.3, 0.4%

1/60 Kb

[62]

Brassica oleracea

2x

-0.4%

-1/447 Kb

[63]

Solanum lycopersicum

2x

-0.5%

-1/1 710 kb

[30]

- 1.0%

-1/737 kb

-0.7%

-1/574 Kb

[53]

- 1%

-1/322 Kb

-1%

-1/737 Kb

[64]

Cucumis melo L.

2x

-1%

-1/1500 Kb

[65]

-1.5, 2%

-1/573 Kb

[66]

Heliantus annus L.

2x

-0.7%

-1/475 Kb

[67]

Arachis hypogaea

4x

-0.4, 1.2%

-1/967 Kb

[68]

Arabidopsis thaliana

2x

-0.2%

-1/415 Kb

[69]

-Between 0.25 and 0.5%

-1/89 Kb

[55]

-0.25, 0.5%

-1/300 Kb

[40]

-Between 0.25 and 0.56 %

-1/180 Kb

[54]

Avena sativa

6x

-0.9%

-1/30 kb

[70]

Glycine max L. Merr.

2x

-0.2, 0.15%

-1/485 Kb

[41]

Lotus japonicus

2x

N.A

-1/502 Kb

[71]

Hordeum vulgare L.

2x

-Between 0.25 and 0.75 %

-1/500 Kb

[72]

Medicago trunculata

2x

-0.15%

-1/400 Kb

[73]

Sorghum bicolor

2x

-Between 0.1 and 0.3%

-1/526 kb

[74]

Pisum sativum

2x

-0.25%

-1/200 kb

[37]

-0.05%

-1/669 Kb

[25]

Oriza sativa

2x

-1.5%

-1/294 Kb

[75]

-0.8, 1%

-1/2 000 Kb

[76]

-1.6%

-1/1 000 Kb

Hordeum vulgare L.

2x

-0.25, 0.4

-1/1 000 Kb

[77]
With a genome size of approximately 370 Mb [13] we can estimate that there will be an average of approximately 9,000 mutations per genome. Despite this high value, the majority (81.6 – 93.7%) of the M2 population were viable and produced seeds suggesting that flax plants can support a high mutation level [55]. Although the high number of mutations per genome might be considered as a disadvantage since more back-crosses will be necessary to reduce total mutation number and identify genes potentially associated with a particular phenotype via a positional cloning approach, it also presents a number of advantages. Firstly, it considerably reduces the number of families that need to be screened to identify a mutant. For example, calculations show that only 56 families have to be screened to identify a missense mutation in a 1 Kb exon target and only 650 families need to be screened to identify a codon stop mutation, thereby reducing the overall time and costs spent on mutant identification. Secondly, the high mutation rate allows the identification of a large number of independent mutant families for a given gene in a reverse genetics strategy. For example, screening of our total population allowed us to identify 67 cad mutants (exons only) and 74 c3h mutants (exons only). Subsequent characterization and identification of similar phenotypic modifications in the different lines provides strong evidence for a link between gene mutation and the observed phenotype. This was clearly demonstrated in the observation of our cad mutants where 35 (71%) of the 52 families showing a missense or codon stop mutation in the CAD gene showed the characteristic orange-brown coloration of xylem tissue previously observed in other CAD down-regulated or mutant plants [42–48]. Although a previous report of CAD down-regulation in flax RNAi plants was associated with reduced lignin, somewhat surprisingly the authors did not report the presence/absence of a brown midrib phenotype [16]. This might be related to the relatively high (60–80%) residual activity in these plants.
Preliminary analyses of our M3 cad mutants (data not shown) indicate that the mutation is heritable, segregates and can be correlated with brown/orange coloured xylem further establishing the link between mutation and phenotype in the flax population. Wet chemistry and spectroscopy will allow confirmation of structural modifications in cell wall lignin in these mutants. Similar techniques will also be used to investigate potential changes to the lignin polymer in flax c3h mutants. Down-regulation of this gene in other species is associated with an increase in lignin condensation and reduction in lignin G and S units [49, 78] and it will be particularly interesting to assess the effects in flax lignin that is already highly condensed and contains low amounts of S lignin [3].
Conclusions
In conclusion, the generated flax EMS population represents an important biological resource for both forward and reverse genetics in this species. A large number of mutants showing biologically-interesting phenotypes has been identified and genes have been successfully TILLed using ENDO1. Further targets can be identified from the literature, as well as on the basis of recent transcriptomic studies in flax that have identified different genes potentially involved in various biological processes [6, 7, 9]. The use of the flax EMS population to identify mutants will greatly accelerate functional characterization of agronomically-interesting genes in this crop species. In order to accelerate mutant identification in our flax EMS population, we are currently developing an approach based on high throughput sequencing using NGS.
Methods
Mutagenesis and plant growth conditions
Ten batches of one hundred seeds (Linum usitatissimum L. cv Diane) were treated with 8 different EMS concentrations (0.25, 0.3, 0.5, 0.6, 0.75, 0.8, 1.0 and 2.0%). Two exposure times (5 and 8 h) were tested for two batches of different EMS concentration (5 h: 0.3, 0.6, 0.8, 1.0, 2.0% EMS; 8 h: 0.25, 0.5, 0.75, 1.0, 2.0% EMS). Untreated seeds were used as reference. All seeds were washed with tap water (3 × 5 mins, 1 × 30 mins) before transfer to wet Whatman paper in Petri dishes and incubation in a growth chamber at 20°C and 8 h photoperiod. Based on percentage germination, three treatments (0.3% EMS/5 h, 0.6% EMS/5 h and 0.75% EMS/8 h) were selected representing different balances between germination and mutation rate. Mutagenized seeds (M1) were sown in the field for M2 seed production. Collected M2 seeds were sown under greenhouse conditions together with WT seeds for phenotyping and DNA extraction. M2 and M3 seeds are stored at 4°C under low humidity conditions and constitute the EMS flax mutant collection.
Forward genetic screen
Two months after germination, M2 families were scored for phenotypes distinct from the wild type. For each family, the most affected individual was phenotyped in detail and photographed. For identification of the brown midrib phenotype, freehand sections of individual stems were made from cad mutant family plants and compared to control sections under a stereo microscope. The presence of a brown-orange coloration in xylem tissue was considered indicative of the brown midrib phenotype and was noted from 1 to 3 depending upon the intensity of the coloration with 1 being the most intense. The category indicated for a family is that of the most intense phenotype observed in any single individual belonging to that family.
Genomic DNA extraction and pooling
Leaf material was collected from individual M2 plants and pooled by family before being dried overnight at 65°C in a ventilated oven. Total DNA was extracted by using either the Dneasy Plant 96 Qiagen Kit (Qiagen, Hilden, Germany) or according to the protocol described by Carrier et al. [79]. DNA quality for each extraction was monitored by electrophoresis on 0.8% agarose gels. The DNA of 3,515 M2 family was quantified with Picogreen (InVitrogen) using a M1000 microplate reader (TECAN-Switzerland), normalized to 1 ng.μL-1 and arrayed in a total of five 96 wells plates by an 8-fold pooling strategy (Additional file 4) using a GENESYS 150 workstation (TECAN-Switzerland).
PCR amplification and mutation detection
PCR amplification was based on nested-PCR and universal primers [
80
]. The first PCR amplification was performed with 1 ng of pooled genomic DNA and target-specific primers (Table
7
) in a 25 μl volume. One microliter of the first PCR reaction was then used as a template for the second PCR using two set of primers: target-specific primers carrying universal M13 tail and M13 universal primers labelled at the 5′ end with infra-red dyes IRD700 and IRD800 (LI-COR, Lincoln, NE, USA). This PCR amplification was performed using 0.1 μM of each primer in a 25 μL volume and with the following two step program: 94°C for 3 minutes; 10 cycles at 94°C for 20 s, primer-specific annealing temperature for 30 s and 72°C for 1 min; and 25 cycles at 94°C for 20 s, 50°C for 30 s and 72°C for 1 min; then a final extension at 72°C for 5 mins. PCR amplifications were verified on an agarose gel. Mutations were detected using a LI-COR 4300 DNA analyzer as previously described [
66
]. Individual mutations were confirmed and characterized by sequencing of DNA from individual M2 families.
Table 7
Primers used in TILLinG experiments
| Primer | 5′-3′ Primer sequence |
| --- | --- |
| CAD external Forward primer | 5′-ACAGTTTGACCTGATGGAGCTCGAT-3′ |
| CAD external Reverse primer | 5′-GAAAACAAGTCAAATCGGACATAGG-3′ |
| C3H external Forward primer | 5′-ATATTTACCAACCGGACTAACCTTG-3′ |
| C3H external Reverse primer | 5′-AGTACAACACAATTCCAACTCTTCG-3′ |
| CAD internal Forward primer with M13 tail | 5′-CACGACGTTGTAAAACGACTTTCGGTCCATCATCG-3′ |
| CAD internal Reverse primer with M13 tail | 5′-GATAACAATTTCACACAGGTATGGGTCTTCTCTTC-3′ |
| C3H internal Forward primer with M13 tail | 5′-CACGACGTTGTAAAACGACACCACACTGAATTCGG-3′ |
| C3H internal Reverse primer with M13 tail | 5′-GATAACAATTTCACACAGGCATGTAAGTCACCAGT-3′ |
| M13 Forward primer | 5′-CACGACGTTGTAAAACGAC-3′ |
| M13 Reverse primer | 5′-GGATAACAATTTCACACAGG-3′ |
Declarations
Acknowledgements
Max. Chant. Gratefully acknowledges financial support of the Région Nord-Pas-de-Calais and the University of Lille 1 for the Ph.D. grant. SH gratefully acknowledges the financial support of the Agence Nationale de la Recherche (ANR) for the PT-Flax project (ANR-09-GENM-020-005).
Man. Chat. would like to thank Dr S.K. Samanta, Prof Charles Spillane (NUIG) and Anish Kumar for general advice on flax, mutant population creation and pilot EMS dose experiments.
The authors would like to thank all the different people who contributed to the collection and phenotyping of the flax plants (Stephane Fénart, Anne-Sophie Blervacq, Rudy Huis, Guillaume Beaumont, Charles-Henri Biard, Laurent Rigolle, Géraldine Dambrey, Godfrey Neutelings, Michel Burtin, Romain Boucly, Valérie Devillers, Clarisse Toitot, Sébastien Acket, Melha Lazouk, Thi Mai Huong To, Elis elkassis, Pascal Boulnois).
Authors' Affiliations
(1)
Université Lille Nord de France, Villeneuve d'Ascq, France
(2)
281 Stress Abiotiques et Différenciation des Végétaux Cultivés, INRA UMR, Villeneuve d'Ascq, France
(3)
UFR des Sciences, CRRBM, UPJV, Amiens, France
(4)
URGV, Unité de Recherche en Génomique Végétale, Université d'Evry Val d'Essonne, INRA, Crémieux, Evry, France
(5)
LINEA, Grandvilliers, France
(6)
Terre de Lin, société cooperative agricole, Saint-Pierre-Le-Viger, France
(7)
c/o Jai Research Foundation, Bench Bio Pvt Ltd., Vapi, India
(8)
National University of Ireland Galway (NUIG), Galway, Ireland
(9)
Laboulet Semences, Airaines, France
(10)
UMR614 Fractionnement des AgroRessources et Environnement, INRA, Reims, France
(11)
UMR614 Fractionnement des AgroRessources et Environnement, Université de Reims Champagne-Ardenne, Reims, France
(12)
EA 3900-BioPI, UFR des Sciences, UPJV, Amiens, France
(13)
CNRS-FRE 3580, GEC, Université de Technologie de Compiègne, Compiègne, France
Copyright
© Chantreau et al.; licensee BioMed Central Ltd. 2013
This article is published under license to BioMed Central Ltd. This is an open access article distributed under the terms of the Creative Commons Attribution License (http://creativecommons.org/licenses/by/2.0), which permits unrestricted use, distribution, and reproduction in any medium, provided the original work is properly cited.