Methodology article

Open Access
A novel mesh processing based technique for 3D plant analysis
BMC Plant Biology
2012
12:63
Received: 30 January 2012
Accepted: 3 May 2012
Published: 3 May 2012
Abstract
Background
In recent years, imaging based, automated, non-invasive, and non-destructive high-throughput plant phenotyping platforms have become popular tools for plant biology, underpinning the field of plant phenomics. Such platforms acquire and record large amounts of raw data that must be accurately and robustly calibrated, reconstructed, and analysed, requiring the development of sophisticated image understanding and quantification algorithms. The raw data can be processed in different ways, and the past few years have seen the emergence of two main approaches: 2D image processing and 3D mesh processing algorithms. Direct image quantification methods (usually 2D) dominate the current literature due to comparative simplicity. However, 3D mesh analysis provides the tremendous potential to accurately estimate specific morphological features cross-sectionally and monitor them over-time.
Result
In this paper, we present a novel 3D mesh based technique developed for temporal high-throughput plant phenomics and perform initial tests for the analysis of Gossypium hirsutum vegetative growth. Based on plant meshes previously reconstructed from multi-view images, the methodology involves several stages, including morphological mesh segmentation, phenotypic parameters estimation, and plant organs tracking over time. The initial study focuses on presenting and validating the accuracy of the methodology on dicotyledons such as cotton but we believe the approach will be more broadly applicable. This study involved applying our technique to a set of six Gossypium hirsutum (cotton) plants studied over four time-points. Manual measurements, performed for each plant at every time-point, were used to assess the accuracy of our pipeline and quantify the error on the morphological parameters estimated.
Conclusion
By directly comparing our automated mesh based quantitative data with manual measurements of individual stem height, leaf width and leaf length, we obtained the mean absolute errors of 9.34%, 5.75%, 8.78%, and correlation coefficients 0.88, 0.96, and 0.95 respectively. The temporal matching of leaves was accurate in 95% of the cases and the average execution time required to analyse a plant over four time-points was 4.9 minutes. The mesh processing based methodology is thus considered suitable for quantitative 4D monitoring of plant phenotypic features.
Keywords
Main Stem
Leaf Width
Petiole Length
Mesh Segmentation
Phenotypic Parameter
Background
In the coming decades, it is expected that mankind will need to double the quantity of food and biofuel produced in order to meet global demand [1]. To achieve this with existing resources, new plant characteristics need to be identified, quantified, and bred to obtain more productive plant varieties within existing environments. This will require a greater understanding of how the genetic make-up of plants determines their phenotype (visible traits) in high resolution and in high throughput. Performing plant phenomics involves screening large germplasm collections to facilitate the discovery of new interesting traits (forward phenomics), and analysing known phenotypic data in order to uncover the genes involved in their evolution and use these genes in plant breeding (reverse phenomics) [1]. Investigated plants are usually grown in thoroughly controlled conditions (growth chambers or glasshouses) and subjected to different environmental conditions and stresses (e.g. drought, salt, heat, etc.) with the primary aim of monitoring their phenotypic response using various measurements [2, 3].
Common plant morphological traits of interest include parameters such as main stem height, size and inclination, petiole length and initiation angle, and leaf width, length, inclination, thickness, area, and biomass [1–4]. The usual procedure to collect these data consists of many laborious manual measurements, often requiring destructive harvests and thus multiple replicates of individual plant genotypes or varieties to allow successive harvests over time. A typical manual phenotypic analysis of 200 plants (daily objective) would require approximately 100 man-hours of work (≃ 30 minutes per plant depending on the size and complexity), which is impractical. In light of the importance of gene discovery and agricultural crop improvement, the development of solutions to automate such a tedious task is imperative.
High-throughput plant phenotyping aims to extend the standard approach by growing, measuring and analysing temporally thousands of plants [5]. In recent years, the plant phenotyping research has seen the emergence of high-throughput plant screening facilities [1, 6]; however, few image and mesh processing solutions are available to analyse the large amount of data captured and extract yield determinants (i.e. plant, leaf, or root characteristics). Among existing solutions, PHENOPSIS [7] and GROWSCREEN [8, 9], provide 2D image-processing based semi-automated solutions for leaf phenotyping (leaf width, length, area, and perimeter) and root data monitoring (number of roots, root area, and growth rate). LAMINA [10], another 2D-image based tool for leaf shape and size probing proposes a leaf analysis for various plant species. Recent image-processing solutions, such as TraitMill [11] and HTPheno [12], provide a more general plant analysis and measure information such as plant height, width, centre of gravity, projected area and bio-volume, and provide colorimetric analysis (e.g. greenness-differences between plants). Due to the importance of rice as a primary food resource, image-based solutions for rice phenotyping have been developed [6, 13] and involve the measurements of parameters such as grain size (length, width, and thickness), panicle length, and number of tillers. In the past 2 years, fully automated imaging techniques for the high-throughput investigation of plant root characteristics (yield determinants) have been developed [14–16] to analyse non-destructively phenotypic traits such as root average radius, area, maximum horizontal width, and length distribution.
The latest applications have introduced a third dimension to the plant analysis. Stereo-imaging and mesh processing based systems, such as GROWSCREEN 3D [17], the 3D imaging and RootReader3D software platform[18], or the solution proposed in [19], have pioneered the explicit 3D analysis of leaves and roots, allowing more accurate measurements of leaf area, and extraction of additional volumetric data.
To date, the literature is distinctly dominated by 2D image-processing techniques for high-throughput phenotyping of plants [6–16]. The major limitation of these 2D solutions is the loss of crucial spatial and volumetric information (e.g. thickness, bending, rolling, orientation) when transposing available data from 3D to 2D. The recent introduction of new tools for plant analysis based on explicit 3D reconstructions [17–19] (as opposed to inferred 3D based analysis [20, 21], widely used since the 1960's) promises to increase potential of high-throughput studies in terms of accuracy and exhaustiveness of the measured features, but available three-dimensional solutions are currently focussed on a specific organ (e.g. leaves [17, 19] or roots [18]), tailored to a particular image acquisition system [22], and tend to be qualitative (or applied) rather than providing quantitative information and estimates of accuracy. Hence, a clear need exists for a more generalised plant analysis based on increasingly explicit 3D models and in which the reliability of the measurements is questioned and quantitatively assessed.
In this paper, we present a novel mesh-based technique developed for the high-throughput 3D analysis of plant aerial-parts. A focus is made on the feasibility of accurately extracting plant phenotypic parameters from a 3D mesh acquired for the dicotyledonous crop cotton. In this initial study, meshes were reconstructed using a low cost commercial 3D reconstruction system [23]. The proposed methodology aims at a non-exhaustive, accurate, cross-sectional (observation of a representative subset of a population at a fixed time-point), and temporal investigation of the plant macroscopic phenotype. This requires advanced features such as plant mesh morphological segmentation [24, 25], accurate plant data extraction [26], and plant organs tracking over-time. The mesh based methodology was tested on plant meshes reconstructed [23, 27] for a set of six plants studied at four time-points (i.e. 6×4 = 24 plant meshes).
Methods
To investigate the feasibility of a mesh based processing pipeline for the 3D analysis of plants, we initially developed the prototype cross-sectional pipeline described on Figure
1
. The following sections propose a brief presentation of the image acquisition and plant mesh reconstruction steps, and detailed descriptions of the mesh segmentation, temporal phenotypic analysis, and validation scheme.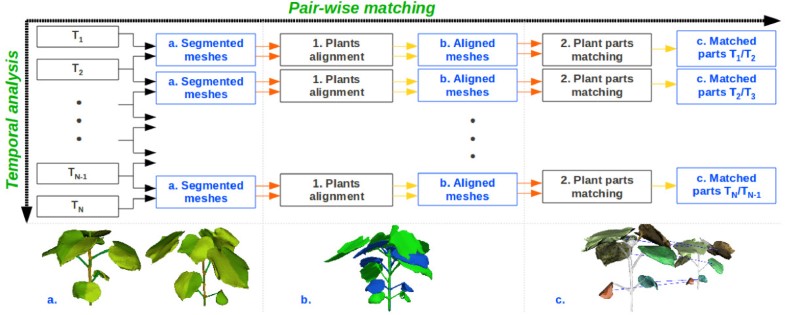 Results
The results we obtained by applying our processing pipeline on the initial population of 6 Gossypium hirsutum plants studied over 4 time-points are presented bellow.
Discussion
As illustrated by Figure 9.a, 9.b, 9.c, and 9.d, that present a comparative study of the temporal evolution of phenotypic parameters for 6 Gossypium hirsutum plants, our methodology allows an accurate monitoring of the plants' phenotypic traits over-time. By developing a hybrid mesh segmentation and analysis methodology for plant phenotyping, we have demonstrated that the automated temporal mesh-based analysis of the plant aerial part is feasible (from the temporal broad plant analysis to the evolution of individual organs).
Nevertheless, our initial study has several limitations which should be acknowledge and will lead to further investigation and development.
As of today, the pilot study was limited in terms of the exhaustiveness of the phenotypic parameters estimated, but the explicit 3D reconstruction and robust identification of the morphological parts of the plant allow estimation of a large number of parameters of interest to plant biologists not easily extracted from 2D images with existing software platforms (accurate leaf area and biovolume rather than projected area, growth of individual leaves, organ quantification over time, leaf number / phyllochron, leaf angle). More phenotypic parameter extractions can be easily developed and incorporated to our pipeline as the biologists' requirements evolve, allowing re-use of existing libraries of 3D models and the capacity to tailor the pipeline to new trait identification and quantification. Plant architecture is an important determinant of radiation use efficiency in crops and analysis of this trait in explicit 3D and over time has previously been an intractable problem with anything other than low throughput [1]. We should acknowledge, however, that tools for 3D analysis of roots based on inferred 3D "reconstructions" (i.e. 3D approximation using shapes such as tubes) exist and have been extensively used since the early 1960's [20, 21, 40].
Although the methodology was solely tested on Gossypium hirsutum plants, it is expected that the method will be broadly and easily adaptable to other dicotyledonous crops such as canola, tomato, and low tillering monocotyledons with simple architectures such as corn. The pipeline can be easily adapted, and operators can be implemented and combined in order to increase the flexibility of the algorithm. Preliminary results (unpublished), obtained by reusing the two first steps of the segmentation pipeline (rough segmentation and stem segmentation) on corn, allowed to isolate the main stem, the leaves, and inter-nodes, and allowed the direct computation of corn specific data. Due to the importance of rice and wheat as major food crops, the application of image based plant phenomics tools to grasses is of great interest. Significant development of our pipeline is needed to cope with occlusions due to the complex structure and the tillering observed in cereal crops. Their investigation will involve pushing the state-of-the-art reconstruction and segmentation algorithms to their limit.
With respect to the accuracy on the phenotypic parameters, errors between 5 and 10% (involving ranges between 5mm to 7mm for the leaves) are acceptable for morphological scale phenotyping, reflecting the magnitude of errors already inherent in manual measurements and variations observed between individual plants of identical genetic make-up, and are low enough to distinguish changes in the relevant traits between two imaging dates during development (which is the aim of our research). Measurements for which the mean absolute error is above 10% (or over 10mm range, e.g. main stem measurements) will involve further work to improve the accuracy (for instance, the mean bias error - that characterises systematic over/under estimations - for the main stem height measurements was MBE s ≃9.8mm, against MBE w ≃−2.7mm and MBE l ≃3.1mm for the leaf width and length measurements, entailing that a systematic over-estimation on the main stem height measurements is made). Finally, our current aim involves reducing the error on the measurements to less than 5%, which we believe is achievable by training our algorithms on phantom plant meshes (with phenotypic parameters exactly known) generated using existing plant modelling technologies [4, 41].
While the focus of the current study has been the processing of meshes produced by a commercial 3D reconstruction product, major future work will involve improving the digitisation of plant structure and function by incorporating data other than visible light images into the 3D model. In addition to visible light cameras collecting multiple view geometries, PlantScan, a new screening platform recently developed in our laboratory [28] is equipped with LiDAR (Light Detection and Ranging sensors), infra-red cameras, and multi-wavelength cameras. The LiDAR cameras allow the reconstruction of accurate point-clouds (precision of 200 microns) that will be integrated in our probabilistic reconstruction scheme [29–31] in order to improve the accuracy of the reconstructed plant meshes that currently limits the quality of the morphological segmentation and temporal analysis. These meshes will be overlaid with thermal infra-red data and multi-spectral images data that provide colorimetric information (for chemical composition and photosynthetic functional analysis). Our laboratory expects to scan one plant every 7 minutes, making the current mesh-based methodology (3D reconstruction excluded) suitable for high-throughput dicotyledonous plant analysis. As 3DSOM required an average processing time of 15 minutes to reconstruct suitable meshes, a special focus will be placed on the efficiency of the reconstruction scheme developed.
Conclusions
In this paper, we presented a hybrid mesh-based methodology developed for high-throughput plant phenomics research. The proposed solution provides advanced mesh-processing features, including plant mesh morphological segmentation, accurate plant aerial-part phenotypic parameters estimation, and individual organ tracking and data monitoring over-time. Experiments involved testing our processing pipeline on an initial set of six Gossypium hirsutum plants analysed over four time-points.
From the qualitative and quantitative results presented in the paper, we believe that the development of a mesh based methodology for high-resolution and high-throughput plant phenomics platform is feasible and offers multiple advantages over current systems that use a small number of 2D images. The hybrid mesh segmentation presented allowed the identification of the different plant organs for all the test plants. The phenotypic parameter estimation algorithms allowed the retrieval of measurements such as main stem height and inclination, petiole length and initiation angle, and leaf width, length, area and inclination. By comparing 384 mesh-based measurements with manual measurements, we observed errors ranging from 5.75% to 9.34% and correlations ranging from 0.887 to 0.974. The temporal organ tracking algorithm successfully matched plant organs between time-points in 95% of the cases. Finally, the proposed analysis required only 4.9 minutes in average to analyse a plant over four time-points. The mesh-based analysis is thus considered a suitable mean to perform accurate and efficient 3D plant phenotypic analysis.
Availability and requirements
The different operators presented in this paper, as well as an initial set of plant meshes, are available for download from the PlantScan home page (Microsoft Windows 64-bits installer): [28].
Declarations
Acknowledgements
The analysis pipeline described in this manuscript was developed as part of an infrastructure grant received under the Commonwealth Government's National Collaborative Research Infrastructure Strategy (NCRIS). AP was supported by a High Resolution Plant Phenomics Centre Studentship funded by the Australian Capital Territory Government, Canberra. Authors wish to thank Dr Francois Tardieu (INRA, Montpellier, FRANCE) for helpful comments and thoughtful review of the manuscript.
Authors' Affiliations
(1)
The Australian e-Health Research Centre, CSIRO ICT Centre, Australia
(2)
The High-Resolution Plant Phenomics Centre, CSIRO Plant Industry, Australia
Copyright
© Paproki et al.; licensee BioMed Central Ltd. 2012
This article is published under license to BioMed Central Ltd. This is an Open Access article distributed under the terms of the Creative Commons Attribution License (http://creativecommons.org/licenses/by/2.0), which permits unrestricted use, distribution, and reproduction in any medium, provided the original work is properly cited.