Research article
Open Access
The first set of EST resource for gene discovery and marker development in pigeonpea (Cajanus cajanL.)
BMC Plant Biology
2010
10:45
Received: 21 August 2009
Accepted: 11 March 2010
Published: 11 March 2010
Abstract
Background
Pigeonpea (Cajanus cajan (L.) Millsp) is one of the major grain legume crops of the tropics and subtropics, but biotic stresses [Fusarium wilt (FW), sterility mosaic disease (SMD), etc.] are serious challenges for sustainable crop production. Modern genomic tools such as molecular markers and candidate genes associated with resistance to these stresses offer the possibility of facilitating pigeonpea breeding for improving biotic stress resistance. Availability of limited genomic resources, however, is a serious bottleneck to undertake molecular breeding in pigeonpea to develop superior genotypes with enhanced resistance to above mentioned biotic stresses. With an objective of enhancing genomic resources in pigeonpea, this study reports generation and analysis of comprehensive resource of FW- and SMD- responsive expressed sequence tags (ESTs).
Results
A total of 16 cDNA libraries were constructed from four pigeonpea genotypes that are resistant and susceptible to FW ('ICPL 20102' and 'ICP 2376') and SMD ('ICP 7035' and 'TTB 7') and a total of 9,888 (9,468 high quality) ESTs were generated and deposited in dbEST of GenBank under accession numbers GR463974 to GR473857 and GR958228 to GR958231. Clustering and assembly analyses of these ESTs resulted into 4,557 unique sequences (unigenes) including 697 contigs and 3,860 singletons. BLASTN analysis of 4,557 unigenes showed a significant identity with ESTs of different legumes (23.2-60.3%), rice (28.3%), Arabidopsis (33.7%) and poplar (35.4%). As expected, pigeonpea ESTs are more closely related to soybean (60.3%) and cowpea ESTs (43.6%) than other plant ESTs. Similarly, BLASTX similarity results showed that only 1,603 (35.1%) out of 4,557 total unigenes correspond to known proteins in the UniProt database (≤ 1E-08). Functional categorization of the annotated unigenes sequences showed that 153 (3.3%) genes were assigned to cellular component category, 132 (2.8%) to biological process, and 132 (2.8%) in molecular function. Further, 19 genes were identified differentially expressed between FW- responsive genotypes and 20 between SMD- responsive genotypes. Generated ESTs were compiled together with 908 ESTs available in public domain, at the time of analysis, and a set of 5,085 unigenes were defined that were used for identification of molecular markers in pigeonpea. For instance, 3,583 simple sequence repeat (SSR) motifs were identified in 1,365 unigenes and 383 primer pairs were designed. Assessment of a set of 84 primer pairs on 40 elite pigeonpea lines showed polymorphism with 15 (28.8%) markers with an average of four alleles per marker and an average polymorphic information content (PIC) value of 0.40. Similarly, in silico mining of 133 contigs with ≥ 5 sequences detected 102 single nucleotide polymorphisms (SNPs) in 37 contigs. As an example, a set of 10 contigs were used for confirming in silico predicted SNPs in a set of four genotypes using wet lab experiments. Occurrence of SNPs were confirmed for all the 6 contigs for which scorable and sequenceable amplicons were generated. PCR amplicons were not obtained in case of 4 contigs. Recognition sites for restriction enzymes were identified for 102 SNPs in 37 contigs that indicates possibility of assaying SNPs in 37 genes using cleaved amplified polymorphic sequences (CAPS) assay.
Conclusion
The pigeonpea EST dataset generated here provides a transcriptomic resource for gene discovery and development of functional markers associated with biotic stress resistance. Sequence analyses of this dataset have showed conservation of a considerable number of pigeonpea transcripts across legume and model plant species analysed as well as some putative pigeonpea specific genes. Validation of identified biotic stress responsive genes should provide candidate genes for allele mining as well as candidate markers for molecular breeding.
Keywords
Simple Sequence Repeat MarkerFusarium WiltPolymorphic Information ContentCleave Amplify Polymorphic SequenceCleave Amplify Polymorphic Sequence Marker
Background
Pigeonpea (Cajanus cajan (L.) Millsp) is one of the major grain legume crops of the tropical and subtropical regions of the world [1]. It is the only cultivated food crop of the Cajaninae sub-tribe and has a diploid genome with 11 pairs of chromosomes (2n = 2× = 22) and a genome size estimated to be 858 Mbp [2]. The genus Cajanus comprises 32 species most of which are found in India, Australia and one is native to West Africa. Pigeonpea is a major food legume crop in South Asia and East Africa with India as the largest producer (3.5 Mha) followed by Myanmar (0.54 Mha) and Kenya (0.20 Mha) [3]. It plays an important role in food security, balanced diet and alleviation of poverty because of its diverse usages as a food; fodder and fuel wood [4]. Several abiotic (e.g. drought, salinity and water-logging) and biotic (e.g. diseases like Fusarium wilt, sterility mosaic and pod borer insects) stresses, are serious challenges for sustainable pigeonpea production to meet the demands of the resource poor people of several African and Asian countries.
Fusarium wilt (FW) caused by Fusarium udum is an important biotic constraint in pigeonpea production in the Indian subcontinent, which results in 16-47% crop losses [5]. The fungus enters the host vascular system at the root tips through wounds or invasion made by nematodes, leading to progressive chlorosis of leaves, branches, wilting and collapse of the root system [6]. In India alone, the loss due to this disease is estimated to be US $71 million and the percentage of disease incidence varies from 5.3 to 22.6% [7].
Sterility mosaic disease (SMD) caused by pigeonpea sterility mosaic virus (PPSMV) is one of the wide-spread diseases of pigeonpea, which is transmitted by an eriophyid mite (Aceria cajani Channabasavanna). The disease is characterized by the symptoms like bushy and pale green appearance of plants followed by reduction in size, increase in number of secondary and mosaic mottling of leaves and finally partial or complete cessation of reproductive structures. Some parts of the plant may show disease symptoms and other parts may remain unaffected [8].
Due to the above mentioned factors combined with limited water resources to the fields in the semi-arid tropic regions, where the crop is grown, the productivity has remained stagnant at around 0.7 t/ha during the past two decades [1]. With the advent of genomic tools such as molecular markers, genetic maps, etc., conventional plant breeding has been facilitated greatly and improved genotypes/varieties with enhanced resistance/tolerance to biotic/abiotic stresses have been developed in several crop species [9, 10]. In case of pigeonpea, however, a very limited number of genomic tools are available so far [11, 12]. For instance, 156 microsatellite or simple sequence repeat (SSR) markers [13–16], 908 expressed sequence tags (ESTs), at the time of undertaking the study, were available in pigeonpea. For enhancing the genomic resources in pigeonpea, transcriptome sequencing to generate ESTs should be a fast approach. ESTs, which are generated by large-scale single pass sequencing of randomly picked cDNA clones, have been cost - effective and valuable resource for efficient and rapid identification of novel genes and development of molecular markers [17]. Further, ESTs have been employed in bioinformatic analyses to identify the genes that are differentially expressed in various tissues, cell types, or developmental stages of the same or different genotypes [18, 19].
In view of above facts, this study was undertaken to obtain a comprehensive resource of FW- and SMD-responsive ESTs in pigeonpea with the following objectives: (i) generation of FW- and SMD- responsive ESTs, (ii) functional annotation of assembled unigenes, (iii) in silico identification of putative FW- and SMD- responsive genes, and (iv) development of novel SSR and SNP markers in pigeonpea.
Results
Root tissue is the site for
Fusarium udum
infection, the causal fungal agent of
Fusarium
wilt in pigeonpea. With an objective to evaluate the transcriptional responses after infection of roots by
F. udum
, six unidirectional cDNA libraries were constructed. These are from each of FW- infected root tissues of resistant ('ICPL 20102') and susceptible ('ICP 2376') genotypes at different stages
viz
. 6, 10, 15, 20, 25, 30 days after inoculation (DAI). Infected roots were examined by light microscopy upon harvest at different stages. The severity of wilt disease in both susceptible and resistant genotype was observed in longitudinal sections of stem and root vascular region at 15 and 30 DAI (Figure
1
). Likewise for SMD, leaf tissue is the specific site of infection and therefore leaf samples of SMD infected genotypes, 'ICP 7035' (SMD resistant) and 'TTB 7' (SMD susceptible) were harvested at 45 and 60 days after sowing (DAS). RNA was extracted and consequently unidirectional cDNA libraries were constructed (see Additional file
1
).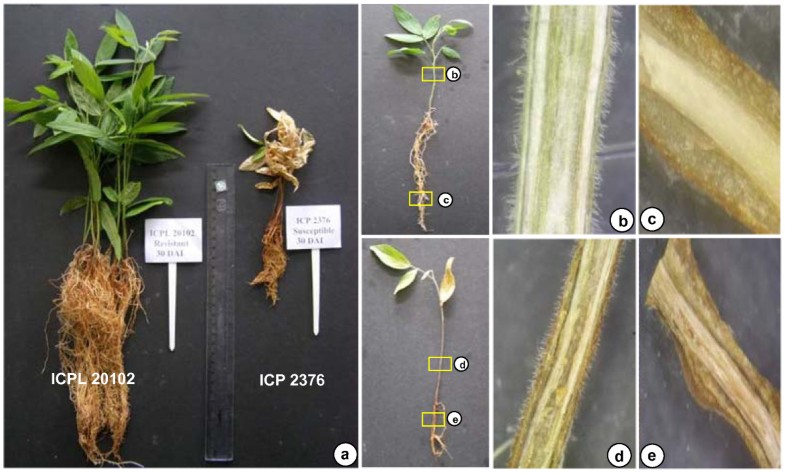 Discussion
Plants are known to have developed integrated defence mechanisms against fungal and viral infections by altering spatial and temporal transcriptional changes. The EST approach was successfully utilized in identification of disease-responsive genes from various tissues and growth stages in chickpea [26], Lathyrus [27], soybean [28], rice [29] and ginseng [30]. Many earlier studies have shown that resistant genotypes have efficient mechanisms for stress perception and enhanced expression of defence-responsive genes, which maintain cellular survival and recovery [31]. Hence, the present study was undertaken to identify catalog of defence related genes in response to FW and SMD infection in pigeonpea by generating ESTs from different stress challenged tissues at various time intervals.
Conclusion
This study has contributed a new and significant set of 9,888 ESTs that together with 908 public domain ESTs provides a unigene set of 5,085 sequences for pigeonpea. Detailed analysis of these datasets have provided several important features of pigeonpea transcriptome such as conserved genes (across legumes and model plant species) as well as possible pigeonpea specific genes, assignment of pigeonpea genes to different GO categories, identification of differentially expressed genes in response to FW- and SMD- stresses, etc. In terms of applied aspect of developed resource in breeding, this study has demonstrated development and application of gene-based molecular markers i.e SSRs, SNPs and CAPS. In summary, it is anticipated that this study is a significant contribution to enhance genomic resources in a so called orphan legume crop that will eventually impact pigeonpea breeding [11, 12].
Declarations
Acknowledgements
Authors are thankful to Indo-USAgricultural Knowledge Initiative (Indo-USA KI) supported by Indian Council of Agricultural Research (ICAR), Government of India and SP2-Leader Discretionary Grant from Generation Challenge Program http://www.generationcp.org for the financial support to undertake this study. Thanks are also due to Department of Biotechnology (DBT), Government of India for sponsoring a Post-Doctoral Fellowship to NLR. Authors are thankful to Dr. K.B. Saxena and Dr. H.D. Upadhayaya of ICRISAT for providing the seeds/DNA of some genotypes used in this study. Thanks are also due to Mr. A. Bhanu Prakash and Ms. Spurthi Nayak for their help in data analysis and discussions. Authors are also thankful to three anonymous reviewers for their valuable suggestions on the first version of the MS that helped in improvement of the MS.
Authors' Affiliations
(1)
International Crops Research Institute for the Semi-Arid Tropics (ICRISAT), Greater Hyderabad, India
(2)
University of Agricultural Sciences, Gandhi Krishi Vignyan Kendra (GKVK), Bangalore, India
(3)
National Research Centre on Plant Biotechnology (NRCPB), Indian Agricultural Research Institute, New Delhi, India
(4)
Genomics towards Gene Discovery Sub Programme, Generation Challenge Programme (GCP) c/o CIMMYT, Int. Apartado, Mexico, Mexico
Copyright
© Raju et al; licensee BioMed Central Ltd. 2010
This article is published under license to BioMed Central Ltd. This is an Open Access article distributed under the terms of the Creative Commons Attribution License (http://creativecommons.org/licenses/by/2.0), which permits unrestricted use, distribution, and reproduction in any medium, provided the original work is properly cited.