Research Article

Open Access
Arabidopsis plants deficient in constitutive class profilins reveal independent and quantitative genetic effects
BMC Plant Biology
2015
15:177
Received: 12 March 2015
Accepted: 13 June 2015
Published: 11 July 2015
Abstract
Background
The actin cytoskeleton is involved in an array of integral structural and developmental processes throughout the cell. One of actin's best-studied binding partners is the small ubiquitously expressed protein, profilin. Arabidopsis thaliana is known to encode a family of five profilin sequence variants: three vegetative (also constitutive) profilins that are predominantly expressed in all vegetative tissues and ovules, and two reproductive profilins that are specifically expressed in pollen. This paper analyzes the roles of the three vegetative profilin members, PRF1, PRF2, and PRF3, in plant cell and organ development.
Results
Using a collection of knockout or severe knockdown T-DNA single mutants, we found that defects in each of the three variants gave rise to specific developmental deficiencies. Plants lacking PRF1 or PRF2 had defects in rosette leaf morphology and inflorescence stature, while those lacking PRF3 led to plants with slightly elongated petioles. To further examine these effects, double mutants and double and triple gene-silenced RNAi epialleles were created. These plants displayed significantly compounded developmental defects, as well as distinct lateral root growth morphological phenotypes.
Conclusion
These results suggest that having at least one vegetative profilin gene is essential to viability. Evidence is presented that combinations of independent function, quantitative genetic effects, and functional redundancy have preserved the three vegetative profilin genes in the Arabidopsis lineage.
Keywords
Actin
Profilin
Arabidopsis thaliana
Constitutive
Functional redundancy
Background
Actin Binding Proteins (ABPs) facilitate rapid remodeling of the actin cytoskeleton by regulating the unpolymerized (G-actin monomers) and polymerized (F-actin filaments) actin (ACT) equilibrium [1]. Actin-ABP interactions regulate such processes as stress response, cell signaling, transcription, cytokineses, cell locomotion, organelle positioning and movement, nuclear transport, maintenance of cell size, shape, and polarity, and organ development [2–8].
Profilins (PRFs) are small (12–15 kDa), ubiquitously expressed, monomeric ABPs that have been identified in organisms ranging from most protists and all fungi to all higher plants and animals examined [9]. Originally, profilin was shown to specifically bind G-actin (globular actin) and was thought primarily responsible for G-actin sequestering in cells [10]. Recently, profilin has also been found to inhibit the spontaneous polymerization of actin filaments by forming a 1:1 complex with G-actin, thereby lowering ATP-G-actin steady-state concentrations. Once actin barbed ends (+ end of actin polarity) become blocked by capping proteins, profilin begins to sequester G-actin from pointed-end polymerization [11].
However, extensive research has shown that they also play a complex role in the formation of F-actin (filamentous actin) through the replenishment of the ATP-actin monomer pool via catalyzing the exchange of ADP for ATP on Actin [12]. While profilin does not bind F-actin directly, profilin-ATP-G-actin complexes are essential for rapid filament assembly [13]. Although profilin-bound actin monomers cannot add to pointed ends of actin filaments, they have been shown to elongate filament barbed ends at approximately the same rate as free actin monomers [14, 15]. This would lead us to believe that profilin might be facilitating rather than inhibiting polymerization [16]. This idea is further strengthened by results indicating that profilin could lower the critical concentration of actin needed to drive polymerization [17]. While the role of profilin in actin mechanics and signaling has been explored in detail, its role in development is tissue and development is poorly understood.
Higher plant and animal profilins are encoded by small gene families, which are independently evolved from ancestral profilins and exhibit distinct tissue and organ-specific expression patterns throughout development [18, 19]. The vegetative and pollen-specific classes of plant profilins show significant amounts (~25 %) of amino acid sequence divergence. These profilin classes are functionally distinct in their interaction with vegetative and reproductive class actins [20, 21]. Sequence conservation among all profilins among monocots and dicots reveals that vegetative profilins in monocots and dicots are more similar to each other than they are to their own reproductive profilin counterparts. It has been suggested that reproductive and vegetative class profilins coevolved with the vegetative and reproductive actins early in land plant evolution, well before the split between monocot and dicot angiosperms [22, 23].
In Arabidopsis thaliana, there are five profilin genes (PRF1-PRF5). PRF1, PRF2, and PRF3 are vegetative, being constitutively expressed throughout all vegetative tissues and in ovules, but not in pollen, and were originally classified as "vegetative" or "constitutive profilins". PRF4 and PRF5 are classified as reproductive profilins and are predominately expressed in mature pollen [24]. The three vegetative proteins share 90 % sequence identity, whereas the vegetative and reproductive classes share 70-75 % sequence homology [25]. While the expression levels of PRF4 and PRF5 are essentially indistinguishable, the vegetative profilins exhibit a widely varying range of expression. In young leaf tissue, PRF2 is the most highly expressed, PRF1 is only expressed at moderate levels (~40 % of PRF2 levels), and PRF3 is weakly expressed (~12 % of PRF2 levels). Despite varying in their amounts of expression, initial evidence suggests that PRF1, PRF2, and PRF3 are expressed in a similar spatial pattern [26].
While there has already been some research depicting the function of these Arabidopsis profilins, their effects on overall plant development still remain a mystery. Previous analysis has shown that a partial knockdown (RNA and protein levels 50 % of WT) of the vegetative profilin, PRF1, results in altered seedling development, elongated hypocotyls, loss of light regulation, as well as defects in root hair development, flowering time, cell elongation, and overall cell shape maintenance [27, 9]. However, due to the leaky nature of the mutants being examined, these phenotypes were not overwhelming, suggesting that complete knockouts as well as double and triple knockouts will need to be established and dissected in detail. Biochemical analysis and localization observations have shown that PRF1 has a higher affinity for binding poly-L-proline and G-actin than PRF2, and that while PRF1 is more likely associated with filamentous actin, PRF2 localizes to polygonal meshes resembling the endoplasmic reticulum [28]. A detailed functional analysis of PRF3 has not been previously reported.
We describe here, using various knockout transfer DNA (T-DNA) insertion mutants and RNA interference (RNAi) knockdown plants in multiple combinations, the roles of the three Arabidopsis vegetative protein variants in cell, tissue, and organ development. The creation of double mutants showed more extreme combinations of the single mutant phenotypes, while knocking down all three profilins showed the most drastic dwarfed phenotypes as well as problems with lateral root initiation and growth. These data indicate the quantitative genetic effects and independent roles for the three vegetative profilins.
Results
Vegetative profilin single mutants show defects in leaf and inflorescence development
Initially, we characterized single T-DNA insertion mutants for PRF1, PRF2, and PRF3. The
prf1-4
allele has an insertion in the first intron 74 bp upstream of the second exon,
prf2-1
has an insertion 113 bp upstream of the translational start site in the promoter, and
prf3-2
has an insertion at the end of the first exon (Fig.
1a
). To ensure that the resulting mutant phenotypes were indeed caused by these specific insertions, we constructed lines that were complemented by overexpressing endogenous PRF1, PRF2 or PRF3 cDNAs, respectively, under the control of the constitutive Actin2 promoter and terminator (A2pt). Two or more independent transgenic complementation lines were analyzed.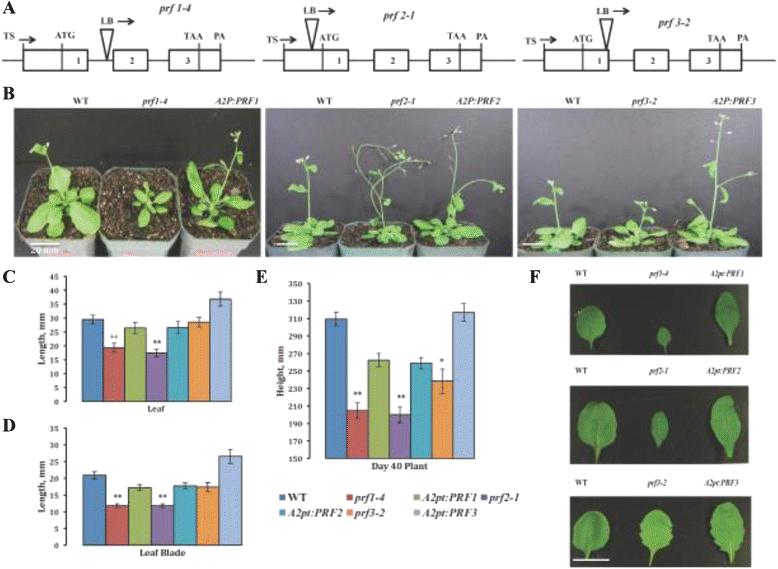 The mutant allele's prf1-4 and prf2-1 displayed significant visible defects in rosette leaf and inflorescence development at day 28 after germination as shown in Fig. 1b. At this stage prf3-2 plants appeared to have leaves relatively normal except for slightly elongated petioles. The prf1-4 and prf2-1 plants developed leaves that are significantly shorter in total length, width, and blade length (Fig. 1c, d and f). All three mutant alleles produced plants that were shorter in overall plant height (Fig. 1e), with inflorescences appearing obviously less physically stable in prf2-1 than that of WT (Fig. 1b). Pictures of these mutant plants at other stages of development may be seen in the (Additional file 1: Figure S1).
The levels of profilin RNA and protein in these lines were determined using qRT-PCR and western blot analysis, respectively. The monoclonal antibody mAbPRF1a reacts strongly and specifically with PRF1, while mAbPRF12a reacts strongly with PRF1 and PRF2 and only modestly with PRF3 [
19
]. qRT-PCR and western blot analysis revealed that these mutants had very little or no detectable RNA or protein expression (Fig.
2a-b
). Although, based on the location of the insertion,
prf1-4
is probably not a null allele and may produce some level of RNA, the PRF1 protein expression was below our detection limit. The
prf2-1
line has very little vegetative profilin protein and similarly low
PRF2
RNA. The
prf3-2
line does not show a reduction in protein but a substantial reduction in RNA. Based on the site of insertion prf2-1 and prf3-2 are most likely null for functional profilin protein expression. We also demonstrated that the complement lines contained much higher levels of RNA and protein than WT (Fig.
2a-b
). While these complemented lines appear to bolt slightly earlier than WT (Fig.
1b
), no statistically significant phenotypes were observed in these lines overexpressing any of the three vegetative profilins (Fig.
1c-e
).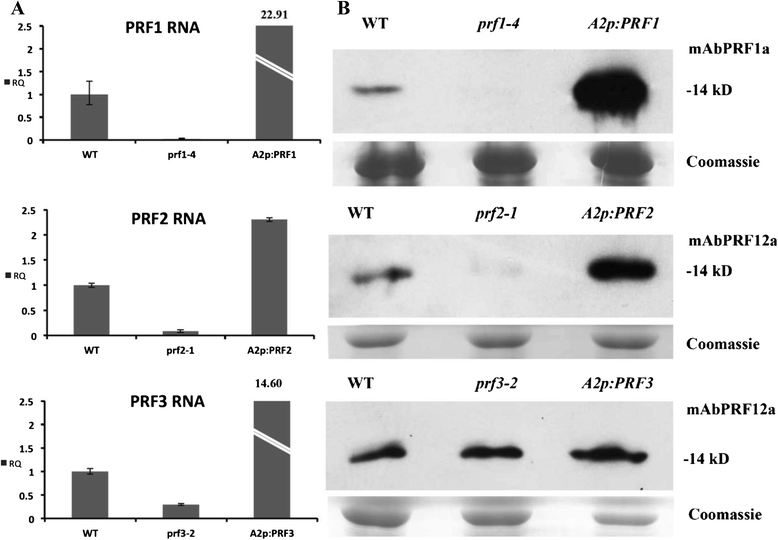 To independently confirm the major phenotypes produced by deficiencies in PRF1 and PRF2, we created single RNAi silencing epialleles (PRF1-RNAi and PRF2-RNAi). We developed a new efficient method for constructing RNAi genes that expressed simple stem-loop structures with tetra-adenosine in the loop, to silence RNA expression (see Methods). These stem-loop structures were designed to target and silence the 3′-UTR of each gene. A series of epiallelic lines expressing these constructs were isolated. Most of the lines produced morphological phenotypes indistinguishable from the T-DNA insertion mutants. The resulting measurements of leaf length, width, and plant height for selected lines are presented in Additional file 2: Figure S2. qRT-PCR of these epiallelic lines revealed that PRF1 and PRF2 transcript levels were less than 10 % of WT (Additional file 2: Figure S2). Unfortunately, we were unable to create a successful, clean RNAi line for PRF3 using various methods.
Vegetative profilin double mutants and double/ triple RNAi lines show more severe
Conclusions
In conclusion, we have demonstrated that vegetative profilins play an essential role in Arabidopsis development and the regulation of the actin cytoskeleton. Dramatic decreases in vegetative profilin gene expression produce more compounded phenotypes, suggesting that there is a direct correlation between profilin concentrations and defects in development. While the model presented herein serves to explain the phenotypic effects of lowering profilin levels, the exact mechanisms still need to be clarified in future studies. The fact that slight reductions produce a very different effect from large reductions in profilin levels suggests there is a need for a more detailed dissection of these mechanisms. This paper analyzed profilins' role in promoting proper cell elongation, but additional research is needed to examine their roles in signal transduction, intracellular transport, and communication. We suggest that a systems biology approach may be needed to dissect out how all of these processes are interacting with each other through a profilin intermediate.
Methods
Plant materials and growth conditions
All Arabidopsis thaliana seeds were of the Columbia (Col) ecotype. Wild-type, mutant, and transgenic seeds were grown in conditions and media described previously [42, 27, 43]. T-DNA insertion lines were obtained from the Arabidopsis Biological Resource Center (ARBC Ohio St. University). prf1-4 (GK_614F01) and prf3-2 (GK_055A02) were from the Gabi Kat mutant collection, while prf2-1 (SALK_129071) was generously provided to us from Dr. Brad Day (Michigan St. University), and is derived from the SALK mutant collection. T-DNA mutant lines were cleaned up by backcrossing to WT-Col, allowing heterozygotes for the insertion to self-pollinate, and then repeating the process for a second and third time to ensure that these lines are free of other T-DNA insertions. These plants were screened each generation for the presence of their respective mutant alleles by PCR using methods previously described [44] and the following sets of mutant Left Border (LB) and WT primers: prf1-4, PRF1_WT_S (5′-TAGACCATTAGTCTATTGTGAGAT-3′), Prf1-4_GK_LB (5′- CGTCGGAGAATTCAGTACTCG-3′), and PRF1_WT_AS (5′-TTCGCCACCGAGAAATAGTCCGGTT-3′), prf2-1, PRF2_WT _S (5′-ATCGACTTTCACACAAAACAT-3′), Prf2-1_SALK_LB (5′-GCAATTAGCTTCAACCGACTG-3′),and PRF2_WT_AS (5′-TTGCCTTCGACCTCGCACATGAGAT-3′), prf3-2, PRF3_WT_S (5′-AGATGAGGGCCTTATAATGGA-3′), Prf3-2_GK_LB_S (5′- ATCATCGATCGGCTCATATTG-3′),and PRF3_WT_AS (5′-GTAGTCGGTATAGAAATA-3′). DNA for PCR was extracted using the REDExract N-Amp Plant PCR Kit (Sigma-Aldrich). Following confirmation via PCR, clean mutant lines were sent off for DNA sequencing to confirm the exact location of the insertions. prf1-4 had an insertion 74 bp upstream of the second exon in the first intron, prf2-1 had an insertion 113 bp upstream of the translational start site in the promoter, and prf3-2 had an insertion 15 bp from the end of the first exon (Fig. 1b). All plants were grown at 22 °C with 16-h days/ 8-h nights.
Generation of double mutants
Double mutants were then generated through the following plant crosses between the individual T-DNA mutants: prf1-4/ prf1-4 pollen crossed with emasculated prf2-1/ prf2-1 (prf1-4 prf2-1), prf1-4/ prf1-4 pollen crossed with emasculated prf3-2/ prf3-2 (prf1-4 prf3-2), prf2-1/ prf2-1 pollen crossed with emasculated prf3-2/ prf3-2 (prf2-1 prf3-2). F1 progeny were screened by PCR for the presence of both alleles (using primers above), and then allowed to self-pollinate. PCR was used to check F2 progeny displaying the dwarfed leaves phenotypes for the presence of both mutant alleles and the absence of both wild-type alleles.
Simplified construction of RNAi transgenes
Single, double, and triple RNAi constructs were designed based on previously described methods [29, 30] with an important simplification. Previous constructs used a large 1400 bp petunia intron to separate the forward and reverse facing sequences and RNAi gene constructions required going through multiple rounds of overlapping PCR or a multistep cloning process to make the assembly. Instead, we used a 79 bp Actin2 intron flanked by two "A" residues on either side and had it synthesized by GenScript (Piscataway, NJ). This design allowed for a much smaller gene construct to be assembled. The constructs consisted of 100 (PRF1-RNAi), 200 (PRF2L-RNAi and PRF1 PRF2-RNAi), or 300 (PRF1 PRF2 PRF3-RNAi) bp inverted repeats (depending on how many genes being targeted) separated by the "A" residues and the 79 bp Actin2 intron, all under the control of the Actin2 promoter terminator (A2pt) [19]. The advantages of these constructs are that they were inexpensively synthesized as 283, 483, and 683 bp sequences, respectively, and were cloned in one step into an expression vector. Once the intron was removed, we were left with a stable "AAAA" loop connected to the RNA stem consisting of the inverted repeats that hybridize to the first 100 bp (200 bp for prf2-RNAi) of the 3′-UTRs of their corresponding profilin target genes. PRF2-RNAi required a longer inverted stem of 200 bp in order to achieve sufficient silencing of PRF2.
Complementation Constructs were made by cloning full-length PRF1, PRF2, and PRF3 cDNAs under the control of the A2pt construct, as described in [19]. This ensured the proper expression in the appropriate tissues. Fimbrin-GFP reporter constructs (35S:GFP-FABD2); previously described in [32] were transformed into our WT and PRF1 PRF2-RNAi plants to allow for visualization of actin filaments. The 35S:GFP-FABD2 construct consists of GFP fused to the C-terminal half of Arabidopsis Fimbrin1. For our constructs, we exchanged the hygromycin resistance marker for a Basta resistance marker. All transformations were performed with Agrobacterium tumefaciens strain C58C1 using the floral dip method [45, 46].
Leaf, root, and plant measurements
All leaf measurements were taken using a standard metric ruler on day 28 of plant development (i.e., 28 days after seed germination on soil). For each measurement, a total of 52 rosette leaves (largest two leaves per plant on 26 plants) were analyzed from WT, mutant, complement, and RNAi lines. Plant height measurements were taken on day 40 of development after laying plants flat on the bench and measuring the length from the base of the rosette to the top of the inflorescence. For each measurement, a total of 30 plants were analyzed for WT, mutant, complement, and RNAi lines. Root quantifications were made on day 15 of development using a standard metric ruler for measuring the length or by counting the number of lateral roots initiated. For each measurement, a total of 30 roots were analyzed for WT, PRF1 PRF2-RNAi, PRF1 PRF2 PRF3-RNAi, prf3-2, and A2p:PRF3 overexpression lines. To measure the hypocotyls, seeds were grown vertically in dark growth conditions with measurements taken on day 10. All measurements were taken to the nearest 0.1 mm. Graphs of resulting data were constructed in Excel (Microsoft).
qRT-PCR RNA analysis
RNA was isolated, treated, and cDNA was made from leaf tissues of wild-type and various transgenic or mutant plants as previously described [20]. cDNA populations were analyzed using the following qRT-PCR primers: Ubiquitin10 (Ubiq10) was the endogenous control, Ubiq10_Sense (5′-AGAAGTTCAATGTTTCGTTTCATGTAA-3′) and Ubiq10_Antisense (5′-GAACGGAAACATAGTAGAACACTTATT-3′), PRF1, PRF1_3utr_Sense (5′-TCTCCTTCGTTACCGAGTTTGAG-3′) and PRF1_3utr_Antiense (5′-ACTCAATACATATGGAGAAAAAAGAT-3′), PRF2, PRF2_3utr_Sense (5′-CTGCCATGTATTGTGATTTGATTG-3′) and PRF2_3utr_Antiense (5′-GAGAGGATCAAAACCATAACAAATAT-3′), PRF3, PRF3_3utr_Sense (5′-GTGTCGTGAGAGAAAAACTATTCGAT-3′) and PRF3_3utr_Antiense (5′-CCCCAAGATCCATCACAAGGT-3′). All primer sets were designed to detect the 3′-UTR of their respective genes, thus ensuring distinct specificity and that primers were downstream of all T-DNA insertions. Reactions were performed on an Applied Biosystems 7500 real-time PCR system using SYBR Green detection chemistry (Applied Biosystems) as described previously [47]. In all experiments, the delta-delta-Ct algorithm (2−(ddCT) method) [48] was used to detect the relative quantification of gene expression.
Western blot analysis
Arabidopsis protein samples were prepared by grinding 50 mg of frozen leaf tissue in liquid nitrogen and then extracted in 125 μL of extraction buffer containing 25 mM Tris–HCl, pH 7.5, 10 mM NaCl, 10 mM MgCl2, 5 mM EDTA, and a protease inhibitor cocktail (Roche Diagnostics; one tablet/10 mL). After 10 min centrifugation, the supernatant was mixed 1:1 with 2× Sodium Dodecyl Sulfate (SDS) sample buffer [49] and boiled for 5 min. ~15–20 μL were loaded per well (i.e., ~25 μg protein). Protein samples were then separated on 12 % SDS-PAGE gels and transferred to Immobilon transfer membrane (Millipore, Billerica, MA) by semi-dry blotting (Hoefer, San Francisco, CA). Membranes were blocked for 30 min in Tris-Buffered Saline and Tween 20 (TBST) (10 mM Tris–HCl pH 7.5, 150 mM NaCl, 0.05 % Tween 20) containing 20 % goat serum and 5 % dry milk, and then probed with the primary antibody that recognized a 13- to14-kD profilin band (mAbPRF1a or mAbPRF12a, see [19] at 0.5 mg/ml concentration for 1 h, and then washed thoroughly with TBST. Then membranes were probed with IgG-antimouse horseradish peroxidase-conjugated secondary antibody at a 1:2000 dilution in blocking solution for 30 min. The blots were washed again in TBST (3 x 5 min), treated with ECL detection solution (Amersham, Piscataway, NJ) for about 2 min and then exposed to the Hyperfilm ECL (Amersham, Piscataway, NJ). Western blot analysis was repeated at least twice for each experiment. Coomassie Brilliant Blue staining of duplicate gels was used to monitor the equal loading of proteins and to adjust loading if necessary. Quantification of bands was calculated using ImageJ (NIH), a Java-based image-processing program.
Abbreviations
ABPs:

Actin Binding Proteins
ACT:

Actin
PRFs:

Profilins
G-actin:

Globular actin
F-actin:

Filamentous actin
T-DNA:

Transfer DNA
RNAi:

RNA interference
A2pt:

Actin2 promoter and terminator
ADFs:

Actin Depolymerizing Factors
Arp2/3:

Actin Related Protein 2/3
Col:

Columbia
LB:

Left Border
Ubiq10:

Ubiquitin10
2−(ddCT) :

delta-delta-Ct algorithm
SDS:

Sodium Dodecyl Sulfate
TBST:

Tris-Buffered Saline and Tween 20
Declarations
Acknowledgments
This study was supported by grants from the National Institutes of Health (GM36397-26) and the University of Georgia's Research Foundation to RBM and the UGA Graduate Student Association Recruitment Award, the Linton, and June Bishop Graduate Fellowship, and the NIH Genetics Training Grant (GM 07103–37) awards to KJM. We thank UGA's Biomedical Microscopy Core at UGA for the use of the Zeiss LSM 710 confocal microscope. Special thanks to Eileen Roy-Zokan for all of her help with troubleshooting certain experiments.
To be submitted to the BMC Plant Biology.
Summary sentence
The three vegetative profilin genes have been preserved in the Arabidopsis lineage by a combination of independent function, quantitative genetic effects, and functional redundancy.
Authors' Affiliations
(1)
Genetics Department, Davison Life Sciences Building, University of Georgia, Athens, USA
Copyright
© Müssar et al. 2015
This is an Open Access article distributed under the terms of the Creative Commons Attribution License (http://creativecommons.org/licenses/by/4.0), which permits unrestricted use, distribution, and reproduction in any medium, provided the original work is properly credited. The Creative Commons Public Domain Dedication waiver (http://creativecommons.org/publicdomain/zero/1.0/) applies to the data made available in this article, unless otherwise stated.