Research article
Open Access
Characterization of PR-10 genes from eight Betula species and detection of Bet v 1 isoforms in birch pollen
BMC Plant Biology
2009
9:24
Received: 09 July 2008
Accepted: 03 March 2009
Published: 03 March 2009
Abstract
Background
Bet v 1 is an important cause of hay fever in northern Europe. Bet v 1 isoforms from the European white birch (Betula pendula) have been investigated extensively, but the allergenic potency of other birch species is unknown. The presence of Bet v 1 and closely related PR-10 genes in the genome was established by amplification and sequencing of alleles from eight birch species that represent the four subgenera within the genus Betula. Q-TOF LC-MSE was applied to identify which PR-10/Bet v 1 genes are actually expressed in pollen and to determine the relative abundances of individual isoforms in the pollen proteome.
Results
All examined birch species contained several PR-10 genes. In total, 134 unique sequences were recovered. Sequences were attributed to different genes or pseudogenes that were, in turn, ordered into seven subfamilies. Five subfamilies were common to all birch species. Genes of two subfamilies were expressed in pollen, while each birch species expressed a mixture of isoforms with at least four different isoforms. Isoforms that were similar to isoforms with a high IgE-reactivity (Bet v 1a = PR-10.01A01) were abundant in all species except B. lenta, while the hypoallergenic isoform Bet v 1d (= PR-10.01B01) was only found in B. pendula and its closest relatives.
Conclusion
Q-TOF LC-MSE allows efficient screening of Bet v 1 isoforms by determining the presence and relative abundance of these isoforms in pollen. B. pendula contains a Bet v 1-mixture in which isoforms with a high and low IgE-reactivity are both abundant. With the possible exception of B. lenta, isoforms identical or very similar to those with a high IgE-reactivity were found in the pollen proteome of all examined birch species. Consequently, these species are also predicted to be allergenic with regard to Bet v 1 related allergies.
Keywords
Concerted EvolutionBirch PollenBirch SpeciesPlasma Desorption Mass SpectrometryBetula Species
Background
Birch trees grow in the temperate climate zone of the northern hemisphere and release large amounts of pollen during spring. This pollen is a major cause of Type I allergies. The main birch allergen in northern Europe is a pathogenesis-related class 10 (PR-10) protein from the European white birch (Betula pendula) termed Bet v 1 [1, 2]. Pollen of other Fagales species contains PR-10 homologues that share epitopes with Bet v 1 [3], as do several fruits, nuts and vegetables [4–7]. An IgE-mediated cross-reaction to these food homologues causes the so-called oral allergy syndrome (OAS) [8, 9]. PR-10 proteins constitute the largest group of aeroallergens and are among the four most common food allergens [10].
The genus Betula encompasses over 30 tree and shrub species that are found in diverse habitats in the boreal and temperate climate zone of the Northern Hemisphere. The taxonomy of the Betula genus is debated, as is the number of recognized species. The genus is either divided into three, four or five groups or subgenera [11–13]. B. pendula occurs in Europe and is the only species whose relation to birch pollen allergy has been extensively investigated. Sensitization to birch pollen is also reported across Asia and North America, where B. pendula is not present [14, 15]. Other Betula species occur in these areas, but their allergenic potency is unknown. Betula species may vary in their allergenicity as variation in allergenicity has been found among cultivars of apple [16–18], peach and nectarine [19], and among olive trees [20].
PR-10 proteins are present as a multigene family in many higher plants, including Gymnosperms as well as Monocots and Dicots [21–23]. The classification as PR-proteins [24] is based on the induced expression in response to pathogen infections by viruses, bacteria or fungi [25–27], to wounding [28] or to abiotic stress [29, 30]. Some members of the PR-10 gene family are constitutively expressed during plant development [31] or expressed in specific tissues [23]. Multiple PR-10 genes have been reported for B. pendula as well [32]. mRNAs of these genes have been detected in various birch tissues, including pollen [1, 33, 34], roots, leaves [28, 30], and in cells that are grown in a liquid medium in the presence of microbial pathogens [27]. PR-10 genes share a high sequence similarity and form a homogeneous group. Homogeneity is believed to be maintained by concerted evolution [35]. Arrangements of PR-10 genes into clusters, such as found for Mal d 1 genes in apple, may facilitate concerted evolution [22].
Several Bet v 1 isoforms have been described for B. pendula [1, 32–34, 36], including both allergenic and hypoallergenic isoforms [37]. Individual B. pendula trees have the genetic background to produce a mixture of Bet v 1 isoforms with varying IgE-reactivity [32]. The relative abundance of individual isoforms at the protein level will influence the allergenicity of the pollen. Molecular masses and sequences of tryptic peptides from Bet v 1 can be determined by Q-TOF MS/MS [38]. The recently developed Q-TOF LC-MSE method enables peptide identification, but has the additional advantage of being able to determine relative abundances of peptides in a single run [39]. By quantifying isoforms with a known IgE-reactivity [37], the allergenicity of particular birch trees can be predicted. The existence of allergenic and hypoallergenic isoforms indicates that PR-10 isoforms vary in allergenicity, and some PR-10 isoforms do not bind IgE at all. This has already been demonstrated for two truncated Bet v 1 isoforms [33]. Therefore, not all PR-10 isoforms are necessarily isoallergens.
Knowledge on the allergenicity of birch species may facilitate selection and breeding of hypoallergenic birch trees. To investigate the presence and abundance of Bet v 1 isoforms in Betula species that are potential crossing material, we: (I) cloned and sequenced PR-10 alleles from eight representative Betula species to detect PR-10 genes at the genomic level, (II) applied Q-TOF LC-MSE to identify the pollen-expressed Bet v 1 genes, (III) determined relative abundances of isoforms in the pollen proteome, and (IV) compared these isoforms to isoforms with a known IgE-reactivity.
Results
This study encompasses several experimental and analytical steps, involving both genomics and proteomics. All main steps have been summarized in Fig.
1
.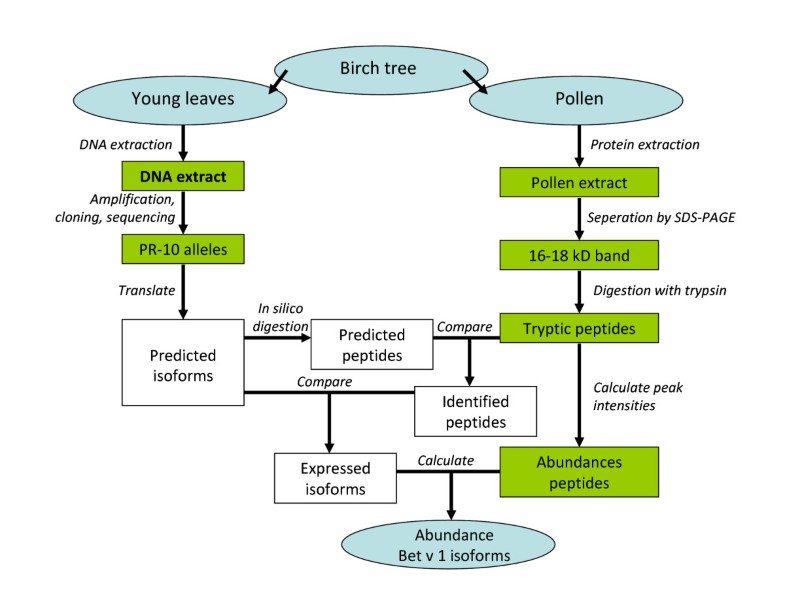 Discussion
PR-10 gene family organization and evolution
The presence and diversity of Bet v 1 and closely related PR-10 genes in eight birch species was established by amplification and sequencing of more than 100 clones per species. The eight species belong to four different subgenera/groups in the genus Betula [13] and thereby represent a large part of the existing variation within the genus. Each birch species contains PR-10 genes, as could be expected given the broad range of plant species in which PR-10 genes are found [21–23]. The PR-10 genes grouped into subfamilies, as previously reported for B. pendula [32]. Five subfamilies were recovered from all species. Two new subfamilies were identified, but these were each restricted to two species and were mostly composed of pseudogenes.
The PR-10 subfamily has a complex genomic organization. Differentiating between paralogues and homologues was not possible beyond closely related species. One likely explanation is concerted evolution, for which cladistic evidence was found (Fig. 2). Concerted evolution causes genes to evolve as a single unit whose members (occasionally) exchange genetic information through gene conversion or unequal crossing-over [40]. Tandemly arranged genes have increased conversion rates, while such an arrangement is a prerequisite for the occurrence of unequal crossing-over [41]. Most PR-10 genes in apple are arranged in a duplicated cluster [22], thus facilitating the main mechanisms for concerted evolution. We obtained two alleles that appear the direct result of unequal crossing-over between Bet v 1 genes. On a higher taxonomic level, cladistic evidence for concerted evolution is present in the overall gene tree of the PR-10 family [35], as sequence divergence is generally smaller between different genes from the same species than between genes from different species.
Nei and Rooney [42] suggested that a combination of recent gene duplications and purifying selection could also explain why tandem gene duplicates appear similar. In their model of birth-and-death evolution of genes, new genes arise due to gene duplications, evolve independently while undergoing purifying selection, and go extinct after becoming non-functional. Pseudogenes are characteristic for this process. The low Ka/Ks ratios clearly point to the occurrence of purifying selection. Pseudogenes are a common feature among the PR-10 genes in birch, since we recovered them from six out of eight species. As much as one-third of the recovered alleles in B. nigra had an interrupted ORF. We did not determine the potential expression of these alleles, since truncated isoforms would have migrated outside the 16–18 kDa band in the SDS-PAGE. None were, however, detected in the 14 kDa band. Basically, all ingredients for the "birth-and-death" model are present, except that independent evolution is questionable due to the presences of duplicates that resulted from unequal crossing-over. Moreover, the clustering of for example the B. chichibuensis alleles (Fig. 2) would suggest an extremely high number of recent duplications. Both processes of "birth-and-death" and concerted evolution may, therefore, be active in the PR-10 gene family. Regardless of the evolutionary processes, its outcome is clear: PR-10 proteins are homogenous as a group and even stronger so within subfamilies. The high homogeneity allowed us to use Q-TOF LC-MSE to quantify the relative expression of separate Bet v 1 isoforms, because large differences in amino acid composition would have distorted the quantification.
Bet v 1 expression
Which PR-10 genes are actually expressed in pollen and are thereby the true Bet v 1 allergens? We used Q-TOF analysis to investigate the expression of Bet v 1 isoforms in pollen of five Betula species. Isoforms from subfamily 01 and 02 were identified in birch pollen, confirming predictions based on mRNA expression [1, 33, 34]. The single gene in subfamily 05 that was present in all eight birch species, is homologous to ãpr10c, which has a high basal transcription level in roots and a relatively lower basal transcription level in leaves [27, 28, 43]. Its expression is induced by copper stress [30] and during senescence in leaves [44]. Regarding subfamily 03, the genes PR-10.03C and 03D (= γpr10a and γpr10b) in B. pendula become transcriptionally upregulated upon infection of the leaves with fungal pathogens [27]. Their transcription is induced by wounding or auxin treatment in roots [28, 43]. No data have been reported about the expression of the sequenced PR-10 genes in subfamilies 04, 06 and 07.
The pollen-expressed Bet v 1 genes are transcribed during the late stages of anther development [45], but which factors induce transcription is unknown. Bet v 1 is an abundant pollen protein that has been estimated to encompass 10% of the total protein in B. pendula pollen [46]. The Bet v 1 band was the most intense band in the SDS-PAGE gels of birch pollen extracts. Its exact abundance is difficult to estimate due to differences in extraction efficiency between different proteins. However, given the low amount of residual protein in the pellet, our results suggest that the abundance of Bet v 1 is higher than 10% of the total protein content and is likely to exceed 20%. The occurrence of Bet v 1 isoforms in B. pendula has previously been studied in a mixture of pollen from different trees by Swoboda et al. [34]. They analyzed tryptic digests of purified Bet v 1 isoforms by Plasma Desorption Mass Spectrometry (PDMS), a technique that only reveals peptide masses. We examined pollen from individual trees and analyzed the tryptic digests by Q-TOF LC-MSE, which reveals total masses of peptides and the underlying amino acid sequences, based on available sequence information. The ability to determine the peptide sequences yields more accurate information on expression of individual isoforms. We demonstrated that at least 4 to 6 isoforms were expressed in the pollen of one single tree of the birch species B. pendula, B. nigra, B. chichibuensis, B. lenta and B. costata. The actual number is likely to be higher since we could not discriminate each individual isoform due to the high similarity between some isoforms.
Q-TOF LC-MSE has the advantageous ability to simultaneously separate, identify and quantify peptide fragments. A similar strategy has recently been followed by Chassaigne et al. [47]. They identified five peanut-specific peptide ions that were used as specific tags for the peanut allergenic proteins Ara h 1, Ara h 2, and Ara h 3. The relative intensity of the specific peptides even provided information on the processing history of the peanut material. Napoli et al. [48] also used mass spectrometry to analyze an Ole e 1 mixture of multiple isoforms and their post-translational modifications, which could not be separate completely by 2-Dimension gel electrophoresis. A disadvantage of using Q-TOF LC-MSE instead of Q-TOF LC-MSMS in combination with 2D gel electrophoresis and Western blotting – in which allergic sera and specific anti-IgE antibodies are employed – is that our method does not distinguish IgE-binding isoforms from non-IgE-binding isoforms. Therefore, not all described PR-10 isoforms are necessarily true isoallergens.
We included no purification step in the extraction procedure apart from protein separation on SDS-PAGE. This minimizes the chance that certain isoforms are lost during purification, but the Bet v 1 protein band might be contaminated with other pollen proteins with a similar mass. Three peptides of the pollen allergen Bet v 7 were detected in the 16–18 kDa band, but the amount of Bet v 7 was estimated to be less than 2% of the amount of Bet v 1, based on the peak intensities of these peptides. All peptides with high peak intensities could be attributed to Bet v 1 isoforms. Full sequence coverage of Bet v 1 isoforms cannot be achieved by using only trypsin as a protease, as smaller peptides will be lost during peptide extraction from the SDS-PAGE gel. Proteases that cleave at other sites will yield peptides that cover part of the missing protein sequence. Coverage with Q-TOF LC-MSE was 71–79% for the B. pendula isoforms, which is higher than the 57–60% coverage reported for Q-TOF MS/MS [38].
Swoboda et al. [34] estimated that, based on PDMS peak areas of peptides, the relative amount of Bet v 1a (= PR-10.01A01) in the pollen mixture from several B. pendula trees was at least 50% of the total amount of Bet v 1. Ferreira et al. [37] estimated the relative amounts of different Bet v 1 isoforms by NH2-terminal sequencing of purified natural Bet v 1 and reported a ~2:2:1 ratio for isoforms that respectively contain Ser, Thr and Ile at the 7th amino acid position. This would correspond to expression of the isoforms 02A01+02B01+02C01: 01A01+01A06: 01B01+01C04+01C05 in pollen of B. pendula 'Youngii'. When we sum our results in this way, a ratio of 30%:45%:25% is obtained. The similarity between our results and previously obtained estimates suggests that the quantities obtained from B. pendula 'Youngii' are also representative for other B. pendula trees.
Allergenicity
Ferreira et al. [37] distinguished Bet v 1 isoforms with a low, intermediate and high IgE-reactivity. Expression of the isoforms 01B01 (= Bet v 1d, low IgE-reactivity), 02C01 (= Bet v 1c, intermediate IgE-reactivity), 01C04 (= Bet v 1f, intermediate IgE-reactivity) and 01A01 (= Bet v 1a, high IgE-reactivity) in the pollen of B. pendula 'Youngii' was confirmed by identification of unique peptides (Table 3). Isoforms of all three levels of IgE-reactivity were abundant and encompassed 35–38% (high), 22–24% (intermediate) and 18–19% (low) of the total amount of Bet v 1. This leaves 17–22% of the total Bet v 1 for isoforms with an unknown IgE-reactivity. We observed similar quantities in two other B. pendula cultivars as well (results not shown). Since B. pendula is known to be highly allergenic, the presence of isoforms with a high IgE-reactivity is apparently of determining influence on its allergenicity. Interestingly, people that are not yet sensitized to B. pendula pollen come into contact with several abundant isoforms. However, the ability of these isoforms to provoke an IgE-mediated response varies in patients that have become sensitized [49, 50]. The factors that cause one isoform to develop into having a high IgE-reactivity and another isoform into having a low IgE-reactivity are currently unknown. The abundance of the isoforms may play a role, but as isoforms with intermediate or low IgE-reactivity are also present in considerable quantities, this is unlikely to be the only factor. Recently, Gao et al. [18], investigated the association of allelic diversity of Mal d 1 and allergenicity in ten pedigree-linked apple cultivars, and found that qualitative as well as quantitative factors were involved.
The opportunities for identifying birch trees that only express hypoallergenic isoforms are limited. The isoforms Bet v 1l and Bet v1d (= 01B01) are currently known as hypoallergenic [37]. The crystal-structure of Bet v 1l has been determined [51] and its allergenicity has recently been tested on a large group of patients [50]. However, none of the examined species contained Bet v 1l, despite thorough examination, and Bet v 1l may represent a sequencing artifact or an unexpressed allele. Only B. pendula, B. populifolia and B. plathyphylla contained 01B01. The most similar isoforms in the other species differed by at least five amino acids. In contrast, the highly allergenic isoform 01A01 is expressed in pollen of B. pendula 'Youngii', while the B. populifolia genome also contains the 01A01 sequence. The other Betula species do not harbor Bet v 1a, but B. chichibuensis, B. costata and B. nigra contain isoforms that differ only by 1–3 amino acids from Bet v 1a. A high similarity between isoforms increases the chance that they share epitopes, although a few amino acid substitutions may influence the allergenicity drastically [52–54]. In all species, these isoforms are abundant. B. lenta forms an exception as the isoform most similar to Bet v 1a has a sequence similarity of 95.5% and encodes a protein that differs by seven amino acids.
Conclusion
We identified 12 to 25 unique PR-10 sequences in each of eight different birch species. Application of Q-TOF LC-MSE revealed that genes from two large subfamilies (01 and 02) were expressed in birch pollen. We showed that Q-TOF LC-MSE allowed fast screening of Bet v 1 isoforms in birch pollen by determining presence and relative abundances of individual isoforms. The pollen of four birch species contained a mixture of Bet v 1 isoforms, with abundant levels of isoforms that were similar to isoforms with a high IgE-reactivity. We predict that the allergenic potency of these species will be high. B. lenta (subgenus Betulenta) lacked isoforms with a high similarity to isoforms with a high IgE-reactivity. This species and related species represent the most promising candidates for further screening of hypoallergenicity by for example skin prick tests or nasal challenges.
Declarations
Acknowledgements
This research was partially funded by the Netherlands Proteomics Centre, an Innovative Cluster of the Netherlands Genomics Initiative and partially funded by the Dutch Government (BSIK03009). This research was partially funded by the Allergy Consortium Wageningen (ACW).
Authors' Affiliations
(1)
Plant Research International, Wageningen, the Netherlands
(2)
Allergy Consortium Wageningen, Wageningen, the Netherlands
Copyright
© Schenk et al; licensee BioMed Central Ltd. 2009
This article is published under license to BioMed Central Ltd. This is an Open Access article distributed under the terms of the Creative Commons Attribution License (http://creativecommons.org/licenses/by/2.0), which permits unrestricted use, distribution, and reproduction in any medium, provided the original work is properly cited.