Research article
Open Access
Identification of microspore-active promoters that allow targeted manipulation of gene expression at early stages of microgametogenesis in Arabidopsis
BMC Plant Biology
2006
6:31
Received: 12 September 2006
Accepted: 21 December 2006
Published: 21 December 2006
Abstract
Background
The effective functional analysis of male gametophyte development requires new tools enabling the spatially and temporally controlled expression of both marker genes and modified genes of interest. In particular, promoters driving expression at earlier developmental stages including microspores are required.
Results
Transcriptomic datasets covering four progressive stages of male gametophyte development in Arabidopsis were used to select candidate genes showing early expression profiles that were male gametophyte-specific. Promoter-GUS reporter analysis of candidate genes identified three promoters (MSP1, MSP2, and MSP3) that are active in microspores and are otherwise specific to the male gametophyte and tapetum. The MSP1 and MSP2 promoters were used to successfully complement and restore the male transmission of the gametophytic two-in-one (tio) mutant that is cytokinesis-defective at first microspore division.
Conclusion
We demonstrate the effective application of MSP promoters as tools that can be used to elucidate gametophytic gene functions in microspores in a male-specific manner.
Keywords
Mature PollenMale GametophyteTapetal CellPollen MitosisMicrospore Development
Background
The male gametophyte of flowering plants displays a highly reduced structure of two or three cells at maturity and its development provides an excellent system to study many fundamentally important biological processes such as cell polarity, cell division and cell fate determination (reviewed by [1]). An increasing collection of mutations and genes have been characterized that act gametophytically and have been shown to be important for post-meiotic cell division during pollen development in Arabidopsis. These include MOR1/GEM1 [2] and TIO [3], whose functions are essential for regular cell polarity and cytokinesis at first microspore division, termed pollen mitosis I. However, mutations in such essential genes cause gametophytic embryo sac defects and sporophytic lethality [2, 3]. This prevents the analysis of homozygous mutations and hinders the functional analysis of their role(s) in specific cell types such as microspores. The native promoters of essential genes such as TIO are not useful tools to examine effects of mis-expression of gene or protein domains during pollen development since their broad activities in other sporophytic tissues can be detrimental to early vegetative development prior to gametophytic development. Moreover the use of well characterized male-gametophyte-specific promoters such as LAT52 enables targeted manipulation of gene expression that is restricted to the vegetative cell during pollen maturation after pollen mitosis I ([4]. Therefore we have faced a practical challenge to identify promoters that allow the targeted manipulation of gene expression in microspores.
A number of male-gametophyte-specific promoters that are active at different developmental stages are known. Most data are available for late pollen promoters. These include petunia chiA [5], tomato LAT52 and LAT59 [4, 6], rapeseed Bp10 [7], maize Zm13 [8, 9] and tobacco NTP303 [10]. In Arabidopsis these include the TUA1 [11], AtPTEN1 [12], AtSTP6 [13], AtSTP9 [14] and the late vegetative cell-specific AtVEX1 [15] promoters. Among these, the tomato LAT52 promoter with demonstrated vegetative-cell-specific expression [4, 6] was shown to be highly active in number of plant species and has become widely used as a tool to drive pollen-specific expression [16–20]. More recently, promoters active in generative or sperm cells have been identified from lily [21] and Arabidopsis [15, 22, 23].
On the other hand, very few promoters have been identified that are active or specifically active at microspore stage. The tobacco NTM19 promoter is the only well characterized promoter that exhibits strict microspore-specific expression with no activity in mature pollen [24, 25]. From rapeseed, Bp4 mRNA was described as microspore-specific [26], but the Bp4 promoter was later shown to be active only after PMI [24]. However the BnM3.4 promoter was active in tetrads and in free microspores [27]. The potato invGF promoter is initiated in late microspores and is restricted to the male gametophyte [28]. In Arabidopsis available microspore expressed promoters are also limited. The Arabidopsis BCP1 promoter is active in microspores and the tapetum [29] while the AtSTP2 promoter shows a pattern of activity similar to that of NTM19, but is initiated at tetrad stage [30].
Transcriptomic analyses based on various microarray experiments including those from isolated microspores and developing pollen now provide genome-wide expression profiles throughout plant development [31–33]. Taking advantage of these public databases, we have asked whether microarray data can be directly exploited in order to identify novel and potentially specific promoters that are first active in Arabidopsis microspores. In this study, we have selected and characterized the activity of three promoters, MSP1, MSP2, and MSP3 that were predicted to be specifically active in microspores and developing pollen. We demonstrate that the MSP1 and MSP2 promoters can drive functional protein expression in microspores in complementation experiments and the utility of MSP promoters as novel male-specific microspore expression tools in Arabidopsis.
Results
Identification of candidate genes
To identify regulatory sequences that direct preferential or specific expression in
Arabidopsis
microspores we analyzed normalized transcriptomic datasets. We compared the expression profiles of all gametophytically expressed genes with those expressed in the sporophyte. The male gametophyte microarray data set was obtained from our previous experiments involving analysis of four developmental stages; microspore, bicellular, tricellular and mature pollen [
33
]. Sporophytic datasets were obtained from publicly available resources (NASC). We selected for genes exhibiting strict expression patterns at early stages of male gametophyte development with no or low signals in mature pollen. Genes with expression in inflorescences, flower buds [
31
,
34
] and developing flowers [
32
] were retained as candidate genes, but genes with reliable signals in other sporophytic dataset(s) were excluded. Genes were further selected to retain those encoded as single copy genes and that showed a range of expression levels in microspores. This approach led to the identification of seven potential target genes (At5g40040, At5g59040, At5g46795, At4g26440, At2g03170, At3g14450 and At1g53650; Fig.
1
).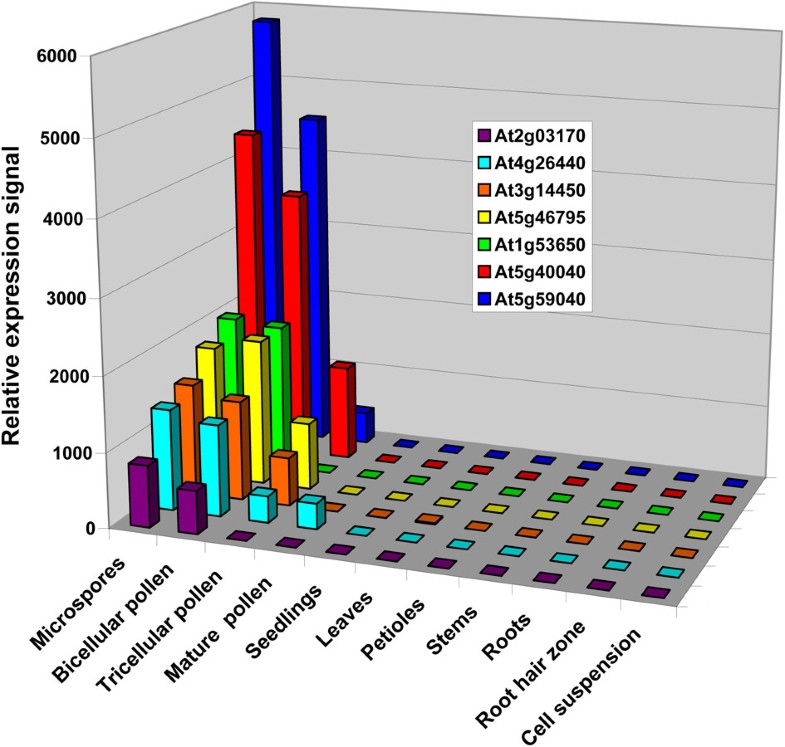 The direct comparison of gene expression levels obtained from independent microarray datasets for male gametophytic cells and for sporophytic tissues is difficult [
1
,
35
]. Therefore, the putative specificity of gene expression from microarray analyses was verified by RT-PCR analysis using RNA samples isolated from four stages of male gametophyte development, unicellular, bicellular, tricellular and mature pollen, and four sporophytic tissues and organs (flowers, leaves, stems and roots). Four genes showed expression in one or more sporophytic tissues and were eliminated from further characterization. The remaining three genes showed microspore-specific expression by RT-PCR analysis (Fig.
2
). During selection we did not exclude genes from further analysis that also showed weak expression in open flowers since these contain mature pollen grains.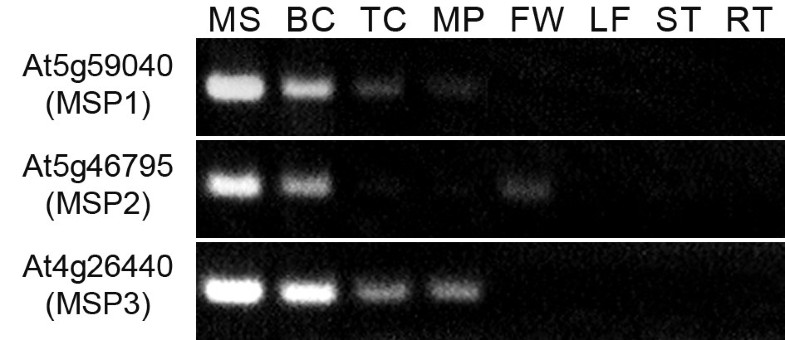 The putative microspore-specific promoter sequences of these genes, At5g59040, At5g46795, At4g26440, were termed MSP1, MSP2 and MSP3 respectively. Selected genes encoded proteins with quite distinct cellular functions. At5g59040 encodes COPT3, a putative pollen-specific member of a copper transporter family [36]. At4g26440 encodes AtWRKY34, a group I WRKY family transcription factor [37]. On the contrary, At5g46795 encodes an expressed protein of unknown function.
Histochemical analysis of promoter specificity
To test the activity of the selected MSP regulatory sequences in vivo, approximately 1 kb upstream genomic fragments were amplified for each of the genes and cloned into the GATEWAY-compatible destination vector, pKGWFS7 [38]. Three MSP-GFP::GUS constructs, MSP1 (At5g59040), MSP2 (At5g46795) and MSP3 (At4g26440), were introduced into wild type Arabidopsis plants and ~40 T1 transformants were analyzed histochemically for GUS activity in inflorescences, bud clusters and flowers. We found that 38/40 MSP1, 36/38 MSP2 and 18/34 MSP3 plants showed GUS expression in flower buds and/or in open flowers. GUS staining in MSP1 plants was clearly detectable in anthers of younger buds than those from MSP2 and MSP3, but gradually became weaker towards anthesis, while GUS expression from MSP2 and MSP3 remained high at later stages including in mature pollen grains.
Segregation analysis revealed that the majority of lines segregated 3:1 for kanamycin-resistant and kanamycin-sensitive plants. Plants that were hemizygous for MSP constructs showed 1:1 segregation of GUS staining and non-staining spores consistent with gametophytic expression (data not shown). We examined gametophytic expression in detail by staining isolated spores at different developmental stages and by sectioning stained flower buds. For all three promoters, GUS expression was first detectable in uninucleate microspores (Fig.
3P–R
). Another common feature was that anther transverse sections clearly showed GUS staining in the tapetum (Fig
3D–F
). Differences in expression profiles were noted between MSP1 and the other two promoters. While MSP1 showed earlier staining in microspores then a strong decline in mature flowers, MSP2 and MSP3 initiate expression in microspores, but GUS expression peaks later and accumulates in mature pollen.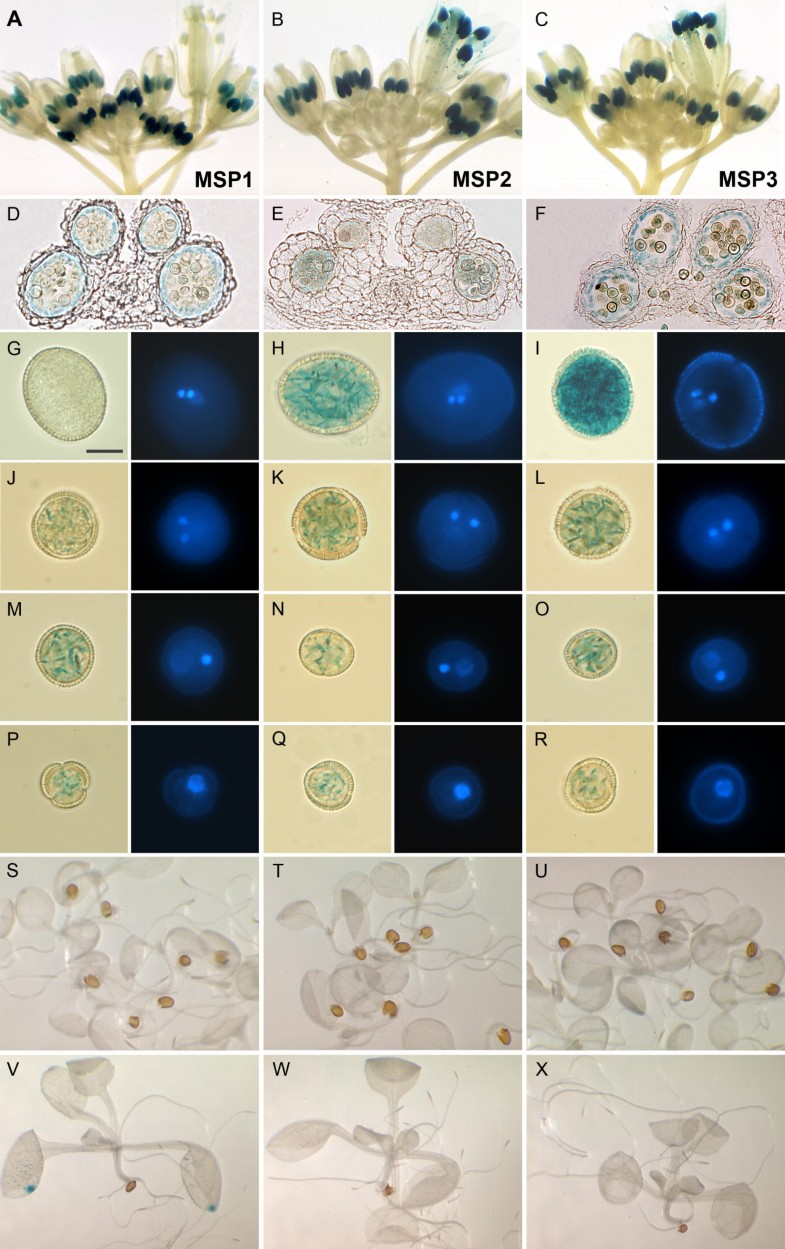 We also examined GUS expression in seedlings using ~20 lines of T2 generation plants for each construct and found no expression from all three MSP promoters, apart from 5–10% of anomalous lines that showed patchy expression in leaves and roots, or weak expression in stamen vascular tissues. None of the lines examined showed GUS activity in 5 day old seedlings. However interestingly, we consistently observed GUS activity at the distal tip of cotyledons and leaves in 10 day old MSP1-GUS seedlings (Fig. 3V). In summary all 3 MSP promoters were found to be specifically or highly preferentially expressed in microspores, developing pollen and the tapetum (Fig. 3)
Complementation analysis
To evaluate
MSP
promoters as tools for the manipulation of microspore gene expression
in planta
, we examined whether gene expression driven by
MSP1
and
MSP2
could complement a gametophytic mutant phenotype caused by defects that are known to depend upon gametophytic expression in developing microspores. Mutations in the
Arabidopsis TWO-IN-ONE
(
TIO
) protein kinase result in binucleate pollen grains due to the failure of cytokinesis in microspores at pollen mitosis I. Plants that are heterozygous for the T-DNA insertion allele,
tio-3
, show 50 % mutant pollen that results in a 2:2 segregation of wild type and mutant pollen in tetrads (Fig.
4A
). Moreover cytokinesis defects in mutant
tio-3
pollen completely block genetic transmission of
tio-3
through pollen [
3
].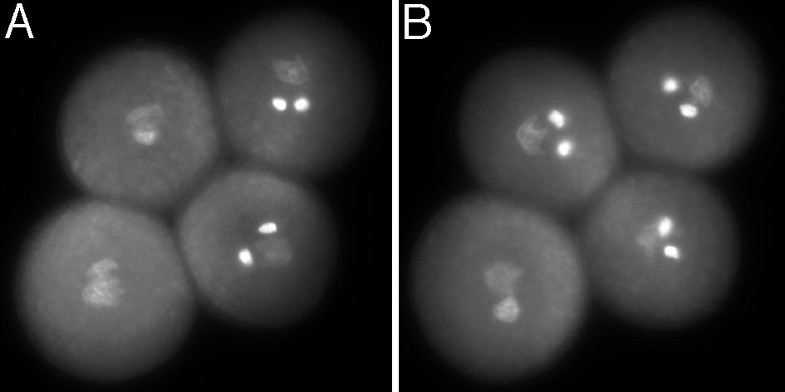 Test vectors were built in which MSP1 or MSP2 promoters drive the expression of full length TIO cDNA. pMSP1-TIO and pMSP2-TIO. Both vectors were transformed into tio-3 plants by floral dipping. Double selection for tio-3 (ppt) and pMSP-TIO (kanamycin) constructs led to the isolation of 19 nineteen transformants containing pMSP1-TIO and 10 containing pMSP2-TIO. Plants were screened for the frequency of wild type and mutant spores in mature pollen tetrads after DAPI staining. 18/19 lines from pMSP1-TIO and 4/10 from pMSP2-TIO showed an increase in the frequency of wild type pollen compared to heterozygous tio-3 plants (data not shown). This resulted in the frequent appearance of mature tetrads with three wild type spores and one mutant member, compared with heterozygous tio-3 plants that always showed a 2:2 segregation (Fig. 4).
We further tested genetic transmission of the
tio-3
mutant allele in 15 complementing pMSP1-TIO lines and all of four complementing lines from pMSP2-TIO. In the F1 progenies generated from test crosses in which the pollen donor carried
tio-3
and pMSP-TIO we observed approximately 30 to 50 % pptR progeny for pMSP1-TIO and 8 to 33 % for pMSP2-TIO. Table
1
shows the results for four representative lines for each construct. These results clearly demonstrate that gametophytic expression of the full-length
TIO
cDNA under the control of
MSP1
and
MSP2
promoters is sufficient to complement the
tio
pollen phenotype. Moreover, our results indicate that
MSP1
is more effective than
MSP2
in this complementation assay.
Table 1
Complementation analysis
% mutant pollen

KmR:KmS

T2

pptR:pptS

F1

% pptR

F1

pMSP1-TIO-3

28.7

48:12

30:61

32.96

pMSP1-TIO-9

14.5

103:5

284:294

49.13

pMSP1-TIO-10

11.9

91:10

193:237

44.88

pMSP1-TIO-18

27.9

56:18

43:90

32.33

pMSP2-TIO-1

40.3

323:67

41:145

22.04

pMSP2-TIO-2

43.3

91:15

29:156

15.68

pMSP2-TIO-5

29.2

88:3

29:60

32.58

pMSP2-TIO-8

46.6

85:31

11:131

7.75

+/tio-3

50.6

-

0:215

0
Discussion
We developed a strategy to identify promoters expressed specifically in Arabidopsis microspores by exploiting in silico analyses and in vivo functional analysis. We tested the specificity and timing of three candidate promoters by promoter-GUS fusion analysis. All three promoters were specifically expressed in anthers with the exception of MSP1 that also showed limited expression in the distal tips of cotyledons and true leaves. Within developing flowers their expression was restricted to microspores, developing pollen and tapetal cells. Furthermore, successful use of the MSP1 and MSP2 promoters for complementation of the tio-3 mutation demonstrated that both promoters directed functional expression in uninucleate microspores before pollen mitosis I. These promoters therefore provide new tools for the functional analysis of genes and proteins expressed during microspore development. Differences in expression profiles were observed between MSP1, that showed earlier expression and a decline in mature pollen, and MSP2 and MSP3, in which expression increased during pollen maturation. These differences in GUS expression profiles were not predicted by the MSP microarray expression profiles that were very similar. This result and the minor expression patterns observed in MSP1 seedlings highlights the need for experimental verification of specificity prior to further practical analyses.
In developing stamens, cell lineages that lead to male gametophytes and tapetal cells can both be traced to archesporial cells derived from the L2 layer of anther primordial [39]. Moreover, there is strong dependence of microspore development on tapetal cell function. In this regard the co-regulation of gene expression in both microspores and tapetum that occurs at early stages of anther development is not surprising. In tobacco, a chalcone-synthase-like gene ([40] and a chimeric Ca2+calmodulin-dependent protein kinase [41]) follow this expression pattern. The Brassica campestris Bcp1 gene is also co-expressed in tapetum and microspores [29]. However the corresponding Bgp1 upstream sequences that were active in both tapetum and microspores in B. campestris and Arabidopsis exhibited pollen-specific expression in tobacco. Therefore different cis-acting sequence elements appear to be responsible for coordinated gene expression in tapetum and microspores in Brassicaceae and Solanaceae families [29]. In Arabidopsis, the ABORTED MICROSPOROGENESIS (AMS) gene encodes a MYC-class transcription factor from the basic helix-loop-helix gene family. AMS is coordinately expressed in tapetum and microspores [42]. Interestingly, the MSP3 gene encodes a member of the WRKY transcription factor family that could also have a role in coordinated gene expression in tapetum and microspores.
Conclusion
Taken together, we have characterized three Arabidopsis microspore-expressed promoters MSP1, MSP2 and MSP3 with early expression profiles specific to the male gametophyte and tapetum. The MSP1 and MSP2 promoters were used successfully to complement cytokinesis functions required to complete microspore development. These tools can be applied to manipulate gene expression in microspores and tapetum without detrimental effects that may arise from undesirable gene expression in other sporophytic tissues.
Declarations
Acknowledgements
DH, DR and RB gratefully acknowledge the financial support from the Grant Agency of the Czech Republic (grant 522/06/0896) and from the Ministry of Education of the Czech Republic (grant LC06004). DT & SAO acknowledge grant support from the Biotechnology and Biological Sciences Research Council.
Authors' Affiliations
(1)
Laboratory of Pollen Biology, Institute of Experimental Botany ASCR, Prague 6, Czech Republic
(2)
Department of Plant Physiology, Faculty of Sciences, Charles University, Prague 2, Czech Republic
(3)
Department of Biology, University of Leicester, Leicester, U.K
(4)
Dept. of Plant Physiology and Anatomy, University of South Bohemia, Faculty of Biological Sciences, České, Czech Republic
(5)
Laboratory of Hormonal Regulations in Plants, Institute of Experimental Botany ASCR, Prague 6, Czech Republic
Copyright
© Honys et al; licensee BioMed Central Ltd. 2006
This article is published under license to BioMed Central Ltd. This is an Open Access article distributed under the terms of the Creative Commons Attribution License (http://creativecommons.org/licenses/by/2.0), which permits unrestricted use, distribution, and reproduction in any medium, provided the original work is properly cited.