Research article

Open Access
Expression of flavonoid 3'-hydroxylase is controlled by P1, the regulator of 3-deoxyflavonoid biosynthesis in maize
BMC Plant Biology
2012
12:196
Received: 24 January 2012
Accepted: 29 October 2012
Published: 1 November 2012
Abstract
Background
The maize (Zea mays) red aleurone1 (pr1) encodes a CYP450-dependent flavonoid 3'-hydroxylase (ZmF3'H1) required for the biosynthesis of purple and red anthocyanin pigments. We previously showed that Zmf3'h1 is regulated by C1 (Colorless1) and R1 (Red1) transcription factors. The current study demonstrates that, in addition to its role in anthocyanin biosynthesis, the Zmf3'h1 gene also participates in the biosynthesis of 3-deoxyflavonoids and phlobaphenes that accumulate in maize pericarps, cob glumes, and silks. Biosynthesis of 3-deoxyflavonoids is regulated by P1 (Pericarp color1) and is independent from the action of C1 and R1 transcription factors.
Results
In maize, apiforol and luteoforol are the precursors of condensed phlobaphenes. Maize lines with functional alleles of pr1 and p1 (Pr1;P1) accumulate luteoforol, while null pr1 lines with a functional or non-functional p1 allele (pr1;P1 or pr1;p1) accumulate apiforol. Apiforol lacks a hydroxyl group at the 3'-position of the flavylium B-ring, while luteoforol has this hydroxyl group. Our biochemical analysis of accumulated compounds in different pr1 genotypes showed that the pr1 encoded ZmF3'H1 has a role in the conversion of mono-hydroxylated to bi-hydroxylated compounds in the B-ring. Steady state RNA analyses demonstrated that Zmf3'h1 mRNA accumulation requires a functional p1 allele. Using a combination of EMSA and ChIP experiments, we established that the Zmf3'h1 gene is a direct target of P1. Highlighting the significance of the Zmf3'h1 gene for resistance against biotic stress, we also show here that the p1 controlled 3-deoxyanthocyanidin and C-glycosyl flavone (maysin) defence compounds accumulate at significantly higher levels in Pr1 silks as compared to pr1 silks. By virtue of increased maysin synthesis in Pr1 plants, corn ear worm larvae fed on Pr1; P1 silks showed slower growth as compared to pr1; P1 silks.
Conclusions
Our results show that the Zmf3'h1 gene participates in the biosynthesis of phlobaphenes and agronomically important 3-deoxyflavonoid compounds under the regulatory control of P1.
Keywords
Anthocyanins
Flavones
Flavonoids
F3'H
Maysin
Phlobaphenes
Background
The maize (Zea mays) flavonoid biosynthesis provides an excellent system to study gene interaction in plants because of its extensive characterization at genetic, biochemical, and molecular levels [1]. Different flavonoid compounds share the same basic skeleton of the flavan-nucleus consisting of two aromatic rings with six carbon atoms (ring A and B) which are interconnected by a hetero-cyclic ring with three carbon atoms (ring C). Maize produces 3-hydroxyflavonoids (anthocyanidins) and 3-deoxyflavonoids which include phlobaphenes, 3-deoxyanthocyanidins, and C-glycosyl flavones. These compounds are synthesized in different tissues and this spatial distribution depends on the genetic constitution of the plant. Anthocyanins can accumulate in most plant parts whereas phlobaphenes are predominantly found in kernel pericarp (outer layer of ovary wall), cob-glumes (palea and lemma), tassel glumes, and husk [2]. The 3-deoxyanthocyanins and C-glycosyl flavones primarily accumulate in silks [3–5]. However, in some high altitude maize lines C-glycosyl flavones can also accumulate in leaves [6] indicating genetic diversity for developmental accumulation of flavonoid metabolites.
The 3-hydroxy- and 3-deoxy-flavonoids in maize are regulated by independent sets of transcription factors. Accumulation of 3-hydroxyflavonoids (anthocyanins) is controlled by two sets of duplicated genes: colorless1 (c1)/purple leaf1 (pl1) are members of the R2R3-MYB family of transcription factors [7], and booster1 (b1)/red1 (r1) are members of the basic helix-loop-helix (bHLH) family [8, 9]. Studies have shown that C1 or PL1 proteins interact directly with R1 or B1 to activate transcription of anthocyanin biosynthetic genes in seed and plant body, respectively [10, 11]. In contrast, 3-deoxyflavonoid pathway genes are regulated by pericarp color1 (p1), which encodes an R2R3-MYB transcription factor [12]. The p locus is a complex of duplicated MYB-homologous genes p1 and p2 on chromosome 1 [13]. The p locus is a major QTL for the biosynthesis of C-glycosyl flavones [14, 15] and 3-deoxyanthocyanidins in silks [16].
Three flavonoid biosynthetic genes; colorless2 (c2), chalcone isomerase1 (chi1), and anthocyaninless1 (a1) encode chalcone synthase (CHS), chalcone isomerase (CHI), and dihydroflavonol 4-reductase (DFR), respectively. These three genes are common to the anthocyanin and phlobaphene pathways, but are independently regulated by the corresponding sets of transcription factors [10, 17, 18]. In vitro and in vivo studies have shown that C1 + R1 or P1 can direct high level of expression from promoters containing the C1/R1 or P1 binding sites identified previously in the a1 and c2 gene promoter [12, 19–21].
The flavonoid pathway (Figure 
1
) shows the potential involvement of a flavonoid 3'-hydroxylase (F3'H) in different branches. F3'H is a cytochrome P450-dependent mono-oxygenase and has an influence on the hydroxylation pattern, which is an important structural feature in determining the color and stability of flavonoid compounds [
22
]. In the anthocyanin branch, F3'H catalyzes the conversion of naringenin to eriodictyol [
23
]. We have recently demonstrated that the
pr1
gene which encodes a flavonoid 3'-hydroxylase (ZmF3'H1) is required for the accumulation of dihydroquercetin [
24
]. In addition, a sorghum
f3
'
h
gene has been implicated in different sub-branches of phlobaphene [
3
],
C
-glycosyl flavone [
25
,
26
], and 3-deoxyanthocyanidin pathways [
27
]. We previously showed that C1 and R1 are required for
Zmf3
'
h1
gene expression in the anthocyanin pathway [
24
–
27
]. In the current study we tested the hypothesis of regulation of
Zmf3
'
h1
by P1 in order to explain its role in 3-deoxyflavonoid biosynthesis. Identification of P1 binding sites in the promoter of
Zmf3
'
h1
and
in vivo
P1 binding further established regulation of
Zmf3
'
h1
by P1. Through the genetic and biochemical analysis of well-defined genetic stocks with combination of
pr1
and
p1
alleles we demonstrate that P1 regulated biosynthesis of 3-deoxyflavonoids in pericarps, cob glumes, and silks requires a functional
Zmf3
'
h1
gene.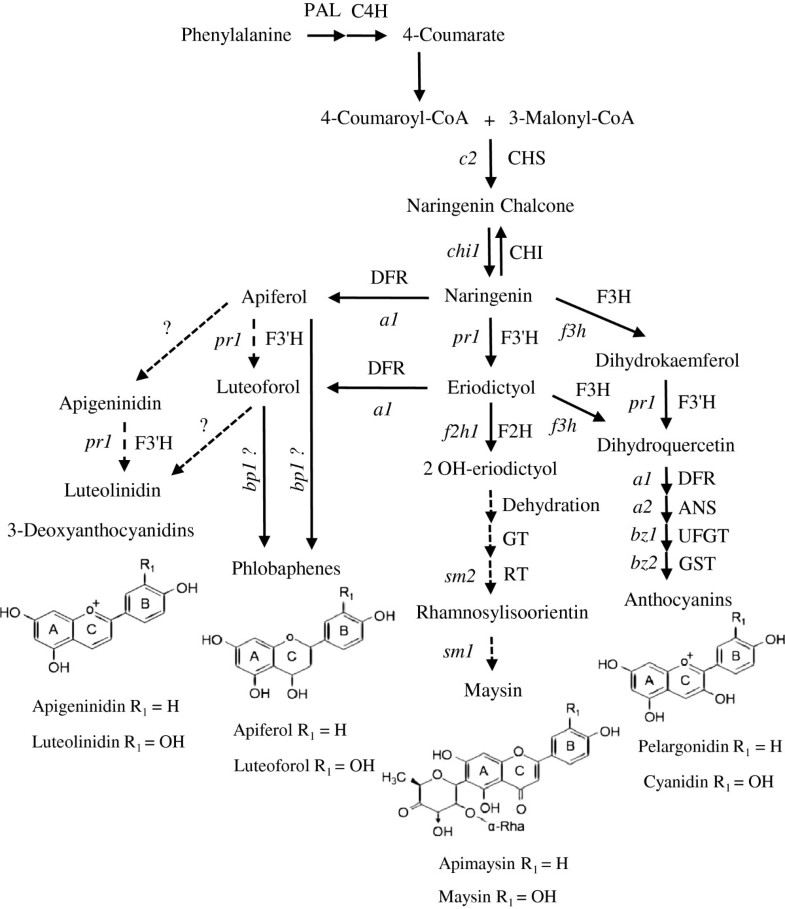 Discussion
The pr1 locus has been extensively used as phenotypic marker in maize genetics research because of its role in determining kernel aleurone color by hydroxylation of anthocyanin compounds (3-hydroxyflavonoids) [24, 37]. However, little is known about the function and regulation of the pr1 encoded ZmF3'H1 in 3-deoxyflavonoids pathway. The 3-deoxyflavonoids include phlobaphene pigments [38, 39] and agronomically important C-glycosyl flavones and 3-deoxyanthocyanidins which provide resistance against various biotic stresses [4, 31, 40–42]. Maize p1 gene regulates the 3-deoxyflavonoid biosynthetic pathway [12, 17]. Here, we describe the first direct evidence of the involvement of Zmf3'h1 in the 3-deoxyflavonoid pathway and its regulation by P1 MYB transcription factor. We have demonstrated that the dark red cob glumes of Pr1; P1 plants accumulates luteoforol as compared to apiforol accumulating in light red cob glumes of pr1; P1 plants. Further, gene expression analysis confirmed that transcription of Zmf3'h1 requires p1 gene expression in pericarps, cob glumes, and silks. Interestingly, the detection of Zmf3'h1 transcripts in silks of P1 ww lines suggest that in addition to p1, the paralog p2 is also involved in the regulation of Zmf3'h1 expression in silks. Additionally, the absence of Zmf3'h1 transcripts in p del2 allele which has a deletion of p1 and p2 genes [14], supported this hypothesis.
P1 is a R2R3-MYB protein and directly regulates the expression of flavonoid biosynthetic genes. Binding of P1 to the cis-regulatory elements of the a1 and c2 gene promoter has been well characterized [12, 21]. Sequence analysis of the Zmf3'h1 promoter shows the presence of similar conserved P1 binding sites. Further, EMSA results demonstrated the in vitro binding ability of P1 to these cis- sites, while ChIP experiments confirmed that Zmf3'h1 is an immediate direct target of P1. In addition to P1 binding sites, Zmf3'h1 promoter also contains anthocyanin regulatory element (ARE), a conserved sequence present in other anthocyanin biosynthetic genes [24].
Underlining the importance of Zmf3'h1 in maize biotic stress resistance, our work further added that Pr1; P1 plants accumulate significantly higher levels of the antifungal compound luteolinidin in silks. Luteolinidin is known to be toxic towards fungi and it accumulates at higher level in sorghum lines resistant to the anthracnose fungus [43, 44]. In sorghum, attempted penetration of Cochliobolus heterostrophus leads to up regulation of a f3'h gene and sequential accumulation of luteolinidin [27]. The 3-deoxyanthocyanidin pathway in sorghum requires a MYB protein encoded by yellow seed1 (y1), an ortholog of maize p1[33, 45, 46]. Similar to the regulation of Zmf3'h1 by p1, sorghum f3'h is regulated by y1[46]. It remains to be tested if silk extracts containing higher luteolinidin glycosides show resistance to fungal pathogens of maize.
Zmf3'h1 participates in the biosynthesis of the 3'-hydroxylated C-glycosyl flavones with Pr1; P1 silks accumulating higher level of maysin compared to pr1; P1 silks. Structurally, apimaysin and maysin are highly related and differ only by B-ring hydroxylation in position 3' [47, 48]. Unexpectedly, the accumulation of maysin and apimaysin in Pr1/Pr1; P1 wr/P1 wr and pr1/pr1; P1 wr/P1 wr silks did not exactly follow the inverse correlation. Apimaysin level in pr1/pr1; P1 wr/P1 wr silks increased to a substantially higher level as compared to the maysin level in a Pr1/Pr1; P1 wr/P1 wr line. One possibility is that the apimaysin is acting as a substrate for another enzyme and is converted into a product that we were not able to detect in the analysis. We also measured rhamnosylisoorientin which has been shown to have insecticidal activity [49, 50]. Rhamnosylisoorientin is a C-glycosyl flavone which is present upstream of maysin. Importantly, Pr1 silks have higher level of rhamnosylisoorientin as compared to pr1 in the presence of P1 rr and P1 ww, respectively. Genetic variation at p locus is significantly correlated with maysin accumulation. Genotypes carrying functional p1 or p2 alone accumulate less amount of maysin than maize lines that have both p1 and p2 genes [51].
Most of the steps in the formation of C-glycosyl flavones are unknown. It is possible that formation of C-glycosyl flavones does not entirely follow a single linear pathway but demonstrates shunting of substrate flow to alternate pathways through which maysin and apimaysin are formed separately [16, 52, 53]. The 3', 4'-hydroxylated flavonoids, such as maysin and luteoforol could also be formed as a result of hydroxylation of naringenin to eriodictyol by F3'H and then subsequent conversion into intermediates leading to formation of these compounds (Figure 1) [28, 54]. This could also explain the higher level of rhamnosylisoorientin in Pr1 plants. A recent study by Morohashi et al (2012) have shown the isolation and cloning of a FNS/F2H encoding gene capable of converting flavanones to 2-hydroxy flavanones, a previously unknown step in the formation of C-glycosyl flavones [21]. They have also proposed the formation of 4' and 3', 4'- hydroxylated compounds through alternate pathways where a F3'H can perform hydroxylation of naringenin to eriodictyol. The accumulation of different levels of flavones and 3-deoxyanthocyanidins in functional p1 alleles could be attributed to polymorphic structural genes at different loci: functional c2, whp1, and a1 genes have a positive effect on maysin accumulation [16, 51].
Conclusions
The significance of flavonoid defence compounds, 3-deoxyanthocyanidin and C-glycosyl flavone has been well established [5, 15, 55]. The current study attempted to unravel the role of regulatory and biosynthetic genes involved in the synthesis of these flavonoids in order to tailor resistant plants. Through transgenic and non-transgenic studies, it established that functional p1 and p2 genes can induce biosynthesis of these compounds [14, 17]. The current study along with a previous report [24] demonstrates that Zmf3'h1 plays a significant role in generating diversity in anthocyanin, phlobaphene, 3-deoxyanthocyanidin, and C-glycosyl flavone compounds. It will be informative to further analyse the action of Zmf3'h1 at specific steps for the biosynthesis of related phenylpropanoid compounds.
Declarations
Acknowledgements
We thank Scott Harkcom and the Penn State Agronomy Farm staff for their help with land preparation and tending the maize crop. We are thankful to one anonymous reviewer for critical comments to improve the manuscript. This work was supported in part by research support to S.C. under Hatch projects 4144, 4154, 4452, and 4430 of the College of Agricultural Sciences, Pennsylvania State University, a USDA-NRI-2007-35318-17795 award and by the Agricultural and Food Research Initiative Competitive Grant of the USDA National Institute of Food and Agriculture 2011-67009-30017 to SC and 2010-65115-20408 to EG. This project was also supported by NSF DBI-0701405 to E.G. M.S. was supported by graduate research assistantship from the Department of Crop & Soil Sciences, Pennsylvania State University.
Authors' Affiliations
(1)
Department of Plant Science, Pennsylvania State University, Pennsylvania, USA
(2)
Center for Applied Plant Sciences and Department of Molecular Genetics, Ohio State University, Columbus, USA
(3)
USDA-ARS, Russell Research Center, Athens, USA
Copyright
© Sharma et al.; licensee BioMed Central Ltd. 2012
This article is published under license to BioMed Central Ltd. This is an Open Access article distributed under the terms of the Creative Commons Attribution License (http://creativecommons.org/licenses/by/2.0), which permits unrestricted use, distribution, and reproduction in any medium, provided the original work is properly cited.