Research article

Open Access
Genetic mechanisms underlying the methylation level of anthocyanins in grape (Vitis viniferaL.)
BMC Plant Biology
2011
11:179
Received: 21 June 2011
Accepted: 15 December 2011
Published: 15 December 2011
Abstract
Background
Plant color variation is due not only to the global pigment concentration but also to the proportion of different types of pigment. Variation in the color spectrum may arise from secondary modifications, such as hydroxylation and methylation, affecting the chromatic properties of pigments. In grapes (Vitis vinifera L.), the level of methylation modifies the stability and reactivity of anthocyanin, which directly influence the color of the berry. Anthocyanin methylation, as a complex trait, is controlled by multiple molecular factors likely to involve multiple regulatory steps.
Results
In a Syrah × Grenache progeny, two QTLs were detected for variation in level of anthocyanin methylation. The first one, explaining up to 27% of variance, colocalized with a cluster of Myb-type transcription factor genes. The second one, explaining up to 20% of variance, colocalized with a cluster of O-methyltransferase coding genes (AOMT). In a collection of 32 unrelated cultivars, MybA and AOMT expression profiles correlated with the level of methylated anthocyanin. In addition, the newly characterized AOMT2 gene presented two SNPs associated with methylation level. These mutations, probably leading to a structural change of the AOMT2 protein significantly affected the enzyme specific catalytic efficiency for the 3'-O-methylation of delphinidin 3-glucoside.
Conclusion
We demonstrated that variation in methylated anthocyanin accumulation is susceptible to involve both transcriptional regulation and structural variation. We report here the identification of novel AOMT variants likely to cause methylated anthocyanin variation. The integration of QTL mapping and molecular approaches enabled a better understanding of how variation in gene expression and catalytic efficiency of the resulting enzyme may influence the grape anthocyanin profile.
Keywords
Hairy RootAnthocyanin ContentAnthocyanin BiosynthesisAnthocyanin AccumulationGrape Berry
Background
Anthocyanins represent a major group of the flavonoid family, consisting of small water-soluble molecules stored in vacuoles. As widespread plant secondary metabolites, they are responsible for red and blue colors of many plant tissues [1]. Anthocyanins, as major pigments, play important roles in plant reproduction by attracting pollinators and seed dispersers and in protection from photo-oxidative stress [2]. In crops, ornamental plants, and fruits, they constitute a key trait for the aesthetic quality of the product. In grape, they play a crucial role as they participate in both wine color and organoleptic properties due to their complex interactions with other phenolic compounds, as well as with proteins and polysaccharides [3].
The anthocyanins identified in
Vitis vinifera
are 3-
O-
monoglucosides (3-glc) and 3-
O-
acyl monoglucosides derived from the five main anthocyanidins--delphinidin (Dp), cyanidin (Cy), peonidin (Pn), petunidin (Pt) and malvidin (Mv)--, which differ from each other in the number and position of the hydroxyl and methoxyl groups located on their B-ring (Figure
1
): delphinidin and cyanidin being unmethylated, peonidin and petunidin mono-methylated and malvidin di-methylated. Methylation by S-adenosyl-L-methionine (SAM) dependent-
O-
methyltransferase plays an important role in modifying the structure of plant secondary metabolites. For anthocyanins, methylation stabilizes the phenolic B ring, thus reducing the reactivity of the overall molecule [
4
], and increases water solubility, thus reinforcing its color properties [
5
,
6
]. The color of anthocyanins greatly depends on the number of hydroxyl groups: the larger the number of groups, the bluer the color. On the other hand, the
O-
methylation of anthocyanins has a reddening effect.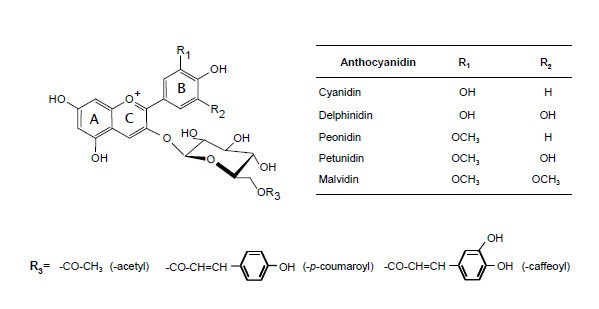 The anthocyanin biosynthesis pathway has been extensively characterized in numerous plant species [7, 8]. In grapevine, the core structural genes of the anthocyanin pathway leading to the synthesis of Dp 3-glc and Cy 3-glc have been cloned and characterized [9, 10]. Recently, two anthocyanin O-methyltransferases (AOMT and FAOMT) able to methylate anthocyanins in vitro and in vivo have been identified [11, 12]. Anthocyanin biosynthesis is controlled by Myb-bHLH transcriptional complexes that activate the expression of structural genes involved in the late steps of the pathway [7, 13–16]. In particular, the VvMybA genes induce the transcription of UFGT and AOMT in colored tissues [17–19] and were shown to control anthocyanin accumulation in grape [20, 21]. While anthocyanin methylation in grapes is altered by environmental and cultural conditions [22, 23], it is also strongly affected by genetic factors. Indeed, both the total amount of anthocyanins and the relative abundance of single anthocyanins are extremely variable among red--to blue-skinned cultivars. In spite of this variability, mono--and di-methyl derivatives are largely predominant [24, 25], malvidin 3-glucoside being the main anthocyanin in most cultivars and peonidin 3-glucoside usually being less abundant [26, 27]. Genes encoding flavonoid 3'--and 3'5'--hydroxylases involved in anthocyanins hydroxylation [28, 29] or genes encoding O-methyltransferase involved in anthocyanins methylation [11, 12, 30] can potentially generate differences in anthocyanin composition. The availability of the full genome sequence [31, 32] as well as broad genetic resources will help us to further clarify the mechanisms involved in anthocyanin biosynthesis in grape.
The objective of this study was to understand the architecture of the genetic control of anthocyanin methylation in grape and to improve our understanding of the complex factors involved in the regulation of anthocyanin methylation. Two QTLs for anthocyanin methylation variation were identified: one colocalized with a MybA gene cluster and the second colocalized with a cluster of three putative AOMT genes. This work aims to validate the role of the latter in anthocyanin methylation and to identify the molecular factors underlying genetic variation. The combination of forward genetic approaches (pedigree and population-based) with functional genomics and enzymology allowed the description of the complex regulation of an anthocyanin-O-methyltansferase gene cluster as a major player for the control of anthocyanin methylation in grape.
Conclusions
The aim of this work was to identify and quantify the effect of molecular factors controlling the variation of anthocyanin methylation in grape by combining genetic mapping and functional study. Most previous studies regarding the accumulation of anthocyanin in grape have pointed to the main involvement of the VvMybA locus [16, 18–21, 44]. Our findings confirmed the effect of this locus, but we made an important step forward by revealing the influence of novel factors other than Myb type genes involved in variation of anthocyanin composition. We quantitatively assessed the effect of the VvAOMT genes cluster on anthocyanin methylation. Furthermore, we identified new gene variants encoding proteins with slight differences in catalytic properties from other AOMTs described so far, showing allele-guided substrate specificity. This study improves our knowledge on how differences in methylated anthocyanin level may exist independently of total anthocyanin content. The relative independence of these two traits is possible because of the partial functional redundancy between the VvAOMT isogenes, among which VvAOMT2 "escaped" the control of VvMybA. Finally, with a relaxed functional constraint on VvAOMT2 while VvAOMT1 is still ensuring the persistency of the activity, variation could arise, giving rise to novel phenotypes.
Accession numbers
Sequence data from this article have been deposited with the EMBL/GenBank data libraries under accession number # HQ702997 (AOMT2 from Petit Bouschet × Aramon n°4). The sequence Papadiko differs from Petit Bouschet × Aramon n°4 in two SNPs (T127 to C and A388 to T).
Declarations
Acknowledgements
We thank the technical staff for the sample preparation and phenotypic analysis, in particular, Yves Bertrand, Patrick Ortigosa, Marc Farnos and Michel Grolier (INRA Montpellier) and the staff of Domaine de Vassal for grape cultivation. We also thank Sandrine Vialet (INRA Montpellier) for excellent support in quantitative RT-PCR analysis, Cecile Morel and Jean-Marc Souquet for performing the HPLC analysis. We are indebted to Peter Beyer (Center for Applied Biosciences, Freiburg, Germany), for the use of his laboratory facility. Finally, we thank Véronique Cheynier (INRA Montpellier) and Loic Le Cunff (IFV Montpellier) for critically reading the manuscript and Jonathan Wang for English editing.
This work was financially supported in part by the European project program FLAVO 2005-51396, by the French Genoplante project, COREGRAPGEN (Trilat 017), by INRA and by the Languedoc-Roussillon region.
Authors' Affiliations
(1)
INRA, UMR 1097 Diversité et Adaptation des Plantes Cultivées, Montpellier, France
(2)
INRA, UMR 1131 Santé de la Vigne et Qualité du Vin, Université de Strasbourg, Colmar, Strasbourg, France
(3)
INRA, UMR 1083 Sciences pour l'OEnologie, Montpellier, France
(4)
Department of Ecology and Evolutionary Biology, Brown University, Providence, USA
Copyright
© Fournier-Level et al; licensee BioMed Central Ltd. 2011
This article is published under license to BioMed Central Ltd. This is an Open Access article distributed under the terms of the Creative Commons Attribution License (http://creativecommons.org/licenses/by/2.0), which permits unrestricted use, distribution, and reproduction in any medium, provided the original work is properly cited.