Research article

Open Access
Auxin controls circadian flower opening and closure in the waterlily
BMC Plant Biology
2018
18:143
Received: 23 April 2018
Accepted: 28 June 2018
Published: 11 July 2018
Abstract
Background
Flowers open at sunrise and close at sunset, establishing a circadian floral movement rhythm to facilitate pollination as part of reproduction. By the coordination of endogenous factors and environmental stimuli, such as circadian clock, photoperiod, light and temperature, an appropriate floral movement rhythm has been established; however, the underlying mechanisms remain unclear.
Results
In our study, we use waterlily as a model which represents an early-diverging grade of flowering plants, and we aim to reveal the general mechanism of flower actions. We found that the intermediate segment of petal cells of waterlily are highly flexible, followed by a circadian cell expansion upon photoperiod stimuli. Auxin causes constitutively flower opening while auxin inhibitor suppresses opening event. Subsequent transcriptome profiles generated from waterlily's intermediate segment of petals at different day-time points showed that auxin is a crucial phytohormone required for floral movement rhythm via the coordination of YUCCA-controlled auxin synthesis, GH3-mediated auxin homeostasis, PIN and ABCB-dependent auxin efflux as well as TIR/AFB-AUX/IAA- and SAUR-triggered auxin signaling. Genes involved in cell wall organization were downstream of auxin events, resulting in the output phenotypes of rapid cell expansion during flower opening and cell shrinkage at flower closure stage.
Conclusions
Collectively, our data demonstrate a central regulatory role of auxin in floral movement rhythm and provide a global understanding of flower action in waterlily, which could be a conserved feature of angiosperms.
Keywords
WaterlilyFlower opening and closureAuxinTranscriptome
Background
In flowering plants, many flowers open during the day and close at night, exhibiting a 24-h circadian rhythm, which is known as Linné's floral clock [1]. This circadian movement pattern serves as an environmental adaptation characteristic for creating an opportunity for pollination [1]; in Ipomoea nil, the flower-opening time is determined by the length of dark period [2]. However, without a light-dark switch period, flowers continue to display a rhythm in opening and closing when in a complete light or dark environment using their "internal clock", i.e. circadian clock [3]. Yon et al. found that silencing the core circadian clock genes Late Elongated Hypocotyl (LHY) and ZEITLUPE (ZTL) in Nicotiana attenuate strongly altered the floral rhythms [4]. Therefore, the internal circadian clock can recognize a 24-h rhythmic oscillation, establishing an endogenously sensing system to adapt to seasonal environmental cycles. Due to the daily changes in solar direction and irradiation, light becomes the key connection between the circadian clock and other environmental signaling pathways. So far, sophisticated light responsive networks have been intensively established in model plant developmental processes (summarized in [5]), and the output models are conceptually useful for explaining the connections between light and circadian rhythm in flowers. For example, sunflowers track the sun from east to west, reorienting during the night so that their leaves and apices face east before sunrise [6]. We term this phenomenon as phototropism, which is a typical plant response to light identified during floral rhythms [7]. Phototropism has been well characterized as being controlled by an asymmetric auxin distribution [8]. Correspondingly, application of the auxins indole acetic acid (IAA) and naphthaleneacetic acid (NAA) strongly promotes the opening of iris flowers [9, 10]. Thus, auxin is also involved in the regulation of circadian floral movement.
Auxin, one of the major plant hormones, is essential to regulate diverse processes of plant development by coordination of cell expansion and cell division, such as embryogenesis, tropic response, shoot branching, vascular development, apical dominance, flowering and fruit ripening [11, 12]. The effects of auxin on plant development have been largely attributed to the transcriptional and translational regulations governed by the tryptophan aminotransferase (TAA) and flavin monooxygenase (YUC)-dependent synthesis pathway, Transport Inhibitor Response1/Auxin-Related F-BOX (TIR1/AFB)-Aux/IAA-regulated signaling pathway and PIN-FORMED (PIN)-mediated transport pathway [13–18]. Cell wall biogenesis has been implicated as a core event downstream of auxin regulations that determines anisotropic cell expansion during plant development including floral circadian movement. In Ipomoea nil, transcripts of xyloglucan endotransglucosylase/hydrolases (XTHs) encoding the genes InXTH1-InXTH4 in petals, which are involved in cell wall modification, were closely correlated with the rate of flower opening, further controlling plastic petal growth [2]. In the 'Mitchell' petunia, knockdown of cell-wall-associated β-galactosidases, which determine the galactose level among cell wall polysaccharides, severely reduces the flower-opening angle due to the disruption of petal integrity [19]. Hence, a combination of transcriptional, translational and post-translational regulations leads to coordination among various processes including the circadian clock, hormone biosynthesis, light signaling, and cell wall modification to establish a proper opening-closing period in flowers. Although the phenomenon of floral movements have been broadly described during the past 20 years' research [9, 20], the underlying regulatory mechanisms are largely elusive.
Flower is a characteristic feature of the angiosperms, and floral rhythm has long been discussed regarding the evolutionary origin of flower and subsequent diversification. Nymphaeales (also called waterlily), one of the most ancient angiosperm lineages, represents an early-diverging grade of flowering plants [21]. Nymphaeales consists of five genera with approximately 60 species [22, 23], and most waterlily species have flowers that open during the day and close at night. Thus, owing to the special phylogenetic position of Nymphaeales, evaluating flower actions in Nymphaeales is highly useful to reconstruct the molecular characteristics of angiosperms.
In this study, Nymphaeales flowers were used as a model to study the rhythm of floral movement. We observed that the intermediate segment of petal cells of the Nymphaeales flower are severely flexible and respond to the photoperiod. Exogenous application of auxin pronouncedly blocks flower closure; whereas, treatment of auxin inhibitor suppresses flower opening. Transcriptome analysis generated from the intermediate segment of petals at different day-time points provide a global understanding that auxin metabolism, signaling and transport coordinate the movement rhythm formation of flowers. In addition, cell wall modification which acts as a downstream cascade of auxin is synchronously oscillating with auxin events, resulting in circadian cell expansion to accomplish floral opening and closing. This study offers an integrated view for understanding floral circadian rhythms and provides useful information for studying the traits of flowering plants across angiosperms.
Discussion
For the purpose of pollination, flowers open for a considerable period, and then abscise immediately after pollination [66]. Several factors are involved in this process, including transcriptional factors, hormonal regulation, cell wall modification and circadian rhythm control [9, 20]. In our study, one of the most ancient flowering plants, Nymphaeales, is used to explore the mechanism of floral rhythm. This work globally described auxin-dependent transcriptional signatures of flower opening-closure movement in Nymphaeales, which could be conserved in most of flowering plants.
Van Doorn et al. have summarized the major mechanisms during flower opening and closure [9, 20]. They concluded that turgor pressure and water transport are the major restrictive factors to limit fast movement. During the flower opening of the Asiatic Lily, the most influential factor is the change in angle between the midribs and the pedicel, where an increasing curvature of the midribs pulls the tepals apart [67]. Additionally, Liang and Mahadevana indicated that the edges of lily tepals are wrinkled as the flower opens [68]. Plant structures overcome these limits of turgor pressure, such as sepals of the waterlily flower, resulting in a very rapid cell expansion. Our research revealed that the intermediate petal is the major tissue responding to endogenous change and environmental stimuli. The realistic petal curvature determines the efficiency of insect-propagated pollination. Thus, plastic intermediate cells of petal offer a good platform to study the global signaling events during the circadian floral movement.
Consistent with the previous studies on light signaling which plays fundamental roles in diverse aspects of plant development, including floral movement rhythm, the crucial light signaling components were rapidly responding at the onset of flower opening (Additional file 3: Figure S3C). Using Arabidopsis homologues as input, the transcript oscillations of waterlily homologues of red/far-red light receptors Phytochromes (PHYs) [69], blue light receptor Cryptochromes (CRYs) [70] and Phototropins (PHOTs) [71], Ultraviolet-B receptor UV-B resistance 8 (UVR8) [72], and their downstream effectors including Phytochrome-Interacting Factor 3 (PIF3), Constitutive Photomorphogenic 1 (COP1), Suppressor Of Phytochrome A1 (SPA1), Elongated Hypocotyl 5 (HY5) [73] were depicted in a light signaling network (Additional file 3: Figure S3C, Additional file 4 Table S4). Moreover, the transcript level of the core circadian clock regulators, downstream of light signaling, such as Pseudo-Response Regulators (APRR) [74], Late Elongated Hypocotyl (LHY) [75] and Casein kinase (CKL) [76], were additionally triggered associated with flower opening (Additional file 3: Figure S3C, Additional file 4: Table S4). Therefore, the consistent upregulation of photosynthesis, light signaling and circadian clock events support the fundamental role of light at the beginning of flower opening.
Beside of the regulations of light signaling, auxin and cell wall, meanwhile other signaling pathways are significantly influenced associated with floral movement, as seen by downregulations of transcription factors and ribonucleoproteins in cluster 2, 4 and 6 (Additional file 6: Figure S5, Additional file 4: Tables S5-S7). In model plants, increasing numbers of TFs are shown to participate in flower development. For example, the expression of ERF TFs is highly correlated with flower senescence, because increased ethylene is produced during floral organ senescence [77, 78]. WRKY12 and WRKY13 oppositely regulate flowering under a short-day condition by controlling the plant hormone gibberellin [61]. Interestingly, RhNAC100 transcriptional factor was identified in rose petal, which is rapidly induced by ethylene in the petals. Silencing of RhNAC100 significantly increased the petal size and promoted cell expansion in the petal abaxial sub-epidermis [79]; this result is consistent with our finding that NAC TFs were downregulated during flower opening and petal cell expansion. Therefore, floral opening was associated with lower transcriptional cascades, suggesting that these transcriptional factors might act as negative regulators of cell expansion, which deserve further investigation.
Conclusion
Similar to all touch responses, which can turn plants away from aggressors or enable flowers to move toward sunrise, morphogenesis during the flower opening-closure process is also influenced by a combination of endogenous and exogenous perturbations [
80
]. In our study, transcriptome profiles of the intermediate cells of petal were unearthed in the waterlily, which confirm that the signaling cascades of auxin metabolism, signaling and transport play center roles in flower opening and closure, and cell wall remodeling event regulated by auxin realizes circadian cell expansion and shrinkage associated with flower movement rhythm. Additionally, photosynthesis, light signaling and transcriptional regulations are individually incorporated into different stages of floral movement. Our study provided a preliminary understanding of the opening-closure processes of the waterlily flower by dividing them into three stages (Fig.
7
).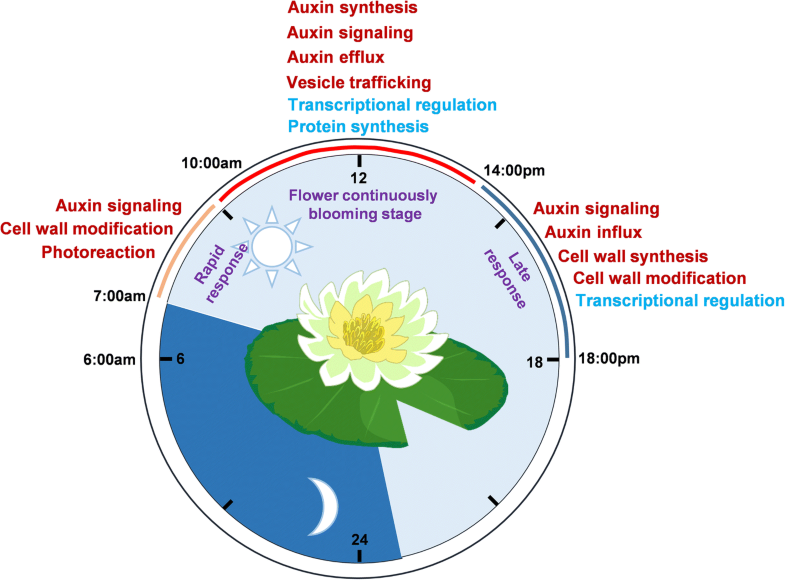 Stage I (7:00–10:00): rapid-response stage, when the flowers are initially triggered for opening. At this stage, photosynthesis and light perception are activated, while gene transcription is blocked. Photosynthesis is the first reactive event once the flowers are exposed to light, which utilizes light energy to synthesize carbohydrate molecules (sucrose) for consumption or storage. Photoreception-mediated extension of the cell volume of the petal intermediate segment may be initiated by an unloading of sucrose from the phloem, possibly resulting in the lower apoplastic water potential [80], subsequently causing a change in cell turgor pressure. Active auxin perception system creates a complex but flexible environment, being able to re-arrange cell wall components (Fig. 7).
Stage II (10:00–14:00): flower-opening stage, when the flowers are quickly blooming until the maximal angle. At this stage, vesicle trafficking, auxin synthesis, auxin signaling and efflux, and cell wall remodeling processes occupy dominant roles during flowers blooming, accompanied with downregulation of transcription. Frequent vesicles trafficking events enhance the endocytosis and exocytosis of PM-located cargoes, such as auxin transporters PIN proteins, facilitating active auxin flow during organogenesis [81]. Apparently, auxin-related genes, such as GH3 family, AUX/IAAs, ARFs, SAURs are enriched in cluster 3 which particularly responded to rapid flower opening. YUC-dependent auxin synthesis, GH3-regulated auxin homeostasis, TIR1/AFBs and SAUR-mediated auxin signaling, as well as PIN- and PGP-regulated auxin efflux are primarily induced during stage II. A high level of auxin is synthesized and then being pumped to the cell wall; consequently, cell walls are acidified by high auxin and loosened by expansins [82].
Stage III (14:00–18:00): late response stage, when flowers start to be closed. The waterlily represents a typical flowering plant with a cross-pollination trait. The opened flower waits for insects that bring pollens from other flowers, crawling down towards its stigma for further pollination [80]. Apparently, the completely opened flowers with expanded stamens facilitate insects in touching the bottom of the stigma. Therefore, the fertilization event occurs usually after the maximum opening (after 14:00). In our transcriptome profiles, several RLKs are activated during stage III, possibly leading to fertilization. On the other hand, RLKs might function as cell-wall signaling receptors, in conjunction with cell-wall modification enzymes, to coordinate cell wall reorganization during flower closure. Auxin influx and cell wall modification events are still active in stage III, which confirms the crucial contributions of auxin and cell wall throughout the entire processes of flower opening and closure.
Methods
Plant materials and growth condition
Nymphaea colorata (Peter, Gustav Albert, 1928, Abhandlungen der Königlichen Gesellschaft der Wissenschaften, Göttingen. Mathematisch-Physikalische Klasse, n. s. 13(2): 58, 68, f. 10. 1928, website: http://www.tropicos.org/Name/22600193 or https://en.wikipedia.org/wiki/Nymphaea_colorata, preserved in Botanischen Garten, Berlin.) plants were cultivated under a natural environment, and the flower opening-closure pictures of Nymphaea colorata were captured in September of 2016 (Additional file 1: Figure S1A). For all the remaining experimental tests, cut flowers (with long stalks) of the waterlily cultivar Nymphaea nouchali (Burman, Nicolaas Laurens (Nicolaus Laurent), 1768, Flora Indica. .. nec non Prodromus Florae Capensis 120. 1768, website: http://www.ipni.org/ipni/idPlantNameSearch.do?id=135096-3&output_format=lsid-metadata&show_history=true, or https://en.wikipedia.org/wiki/Nymphaea_nouchali, preserved in Gandhi Park, East Fort, Thiruvananthapuram, India), which were commercially ordered from the market and hydroponically grown in a chamber controlled at 25 °C with a 16-h light/8-h dark photoperiod (7:00 am-23:00 pm light/23:00 pm-7:00 am dark), were used.
Growth condition and chemical treatment
NAA (Biosharp) and TIBA (Macklin) were dissolved in dimethyl sulfoxide (DMSO). For the chemical treatment, 10 μM NAA and 10 μM TIBA were pre-sprayed on the intermediate and bottom section of the petals for 8 h before phototracking, and then the floral movement was tracked for the following 24 h by capturing images using an automatic camera.
Time-lapse photography and measurement of flowering angles
The flower opening-closure patterns were tracked using time-lapse photography every 1 h for a total of 24 h. Deviated angles of petal opening and closure were measured using ImageJ (Additional file 1: Figure S1C). In each experiment, at least 10 flowers were analyzed, or at least 85 cells were measured. The experiments were repeated three times. Statistical analyses were performed using unpaired two-tailed t-test, where ns, *, **, *** and **** correspond to no significant difference, p-value < 0.05, < 0.01, < 0.001, < 0.0001, respectively.
RNA-seq, expression annotation, GO and KEGG pathway enrichment analyses
The sepals of each flowers were removed, and the extracted samples were collected from the intermediate and bottom segments of petal (≤1 cm distance to the bottom end) at different times of 6:00, 7:00, 10:00, 14:00 and 18:00 (Fig. 3a). Each sample was collected from at least three flowers, and the samples at each time point were collected in triplicated and ground into fine powder with liquid nitrogen for RNA extraction. The total RNA of the waterlily flowers was extracted using the RNAprep Pure Plant Kit (Tiangen). RNA-Seq libraries were sequenced on an Illumina HiSeq X platform. After demultiplexing, the adapter sequences were trimmed, and poly-N and low-quality reads were removed to obtain the high-quality, clean reads. The Next Generation Sequencing (NGS) reads for the samples were listed in Additional file 4: Table S8. Trinity V2.06 was used to assemble the Paired-end clean reads and the assembled results indicated the contig Nx statistics (eg. the contig N50 value) (Additional file 4: Table S9). TransDecoder V2.0.1 was applied to predict the protein-coding regions of the transcripts. The NCBI/nr, SWISS Prot, and Phytozome V12 databases were searched to annotate the peptide functions [83]. To quantify the expression levels of genes, Trinity reference was annotated, and paired-end reads were mapped to the assembled transcripts and assigned to genes using RSEM V1.2.20. Differential expression analysis was performed using R package DEseq2 V1.18.1. The FPKM (expected number of Fragments Per Kilobase of transcript sequence per Millions base pairs sequenced) of each gene was calculated based on the length of the gene and the reads counts mapped to this gene. Genes with a fold change > 1.5 and a q value< 0.05 were assigned as differentially expressed genes (DEGs). The DEGs were mapped to GO terms in the GO database (http://www.geneontology.org/) in order to calculate the gene numbers for every term. KEGG (http://www.genome.jp/kegg/) is used to perform the pathway analysis of the DEGs. Statistical enrichment of the DEGs for the GO terms implemented by the agriGO v2.0. Significantly enriched GO terms and KEGG pathways (corrected p < 0.05) were identified based on a hypergeometric test [84, 85].
Cluster analysis was performed using the MeV4.8.1 software. Firstly, data were normalized by genes/rows. Secondly, significant DEGs were selected according to significance analysis for microarrays Delta = 0.26. The k-means method was used with the following settings: Pearson correlation, number of clusters = 8, and maximum iterations = 50 [86].
Declarations
Acknowledgements
We thank Deshu Lin for microscopy assistance.
Funding
This work was supported by the National Key Research and Development Program of China (2017YFA0506100), Program of FAFU-Horticulture College Young Scholar, National Young 1000 Talent Grant and Fujian 100 Talent Program.
Availability of data and materials
The datasets generated or analyzed during the current study are available from the corresponding author on reasonable request.
Authors' contributions
MK: performed the experiments of time-lapse photography, scanning electronic microscopy and RNA-seq transcriptome analysis; ZG: assistance of RNA-seq transcriptome analysis, drawing the cartoon models of Figs. 5 and 6; JC: assistance of RNA-seq transcriptome analysis; YQ: assistance of scanning electronic microscopy observation and quantification; LZ and XC: contributed waterlily materials and initiate the project; ZG and XC: designed the project and wrote the paper. All authors read and approved the final manuscript.
Ethics approval and consent to participate
Not applicable.
Consent for publication
Not applicable.
Competing interests
The authors declare that they have no competing interests.
Publisher's Note
Springer Nature remains neutral with regard to jurisdictional claims in published maps and institutional affiliations.
Open AccessThis article is distributed under the terms of the Creative Commons Attribution 4.0 International License (http://creativecommons.org/licenses/by/4.0/), which permits unrestricted use, distribution, and reproduction in any medium, provided you give appropriate credit to the original author(s) and the source, provide a link to the Creative Commons license, and indicate if changes were made. The Creative Commons Public Domain Dedication waiver (http://creativecommons.org/publicdomain/zero/1.0/) applies to the data made available in this article, unless otherwise stated.
Authors' Affiliations
(1)
College of Horticulture and Fujian Provincial Key Laboratory of Haixia Applied Plant Systems Biology, Fujian Agriculture and Forestry University, Fuzhou, China
(2)
FAFU-UCR Joint Center for Horticultural Biology and Metabolomics, Haixia Institute of Science and Technology, Fujian Agriculture and Forestry University, Fuzhou, China