Research article
Open Access
Silicon protects soybean plants against Phytophthora sojae by interfering with effector-receptor expression
BMC Plant Biology
2018
18:97
Received: 2 February 2018
Accepted: 15 May 2018
Published: 30 May 2018
Abstract
Background
Silicon (Si) is known to protect against biotrophic and hemibiotrophic plant pathogens; however, the mechanisms by which it exerts its prophylactic role remain unknown. In an attempt to obtain unique insights into the mode of action of Si, we conducted a full comparative transcriptomic analysis of soybean (Glycine max) plants and Phytophthora sojae, a hemibiotroph that relies heavily on effectors for its virulence.
Results
Supplying Si to inoculated plants provided a strong protection against P. sojae over the course of the experiment (21 day). Our results showed that the response of Si-free (Si−) plants to inoculation was characterized early (4 dpi) by a high expression of defense-related genes, including plant receptors, which receded over time as the pathogen progressed into the roots. The infection was synchronized with a high expression of effectors by P. sojae, the nature of which changed over time. By contrast, the transcriptomic response of Si-fed (Si+) plants was remarkably unaffected by the presence of P. sojae, and the expression of effector-coding genes by the pathogen was significantly reduced.
Conclusion
Given that the apoplast is a key site of interaction between effectors and plant defenses and receptors in the soybean-P. sojae complex, as well as the site of amorphous-Si accumulation, our results indicate that Si likely interferes with the signaling network between P. sojae and the plant, preventing or decreasing the release of effectors reaching plant receptors, thus creating a form of incompatible interaction.
Keywords
Transcriptome Glycine max Plant receptorsEffectorsDefense genes
Background
Soybean (Glycine max L. Merr.) is economically and agriculturally the most important legume in the world, but its production is compromised by many biotic and abiotic factors. Of primary importance, Phytophthora sojae Kaufm. and Gred. [27] can cause annual yield losses as high as $200 million in the USA and $1–2 billion worldwide [31]. Phytophthora sojae is a soil-borne plant pathogen belonging to the oomycetes with a restricted host range, including soybean as its primary host. It causes root and stem rot, and pre- and post-emergence damping-off, particularly in flooded soils where the pathogen can disseminate easily because of its flagellated zoospores [45]. It is described as a hemibiotrophic pathogen and it secretes effector proteins (coded by Avr genes) to manipulate and invade living host cells during the initial biotrophic stage of infection. In plant-pathogen interactions, effectors are recognized as important virulence factors that are utilized by the pathogen to suppress PAMPs (Pathogen-Associated Molecular Patterns)-Triggered Immunity (PTI) and Effector-Triggered Immunity (ETI) in plants or change host metabolism so that it can easily colonize plant tissues [12, 50]. In response, soybean can carry resistance genes to P. sojae (Rps), that encode, or are predicted to encode, nucleotide-binding leucine-rich repeat (NB-LRR)-type proteins [19, 26], which are able to recognize the Avr effector proteins of P. sojae and induce the appropriate defense response [10, 18]. The result of this interaction between Rps genes and Avr genes will often determine compatible or incompatible interactions.
Numerous studies have highlighted the prophylactic effects of silicon (Si) fertilization [3, 16, 20] in the search for additional methods to prevent losses in the case of compatible interactions. Interestingly, Si appears to be particularly efficient against biotrophic and hemibiotrophic fungal/oomycete pathogens [5, 46]. In the case of soybean, Arsenault-Labrecque et al. [1] have shown that a Si treatment was effective against soybean rust caused by the biotrophic fungus Phakopsora pachyrizi. In addition, Deshmukh et al. [9] have identified Si transporters in soybean, thus confirming that the species is receptive to Si and can absorb the element.
The mechanisms inherent to the prophylactic properties of Si have puzzled scientists for many years. Originally, it was suggested that Si deposition along the cell walls created a physical barrier that halted fungal penetration into the plant [47]. However, additional studies have linked the presence of Si with diverse plant-defense reactions, thus suggesting that Si may play a role in the induction of acquired resistance [6, 7, 16, 17, 53]. In a recent study using Arabidopsis thaliana mutants deficient in salicylic acid (SA) synthesis, Vivancos et al. [46] showed that Si protected both mutant and wild-type plants against powdery mildew (Erisyphe cichoracearum). This led the authors to suggest that the deposition of Si as amorphous gel in the apoplast may prevent fungal effectors from reaching their targets, thereby altering the development of the pathogen. This hypothesis becomes particularly relevant in the context of the P. sojae-soybean interaction in light of recent results. Indeed, Ma et al. [34] recently showed that P. sojae employed an apoplastic decoy strategy with effectors to attack soybean. Xin et al. [52] further proposed that an aqueous apoplast was required for pathogenicity rather than immunosuppression, a condition that can be altered by silicon's presence. Finally, Wang et al. [50], on the basis of recent results with P. sojae, described the apoplastic region as a major battle ground between pathogen effectors and the host apoplastic surveillance system.
Since P. sojae is a hemibiotrophic pathogen that relies heavily on effectors for its virulence, the P. sojae-soybean pathosystem was deemed well-suited to validate and investigate the hypothesis that Si deposition altered the release of virulence factors by P. sojae. In this context, two main objectives were defined: 1) to assess resistance of soybean plants to P. sojae when fertilized with Si, and 2) to analyze the expression of salient genes involved in the virulence of P. sojae and the defense mechanisms of soybean in order to assess if a differential response could be linked to the prophylactic role of Si.
Results
Phenotypic responses
Soybean plants were inoculated with zoospores of
P. sojae
in a recirculating hydroponic system fed with nutrient solution with and without 1.7 mM Si to compare the phenotypic differences linked to Si. First symptoms of root browning appeared as early as 4 days post inoculation (dpi). Stunting and leaf discoloration followed within a few days, and first cases of mortality were recorded at 15 dpi in the Si
−
treatment. The differences between Si
−
and Si
+
treatments increased with time, and by 21 dpi, plants in the Si
+
treatment were clearly healthier than non-treated plants (Fig.
1a
). In terms of dry weight, for non-inoculated plants there was no significant difference between Si
−
(8.4 ± 0.5) and Si
+
plants (8.7 ± 0.4) plants. However, inoculation with
P. sojae
significantly reduced plant dry weight, but the prophylactic effect of Si was quite apparent as plants were significantly heavier in the Si
+
(5.0 g ± 1.9) compared with the Si
−
(2.0 g ± 1.0) treatment. X-ray microanalysis mapping of soybean confirmed the accumulation of Si throughout the roots in Si
+
plants (Fig.
1b
), while, in the absence of Si amendment, no clear evidence of Si deposition was observed (Fig.
1c
).

Dual RNA-seq analysis of the P. sojae-soybean interaction in the presence of Si
A complete comparative transcriptomic analysis of soybean roots and P. sojae was carried out at 0, 4, 7 and 14 dpi to obtain a comprehensive gene-expression profile for both soybean and P. sojae in response to Si application.
Soybean root transcriptome
Mapping of the processed reads from roots to the soybean genome showed a very high percentage of mapped reads for non-inoculated samples (control) treated or not with Si. For control plants, 81 and 90% of reads mapped on soybean in Si
−
and Si
+
treatments, respectively. In inoculated plants at 4 dpi, 61 and 76% of reads mapped to soybean in Si
−
and Si
+
, respectively (Additional file
1
: Table S1). Interestingly, the number of differentially expressed genes (DEGs) between control plants treated or not with Si was limited to 50 out of the potential 56,045 genes analyzed, and all were downregulated in the Si
+
treatment (Fold-change ≥4, FDR
p
-value ≤0.01). On the other hand, plants responded to inoculation of
P. sojae
(Si
−
P
+
vs. Si
−
P
−
) with a differential expression of 3294 genes (Additional file
2
: Table S2). Most of genes that were differentially expressed as a result of the infection (Si
−
P
+
vs Si
−
P
−
) reverted to a pattern of expression closer to control plants in the Si
+
treatment (Si
+
P
+
vs Si
−
P
+)
as illustrated on the heat map (Fig.
2
).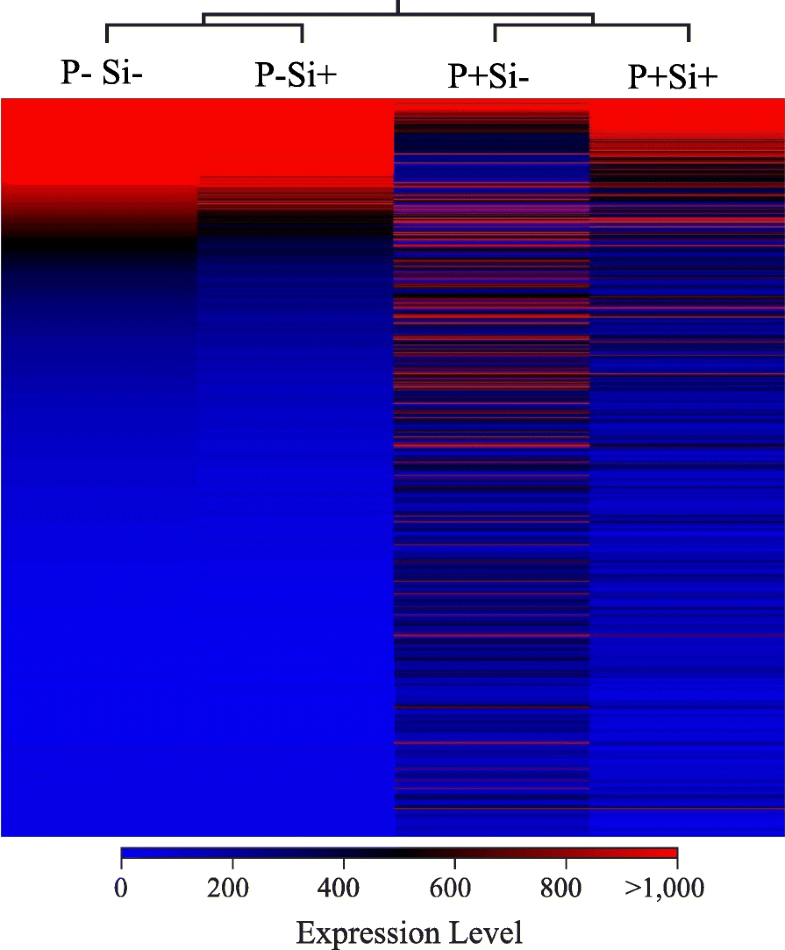 Functional categorization of the DEGs in P. sojae-infected plants showed that these genes belonged mainly to the following categories: defense-related genes, secondary metabolism, hormone metabolism, primary metabolism and no-ontology for which no function was annotated.
Discussion
A full comparative transcriptomic analysis of the effect of Si on P. sojae-infected soybean plants in this study suggests that Si may protect plants by interfering with the dialogue between pathogen effectors and plant defenses receptors, thus preventing a compatible interaction. To date, the protective effect of Si against a various range of plant pathogens has been well documented [3, 16, 46], but many questions regarding how it exacts its role on plant defenses remain unanswered. The mechanical barrier impeding fungal penetration was the first explanation of the protective role of Si [47], but this hypothesis has been slowly abandoned, namely based on results showing no sufficient increase in leaf toughness to retard fungal penetration following Si application [7, 54]. Cherif et al. [6, 8] were the first to report the induction of defense responses such as lignin, phenolic compounds and phytoalexins in association with root application of Si on cucumber plants infected by Pythium ultimum, an observation that has since been reproduced in other host-pathogen interactions [16, 17, 20, 40]. However, Vivancos et al. [46] recently reported that mutant Arabidopsis plants unable to mount defense reactions through the SA pathway were still protected against powdery mildew (Erisyphe cichoracearum) when fed with Si. This suggested that, unlike the mechanism proposed by Fawe et al. [17], the role of Si was not solely linked to the activation of defense responses, as supported by results from this study.
Our data have clearly established that the Si treatment offered a good protection of soybean plants against P. sojae, confirming a previous report by Guérin et al. [21]. From a practical point of view, biotrophic and hemibiotrophic (such as P. sojae) pathogens dominate the list of pathogens being controlled by Si, and the effect appears more durable and less transient than what is reported with necrotrophic pathogens. Given that the former pathogens are usually more species-specific in their host range, this led Vivancos et al. [46] to suggest that Si may somehow interfere with host recognition.
The comparative transcriptomic analysis of the infection process of P. sojae on soybean, as influenced by Si, has revealed an intricate pattern of gene expression by both P. sojae and the plant along with unprecedented insights into the mechanisms by which Si can protect plants. From the onset, it was interesting to observe that the effect of Si amendment on control plants was negligible, where only 50 out of the ca. 56,000 soybean transcripts were expressed differentially. Given that most were downregulated with no clear pathways being influenced, this reinforces the notion that the beneficial effects of Si are strictly protective or stress-related in nature. These results corroborate previous studies on Arabidopsis-Erysiphe cichoracearum [15], wheat-Blumeria graminis f. sp. tritici [5] and rice [51], where the effects of Si were nil or minimal in absence of a stress. On the other hand, they contradict other studies claiming that Si feeding alone can improve plant growth [24, 33, 35, 48], even though this concept is being challenged by many studies, including the present one.
Soybean plants infected with P. sojae displayed an active transcriptome where over 3000 genes were differentially expressed compared to control plants, especially in the primary metabolism and stress-defense categories. These observations are in line with a recent study on soybean- Fusarium oxysporum by Lanubile et al. [29], where they found the largest portion of DEGs assigned to these two categories. While the role of primary metabolism as an energy provider is undeniable, its role on regulation of defense responses in plants has been well documented in many studies [41]. High expression of genes involved in primary metabolism can be associated with hemibiotrophic pathogens hijacking plant metabolism for their own benefits, thus requiring a greater expense of energy from the plant. The up-regulation of primary metabolism is consistent with previous results on wheat-Blumeria graminis f. sp. tritici in Si− treatment [5], where the authors associated this up-regulation with the presence of the biotrophic pathogen, and in the case of the soybean-Fusarium oxysporum interaction [29], the high activation of primary metabolism was associated with the increased demand for energy to induce defense-related genes.
The high expression of defense-related genes in infected plants gives evidence of attempts by soybean plants to fend off P. sojae, especially during the early stage of infection (4 dpi), while the expression was reduced at 7 and 14 dpi as the pathogen progressed within the roots. The same result has been observed in response to a pathogenic isolate of Fusarium oxysporum, where soybean accumulated more defense-response transcripts in the first days following infection while these responses eventually receded [29]. This chain of events has been reported in previous studies including soybean-P. sojae interaction [36], Arabidopsis-E. cichoracearum [15], wheat-Blumeria graminis f. sp. tritici [5] and soybean-Fusarium virguliforme [38], in which it was suggested that the first reaction of plants to pathogens was the activation of an array of defense-related genes, even in the case of compatible interactions. In the same manner, at 4 dpi in Si− plants, the higher activation of NB-LRR receptors, which are known as markers of activation of effector-triggered immune (ETI) responses, led nevertheless to a compatible interaction as opposed to Si+ plants. This shows that expression of defense-related genes does not necessarily translate into a resistance response. For instance, the higher activation of NB-LRRs has been also reported in the compatible soybean-Fusarium virguliforme interaction [38]. The pattern of expression for other pathways related to defense reactions was similar where higher expression was consistently observed at 4 dpi in Si− plants. In line with this pattern, our results demonstrated the transcriptional induction of multiple genes involved in secondary metabolism and signaling. The same observations were reported in soybean with the pathogens P. sojae [36], F. virguliforme [38], and F. oxysporum [29]. Our work further showed that infection by P. sojae triggered SA metabolism during the early stages of infection while JA metabolism was more activated during the latter stages of infection, especially in Si− plants. This pattern of gene expression has been reported previously in interactions between plants and hemibiotrophic pathogens such as canola and Leptosphaeria maculans, and soybean and P. sojae [21, 36, 42].
Treatment of soybean plants with 1.7 mM Si provided a strong protection against P. sojae, a result supported by the phenotypes and the heat map, whereby the overall transcriptomic response of the infected plants treated with Si was somewhat similar to that of control plants. These results corroborate those of Chain et al. [5], who showed that Si-treated plants were basically unresponsive to the presence of E. cichoracearum.
To better understand this phenomenon, the transcriptomic response of P. sojae on both control and Si+ plants was followed and compared over time. As reported in many studies, hemibiotrophic pathogens will secrete CSEPs into the apoplastic region of plant cells, that can either act directly in the apoplast or be translocated into the cell, to neutralize plant defense reactions during the biotrophic stage and induce necrosis during the necrotrophic phase [49]. Cluster comparison of differentially-expressed P. sojae CSEPs at different timepoints showed a systematically higher number in Si− plants compared to Si+ plants associated with a higher expression of specific CSEPs at 4 dpi in the Si− treatment, a result that corroborates the higher expression of NB-LRRs at the same timepoint. For instance, Avh324, previously reported as an effector involved in the biotrophic phase of P. sojae [49], was one of the most highly expressed CSEPs at 4 dpi in our study. Interestingly, our results showed both a fewer number of RxLR effectors upregulated in Si + plants, and a delayed pattern from 4 to 7 days in Si + plants compared to Si- plants. These results are perfectly congruent with a multitude of previous reports showing that Si will delay the onset of disease and reduce its magnitude [6, 7, 15, 20, 22]. Other effectors categorized as necrosis-inducing effectors, such as Avh238 [49], were found to be highly expressed in the later stages of infection in Si− plants. The relative down-regulation of CSEPs in incompatible interactions has been reported in Arabidopsis-Blumeria graminis f. sp. hordei [25]. These results are well in agreement with the phenotypic differences observed between Si− and Si+ plants.
Our results clearly demonstrate that feeding soybean plants with Si 7 days before inoculation with P. sojae resulted in some protection against infection and a systematic deposition of Si in soybean roots (see Fig. 1). It has been well demonstrated that Si will deposit in plants in the form of amorphous silicon primarily in the apoplastic region of plant cells [2, 55]. As mentioned previously, the apoplast is a privileged site of initial release or activity for secreted CSEPs [37]. The apoplast plays a crucial role in plant-pathogen interactions as it will dictate the establishment or suppression of a pathogen based on the interaction between pathogen effectors and plant defenses and receptors [4, 50, 52]. Furthermore, filamentous pathogens/oomycetes will often release effectors initially in the apoplast before they get translocated inside the cell where they can interact with other receptors such as NLRs [37]. Along these lines, recent reports have emphasized the particular importance of the apoplastic region for the development of P. sojae. Most notably, Ma et al. [34] showed that P. sojae employed an apoplastic decoy strategy where Avr gene products elude recognition by receptors thus inhibiting defense responses. Furthermore, Xin et al. [52] proposed that water availability in the apoplast played a key role in the ensuing infection by P. sojae. Taken together, our results showed that Si feeding led to a form of incompatible interaction between soybean and P. sojae and suggest that the presence of Si in the apoplast is possibly linked to its prophylactic properties. As a first evidence, polymerization of Si in the apoplast is known to reduce the abundance of free water [19], which would change the apoplastic environment and make it less conducive for P. sojae development. Secondly, the presence of amorphous Si along the plasma membrane could a) restrict the required signals from the plant toward the pathogen which act to induce cell differentiation and express essential pathogenicity genes, b) interfere with the signaling flow between P. sojae and the plant, preventing or decreasing, for instance, the release of effectors reaching plant receptors, c) interfere with the translocation of effectors into the plant cell and d) confine the transition of nutrients from host toward hemibiotrophic pathogen, leading to a form of non-host resistance [28, 44]. Incidentally, Vivancos et al. [46]. showed that even SA-deficient Arabidopsis mutants were resistant to powdery mildew when fed with Si and suggested that inhibition of effector release explained that result.
Conclusion
Our work presents novel insights into the mechanistic role by which Si deposition influences the outcome of host-pathogen interactions. More specifically, results showed that a Si treatment conferred a good protection of soybean plants against P. sojae. The transcriptome analysis revealed that Si-treated plants had a surprisingly lower defense response than Si-deprived plants, and that P. sojae had a much lower diversity and intensity of effector transcripts on Si+ plants. These results support the hypothesis that Si interferes with the signaling process between a plant and a biotrophic/hemibiotrophic pathogen to elicit an incompatible interaction.
Methods
To evaluate the phenotypic responses of soybean plants to a Si treatment, we used the methodology developed by Guérin et al. [21]. Plants were grown in hydroponic systems with four different treatments: soybean plants inoculated with P. sojae and grown with and without Si (pH 7.0) in the form of potassium silicate, and control plants (without P. sojae) grown with and without Si. In all experiments, Si concentration was adjusted to 1.7 mM as it represents the highest possible concentration of silicic acid in solution and it is the standard procedure used to test the prophylactic role of Si [46]. Each treatment included two separate troughs fed with a nutrient solution. For each treatment and each trough, five plants were used for a total of 10 plants per treatment.
Abbreviations
Avr :

Avirulence
CDPKs:

Ca2+-Dependent Protein Kinases
CRN:

Crinkler
CSEPs:

Candidate Secreted Effector Proteins
DEGs:

Number of Differentially Expressed Genes
dpi:

Days Post Inoculation
ETI:

Effector-Triggered Immunity
FDR:

False Discovery Rate
GO:

Gene Ontology
JA:

Jasmonic Acid
MAPKs:

Mitogen-Activated Protein Kinases
NB-LRR:

Nucleotide-Binding Leucine-Rich Repeat
P. sojae :

Phytophthora sojae
PAMPs:

Pathogen-Associated Molecular Patterns
PRRs:

Pattern Recognition Receptors
PRs:

Pathogenesis-Related proteins
PTI:

PAMPs -Triggered Immunity
RLK:

Receptor-Like Kinases
Rps :

Resistance genes to P. sojae
SA:

Salicylic Acid
Si:

Silicon
Declarations
Acknowledgements
The authors would like to thank Dr. Devrim Coskun for critical review of the manuscript.
Funding
The project was funded by a grant from the Natural Sciences and Engineering Research Council of Canada (NSERC), the Fonds de recherche du Québec – Nature et technologies (FRQNT) and the Canada Research Chairs, which supported totally or in part the salaries of the students and researchers involved in the project and the materials. The authors declare that the research was conducted in the absence of any commercial or financial relationships that could be construed as a potential conflict of interest.
Availability of data and materials
The datasets generated and analyzed during the current study are available in the NCBI SRA repository, under the bioproject PRJNA412201. In addition, the read count obtained with the RNAseq data analysis during this study are included in the additional files.
Authors' contributions
AR carried out sample collection, RNA extraction RNA-Seq experiments and transcriptomic analyses, participated in the interpretation of data and drafted the manuscript. CL participated in RNA-Seq experiments and transcriptomic analyses. HS participated in RNA extraction and bio-informatics analyses. RD and HS participated in experimental design and sample collection. FB and JM participated in the interpretation of data and writing of the manuscript. RRB conceived the study, participated in interpretation of data and writing of the article. All authors have read and approved the final manuscript.
Ethics approval and consent to participate
Not applicable.
Competing interests
The authors declare that they have no competing interests.
Publisher's Note
Springer Nature remains neutral with regard to jurisdictional claims in published maps and institutional affiliations.
Open AccessThis article is distributed under the terms of the Creative Commons Attribution 4.0 International License (http://creativecommons.org/licenses/by/4.0/), which permits unrestricted use, distribution, and reproduction in any medium, provided you give appropriate credit to the original author(s) and the source, provide a link to the Creative Commons license, and indicate if changes were made. The Creative Commons Public Domain Dedication waiver (http://creativecommons.org/publicdomain/zero/1.0/) applies to the data made available in this article, unless otherwise stated.
Authors' Affiliations
(1)
Département de Phytologie, Faculté des Sciences de l'Agriculture et de l'Alimentation, Université Laval, Québec City, Canada
(2)
Département de Phytologie and Institue de biologie intégrative et des systèmes, Université Laval, Québec City, Canada
(3)
Agriculture and Agri-Food Canada, Morden, Canada