Research article
Open Access
Polyamines in the life of Arabidopsis: profiling the expression of S-adenosylmethionine decarboxylase (SAMDC) gene family during its life cycle
BMC Plant Biology
BMC series – open, inclusive and trusted
2017
17:264
Received: 29 April 2017
Accepted: 8 December 2017
Published: 28 December 2017
Abstract
Background
Arabidopsis has 5 paralogs of the S-adenosylmethionine decarboxylase (SAMDC) gene. Neither their specific role in development nor the role of positive/purifying selection in genetic divergence of this gene family is known. While some data are available on organ-specific expression of AtSAMDC1, AtSAMDC2, AtSAMDC3 and AtSAMDC4, not much is known about their promoters including AtSAMDC5, which is believed to be non-functional.
Results
(1) Phylogenetic analysis of the five AtSAMDC genes shows similar divergence pattern for promoters and coding sequences (CDSs), whereas, genetic divergence of 5'UTRs and 3'UTRs was independent of the promoters and CDSs; (2) while AtSAMDC1 and AtSAMDC4 promoters exhibit high activity (constitutive in the former), promoter activities of AtSAMDC2, AtSAMDC3 and AtSAMDC5 are moderate to low in seedlings (depending upon translational or transcriptional fusions), and are localized mainly in the vascular tissues and reproductive organs in mature plants; (3) based on promoter activity, it appears that AtSAMDC5 is both transcriptionally and translationally active, but based on it's coding sequence it seems to produce a non-functional protein; (4) though 5'-UTR based regulation of AtSAMDC expression through upstream open reading frames (uORFs) in the 5'UTR is well known, no such uORFs are present in AtSAMDC4 and AtSAMDC5; (5) the promoter regions of all five AtSAMDC genes contain common stress-responsive elements and hormone-responsive elements; (6) at the organ level, the activity of AtSAMDC enzyme does not correlate with the expression of specific AtSAMDC genes or with the contents of spermidine and spermine.
Conclusions
Differential roles of positive/purifying selection were observed in genetic divergence of the AtSAMDC gene family. All tissues express one or more AtSAMDC gene with significant redundancy, and concurrently, there is cell/tissue-specificity of gene expression, particularly in mature organs. This study provides valuable information about AtSAMDC promoters, which could be useful in future manipulation of crop plants for nutritive purposes, stress tolerance or bioenergy needs. The AtSAMDC1 core promoter might serve the need of a strong constitutive promoter, and its high expression in the gametophytic cells could be exploited, where strong male/female gametophyte-specific expression is desired; e.g. in transgenic modification of crop varieties.
Keywords
ArabidopsisSAMDCPromoter5'UTR3'UTRPolyaminesMetabolismGene family evolution
Background
Gene families consisting of multiple members, which code for the same enzyme are often found in plants and other eukaryotic organisms. A major question in such cases is, whether or not there is an evolutionary advantage of this redundancy to the organism (e.g. higher demand of the protein product - i.e. the importance of the enzymatic function) or the need of functional diversity and differential distribution of the product or both.
S
-adenosylmethionine decarboxylase (SAMDC,
a.k.a.
AdoMetDC - EC 4.1.1.50), a key enzyme for the biosynthesis of higher polyamines (PAs), is encoded by a multigene family in most angiosperms [
1
–
5
]. The enzyme carries out a vital rate-limiting step of the biosynthesis of dcSAM from SAM [
6
,
7
], which serves as donor of the aminopropyl moiety for the biosynthesis of two ubiquitous PAs namely spermidine (Spd) and spermine (Spm) by the enzymes Spd synthase and Spm synthase, respectively (Fig.
1
). No other major function of dcSAM is known.
Arabidopsis thaliana
apparently has five
SAMDC
genes (Table
1
), which show a high degree of sequence similarity amongst them (Additional file
1
: Table S1). Two paralogs (
AtSAMDC
1 and
AtSAMDC
2) have been well characterized with respect to their transcription as well as the regulation of their translation via 5'un-translated regions (5'UTRs). In each case, the 5'UTR contains within it two upstream open reading frames (uORFs), which are translated in a PA-dependent manner, and they (or their products) control
SAMDC
mRNA translation [
1
,
8
,
9
]. No information is currently available on the translational control of
AtSAMDC
3 (that has only one uORF), and
AtSAMDC
4 and
AtSAMDC
5 (neither of them has a uORF). Even less is known about the genetic divergence of the promoter sequences of the five
AtSAMDC
gene family members in relation to their upstream promoter elements, and the 5'UTRs of the transcript. Likewise, developmental and tissue specific expression of the five
AtSAMDC
s and their role in the regulation of Spd/Spm biosynthesis in Arabidopsis by their corresponding promoters is not well understood.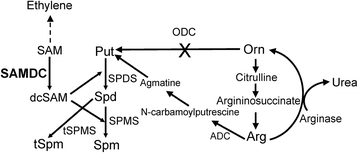 Gene (Accession no.)

ESTs

5'UTR

ORF (bp)

3'UTR (bp)

AtSAMDC1

(At3g02470)

1247

1–1106

ORFs: 691–702, 702–865

1107–2207 (1101)

2208–2445 (238)

AtSAMDC2

(At5g15950)

83

1–837

ORFs: 553–564, 564–719

838–1926 (1089)

1927–2119 (193)

AtSAMDC3

(At3g25570)

6

1–876

ORFs: 468–635

877–1926 (1050)

1927–2106 (180)

AtSAMDC4

(At5g18930)

1

1–108

109–1152 (1044)

1153–1599 (447)

AtSAMDC5

(At3g17715)

6

1–12

13–1176 (1164)

1177–1228 (52)
Transcripts of SAMDC have been characterized in a wide variety of plant species, often with higher expression in reproductive vs. the vegetative organs [1, 4, 10–16]. Expression of SAMDC and the role of higher PAs in somatic embryogenesis in carrot (Daucus carota) suspension cultures revealed that expression was greater at early stages of embryo development vs. the later stages [10]. In carnation (Dianthus caryophyllus), a promoter::5'UTR(SAMDC)::GUS construct was used to show high activity of GUS in stamens, pollen, stigma and petals with moderate activity in the stem and the cotyledonary veins of young tobacco seedlings [12]. Similar results were reported in apple [Malus sylvestris (L.) Mill. var. domestica] using RNA gel blot analysis [4]. In Arabidopsis, the transcripts of AtSAMDC1, AtSAMDC2, AtSAMDC3 and AtSAMDC4 were detected (using northern blots, RT-PCR and micro-arrays) in vegetative as well as in the reproductive organs [1, 11, 14, 17]. Differential distribution of AtSAMDC RNAs showed that (i) AtSAMDC1 was expressed in all organs of mature plants; (ii) the expression of AtSAMDC2 was high in roots, leaves and flowers; (iii) AtSAMDC3 showed weaker expression in all organs except for the siliques; (iv) the expression of AtSAMDC4 was low but ubiquitous; however, for AtSAMDC5, not much has been reported about its expression pattern during the life of the plant.
Several attempts involving transgenic expression of homologous or heterologous SAMDC genes in a wide variety of plant species have often resulted in 2- to 4-fold higher contents of Spd and Spm with or without effects on the phenotype [18–26]. Metabolic consequences of SAMDC over-expression may affect pathways beyond its direct target of PA biosynthesis as was seen for the genetic manipulation of putrescine (Put) in poplar (Populus nigra x maximowiczii) and Arabidopsis [27–29]. In tomato using a fruit specific E8 promoter with yeast SAMDC, a greater accumulation of metabolites, such as Gln, Asn, choline, citrate, fumarate, malate, and changes in fatty acids, etc. were observed (besides increase in Spd and Spm) in transgenic fruits ripened off the vines as compared to their WT counterparts [26, 30].
Numerous studies have reported up-regulation of SAMDC in plants in response to a wide variety of stresses including salt, drought, high temperature, low temperature, oxidative stress, etc.; in line with the suggested correlations between PAs and abiotic stresses [4, 11, 17, 25, 31–37]. However, these studies are limited in the number of developmental stages that were analyzed (except those using micro-arrays), and/or in localizing the activity of specific paralogs in cell/tissue types [4, 11, 17]. Specifically, no data are currently available on the expression and the role of AtSAMDC5, which is believed to be transcriptionally inactive [1].
Since AtSAMDC genes often have highly complex 5'UTRs, highly conserved coding sequences, produce an enzyme with extremely short half-life (often <20 min), and show a divergence into a five-member family in A. thaliana, a major question of interest would be if positive selection played a major role in genetic divergence of this gene family with a rather conserved single enzymatic function. Given the importance of PAs in the life of plants, and a high degree of sequence similarity among the five AtSAMDC paralogs, the present study was undertaken to comprehensively characterize the expression pattern (at cell/tissue to organ level) of all five members of the AtSAMDC gene family during the life cycle of A. thaliana using promoter::GUS fusion approach. These data were then verified with QRT-PCR of transcripts of the five genes in selected organs and developmental stages. To complete the story of AtSAMDC expression, enzyme activities as well as PA contents in various organs were also analyzed at different stages of development. While it would have been interesting, the specific contribution of the enzyme/protein in specific cell (or even tissue/organ) types was not done, because the individual proteins or enzyme activities cannot be easily distinguished from each other in a common cellular environment. Finally, the putative promoter regions of all AtSAMDC paralogues were subjected to bioinformatics analyses for comparison of the key cis-regulatory elements within them. The results reveal different selection criteria for genetic divergence among different members of the AtSAMDC gene family, and show distinct differences in expression patterns of the five genes in different tissues/organs of the plant during development.
Discussion
The polyamine biosynthetic genes in plants are highly conserved
Gene families in plants or other eukaryotic organisms often comprise of gene members sharing common nucleotide sequences, arising from various gene duplication events, and showing varying degrees of functional redundancy [57, 58]. The number of members within a gene family in higher plants can vary anywhere between 2 to >40; the size variation among gene families is often attributed to speciation and adaptation to the changing environment. Extensive studies with several gene families in plants suggest that genetic divergence and functional diversity among gene family members could be a consequence of variation in the promoter region resulting from spatial distribution and frequencies of transcription factor binding sites within the promoter regions. Besides promoter evolution, functional diversity and divergence of gene family members could also arise from varying degrees of base substitutions in the 5'UTR, the protein coding region, or the 3'UTR regions. [58, 59].
A closer look at the key PA biosynthetic genes (ADC, ODC, SPDS and SPMS/tSPMS) in plants shows that (1) all of them have remained highly conserved among different species (except that ODC is absent in A. thaliana), (2) they typically have only two copies each, except one copy each of SPMS and tSPMS (3) their promoters have several regulatory motifs common to each other (MYB4 binding site motif, GAREAT, W-box, ARF, etc.), and (4) they are expressed mostly in a redundant manner in different tissues and organs [60–65]. While AtSAMDC gene family appears to follow many of the same attributes as other genes whose products are involved in the PA biosynthetic pathway, it differs from them in several ways including the facts that there are as many as five members of the AtSAMDC gene family with a rather complex mechanism of regulation for its transcription as well as its translation. In this regard, it seems to follow the situation of AtPAOs, which also have five members [66], with one big difference that while the SAMDC function is highly specific with respect to its substrate, the nomenclature and the function(s) of PAOs are not as specific as that of SAMDC [67, 68]. The existence of multiple gene copies of a critically important enzyme involved in a single metabolic reaction without the necessity for hetero-di/polymer formation, raises important questions about: (a) the importance of redundancy and complementation of gene expression in different tissues and organs, and (b) the co-evolution vs. independent evolution of the different components of the gene; i.e. the promoter, the coding sequences, and/or the 5′ and 3' UTRs - in the present case including the uORFs within the 5'UTRs. The SAMDC is among one such enzyme which remains indispensable for all living organisms.
Here we suggest a few answers to the above questions using a combination of bioinformatics analyses, and extensive experimental analyses of the five known members of AtSAMDC gene family in A. thaliana. The answers seem to be rather complex in that while the coding sequences of the enzyme as well as the promoter regions and uORFs (where present) have stayed highly conserved within the family, the 5'UTRs and 3'UTRs themselves have followed quite different evolutionary paths. What is surprising is that the evolution has not led to any major compartmentalization of expression in a cell/tissue/organ or a developmental stage-specific manner since most of the paralogs are expressed in most of the tissues/organs concurrently. This, however, does not rule out the possibility of regulation of their expression in response to various environmental stimuli; e.g. abiotic or biotic stress.
Comparisons of CDSs among different members of the AtSAMDC gene family members showed 46–78% sequence identities whereas, the sequence identities among promoters ranged between 39 and 50%. Is it that the evolution of a promoter results in differential expression or the need for differential expression leads to evolutionary path of the promoter? The diversity of the promoter regions of the five genes is apparent from their size as well as the size of their 5'UTRs, which have a translation regulatory function [1, 8, 9]. In terms of the evolutionary nearness among different AtSAMDC gene coding sequences, AtSAMDC1 and AtSAMDC2 apparently evolved at the same time and AtSAMDC3 and AtSAMDC4 were the closest, while AtSAMDC5 might have diverged from either of these two groups. The upstream promoter elements followed a parallel pattern of divergence as the coding sequences among different AtSAMDC genes. Furthermore, genetic divergence of 5'UTRs and 3'UTRs was independent of the upstream elements and the coding sequences. This might implicate a major role of 5'UTR evolution resulting in genetic divergence and functional diversity among the different AtSAMDC genes.
Tajima test (43) revealed that promoters followed positive selection while UTRs exhibited some rare variants. We did not conduct the Tajima test with SAMDC coding sequences because the test assumptions do not hold true with coding sequences due to the extent of polymorphism associated with first, second and third codons as well as codon usage biases [69]. Tajima test has been conducted on non-coding sequences in other studies to test the type of selection [70, 71].
Benefits of redundancy vs. division of labor
The expression data of all AtSAMDC genes during early development show that even though the germinating seedlings start with expression of all AtSAMDCs, there certainly is a differential role of the various AtSAMDC gene family members in different tissues and organs as the plant develops and matures. Furthermore, the published data on AtSAMDC expression in response to abiotic stress treatments confirm that not only might they play differential roles during development; they also respond differently to environmental stress factors [65]. These conclusions are consistent with the evolutionary changes in different members of large gene families where they may have arisen from gene duplication and rearrangements [72, 73]. The greater differences in sequences of the different promoters vs. the coding sequences further indicate that the promoter sequences perhaps evolved faster than the CDSs, due to the highly conserved function of the enzyme. On the other hand, it can also be argued that the promoter regions of all AtSAMDC genes must share certain common regulatory elements that control the basic function of regulating gene expression per se (the core promoter functions), and others that control its differential expression in response to common environmental signals (e.g. different forms of abiotic stress) in a tissue/organ specific manner in different parts of the mature plant. This is evident from the presence of several MYB transcription factor binding sites e.g. MYB1AT, MYB4 that are associated with dehydration, drought, salt, cold, and wounding stresses that were common among all the AtSAMDC genes. Besides common motifs, certain unique motifs e.g. ARF (auxin responsive), BoxII (transcriptional activator), CCA1 (phytochrome regulation), MYB1LEPR (defense related genes), were observed only in AtSAMDC3, AtSAMDC4 and AtSAMDC5 (Table 4, Additional file 1: Tables S4-S8) genes suggesting their probable interaction with hormones and other environmental stimuli during plant growth and development. This is borne out from the distribution of various cis-regulatory elements in the promoters. Careful observation of the relative distribution of transcription factor binding sites (within 700 bp upstream of transcription start site) among the different AtSAMDC genes reveal a distinct pattern where a higher frequency of transcription factor binding sites were observed within 600 bp upstream of the transcription start site in AtSAMDC1, AtSAMDC2, and AtSAMDC3 whereas, it was between 400 and 600 bp upstream of the transcription start site in AtSAMDC4 and AtSAMDC5.
The different translational and transcriptional fusions with the GUS gene used in the present study provide a deeper insight into the regulation of AtSAMDC genes at different levels of gene expression and at different stages of development. Higher activity of GUS for the translational fusion of AtSAMDC4 and AtSAMDC1 were observed during the first 48 h of seed germination in all parts of the seedlings. On the other hand, little or no GUS activity for AtSAMDC2::GUS and AtSAMDC3::GUS was observed, and AtSAMDC5::GUS showed only limited activity in the cotyledons. This suggests a prominent role of the native AtSAMDC1 isomer of the enzyme at early stages of seedling development; and a differential regulation of its activity at the translational level by the uORF. Increased expression on deletion of the 5'UTRs in all three AtSAMDCs, further confirms the involvement of 5'UTR in translational regulation of the AtSAMDC genes as reported earlier [8, 74, 75]; even though the size of the 5'UTR varies considerably among them.
Deletion of a major 5′ portion (up to 80% in some cases) of the putative promoter in all AtSAMDCs (leaving only 384 bp promoter sequence in AtSAMDC1, AtSAMDC2, AtSAMDC3, and AtSAMDC5, and 283 bp in AtSAMDC4) did not negatively impact GUS activity; instead, there was enhanced GUS activity both in vegetative and reproductive organs with the minimal promoter sequence. This would suggest that the core promoters for all AtSAMDCs are much smaller to drive sufficient spatio-temporal pattern of gene expression; and the remaining 5′ parts of the promoters with several common motifs are associated either with developmental and environmental responses or with fine-tuning of gene expression in different cell types within a tissue/organ. As an example, the presence of GAREAT (GA Response Element) motifs in the promoter of AtSAMDC3 and AtSAMDC5, and their higher expression in the transcriptional fusions, is consistent with the role of GA in seed germination. The expression data during early development for AtSAMDC3 and AtSAMDC4 are consistent with the reported patterns using microarrays (www.genevestigator.com). Lack of expression data on AtSAMDC5 in the published literature leads to a suspicion that this gene might not be transcribed to produce a functional protein. However, the data presented here clearly demonstrate that the AtSAMDC5 promoter is transcriptionally active, and it's minimal 5'UTR (12 bp) may still (negatively) regulate its translation, since the removal of 5'UTR further increased the activity of GUS.
In mature organs, including flowers, whereas AtSAMDC1 promoter showed constitutively high GUS activity, the AtSAMDC2 promoter exhibited a localized pattern of GUS expression, limited largely to leaf veins and hydathodes. In contrast to AtSAMDC1 and AtSAMDC2, no activity of GUS for AtSAMDC3, AtSAMDC4 (except in the constructs with promoter in absence of 5'UTR and ORF) and AtSAMDC5 was detected in the pollen, which clearly points to the differential expression of different members of this gene family in flower parts. The GUS activity profiles for both AtSAMDC1 and AtSAMDC2 in flowers are consistent with the available microarray data in that highest signal values were obtained for pollen followed by sepals, petals, stigma and ovary, respectively, for both; and, overall expression of AtSAMDC1::GUS was much greater than AtSAMDC2::GUS. High activity of GUS in developing embryos of AtSAMDC1, AtSAMDC2 and AtSAMDC4 also reinforces earlier findings [14], where homozygous samdc1/bud2 (AtSAMDC4) double mutant showed embryo lethality.
Again, at the organ/tissue level, high activity of GUS in the vascular tissues of leaves, roots, and rosette junctions in translational fusion of AtSAMDC4, and its near absence for AtSAMDC3 and AtSAMDC5 fusions agrees with earlier reports on the expression of at least three AtSAMDCs [1, 11, 14], and the micro-array data (except for AtSAMDC5) for several organs in A. thaliana (www.genevestigator.com). High level of AtSAMDC expression in the vascular tissues perhaps is related to intense cell division activity associated with this tissue. It is quite possible that large amounts of PAs are actually produced in the vascular tissue and transported to many cells/tissues that do not show SAMDC expression. A role of PAs in plant vasculature development is implicated in several plant species [76, 77]. A possible explanation for PA role in vasculature differentiation and lignification is through the production of H2O2 via PA oxidation by DAOs and PAOs [68, 76–79]. The involvement of SAMDC in the development of proper vasculature was demonstrated in bud2 (a mutant for Atsamdc4), which had limited dcSAM availability, and showed increased vascular bundle size [14]. Altered hypocotyl elongation and lateral bud growth in bud2 was later explained as an effect of altered auxin-mediated response in this mutant [80]. Bioinformatics analysis of the promoters of all AtSAMDC genes further supports interaction of auxin with AtSAMDC4 [80]; the AtSAMDC4 along with AtSAMDC5 promoters show auxin responsive elements in their promoter regions.
Biosynthesis of higher PAs and another important phytohormone ethylene, is mediated by SAM (a universal methyl group donor in the cells) in plants that serves as the common precursor of both PAs and ethylene [81]. Besides the role of ethylene in fruit ripening and senescence, it is also involved in active cell division (in coordination with auxin) and shape determination in plants [82]. Ethylene is known to be actively involved in root and flower development, and stress responses in plants; features that are common to those of PAs. Presence of auxin responsive elements in some AtSAMDC promoters (SAMDC4 and SAMDC5; Table 4) might also indicate a coordinated action of PAs, auxin, and ethylene during Arabidopsis growth and development. As both ethylene (via ACC) and dcSAM share the common precursor SAM, high co-expression of SAMDC genes and ethylene biosynthetic genes at specific developmental stages (such as root development, floral initiation) and in certain tissues (e.g. vascular tissues) would require increased biosynthesis of SAM (from methionine – Met by SAM synthetase to feed these two pathways. This would also require co-operation between PA biosynthesis and ethylene biosynthesis rather than a competition (such as antagonistic roles of PAs and ethylene during senescence) between these two pathways that might be developmentally regulated or spatially separated [83, 84]. Ethylene is also reported to induce H2O2 production (and its role in physiological responses) by the increased expression and activities of PAOs in plants. In context to the recycling of dcSAM, the bi-product, 5′-deoxy-5′-methylthioadenosine (MTA; derived from dcSAM) produced during the biosynthesis of Spd and Spm, is recycled back to Met (Met salvage) by the genes involved in the Yang cycle [85–88]. Significantly high co-expression of the SAMDC genes and Yang cycle genes (along with higher Yang cycle intermediates) in the vascular tissues of Arabidopsis show that there is a high demand of Spd (evident from significant accumulation of SPDS in the phloem); [89] and Spm in these tissues and rapid recycling of MTA into Met might be required to maintain cellular homeostasis of SAM.
Correlation among gene expression, enzyme activity and polyamines
A lack of strong correlation between gene expression and the activity of the corresponding enzyme is often observed in biological studies, as gene expression (i.e. transcription) and the production of the enzyme protein (translation) are regulated differently before the production of an active enzyme. This involves complex transcriptional and post-transcriptional controls at the mRNA as well as translational levels [8, 9, 74]. Moreover, in many cases, the protein itself may have to be further modified to become a functional enzyme. Likewise, enzymatic controls over the cellular contents of the resulting metabolites are also complex and mostly indirect, involving the availability of substrates, the end-product catabolism, the availability of appropriate co-factors, and feed-back inhibition to name a few [28, 81, 82, 90, 91]. At individual reaction level also, metabolites often show non-linear correlation with the corresponding enzyme abundance. Thus, metabolic network connectivity has been attributed as the primary control over the metabolite levels in living cells [90]. Our data show (Fig. 8) that the native transcript abundance of individual AtSAMDC genes strongly correlates with the GUS activity of the corresponding AtSAMDC transcriptional fusion constructs at the organ level, but not with the individual SAMDC proteins at the cellular/tissue levels (since quantification of the individual SAMDC proteins and their enzymatic activity are not possible to quantify at present). The results presented here illustrate the complexity of interactions between gene expression, translation, and metabolite production in plants during development.
Conclusions
Differential role of positive/purifying selection was observed in genetic divergence of the AtSAMDC gene family. While promoter sequences overall showed a strong positive selection, UTRs or protein coding sequences did not always follow the same pattern. It was seen that all tissues express one or more AtSAMDC genes with significant redundancy; at the same time, there is specificity of gene expression, particularly in mature organs. The AtSAMDC5, which is believed to be inactive, is transcriptionally active, and is a unique member of the family in that its expression is not regulated by 5'UTR. Overall, there is differential regulation of the AtSAMDC gene family members at the level of transcription and translation to produce higher PAs in a spatio-temporal manner. This study provides valuable information about AtSAMDC promoters, which could be useful in the manipulation of crop plants for nutritive purposes, stress tolerance or bioenergy needs.
Abbreviations
ADC:

arginine decarboxylase
Arg:

arginine
CDS:

coding sequence
DAO:

diamine oxidase
FW:

fresh weight
GM:

germination medium
HPLC:

high performance liquid chromatography
IAA:

indole-3-acetic acid
Met:

methionine
ODC:

ornithine decarboxylase
Orn:

ornithine
PA:

polyamines
PAO:

polyamine oxidase
Put:

putrescine
SAMDC :

S-adenosylmethionine decarboxylase
SE:

standard error
Spd:

spermidine
SPDS:

spermidine synthase
Spm:

spermine
SPMS:

spermine synthase
uORF:

upstream open reading frame
UTR:

untranslated region
WT:

wild type
Declarations
Acknowledgements
The authors acknowledge the help of Jeffrey Mitchell, Amanda Kuzmick, Alyssa Birt, Ashley Matthews and Charles Rice for technical help with the project.
Funding
Partial funding was provided by the New Hampshire Agricultural Experiment Station. This is Scientific Contribution Number 2608. The work was supported by the USDA National Institute of Food and Agriculture (McIntire-Stennis) Project (NH00062 and NH00076-M). The funding bodies did not play any role in the design of the study and collection, analysis, and interpretation of data, and in writing the manuscript.
Availability of data and materials
Most of the supporting data are presented in the additional file and plant materials are available at the University of New Hampshire in the laboratory of the Corresponding author (sminocha@unh.edu). Aditional datafiles are available at: https://doi.org/10.5061/dryad.457fc
Authors' contributions
RM constructed the promoter::reporter fusions, and conducted plant transformation and screening of transgenic plants. RM and LS did GUS analyses. RM and LS performed QRT-PCR assays, RM carried out polyamine and enzyme analyses. RM and SM conceived the study, and ST made a major contribution to bioinformatics analyses of the sequences. All authors have read and approved the final manuscript.
Ethics approval and consent to participate
Not applicable.
Consent for publication
Not applicable.
Competing interests
The authors declare that they have no competing interests.
Publisher's Note
Springer Nature remains neutral with regard to jurisdictional claims in published maps and institutional affiliations.
Open AccessThis article is distributed under the terms of the Creative Commons Attribution 4.0 International License (http://creativecommons.org/licenses/by/4.0/), which permits unrestricted use, distribution, and reproduction in any medium, provided you give appropriate credit to the original author(s) and the source, provide a link to the Creative Commons license, and indicate if changes were made. The Creative Commons Public Domain Dedication waiver (http://creativecommons.org/publicdomain/zero/1.0/) applies to the data made available in this article, unless otherwise stated.
Authors' Affiliations
(1)
Department of Biological Sciences, University of New Hampshire, Durham, USA
(2)
USDA-ARS, SRRC, New Orleans, USA