Research article
Open Access
Evolutional dynamics of 45S and 5S ribosomal DNA in ancient allohexaploid Atropa belladonna
BMC Plant Biology
BMC series – open, inclusive and trusted
2017
17:21
Received: 27 July 2016
Accepted: 17 January 2017
Published: 23 January 2017
Abstract
Background
Polyploid hybrids represent a rich natural resource to study molecular evolution of plant genes and genomes. Here, we applied a combination of karyological and molecular methods to investigate chromosomal structure, molecular organization and evolution of ribosomal DNA (rDNA) in nightshade, Atropa belladonna (fam. Solanaceae), one of the oldest known allohexaploids among flowering plants. Because of their abundance and specific molecular organization (evolutionarily conserved coding regions linked to variable intergenic spacers, IGS), 45S and 5S rDNA are widely used in plant taxonomic and evolutionary studies.
Results
Molecular cloning and nucleotide sequencing of A. belladonna 45S rDNA repeats revealed a general structure characteristic of other Solanaceae species, and a very high sequence similarity of two length variants, with the only difference in number of short IGS subrepeats. These results combined with the detection of three pairs of 45S rDNA loci on separate chromosomes, presumably inherited from both tetraploid and diploid ancestor species, example intensive sequence homogenization that led to substitution/elimination of rDNA repeats of one parent. Chromosome silver-staining revealed that only four out of six 45S rDNA sites are frequently transcriptionally active, demonstrating nucleolar dominance. For 5S rDNA, three size variants of repeats were detected, with the major class represented by repeats containing all functional IGS elements required for transcription, the intermediate size repeats containing partially deleted IGS sequences, and the short 5S repeats containing severe defects both in the IGS and coding sequences. While shorter variants demonstrate increased rate of based substitution, probably in their transition into pseudogenes, the functional 5S rDNA variants are nearly identical at the sequence level, pointing to their origin from a single parental species. Localization of the 5S rDNA genes on two chromosome pairs further supports uniparental inheritance from the tetraploid progenitor.
Conclusions
The obtained molecular, cytogenetic and phylogenetic data demonstrate complex evolutionary dynamics of rDNA loci in allohexaploid species of Atropa belladonna. The high level of sequence unification revealed in 45S and 5S rDNA loci of this ancient hybrid species have been seemingly achieved by different molecular mechanisms.
Keywords
Ribosomal DNAConcerted evolutionHomogenizationPolyploidySolanaceae
Background
The realization that a large number of plant species, including many important industrial crops, evolved through circles of hybridization and/or polyploidization [1] has attracted intensive studies on the different aspects of polyploidy including mechanisms of polyploidy genome evolution [2]. Recent advances in plant genome and genomics research clearly demonstrate that hybridization/polyploidization involves intensive genomic rearrangements including exchanges between genomes, and loss or variation of gene copies and expression. These molecular processes are fundamental for species adaptive evolution and performance.
Atropa belladonna is a member of a small genus of ancient allopolyploid plants from the Solanaceae family with a history of medical applications due to its alkaloids, atropine and scopolamine [3, 4]. For a long time, its origin and taxonomic position remained an enigma. However, recent comparative DNA analysis has suggested that the genus Atropa, represented by 2 to 5 closely related species [5, 6] originated about 10 to 15 Myr (Million years) ago due to hybridization between a tetraploid species of Hyoscyameae and a now-extinct diploid species sister to the tetraploid lineage [6–8]. The uncertainty about one of the founding parents further complicates the tracing of species evolution. To learn more about the origin and genome evolution of this ancient natural polyploid, we studied genomic and molecular organization of the Atropa belladonna ribosomal DNA (rDNA).
Tandemly arranged repeated rDNA units found in genomes of all eukaryotes contain evolutionarily conserved sequences coding for ribosomal rRNAs and more rapidly evolving intergenic spacer regions (IGS). Because of its high copy representation in the genome and special arrangement of conserved coding regions linked with variable IGS, rDNA became an attractive focus for investigations of molecular evolution of repeated sequences and phylogenetic studies in different taxonomic groups [9–12]. Genomic loci representing 5S rDNA (5S rRNA gene plus the IGS) and 45S rDNA (genes coding for 18S, 5.8S, and 25S rRNAs and the spacer regions) are mostly arranged in head-to-tail tandem repeats. In contrast to the majority of repeated sequences, whose functions mostly remain unclear, activities of 5S and 45S rDNA genes are vital for organisms, providing rRNA species necessary for assembly of functional ribosomes, which account for more than 90% of total cellular RNA. In eukaryotes, the copy number (CN) of rDNA repeats is higher than is required for rRNA synthesis, and the redundant copies of rDNA are transcriptionally silenced [10, 13–15]. Transcriptionally active 45S rDNA loci (also known as nucleolus organizer regions, NORs) can be recognized by cytological chromosome analysis. Active loci produce nucleoli in interphase and secondary constriction (SC) regions of satellite-bearing chromosomes in metaphase [10, 13, 14]. Vascular plants often possess only single loci for both 5S and 45S rDNA, although multiple loci were also observed [10, 16–18].
Although numerous copies of rDNA repeats co-exist in the same genome, they tend to be nearly identical in many diploid species due to the process of sequence homogenization [19–21], i.e. individual copies of the repeated elements evolve not independently, but in a concerted manner [22, 23]. However, recently accumulated data suggested that a number of rDNA repeat units with different levels of sequence similarity can be simultaneously present in the same genome [24, 25]. This is especially true for species of hybrid origin (for review see [10, 26]), where the inheritance and evolution of rDNA can follow various scenarios. Often in the first generation hybrids, the 45S rDNA loci inherited from both parents remain structurally intact while enduring differential transcriptional silencing [13, 15, 27–30]. In ancient allopolyploid species, a more complicated picture is usually observed with uniparental inheritance and/or structural rearrangements of parental 45S rDNA. For example, in 0.2 Myr old natural allotetraploid Nicotiana tabacum all parental 45S rDNA loci were detected on chromosomes of ancestor diploids, N. sylvestris and N. tomentosiformis. However, the 45S rDNA repeats specific for N. sylvestris were almost completely eliminated and replaced by rearranged repeats of N. tomentosiformis [19, 31]. On the other hand, both parental 5S rDNA variants remained conserved in N. tabacum [32]. In contrast, in 4.5 Myr old Nicotiana alloploids of sect. Repandae both 5S and 45S rDNA loci and corresponding repeat variants of one parental species were not detected [33], indicating that the age of alloploid genome could be an important factor determining the character of rDNA in the hybrids.
Here, we present our data on the chromosomal localization/activity and molecular structure of 45S and 5S rDNA genes in Atropa belladonna. Based on uncovered specific loci representation and DNA sequences of 45S and 5S rDNA repeats, presumptive factors and mechanisms determining evolutionary dynamics of rDNA in polyploids are discussed.
Results
Chromosomal organization of 5S and 45S rDNA
The chromosome number for
A. belladonna,
72 chromosomes per somatic cell, was estimated by DAPI staining of root meristems. For 45S rDNA six distinct hybridization signals specific for 45S rDNA cluster were detected on separate chromosomes (Fig.
1
)
.
Similarly, chromomycin A3 (CMA) staining produced six signals, two of which were relatively slight ones. Determination of 45S rDNA location was complemented by silver-staining, an indicator of transcriptional activity of these sites. Chromosome silver-staining resulted in four signals per cell, suggesting that only four 45S rDNA sites are transcriptionally active.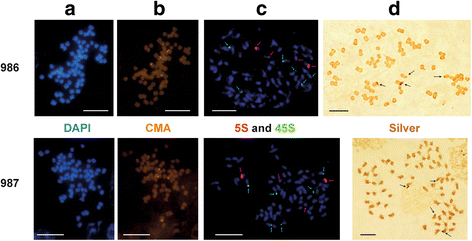 In contrast to 45S rDNA, only four 5S rDNA specific signals – two very strong and two weak – were detected at metaphase chromosomes of A. belladonna (Fig. 1). After double FISH with rDNA probes, hybridization signals specific for 5S rDNA and 45S rDNA were observed on separate chromosomes, indicating that there is no co-localization of 5S and 45S rDNA gene clusters.
Sequence organization of 45S rDNA intergenic spacer region in A. belladonna
In our cloning experiments we have isolated two short and one long DNA fragments containing IGS regions of the short and long variants of 45S rDNA repeats of
A. belladonna
(Additional file
1
: Figure S1). Sequencing of one of the short clones (Ab-IGS-1S) showed the IGS region of 3710 bp. The sequence can be subdivided into six structural regions (SR I to SR VI; Fig.
2
) according to Harr-plot analysis (Fig.
3
), GC-content calculations and comparison with 45S rDNA IGS of other Solanaceae (see below).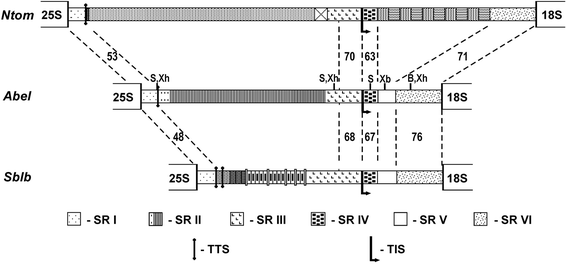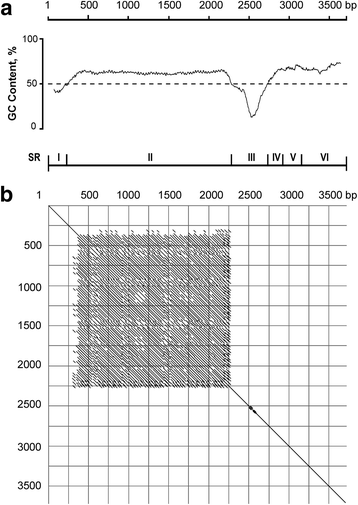 The SR I (222 bp in length, 44.1% GC) consists of a unique sequence and exhibits moderate sequence similarity of 48 to 53% to representatives of distantly related Solanaceae species, Solanum bulbocastanum and Nicotiana tomentosiformis (Fig. 2). A pyrimidine-rich motif CCCTCCCCCTCC is present at the beginning of SR I (Additional file 2: Figure S2); similar motives were previously identified in the corresponding region of 45S rDNA in higher plants of different families [9, 41, 42]. At the 3′ end of SR I a GAGGTTTTT motif is located. From 1 to 4 copies of this sequence were found in representatives of distantly related genera of Solanaceae: Nicotiana, Solanum and Capsicum [19, 27, 31, 42, 43]. Obvious evolutionary conservation indicates functional importance of this motif, e.g. for transcription termination.
The next IGS region, SR II (2055 bp in length, 61.8% GC) contains subrepeats (Figs.
2
and
3
). This region can be subdivided in two sub-regions, SR II-A (162 bp) and -B (1893 bp). The SR II-B is composed of numerous copies of short subrepeats, two variants of which – Z1 (32 bp long) and Z2 (33 bp long) – can be distinguished (Fig.
4
). In contrast, no perfect repeated elements, but only short fragments demonstrating similarity to Z-sub-repeats, were found in SR II-A.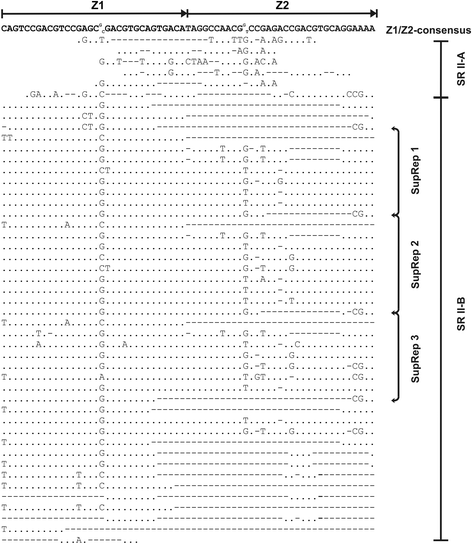 All together, 37 perfect or partially deleted copies of Z1, 23 copies of Z2 and several short fragments of Z1/Z2-subrepeats were identified within SR II-B. The subrepeats are arranged as dimers Z1 + Z2 in the middle part of SR II-B, whereas the beginning and the end of SR II-B consist of Z1 subrepeats only. Further analysis revealed that some Z-subrepeats contain specific point mutations, which are periodically repeated within the SR II-B. Hence, in course of molecular evolution not only short motives and single Z-subrepeats, but also long arrays composed of several subrepeats were amplified. Such long blocks are shown as "super-repeats" in Fig. 4. A similar mode of amplification was described for C-subrepeats in SR II of Nicotiana [19]. Comparative restriction mapping of the cloned short and long IGS fragments demonstrated that two short clones appear to be identical whereas the long one differs by the length of the SR II by 0.75 kb (see Additional file 1: Figure S1 and Fig. 2). This difference is probably attributable to different numbers of Z-subrepeats.
The following SR III (464 bp long) is represented by a unique AT-rich (33% GC) sequence. It contains the putative promoter region including the transcription initiation site (TIS) at the 3′ end. A similar AT-rich region preceding the TIS has been found in Solanum [11, 27, 42], Nicotiana [19, 31], Capsicum [43] and other plant species [9, 41, 44].
The SR III can be further subdivided in two parts, A and B. The 185 bp-long SR III-A of A. belladonna exhibits a low similarity to 45S IGS of other Solanaceae, whereas the following 279 bp-long SR III-B and especially the region around the putative TIS are more conserved (Fig. 2 and Additional file 3: Figure S3). The two parts of SR III display a difference in GC-content that amounts to 44.9% for SR III-A vs. 25.1% for SR III-B. The difference is attributable to nine short GC-rich motives "imbedded" in the AT-rich sequence of SR III-A.
In the 45S IGS of A. belladonna no subrepeats are present down-stream of TIS. According to the comparison with the 45S IGS of other Solanaceae species, three regions – SR IV, V and VI – can be distinguished (Fig. 2).
The SR IV (185 bp long, 64.3% GC) of A. belladonna exhibits a moderate similarity with the corresponding IGS regions of Solanum and Nicotiana (Fig. 2 and Additional file 4: Figure S4). In the central part of this region a short, conserved element (CE: 41 bp) occurs, which demonstrates significant similarity – 76-80% – with other Solanaceae. Previously it was shown that CE is duplicated in the 45S IGS of potato S. tuberosum [21], and multiplicated in tomato S. lycopersicum and closely related species [11]. It was proposed that CE could be involved in transcription regulation, because differential transcription/silencing of parental 45S rDNA in interspecific hybrids of Solanum correlates with the number of CE [27]. In contrast to SR IV the following SR V (234 bp long, 68.0% GC) has no essential similarity with the 45S IGS of Solanum and Nicotiana; the level of sequence identity amounts to 58 and 41%, respectively.
Region SR VI adjacent to the 18S rRNA gene is 550 bp long (68.2% GC). The region exhibits comparatively high sequence similarity (71–76%) with the distantly related Solanaceae species (Fig. 2 and Additional file 5: Figure S5). Several segments of particularly high sequence identity were found in SR VI. These segments may be involved in regulation of transcription and/or processing of 45S rRNA.
In order to evaluate the level of intragenomic heterogeneity of individual repeats of 45S rDNA of A. belladonna we have amplified by PCR, cloned and sequenced the transcribed portion of 45S IGS (i.e., 5′ETS from presumptive TIS to 18S rRNA coding region). In total, 20 5′ETS clones were obtained and subjected to restriction mapping. For all clones, identical fragment patterns were obtained (data not shown). Afterwards, ten 5′ETS clones were randomly selected, sequenced and compared with the sequence of the complete 45S IGS described above. The results (Additional file 6: Figure S6) demonstrate that the level of sequence similarity between these eleven individual clones ranges from 98.2 to 100%. In the majority of clones, deviations from the consensus sequence were presented by 1 to 3 base substitutions, excepting clones Ab-ETS-9 and −10, which contain 11 and 10 substitutions, respectively. Also, 1- and 2-bp-long deletions and 1-bp-long insertion were found in the clones Ab-ETS-14, −16 and −12, respectively.
Molecular organization of the 5S rDNA repeats
Agarose gel separation of PCR products demonstrated that the main class of 5S rDNA repeats in
A. belladonna
has a length of about 260 bp (Fig.
5a
). An additional shorter DNA fragment was detected when a large excess of sample was used for electrophoretic analysis (see Fig.
5a
, right panel). The data show that the second minor class of 5S rDNA repeats, which has a length of about 180 bp, is present in the genome of
A. belladonna.
Evaluation of relative intensity of bands by the image analyzer showed that in accessions 986 and 987, respectively, from 5 to 7% and less than 2% of 5S rDNA repeats belong to the second minor class.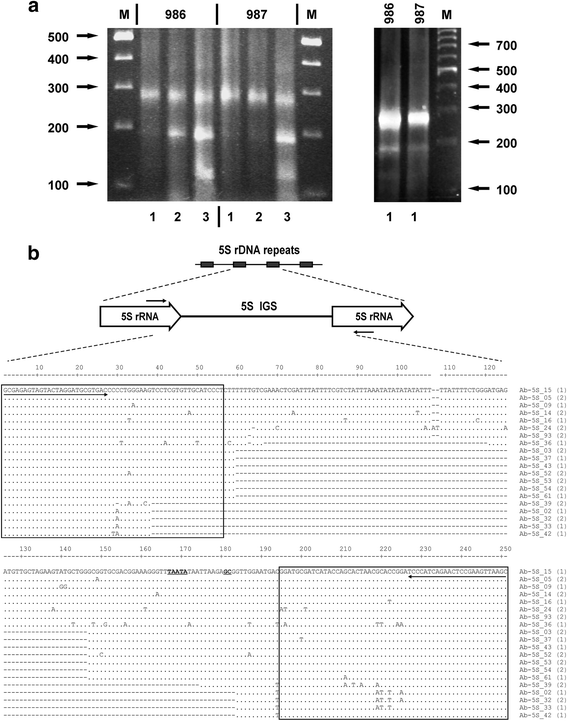 In order to clone different length variants of 5S rDNA, we performed optimization of PCR conditions (shortened elongation time, prolonged primer annealing under lower temperature, increased concentration of primers) to improve amplification of the shorter minor 180 bp-fragments. This resulted in preferential amplification of underrepresented 5S repeat variants. In particular, higher primer concentration led not only to improved generation of the 180 bp fragments, but also to amplification of a third class of 5S rDNA repeats, which have a length of about 120 bp (Fig. 5a, left panel, variant 3). This class remained undetectable under standard PCR amplification conditions. Hence, the 120 bp-repeats appear to be represented in the genome by very low CN.
Applying agarose gel electrophoretic fractionation, we have cloned PCR products representing all three size classes of 5S rDNA repeats. In total, for the two studied accessions of A. belladonna, 32 recombinant clones were isolated and, after determination of the insert lengths by restriction mapping, 20 of them were selected for sequencing. Comparison of the obtained sequences showed that the 5S repeats of A. belladonna can be classified into 3 groups: long (257–259 bp; clones pAb-5S-05, -09, −14, −15, −16, −24, −93), intermediate (171–203 bp; clones pAb-5S-03, −36, −37, -43, -52, -53, -54, -61), and short (113–121 bp; clones pAb-5S-02, −32, −33, −39, -42) repeats (Fig. 5b).
The long repeats are composed of the region coding for 5S rRNA and an IGS. Taking into account location of the primers used for PCR we calculated that as in other eukaryotes the length of the rRNA coding region is 120 bp. The length of 5S IGS of long repeats ranges from 137 to 139 bp, which is shorter compared to other representatives of Solanaceae, e.g. 165–229 bp in Solanum [20, 45] and 310–560 bp in Nicotiana [32, 46] species. In contrast to Solanum, no subrepeats were found in the central non-transcribed part of A. belladonna 5S IGS.
Sequence comparison showed that the long 5S rDNA repeats of both accessions of A. belladonna are very similar (96.4-99.6% of similarity, except one clone, pAb-5S_24 - see Fig. 5b). The minor differences are mainly due to occasional base substitutions and a few single nucleotide indels in the IGS. The 5S rRNA coding region of A. belladonna is identical to that of tomato Solanum lycopersicum and very similar to other Solanaceae (Additional file 7: Figure S7).
Similar to other plant species [20, 32, 47], an oligo-dT motif downstream of the coding region was found in the long 5S rDNA repeats of A. belladonna. These motives have been shown to function in Pol III transcription termination of the eukaryotic 5S rRNA genes [48]. Sequence comparison also revealed that in the long 5S IGS variant of A. belladonna, similar to other plant species [20, 32, 47], a TATA-like motif and a GC dinucleotide are located, respectively, at the positions −28 to −24 bp and −14 bp upstream of the coding region. These motives – together with the internal promoter elements – were proposed to form the Pol III transcription initiation site [48]. Thus, the long 5S rDNA repeats of A. belladonna contain the structurally normal 5S rRNA coding region and all known signals required for transcription initiation and termination. Therefore, they appear to be functionally active.
The intermediate 5S rDNA repeats contain a deletion (53–85 bp) in the central part of the IGS, compared to the long repeats. Nevertheless, they still possess all external promoter elements and the conserved 5S rDNA coding region (except the clone pAb-5S-36, which contains seven base substitutions in the sequenced fragments of the coding region). However, the intermediate repeats completely or partially (clone pAb-5S-36) lack the oligo-dT sequence required for transcription termination. These structural defects indicate that the intermediate repeats are non-functional, or that there is an alternative transcription termination option.
In the short 5S rDNA repeats, nearly the entire IGS is missing, as is 18 bp at the 3′ end of the coding region. Additionally, the short repeats accumulated several nucleotide substitutions in the rudimental fragment of 5S coding region, and a cytosine residue in position −1, which is required for transcription initiation [48], is changed into thymidine in all short clones sequenced. Accordingly, it looks probable that the short repeats represent pseudogenes.
We have calculated the number of base substitutions in individual 5S rDNA repeats compared to the consensus sequence and found that the three groups of repeats significantly differ by this parameter (Table
1
Specifically, the frequency of base substitutions is 1.43, 2.26 and 9.74 per 100 bp in long, intermediate and short repeats, respectively. Hence, the frequency of base substitutions appears to be about 1.6 and 6.8 times higher in intermediate and short repeats, respectively.
Table 1
Number of base substitutions in 5S rDNA of Atropa belladonna
Clone

Length

Transversions

Transitions

Total number of base substitutions

C → T, G → A

T → C, A → G

Group I: long repeats

 Ab-5S-05

199

0

1

0

1

 Ab-5S-09

199

1

1

1

3

 Ab-5S-14

199

2

2

0

4

 Ab-5S-15

199

0

0

0

0

 Ab-5S-16

199

2

2

0

4

 Ab-5S-24

200

5

3

0

8

 Ab-5S-93

198

0

0

0

0

Total for group I

1393

10 (50.0%)

9 (45.0%)

1 (5.0%)

20 (100%)

Group II: intermediate repeats

 Ab-5S-03

112

0

0

0

0

 Ab-5S-36

144

6

9

1

16

 Ab-5S-37

112

0

1

0

1

 Ab-5S-43

112

0

0

0

0

 Ab-5S-53

112

0

0

0

0

 Ab-5S-52

112

1

2

0

3

 Ab-5S-54

112

0

0

0

0

 Ab-5S-61

112

0

1

0

1

Total for group II

928

7 (33.3%)

13 (61.9%)

1 (4.8%)

21 (100%)

Group III: short repeats

 Ab-5S-02

54

1

5

0

6

 Ab-5S-32

53

1

5

0

6

 Ab-5S-33

54

1

4

0

5

 Ab-5S-39

62

3

4

0

7

 Ab-5S-42

54

1

2

0

3

Total for group III

277

7 (25.9%)

20 (74.1%)

0

27 (100%)
Additionally, we have compared the frequency of different types of mutations and found that transitions amount to 50.0, 66.7 and 74.1% of all base substitutions in long, intermediate and short repeats, respectively (see Table 1). Remarkably, among 44 transitions detected, 42 were represented by C → T and G → A, which could be related to 5-methyl-cytosine deamination. Accordingly, it looks probable that the intermediate and short repeats were highly methylated for a long time, which resulted in preferential accumulation of respective transitions. Taken together, these data strongly support our proposition that the intermediate and short subrepeats represent pseudogenes. Thus, in ancient hexaploid A. belladonna, redundant 5S rDNA repeats did not evolve in a concerted manner. They appear to be gradually changed into pseudogenes and partially eliminated from the genome.
Conclusions
The combined molecular, cytogenetic and phylogenetic data obtained in this study demonstrate complex evolutionary dynamics or rDNA loci in allohexaploid species of Atropa belladonna. Our study revealed the high level of rDNA sequence unification in this ancient hybrid species and showed different molecular mechanisms underlying sequence homogenization at the 45S and 5S rDNA loci. The 45S rDNA endured interchromosomal conversion resulting in elimination of rDNA repeats of one parental species. In contrast, 5S rDNA sequences of one parent were either eliminated from the genome, or converted into pseudogenes and then lost. These molecular events led to reduction of the 5S rDNA loci number on A. bellabonna chromosomes while the 45S loci were preserved. The presented data further contribute to better understanding of molecular processes underlying formation and evolution of nuclear genomes in polyploid plant species.
Declarations
Acknowledgements
This work was supported by Alexander von Humboldt Foundation (Germany) research fellowships granted to RAV and NVB. We thank Taj Arndell (University of Adelaide, Australia) for careful reading of the manuscript and correction of English.
Availability of data and materials
Sequence data from this article have been deposited with the EMBL/GenBank Data Libraries under accession nos: KF492694, KF496929-KF496945, KX196202-KX196207 and KY126357-KY126368.
Authors' contributions
The experimental design was conceived by RAV, JM and VH. The experiments were performed by RAV, IIP, NVB and MHB. The data were analysed by RAV with assistance from NVB and IIP. This paper was written by RAV, NVB and VH. All authors read and approved the final manuscript.
Competing interests
The authors declare that they have no competing interests.
Consent for publication
Not applicable.
Ethics approval and consent to participate
Not applicable.
Open AccessThis article is distributed under the terms of the Creative Commons Attribution 4.0 International License (http://creativecommons.org/licenses/by/4.0/), which permits unrestricted use, distribution, and reproduction in any medium, provided you give appropriate credit to the original author(s) and the source, provide a link to the Creative Commons license, and indicate if changes were made. The Creative Commons Public Domain Dedication waiver (http://creativecommons.org/publicdomain/zero/1.0/) applies to the data made available in this article, unless otherwise stated.
Authors' Affiliations
(1)
Department of General Genetics, Center of Plant Molecular Biology (ZMBP), Eberhard Karls University of Tübingen, Tübingen, Germany
(2)
Department of Molecular Genetics and Biotechnology, Yuriy Fedkovych University of Chernivtsi, Chernivtsi, Ukraine
(3)
Australian Centre for Plant Functional Genomics (ACPFG), The University of Adelaide, Urrbrae, Australia
(4)
Current addres: School of Life Science, Huaiyin Normal University, Huaian, China
(5)
Department of Plant Anatomy and Cytology, University of Silesia, Katowice, Poland