Research article

Open Access
Chloroplast genome resources and molecular markers differentiate rubber dandelion species from weedy relatives
BMC Plant Biology
BMC series – open, inclusive and trusted
2017
17:34
Received: 21 May 2016
Accepted: 23 December 2016
Published: 2 February 2017
Abstract
Background
Rubber dandelion (Taraxacum kok-saghyz, TK) is being developed as a domestic source of natural rubber to meet increasing global demand. However, the domestication of TK is complicated by its colocation with two weedy dandelion species, Taraxacum brevicorniculatum (TB) and the common dandelion (Taraxacum officinale, TO). TB is often present as a seed contaminant within TK accessions, while TO is a pandemic weed, which may have the potential to hybridize with TK. To discriminate these species at the molecular level, and facilitate gene flow studies between the potential rubber crop, TK, and its weedy relatives, we generated genomic and marker resources for these three dandelion species.
Results
Complete chloroplast genome sequences of TK (151,338 bp), TO (151,299 bp), and TB (151,282 bp) were obtained using the Illumina GAII and MiSeq platforms. Chloroplast sequences were analyzed and annotated for all the three species. Phylogenetic analysis within Asteraceae showed that TK has a closer genetic distance to TB than to TO and Taraxacum species were most closely related to lettuce (Lactuca sativa). By sequencing multiple genotypes for each species and testing variants using gel-based methods, four chloroplast Single Nucleotide Polymorphism (SNP) variants were found to be fixed between TK and TO in large populations, and between TB and TO. Additionally, Expressed Sequence Tag (EST) resources developed for TO and TK permitted the identification of five nuclear species-specific SNP markers.
Conclusions
The availability of chloroplast genomes of these three dandelion species, as well as chloroplast and nuclear molecular markers, will provide a powerful genetic resource for germplasm differentiation and purification, and the study of potential gene flow among Taraxacum species.
Keywords
Chloroplast genomeRubberSpecies-specific single nucleotide polymorphism markers Taraxacum brevicorniculatum Taraxacum kok-saghyz Taraxacum officinale
Background
Rubber dandelion (Taraxacum kok-saghyz Rodin, TK) is being developed as an alternative natural rubber source in response to increasing global demand and instability of current sources. Natural rubber production is fragile due to its reliance on a single source, the Brazilian or Para rubber tree (Hevea brasiliensis Muell. Arg.), which is cultivated as clones mostly in Southeast Asia [1]. This production could be easily disrupted by the introduction of South American Leaf Blight, a fatal fungal disease caused by Microcyclus ulei [2], which is currently controlled by quarantine measures. Moreover, Hevea rubber production is also threatened by high labor costs, due to the necessity of tapping latex from the trees by hand, and land competition with palm plantations [1]. To establish a more sustainable and mechanized natural rubber production system, TK has been explored in many temperate countries as a potential domestic rubber-producing crop [3].
TK, which originated in southeastern Kazakhstan as a wild plant [4], is a diploid (2x = 16) outcrossing, self-incompatible species. TK was cultivated extensively in the Union of Soviet Socialist Republics (USSR) and the US throughout the 1930s and during World War II to help alleviate wartime-induced natural rubber shortages [5]. At that time, rubber yields for TK were reported between 150 and 500 kg ha−1 y−1 [5]. Higher rubber production potential of TK has recently been demonstrated in studies where germplasm with a rubber content of 5–6% of root dry weight was grown in outdoor planting boxes to yield the equivalent of 1300 kg ha−1 in a 6-month period (Cornish, unpublished), which is comparable to the yield of rubber tree (500–3000 kg ha−1 y−1) [1]. Reaching comparable yields in large scale field production is a challenging endeavor, but coupled with germplasm with much higher rubber concentrations (up to 30%), commercially viable yields appear achievable [5]. Moreover, its wide environmental adaptation and fast generation time make TK one of the most promising alternate rubber producing plants. Rubber production from TK is expected to reduce the need to import rubber, mitigate production shortfalls, stabilize global rubber prices, as well as ensure rubber supplies should rubber tree production be threatened.
The domestication of TK is complicated by two additional dandelion species, Taraxacum brevicorniculatum Koroleva (TB) and Taraxacum officinale F.H. Wigg. (TO, common dandelion). TK, TB, and TO are sympatric species, and germplasm collections are often mixed [3]. TB is a triploid (3x = 24), which exhibits obligate apomixis, where clonal seeds are produced without pollination. TB also produces natural rubber in its roots, albeit to a lesser extent than TK (approximately 2–3% of the dry weight in TB, compared to as high as 30% in TK) [5, 6]. However, TB is a more vigorous species than TK with a high accumulation of biomass similar to TO. Recent molecular biology studies have used TB to investigate functions of genes related to rubber biosynthesis [6–8]. TB and TK share the same geographical origin and have been co-introduced into North America and Europe, where TB is often an unintentional seed contaminant. Therefore, TB has often been misidentified as TK in many ex situ germplasm collections until TB and TK were discriminated using taxonomic and Amplified Fragment Length Polymorphism (AFLP) analyses [3].
TO, the ubiquitous weedy dandelion, is distributed worldwide and can be found in all states and provinces of the United States and Canada, respectively [9]. TO has virtually no rubber production, although it does produces a milky latex, and is a vigorous, highly successful weed. TO is a perennial and is most successful as an agricultural weed in pastures and no-till systems. All TO reported in North America are obligate apomictic triploids (3x = 24) [10, 11]. However, sexual, diploid TO (2x = 16) has been identified in Europe [12].
TK domestication would involve large plantings and possibly the introduction of genetic modifications to improve agronomic performance and rubber yield. The potential for TK and TO to hybridize raises concerns about gene flow between species. There are two potential pathways of gene flow: pollen-mediated gene flow and seed-mediated gene flow [13]. In pollen-mediated gene flow, transgenes contained in TK pollen could potentially be introduced into TO and produce hybrid progeny with novel traits. Alternatively, TK could potentially serve as the pollen acceptor and be fertilized by TO pollen to produce hybrid progeny with weedy traits. In the case of seed-mediated gene flow, progeny produced by TK could be from TK x TK crosses, interspecific hybridization, or through the "mentor effect", where self-incompatibility is broken down by the introduction of polyploid pollen [14, 15]. Similarly, in the case of pollen mediated gene flow, apomictically produced TO seeds would inevitably be mixed with the seeds of potential hybrids. In order to understand the potential for gene flow between TK and TO, species-specific molecular markers are needed to differentiate interspecific hybrids from apomictically produced TO and self-pollinated TK.
Considering the differences in rubber content and reproduction system among the aforementioned three species, as well as the potential production of TK/TO hybrids, it is important to distinguish them in studies related to molecular genetics, genomics, plant breeding, and gene flow risk assessment. Since the fecundity of weedy dandelions (TB and TO) has been reported to be 40 times higher than TK, once seeds from weedy dandelion are introduced into TK fields, the contamination can be magnified significantly through a single generation [5]. Information that can be used to resolve three dandelion species, as well as their potential hybrids, includes data on morphology and ploidy. However, morphological data may vary through developmental stage and is highly reliant on the experience of the observers. Ploidy detection using flow cytometry cannot be easily multiplexed and has a high cost of entry. Moreover, morphology and genome size of a potential hybrid may overlap with those of the three dandelion species. Therefore, it is necessary to develop molecular markers to provide an accurate and high throughput approach for species and hybrid differentiation.
One source of sequence diversity that can be used to differentiate species is the chloroplast genome. Due to the slower evolution of chloroplast genomes compared to nuclear genomes, chloroplast sequences have often been used for phylogenetic studies and species identification [16, 17]. Therefore, the development of chloroplast markers will provide an accurate molecular tool to differentiate Taraxacum species. Moreover, the genetic information in angiosperm chloroplasts is inherited maternally in most cases, making the chloroplast genome a good indicator of maternal ancestry [18]. The maternal parent could be easily identified in putative hybrid progeny in the absence of parental information, regardless of how many generations have past.
In previous studies, barcoding regions generated from chloroplast sequences have been used for phylogenetic analysis and species differentiation [16, 19]. However, the application of barcoding regions involves re-sequencing those regions of the tested plant samples. Chloroplast Single Nucleotide Polymorphism (SNP) markers were developed in recent studies due to their greater abundance in the genome and better resolution of populations [20, 21]. Since SNP detection can be easily multiplexed and applied to large populations, species differentiation using SNP markers is more practical and conducive to larger experiments.
To identify hybrids, chloroplast markers alone are insufficient, as they are dominant and only indicate maternal ancestry; however, chloroplast markers may be complemented with markers from the nuclear genomes of these species. To date only limited genomic resources are available for TK and TO; 16,441 expressed sequence tags (ESTs) derived from TK root RNA can be found on the National Center for Biotechnology Information (NCBI) (Collins J, Whalen MC, Nural-Taban AH, Scott D, Hathwaik U, Lazo GR, Cox K, Durant K, Woolsey R, Schegg K, et al. Genomic and proteomic identification of candidates genes and proteins for rubber biosynthesis in Taraxacum kok-saghyz (Russian dandelion). 2009. Unpublished; Shintani D. Using EST from Taraxacum kok-saghyz root cDNA library to generate candidate rubber biosynthetic genes. 2005. Unpublished). More EST data obtained from whole plants (41,294 ESTs, 16,858 unigenes) are available for TO [22, 23]. No TB sequence data have been reported.
In this study, chloroplast genomes have been sequenced for TK, TB and TO and chloroplast markers have been developed and validated. At the same time, nuclear markers were developed using previously published ESTs. The genomic and marker resources described in this paper will not only provide a molecular toolkit for germplasm identification and purification, but also allow accurate gene flow studies between TK and TO.
Discussion
In this study, we generated chloroplast genomes for three
Taraxacum
species using Illumina GAII and MiSeq platforms, which provide important resources for ecological, evolutionary, and genetic engineering studies. The TO chloroplast genome was compared to previously published data and showed highly similarity in genome size and structure, gene number, as well as GC content [
51
]. Using chloroplast sequences obtained here, and online EST data, we were able to develop species-specific and intraspecific molecular markers, which are essential tools for germplasm purification and gene flow studies. The relationship between different types of molecular markers and species differentiation are summarized in Fig.
4
. In our study, we developed new strategies to conduct chloroplast sequencing to facilitate species-specific marker discovery. By pooling multiple genotypes with normalized molarity into one library, and sequencing three libraries in one MiSeq run, a wide range of variation was detected at low cost. After SNP calling, we further validated the candidate markers using populations containing a wide germplasm collection. Not all the candidate markers revealed by sequencing were confirmed as species-specific markers, indicating that only using sequencing data from limited genotypes is not sufficient to develop reliable species-specific markers. Gel-based assays used in this study allowed us to develop species-specific markers which can be used through broad populations, which is especially critical for outcrossing species (e.g. TK) and species with widespread geographic distribution (e.g. TO).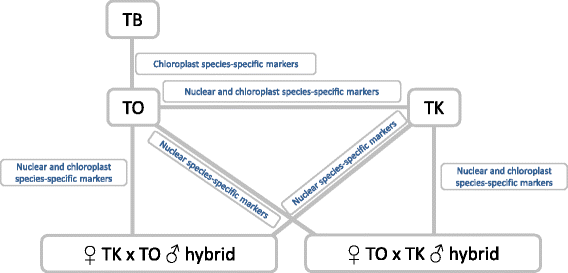 It is expected that the most likely avenue of hybridization between TK and TO is the pollination of TK by TO, as the majority of TO are obligate apomicts [10, 11]. TK was introduced into the U.S. during the Emergency Rubber Project in 1942, where it was hastily cultivated at 152 locations in 40 states as a source of rubber [5]. Although the project was abandoned in 1944 [5], the massive introduction of TK gave considerable opportunity for gene flow between TK and its weedy relative TO. Although no TK plants appear to have persisted, no gene flow risk assessment between these two species has been reported. Maternally inherited chloroplast species-specific markers provided in this study can be used to detect ancestral hybridization in the field between TK mothers and TO fathers, even when many decades of potential backcrosses may have masked the TK phenotype in such hybrids. The recent development of TK as an alternative rubber resource has prompted new germplasm introductions from Uzbekistan and Kazakhstan in 2006 and 2009, respectively. These markers can also be used to proactively detect recent hybridizations, which may now be occurring.
In this study, intraspecific chloroplast and nuclear markers have been discovered, which may have uses in population genetics to test correlations between genetic information carried by chloroplast and nuclear genomes and geographic or environmental data. Intraspecific markers can be used to characterize population structures, revealing information about local adaptation, important evolutionary events and genetic communication frequencies. Additionally, intraspecific nuclear markers also can be used to validate hybrids in controlled crosses, develop genetic maps and conduct marker assisted breeding.
When the chloroplast sequences of TK, TO, and TB were compared, it became apparent that TK and TB were highly similar. Moreover, all four gel-based markers that could discriminate TK and TO could not distinguish TK from TB. These results suggested that TB and TK might share a maternal ancestor. This result supports the finding that the triploid genome of TB is composed of two copies of the TK genome with one copy of an unknown dandelion species (personal communication with Dr. J. Kirschner, Institute of Botany, Academy of Sciences, 25243, Průhonice 1, Czech Republic, 2010). This study may enable additional research on Taraxacum chloroplast diversity, by demonstrating a complement of primers that can amplify entire chloroplast genomes. Furthermore, it may inform chloroplast sequencing efforts to resolve Taraxacum phylogenies, by revealing which regions may have higher interspecific diversity.
The complete annotated chloroplast sequences for TK, TO, and TB allows the development of chloroplast engineering within Taraxacum. The availability of the native chloroplast sequences of an organism can allow constructs to be designed to more readily achieve homologous recombination [52]. Chloroplast engineering is a powerful tool that provides a high level of transgene expression because of the polyploid nature of chloroplast genomes and the large number of chloroplasts present in a single plant cell [53]. Furthermore, chloroplast engineering should prevent the escape of transgenes via pollen, as chloroplasts are maternally inherited [54, 55]. Chloroplast engineering also allows multigene transformation and chloroplast gene manipulation [56]. This research may enable chloroplast engineering in TK and TB to divert additional assimilate to rubber production [57].
Conclusions
The chloroplast sequences obtained from multiple genotypes within each of the three dandelion species investigated, along with online EST data, allowed us to develop species-specific and intraspecific molecular markers. The availability of chloroplast genomes of these three dandelion species, as well as chloroplast and nuclear molecular markers, provides a powerful genetic resource for germplasm differentiation and purification, and the study of potential gene flow among Taraxacum species. This will further facilitate ecological, evolutionary, and genetic engineering studies for these three species, and significantly accelerate the development of TK as a domestic rubber-producing crop.
Abbreviations
AFLP:

Amplified fragment length polymorphism
CAPS:

Cleaved amplified polymorphic sequences
CTAB:

Cetyl trimethylammonium bromide
DOGMA:

Dual Organellar GenoMe Annotator
EST:

Expressed sequence tag
IR:

Inverted repeat
LSC:

Large single copy
MB:

Megabase
MCIC:

The molecular and cellular imaging center
NCBI:

National Center for Biotechnology Information
OARDC:

Ohio Agricultural Research and Development Center
OGDRAW:

OrganellarGenomeDRAW
ORF:

Open reading frame
PCR:

Polymerase chain reaction
SNP:

Single nucleotide polymorphism
SSC:

Small single copy
TB:

Taraxacum brevicorniculatum
TK:

Taraxacum kok-saghyz
TO:

Taraxacum officinale
Declarations
Acknowledgements
We thank Dr. Tea Meulia, Dr. Asela Wijeratne, Saranga Wijeratne and Maria Elena Hernandez-Gonzalez from The Molecular and Cellular Imaging Center (MCIC) in Ohio Agricultural Research and Development Center (OARDC) for their sequencing and assembly support, and Dr. Wenshuang Xie and Dr. Joshua Blakeslee for their assistance in the chloroplast DNA preparation.
Funding
We thank USDA National Institute of Food and Agriculture (Hatch project 230837) and OSU OARDC SEEDS grant 2011-004 for financial support.
Availability of data and material
The complete chloroplast genomes of TK, TO, and TB were submitted to the NCBI database with GenBank accession numbers KX198560 (TK), KX198561 (TO), and KX198559 (TB). Other data used in the analysis are included within the article and the additional files.
Authors' contributions
KC coordinated the study. YZ, BJI and KC designed the experiments. YZ and BJI prepared the chloroplast DNA samples for sequencing. YZ carried out genome annotation, comparison analysis and marker validation. BJI assembled nuclear EST data and discovered nuclear SNP markers. XZ assembled chloroplast genomes, conducted chloroplast SNP calling and phylogenetic analysis. JC provided the plant materials for this study. YZ and XZ prepared figures and tables. All authors participated in the manuscript writing and gave final approval for publication.
Competing interests
The authors declare that they have no competing interests.
Consent for publication
Not applicable.
Ethics approval and consent to participate
Not applicable.
Open AccessThis article is distributed under the terms of the Creative Commons Attribution 4.0 International License (http://creativecommons.org/licenses/by/4.0/), which permits unrestricted use, distribution, and reproduction in any medium, provided you give appropriate credit to the original author(s) and the source, provide a link to the Creative Commons license, and indicate if changes were made. The Creative Commons Public Domain Dedication waiver (http://creativecommons.org/publicdomain/zero/1.0/) applies to the data made available in this article, unless otherwise stated.
Authors' Affiliations
(1)
Department of Horticulture and Crop Science, The Ohio State University, Ohio Agricultural Research and Development Center, Wooster, USA