Methodology article

Open Access
Direct imaging of glycans in Arabidopsis roots via click labeling of metabolically incorporated azido-monosaccharides
BMC Plant Biology
BMC series – open, inclusive and trusted
2016
16:220
Received: 15 July 2016
Accepted: 26 September 2016
Published: 10 October 2016
Abstract
Background
Carbohydrates, also called glycans, play a crucial but not fully understood role in plant health and development. The non-template driven formation of glycans makes it impossible to image them in vivo with genetically encoded fluorescent tags and related molecular biology approaches. A solution to this problem is the use of tailor-made glycan analogs that are metabolically incorporated by the plant into its glycans. These metabolically incorporated probes can be visualized, but techniques documented so far use toxic copper-catalyzed labeling. To further expand our knowledge of plant glycobiology by direct imaging of its glycans via this method, there is need for novel click-compatible glycan analogs for plants that can be bioorthogonally labelled via copper-free techniques.
Results
Arabidopsis seedlings were incubated with azido-containing monosaccharide analogs of N-acetylglucosamine, N-acetylgalactosamine, l-fucose, and l-arabinofuranose. These azido-monosaccharides were metabolically incorporated in plant cell wall glycans of Arabidopsis seedlings. Control experiments indicated active metabolic incorporation of the azido-monosaccharide analogs into glycans rather than through non-specific absorption of the glycan analogs onto the plant cell wall. Successful copper-free labeling reactions were performed, namely an inverse-electron demand Diels-Alder cycloaddition reaction using an incorporated N-acetylglucosamine analog, and a strain-promoted azide-alkyne click reaction. All evaluated azido-monosaccharide analogs were observed to be non-toxic at the used concentrations under normal growth conditions.
Conclusions
Our results for the metabolic incorporation and fluorescent labeling of these azido-monosaccharide analogs expand the possibilities for studying plant glycans by direct imaging. Overall we successfully evaluated five azido-monosaccharide analogs for their ability to be metabolically incorporated in Arabidopsis roots and their imaging after fluorescent labeling. This expands the molecular toolbox for direct glycan imaging in plants, from three to eight glycan analogs, which enables more extensive future studies of spatiotemporal glycan dynamics in a wide variety of plant tissues and species. We also show, for the first time in metabolic labeling and imaging of plant glycans, the potential of two copper-free click chemistry methods that are bio-orthogonal and lead to more uniform labeling. These improved labeling methods can be generalized and extended to already existing and future click chemistry-enabled monosaccharide analogs in Arabidopsis.
Keywords
Click chemistry
Arabidopsis thaliana
Cell wall
Glycans
l-Arabinofuranose
d-Glucosamine
d-Galactosamine
l-Fucose
Metabolic oligosaccharide engineering
Background
All plant cells are covered by a dense layer of carbohydrates (glycans), called the glycocalyx. It is the glycocalyx that is first encountered by other cells, including microbes. Glycans are also found on more than 50 % of plant proteins as an important post-translational modification that directly influences protein functioning [1]. Hence it is not surprising that glycans play essential roles in a myriad of biological processes in all stages of plant development, such as cell-cell communication [2], control of metabolism, growth, stress response [3] and external signalling, thereby also tied to the rhizosphere [4–6]. Glycans thus play a crucial but not well understood role in plant health and disease. Developing techniques to better study plant glycans and increase our understanding of and control over their role is an essential next step in plant sciences.
Due to the non-template driven formation of glycans it is not possible to use genetically encoded protein-based fluorescent tags to image and study glycans directly. Externally added protein-based probes, usually fluorescently-labeled lectins, image the glycans indirectly and are only able to image glycans exposed on the most outer layer of the cell surface glycocalyx [7, 8].
Another approach, however, exists that allows the direct imaging of plant glycans. Glycans, especially in plants, usually have highly complex and diverse structures containing monosaccharides such as glucose, N-acetylglucosamine, galactose, l-arabinose, xylose, l-fucose and 3-deoxy-d-manno-oct-2-ulosonic acid (KDO) [9–11]. Besides their de novo biosynthesis, these monosaccharides and their derivatives can also be recycled by plant cells [12]. Through uptake of extracellular monosaccharides and by intracellular catabolism of complex plant glycans, these monosaccharides can be recycled through the glycan salvage pathways. Using this recycling pathway the monosaccharides again end up in plant cell-surface glycans and its glycoproteins [13]. Glycans and their conjugates are biosynthesized by glycosyltransferases present in the Golgi apparatus and endoplasmic reticulum (ER). The composition and levels of glycans in the glycocalyx and in proteins depends on the presence and levels of these enzymes and their activated monosaccharide donor substrates [12].
The metabolic incorporation of monosaccharide analogs with a latent imaging tag via these pathways would allow for the direct imaging of plant glycans (Fig.
1
) [
12
]. These incorporated monosaccharide analogs can be visualized and studied through a tag that enables click chemistry, which allows for rapid, specific and versatile covalent labeling of plant glycans with a fluorescent reporter molecule [
14
,
15
]. This technique is called Metabolic Oligosaccharide Engineering (MOE) and it has already been widely applied for studying glycobiology in various organisms, with the notable exception of plants [
16
]. Indeed, only in 2012, the first application of MOE with click-compatible monosaccharide analogs in plants was reported by Anderson et al. in which fucosylated plant glycans were fluorescently imaged in
Arabidopsis thaliana
(Col-0) seedlings [
17
]. Two other click-compatible monosaccharide analogs were reported recently, namely, 6-deoxy-alkynyl-glucose that incorporates in Arabidopsis root hair tips [
18
], and 8-azido-8-deoxy-KDO, a probe analogous to KDO that is present in the cell wall pectic polysaccharide, rhamnogalacturonan II [
19
]. To further expand our knowledge of plant glycobiology by direct imaging of glycans, there is need for click chemistry-compatible glycan analogs for other plant monosaccharides. In addition, the click chemistry compatible glycan analogs in plants documented so far were labeled using toxic copper-labeling, and future applications would benefit from bio-orthogonal copper-free labeling techniques.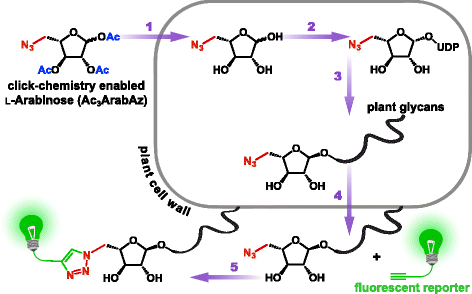 We investigated five glycans:
N
-acetyl-
d
-glucosamine,
l
-fucose and
l-
arabinose - which are all known to be present in the glycocalyx of Arabidopsis [
11
,
20
] - and
N
-acetyl-
d
-galactosamine (GalNAc) and
N
-acetyl-
d
-mannosamine. While the latter two glycans are not known to be present in plant glycans, it was recently discovered that UDP-GalNAc is present and transported in the ER of Arabidopsis [
21
], indicating that GalNAc is metabolized by plants. In this technical advance paper we expand the monosaccharide analog toolbox (Fig.
2
) for metabolic labeling of glycans in Arabidopsis seedlings. Furthermore, the glycan analogs reported so far in plants use a Cu(I)-catalyzed cycloaddition, however, this is cytotoxic for Arabidopsis [
22
] and microbes in soils [
23
] making this method less suitable for long-term and more complex experiments with living plants. Therefore we investigated the possibilities of bio-orthogonal copper-free click reactions in Arabidopsis roots.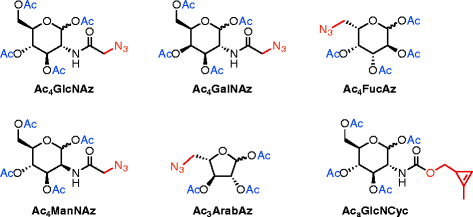 Conclusions
In this study, the toolbox of clickable monosaccharide analogs for glycan labeling in Arabidopsis seedlings has been expanded to allow the incorporation and direct visualization of five relevant plant monosaccharide analogs in complex cell wall-bound glycans. The clickable glycan analogs Ac4GlcNAz, Ac3ArabAz, Ac4FucAz and Ac4GalNAz were successfully metabolically incorporated and visualized in glycans of Arabidopsis seedling roots. The novel Ac3ArabAz for the first time allows for direct imaging of l-arabinose, one of the most common plant O-glycans and an important constituent of plant cell wall polysaccharides [27–30]. The incorporation of Ac4GalNAz we observe supports the possibility of an epimerase in Arabidopsis that converts GalNAz to GlcNAz. During the preparation of this manuscript Chen and coworkers reported on the metabolic incorporation and imaging of N-linked glycans in Arabidopsis with Ac4GlcNAz [24]. Our here reported results with this azido-monosaccharide are in correspondence with their work, and provide additional details on Ac4GlcNAz metabolic incorporation and imaging through the glycan salvage pathway. For example, we show that Ac4GlcNAz is already being incorporated after 4 h and that GlcNAz (non-acetylated) can also be salvaged, probably via active transport, within 2 h. Finally, earlier reports on the metabolic incorporation and imaging of monosaccharide analogs, including Ac4GlcNAz, rely solely on labeling through copper-catalyzed click chemistry. Although copper-catalyzed click reactions often work well, the toxicity of copper here led to damage of the cell wall, emphasizing the need for copper-free clickable analogs for long-term or spatiotemporal experiments. We here show for the first time that the strain-promoted azide-alkyne cycloaddition (SPAAC) and inverse electron demand Diels-Alder (invDA) click reactions allow for improved imaging of metabolic labeling with our azido-monosaccharides and a cyclopropene-GlcNAc derivative. The application of these improved copper free labeling methods can be generalized and extended to already existing and future click chemistry-enabled monosaccharide analogs in Arabidopsis. Taken together with the fact that the SPAAC and invDA reactions are bio-orthogonal and orthogonal with respect to each other, this will allow for in vivo and dual plant glycan labeling applications. Overall our results here and other recently published studies [18, 19, 24] promise a bright future for the Metabolic Oligosaccharide Engineering (MOE) methodology to enable the direct spatiotemporal imaging of complex glycans in living plants [16].
Methods
Growth of Arabidopsis Thaliana
Wild type Arabidopsis thaliana (Col-0) seeds were surface sterilized in a mixture of commercial bleach and ethanol (v/v; 1/4) for 15 min followed by washing with ethanol (2 times) and drying. First a cold shock was applied on all sterilized seeds by placing them in a fridge (5 °C) for at least 2 days with a maximum of one week while on filter paper, pre-wetted with 2 mL Milli-Q water, in a petri dish. Seeds were grown on half Murashige and Skoog medium (MS) [49] with vitamins in a petri dish (0.8 % plant agar) in a climate room on the shelf lit by Philips 36 W/840 lamps (120 μmol/m2 s) under long-day conditions (16 h light/8 h dark) at 22 °C. Young seedlings of 4 or 5 days old were used for incubation experiments.
Incubation of Arabidopsis
Five young seedlings were put together in single well of a 24-well plate containing click-compatible azido-monosaccharide in half MS. After incubation time, 5 wells were filled with 2 mL half MS medium containing 0.05 % Tween 20. Plants were dipped in each well for 15 s to wash away the excess of azido-monosaccharide. The seedlings were directly transferred to a new 24-well plate for labeling through either a 1) copper-catalyzed click-labeling 2) a SPAAC labeling or 3) a Diels alder-cycloaddition labeling.
Copper-catalyzed click-labeling
Click-iT cell reaction kit (supplier: Invitrogen) was used for all copper-catalyzed "click" reactions. The labeling was carried out according to the procedure in the manual of Invitrogen except for the reaction time that was prolonged to 45 min. For the Alexa-fluor 488 fluorophore a concentration of 0.1 μM was found to be the most optimal. The excess of fluorophore was removed by washing the seedlings 4× in 2 mL half MS containing 0.05 % Tween 20. Duration of the sequential washings steps were respectfully 5, 10, 5 and 10 min. After washing the seedlings were stored for with a maximum time of 2 h in half MS (not containing Tween 20) before visualization by confocal microscopy.
SPAAC labeling
SPAAC reactions were performed in 2 mL of 1 μM DBCO-PEG4-ATTO-488 in half MS medium. Reaction time was 1 h. Washing and storage was similar to the copper-catalyzed click reaction described above. The washing times were prolonged to 4 × 10 min.
Diels-Alder cycloadditions
Reactions were performed in 1 mL of 15 μM Tetrazine-ATTO-488 in half MS medium. All other procedures were similar to the SPAAC reactions described above.
Seedling fixation with paraformaldehyde
As a negative control, seedlings were fixated in 4 % paraformaldehyde solution in PBS (commercially available). Five seedlings were put together in 2 mL of the paraformaldehyde solution for 30 min. Afterwards seedlings were washed two times in 2 mL 0.5 MS before incubation with click-compatible azido-monosaccharides as discussed before.
Toxicity test
Toxicity tests were performed based on growth of the plant. Agar plates containing the described azido-monosaccharides analogs were used for the growth experiments with young Arabidopsis seedlings for 8 days. Azido-monosaccharides were added after sterilization of the medium, when it was cooled down to approximately 60 °C and before pouring the medium in a petri dish. Arabidopsis seedlings were subsequently germinated and grown on agar plates containing the different azido-monosaccharide solutions in ½ MS with 0.8 % plant agar. After 8 days of growth, the white part of the root was measured from leaves till root tip.
Microscopy and image analysis
Roots of seedlings were imaged with a Leica TCS SP8 confocal microscope (488 nm laser excitation, 534-571 emission filter and 600-650 emission filter for PI) using a 40X water immersion objective. Image J was used to process images. All images within the same experiment were adjusted to the same color balance. Mean fluorescence was calculated in Image J (rsbweb.nih.gov/ij) using freehand tool to select the cell boundary of epidermal cells and to measure the mean pixel intensity. The standard deviation was determined based on the difference in the fluorescence intensity throughout the cells of a seedling. Data of those cells were collected from 3–4 seedlings per treatment and imaged using identical exposure settings.
General information and methods for synthesis
Ac4GlcNAz, Ac4GalNAz and GlcNCyc were prepared according to literature procedures [26]. GlcNCyc was prepared according to a literature procedure by Presher [47] and Wittmann et al. [48], while the synthesis of one of the intermediates in this synthesis – the cyclopropane tag – has been adapted and described in Additional file 13. The synthesis of Ac4FucAz, Ac3ArabAz are described in Additional file 13.
Abbreviations
Ac3ArabAz:

1,2,3, Tri-O-acetyl-5-azido-5-deoxy- l-arabinofuranose
Ac4FucAz:

1,2,3,4-tetra-O-acetyl-6-azido-l -fucose
Ac4GalNAz:

1,3,4,4-tetra-O-acetyl-N-azidoacetyl-α,β-d-galactosamine
Ac4GlcNAz:

1,3,4,4-tetra-O-acetyl-N-azidoacetyl-α,β-d-glucosamine
Ac4ManNAz:

1,3,4,4-tetra-O-acetyl-N-azidoacetyl-α,β-d-mannosamine
DBCO:

Dibenzocyclooctyne
DMSO:

Dimethyl sulfoxide
GalNAc:

N-acetyl-d-galactosamine
GlcNAz:

N-azidoacetylglucosamine
GlcNCyc:

1,3,4,4-tetra-O-acetyl-N-methylcyclopropene-α,β-d-glucosamine
PI:

Propidium iodide
SPAAC:

Strain promoted azido-alkyne click chemistry
Declarations
Acknowledgements
The authors thank Martijn Fiers for support during trial experiments and Martinus Schneijderberg, Olga Kulikova for assistance during experiments.
Funding
This work was financially supported by the Netherlands Foundation for Scientific Research (NWO) via ChemThem: Chemical Biology grant (728.011.105) and VIDI grant (723.014.005).
Authors' contributions
Conceived and designed the experiments: JH, NB, RG and TW. Performed the experiments and compiled the data: NB, JH and DC. Analyzed the data: JH, NB, RG and TW. Wrote the paper: JH, NB, RG, HZ and TW. All authors have read and approved this manuscript.
Competing interests
The authors declare that they have no competing interests.
Consent for publication
Not applicable.
Ethics approval and consent to participate
Not applicable.
Open AccessThis article is distributed under the terms of the Creative Commons Attribution 4.0 International License (http://creativecommons.org/licenses/by/4.0/), which permits unrestricted use, distribution, and reproduction in any medium, provided you give appropriate credit to the original author(s) and the source, provide a link to the Creative Commons license, and indicate if changes were made. The Creative Commons Public Domain Dedication waiver (http://creativecommons.org/publicdomain/zero/1.0/) applies to the data made available in this article, unless otherwise stated.
Authors' Affiliations
(1)
Laboratory of Organic Chemistry, Wageningen University, Wageningen, The Netherlands
(2)
Department of Chemical Biology and Drug Discovery, Utrecht Institute for Pharmaceutical Sciences and Bijvoet Center for Biomolecular Research, Utrecht University, Utrecht, The Netherlands
(3)
Department of Plant Science, Laboratory of Molecular Biology, Wageningen University, Wageningen, The Netherlands