Research article

Open Access
Transcriptome profiling analysis for two Tibetan wild barley genotypes in responses to low nitrogen
BMC Plant Biology
BMC series – open, inclusive and trusted
2016
16:30
Received: 5 October 2015
Accepted: 21 January 2016
Published: 27 January 2016
Abstract
Background
Nitrogen (N) is the most common limiting factor for crop productivity worldwide. An effective approach to solve N deficiency is to develop low N (LN) tolerant crop cultivars. Tibetan annual wild barley is well-known for its wide genetic diversity and high tolerance to poor soil fertility. Up to date, no study has been done to illustrate the mechanism of LN tolerance underlying the wild barley at transcriptional level.
Results
In this study, we employed Illumina RNA-Sequencing to determine the genotypic difference in transcriptome profile using two Tibetan wild barley genotypes differing in LN tolerance (XZ149, tolerant and XZ56, sensitive). A total of 1469 differentially expressed genes (DEGs) were identified in the two genotypes at 6 h and 48 h after LN treatment. Genetic difference existed in DEGs between XZ149 and XZ56, including transporters, transcription factors (TFs), kinases, antioxidant stress and hormone signaling related genes. Meanwhile, 695 LN tolerance-associated DEGs were mainly mapped to amino acid metabolism, starch and sucrose metabolism and secondary metabolism, and involved in transporter activity, antioxidant activities, and other gene ontology (GO). XZ149 had a higher capability of N absorption and use efficiency under LN stress than XZ56. The higher expression of nitrate transporters and energy-saving assimilation pattern could be attributed to its more N uptake and higher LN tolerance. In addition, auxin (IAA) and ethylene (ETH) response pathways may be also related to the genotypic difference in LN tolerance.
Conclusion
The responses of XZ149 and XZ56 to LN stress differed dramatically at transcriptional level. The identified candidate genes related to LN tolerance may provide new insights into comprehensive understanding of the genotypic difference in N utilization and LN tolerance.
Keywords
Barley
Low N tolerance
RNA-Seq
Genotypes
Differentially expressed genes
Background
Nitrogen (N) is an essential mineral nutrient element for plant growth and development [1], which serves as a constituent of many important macro-molecules, including proteins, enzymes, and several plant hormones [2–4]. On the whole, it is a major limiting factor for crop production in the world. Commonly, plants are often exposed to N deficient conditions with the situation becoming more severe due to increasingly-declined soil fertility and widely planted high-yield crop cultivars. Hence, a great amount of N fertilizer is applied to meet N requirement by crops [3], which not only increases the cost for farmers but also brings the environmental problems. In addition it is well documented that only less than half of the applied N fertilizer is used by crops [5], with the surplus contributing to severe environmental pollution. Therefore, it is extremely imperative and important to develop crop cultivars with high LN tolerance or N use efficiency (NUE), as it is a basic and also the most efficient approach for coping with low N availability in the soil and insufficient N fertilizer supply.
Actually, plants have evolved many adaptive responses for coping with LN condition. Moreover, it was found that such N limitation adaptability in crops is closely associated with their yield performance [6, 7]. Thus, genetic improvement of LN tolerance in crops would be of significance for developing sustainable agriculture. On the other hand, it has been well documented that NUE is a genetically controlled trait, differing dramatically among genotypes, such as in Arabidopsis [8], as well as in crops including wheat, rice, maize and barley [9–12]. However, narrower genetic diversity in cultivated barley has become a bottleneck for genetic improvement [13]. On the other hand, the Tibetan annual wild barley, growing in the Tibetan Plateau, which has been proved to be one of the centers of cultivated barley [14], contains accessions with high tolerance to abiotic stresses, such as drought, salinity and potassium deficiency [15–17]. Meanwhile, the wild barley shows generally better adaption to poor soil fertility, and we also have identified some wild barley genotypes with high LN tolerance in a previous study [18]. Therefore, it may be assumed that the wild barley contains some unique mechanisms of LN stress tolerance.
RNA-Seq, one of next-generation high-throughput sequencing technologies, has been widely used recently, due to low background noise, high sensitivity and reproducibility, great dynamic range of expression and base-pair resolution for transcription profiling [19]. Using this technique, transcriptomic profiles of many plants have been dissected under any given conditions, including biotic and abiotic stresses, such as heat stress [20] and drought stress [21]. Recently, this method has been also performed on some crops, viz rice, sorghum and cucumber [22–24], to investigate the mechanism of LN stress tolerance.
In our previous research, we found a large genetic variation in LN tolerance among the wild barley accessions [18]. However, up to date, no study has been done to analyze the genetic difference of transcriptomic profiles in response to LN stress. It is imperative for us to reveal the underlying mechanism or to explore the relevant genes of LN tolerance in wild barley. In this study, a comprehensive transcriptome analysis was conducted on two wild barley accessions (XZ149, LN-tolerant and XZ56, LN-sensitive), according to a previous study [18]. The main objectives of the current study were to understand the mechanisms of LN tolerance existed in wild barley; and to determine the signaling pathways and regulatory networks of LN tolerance.
Methods
Plant materials and treatments
The experiment was carried out in a greenhouse at Zijingang Campus, Zhejiang University, China. Healthy seeds of two wild barley genotypes (XZ149, LN-tolerant and XZ56, LN-sensitive) were disinfected with 2 % H2O2 for 30 min, rinsed thoroughly with distilled water 5 times, and then soaked for 6 h at room temperature. Then the seeds were moved onto moist filter papers in germination boxes, which were placed in a growth chamber (22/18 °C, day/night) at dark for 3 days, and then incubated for another 7 days with light. At the second leaf stage (10-day old), the similar seedlings were transplanted into black plastic pots (5 L). Endosperm was removed away from the seedlings when they were transplanted, so as to eliminate nutrient supply from seeds. The used full-strength nutrient solution was the same as that reported by Yang et al. [18]. The pH of the solution was adjusted to 5.8 ± 0.1 with NaOH or HCl as required, and was continuously aerated with pumps and renewed every five days. Low N treatment was initiated on the three-leaf-stage seedlings, with 0.2 mM N as LN treatment and 2 mM N as normal level (control).
For biomass and N content determination, the seedlings were harvested and separated into shoots and roots, at 14 d after LN treatment. All the plant samples were heated at 105 °C for 30 min, dried at 80 °C until their weight remained constant, and then dry weight was recorded. N content was determined using Foss Kjeltec 8400.
In order to know the time course of gene HvNRT2.1 expression under LN stress, the roots of XZ149 were sampled with three biological replicates at 3 h, 6 h, 12 h, 24 h, 48 h, 4 d, and 8 d after LN treatment, frozen in liquid nitrogen immediately, and stored at −80 °C for use in RNA extraction.
RNA-Seq sampling, RNA extraction and quality control
For RNA-Seq sampling, the seeds of XZ149 and XZ56 were incubated at the same condition as mentioned above. The samples were taken at 6 h and 48 h after exposure to LN stress (0.2 mM) and control (2 mM), respectively. Roots of four seedlings for each treatment were collected and mixed together at each time point. All samples [totally 16, 2 genotypes (XZ149, LN tolerant and XZ56, LN sensitive) × 2 treatments (LN stress and control) × 2 time points (6 h and 48 h) × 2 biological replications] were prepared for further RNA-Seq analysis.
Total RNA was extracted according to the instructions of miRNeasy mini kit (QIAGEN, Germany). RNA degradation and contamination were monitored on 1 % agarose gels. RNA purity was examined using the NanoPhotometer® spectrophotometer (IMPLEN, CA, USA). RNA concentration was determined using the Qubit® RNA Assay Kit in a Qubit® 2.0 Fluorometer (Life Technologies, CA, USA). RNA integrity was analyzed using the RNA 6000 Pico Assay Kit of the Agilent 2100 Bioanalyzer (Agilent Tecnologies, Santa Clara, CA, USA).
RNA-Seq library construction, sequencing and reads mapping
Sequencing libraries were generated using the Illumina TruSeq™ RNA Sample Preparation Kit (Illumina, San Diego, CA, USA) following the manufacturer`s instructions. Initially, mRNA was purified from the total RNA using poly-T oligo-attached magnetic beads. Then the purified mRNA was fragmented using divalent cations under elevated temperature in Illumina proprietary fragmentation buffer, and reversely transcribed into cDNA using SuperScript II (Invitrogen, Carlsbad, CA, USA). Illumina paired-end sequencing adapters were ligated for preparation of hybridization after making adenylation of the 3' ends of DNA fragments. In order to preferentially select cDNA fragments of 150 bp, the library fragments were purified using an AMPure XP system (Beckman Coulter, Beverly, USA). With ligated adapters on both ends, DNA fragments were selectively amplified and enriched. Then PCR products were purified again using an AMPure XP system and quantified by Agilent Bioanalyzer 2100 system. Finally, each final cDNA library was applied on one lane of the Illumina paired-end flow cell for the cluster generation processing, and subsequently sequenced on an Illumina NextSeq 500 platform, thus generating 2 × 75 bp pair-ends reads.
The raw reads were generated through the Illumina data processing pipeline (version 1.8). For further analysis, the clean data were obtained by removing low quality bases, empty reads and adaptor sequences at the 3' end from the raw reads. Meanwhile, the Q20, Q30, GC contents, and sequence duplication level of the clean data were calculated. We downloaded the barley genome sequence and annotation data, and used the ultra high-throughput short read aligner to align RNA-Seq reads to the barley reference genomes on TopHat (http://tophat.cbcb.umd.edu/), and then identified splice junctions between exons by analyzing the mapping results.
Identification of the DEGs and validation of RNA-Seq by quantitative RT-PCR
For gene expression analysis, FPKM (fragments per kilo-base of exon per million fragments mapped reads) was calculated at expression level [25]. The difference in expression between control and treatment (two biological replicates per time point) was analyzed using the DESeq R package (1.10.1) [26]. A FDR (false discovery rate) was set as 0.05 for the threshold of DEGs [27].
To confirm the validation of the RNA-Seq results, 1 μg total RNA of each sample for RNA-Seq was used for real-time quantitative PCR assays. After eliminating the genomic DNA contamination, first strand cDNA was synthesized with oligo dT primer and Random 6 mers in a 20 μl reaction (Takara, Japan). All quantitative RT-PCR (qRT-PCR) analyses were done in two biological replicates and three technical replicates using a CFX96 system (Bio-Rad, USA). The PCR profiles were as follows: 30 s at 95 °C for pre-denaturation, 40 cycles of 5 s at 95 °C for denaturation and 30 s at 60 °C for annealing, followed by Melt-Curve analysis (60 °C - 95 °C, 0.5 °C increment for 5 s per step) to test the amplicon specificity. For relative quantification, the comparative CT method was used [28]. The amplification of HvGAPDH sequence was used as an endogenous reference to normalize all the data. The gene-specific primers were designed using primer-blast (http:/www.ncbi.nlm.nih.gov/tools/primer-blast/), and all the primers were presented in Additional file 1: Table S1.
Analysis of GO enrichment and Kyoto Encyclopedia of Genes and Genomes (KEGG)
GO annotation and KEGG analysis for the DEGs were performed using the Blast2GO program [29] and the similar steps as reported by Zeng et al. [30]. The GOs distribution associated with DEGs were then obtained from three levels: biological process (BP), molecular function (MF) and cellular component (CC) [30]. The KEGG maps, which contained the EC numbers and enzymatic functions in many metabolic pathways were available in a variety of formats [31].
Statistical analysis
Significant differences of physiological traits and gene expression among treatments and genotypes were tested using the Duncan's Multiple Range Test (DMRT) on data processing system (DPS) statistical software, and the difference at P < 0.05 and P < 0.01 was considered as significant and highly significant, respectively.
Discussion
Nitrogen is an essential mineral nutrient required for plant growth and development. However, N deficiency in soil is becoming a big issue in crop production worldwide. It is imperative to develop the crop cultivars with high LN tolerance or NUE for coping with the issue. There is a large difference among species or genotypes within a species in LN tolerance. Relative biomass or dry weight is often used as an indicator of plant tolerance to low nutrition stress [37, 38]. In the present study, the differences in growth performance between the two wild barley genotypes proved our previous result that XZ149 is more tolerant to LN stress than XZ56, and the results also indicated that XZ149 had the higher capability of N absorption and translocation than XZ56. Meanwhile, we used the RNA-Seq to reveal the differences of the transcriptome profiling between the two wild barley genotypes under low N stress. Clearly, there is a distinct difference in the transcriptional level between the two genotypes in their responses to LN.
Conclusion
Identification of DEG transcripts in plants under LN stress would reveal the genetic mechanism of LN tolerance. Here, the results of RNA-Seq analysis (all the sequences of the DEGs were available in Additional file
10
: Table S8) demonstrated that there was the dramatic difference at transcriptional level between the two Tibetan wild barley genotypes in response to LN stress. Accordingly, a hypothetical model was developed for the mechanism of LN tolerance in XZ149 (Fig.
7
). We deduced that more N absorption, less energy-consuming N assimilation pattern, more energy-producing model, which is contributed to high LN tolerance, may explain its well growth performance under LN stress. In addition, the current study identified some candidate genes related to LN tolerance, and cast a light on comprehensive understanding of the genotypic difference in N utilization and LN tolerance.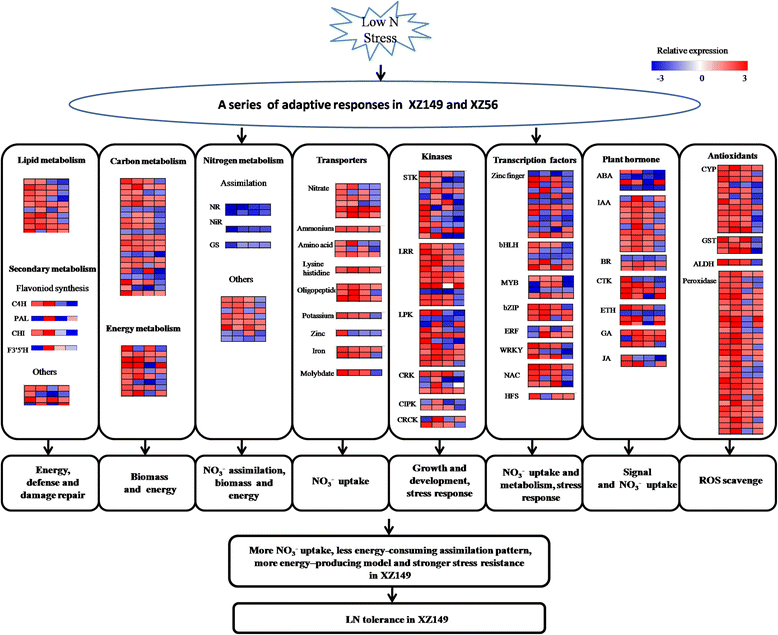 Availability of data and materials
The datasets supporting the conclusions of this article are included within the article and its additional files.
Abbreviations
4CL:

p-Coumaroyl CoA synthase
ABA:

Abscisic acid
ACC:

Aminocyclopropane-1-carboxylate
ALDH:

Aldehyde dehydrogenase
ANS:

Anthocyanidin synthase
BP:

Biological process
BR:

Brassinosteroid
C4H:

Cinnamic acid 4-hydroxylase
CC:

Cellular component
CHI:

Chalcone flavanone isomerase
CIPK:

CBL-interacting protein kinase
CHS:

Chalcone synthase
CRCK:

Calmodulin-binding receptor-like cytoplasmic kinase
CRK:

Cysteine-rich receptor-like kinase
CTK:

Cytokinin
CYPs:

Cytochrome P450s
DEGs:

Differentially expressed genes
DRF:

Dihydroflavonol 4-reductase
ETH:

Ethylene
F3H:

Flavanone 3-hydroxylase
F3'H:

Flavonoid 3-hydroxylase
F3'5'H:

Flavonoid 3'5'-hydroxylase
FDR:

False discovery rate
FLS:

Flavonol synthase
GA:

Gibberellin
GO:

Gene Ontology
GOGAT 1:

Glutamate synthase 1
IAA:

Auxin
JA:

Jasmonic acid
KEGG:

Kyoto Encyclopedia of Genes and Genomes
LN:

Low nitrogen
LPK:

Lectin protein kinase
LRR:

Leucine-rich repeat receptor-like kinase
MF:

Molecular function
N:

Nitrogen
NR:

Nitrate reductase
NiR:

Nitrite reductase
PAL:

Phenylalanine ammonia-lyase
ROS:

Reactive oxygen species
STK:

Serine threonine-protein kinase
TFs:

Transcription factors
Declarations
Acknowledgments
We thank Prof. Dongfa Sun (Huazhong Agricultural University, China) for providing Tibetan wild barley accessions. This work was supported by Natural Science Foundation of China (31330055 and 31271656), China Agriculture Research System (CARS-05) and Jiangsu Collaborative Innovation Center for Modern Crop Production (JCIC-MCP).
Open AccessThis article is distributed under the terms of the Creative Commons Attribution 4.0 International License (http://creativecommons.org/licenses/by/4.0/), which permits unrestricted use, distribution, and reproduction in any medium, provided you give appropriate credit to the original author(s) and the source, provide a link to the Creative Commons license, and indicate if changes were made. The Creative Commons Public Domain Dedication waiver (http://creativecommons.org/publicdomain/zero/1.0/) applies to the data made available in this article, unless otherwise stated.
Authors' Affiliations
(1)
Agronomy Department, Institute of Crop Science, Zhejiang University, Hangzhou, China