Research article

Open Access
Ectopic shoot meristem generation in monocotyledonous rpk1 mutants is linked to SAM loss and altered seedling morphology
BMC Plant Biology
2015
15:171
Received: 18 March 2015
Accepted: 16 June 2015
Published: 7 July 2015
Abstract
Background
In dicot Arabidopsis thaliana embryos two cotyledons develop largely autonomously from the shoot apical meristem (SAM). Recessive mutations in the Arabidopsis receptor-like kinase RPK1 lead to monocotyledonous seedlings, with low (10 %) penetrance due to complex functional redundancy. In strong rpk1 alleles, about 10 % of these (i. e. 1 % of all homozygotes) did not develop a SAM. We wondered whether RPK1 might also control SAM gene expression and SAM generation in addition to its known stochastic impact on cell division and PINFORMED1 (PIN1) polarity in the epidermis.
Results
SAM-less seedlings developed a simple morphology with a straight and continuous hypocotyl-cotyledon structure lacking a recognizable epicotyl. According to rpk1's auxin-related PIN1 defect, the seedlings displayed defects in the vascular tissue. Surprisingly, SAM-less seedlings variably expressed essential SAM specific genes along the hypocotyl-cotyledon structure up into the cotyledon lamina. Few were even capable of developing an ectopic shoot meristem (eSM) on top of the cotyledon.
Conclusions
The results highlight the developmental autonomy of the SAM vs. cotyledons and suggest that the primary rpk1 defect does not lie in the seedling's ability to express SAM genes or to develop a shoot meristem. Rather, rpk1's known defects in cell division and auxin homeostasis, by disturbed PIN1 polarity, impact on SAM and organ generation. In early embryo stages this failure generates a simplified monocotyledonous morphology. Once generated, this likely entails a loss of positional information that in turn affects the spatiotemporal development of the SAM. SAM-bearing and SAM-less monocotyledonous phenotypes show morphological similarities either to real monocots or to dicot species, which only develop one cotyledon. The specific cotyledon defect in rpk1 mutants thus sheds light upon the developmental implications of the transition from two cotyledons to one.
Keywords
RPK1
Arabidopsis
Shoot meristem
SAM
Cotyledon
Monocot
Dicot
Plant embryo
Angiosperm evolution
Background
As typical representatives of dicot angiosperms, Arabidopsis thaliana seedlings display a body plan beginning with an epicotyl region harbouring the shoot apical meristem (SAM), flanked by two cotyledons and followed by the hypocotyl, which ends in a root tip carrying the root apical meristem (RAM) [1]. The initiation of cotyledons vs. SAM is largely independent, as evidenced by mutations that delete the SAM but not the cotyledons [2, 3] and vice versa [4, 5].
Although exceptions from normal cotyledon number in angiosperms are known in several genera [6] cotyledon number is a relatively constant pattern element. Modern taxonomy recognizes eudicots with two cotyledons and monocots with one cotyledon, as monophyletic groups [7, 8]. However, the mechanisms of "counting"and arranging these organs together with the SAM in order to establish the apical region are poorly understood.
The use of Arabidopsis thaliana mutants with cotyledon defects helps to get a deeper insight into this developmental process. Careful categorization of known mutants displaying cotyledon defects reveals a group, which obviously reflects more fundamental perturbations such as cell differentiation in altered meristem program [9, 10], control of meristem cell fate and lateral organ development in dornröschen [11] and division plane orientation in fass [12]. This leaves a number of seedling mutants whose defects are cotyledon specific. These mutants are regularly linked to defects in auxin synthesis and transport by the polar auxin efflux carrier PIN1, which generates auxin maxima required to induce cotyledon primordia [13, 14]. For instance, mutants of the AGC kinase PINOID (PID) and D-myo-inositol-3-phosphate synthase (MIPS) frequently produce abnormal supernumerary cotyledon numbers [15, 16] whereas combinations of pinoid (pid) with mutants of related kinases, auxin-synthesis genes and the NPH3-like gene ENHANCER OF PINOID (ENP/enp) result in cotyledon-less seedlings which retain a functional SAM [4, 5, 17–19]. In contrast, mutants specifically segregating a monocotyledonous phenotype are relatively rare and known from sic mutants in pea and mutations in the Arabidopsis receptor-like kinase RPK1 [20, 21]. The reason for this sparsity is possibly due to redundant gene functions encoded in the Arabidopsis genome. In fact, the monocotyledonous phenotype of rpk1 mutants has a maximum penetrance of ca. 10 % [21, 22], which could be elevated by adding mutations in the related TOAD2/RPK2. However, this combination simultaneously resulted in additional severe pattern effects and high frequency of embryo lethality because TOAD2/RPK2 has adopted additional functions in radial pattern formation [21, 23] and as regulator of meristem development [24].
Avoiding such pleiotropic effects rpk1-7 and rpk1-6 single mutants were recently analysed. This revealed that the primary rpk1 defect stochastically compromises epidermal cell division and PIN1 polarity during embryogenesis [22]. The defect is stochastic because the accuracy of every new cell division depends on whether the redundant RPK1-like genes achieve the required threshold of RPK1 function or not. This implies that the rpk1 defect can become manifest in different stages (time dependence) and in different regions (spatial dependence). The perturbation of epidermal cell division and PIN1 polarity in a cotyledon anlage might disturb or eliminate the establishment of an auxin maximum and lead to monocotyledonous seedlings (henceforth named monocot seedlings for convenience). The existence of SAM-less monocot seedlings suggested an interference with both cotyledon and SAM development during the early globular stage in the strong rpk1 alleles.
Here we show that SAM-less monocot seedlings retain basic SAM functions. However, they develop a simple morphology with a continuous hypocotyl-cotyledon organization that lacks a clear separation between these structures. The well-developed lamina is sometimes larger than in the wild-type. Although these monocot seedlings have initially no SAM, they have not lost the capacity to generate one. Some develop a delayed SAM or even an ectopic shoot meristem (eSM) on the adaxial side of the cotyledon. Our analyses suggest that the topological peculiarity of these monocot seedlings is linked to the loss of a spatially and timely coordinated expression of SAM specific genes during early embryogenesis, indicating a loss of positional information by altered morphology.
Discussion
The timely and spatially stochastic alteration of cell division and PIN1 polarity in the embryo epidermis of rpk1 mutants causes a variable development of the cotyledon primordia, in particular the complete loss of one cotyledon indicating an early developmental accident during globular embryo stages [22]. Later we detected that among monocots of different rpk1 alleles the loss of the SAM had a low but consistent frequency and seemed to occur together with the generation of a continuous hypocotyl-cotyledon organ lacking a discernable epicotyl region. In this study we have systematically analysed this particular phenotype. Since the SAM-less phenotype is not a specialty of a single allele, we have focussed on rpk1-7 when analysing the cellular morphology and gene expression patterns.
SAM-less rpk1 seedlings lack a recognizable organ separation and display a compromised cell differentiation when developing eSMs
The apex in Arabidopsis is formed through antagonistic activities of SAM-specific versus cotyledon/leaf specific genes [31]. Essentially, in the apex STM activates KNAT1/BP and KNAT2 (and KNAT6) directly or indirectly through repression of AS1 and AS2 [32, 33]. Conversely, a complex of the proteins AS1 (a MYB protein) and AS2 (a LOB domain protein), which recruits chromatin-remodeling factors, excludes the activity of SAM specific class I KNOX genes, in particular KNAT1/BP and KNAT2 in leaf and cotyledon tissue [27, 28, 34, 35]. Thus, with the exception of plants, which have exploited the reactivation of SAM-related genes in order to generate compound leaves [36], SAM gene activities are excluded from leaf tissue.
In cotyledon tissue of SAM-less rpk1-7 seedlings, we detected ectopic expression of the SAM-related STM, KNAT1 and KNAT2 genes together with cotyledon specific expression of AS1. This means that, antagonistic gene activities were detected within close neighbourhood in the same tissue and likely compromised cotyledon organization by generating tissues and cells with altered position, size and shape as evidenced from histological analysis. Similar profound changes in cell morphology have been observed in leaf tissue ectopically expressing single SAM specific genes (e. g. [37]). In accordance with the defect in PIN1 polarity, the disturbed vascular tissue pattern pointed to an auxin defect. Interestingly, eSMs generated rosettes with irregular phyllotactic patterns. In this context it is worth mentioning, that a balanced homeostasis of auxin and cytokinin impact on shoot development and phyllotaxis [38–40]. The development of a fused hypocotyl-cotyledon organ, at the expense of a petiole connecting hypocotyl and cotyledon, indicated severe perturbations of normal cell differentiation. In spite of these cellular disruptions, the morphology of this fused hypocotyl-cotyledon organ clearly retained the wild-type ab- and adaxial polarity in both rpk1-6 and rpk1-7 SAM-less monocots. No radialisation as reported for mutants of adaxial vs. abaxial identity genes was observed [41].
SAM loss and eSM gain in monocot rpk1-7 seedlings is likely due to timely and spatially non co-ordinated expression of SAM specific genes
Previous studies showed that, although ectopic (over-) expression of (single) KNOX genes could lead to ectopic SAMs, their stabilization required the balanced and concerted activity of stem cell identity and other SAM genes [30, 37, 42, 43]. Our study shows that this is a main problem in SAM-less rpk1-7 mutants since the analyzed genes often exhibited a non-coordinated and unbalanced activity. For instance, in one case WUS was not expressed in cotyledons of SAM-less monocots while STM, KNAT1 and KNAT2 were. The latter also seemed to be even more strongly expressed in the mutant than in the wild-type. Since WUS expression is required for SAM generation on first place [44], this explains why these seedlings lacked a shoot meristem in spite of expressing other SAM related genes. Additionally, we detected inconsistencies of expression with respect to space and timing. Seedlings with late SAMs indicated a time-delayed co-ordination. This was also corroborated by SAM-less seedlings, which revealed ectopic KNAT2 p :GUS signals while others were almost devoid of this activity. The former also showed a spatial defect since GUS staining could occur in quite different positions and with variable extension. These observations explain why eSMs are rare and have no predictable frequency. They only develop by coincidence when all required SAM related genes are active in a concerted fashion and surpass critical values. Similarly, SAMs in "normal" monocot seedlings overlapped in size with wild-type SAMs instead of showing a continuum of gradually decreasing sizes until reaching a SAM-less seedling.
SAM-less rpk1 seedlings are caused rather by lack of positional information than suppression of SAM specific gene activity
The rpk1 phenotypes raise the question whether RPK1 induces the initiation of cotyledon primordia and the SAM through direct control of the corresponding genes. Both possibilities can be excluded. First, in case of the former, rpk1 mutants should provide seedlings precisely lacking both cotyledons like pid enp double mutants [4]. This has not been the case among all analysed rpk1 homozygous progenies (> > 10.000). Interestingly, monocot rpk1 embryos develop only one primordium but establish both cotyledon anlagen [22]. This is compatible with former fate-mapping experiments, which suggest a sequential generation of cotyledons [45]. Second, our data also exclude the possibility that RPK1 directly controls SAM gene expression and development because SAM-less rpk1-7 seedlings retain the capacity to express a variety of SAM-specific genes and even to generate eSMs. This corroborates the notion that cotyledons and SAM are largely developmentally independent.
However, what then causes ectopic SAM gene expression and eSM development? Homozygous
rpk1
mutants differ from previous examples where ectopic shoot meristems were induced in transgenic and complex dominant mutation backgrounds respectively [
30
,
37
,
42
,
43
,
46
]. In contrast,
rpk1
mutants represent a loss-of-function state and form late SAMs at correct positions or eSMs ectopically on top of cotyledons. The
rpk1-7
ectopic shoots, although larger, are reminiscent of epiphyllous inflorescences on foliage leaves in
fil-5 yab3-1
mutants [
47
] and of ectopic leaf buds in
as1
mutants [
27
]. However, none of these genes is mutated in
rpk1
plants. The only link to ectopic SAM gene expression (and eSMs) in these mutants is the altered hypocotyl-cotyledon fusion morphology. The probability that eSMs occurred exclusively in morphologically altered SAM-less monocots (6 in 10000; Table
2
) just by chance is extremely low (≤10
−12
). This leads us to a model, which integrates the primary defects of
rpk1
mutants, i. e. disturbance of epidermal PIN1 polarity and cell division, and their phenotypes (Fig.
7
). In fact, disturbance of PIN1 polarity and auxin homeostasis respectively have been demonstrated to affect initiation of shoot regeneration [
39
,
48
,
49
]. Our model takes into account, that due to functional redundancy these defects stochastically scatter along the complete embryo development (Fig.
7
). The earlier the
rpk1
defects manifest the more severe are the consequences. The extreme is a fused hypocotyl-cotyledon morphology with the loss of the SAM, which is one of the earliest cell commitments in the embryo (Fig.
7
). Apparently, the continuous hypocotyl-cotyledon morphology is accompanied by a loss of positional information because post-embryonically a shoot meristem can form at different positions (late SAMs, eSMs). This circumstance is also reflected in variable ectopic SAM gene expression patterns in those SAM-less monocots, which fail to form a shoot meristem (Fig.
7
).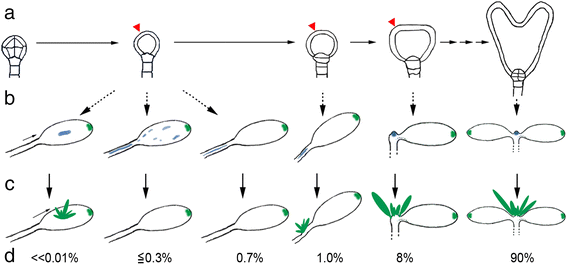 Conclusions
This study shows that RPK1 does not primarily control SAM genes, even the extreme rpk1-7 phenotype retains the capacity to resume shoot meristem development (eSM) and to generate a fully functional plant. However, RPK1 does well impact through its primary defects on the generation of shoots and (cotyledon) organs demonstrating a significant extent of morphological plasticity. This plasticity leads to intriguing similarities with extant angiosperms in particular real monocots and monocotyledonous dicots of the genera Monophyllea [50] and Streptocarpus [51] respectively. RPK1 mutants are also instructive in a way that sheds light on an aspect that has received less attention. This is the penetrance problem. In contrast to full penetrance of cotyledon-loss in pid enp [4], known single or combined mutations in Arabidopsis, do not stably produce 100 % monocots [22, 23]. This phenomenon has been previously addressed by studying modifier genes of cotyledon number in Antirrhinum majus (e. g. [52]). More recently, an association study using A. thaliana ecotypes has identified RPK1 as an essential (but not the only) gene for shoot organ regeneration [53]. Thus, the rpk1 monocot phenotype furthers our understanding of angiosperm development in two ways. First, it points to the organizational and genetic peculiarities required to generate a monocotyledonous plant from a dicot. Second, it shows, that it might be promising to search for those genes whose functions have to be altered in concert to obtain full penetrance of monocotyly.
Abbreviations
ACT2 :

ACTIN2
AS1 :

ASSYMMETRIC LEAVES1
AS2 :

ASSYMMETRIC LEAVES2
BP :

BREVI PEDICELLUS
CLV3 :

CLAVATA3
clv3 :

clavata3
Col-0:

Columbia-0
ENP :

ENHANCER OF PINOID
enp :

enhancer of pinoid
eSM:

ectopic Shoot Meristem
gl1 :

glabra1
GUS:

beta-Glucuronidase
KNAT1 :

KNOTTED1-LIKE ARABIDOPSIS THALIANA1
KNAT2 :

KNOTTED1-LIKE ARABIDOPSIS THALIANA2
LOB :

Lateral Organ Boundary
MIPS:

D-myo-inositol-3-phosphate synthase
MS:

Murashige Skoog
NASC:

Nottingham Arabidopsis Stock Center
NPH3 :

NON-PHOTOTROPIC HYPOCOTYL3
PID :

PINOID
pid :

pinoid
PIN1 :

PINFORMED1
RAM:

Root Apical Meristem
RPK1 :

RECEPTOR-LIKE PROTEIN KINASE1
RPK2 :

RECEPTOR-LIKE PROTEIN KINASE2
SAM:

Shoot Apical Meristem
sic :

single cotyledon
STM :

SHOOT MERISTEM-LESS
WS-2:

Wassilewskija-2
WUS :

WUSCHEL
Declarations
Acknowledgements
We are indebted to F. Assaad for comments and critical reading of the manuscript and H. Miller-Mommerskamp and R. Radykewicz for help. Part of this work was supported by the DFG (Grant To134/8-1 to R.A.T.R.). We thank Alfons Gierl for his support of our work and NASC for plant lines. The authors declare no conflict of interest.
Authors' Affiliations
(1)
Lehrstuhl für Genetik, Technische Universität München, Wissenschaftszentrum Weihenstephan, Freising, Germany
(2)
Lehrstuhl für Pflanzenzüchtung, Technische Universität München, Wissenschaftszentrum Weihenstephan, Freising, Germany
Copyright
© Fiesselmann et al. 2015
This is an Open Access article distributed under the terms of the Creative Commons Attribution License (http://creativecommons.org/licenses/by/4.0), which permits unrestricted use, distribution, and reproduction in any medium, provided the original work is properly credited. The Creative Commons Public Domain Dedication waiver (http://creativecommons.org/publicdomain/zero/1.0/) applies to the data made available in this article, unless otherwise stated.