Research article

Open Access
Fungal endophytes of Vanilla planifolia across Réunion Island: isolation, distribution and biotransformation
BMC Plant Biology
2015
15:142
Received: 30 January 2015
Accepted: 11 May 2015
Published: 14 June 2015
Abstract
Background
The objective of the work was to characterize fungal endophytes from aerial parts of Vanilla planifolia. Also, to establish their biotransformation abilities of flavor-related metabolites. This was done in order to find a potential role of endophytes on vanilla flavors.
Results
Twenty three MOTUs were obtained, representing 6 fungal classes. Fungi from green pods were cultured on mature green pod based media for 30 days followed by 1H NMR and HPLC-DAD analysis. All fungi from pods consumed metabolized vanilla flavor phenolics. Though Fusarium proliferatum was recovered more often (37.6 % of the isolates), it is Pestalotiopsis microspora (3.0 %) that increased the absolute amounts (quantified by 1H NMR in μmol/g DW green pods) of vanillin (37.0 × 10−3), vanillyl alcohol (100.0 × 10−3), vanillic acid (9.2 × 10−3) and p-hydroxybenzoic acid (87.9 × 10−3) by significant amounts.
Conclusions
All plants studied contained endophytic fungi and the isolation of the endophytes was conducted from plant organs at nine sites in Réunion Island including under shade house and undergrowth conditions. Endophytic variation occured between cultivation practices and the type of organ. Given the physical proximity of fungi inside pods, endophytic biotransformation may contribute to the complexity of vanilla flavors.
Keywords
Endophytes
Distribution
Diversity
Biotransformation
Vanilla
Interaction
Background
The genus Vanilla is a member of the Orchidaceae family and comprises of approximately 100 species and among them, Vanilla planifolia is the most important source of natural vanilla flavor [1]. Natural vanilla flavor is the number one flavor tonality in the world as it is subtle, but complex [2]. Over 200 compounds have already been isolated and identified from vanilla beans. These compounds vary in concentration depending on the region where the beans are harvested [3]. Four major flavor related components (p-hydroxybenzoic acid, p-hydroxybenzaldehyde, vanillic acid and vanillin) are used as marker compounds to determine quality and authenticity of vanilla products. For authentic unadulterated vanilla extracts, the ratios between the four components are fixed within a certain range [4]. In Réunion Island, vanilla plants are either cultivated in the undergrowth or in shade houses. Vanilla pods grown in the undergrowth appeared to display substantial qualitative differences of vanillin and vanillic acid contents in comparison to those grown under shade-house conditions. Parameters responsible for such a difference have not been identified yet [5]. The major vanilla flavor constituents are present as glycosides in the pods prior to curing [6]. In order to allow the development of flavor, green pods undergo post-harvest processing. The exact method for post-harvest processing and curing of vanilla pods varies across the region of the world where vanilla is produced.
Endophytic fungi are defined functionally by their occurrence within asymptomatic tissues of plants [7]. In spite of the ubiquitous features, the scale of their diversity, their host range, and geographic distributions much about endophytes is still unknown for many plants including vanilla. Endophytic fungi can either be transmitted vertically or horizontally. Vertical transmission occurs when fungi are transferred from the host to the offspring via host tissues. Horizontal transmission occurs when fungi are transferred to the host via spores e.g. through aerial means. Endophytes can be involved in biomass production and nutrient cycling in the plant [7]. Previously Porras-Alfaro and Bayman [8] isolated non-pathogenic fungi from inside asymptomatic roots of vanilla plants. Mycorrhizal fungi interact symbiotically with roots through an association of the mycelium (typically basidiomycete) while the hyphae form a mass around the rootlets or penetrate root cells. They are absent from the outer root cortex and hence differ from endophytes that are present deeper inside plant tissues. The mycorrhizal fungi Ceratobasidium spp., Thanatephorus spp. and Tulasnella spp. were found to be associated to different species of vanilla Porras-Alfaro and Bayman [8]. Morphological identification followed by elongation factor gene sequence analysis showed that several Fusarium spp. are present in vanilla plants in Indonesia [9].
Metabolomics is defined as both the qualitative and quantitative analysis of all primary and secondary metabolites of an organism [
10
]. Two chemical analysis techniques used in metabolic profiling include
1
H nuclear magnetic resonance (NMR) spectroscopy and high-performance liquid chromatography (HPLC). For instance, high-performance liquid chromatography - diode array detector (HPLC-DAD) analysis showed the presence of 3,4-O-(
Z
)-dicaffeoylquinic acid and quercetin-7-
O
-glucoside as the main components from
in vitro
microplants of
Hyptis marrubioides
Epling inoculated with bacterial and fungal endophytic isolates [
11
]. Similarly metabolomic methods such as these can be effective to decipher the potential involvement of endophytic fungi in the production of secondary metabolites. Despite being a simple molecule, natural vanillin biosynthesis from
V. planifolia
plants remains controversial. In fact, there is still some disagreement over the exact cell types that produce vanillin. A possible reason for such controversy stems from the fact that vanillin is a simple structure that lends itself to multiple possible theoretical biosynthetic pathways and due to the general promiscuity of many enzymes of plant phenolic metabolism; it is possible to find evidence to support any of these pathways from
in vitro
biochemical approaches [
12
]. Hence, the biosynthetic pathway of vanillin still needs full proof on the level of enzymes and genes. Vanillin production from natural sources can either be through the biotransformation of an existing precursor compound or by
de novo
synthesis of a precursor where the organism produces an intermediate in vanillin biosynthesis. Biotransformation of vanillin precursors is not limited to vanilla plants, but can also be achieved with microorganisms (Fig.
1
), e.g. fungi.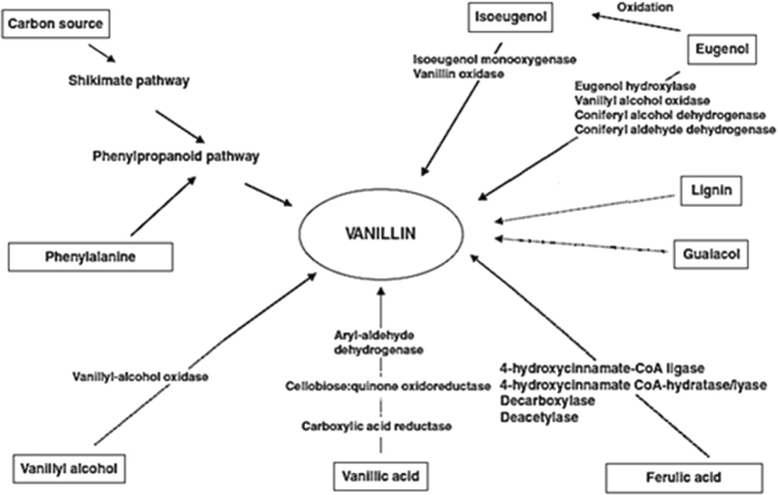 For instance, p-coumaric acid is converted in vitro to p-hydroxybenzaldehyde by the fungus Paecilomyces variotii grown on minimal medium containing basal inorganic salts with p-coumaric acid as a sole carbon source [13]. Vanillic acid is formed from vanillin by Hormodendrum sp. grown in vitro on basal medium [14]. Vanillyl alcohol is made by Pestalotia palmarum from ferulic acid grown in vitro on synthetic medium supplied with glucose [15]. Furthermore, the simplicity of vanillin structure has led to the use of various precursors in the microbial or enzymatic process of vanillin production: lignin, curcumin, siam benzoin resin, phenolic stilbenes, isoeugenol, eugenol, ferulic acid, aromatic amino acids, and glucose via de novo biosynthesis while several fungi have the capacity to metabolize the aforementioned precursors. A similarity can thus be seen between biotransformations in vanilla cells with regards to metabolites related to vanilla flavor, and fungal biotransformations of these compounds. Given such similarities in the biosynthetic pathways of polyphenols in vanilla plants and fungi, it is not surprising that a possible role of microorganisms in vanilla has been investigated before. Roling et al. [16] and Dunphy and Bala [2, 17], for example, studied a possible involvement of microorganisms during the curing of the pods all pointing principally to the occurrence of bacteria and actinomycetes. The current study concerns another aspect though: the possible role of fungal endophytes in the vanilla plant and the green pods in the formation of vanilla flavor related compounds. So far no fungal endophytes have been isolated from aerial parts of the plant.
In this work, endophytes were isolated from organs, across regions of Réunion island and from two cultural practices. Particular emphasis was placed on finding endophyte assemblage in pods, finding probable transmission methods and finding the diversity. The focus was then on establishing a link between endophytes from pods and flavor development. Thus, the biotransformation reactions from fungi were compared. The amounts of biotransformed flavor metabolites and ratios of quality marker metabolites were determined after the biotransformation reactions by the fungi grown on a green pod based media.
Results and Discussion
Endophytes were first isolated from vanilla in this work and their diversity and distribution were characterized. A series of experiments were then conducted to investigate the potential effects of the presence of endophytes in green pods on flavor development in such pods given that vanilla are prized for flavor. The experiments were based on elucidating the biotransformation abilities of such fungal endophytes. Additionally, a pathogen (Molecular Operational Taxonomic Unit (MOTU) 24 –Fo72 Fusarium oxysporum f.sp. vanillae) was also isolated.
Conclusion
The most important results of this study are: [7] Fungal endophytes are present inside V. planifolia plants and pods, [22]. The species of fungal endophytes varies depending on the geographical region of isolation, [31]. The method of cultivation of the plants affect the type of endophyte present, as in the case of plants grown under shade house conditions where more endophytes were isolated. Out of twelve isolated fungal endophytes and one pathogen from mature pods which were studied for their ability to in vitro convert vanilla flavor related metabolites in green pod material, only P. microspora and D. phaseolorum caused the formation of a significant additional vanillin and some other related compounds from glucovanillin. Pestalotiopsis microspora increased vanillyl alcohol levels the most among all tested fungi in green pod material which may be of importance to Bourbon vanilla.
From these studies it is clear that endophytes might play a major role for the quality of cured vanilla beans. But what we report here should be considered as the top of the iceberg. Much more studies are needed. The localization of vanillin glucosides in the pods is well known; as such conducting further studies to localize the endophytes within pods are also important. The present study is focused on the potential effect of endophytes in the living plant, but further research may investigate the effects of endophytes after harvesting, in the period before scalding, after scalding, etc. with regards to which endophytes are still present and to find their bioconversion capabilities. Also in that context, time and the physical-chemical environment (temperature, pH, water content, etc.) are important variables that need to be explored. Given that all fungi consumed glucovanillin from the medium after 30 days of culture, it is possible that for a much shorter time of culture intermediate bioconversion products would be obtained. Thus the effects of different cultural time frames on biotransformation products can be further investigated. The challenge will be to further increase our understanding of the role of endophytes on vanilla flavor and translate this knowledge to improve cultivation and processing methods.
Materials and Methods
Sample collections
To characterize the mode of transmission of the fungi, 15 ovaries with both closed and opened flowers were collected at St. André. To assess fungal diversity and distribution in planta and across regions, 15 leaves at ranks 1 (the youngest in the sample set), 3, 5, 10 and 15 (the oldest in the sample set) and 8 months old pods (post pollination) on the plant, were harvested from 7 vanilla producing regions across Réunion Island (St. André, St. Anne, St. Rose, Bois Blanc, Takamaka, Mare longue and Basse vallée). One fragment was retained per pod and per leaf. To gain insight into endosymbiont community differences in undergrowth and shade house grown plants, pods and leaves material collections were made at St. André and St. Anne including plants grown under both conditions. For greater statistical precision, a sample size of fifteen replicates was taken per assessed parameter.
Fungal endophyte and pathogen isolation
Within 3 h after harvest, collected organs were first washed under running tap water for 15 min. The washed organs were then dipped for 10 s in 95 % alcohol and thoroughly flamed on all sides for 3 s. The latter step was adapted from a protocol of endophyte isolation in Theobroma cacao pods by Crozier et al. [30]. To find if the surface of the organ was thoroughly sterilized and that any fungi obtained afterwards originate from inside the organ, the sterilized organ was then touched onto the surface of sterile potato dextrose agar (PDA, Conda-Pronadisa, Madrid, Spain) using sterile forceps. The organ was then cut into small cylindrical pieces and placed onto water agar (15 g Plant Agar, Duchefa Biochemie, Haarlem, The Netherlands, in 1 L distilled water) and incubated at 25 °C. Petri dishes were checked regularly for growth of fungi for up to 4 weeks. Fungi that grew from the sterilized organ pieces were transferred on PDA, taking actively growing hyphal tips. Single-spore cultures were prepared for sporulating fungi to ensure the purity of the fungus. A strongly diluted spore suspension was prepared and smeared on a malt agar plate to allow single colonies to develop. Isolates have been deposited at the Fungal Culture Collection of the Muséum National d'Histoire Naturelle (Paris). In the case of the pathogen Fusarium oxysporum f.sp. vanillae, the same procedure was adopted except that isolation was carried from an infected root organ.
DNA extraction, PCR and sequencing
Fungi were grown on Malt Extract Agar (MA) for 4 weeks. Morphotypes were categorized based on macroscopic and microscopic cultural characteristics. Fungal mycelium was collected from representatives of each morphotype grown on MA and genomic deoxyribonucleic acid (DNA) was extracted using the QIAGEN DNeasy Plant Mini Kit (Qiagen, Hilden, Germany) as per manufacturer's instructions. Polymerase chain reaction (PCR) was performed to amplify ribosomal deoxyribonucleic acid (rDNA) regions in a total volume of 25 μl, with 12.5 μl (50–100 ng) of DNA template, 0.625 units of Taq DNA polymerase (Q-BIOgene, Illkirch, France), 5 μl of PCR buffer, 0.5 μl of 25 mM dNTPs (Eurogentec, Seraing, Belgium) and 1 μl of each 10 μM primer per reaction tube. The primer sets ITS 4/ITS 5 [31] and LROR/LR6 (Vilgalys, Duke University, Durham, North Carolina, United States) were used to amplify respectively ITS rDNA and the 5' end of the 28S rDNA from a set of fungi. The elongation factor (EF) oligonucleotide primer set EF-1H and EF-2 T from O'Donnell et al. [32] was used to amplify a 700 bp portion of the EF-1α gene from Fusarium spp. Amplifications were performed on a BioRad DNA engine thermal cycler with the following parameters: a 4 min step at 94 °C, followed by 30 cycles (10 cycles for β-tubulin primer sets) of 30 s at 94 °C, 30 s at an annealing temperature of either 55 °C (for ITS4/ITS5, EF-1H/EF-2 T and β-tubulin primer sets) or 50 °C (for LROR/LR6 primers) and 40 s at 72 °C and then a final 10 min extension step at 72 °C. Additionally, for β-tubulin primer sets only: Denaturation at 94 °C (15 s), annealing at 45–65 °C (30 s), extension at 72 °C (48 s for first round and an additional 3 s for every additional round, for a total of 20 rounds) followed by 72 °C for 6 min. PCR products were purified and then sequenced by the Genoscope (Évry, France), on both strands to confirm the accuracy of each sequence. The DNA sequences were assembled using CodonCode Aligner v. 3.7.1. (CodonCode Corporation), checked by visual inspection and edited if necessary. Sequences were deposited in GenBank (http://www.ncbi.nlm.nih.gov/genbank/).
Taxonomic composition and phylogenetic analysis of endophytes
Fungal MOTUs (Molecular Organizational Taxonomic Units) were identified using internal transcribed spacer (ITS) sequences. In cases where a more detailed identification at the species level was not possible with ITS sequences, elongation factor (EF-1α) sequences (Fusarium spp. isolates), β-tubulin (Aspergillus niger) and 28S sequences were used with the BLAST option at http://blast.ncbi.nlm.nih.gov/Blast.cgi. The best hits were carefully examined to attribute species names. Large-subunit ribosomal RNA gene (LSU rDNA) sequences have been used for phylogenetic analysis. Sequences were then aligned using ClustalW on MEGA software version 5.10 [33]. Alignments included reference sequences from NCBI (www.ncbi.nlm.nih.gov) and the final alignments were edited manually. Using the maximum likelihood tree construction method with the Tamura-Nei model on MEGA, a phylogenetic tree was then constructed from 28S sequences. The number of bootstrap replications used was 1500. The tree was rooted with Cunninghamella blakesleeana (MOTU23).
Cultivation of endophytes and one pathogen for metabolomics analysis
Twelve isolated fungi and one pathogen were cultured each one separately but on the same media type made from mature green pods in order to allow comparison of results. The control was green pod medium only without any fungal culture initiated. In order to make a homogenous media preparation, all media required for the experiments in this work were made on the same day and mixed thoroughly before being autoclaved and distributed in petri-dishes. Three experiments were run as replicates per fungi. 8 months post-pollination pods were freeze-dried and crushed into a fine powder. Fifteen grams of dried powdered pod material were added to 15 g of agar (Duchefa Biochemie, Haarlem, The Netherlands) in 1 L of distilled water. The cultures were incubated at 28 ± 1 °C for 30 days at 45 % relative humidity. The fungi were then scrapped off the surface of the media, and the remaining media were freeze-dried.
1H NMR procedures and quantification
A 1H NMR analysis was performed onto the dried material. The pod-based media was freeze-dried and ground into a fine powder. To 50 mg of the material, 1.5 mL of KH2PO4 buffer (pH 6.0) in D2O containing 0.05 % trimethylsilylpropionic acid sodium salt (TMSP, w/w) and methanol-d 4 (1:1) was added. The mixture was vortexed at room temperature for 1 min, ultrasonicated for 15 min, and centrifuged at 13,000 rpm for 10 min. An aliquot of 0.8 mL was used for NMR analysis. 1H NMR spectra were recorded at 25 °C on a 600 MHz Bruker AV 600 spectrometer equipped with cryo-probe operating at a proton NMR frequency of 600.13 MHz. CD3OD-d4 was used as the internal lock. Each 1H NMR spectrum consisted of 64 scans requiring 5 min and 26 s acquisition time. All NMR parameters were the same as those used by Kim et al. [34]. The resulting spectra were manually phased and baseline-corrected and calibrated to TMSP at 0.0 ppm, using MestReNova software (v. 8.0.2, Mestrelab Research S.L). Compounds were identified based on results of previous studies or from reference compound measurements [10, 35, 36]. The 1H NMR spectra were automatically reduced to ASCII file. Spectral intensities were scaled to total intensity and reduced to integrated regions of equal width (0.04) corresponding to the region of δ 0.30–10.02. The regions of δ 4.70–5.00 and δ 3.28–3.40 were excluded from the analysis because of the residual signal of H2O and CD3OD, respectively. Bucketing was performed by MestReNova software with scaling on total intensity. A principal component analysis (PCA) and dendrogram were constructed with SIMCA-P software (v. 13.0, Umetrics, Umeå, Sweden) using scaling based on Pareto method.
The amounts of metabolites were calculated using the 1H NMR equation as in Turczan and Medwick [37] as follows: nx = ny (Ix / Iy) (Ny / Nx) where nx : Number of moles of unknown; ny : Number of moles of TMSP; Nx : Number of protons of unknown; Ny : Number of protons of TMSP; Ix : Integration of peak of unknown and Iy : Integration of peak of TMSP (9 protons, 2.90 × 10−4 mol). The assigned chemical shifts of the single peaks integrated for quantification by 1H NMR for each metabolite are vanillin – δ 9.73 (s), glucovanillin – δ 9.82 (s), p-hydroxybenzaldehyde – δ 9.75 (s), vanillyl alcohol – δ 3.87 (s), vanillic acid – δ 3.89 (s), p-hydroxybenzoic acid – δ 6.90 (d, J = 8.8 Hz), sucrose – δ 5.40 (d, J = 3.6 Hz), glucose (two peaks integrated) – δ 4.63 (d, J = 8.0 Hz), δ 5.18 (d, J = 3.7 Hz) and fructose - δ4.03 (H-8, dd, J = 12.9,1.0 Hz) [10, 36, 37].
HPLC-DAD procedures
Freeze-dried pod-based media (50 mg) was transferred into a 2 ml microtube. A volume of 1.5 ml of MeOH-Water (1:1) was added to the samples. The mixture was vortexed at room temperature for 1 min, ultrasonicated for 20 min and centrifuged at 13,000 rpm for 10 min. The supernantant was then analyzed with HPLC. The HPLC system employed was an Agilent CPL 1100 series (Massy, France) equipped with LC Chemstation software, degasser G1322A, binary pump G1312A, autosampler G1313A, thermostated column oven G1316A and diode array detection system G1315B to monitor at all wavelengths from 200 to 400 nm. For the column, a LiChrospher 100 RP-18 (250 × 4.6 mm i.d., s-5, 5 μm) (Merck, Darmstadt, Germany), protected with a guard column LichroCART 4–4 (Merck), was used at 35 °C. Gradient elution was performed with solution A, composed of 90 % water at 0.1 % acetic acid (pH 3.3) and 10 % methanol, and solution B, comprising 70 % methanol, delivered at a flow rate of 1.0 mL/min as follows: initially 70 % of solution A up to 15 min; 67 % A as from 29 min; 0 % A as from 30 min up to 34.9 min and finally 100 % A as from 35 to 40 min. The injection volume for the extract was 30 μl. The wavelength of detection was set at 280 nm. A library with the high-performance liquid chromatography (HPLC) retention times and ultraviolet diode array detector (UV-DAD) spectra was made with 8 compounds (p-hydroxybenzyl alcohol, p-hydroxybenzoic acid, p-hydroxybenzaldehyde, vanillyl alcohol, vanillin, vanillic acid, glucovanillin and p-coumaric acid).
Availability of supporting data
For each MOTU, the 28S ribosomal RNA sequences was submitted to the GenBank Repository. GenBank assigned an accession number for each sequence. The accession number and the corresponding MOTU is shown as follows: MOTU1: KR349521, MOTU2: KR349522, MOTU3: KR349523, MOTU4: KR349524, MOTU5: KR349525, MOTU6: KR349526, MOTU7: KR349527, MOTU8: KR349528, MOTU9: KR349529, MOTU10: KR349530, MOTU11: KR349531, MOTU12: KR349532, MOTU13: KR349533, MOTU14: KR349534, MOTU15: KR349535, MOTU16: KR349536, MOTU17: KR349537, MOTU18: KR349538, MOTU19: KR349539, MOTU20: KR349540, MOTU21: KR349541, MOTU22: KR349542, MOTU23: KR349543. The phylogenetic data was deposited in the Dryad Digital Repository and available at: http://dx.doi.org/10.5061/dryad.doi:10.5061/dryad.m5c7m
Abbreviations
NMR:

Nuclear magnetic resonance
1H NMR:

Proton nuclear magnetic resonance
HPLC:

High-performance liquid chromatography
HPLC-DAD:

High-performance liquid chromatography - diode array detector
MOTU:

Molecular operational taxonomic unit
LSU rDNA:

Large-subunit ribosomal RNA gene
NGS:

Next-generation sequencing
RH:

Relative humidity
PDA:

Potato dextrose agar
PCA:

Principal component analysis
GC-O:

Gas chromatography-olfactometry
P CV-ANOVA:

p-value of the Analysis of variance from cross-validated residuals
PLS:

Partial least squares
p-HBAld:

p-hydroxybenzaldehyde
p-HB acid:

p-hydroxybenzoic acid
PCR:

Polymerase chain reaction
DNA:

Deoxyribonucleic acid
rDNA:

Ribosomal deoxyribonucleic acid
ITS:

Internal transcribed spacer
Declarations
Acknowledgements
This study was supported by the Regional Council of La Réunion. The authors thank the Cyclotron Réunion Océan Indien (CYROI) for funding the NMR analysis and Bertrand Côme from La Vanilleraie (Réunion Island) for providing the plant materials.
Authors' Affiliations
(1)
Université de La Réunion, UMR PVBMT, La Réunion, France
(2)
Natural Products Laboratory, Institute of Biology, Leiden University, Leiden, The Netherlands
(3)
GIP CYROI, La Réunion, France
(4)
Département Systématique et Evolution, Muséum National d'Histoire Naturelle, Paris, France
(5)
Institut des Sciences Analytiques (CNRS/ENS Lyon/UCB Lyon1), Centre de RMN à Très Hauts Champs, Université de Lyon, Villeurbanne, France
(6)
Université de La Réunion, LCSNSA EA 2212, La Réunion, France
(7)
Centre de coopération internationale en recherche agronomique pour le développement (CIRAD), Station de Ligne-Paradis & Pôle de protection des plantes, 7 chemin de l'IRAT, La Réunion, France
(8)
UMR PVBMT, Faculté des Sciences et Technologies, Université de La Réunion, Ile de la Réunion, France
Copyright
© Khoyratty et al. 2015
This is an Open Access article distributed under the terms of the Creative Commons Attribution License (http://creativecommons.org/licenses/by/4.0) which permits unrestricted use, distribution, and reproduction in any medium, provided the original work is properly credited. The Creative Commons Public Domain Dedication waiver (http://creativecommons.org/publicdomain/zero/1.0/) applies to the data made available in this article, unless otherwise stated.