Research article

Open Access
Carotenoid accumulation during tomato fruit ripening is modulated by the auxin-ethylene balance
BMC Plant Biology
2015
15:114
Received: 22 January 2015
Accepted: 17 April 2015
Published: 8 May 2015
Abstract
Background
Tomato fruit ripening is controlled by ethylene and is characterized by a shift in color from green to red, a strong accumulation of lycopene, and a decrease in β-xanthophylls and chlorophylls. The role of other hormones, such as auxin, has been less studied. Auxin is retarding the fruit ripening. In tomato, there is no study of the carotenoid content and related transcript after treatment with auxin.
Results
We followed the effects of application of various hormone-like substances to "Mature-Green" fruits. Application of an ethylene precursor (ACC) or of an auxin antagonist (PCIB) to tomato fruits accelerated the color shift, the accumulation of lycopene, α-, β-, and δ-carotenes and the disappearance of β-xanthophylls and chlorophyll b. By contrast, application of auxin (IAA) delayed the color shift, the lycopene accumulation and the decrease of chlorophyll a. Combined application of IAA + ACC led to an intermediate phenotype. The levels of transcripts coding for carotenoid biosynthesis enzymes, for the ripening regulator Rin, for chlorophyllase, and the levels of ethylene and abscisic acid (ABA) were monitored in the treated fruits. Correlation network analyses suggest that ABA, may also be a key regulator of several responses to auxin and ethylene treatments.
Conclusions
The results suggest that IAA retards tomato ripening by affecting a set of (i) key regulators, such as Rin, ethylene and ABA, and (ii) key effectors, such as genes for lycopene and β-xanthophyll biosynthesis and for chlorophyll degradation.
Keywords
Auxin
Ethylene
Abscisic acid
Tomato
Carotenoids
Chlorophyll
Lycopene
Rin
Ripening
Background
Auxin and ethylene are hormones known to impact plant development, often with antagonistic roles. Auxin exerts pleiotropic effects, on the development of roots, shoots, flowers and fruits [1]. Ethylene is one of the plant hormones regulating the ripening of fruits, the opening of flowers, and the abscission of leaves. Tomato is a model plant for the study of climacteric fruit development, which is promoted by ethylene [2]. Observations of tomato fruits and some non-climacteric fruits, like grape berry and strawberry, have suggested that ripening is also regulated by auxin, since they can delay ripening and regulate gene expression [3-6]. However, the impact of auxin on tomato ripening has not been extensively studied, as previous works using exogenous auxin [3,6] do not study carotenoid accumulation and related gene expression. Moreover in the plant kingdom, the crosstalk between auxin and ethylene is not yet deciphered [7].
Color change from green to red is a very important indicator of tomato ripening and can easily be measured by chromametry [
8
]. This change is associated with the degradation of chlorophylls and the shift of the carotenoid composition from leaf-like xanthophylls (mainly lutein and neoxanthin) to carotenes (mainly phytoene, lycopene and β-carotene) as described by Fraser et al. [
9
]. In the fruit tissues, the degradation of chlorophylls is slow, while the accumulation of red carotenoids is rapid [
10
] when checked by time lapse imaging. The carotenoid biosynthetic pathway in tomato is well described [
11
,
12
] and is detailed on Figure
1
. The first committed step is the condensation of two molecules of geranylgeranyl diphosphate (GGPP) to form the colorless carotene 15-
cis
-phytoene, a reaction catalyzed by phytoene synthases (PSY); 15-
cis
-phytoene is then desaturated and isomerized to all-
trans
-lycopene through the action of two desaturases and two isomerases: phytoene desaturase (PDS), ζ-carotene desaturase (ZDS), prolycopene isomerase (CRTISO) and ζ-carotene isomerase (ZISO). The formation of δ-carotene and γ-carotene from lycopene are catalyzed by lycopene ε-cyclase (ε-LCY) and β-cyclases (β-LCY and CYC-β), and then the orange α - carotene and β-carotene are synthetized by β-cyclases. Finally, these carotenes are transformed into lutein and zeaxanthin by heme and non-heme β-carotene hydroxylases (CYP97 and CRTR-b). Zeaxanthin is converted to violaxanthin by the action of zeaxanthin epoxidase (ZEP) and further to neoxanthin by the action of the NXD and ABA4 proteins. These two xanthophylls are cleaved by 9-
cis
-epoxycarotenoid dioxygenase (NCED), a key enzyme in the biosynthesis of ABA [
13
].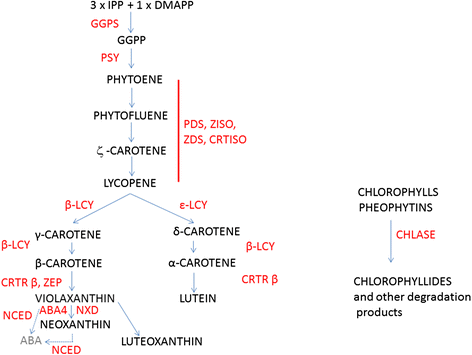 For the purpose of this article, the pathway will be divided into two parts, upstream of lycopene and downstream of lycopene (Figure 1). In the upstream part, the key rate-limiting steps are catalyzed by PSY1, PDS, ZDS, ZISO and CRTISO [9,14,15]. The expression of Psy1, Ziso, Crtiso is directly regulated by the ripening inhibitor (RIN) protein, which is a member of the MADS-box family of transcription factors [16,17]. In the downstream part, lycopene cyclases (ε-LCY, β-LCY/CYC-β) are also key enzymes, catalyzing the transformation of lycopene to δ- and β- carotene [18-21].
To study the role of cross-talk between auxin and ethylene in the accumulation of carotenoid pigments in tomato fruits, we treated mature green fruits with the auxin indole acetic acid (IAA) and the ethylene precursor aminocyclopropane carboxylic acid (ACC), alone or in combination, and also with p-chlorophenoxy isobutyric acid (PCIB). The latter compound is an antagonist of auxin action, although its mechanism of action is not well characterized [22]. The effects of these treatments on color change, pigment content and on the levels of transcripts involved in carotenoid biosynthesis were studied.
Conclusions
Our results suggest that ACC treatment induces lycopene and α-, β- and δ-carotene accumulation by inducing Psy1, and repressing β-Lcy1 and Crtr-β2. These transcriptional responses are fast, reaching a peak at 24 h.
On the other hand, treatment with IAA represses several upstream carotenoid transcripts (Psy, Ziso, Pds, Crtiso) as well as Chlases 1-3 and promotes the accumulation of β-Lcy1 and Crtr-β1 transcripts, leading to higher levels of chlorophyll a, neoxanthin, violaxanthin and ABA. These responses show a temporal curve: Ziso and some downstream transcripts (Crtr-β1 and ABA4) respond already at 24 h, while most other transcripts (Psy1 to β-Lcy1) respond later, at 96 h. This response could be due to the fact that downstream transcripts respond directly to auxin, while upstream transcripts respond to the repression of ethylene production induced by IAA treatment (Figure 8). Treatment with PCIB (an auxin antagonist) led to responses similar to those obtained after ACC treatment, confirming the antagonism between ethylene and auxin. Interestingly, while IAA completely repressed ethylene production, PCIB did not increase it (Figure 8) indicating that endogenous auxin does not play a major role in regulating ethylene production during normal ripening. The repression of ethylene production and the induction of Crtr-β1 by exogenous IAA supplementation were epistatic over ACC supplementation when both treatments were given together, while the final phenotype of the fruits did not show a clear epistasis of IAA over ACC supplementation.
Factorial and correlation network analyses allowed the identification, at 96 h, of transcriptional and metabolite "hubs" which may represent central regulators; these comprised ABA, its carotenoid precursors (violaxanthin and neoxanthin) and the Nxd gene, leading to neoxanthin biosynthesis. Overall, these data suggest a central role for ABA as a negative intermediate regulator in the perturbation of tomato fruit ripening following auxin and ethylene treatments.
Abbreviations
ABA:

Abscisic acid
ACC:

Aminocyclopropane carboxylic acid
CHLASE:

Chlorophyllases
CRTISO:

Carotenoid isomerase
CRTR-β:

β-carotene hydroxylase
IAA:

Indole acetic acid
IPP:

Isopentenyl diphosphate
GGPS:

GGPP synthase
GGPP:

Geranyl-geranyl pyrophosphate
ε-LCY:

Lycopene ε-cyclase
β-LCY:

Lycopene β-cyclase
NXD:

Neoxanthin synthase
PCIB:

p-chlorophenoxy isobutyric acid
PDS:

Phytoene desaturase
PSY:

Phytoene synthase
ZEP:

Zeaxanthin epoxydase
ZDS:

Zeta-carotene desaturase
ZISO:

Zeta-carotene isomerase*
Declarations
Acknowledgements
We are grateful to Dr Bo Burla, University Hospital Zürich, for the generous gift of some ABA glucosyl ester. The work benefited from the networking activities within the European COoperation in Science and Technology Action FA1106. We thank Dominique Saint-Martin (Université de Toulouse, Institut National Polytechnique-Ecole Nationale Supérieure Agronomique de Toulouse (INP-ENSAT) Laboratoire de Génomique et Biotechnologie des Fruits (GBF) for tomato cultures, and the staff of the Toulouse Genomics plateform (GenoToul) for their assistance with qPCR. This work was supported by the French Laboratory of Excellence project "TULIP" (ANR-10-LABEX-41; ANR-11-IDEX-0002-02), by the Italian Ministry of Research ("Integrated Knowledge for the Sustainability and Innovation of Italian Agri-Food" Project) and by the European Commission (FP7 Project "From discovery to products: A next generation pipeline for the sustainable generation of high-value plant products", contract n. 613513; H2020 Project "Traditional tomato varieties and cultural practices: a case for agricultural diversification with impact on food security and health of European population", contract n. 634561). LS was supported by a CSC PhD grant.
Authors' Affiliations
(1)
Université de Toulouse, INP-ENSA Toulouse, UMR990 Génomique et Biotechnologie des Fruits, Castanet-Tolosan, France
(2)
INRA, UMR990 Génomique et Biotechnologie des Fruits, Castanet-Tolosan, France
(3)
Italian National Agency for New Technologies, Energy, and Sustainable Development, Casaccia Research Centre, Rome, Italy
(4)
Department Food and Experimental Nutrition; NAPAN/FoRC - Food Research Center, Universidade de São Paulo, School of Pharmaceutical Sciences, São Paulo, Brazil
(5)
Université de Toulouse; UPS; UMR 5546; Laboratoire de Recherche en Sciences Végétales (LRSV), Castanet-Tolosan, France
(6)
Genetic Engineering Research Centre, Bioengineering College, Chongqing University, Chongqing, PR China
(7)
Actual address: Department of Life Sciences, Xi'an University of Arts and Science, Xi'an, PR China
Copyright
© Su et al.; licensee BioMed Central. 2015
This is an Open Access article distributed under the terms of the Creative Commons Attribution License (http://creativecommons.org/licenses/by/4.0), which permits unrestricted use, distribution, and reproduction in any medium, provided the original work is properly credited. The Creative Commons Public Domain Dedication waiver (http://creativecommons.org/publicdomain/zero/1.0/) applies to the data made available in this article, unless otherwise stated.