Research article
Open Access
A high-throughput screening system for barley/powdery mildew interactions based on automated analysis of light micrographs
Received: 13 August 2007
Accepted: 23 January 2008
Published: 23 January 2008
Abstract
Background
To find candidate genes that potentially influence the susceptibility or resistance of crop plants to powdery mildew fungi, an assay system based on transient-induced gene silencing (TIGS) as well as transient over-expression in single epidermal cells of barley has been developed. However, this system relies on quantitative microscopic analysis of the barley/powdery mildew interaction and will only become a high-throughput tool of phenomics upon automation of the most time-consuming steps.
Results
We have developed a high-throughput screening system based on a motorized microscope which evaluates the specimens fully automatically. A large-scale double-blind verification of the system showed an excellent agreement of manual and automated analysis and proved the system to work dependably. Furthermore, in a series of bombardment experiments an RNAi construct targeting the Mlo gene was included, which is expected to phenocopy resistance mediated by recessive loss-of-function alleles such as mlo5. In most cases, the automated analysis system recorded a shift towards resistance upon RNAi of Mlo, thus providing proof of concept for its usefulness in detecting gene-target effects.
Conclusion
Besides saving labor and enabling a screening of thousands of candidate genes, this system offers continuous operation of expensive laboratory equipment and provides a less subjective analysis as well as a complete and enduring documentation of the experimental raw data in terms of digital images. In general, it proves the concept of enabling available microscope hardware to handle challenging screening tasks fully automatically.
Keywords
Active Contour ModelMoment InvariantFourier DescriptorSusceptibility IndexPowdery Mildew Fungus
Background
Recent molecular methods have paved the way for a number of new experimental approaches in life science which were not available several years ago. As a matter of fact, these new techniques exceed the capacity of well-established manual or scantily automated analysis by far. Automated high-throughput analysis techniques not only solve this problem – they generally introduce a less subjective, more reproducible, and potentially more accurate data processing. However, competing with intuitive and trainable human skills, even though only for a rather specific problem, often turns out to be a difficult task.
This paper introduces a fully automated high-throughput screening system which has been developed for supporting a functional genomics approach in the field of plant-pathogen interactions.
In order to directly assess gene function in barley and wheat suffering from biotic stress caused by the powdery mildew fungus
Blumeria graminis
, a transient assay system based on bombarded leaf epidermis was developed and proved to be useful [
1
–
4
]. This system, which can be used for transient overexpression of genes as well as for transient-induced gene silencing (TIGS), has recently been further developed using GATEWAY technology in order to enhance throughput [
5
]. In the experiments, young barley leaves are bombarded with DNA-coated gold particles which confer transient expression of desired genes. For analysis purposes, the beta-glucuronidase (GUS) reporter gene is co-expressed in cells that were hit by the particle bombardment. This stains the genetically transformed cells greenish blue and allows their identification by bright field microscopy. In the evaluation of the experiments, haustoria of the powdery mildew have to be detected inside these stained, genetically transformed cells, as they indicate a successful penetration by the fungus. A cutout of a typical micrograph, containing a well stained, transformed cell with one haustorium is depicted in Figure
1
. By evaluating several hundred transformed cells per test gene, the susceptibility of the cells to the fungus is assessed in terms of the susceptibility index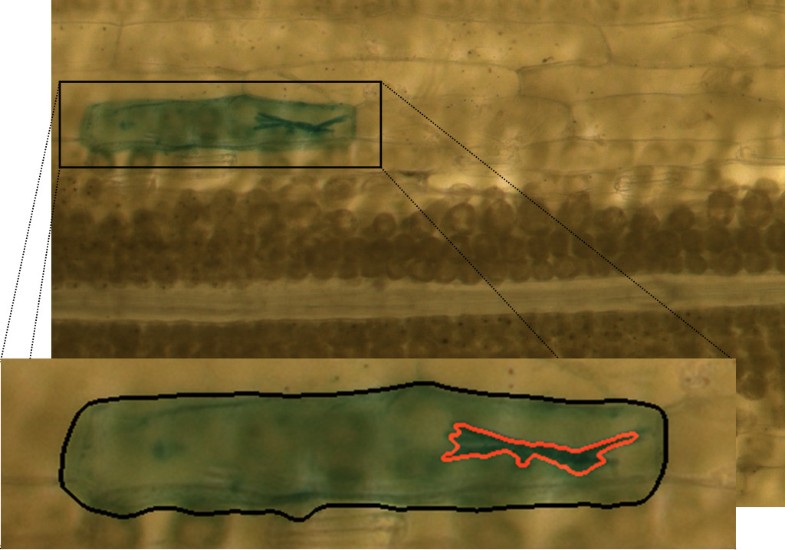 A significant increase or decrease of this index indicates a relation of the test gene to the plant's defense mechanism.
Manual screening has been done for a large number of experiments and this proved to be a tedious and very time-consuming mission. The desired screening of thousands of candidate genes would require many person years without automation. Relegating this task to a fully automated high-throughput screening system offers a number of advantages: Besides saving labor, the subjective component of the human observer is replaced by deterministic image analysis algorithms. Due to the autonomous operation, continuous activity (24/7) becomes possible, leading to a higher utilization degree of expensive laboratory equipment. Last but not least, the intrinsic storage of the experimental raw data as digital images provides a complete and enduring documentation of the experiments for further reference.
Conclusion
The described high-throughput screening system enables a large-scale analysis of candidate genes regarding the resistance of crop plants against the powdery mildew fungus by automating very time-consuming screening tasks. Proved to work dependably and at operational stage now, it provides a novel tool of medium- to high-throughput phenomics in the crop plant barley allowing researchers to address gene function in host- or nonhost interactions for resistance. A single experimenter is expected to test up to 100 candidate genes per person month, which is approximately two orders of magnitude higher than whole-plant approaches in barley such as stable transgenic plants or TILLING mutants. Currently, the system is established in a number of projects at our research institute as well as at international cooperating partners.
As a general conclusion, the developed solution can be understood as a proof of concept of how to extend already available microscope hardware to handle challenging screening tasks fully automatically by bringing together research and development both from the fields of biology and engineering. Of course, this concept is neither limited to the described application nor to the currently used microscope hardware. In the future, the system will be adapted to further challenges and we will focus also on screening problems incorporating fluorescence microscopy. This paper should encourage other researchers to tackle analogous screening tasks in a similar way.
Methods
Having explained the general system concept, its time constraints, and reliability, we will now discuss in detail the image analysis. This information is essential to completely understand the functioning of the system in assessing the infection status of transformed cells by haustoria. The image analysis pipeline is illustrated in Figure
8
and will be presented here in detail. Firstly, the specimen preparation is considered.

Declarations
Acknowledgements
We thank Stefanie Lück, Manuela Knauft, Gabi Brantin, and Dimitar Douchkov for their support concerning the preparation of the specimens and the manual screening. Many thanks to Ralf Tautenhahn, Christian Schulze, Tobias Senst, Martin Kalev, and Burkhard Steuernagel for supporting the system development as well as to Cornelia Brüß, Felix Bollenbeck, Tobias Czauderna, Rainer Pielot, and Marc Strickert for fruitful discussions. This work was supported by the German Ministry of Education and Research (BMBF) under grant 0312706A.
Authors' Affiliations
(1)
Pattern Recognition Group, IPK Gatersleben, Germany
(2)
Transcriptome Analysis Group, IPK Gatersleben, Germany
Copyright
© Ihlow et al; licensee BioMed Central Ltd. 2008
This article is published under license to BioMed Central Ltd. This is an Open Access article distributed under the terms of the Creative Commons Attribution License (http://creativecommons.org/licenses/by/2.0), which permits unrestricted use, distribution, and reproduction in any medium, provided the original work is properly cited.