Research article
Open Access
Arabidopsis thaliana outer ovule integument morphogenesis: Ectopic expression of KNAT1reveals a compensation mechanism
BMC Plant Biology
2008
8:35
Received: 21 January 2008
Accepted: 14 April 2008
Published: 14 April 2008
Abstract
Background
The Arabidopsis outer ovule integument is a simple two-cell layered structure that grows around the developing embryo and develops into the outer layer of the seed coat. As one of the functions of the seed coat is the protection of the plant embryo, the outer ovule integument is an example for a plant organ whose morphogenesis has to be precisely regulated.
Results
To better characterise outer ovule integument morphogenesis, we have isolated some marker lines that show GFP expression in this organ. We have used those lines to identify distinct cell types in the outer integument and to demonstrate similarities between leaves and the outer integument. Using confocal microscopy, we showed that cell sizes and shapes differ between the two cell layers of the outer integument. Expression of KNAT1 in the integuments leads to extra cell divisions specifically in the outer layer of the outer integument. This is being compensated for by a decrease of cell volume in this layer, thus showing that mechanisms exist to control proper ovule integument morphogenesis.
Conclusion
The Arabidopsis outer ovule integument can be used as a good model system to study the basic principles of plant organ morphogenesis. This work provides new insights into its development and opens new possibilities for the identification of factors involved in the regulation of cell division and elongation during plant organ growth.
Keywords
Green Fluorescent ProteinSeed CoatShoot Apical MeristemGreen Fluorescent Protein ExpressionOuter Integument
Background
Fertilised ovules develop into seeds that contain the plant embryo. In
Arabidopsis thaliana
, three distinct regions can be identified along the proximal-distal axis of the ovule primordium (Figure
1
). The most proximal structure of the primordium is the funiculus, which connects the primordium to the placenta. At the distal end of the primordium lies the nucellus in which the megaspore mother cell develops. The chalaza in the central zone of the primordium initiates two integuments, each composed of two cell layers [
1
,
2
]. During ovule development, the two integuments grow around the nucellus and, after fertilization, develop into the seed coat that encloses the embryo (Figure
1
). Whereas the inner integument initially develops as a radially symmetrical structure that surrounds the nucellus, the outer integument grows only from the side of the ovule primordium that faces the basal end of the carpel (gynobasal side) [
1
,
2
]. The outer integument remains two-cell layered throughout seed development [
1
,
2
]. At later stages of seed development, cells of the abaxial (outer) layer of the outer integument differentiate terminally into highly specialized seed coat cells that contain polysaccharide mucilage [
3
,
4
].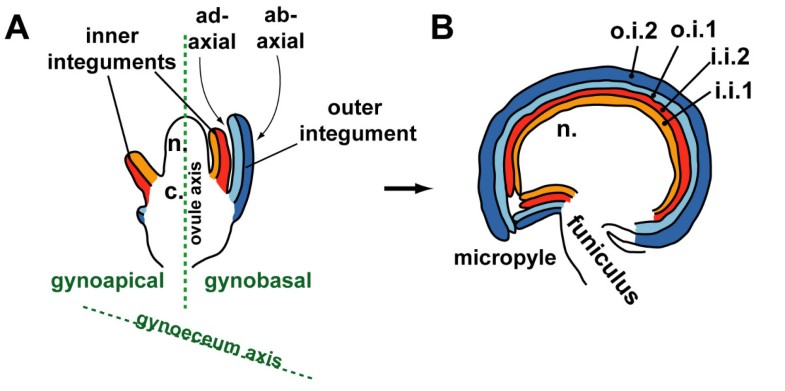 The integuments are the only lateral organs produced by the ovule. The evolutionary origin of the integuments is still a matter of debate. The telome theory suggests that integuments originated from the fusion of sterile or fertile branches (telomes) [5, 6]. It is generally believed that the inner and outer integument derived independently. While the inner integument most likely originated directly from the fusion of telomes or sporangiophores, the outer integument is believed to have developed later from a cupule, a leaf-like structure surrounding one or more ovules [7, 8].
The development of the Arabidopsis outer ovule integument involves the same basic processes required for the formation of other determinate lateral plant organs, such as leaves. The outer ovule integument is an example for an organ of determinate growth and characteristic form in which the rate and direction of cell division and elongation needs to be precisely regulated. Asymmetric growth and differentiation are also essential features of its development. In case of the integuments, proper morphogenesis is especially critical, as an improper curvature or closure would lead to seeds with embryos that are not sufficiently protected. However, it seems that integument extension is relatively sensitive to alterations in cell division or cell expansion. Mutations in SHORT INTEGUMENTS2 (SIN2), for example, lead to shorter integuments due to a reduction of cell number [9]. The result of mutations in SIN1/DCL1, on the other hand, show reduced integument size due to a lack of cell expansion [1, 10, 11].
Because of its simple two-layered structure, the outer integument is an ideal organ for the study of the basic principles of plant morphogenesis. For this a better characterisation of outer integument growth and cell fates within the integument is required. To address this, we have identified Arabidopsis enhancer-trap lines with specific expression of the gene for green fluorescent protein (GFP) in distinct domains of the outer integument. These lines provided good markers for the characterisation of cell proliferation and differentiation during development of the outer integument. KNAT1 is a homeodomain protein that is normally expressed in the shoot apical meristem (SAM), and which alters leaf morphology when ectopically expressed in leaves [12, 13]. Misexpression of KNAT1 caused increased cell division specifically in the abaxial layer of the outer integument and showed that compensatory mechanisms exist in the outer integument to ensure its proper morphogenesis.
Conclusion
This work shows that previously not recognized compensatory mechanisms exist to ensure proper ovule integument morphogenesis. Moreover, we demonstrate that the outer ovule integument can be used as a good model system to study the basic principles of plant organ morphogenesis. The outer integument is a simple two-cell layered structure, consists of only a few different cell types, and is easily accessible by confocal microscopy. A marker line expressing GFP in both layers of the outer integument enabled us to measure cell areas in the two outer integument cell layers of developing Arabidopsis wild type seeds and can be used for a high-throughput screen for mutants with altered cell division patterns in the integument. Misexpression of KNAT1 in the ovule produces a clear and easily visible phenotype that can be used to identify factors involved in the regulation of cell division and elongation on the organ level.
Methods
Transgenic lines
The GAL4-GFP enhancer trap lines [14] KS110, KS149, KS151, and M0237 are available from the Nottingham Arabidopsis Stock Centre (NASC) [38] as stock numbers N9260, N9266, N9267, and N9339, respectively. Other transgenic lines obtained from the NASC: bp-1 (NW30).
Construction of transgenic plants
The generation of the KNAT1 over-expression construct has been described [21]. Plasmids were electroporated into Agrobacterium tumefaciens GV3101 [39]. Arabidopsis thaliana ecotype C24 and Ler was transformed by floral dip [40]. Transgenic plants were selected on media containing 50 mg/l kanamycin.
Growth conditions
Plants were germinated and grown under a 16 h light, 8 h dark photoperiod on media containing 0.5× Murashige and Skoog salt mixture (MS), 0.5 g/l 2-(N-morpholino) ethanesulfonic acid (MES) pH 5.7 and 0.7% agar. For analysis of ovule development plants were grown on soil under constant conditions in the greenhouse.
Confocal laser-scanning microscopy
Confocal laser-scanning microscopy was performed using a Leica TCS NT/SP microscope. Excitation wavelengths were 488 nm for GFP, and 514 nm for YFP.
Seed coat staining
For staining of mature seed coats with safranin O, seeds were incubated in a 1:105 dilution of safranin O (Molecular Probes, Eugene, USA) for 15 min at room temperature. Seeds were imaged with the confocal laser-scanning microscope with an excitation wavelength of 488 nm and a collection window of 540 – 600 nm. Endothelium staining with vanillin was performed according to Nesi et al. [41].
Cell area measurements
To measure seed coat cell areas, optical sections were taken with the confocal laser-scanning microscope through the outer ovule integument. Cell area measurements were performed on a Macintosh computer using the public domain NIH Image programme (developed at the U.S. National Institutes of Health and available on the Internet [42]).
To measure petal cell areas, petals were cleared with chloral hydrate and images were taken at the microscope with a digital camera. Petal cell areas were measured as described above.
Sodium-hypochlorite treatment
For seed sterilization and as a functional test of the seed coat, seeds were imbibed in a solution of 2.4% active sodium hypochlorite (for incubation times see results section). Seeds were washed 2 times with sterile water and plated on growth media.
Declarations
Acknowledgements
We thank M. Bauch and K. Siemering for their assistance in generating the M0237, KS110, KS149 and KS151 marker lines. We are grateful to A. Navid, J. Stolz, W. Dewitte, J-C. Palauqui, J. Murray, and V. Pautot for helpful suggestions. The work was supported by the Gatsby Charitable Foundation and the BBSRC.
Authors' Affiliations
(1)
University of Cambridge, Department of Plant Sciences, Cambridge, UK
(2)
INRA, Centre de Versailles, Institut Jean-Pierre Bourgin, Laboratoire de Biologie Cellulaire, Versailles, France
Copyright
© Truernit and Haseloff; licensee BioMed Central Ltd. 2008
This article is published under license to BioMed Central Ltd. This is an Open Access article distributed under the terms of the Creative Commons Attribution License (http://creativecommons.org/licenses/by/2.0), which permits unrestricted use, distribution, and reproduction in any medium, provided the original work is properly cited.