Research article

Open Access
Synthesis of
L

-ascorbic acid in the phloem
Received: 03 September 2003
Accepted: 24 November 2003
Published: 24 November 2003
Abstract
Background
Although plants are the main source of vitamin C in the human diet, we still have a limited understanding of how plants synthesise L-ascorbic acid (AsA) and what regulates its concentration in different plant tissues. In particular, the enormous variability in the vitamin C content of storage organs from different plants remains unexplained. Possible sources of AsA in plant storage organs include in situ synthesis and long-distance transport of AsA synthesised in other tissues via the phloem. In this paper we examine a third possibility, that of synthesis within the phloem.
Results
We provide evidence for the presence of AsA in the phloem sap of a wide range of crop species using aphid stylectomy and histochemical approaches. The activity of almost all the enzymes of the primary AsA biosynthetic pathway were detected in phloem-rich vascular exudates from Cucurbita pepo fruits and AsA biosynthesis was demonstrated in isolated phloem strands from Apium graveolens petioles incubated with a range of precursors (D-glucose, D-mannose, L-galactose and L-galactono-1,4-lactone). Phloem uptake of D-[U-14C]mannose and L-[1-14C]galactose (intermediates of the AsA biosynthetic pathway) as well as L-[1-14C]AsA and L-[1-14C]DHA, was observed in Nicotiana benthamiana leaf discs.
Conclusions
We present the novel finding that active AsA biosynthesis occurs in the phloem. This process must now be considered in the context of mechanisms implicated in whole plant AsA distribution. This work should provoke studies aimed at elucidation of the in vivo substrates for phloem AsA biosynthesis and its contribution to AsA accumulation in plant storage organs.
Keywords
Phloem StrandCucurbitaceae SpeciesLactone DehydrogenasePhloem UptakePlant Storage Organ
Background
In plants, L-ascorbic acid (AsA) is essential for photosynthetic activity via the detoxification of superoxide and hydrogen peroxide in chloroplasts in the absence of catalase [1]. AsA is also crucially involved in the regeneration of α-tocopherol and zeaxanthin and the pH-mediated modulation of PS II activity [2]. The critical importance of AsA in photosynthetic metabolism is emphasised by its abundance in chloroplasts where its concentration reaches 50 mM [2]. The constitutive role of AsA in photosynthesis explains its widespread distribution and generally high content in leaves [3, 4]. These studies also revealed relatively low variability of AsA content between species, with coefficients of variation ranging between 59% in herbaceous plants (211 species) and 67% in woody plants (41 species). Conversely, the variability in the AsA content of non-photosynthetic tissues such as storage organs is generally much higher. Our estimates made from available data on fruits and vegetables from 65 species show an average vitamin C (AsA + dehydroascorbic acid [DHA]) content of 1.1 mg gFW-1 with a coefficient of variation of 334%. For example, a 10,000-fold difference in AsA content is found between the fruits of camu camu (Mirciaria dubia), which contains up to 30 mg gFW-1 vitamin C [5] and the medlar (Mespilus germanica) containing less than 3 μg gFW-1 [6]. There is no obvious taxonomic explanation for such differences and large variations in storage organ AsA content are also observed within individual species including cultivated species such as strawberry and blackcurrant [7, 8]. There is also no clear physiological explanation for the vast variability of AsA content in plant storage organs, but our understanding of AsA functions in these tissues is still very limited. In addition to its general antioxidant functions, AsA has been implicated in cell division, cell wall metabolism, cell expansion, and plant-pathogen interactions [9].
Advances in our understanding of AsA biosynthesis in plants have been made recently. There is general consensus that the biosynthetic pathway proposed by the Smirnoff group [10], represents a major pathway in plants. Confirmation has been obtained from analyses of Arabidopsis thaliana AsA deficient mutants [11, 12] and from identification and manipulation of several of the genes involved [13–15]. However, there are reports of AsA accumulation in lettuce over-expressing rat gulono-lactone oxidase [16] and in A. thaliana constitutively expressing a strawberry D-galacturonic acid reductase [17] suggesting alternative pathways may be operational. Additionally, AsA accumulation has been reported in maize and tobacco constitutively over-expressing the AsA recycling gene DHA reductase [18]. Thus, despite this renewed interest, the mechanisms controlling AsA accumulation in storage organs remain largely elusive. It is still unclear for example whether AsA accumulation in storage organs occurs as a result of in situ synthesis or import from photosynthetically active regions. There is evidence for developmentally regulated AsA accumulation in fruits with high rates soon after anthesis [8] and in potato tubers a large accumulation is observed soon after tuber induction [19].
The competence for AsA synthesis seems to be ubiquitous amongst plant cells and AsA accumulation has been observed in a wide variety of cultured cells and excised tissues or organs incubated with appropriate substrates (e.g. [10, 15] and [19–23]). However, evidence for direct AsA biosynthesis in storage organs in planta is missing. A recent report [24] described uptake of radiolabelled AsA by Arabidopsis and Medicago leaves and its movement to sink tissues such as shoot and root tips, flowers, siliques and sink leaves, leading the authors to suggest that long-distance transport of AsA occurs in plants. The presence of AsA in the phloem was first reported some time ago [25], but its specific functions were not properly investigated. The purpose of the present paper is to provide additional information on phloem AsA content, specifically its origin and its implications for AsA accumulation in storage organs. By adopting a wide range of plant material and exploiting the most suitable model systems available we show that AsA is a widespread constituent of plant phloem sap, and that isolated phloem strands are competent for AsA biosynthesis from distant substrates. Moreover, we demonstrate that the intermediates of AsA biosynthesis D-mannose and L-galactose can be taken up by the phloem. The implications of these findings in relation to whole plant AsA distribution are discussed.
Results
Detection of AsA in plant vascular tissue
Aphid stylectomy was employed to isolate phloem exudates from a number of crop plants (barley, pea, potato, tobacco, turnip) in the absence of contamination from other tissues. When exudates were analysed by HPLC, AsA was detected in all cases (Fig.
1
). We were unable to avoid evaporation of water from the exuded material and thus made no attempt to quantify AsA concentration in the exudates. However, it should be noted that in all cases AsA appeared as the dominant compound with absorption at 245 nm retained by the column.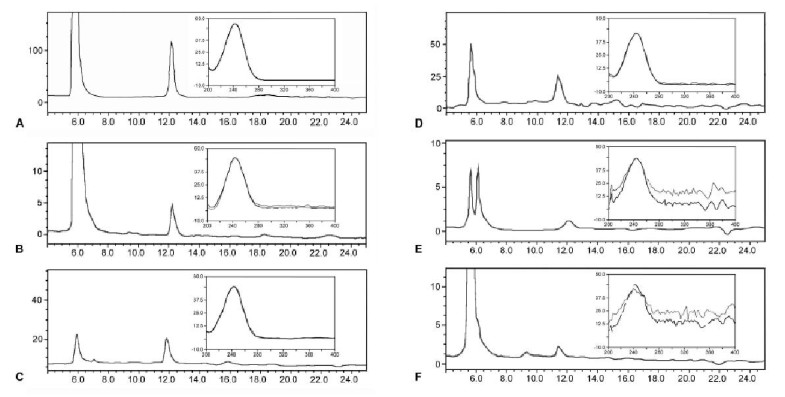 In order to obtain more substantial amounts of exudate to allow quantification of AsA, we focussed our attention onto
Cucurbitaceae
fruits, from which relatively high volumes of vascular exudates (approximately 1 ml Kg
-1
of fruit) could be obtained. Table
1
shows the AsA concentration in vascular exudates from fruits of a number of
Cucurbitaceae
species in relation to that of soluble carbohydrates. Values in the region of 0.49 to 1.44 mg gFW
-1
(2.8 to 8.2 mM) were obtained, whilst the total carbohydrate concentration ranged from 10.95 to 23.28 mg gFW
-1
.
Table 1
Total carbohydrate and AsA content of Curcubitaceae fruit vascular exudates
| Species | Carbohydrate (mg gFW-1) | AsA (mg gFW-1) | AsA (mM) |
| --- | --- | --- | --- |
| Cucumis sativus | 10.95 ± 0.13 | 1.02 ± 0.05 | 5.8 ± 0.33 |
| Cucurbita maxima | 22.48 ± 0.09 | 1.44 ± 0.04 | 8.2 ± 0.20 |
| C. moschata | 21.98 ± 0.80 | 0.49 ± 0.03 | 2.8 ± 0.15 |
| C. pepo (courgette) | 17.96 ± 0.34 | 0. 87 ± 0.05 | 4.9 ± 0.26 |
| C. pepo (squash) | 20.46 ± 0.53 | 0.81 ± 0.02 | 4.6 ± 0.13 |
| C. maxima x C. moschata | 23.28 ± 0.66 | 0.63 ± 0.02 | 3.6 ± 0.09 |
AsA localisation in the vascular tissue was confirmed by histochemical analysis of slices excised from courgette fruits and celery petiole (also used for metabolic studies, see below) using methanolic AgNO
3
solutions. This method exploits the specific ability of AsA to reduce Ag
+
at low temperature resulting in the formation of metallic silver deposits [
26
]. In both courgette fruit and celery petiole, metallic silver deposits were abundant in the vascular bundles with the staining in this tissue clearly limited to the phloem elements in the case of celery (Fig.
2
). In addition, staining was evident in the tissue surrounding developing seeds in the courgette fruit and in the storage parenchyma in the celery petiole. No formation of metallic silver deposits were observed in control specimens pre-treated with CuSO
4
, to induce AsA oxidation. The penetration of AgNO
3
in parenchyma cells was confirmed by preincubation of tissues with 25 mM
L
-galactose which resulted in intense staining of parenchymal tissues (data not shown)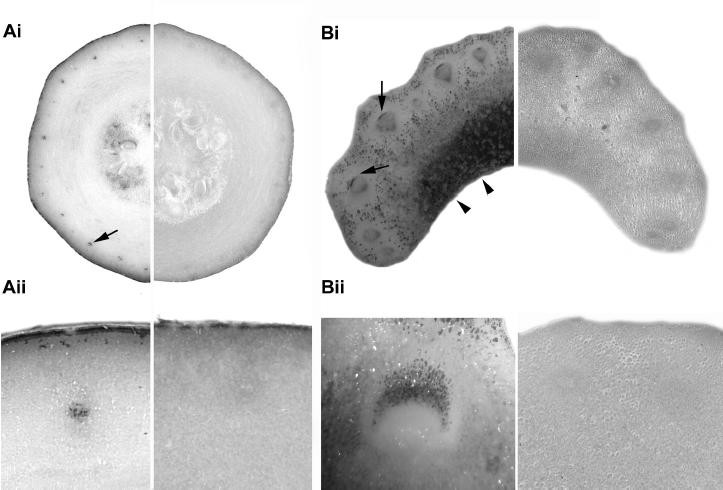 AsA biosynthesis in the phloem
The relatively large quantities of vascular exudates obtained from excision of courgette fruit enabled us to investigate the presence of the enzymes of the AsA biosynthetic (Smirnoff-Wheeler) pathway (Fig.
3
). We detected activities of all the previously identified enzymes of the AsA biosynthetic pathway [
10
] in the vascular exudates with the exception of the terminal (mitochondrial) enzyme
L
-galactono-1,4-lactone dehydrogenase (Table
2
). Similarly, no conversion of
L
-galactono-1,4-lactone to AsA was detected in isolated vascular exudate (data not shown). Both vascular exudates and homogenised fruit tissue were competent for the enzymic hydrolysis of GDP-
L
-[1-
14
C]galactose although we were unable to test for the activity of
L
-galactose-1-phosphate phosphatase due to unavailability of substrate. In many cases, the enzyme activities in exudates were higher than in whole fruit tissue. In some cases e.g. phosphomannose isomerase, phosphomannose mutase and GDP-
D
-mannose pyrophosphorylase, activity was only detected in the vascular exudate. Incubation of
L
-[1-
14
C]galactose directly in collected vascular exudate without any additions resulted in the formation of
L
-[
14
C]galactono-1,4-lactone (Fig.
4
). This conversion was prevented by desalting of the exudate and could be restored by the addition of NAD to desalted exudate.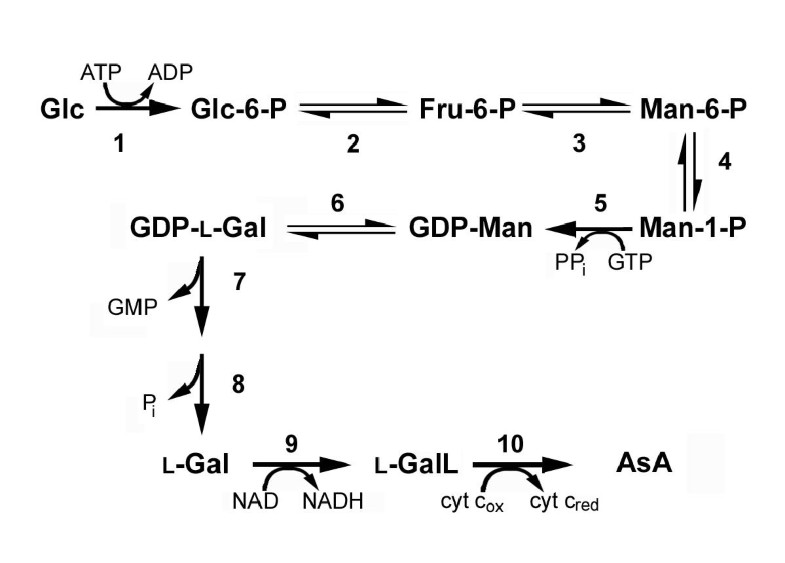 Table 2
Activity of Smirnoff Pathway Enzymes in Courgette Vascular Exudate and Tissue
| Activitya | Phloem | Tissue |
| --- | --- | --- |
| HK (D-Glc) | 23.0 ± 1.73 | 22.5 ± 2.89 |
| HK (D-Frc) | 29.7 ± 1.33 | 24.8 ± 3.58 |
| HK (D-Man) | 4.0 ± 0.40 | 4.0 ± 0.58 |
| PGI | 1861.3 ± 15.18 | 1194.7 ± 173.38 |
| PMI | 94.2 ± 5.20 | N.D.b |
| PMM | 1.5 ± 0.11 | N.D.b |
| GDPM PPase | 22.8 ± 1.56 | N.D.b |
| GDPM-3,5-epimerase | 0.07 ± 0.012 | 0.12 ± 0.017 |
| GDP-L-gal PPPase | 0.012 + 0.002 | 0.010 ± 0.002 |
| L-GalDH | 28.0 ± 0.46 | 7.0 ± 1.27 |
| L-GalLDH | N.D.b | 1.98 ± 0.18 |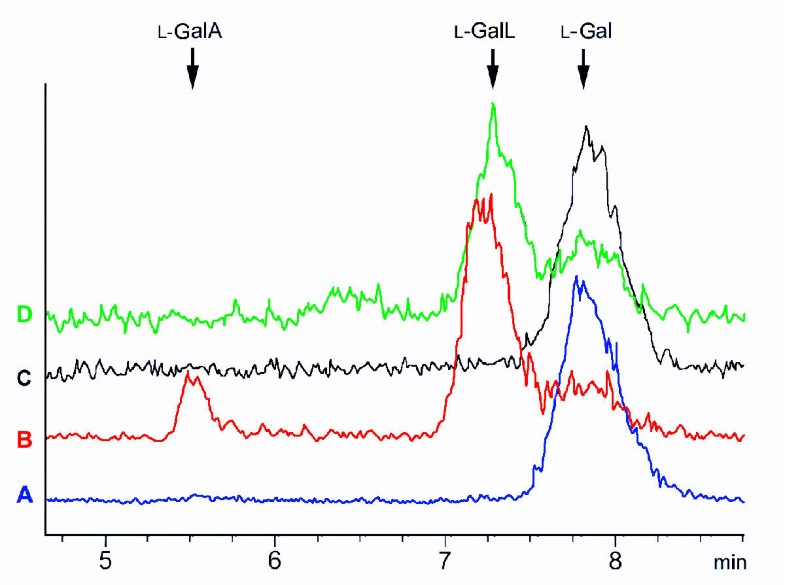 Functional characterisation of the AsA biosynthetic pathway in the phloem
in vivo
was carried out using isolated phloem strands from celery petioles, an established model system for phloem metabolism [
27
]. Phloem strands or storage parenchyma discs were incubated for 18 h with a range of AsA precursors. AsA accumulation was observed in both tissues upon incubation with
L
-galactose but the phloem strands accumulated ca. twice the amount of AsA compared with the parenchyma (Fig.
5
). Incubation with
L
-galactono-1,4-lactone resulted in substantial AsA accumulation in the phloem strands only. AsA accumulation was not observed when samples were incubated with sucrose,
D
-glucose or
D
-mannose. However, the capacity of both tissues to synthesise AsA from these substrates was confirmed by incubation with
D
-[U-
14
C]glucose or
D
-[U-
14
C]mannose. Radiolabel accumulation into AsA was observed from both these substrates as well as from
L
-[1-
14
C]galactose (Table
3
). With all labelled substrates, phloem strands showed a much higher total uptake and a significantly higher proportion of label incorporation into
L
-[
14
C]AsA compared with parenchyma discs.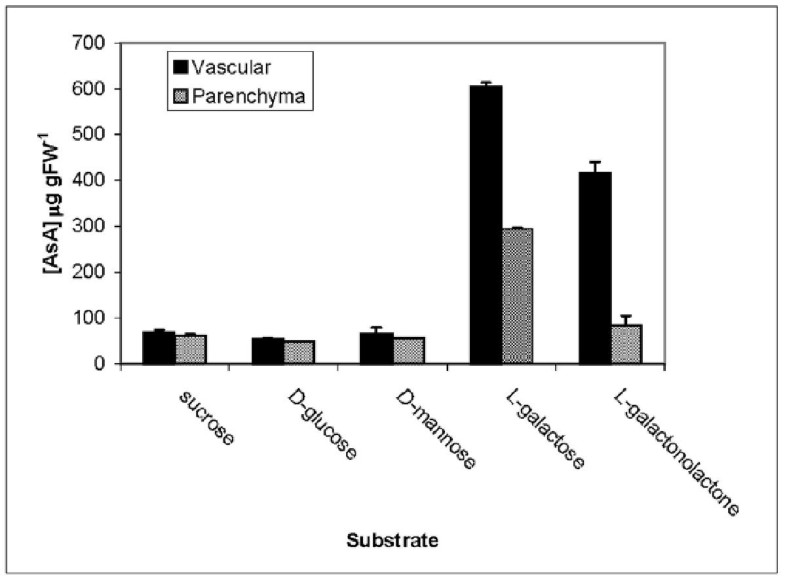 Table 3
Conversion of 14C-precursors to AsA in celery tissues
Substrate

Tissue

d-[U-14C]glucose

d-[U-14C]mannose

l-[1-14C]galactose

Parenchyma

Vascular

Parenchyma

Vascular

Parenchyma

Vascular

% Incorporation to AsAa

1.4 ± 0.06

3.1 ± 0.23

2.7 ± 0.06

5.9 ± 0.23

19.9 ± 0.92

49.8 ± 0.46

Uptake (μCi gFW-1)a

0.65 ± 0.07

3.61 ± 0.05

0.32 ± 0.02

3.49 ± 0.05

0.09 ± 0.01

0.67 ± 0.02

Uptake (nmol gFW-1)a

2.1 ± 0.23

11.6 ± 0.17

1.0 ± 0.06

11.4 ± 0.17

1.6 ± 0.12

12.2 ± 0.23
Uptake of AsA and other precursors by the leaf phloem
The ability of source leaf phloem to take up
L
-[1-
14
C]AsA, or a number of substrates related to AsA metabolism ([1-
14
C]DHA,
D
-[U-
14
C]mannose,
L
-[1-
14
C]galactose and [U-
14
C]sucrose as a reference) was tested in leaf discs of
Nicotiana benthamiana
, a model system for phloem uptake studies as it allows good resolution of major and minor veins [
28
]. Although [U-
14
C]sucrose and
D
-[U-
14
C]mannose appeared to be taken up more readily by the discs, the pattern of radioactivity distribution was similar with all precursors used, showing clear labelling of major and minor veins (Fig.
6
). Except for
L
-[1-
14
C]ascorbic acid, no significant metabolism of applied substrates was observed during the incubation period. With
L
-[1-
14
C]ascorbic acid, ca. 80% of the radioactivity was present as [
14
C]DHA at the end of the experiment as determined by HPLC with flow scintillation analysis (data not shown).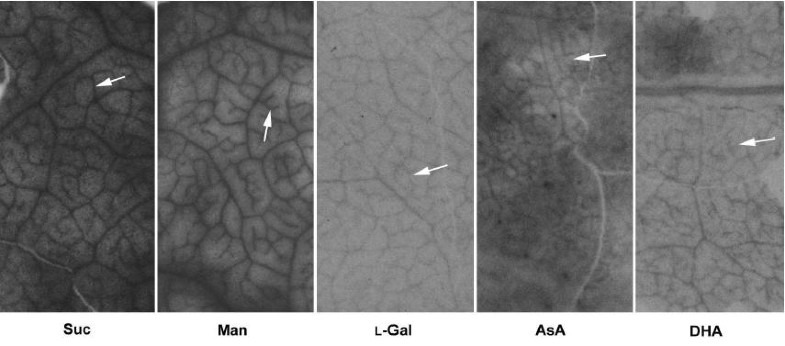 Discussion
Detection of AsA in the phloem
We have used stylectomy to access the phloem sap of a number of crop plants (barley, pea, potato, tobacco, turnip) and AsA was detected without exception. This finding corroborates earlier reports [24, 25] and indicates that AsA is a widespread constituent of plant phloem. The AsA concentration in the samples obtained by stylectomy was not established in this or in previous studies but values of 0.49 to 1.45 mg gFW-1 (2.8 to 8.2 mM) were obtained from vascular exudates of mature fruits of Cucurbitaceae species (Table 1). Such exudates have been used extensively to study phloem metabolism [29–32] and have been shown to have properties typical of phloem saps such as high pH and inorganic ions, amino acid and organic acid levels similar to those of phloem saps from other species. The possibility of large dilution from xylem sap or water channels has also been dismissed [32] and the AsA concentration detected in vascular exudates from Cucurbitaceae species is comparable with the values reported by Ziegler [25] for other plant species. Additional evidence for the presence of AsA in the phloem tissue was obtained using a histochemical approach based on the ability of AsA to reduce cold, acidified, ethanolic AgNO3 and generate metallic silver deposits [26]. In both courgette fruit and celery petioles, (i.e. the plant organs used for experimental investigation on AsA biosynthesis) strong staining was observed in the vascular region with metallic deposit specifically localised to the phloem tissue in the case of celery (Fig. 2). Although this technique is not specific for AsA, its selectivity is substantially improved at low temperature and pH where other reducing agents are ineffective [26, 33]. Additionally, pre-treatment of plant specimens with CuSO4 completely prevented the formation of metallic silver deposits (Fig. 2). The relatively more intense staining of the vascular region in relation to the surrounding parenchymous areas may be explained if AsA concentration in the cytosol was substantially higher than in the vacuole [34]. Intense staining of non-vacuolated (meristematic) cells has been previously reported with this technique [35].
Synthesis of AsA in the phloem
The presence of AsA synthesising enzymes was investigated in vascular exudates from mature fruits of courgette, a system validated for the isolation and identification of phloem resident proteins [36]. With the exception of the putative L-galactose 1-phosphate phosphatase [10] and L-galactono-1,4-lactone dehydrogenase, the activities of all AsA biosynthetic enzymes were detected in the vascular exudates. This includes the enzyme activity responsible for the hydrolysis of GDP-L-galactose, a key rate-limiting step for AsA biosynthesis in plants (Hancock and Viola, in preparation). To our knowledge this represents the first direct assay of GDP-L-galactose hydrolysis in extracts of plant tissues. The enzyme activities in the exudates appeared substantial by comparison with whole tissue extracts and for some of the enzymes activity was detectable solely in the exudates.
However, this may again reflect the vacuolisation of parenchyma cells resulting in dilution of enzyme activities below our levels of detection. We also show that vascular exudates contain, in addition to the required enzyme activities, pyridine nucleotides required for the conversion of L-[1-14C]galactose into L-[14C]galactono-1,4-lactone (Fig. 4). The further conversion of L-galactono-1,4-lactone into AsA would require the activity of L-galactono-1,4-lactone dehydrogenase, the only membrane-bound enzyme of the AsA biosynthetic pathway (located in the inner mitochondrial membrane [37]). It is generally acknowledged that mitochondria are not abundant in the phloem sap however it is expected that, in vivo, metabolites such as L-galactono-1,4-lactone may be exchanged between the sieve elements and the companion cells via specialised plasmodesmata [38]. Thus in vivo AsA biosynthesis within the phloem tissue (i.e. the sieve element-companion cell [SE-CC] complex) may involve enzymic cooperation between the sieve tubes and the mitochondria rich companion cells.
The competence of the phloem tissue for the in vivo conversion of L-galactose or L-galactono-1,4-lactone to AsA was demonstrated in isolated phloem strands from celery petioles (Fig. 5). Additionally incubation of the phloem strands with D-[U-14C]glucose or D-[U-14C]mannose resulted in substantial labelling of AsA clearly demonstrating that this tissue possesses a fully operational AsA biosynthetic (Smirnoff-Wheeler) pathway (Fig. 3). Moreover, AsA synthesis and partitioning to AsA from labelled precursors (including L-[1-14C]galactose) was significantly higher in phloem strands compared with storage parenchyma tissue, although differences in rates of precursor uptake were observed between the tissues used. The overall conclusion from the different experimental approaches used is that the phloem unexpectedly represents a tissue with a highly active AsA biosynthetic capacity.
Origin of phloem AsA
How can we reconcile our finding of phloem AsA biosynthesis with the hypothesis of long distance AsA transport in plants put forward by Franceschi and Tarlyn [24]? These authors reported that application of 14C-AsA to leaf flaps in Medicago sativa and A. thaliana resulted in its translocation to sink tissues. We also found that that supply of L-[1-14C]AsA (and [1-14C]DHA) to source leaf discs of Nicotiana benthamiana resulted in accumulation of radiolabel in both major and minor veins. However, care needs to be used in interpreting experiments where exogenous substrates are introduced into the plant transport system via abraded or damaged leaves. Evidence of phloem translocation (via mass flow) of xenobiotics supplied to leaves and their unloading in sinks is available from experiments with carboxyfluorescein diacetate and other phloem tracers [e.g. [39]]. Work with carboxyfluorescein diacetate also demonstrates that phloem leakage of charged molecules (e.g. AsA) during translocation to sink tissues is minimal. An alternative possibility is that phloem AsA biosynthesis may be directly relevant to long-distance transport of AsA. For example, the SE-CC is known to contain sucrose synthase which is involved in sucrolytic cleavage to sustain energy production [40]. Sucrolytic intermediates could thus be used to sustain AsA biosynthesis within the SE-CC complex via the Smirnoff-Wheeler pathway. Micro-tubers obtained from isolated potato internodes cultured in vitro in the dark with sucrose as the sole carbon source accumulated AsA in concentrations similar to those observed in tubers obtained from field-grown plants [19]. Potato tubers are phloem-rich organs with a network of phloem strands internal and external to the vascular ring [39] and AsA distribution in potato tubers closely follows the phloem distribution (Viola et al., unpublished). However, our finding that both D-[U-14C]mannose and L-[1-14C]galactose were readily taken up by N. benthamiana leaf discs (resulting in a labelling intensity of major and minor veins similar to that of [U-14C]sucrose in the case of the former) also raises the possibility that more direct intermediates of AsA biosynthesis may be provided to the phloem by the leaf mesophyll. In a following paper we show that L-galactose supply to source potato leaves results in AsA accumulation in developing tubers (Tedone et al., in preparation).
Conclusions
We show here that AsA presence in the phloem of higher plants is widespread and that the SE-CC complex of courgette and celery is competent for the synthesis of AsA from a range of substrates. Further work is required to establish precisely the nature of the substrate for phloem AsA biosynthesis in vivo and to establish quantitatively the contribution of phloem biosynthesis to the overall AsA content in storage organs. Although AsA transporters will be required for the transfer of AsA into storage organs involving apoplastic unloading steps, phloem biosynthesis may represent a significant direct source of AsA for those storage organs (e.g. potato tubers) where phloem unloading follows a symplastic route [39].
Declarations
Acknowledgements
The authors wish to thank Dr. Ken Lawrie, GlaxoSmithKline Pharmaceuticals for the gift of GDP-L-[1-14C]galactose. The Scottish Executive Environment and Rural Affairs Department funded this work.
Authors' Affiliations
(1)
Unit of Plant Biochemistry, Scottish Crop Research Institute, Invergowrie, United Kingdom
Copyright
© Hancock et al; licensee BioMed Central Ltd. 2003
This article is published under license to BioMed Central Ltd. This is an Open Access article: verbatim copying and redistribution of this article are permitted in all media for any purpose, provided this notice is preserved along with the article's original URL.