Research article
Open Access
Expression profiling of tomato pre-abscission pedicels provides insights into abscission zone properties including competence to respond to abscission signals
BMC Plant Biology
2013
13:40
Received: 20 July 2012
Accepted: 4 March 2013
Published: 9 March 2013
Abstract
Background
Detachment of plant organs occurs in abscission zones (AZs). During plant growth, the AZ forms, but does not develop further until the cells perceive abscission-promoting signals and initiate detachment. Upon signal perception, abscission initiates immediately; if there is no signal, abscission is not induced and the organ remains attached to the plant. However, little attention has been paid to the genes that maintain competence to respond to the abscission signal in the pre-abscission AZ. Recently, we found that the tomato (Solanum lycopersicum) transcription factors BLIND (Bl), GOBLET (GOB), Lateral suppressor (Ls) and a tomato WUSCHEL homologue (LeWUS) are expressed specifically in pre-abscission tissue, the anthesis pedicel AZs. To advance our understanding of abscission, here we profiled genome-wide gene expression in tomato flower pedicels at the pre-abscission stage.
Results
We examined the transcriptomes of three tomato flower pedicel regions, the AZ and flanking proximal- (Prox) and distal- (Dis) regions, and identified 89 genes that were preferentially expressed in the AZ compared to both Prox and Dis. These genes included several transcription factors that regulate apical or axillary shoot meristem activity. Also, genes associated with auxin activity were regulated in a Prox-Dis region-specific manner, suggesting that a gradient of auxin exists in the pedicel. A MADS-box gene affecting floral transition was preferentially expressed in the Prox region and other MADS-box genes for floral organ identification were preferentially expressed in Dis, implying that the morphologically similar Prox and Dis regions have distinct identities. We also analyzed the expression of known regulators; in anthesis pedicels, Bl, GOB, Ls and LeWUS were expressed in the vascular cells of the AZ region. However, after an abscission signal, Bl was up-regulated, but GOB, Ls and LeWUS were down-regulated, suggesting that Bl may be a positive regulator of abscission, but the others may be negative regulators.
Conclusions
This study reveals region-specific gene expression in tomato flower pedicels at anthesis and identifies factors that may determine the physiological properties of the pre-abscission pedicel. The region-specific transcriptional regulators and genes for auxin activity identified here may prevent flower abscission in the absence of signal or establish competence to respond to the abscission signal.
Keywords
Tomato (Solanum lycopersicum)Abscission zoneFlower pedicelAuxinShoot meristemCompetence to respond to abscission signalsTranscription factorMADS-box genes
Background
Plants can detach aged leaves, unfertilized flowers, diseased or damaged organs and mature fruits or ripe seeds. These abscission processes enable plants to recycle nutrients for continuous growth, develop appropriate organs, survive diseases, and facilitate reproduction [1, 2]. Abscission occurs at predetermined positions called abscission zones (AZs). The AZ contains a group of small cells that lack large vacuoles, suggesting that these cells may be arrested in an undifferentiated state [3]. Control of abscission has been an important agricultural concern because of its substantial effect on crop yield and quality. For example, humans have selected germplasms with reduced seed shattering during the domestication of grains such as rice (Oryza sativa), maize (Zea mays), and wheat (Triticum aestivum) [4–6]. Also, in tomato (Solanum lycopersicum), "jointless" cultivars with mutations inhibiting pedicel AZ development have been widely adopted for mechanical harvesting, because in the absence of an AZ, the stem and sepals remain on the plant, allowing the fruit to be harvested without the green tissues.
Abscission can be divided into four major steps [7]: (1) development of the AZ, (2) acquisition of competence to respond to abscission-promoting signaling, (3) activation of abscission, and (4) sealing of the break by differentiation of a protective layer on the main body side of the AZ. AZ development in tomato fruit/flower pedicels has been extensively investigated and several mutations that affect pedicel AZ development have been identified. For example, jointless (j) and jointless2 (j2) mutations completely suppress AZ differentiation and the lateral suppressor (ls) mutation partially impairs AZ development [1, 8–10]. The j and ls loci encode a MADS-box transcription factor and a GRAS family transcription factor, respectively [11, 12]. The j2 locus remains to be identified but is predicted to encode a C-terminal domain (CTD) phosphatase-like protein [13]. Recently, we determined that the MADS-box transcription factor MACROCALYX (MC), which was identified as a regulator of sepal size [14], also regulates tomato pedicel AZ development by interacting with the MADS-box protein encoded by the j locus [10].
In other systems, investigation of genes involved in AZ structure development (step1) identified several genes regulating the formation of the AZ. In Arabidopsis, the MADS-box transcription factor gene SEEDSTICK (STK) and the bHLH transcription factor gene HECATE3 (HEC3) regulate the formation of seed AZs [15, 16], and BLADE-ON-PETIOLE1 (BOP1) and BOP2, which encode BTB/POZ domain and ankyrin repeat containing NPR1-like proteins, regulate formation of floral organ AZs [17]. In rice, pedicel AZ formation for seed shattering is regulated by qSH1, which is a major chromosome 1 quantitative trait locus for seed shattering and encodes a BELL-type homeobox transcription factor, and SH4, which is a major chromosome 4 seed shattering quantitative trait locus and encodes a MYB3 DNA-binding domain containing protein. Rice pedicel AZ formation is also regulated by SHATTERING ABORTION1 (SHAT1) encoding an AP2 family transcription factor, the rice SHATTERING1 homologue (OsSH1) encoding a YAB family transcription factor, and CTD phosphatase-like protein1 (OsCPL1) [6, 18–21].
Studies of steps 3 and 4, activation of abscission and differentiation of the protective layer, have also revealed several factors required for abscission. For example, the phytohormones auxin and ethylene stimulate abscission-promoting signaling and regulate the onset of abscission in an antagonistic fashion; auxin inhibits the onset of abscission and ethylene promotes abscission [1, 2, 22]. Cell wall degrading and modifying enzymes are activated in the AZ separation layers [23–26]. In addition, transcription factors, receptor-like kinases, signal peptides, chromatin remodeling factors and membrane-trafficking proteins are involved in the activation of abscission [24]. Furthermore, genome-wide transcriptome analyses revealed that a wide variety of genes for phytohormone signaling, cell wall degradation, and defense related proteins are up-regulated during abscission [27–29].
Although many studies have examined the other steps of abscission, the mechanisms that drive step 2, acquisition of competence to respond to abscission signals, have remained mysterious. Prior to the onset of abscission, AZs possess the ability to respond to abscission-initiating signaling but the AZ cells have not initiated abscission. For example, tomato pedicel AZs at anthesis remain in an idling state before receiving abscission-promoting signals. Once the signal is provided, the AZ cells immediately start abscission, but if the flower is successfully pollinated, then the AZ cells remain small, dividing as the AZ structure grows thicker to support the growing fruit. The cells in stage 2 are seemingly static and inactive, but we recently found that AZs of tomato pedicels at anthesis show a distinct gene expression pattern; the anthesis pedicel AZs specifically express BLIND (Bl), GOBLET (GOB), Ls and a tomato WUSCHEL homologue (LeWUS), and this expression is not present in the pedicels of AZ-lacking mutants [10]. The function of these transcription factor genes in pedicel AZs is still unknown, but these genes are well known to play crucial roles in shoot apical or axillary meristems [10, 12, 30–32]. Their AZ-specific expression suggests that these transcription factors may act at the pre-abscission step, possibly to prevent flower abscission or to establish competence to respond to abscission signaling.
To identify additional genes potentially involved in the abscission of tomato pedicels at anthesis, here we performed transcriptome analyses comparing the expression profiles in AZs with two flanking pedicel regions, on the flower side (distal region; Dis) and on the inflorescence side (proximal region; Prox, Figure
1
A). Examination of the specific expression properties of these pedicel regions provided insights on the properties of each pedicel region and on cell activity in the pre-abscission state. In addition, we further characterized four previously identified transcription factors, examining the detailed expression patterns of
LeWUS, Bl, GOB
and
Ls
at anthesis. Our results indicated that these four genes showed significant expression changes when abscission was induced, suggesting that these genes play pivotal roles in the onset of abscission.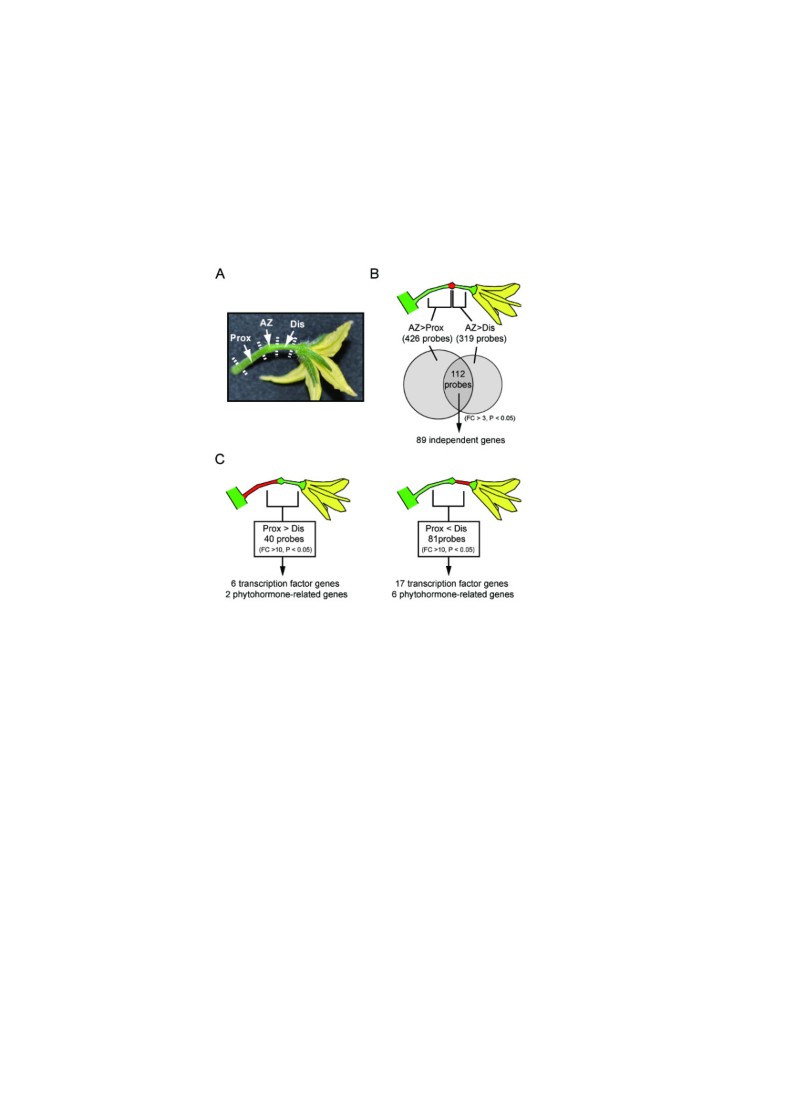 Conclusion
To unveil the transcriptional properties of tomato pedicels at the pre-abscission state, we analyzed the gene expression profiles of three flower pedicel regions, Prox, AZ and Dis. The gene expression data indicated that there are substantial differences between AZ and non-AZ tissues (Prox and Dis), and also between Prox and Dis. In particular, genes involved in auxin activity showed distinct expression patterns in the pedicel regions, suggesting that a gradient of auxin concentration may be formed throughout the pedicel regions and this auxin gradient may be one of the key factors affecting the distinct expression patterns in the pedicel tissues. These auxin-related genes may play a critical role in the regulation of timing of abscission. Various groups of transcription factors were also expressed in a region-specific manner, and of these, different types of MADS-box transcription factor genes were found in different regions. For example, the Dis region cells express the MADS-box genes required for floral organ development, whereas the Prox region cells express another MADS-box gene regulating flowering. Several types of MADS-box protein complexes may form in the respective pedicel regions specifically to regulate gene expression, similarly to the floral quartet model. A couple of transcription factor genes associated with apical or axillary shoot meristem function were found to be expressed preferentially in the AZ, indicating that shoot meristem cells and AZ cells may have common meristematic functions. Finally, the detailed gene expression analyses of Bl, GOB, Ls and LeWUS suggest that these AZ specific transcription factor genes may be key factors responding to an abscission cue, although the regulatory pathways may be different between these four genes; Bl may be a positive regulator of abscission and the other three may be negative regulators.
In conclusion, this study identifies multiple differentially expressed factors that may be important in establishing and maintaining the properties of pre-abscission tomato pedicel AZs, and provides insights into the transcriptional regulation of pre-abscission responses. Especially, comparative study of genes commonly expressed in both AZs and SAMs may provide a new aspect of the regulation in the abscission. In addition, the pedicel region specific MADS box transcription factors would be attractive candidates for the regulators determining pedicel tissue identities.
Methods
Microarray experiments and data analysis
Expression analyses were performed on total RNAs extracted from tomato (Solanum lycopersicum) cv. Ailsa Craig grown in soil in a growth room at 25°C with 16 h day length. Each pedicel region was carefully cut off using a sharp razor blade and subjected to analysis. For hybridization, we used the Agilent Tomato Gene Expression Microarray 44K (Agilent Technologies, Santa Clara CA, USA), which contains probes designed from the EST sequences deposited in three different databases, GeneBank (GB accessions), TIGR (TA accessions) and the Tomato Gene Index (TC and NP accessions). Hybridization and signal detection was performed essentially as described previously [10]. Signal intensities were normalized by the per chip normalization method to the 75th percentile using GeneSpring software version 10.0 (Agilent Technologies). Data from outlier probes were removed if the signal was a non-uniform outlier, or if the signal was a population outlier. Data from three independently prepared samples were evaluated by a one-sample t-test with the log2-transformed signal ratios of each probe using MeV v4.6.2 software with the default setting using the options "p-values based on t-distribution" and "Just Alpha (no correction)" [94]. To annotate tomato ESTs whose sequences were used for microarray probes, we searched the Arabidopsis Information Resource protein database (TAIR9) by BLASTX with the expect value threshold at 0.01. The ESTs for the microarray probes were assigned to the coding sequences (CDS) predicted by ITAG (version 2.3) via BLASTN searches with expect value threshold at 1e-10 on the International Solanaceae Genomics project (SOL) genomics network website (http://solgenomics.net/). The complete microarray data set has been deposited at the Gene Expression Omnibus with accession number GSE39519 [NCBI GEO].
RT-PCR and quantitative RT-PCR analysis
First strand cDNAs for RT-PCR experiments were synthesized with the PrimeScript 1st strand cDNA Synthesis Kit (Takara Bio Inc., Otsu Shiga, Japan). The RT-PCR was performed using ExTaq polymerase (Takara Bio Inc.) following the manufacturer's instructions. Quantitative PCR amplification was carried out with the 7300 Real-Time PCR System (Applied Biosystems, Foster City, CA, USA) using THUNDERBIRD SYBR qPCR MIX (TOYOBO, Osaka, Japan). Relative quantification of the expression of each gene was performed using the 2-ΔΔCT method [95]. The SAND (SGN-U316474) gene was used as an internal control [96]. Oligonucleotides used for PCR are listed in Additional file 11.
In situ hybridization
Anthesis flower pedicels were fixed with formalin/acetic acid/alcohol (FAA), embedded in paraffin and then sectioned at 4 μm thickness. Probe hybridization was performed according to the previously described method [97]. Color reactions were performed with NBT/BCIP. A control section was stained with hematoxylin and eosin stain. Each section was counterstained with Kernechtrot stain and mounted with CC/Mount (Sigma-Aldrich). To produce DIG-labeled RNA probes, cDNA fragments were PCR-amplified (oligonucleotides listed in Additional file 11) and cloned into pSPT19 (Roche); DIG-labeled RNAs were synthesized with T7 RNA polymerase.
Declarations
Acknowledgements
The authors thank Ms. Akemi Koma for her technical assistance. This work was supported by the Program for Promotion of Basic and Applied Researches for Innovations in Bio-oriented Industry (BRAIN) to YI.
Authors' Affiliations
(1)
Food Biotechnology Division, National Food Research Institute, NARO, Tsukuba, Japan
Copyright
© Nakano et al; licensee BioMed Central Ltd. 2013
This article is published under license to BioMed Central Ltd. This is an Open Access article distributed under the terms of the Creative Commons Attribution License (http://creativecommons.org/licenses/by/2.0), which permits unrestricted use, distribution, and reproduction in any medium, provided the original work is properly cited.