Research article
Open Access
Fine mapping and identification of a candidate gene for a major locus controlling maturity date in peach
BMC Plant Biology
2013
13:166
Received: 29 May 2013
Accepted: 17 October 2013
Published: 22 October 2013
Abstract
Background
Maturity date (MD) is a crucial factor for marketing of fresh fruit, especially those with limited shelf-life such as peach (Prunus persica L. Batsch): selection of several cultivars with differing MD would be advantageous to cover and extend the marketing season. Aims of this work were the fine mapping and identification of candidate genes for the major maturity date locus previously identified on peach linkage group 4. To improve genetic resolution of the target locus two F2 populations derived from the crosses Contender x Ambra (CxA, 306 individuals) and PI91459 (NJ Weeping) x Bounty (WxBy, 103 individuals) were genotyped with the Sequenom and 9K Illumina Peach Chip SNP platforms, respectively.
Results
Recombinant individuals from the WxBy F2 population allowed the localisation of maturity date locus to a 220 kb region of the peach genome. Among the 25 annotated genes within this interval, functional classification identified ppa007577m and ppa008301m as the most likely candidates, both encoding transcription factors of the NAC (NAM/ATAF1, 2/CUC2) family. Re-sequencing of the four parents and comparison with the reference genome sequence uncovered a deletion of 232 bp in the upstream region of ppa007577m that is homozygous in NJ Weeping and heterozygous in Ambra, Bounty and the WxBy F1 parent. However, this variation did not segregate in the CxA F2 population being the CxA F1 parent homozygous for the reference allele. The second gene was thus examined as a candidate for maturity date. Re-sequencing of ppa008301m, showed an in-frame insertion of 9 bp in the last exon that co-segregated with the maturity date locus in both CxA and WxBy F2 populations.
Conclusions
Using two different segregating populations, the map position of the maturity date locus was refined from 3.56 Mb to 220 kb. A sequence variant in the NAC gene ppa008301m was shown to co-segregate with the maturity date locus, suggesting this gene as a candidate controlling ripening time in peach. If confirmed on other genetic materials, this variant may be used for marker-assisted breeding of new cultivars with differing maturity date.
Keywords
Maturity date Prunus persica QTLCandidate gene
Background
Fruit ripening is a complex process that involves the coordinated regulation of many metabolic pathways which influence numerous traits such as colour, aroma and flavour. During ripening, softening of the fruit tissues occurs in parallel with the accumulation of sugars, acids, and volatile compounds. Together, these traits contribute to increased palatability. Other characters, such as colour, size, and maturity date, have been selected to offer products with improved consumer appreciation. For practical reasons, fruits are harvested before they are physiologically ripe and are thus often perceived by the consumer as of poor quality. Consequently, the ideotype pursued by modern peach breeding is characterized by an increase of fruit quality associated to an easy harvest (fruit with a firmer texture or very slow softening), in order to reach optimal fruit quality at consumption. Fruit maturity is an important trait and early fruit ripening could allow market growth by extending the length of the production season. Studies in a wide range of plant species have provided insights into the genetic mechanisms that mediate fruit ripening-related processes, such as pigment synthesis, cell wall and sugar metabolism [1–4].
Climacteric fruits such as peach are characterized by an increase in respiration and an autocatalytic burst of ethylene production late in fruit development which is essential for normal fruit ripening. Blocking ethylene synthesis or perception prevents ripening [5–7]. Some tomato mutants (e.g. rin, nor, cnr) are unable to ripen even when treated with exogenous ethylene, although not impaired in the hormone signal transduction pathway [8]; and references therein]. Molecular analyses of these mutants and identification of the corresponding genes indicate that they are necessary for the expression of both ethylene-dependent and -independent genes during ripening, acting upstream of and possibly in parallel to ethylene [8]. In banana, another climacteric fruit, NAC transcription factors have been shown to physically interact with a downstream component of ethylene signaling, ethylene insensitive 3 (EIN3)-like protein, which was down-regulated during ripening [9]. Thus, the control of NAC TFs on ripening is important as that regulated by the hormone.
In peach, QTLs controlling MD have been mapped on different chromosomes, with major QTLs located on linkage group (LG) 4 and 6 [10–13]. By analyzing the Contender x Ambra (CxA) F2 population we have shown that the QTL detected on LG4 behaves as a Mendelian trait and has pleiotropic effects masking the effects of QTLs for different fruit traits [10]. In the present work we refer to this locus as qMD4.1. Recently, a major QTL was also identified in the collinear region of apricot (P. armeniaca L.) and sweet cherry (P. avium L.) suggesting that a common mechanism may control fruit maturation in related Prunus species [13].
In the present study, qMD4.1 was genetically dissected to gain insight into the mechanisms controlling MD in peach and to better understand the genetic interactions of this locus with other fruit traits. To this end, a fine map of the qMD4.1 locus was constructed, increasing the number of markers and individuals in the CxA population and analyzing another F2 population where MD is segregating as a Mendelian trait. Analysis of the region located candidate genes for the MD QTL and a scan of publicly available re-sequencing data for the CxA F1 parent identified polymorphisms in the region harbouring qMD4.1[14]. A sequence variant in a NAC candidate gene was shown to co-segregate with the MD trait in these two populations and can be used in selection for early/late maturity genotypes.
Results and discussion
Fine mapping of the qMD4.1locus
The objective of this study was to fine map qMD4.1, the MD locus described by Eduardo et al. [10] on LG4 of the CxA F2 population. This locus had been mapped using 169 individuals and a genetic map comprising 31 SSRs and two phenotypic markers, with flanking markers M12a and EPPISF032 defining a 6.6 cM interval, corresponding to 3.56 Mb on the peach reference genome. In order to fine map qMD4.1, the number of individuals of this population was increased to 306 and 14 SNPs were added around and into the original map interval. The SNPs were manually selected from the publicly available genome re-sequencing data of the CxA F1 self-pollinated parent (NCBI Sequence Read Archive, biosample SRS335631). In parallel, we also analysed another F2 population of 103 individuals derived from the cross between PI91459 (N.J. Weeping; W) and Bounty (By), also segregating for MD and genotyped with the 9K SNP peach array v1 [15] (Da Silva et al., unpublished).
In both populations MD showed a trimodal distribution (Figure
1
) and very high correlation between years (0.92) (Table
1
). This distribution suggested a Mendelian behaviour. Thus, a genome-wide QTL analysis for MD was carried out for confirmation using both populations independently, with the purpose of excluding the possible segregation of other MD QTLs (data not shown). Although segregating as a Mendelian trait in both the CxA and the WxBy F
2
populations, MD behaves as a quantitative trait in other populations such as the F
1
population derived from the cross between Bolero and OroA [
10
].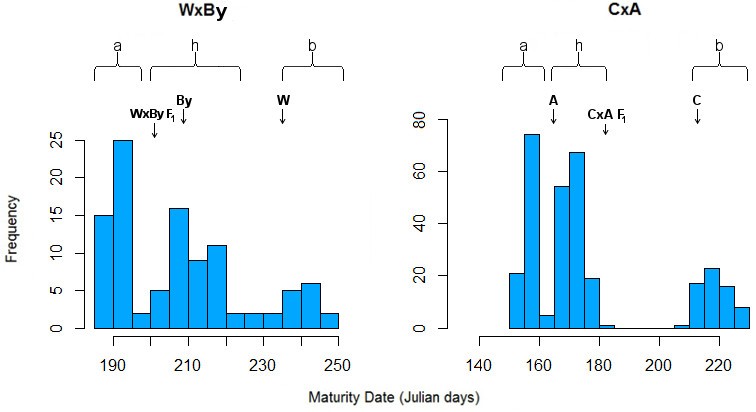 Table 1
Correlation coefficient, mean, minimum and maximum values, and standard deviation (SD) of maturity date in the CxA and WxBy F 2 populations for two successive years respectively
| Population | Years | Correlation | Mean | Min | Max | SD |
| --- | --- | --- | --- | --- | --- | --- |
| CxA | 2007/2008 | 0.92 | 176.00/177.70 | 151.00/156.00 | 232.00/230.00 | 23.42/22.86 |
| WxBy | 2010/2011 | 0.92 | 207.12/205.83 | 183.00/194.00 | 250.00/242.00 | 17.32/13.51 |
Figure
2
shows the region where
qMD4.1
is located in both maps, CxA and WxBy, as compared to the data from Eduardo
et al
. [
10
]. In both maps high segregation distortion was observed in the target region (Table
2
). The analysis of the alleles showed that under-represented alleles came from the C genome in CxA and from W genome in WxBy, in both cases corresponding to the late ripening allele.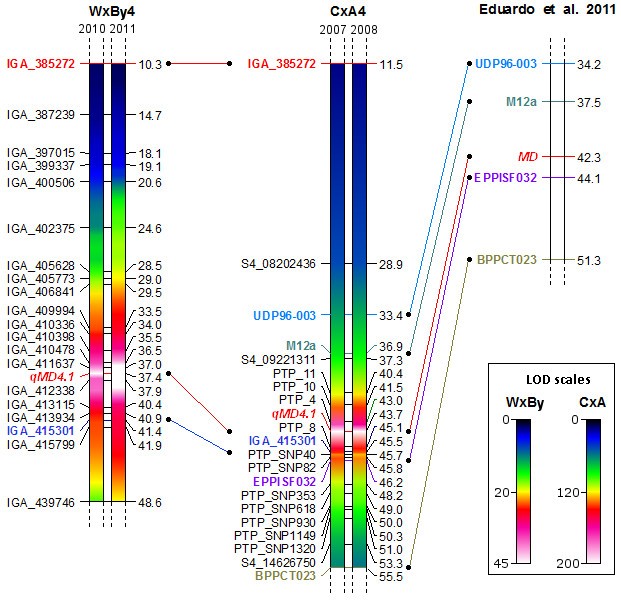 Table 2
LOD scores and percentages of phenotypic variation in CxA and WxBy QTL analyses
CxA

WxBy

Position (cM)

Locus

LOD

% Expl.

Position (cM)

Locus (c)

LOD 2010/2011

% Expl. 2010/2011

2007/2008

2007/2008

33.443

UDP96003a*

65.3/67.5

64.4/65.3

34.015

SNP_IGA_410336c****

29.59/32.48

78.7/77.6

34.443

71.7/74.1

67.8/68.6

34.015

SNP_IGA_410265c****

29.59/32.48

78.7/77.6

35.443

76.1/78.6

70.0/70.8

35.015

36.24/37.43

85/82.2

36.443

77.8/80.3

70.8/71.6

35.493

SNP_IGA_410398c****

37.92/38.45

86.3/83

36.909

M12aa*

77.6/80.1

70.7/71.5

36.473

SNP_IGA_410478c****

41.47/43.07

88.6/86.2

37.301

S4_09221311c**

80.3/83.5

71.9/73.0

36.961

SNP_IGA_411637c****

43.15/45.41

89.5/87.6

38.301

97.7/102.3

78.7/79.8

37.449

MD a ****

47.81/52.85

91.8/91.2

39.301

111.5/117.3

82.9/84.1

37.937

SNP_IGA_412338c*****

41.87/49.34

88.8/89.7

40.301

117.6/123.7

84.5/85.6

38.937

42.12/48.2

89/89.1

40.358

PTP_11b**

117.7/123.8

84.5/85.6

39.937

37.29/41.04

85.8/84.9

41.358

144.0/152.9

89.8/90.9

40.425

SNP_IGA_413115c******

34.16/37.05

83.3/81.8

41.522

PTP_10b**

144.8/153.5

89.9/91.0

40.912

SNP_IGA_414017c******

31/35.93

80.3/80.9

42.522

179.7/176.5

94.2/93.7

41.400

SNP_IGA_415301c*****

28.58/34.91

77.6/80

43.023

PTP_4b**

185.7/178.6

94.7/93.9

41.888

SNP_IGA_415799c****

27.32/33.99

76.1/79.1

43.681

MD a **

231.2/224.1

97.4/97.0

44.681

194.1/183.1

95.4/94.3

45.149

PTP_8b**

166.2/157.4

92.8/91.5

45.507

SNP_IGA_415301c*

154.5/146.3

91.3/89.9

45.671

PTP_SNP40b**

146.0/137.6

90.1/88.4

45.834

PTP_SNP82b**

139.3/131.1

89.0/87.2

46.193

EPPISF032a*

148.6/139.5

90.5/88.8
To define the target region for candidate gene analysis and to anchor the two maps we used the Sequenom platform to genotype the CxA F2 progeny for 2 SNPs that were also included in the 9K SNP peach array v1 (i.e., SNP_IGA_385272 and SNP_IGA_415301; Figure 2).
Considering the region between the anchor markers SNP_IGA_385272 and SNP_IGA_415301 present in both populations, in the CxA map, the region spans 33.99 cM and includes 2 SSRs and 6 SNPs, whereas in the WxBy fine map this region includes 16 SNPs and spans 31.12 cM. The full map from WxBy will be described elsewhere and was used here to run a QTL analysis for the MD trait, showing no other QTL for MD segregating in this population (data not shown). Fine mapping analysis showed that in CxA, qMD4.1 is localized in a window of 2.13 cM between the markers PTP4 and PTP8 spanning the chromosome region between 10.87-12.09 Mb, whereas in the WxBy map qMD4.1 is located in a window of 0.98 cM between markers SNP_IGA_411637 and SNP_IGA_412338 spanning the chromosome region between 10.97-11.19 Mb (Table 2). Moreover, in the CxA progeny LOD score in qMD4.1 region reaches a value of more than 220 (97% of explained variance) while in WxBy LOD score is about 50 with more than 90% of explained variance (Table 2). Therefore this is the region where we focused the search for candidate genes.
Although the CxA F
2
population has a higher number of individuals, the WxBy F
2
population has a higher number of segregating genotyped markers, which provided a better resolution in the mapping of
qMD4.1
(Figure
3
). These results showed the utility of the new genomic tools, such as the 9K SNP peach array v1 [
15
], to improve the efficiency and resolution in peach mapping studies. In addition, the use of the WxBy F
2
population allowed us to identify a relatively small region harbouring a limited number of candidate genes compared to the CxA F
2
population (Figure
3
).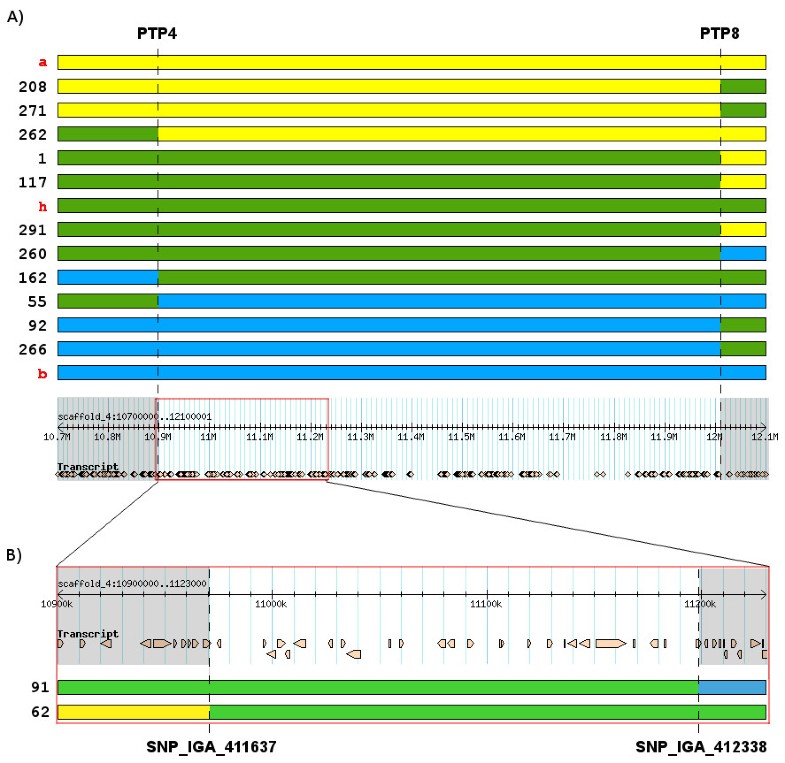 QTLs for MD in a region overlapping with qMD4.1 were already identified by other groups [11, 16]. For example, Dirlewanger et al. [13] mapped a major QTL for MD on LG4 using an F2 population derived from the cross Ferjalou Jalousia x Fantasia (JxF): based on available data, qMD4.1 seems to overlap with their confidence intervals in different years, as supported by the SSRs UDP97-402 and AMPA 103, that in JxF defined this region and are located on the peach genome sequence in scaffold 4 at position 10,486,180 and 13,509,355, respectively (approximately 3.02 Mb apart). In contrast to the Mendelian behaviour of qMD4.1 in our populations, in these previous studies MD segregated as a quantitative trait with QTLs mapped on different chromosomes. Interestingly, these studies showed that the region spanning qMD4.1 hosted a cluster of QTLs associated with other traits such as fructose and sucrose content, titrable acidity, pH, sorbitol, maltose, citric acid, and quinic acid content [11]. Recently, an association mapping study showed that another locus mapped at the beginning of chromosome 4, associated with SSR marker CPPCT028 (at 2.1 Mb) was strongly associated with variation for the MD trait [17]. This indicates that other loci controlling MD can be identified using different segregating populations or association mapping. In addition, strong associations between MD, SSC, flavonoids, sorbitol, and total sugars levels were also found in this study [17].
Identification and analysis of candidate genes
Our results also support the involvement of ppa008301m in the control of peach fruit ripening, indicating that genes in this clade may have evolved to fulfill different biological functions as proposed for the ppa007577m clade. While orthologs are often assumed to retain equivalent functions in different organisms, deviations from this situation are not uncommon [9, 27]. Being NACs one of the largest TF families, indication of the precise function of each member should be experimentally validated. The 9 bp INDEL in candidate gene ppa008301m results in the duplication of a threonine-aspartic acid-proline stretch with possible impact on protein function. Simple amino acid repeats and regions rich in serine and threonine, proline and glutamine, or acidic residues are frequent in the C-terminal region of NAC proteins [28–33]. While few studies were focused on NAC post-translational modifications, lysine 268 and 269 in tomato SlNAC1 C-terminal region contribute additively to its degradation, whereas the substitution of both lysine residues with two aspartic acids significantly stabilized the SlNAC1 C-terminal protein sequence [34]. In addition, the C-terminal regions of several NAC proteins function as transcriptional activation domains [19]; and references therein]. Domain deletion analysis on the Arabidopsis NAC gene ATAF1, revealed that the transactivation activity was conferred by the C-terminal domain and did not require the N-terminal domain [35]. Hence, the three amino acid INDEL in ppa008301m, possibly modifying the C-terminal domain structure, might influence the protein stability or its transcriptional activation capability and, consequently, the transcriptional activation of target genes.
Interestingly, we found in both populations that the early ripening individuals possessed the three amino acid insertion in the protein sequence, whereas delayed ripening was associated with the reference allele.
Conclusions
In this study we report the fine mapping of a major locus controlling maturity date trait in peach, using two different populations. The strategy allowed us to restrict the previously described locus from 3.56 Mb to 0.22 Mb. The NAC gene ppa008301m was identified as a strong candidate within this region and a consistent 9 bp insertion in its last exon was proposed as the variant possibly causing early ripening. Further experiments are needed to explore the functional significance of this INDEL. In any case, the marker developed on this sequence polymorphism provides a convenient molecular tool to discriminate early vs. late ripening individuals within the CxA, WxBy and likely other breeding populations. Considering the proposed pleiotropic effect of qMD4.1 on other important fruit traits, our results provide a basis to better define breeding programs for fruit quality improvement.
Declarations
Acknowledgements
We wish to thank S. Foschi and M. Lama for their valuable contribution in field tree management and harvesting, M. Valdameri and C. Colombi for SSR genotyping and M. Troggio for help with SNP genotyping. This work was supported by an Italian grant to DB funded by private and public agencies "MAS.PES: apricot and peach breeding by molecular-assisted selection" and by the Ministero delle Politiche Agricole Alimentari e Forestali–Italy (MiPAAF) through the project 'DRUPOMICS' (grant DM14999/7303/08). Work of IP and CDS was supported by Doctorate Fellowships from the Ministero dell'Istruzione, dell'Università e della Ricerca (MIUR) – Italy.
The authors thank the Centre for Applied Biomedical Research (CRBA) of Bologna for valuable contributions to the Sequenom analyses. The authors also thank Fondazione Cassa di Risparmio in Bologna for supporting CRBA.
Authors' Affiliations
(1)
Plant Genomics Section, Parco Tecnologico Padano, Lodi, Italy
(2)
Università degli Studi di Milano, Milan, Italy
(3)
Istituto di Genomica Applicata, Udine, Italy
(4)
Dipartimento di Scienze Agrarie e Ambientali, Università degli Studi di Udine, Udine, Italy
(5)
Consiglio per la Ricerca e la Sperimentazione in Agricoltura, Centro di Ricerca per la Frutticoltura, Roma, Italy
(6)
DCA, Department of Fruit Tree and Woody Plant Science, University of Bologna, Bologna, Italy
Copyright
© Pirona et al.; licensee BioMed Central Ltd. 2013
This article is published under license to BioMed Central Ltd. This is an open access article distributed under the terms of the Creative Commons Attribution License (http://creativecommons.org/licenses/by/2.0), which permits unrestricted use, distribution, and reproduction in any medium, provided the original work is properly cited.