Research article

Open Access
Positive- and negative-acting regulatory elements contribute to the tissue-specific expression of INNER NO OUTER, a YABBY-type transcription factor gene in Arabidopsis
BMC Plant Biology
2012
12:214
Received: 14 September 2012
Accepted: 31 October 2012
Published: 13 November 2012
Abstract
Background
The INNER NO OUTER (INO) gene, which encodes a YABBY-type transcription factor, specifies and promotes the growth of the outer integument of the ovule in Arabidopsis. INO expression is limited to the abaxial cell layer of the developing outer integument of the ovule and is regulated by multiple regions of the INO promoter, including POS9, a positive element that when present in quadruplicate can produce low-level expression in the normal INO pattern.
Results
Significant redundancy in activity between different regions of the INO promoter is demonstrated. For specific regulatory elements, multimerization or the addition of the cauliflower mosaic virus 35S general enhancer was able to activate expression of reporter gene constructs that were otherwise incapable of expression on their own. A new promoter element, POS6, is defined and is shown to include sufficient positive regulatory information to reproduce the endogenous pattern of expression in ovules, but other promoter regions are necessary to fully suppress expression outside of ovules. The full-length INO promoter, but not any of the INO promoter deletions tested, is able to act as an enhancer-blocking insulator to prevent the ectopic activation of expression by the 35S enhancer. Sequence conservation between the promoter regions of Arabidopsis thaliana, Brassica oleracea and Brassica rapa aligns closely with the functional definition of the POS6 and POS9 regions, and with a defined INO minimal promoter. The B. oleracea INO promoter is sufficient to promote a similar pattern and level of reporter gene expression in Arabidopsis to that observed for the Arabidopsis promoter.
Conclusions
At least two independent regions of the INO promoter contain sufficient regulatory information to direct the specific pattern but not the level of INO gene expression. These regulatory regions act in a partially redundant manner to promote the expression in a specific pattern in the ovule and suppress expression outside of ovules. Establishment of this pattern requires cooperation and competition between multiple positive and negative regulatory elements.
Keywords
Promoter
Enhancer
Ovule
Brassica
Plant development
Background
Specific spatiotemporal patterns of gene expression are required for some developmental processes and may depend on the action of both positive and negative factors for transcriptional regulation. Sequence-specific DNA-binding transcription factors act in a combinatorial manner on multiple binding sites in DNA to achieve different transcriptional outputs [1]. This type of combinatorial control is a major mechanism underlying eukaryotic transcriptional regulation and is responsible for differential gene expression [2, 3]. For example, the SPATULA (SPT) gene in Arabidopsis is specifically expressed in multiple tissues and the SPT promoter includes multiple tissue-specific enhancers and silencers, and shows several regions of conservation with the promoters of orthologous genes in closely related species [4]. The putative promoter region of FILAMENTOUS FLOWER (FIL), a YABBY gene family member, has also been characterized and shown to include both negatively and positively acting regions that together cause it to be expressed in the abaxial regions of primary lateral organs [5]. INNER NO OUTER (INO) is another Arabidopsis YABBY gene that is expressed in abaxial tissues, but exclusively in the outer integument of ovules [6, 7]. To understand the combinatorial role of multiple regulatory regions to produce the highly specific pattern of INO expression we have investigated promoter regions of this gene in Arabidopsis.
The INO gene promotes the initiation and growth of the outer integument on the gynobasal side of the ovule to produce an amphitropous (recurved) shape [7–10]. INO is expressed at the initiation site and in the developing abaxial layer of the outer integument in ovules [6, 7, 11, 12]. SUPERMAN (SUP) acts to limit the growth of the outer integument to the gynobasal side of the ovule, and sup mutants show overproliferation of the outer integument on the gynoapical side of the ovule resulting in a more orthotropous ovule [10]. The maintenance and up-regulation, but not the initiation, of INO expression requires active INO protein, and SUP suppresses the autoregulatory action of INO [11, 13].
Reporter gene and complementation analyses have previously identified a 2.3 kb region upstream of the INO coding sequence to contain regulatory information sufficient for correct INO expression, termed P-INO [11]. Deletion experiments using ß-glucuronidase (GUS) enzymatic activity as a reporter defined a 295 bp positive regulatory element within P-INO, which was termed POS9 [12]. While a single copy of POS9 did not produce detectable expression, when this element was present in combination with either the 5′ (termed POSX) or 3′ (termed POSY) P-INO flanking regions, or at least three additional copies of POS9, the wild-type pattern of INO expression was reproduced. This indicated the presence of additional, at least partially redundant, positive regulatory elements in P-INO [12]. No elements with negative regulatory activity were identified in this study.
The Meister et al. [12] study showed that POS9 included information that was sufficient to produce the normal pattern of expression and also contributed to the quantitative level of expression. Redundant quantitative information was also demonstrated for the regions 5′ and 3′ of POS9, but whether these regions also included redundant positional information was not clear from these prior studies. We have now utilized the reporter gene methods to test for the presence of such information. We have also used the enhancer region of the cauliflower mosaic virus 35S transcript promoter to see if such a general enhancer can substitute for the P-INO regions providing quantitative expression in the ovule. Evaluation of sequence conservation in other members of the Brassicaceae has allowed us to focus our efforts on the most conserved regions of the promoter. In these studies we find redundancy in both quantitative and positional activities among the different regions of P-INO, and further find evidence of negative regulatory activity in elements of P-INO. Attempts to identify specific functional sequence motifs within the promoter were unsuccessful.
Results
To further dissect the
INO
promoter, various promoter constructs were evaluated for their ability to replicate the pattern of expression produced by the full-length promoter using the GUS reporter gene.
INO
expression pattern, as revealed by GUS staining in ovules of P-INO::GUS transformants, has been previously described (Figure
1
A-D) [
11
,
12
]. GUS activity was first detected in the outer integument primordium at stage 2-III (stages according to Schneitz et al. [
14
]), it remained restricted to the outer integument and persisted through development of this structure until after stage 3-I. The current reporter gene analyses were initially carried out using the concentration of substrate used in the earlier study [
11
], but for some of the promoter constructs staining with an elevated substrate concentration was also evaluated.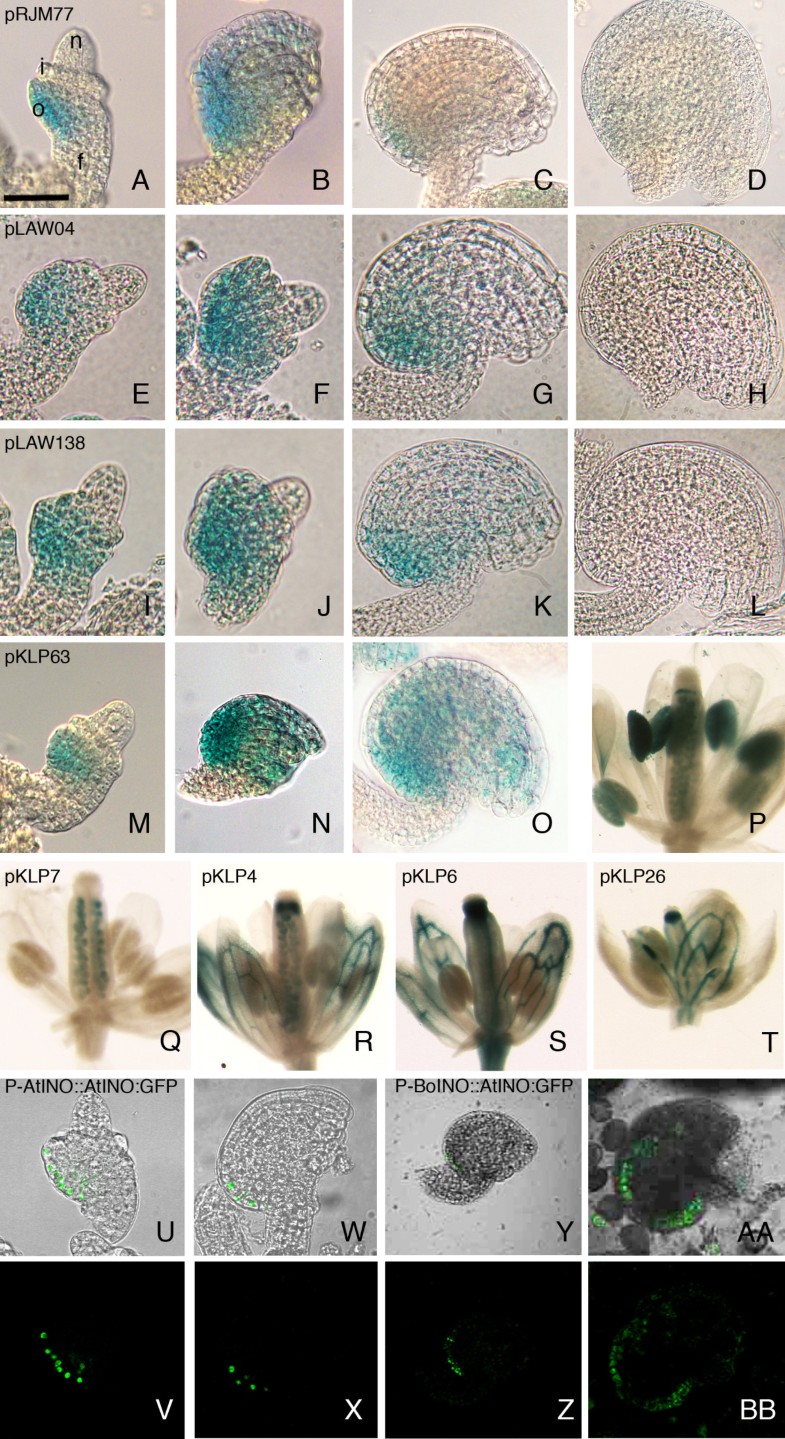 Discussion
The tight spatial and temporal confinement of INO gene expression to only one layer of the outer integument [7, 11] provides an exemplary model for studies of promoter elements necessary for developmental gene regulation. Previous work indicated that multiple independent regions of the INO promoter act in a partially redundant manner and defined the limits of one element (POS9) that included sufficient information for driving specific expression [12]. Herein we delineate a second element with properties like those of POS9, show that conservation of sequence in divergent species is concentrated in these two elements, and show that both positive and negative activities contribute to establishing the INO expression domain.
Conclusion
We find that the ovule specific expression produced by the INO promoter in the outermost cell layer on the gynobasal side of the outer integument is a result of a combination of position-specific and general enhancers to promote ovule expression, and repressive sequences to prevent expression outside of the ovule. Both types of sequences reside in all three elements we have defined. Positive activity is demonstrated because only combinations of at least two elements (that can be identical elements) produce significant expression. Distributed negative activity is shown by the requirement for all three elements to block general expression driven by the 35S enhancer, and by the ability of POSX and POS9 to block ectopic anther expression driven by POSY. Further, a region of negative activity was found during the deletion analysis of POSY. POSY differs from the other elements in two ways; it was the only element facilitated by the 35S enhancer, and it appears to have weaker activity in blocking expression outside of ovules. Despite the functional similarities between the three identified regions, no common sequence motifs were identified. It is possible that different sequences with redundant activities reside in the elements, or alternatively, common elements may be sufficiently variable to prevent identification. Additional refinement of the location of functional regions, and studies on factors bound to the regulatory elements, or on modification of the DNA or chromatin in these regions may allow resolution of these possibilities.
Declarations
Acknowledgements
We thank Dior Kelley and Mona Monfared for helpful discussion and Debra Skinner for comments on the manuscript. This work was supported by a grant from the U. S. National Science foundation (IOS-0920618) to CSG.
Authors' Affiliations
(1)
Department of Molecular and Cellular Biology, University of California, Davis, USA
(2)
HHMI, Harvard University, Cambridge, USA
(3)
General Mills, Kannapolis, USA
Copyright
© Simon et al.; licensee BioMed Central Ltd. 2012
This article is published under license to BioMed Central Ltd. This is an Open Access article distributed under the terms of the Creative Commons Attribution License (http://creativecommons.org/licenses/by/2.0), which permits unrestricted use, distribution, and reproduction in any medium, provided the original work is properly cited.