Research article
Open Access
Genome-wide analysis of the grapevine stilbene synthase multigenic family: genomic organization and expression profiles upon biotic and abiotic stresses
BMC Plant Biology
2012
12:130
Received: 7 March 2012
Accepted: 3 July 2012
Published: 3 August 2012
Abstract
Background
Plant stilbenes are a small group of phenylpropanoids, which have been detected in at least 72 unrelated plant species and accumulate in response to biotic and abiotic stresses such as infection, wounding, UV-C exposure and treatment with chemicals. Stilbenes are formed via the phenylalanine/polymalonate-route, the last step of which is catalyzed by the enzyme stilbene synthase (STS), a type III polyketide synthase (PKS). Stilbene synthases are closely related to chalcone synthases (CHS), the key enzymes of the flavonoid pathway, as illustrated by the fact that both enzymes share the same substrates. To date, STSs have been cloned from peanut, pine, sorghum and grapevine, the only stilbene-producing fruiting-plant for which the entire genome has been sequenced. Apart from sorghum, STS genes appear to exist as a family of closely related genes in these other plant species.
Results
In this study a complete characterization of the STS multigenic family in grapevine has been performed, commencing with the identification, annotation and phylogenetic analysis of all members and integration of this information with a comprehensive set of gene expression analyses including healthy tissues at differential developmental stages and in leaves exposed to both biotic (downy mildew infection) and abiotic (wounding and UV-C exposure) stresses. At least thirty-three full length sequences encoding VvSTS genes were identified, which, based on predicted amino acid sequences, cluster in 3 principal groups designated A, B and C. The majority of VvSTS genes cluster in groups B and C and are located on chr16 whereas the few gene family members in group A are found on chr10. Microarray and mRNA-seq expression analyses revealed different patterns of transcript accumulation between the different groups of VvSTS family members and between VvSTSs and VvCHSs. Indeed, under certain conditions the transcriptional response of VvSTS and VvCHS genes appears to be diametrically opposed suggesting that flow of carbon between these two competing metabolic pathways is tightly regulated at the transcriptional level.
Conclusions
This study represents an overview of the expression pattern of each member of the STS gene family in grapevine under both constitutive and stress-induced conditions. The results strongly indicate the existence of a transcriptional subfunctionalization amongst VvSTSs and provide the foundation for further functional investigations about the role and evolution of this large gene family. Moreover, it represents the first study to clearly show the differential regulation of VvCHS and VvSTS genes, suggesting the involvement of transcription factors (TFs) in both the activation and repression of these genes.
Keywords
Stilbene synthaseChalcone synthaseAbiotic stressDowny mildewGrapevine
Background
Approximately 450 million years ago, several pioneering green algal ancestors, probably related to Charales [1], spread out from water to occupy a new bio-geographical niche: dry land. This colonisation of dry land was accompanied by the need to deal with important stresses including desiccation, UV radiation, as well as attack by already diversified microbial soil communities. This led to a number of physiological adaptations, including the evolutionary emergence of entirely new specialized secondary metabolic pathways [2]. One in particular was crucial: the phenylpropanoid pathway, which represents a ubiquitous and specific trait of land plants providing vital compounds such as lignin and flavonoids [3]. Lignin is a structural polymer important for the structural integrity necessary for the emergence of self-supporting structures. Flavonoids, which often impart a species-specific chemical 'signature' upon an organism, serve vital roles in the protection of plants against biotic and abiotic stresses, reproduction and internal regulation of cell physiology and signalling [4].
The role of phenylpropanoid compounds in defence appears to be restricted to a minor class of compounds that are often referred to as phytoalexins. The term "phytoalexins" probably derives from the Greek language and means "warding off agents in plants" and refers to low mass, lipophilic, antimicrobial compounds that not only accumulate rapidly at the site of interaction with incompatible pathogens [5, 6] but also accumulate in response to abiotic stresses such as exposure to UV light, wounding or treatment with chemicals such as salts and heavy metals, respiratory inhibitors and surfactants [7]. Because of the agricultural and economic importance of grapevine as a crop plant, the strategies it uses to defend against phyto-pathogenic organisms, as well as deal with abiotic stresses, has attracted considerable interest in recent times. Amongst the arsenal of defence mechanisms available to grapevine cells is the production of phytoalexins. Phytoalexins from the Vitaceae family have been the subject of numerous studies over the past decade, not only because of their biological activities in planta, but also because of their possible pharmacological applications.
Although phytoalexins display an enormous chemical diversity throughout the plant kingdom, in grapevine they constitute a rather restricted group of molecules belonging to the "stilbene family" [8]. Plant stilbenes, together with flavonoids, belong to the class of compounds called polyketides, which represents a major group of phenylpropanoids derived from the extension of the activated form of coumaric acid with three acetyl moieties. Apart from the Vitaceae, stilbenes have been detected in at least 72 unrelated plant species distributed among 31 genera and 12 families including Fagaceae, Liliaceae, Moraceae, Myrtaceae, Papilionaceae, Pinaceae, and Poaceae [8–10]. Despite the multiplicity of forms detected in these different plants, most plant stilbenes, including those ones detected in grapevine, are derivatives of the basic unit trans-resveratrol (3,5,4'-trihydroxy-trans-stilbene). In addition to resveratrol, more complex compounds derived from its modification have also been detected in grapevine such as cis- and trans- piceid [11–14], viniferins, which represent oligomers arising from the oxidative coupling of resveratrol, pterostilbene [15, 16] and piceatannol [17].
Several plant species, such as Polygonum cuspidatum and Pinus spp. constitutively accumulate large amount of stilbenes [18–23]. However, the majority of studies conducted on cells and leaves of peanut, grapevine and pine seedlings have shown that stilbenes are present at only very low levels under normal conditions, but strongly accumulate in response to a wide range of biotic and abiotic stresses as a result of an increased transcription of their biosynthetic genes and the co-ordinated activation of upstream genes belonging to the general phenylpropanoid pathway, such as PAL and C4H. These abiotic stress treatments include mechanical damage [24, 25], UV-C light irradiation [26, 27], treatments with chemicals such as aluminium ions, cyclodextrins and ozone [28–30] and the application of plant hormones like ethylene and jasmonates [31–33]. In terms of biotic stresses, the biosynthesis of stilbenes in grapevine tissues is also particularly well documented, with the accumulation of stilbenic compounds reported following infection with a range of different pathogens, including powdery mildew (Erysiphe necator) [34, 35], downy mildew (Plasmopara viticola) [36], gray mold (Botrytis cinerea) [16, 37, 38] and Aspergillus carbonarius[39, 40].
Stilbene synthase (STS) is the key enzyme leading to the biosynthesis of resveratrol and stilbenes and was firstly extracted and purified from stressed cell suspension cultures of peanut (
Arachis hypogaea
) [
41
]. It belongs to the type III polyketide synthase super family, of which chalcone synthase (CHS) represents the archetypal enzyme. The enzyme is a dimer of estimated molecular weight 90 kDa with an iso-electric point (pI) of 4.8. A conserved cysteine residue, located in the central section of these proteins has been shown to be essential for the catalytic activity of both STS and CHS enzymes and represents the binding site for the p-coumaroyl-CoA starting substrate [
42
]. The region around this active site is well conserved and can be used as a signature pattern for CHS and STS. The two proteins show a high degree of similarity based on sequence homology (which reaches approximately 75-90% amino acid sequence identity depending on the species), and on the comparison of their crystallographic structures [
43
], suggesting that STS independently evolved from CHS several times in the course of evolution [
44
]. STSs, which, in contrast with the ubiquitous CHSs, are only present in stilbene-producing plants, catalyse the formation, in a single enzymatic reaction, of exactly the same linear tetraketide intermediate (from p-coumaroyl-CoA and three malonyl-CoA) produced by CHS in the flavonoid pathway, but with a different cyclization that leads to the production of stilbenes rather than chalcones (Figure
1
).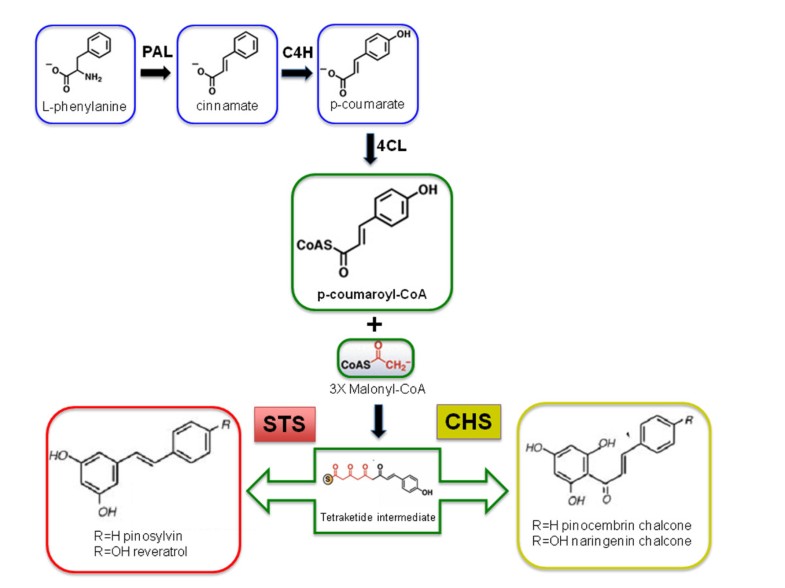 To date, STS genes have been cloned from peanut (A. hipogaea), Scots pine (P. sylvestris), Eastern white pine (P. strobus), Japanese red pine (P. densiflora), grapevine (V. vinifera L.) and sorghum (Sorghum bicolor). In many of these plant species STSs exist as a family of closely related genes. For example, two STS genes have been found in peanut and Eastern white pine [45, 46], Scots pine has a small multigene family of at least five pynosylvin synthase genes (PST1 PST2 PST3 PST4 and PST5) [47] and Japanese red pine possesses three members (PdSTS1 PdSTS2 and PdSTS3) [48]. Apart from Sorghum, for which only one STS member has been identified [10, 49], grapevine represents the only stilbene producing plant species for which the entire genome has been sequenced [50, 51]. Forty-three VvSTS members were predicted with GAZE and JIGSAW prediction tools in the 8.4 X coverage genome draft of the PN40024 genotype (French-Italian consortium) [50] while only twenty-one members were predicted from the genome sequence of the PN ENTAV 115 genotype (IASMA) [51]. Sparvoli et al. [52] performing a molecular characterization of structural genes involved in anthocyanins and stilbene biosynthesis in V. vinifera has previously hypothesized that these gene families probably arose from the same ancestral gene and that subsequent gene duplications and molecular divergence may have contributed to the establishment of functionally distinct genes.
This aim of this study was to clarify the genome organization of the entire STS family in grapevine and investigate the transcriptional response of each VvSTS member in different grapevine tissues, at different developmental stages and under different stress conditions, in order to determine if this gene family evolved into different sub-groups characterized by specific role in the response to different stresses or in the plant development.
Conclusions
The sequencing of the grapevine genome, together with the vertiginous development of next generation sequencing technologies constitute a powerful tool for gene search and studies concerning their evolution, expression and function. This study embodies a particularly significant example of the advantages provided by these new tools, providing a detailed description of the expression patterns of each VvSTS genes in an extremely conserved gene family such as the one here described. This is the first study to our knowledge that describes the behaviour of the VvSTS gene family focusing on each single member and taking into account the strong sequence conservation that characterizes it. Using this approach we have demonstrated transcriptional subfunctionalization amongst different members of the VvSTS gene family. Furthermore we provide evidence for the co-ordinated transcriptional regulation of the VvSTS and VvCHS gene families which may serve to regulate the flow of carbon via these two competing metabolic pathways.
Methods
Grapevine tissues
For mRNA-sequencing analysis leaves were obtained from field grown vines at the "Lucio Toniolo" experimental farm of the University of Padova (Legnaro, PD, Italy). V. vinifera cv. Pinot noir plants (clone 115 on K5BB rootstock) were obtained from a certified nursery (Vitis Rauscedo, Pordenone, Italy). For quantitative RT-PCR analyses leaves of V. vinifera cv Shiraz were obtained and samples from potted glasshouse vines at the Waite Campus (Adelaide, South Australia, latitude 34°56' south, longitude 138°36' east). Grapevines were propagated from dormant cuttings obtained from the Riverland Vine Improvement Committee (Monash, South Australia).
Database search, gene structure determination and chromosomal locations of grapevine STS genes
Protein sequences encoded by STS genes in grapevine were identified using BLAST [96] at the Genoscope BLAST server [97] providing the 8.4X and 12X V0 assembly coverage of the PN40024 genotype [50], and at the National Centre for Biotechnology Information (NCBI) [98]. The search was extended by consulting an uploaded version of the PN40024 12X assembly coverage, designated as V1, kindly provided by Prof. Giorgio Valle (University of Padova, Italy) [99]. A BLASTP search of the proteome database of the Genoscope Genome Project was carried out using the HMM (Hidden Markov Model) for the CHS/STS active site (PS00441) obtained from Prosite [100]. An e-value of 1e-3 was set to avoid false positives. To further increase the extent of the database search results, a tBlastN search of the genome sequence using one of the deduced protein sequences obtained from the Genoscope protein database was also performed in an attempt to capture VvSTS members that might have been missed using the GAZE and JIGSAW predictions and not included in the grapevine proteome database. Sequences were edited and analysed using Vector NTI v9 (Invitrogen) and gene structure was deduced from Genoscope gene annotation or from manual annotation based on the genomic sequences provided by Genoscope and comparison with the corresponding EST and deduced protein sequences for paralogous VvSTS genes. The chromosomal location of VvSTS genes was deduced using the BLAT server and additional physical localization tools at the Genoscope Genome Project website. Fragmentary predictions in the 12X PN40024 genomic sequence due to mistakes in the V1 assembly were substituted by corresponding sequences obtained from the parallel IASMA sequencing project obtained from the PN ENTAV 115 genotype [51] available at the NCBI database server.
Phylogeny reconstruction and bootstrap analysis
A multiple sequence alignment (MSA) of the VvSTS deduced proteins, was performed using the E-INSI tool of the MAFFT 6.0 software [101], which takes into account the possibility of large gaps in the alignments. Three CHS proteins corresponding to CHS1 (AB015872; Vv14s0068g00930), CHS2 (AB066275; Vv14s0068g00920) and CHS3 (AB066274; Vv05s0136g00260) [66] were also included in the analysis. An unrooted phylogenetic tree was generated with the neighbour-joining method [102] using MEGA 5.0 software [103]. The best protein substitution model was chosen using the ProtTest suite [104]. Reliability of tree obtained was tested using bootstrapping with 1000 replicates. Resulting trees were edited and modified using Treedyn software (http://www.treedyn.org).
Analysis of a gene expression atlas of V. vinifera cv. Corvina development
The expression patterns of VvSTS genes predicted from the analysis of the grapevine genome releases was analysed in a global V. vinifera cv. Corvina (clone 48) gene expression atlas of different organs at various developmental stages. Microarray data were kindly provided from Prof. Mario Pezzotti (University of Verona, Italy) for the following tissues: in vitro roots, green stem, buds after budburst (rosette of leaf tips visible), young leaves (leaves collected from shoots with only 5 leaves), senescing leaves (leaves at the beginning of leaf-fall), berry rachis (from fruit-set to ripening), flowers (50% cap-fall) and berry pericarp (from fruit set to ripe). In addition, berries were also examined which had undergone post-harvesting withering for 1–3 months after harvest. VvSTS genes encoding for an incomplete ORF were excluded from the analysis. Genes not represented by a 12X V1 identifier were also excluded. Data were analysed and expressed graphically by mean of MeV (Multi Experiment Viewer) software [105].
mRNA-seq samples preparation and sequencing
For mRNA-seq analysis, leaf discs (15 mm diameter) were punched from healthy leaves detached from V. vinifera cv. Pinot noir glasshouse-grown vines. Discs were randomly selected from the third/forth leaves collected from different vines, subjected to abiotic and biotic stresses as described below and incubated upside down on moist 3MM filter paper in large Petri dishes. Punching of discs was considered as a wounding treatment per se, and as a control for other treatments. The UV-C treatment was achieved by exposing the abaxial surface of the discs to 30 W UV-C light for 10 mins at a distance of 10 cm. Downy mildew (Plasmopara viticola) infection was carried out spraying a solution containing downy mildew sporangia at concentration of 105 sporangia ml-1. Pinot noir leaf discs were sampled at 0, 24 and 48 h after each treatment and total RNA extracted using the "Spectrum Plant total RNA Kit (Sigma) according to manufacturer's instructions. RNA samples obtained from different plants were pooled, and 1μg of total RNA was retrotranscribed using the SuperScript III First Strand Synthesis System for RT-PCR (Invitrogen) with the oligo (dT)20 primer according to manufacturer's instructions. The first-strand cDNA was initially analysed for the presence of VvSTS transcripts by PCR using the degenerate oligonucleotides GGTGACTAAGTCCGANCAYATGAC and GACTTTGGCTGTCCCCAYTCYTT designed using CODEHOP (Consensus-Degenerate Hybrid Oligonucleotide Primers) software [106] to ensure that the desired induction had been obtained. . Subsequently, 5 μg of the same RNA pools were used for mRNA-seq library preparation and Illumina® sequencing at the Institute of Applied Genomic (IGA, Udine, Italy). Each library had an insert size of 200 bp, and 36 to 39 bp paired ends reads sequenced on an Illumina Genome Analyzer IIx (GAIIx).
Alignment and analysis of Illumina reads against the V. vinifera genome
Paired end reads obtained by Illumina mRNA-seq sequencing were aligned using both the 8.4X and 12X V1 coverage assembly of the PN40024 genotype sequence. Alignment of reads against the 8.4X reference genome assembly was carried out using CLC Genomic Workbench software (http://www.clcbio.com) at the Institute of Applied Genomics (IGA, Udine, Italy). Sequence alignment against the 12X V1 coverage, was performed using ELAND, an un-gapped alignment software package, which is part of the Illumina pipeline version 1.32. In both the alignments a maximum of two mismatches per read was set and, for an accurate measurement of gene expression, both unique reads and reads that occur up to ten times were included, to avoid underestimating the number of genes with closely related paralogues such as VvSTS. VvSTS members wrongly predicted (VvSTS1 VvSTS3 VvSTS33 and VvSTS34) or encoding for an incomplete ORF were excluded from the analysis. Genes not represented by a 12X V1 identifier were also excluded. Data were analysed and expressed graphically by mean of MeV (Multi Experiment Viewer) software (http://tm4.org/mev/; [105]).
Differential gene expression analysis
The evaluation of gene expression was performed on the mRNA-seq data obtained from the 8.4X and the 12X V1 coverage respectively with CLC Genomic workbench and ERANGE 3.1 programs [
107
]. In both cases, the transcriptional activity of each gene was defined as the number of mapped reads per kilobase of exon per million mapped reads (RPKM):
Both programs compute the normalized gene locus expression level by assigning reads to their site of origin and counting them. In the case of reads that match equally in multiple loci, they are distributed proportionally to the weight of expression level given by specific single-matching reads. This means that if there are 10 reads that match two different genes with equal exon length, the two reads will be distributed according to the number of unique matches for these two genes. The gene that has the highest number of unique matches will thus get a greater proportion of the 10 reads. If a read has more hits than specified with this maximum number of hits setting, it will be ignored. Expression values were graphically represented using Multi Experiment Viewer software (MeV; http://www.tm4.org/mev/; [105]).
Validation of mRNA-seq data by quantitative real-time PCR expression analysis
Leaf discs (15 mm diameter) were punched from healthy leaves detached from glasshouse-grown V. vinifera cv. Shiraz vines. Discs were obtained from leaves belonging to different plants and showing similar age based on size and node positions in plants, treated with the same different biotic and abiotic stresses previously described and incubated upside down on 3MM moist filter paper in large Petri dishes at 22°C under 12 h light / 12 h dark conditions until harvest at which point discs were immediately frozen in liquid nitrogen and stored at −80°C until RNA extraction. Five discs were randomly chosen from different treatments, at 0, 8, 16, 24, 48, 72 and 96 h after wound treatment, 0, 4, 8, 24 and 48 h after UV-C treatment and 0, 8, 24, 48 an 48 h after downy inoculation, dried with absorbent paper and immediately frozen in liquid nitrogen until extraction.
Selective primers were designed across dissimilar exonic DNA stretches or using a 3'-terminal SNP between the perfect match of the target gene-copy and the mismatched annealing site of paralogous sequences. Melt curve analysis, agarose gel electrophoresis, and DNA sequencing validated the absence of illegitimate cross-amplification of other paralogues. Expression analyses were carried by quantitative real-time PCR using a Sybr green method on a Rotor-Gene 3000 (Corbett Research, Mortlake, Australia) thermal cycler. Each 15ul PCR reaction contained 330 nM of each primer, 2ul of diluted cDNA, 1X FastStart Sybr green (Roche) and sterile water. The thermal cycling conditions used were 94°C for 10 min followed by 40 cycles of: 95°C for 30 s, 60°C for 30 s, and 72°C for 30 s, followed by a melt cycle with 1°C increments from 55 to 96°C. Real time PCR data processing was performed using the standard curve method. Standard curves were constructed using 10-fold serial dilutions, using cDNA from samples and stages in which the specific gene-copy was expressed or, if not possible, genomic DNA. In order to compare the expression level of different members belonging to the same PKS family, the actual transcript copy number was calculated based on the length of the product of amplification and its concentration in standard dilutions used to calculate the expression level. After testing the suitability of 18 S, actin and elongation factor EF1 for use of reference genes, elongation factor was selected for normalization of all samples analysed. The expression of each target gene was calculated relative to the expression of elongation factor in each cDNA using Rotor-Gene 6 Software (Corbett Research, Mortlake, Australia) to calculate CT values, observe melt profiles, extrapolate the concentration and measure primer pairs efficiencies. The primers used were: VvSTS6, VvSTS6F2 5'-GTTGTGCTGCATAGCGTTGC-3' and 5'-GATTTAATTGGAAATTGTCCCCTTC-3'; VvSTS16, VvSTS16F2 5'-CTTTTGACCCAATTGGAATCAAC-3' and VvSTS16R3 5'-TGACATGTTCCCATATTCACTTAG-3'; VvSTS48, VvSTS48F 5'-CTTGAAGGGGGAAAATGCT-3' and VvSTS48R 5'-TTACTGCATTGAAGGGTA AACC-3'.
Declarations
Acknowledgements
Authors would like to thank Dr Marzia Salmaso and Dr Sabrina Canova (Department of Environmental Agronomy and Crop Protection of the University of Padova, Legnaro, Italy) for their technical assistance, Prof. Michele Morgante and Dr Federica Cattonaro (Istituto di Genomica Applicata, Udine, Italy) for providing mRNA-seq data analysis on the 8X coverage of the PN40024 genotype, Prof. Mario Pezzotti, who provided the grapevine expression atlas for the expression analysis of STS genes in grapevine tissues, Dr. Alberto Ferrarini (Department of biotechnology, University of Verona, Italy) for his assistance with the alignments and analysis of mRNA-seq output data on the grapevine 12X V1 coverage genome assembly, and Prof. Annalisa Polverari who provided the P. viticola inoculum. Thanks also to Dr. Mandy Walker for providing some VvCHS oligos and Angelica Jermakow and Angela Feechan for their technical support at the CSIRO Plant Industry (Urrbrae, SA). This work was partially supported by the Veneto region – Distretto del vino – Progetto "ValViVe" and by the Italian project AGER-SERRES, 2010–2105.
Authors' Affiliations
(1)
Department of Agronomy, Food, Natural resources, Animals and Environment, University of Padova, Legnaro, Italy
(2)
Centro Interdipartimentale per la Ricerca in Viticoltura ed Enologia, Università di Padova, Legnaro, Italy
(3)
CSIRO Plant Industry, Glen Osmond, Australia
(4)
Dipartimento di Biotecnologie, Università degli Studi di Verona, Verona, Italy
Copyright
© Vannozzi et al.; licensee BioMed Central Ltd. 2012
This article is published under license to BioMed Central Ltd. This is an Open Access article distributed under the terms of the Creative Commons Attribution License (http://creativecommons.org/licenses/by/2.0), which permits unrestricted use, distribution, and reproduction in any medium, provided the original work is properly cited.