Research article

Open Access
Non-redundant functions of two proline dehydrogenase isoforms in Arabidopsis
BMC Plant Biology
2010
10:70
Received: 16 November 2009
Accepted: 19 April 2010
Published: 19 April 2010
Abstract
Background
Proline (Pro) accumulation is a widespread response of prokaryotic and eukaryotic cells subjected to osmotic stress or dehydration. When the cells are released from stress, Pro is degraded to glutamate by Pro-dehydrogenase (ProDH) and Pyrroline-5-carboxylate dehydrogenase (P5CDH), which are both mitochondrial enzymes in eukaryotes. While P5CDH is a single copy gene in Arabidopsis, two ProDH genes have been identified in the genome. Until now, only ProDH1 (At3g30775) had been functionally characterised.
Results
We demonstrate vasculature specific expression of the Arabidopsis ProDH2 gene (At5g38710) as well as enzymatic activity and mitochondrial localisation of the encoded protein. Expression levels of ProDH2 are generally low, but increased in senescent leaves and in the abscission zone of floral organs. While sucrose represses ProDH2 expression, Pro and NaCl were identified as inducers. Endogenous ProDH2 expression was not able to overcome Pro sensitivity of ProDH1 mutants, but overexpression of a GFP-tagged form of ProDH2 enabled the utilisation of Pro as single nitrogen source for growth. Amongst two intronic insertion mutants, one was identified as a null allele, whereas the other still produced native ProDH2 transcripts.
Conclusions
Arabidopsis possesses two functional ProDHs, which have non-redundant, although partially overlapping physiological functions. The two ProDH isoforms differ with respect to spatial, developmental and environmental regulation of expression. While ProDH1 appears to be the dominant isoform under most conditions and in most tissues, ProDH2 was specifically upregulated during salt stress, when ProDH1 was repressed. The characterisation of ProDH2 as a functional gene requires a careful re-analysis of mutants with a deletion of ProDH1, which were so far considered to be devoid of ProDH activity. We hypothesise that ProDH2 plays an important role in Pro homeostasis in the vasculature, especially under stress conditions that promote Pro accumulation.
Keywords
Senescent Leaf
Insertion Line
Abscission Zone
Transcription Factor bZIP11
Wildtype Plant
Background
Arabidopsis, like most plant species, accumulates free proline (Pro) to high concentration in response to salt and drought stress. The physiological function of Pro is subject to controversial debate, and Arabidopsis plants with a reduced capacity to accumulate Pro showed only a moderate decrease or no change in stress tolerance [1–3]. Pro is suggested to act as a compatible osmolyte, a stabilising agent for macromolecules, a radical scavenger or as a nitrogen and energy store for the recovery phase [4, 5]. Other hypotheses attribute the beneficial function to the process of Pro metabolism rather than the mere accumulation of Pro. Along this line, energy transfer between cellular compartments, regeneration of electron acceptors or signalling functions have been proposed [6, 7].
The biochemistry of Pro biosynthesis and degradation has been intensively studied and most of the participating proteins and the genes encoding for these enzymes were characterised with respect to temporal and spatial expression patterns and enzymatic properties (Fig.
1
; [
5
]). The first step of Pro synthesis is catalysed by Pyrroline-5-carboxylate synthetase (P5CS), which uses glutamate, NADPH and ATP to generate glutamate-γ-semialdehyde (GSA). GSA is in spontaneous equilibrium with the cyclic pyrroline-5-carboxylate (P5C), which is converted to Pro by P5C reductase (P5CR), again consuming NADPH. Arabidopsis contains two isoforms of P5CS that are differentially regulated.
P5CS2
(At3g55610) expression was consistent with a housekeeping function, and the P5CS2 protein was found to be localised in the cytosol under normal conditions while being partially re-located to plastids during stress [
3
,
8
,
9
]. Pro accumulation under stress conditions is primarily contingent upon induction of
P5CS1
(At2g39800) expression. Also P5CS1 was observed in the cytosol, partly as presumably inactive aggregates, and re-localised to plastids during stress [
3
]. P5CR seems to be predominantly localised in the cytosol, while some activity was also associated with plastid preparations [
10
,
11
]. However, direct investigations of the localisation and enzymatic properties of Arabidopsis P5CR (At5g14800) are still pending. A second pathway for Pro synthesis from ornithine had also been postulated, but characterisation of Ornithine-δ-aminotransferase indicated that ornithine is degraded to glutamate inside the mitochondria prior to its conversion to Pro by the standard pathway [
12
,
13
]. Loss or gain of function mutants provided valuable evidence for the physiological role of Pro accumulation, although the interpretation of the mutant phenotypes was always hampered by the primary function of Pro in protein biosynthesis [
4
].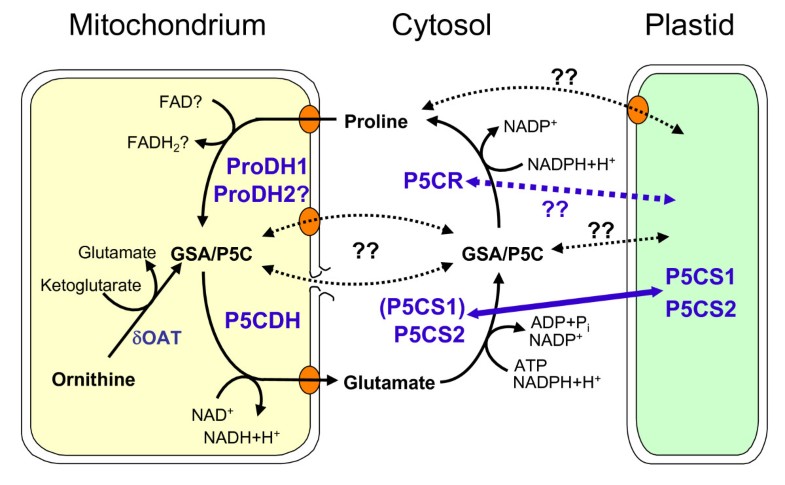 For degradation, Pro is imported into the mitochondria, where it is converted back to glutamate by the tightly coupled activities of Pro dehydrogenase (ProDH) and P5C dehydrogenase (P5CDH [14, 15]). In Arabidopsis, one ProDH (ProDH1; At3g30775) and one P5CDH (At5g62530) have been characterised at the molecular level. ProDH1 and P5CDH expression is repressed by osmotic stress and upregulated by Pro, with the changes being more pronounced for ProDH1 [4]. Also in flowers, strong expression of ProDH1 was observed in the stigma and in pollen, while P5CDH is only upregulated in pollen [16, 17]. Mutants with defects in Pro degradation grew without obvious phenotypic differences under greenhouse conditions, only a slight decrease in seed quality was noted for p5cdh mutants [16, 18–20]. Common to the p5cdh mutants and the ProDH1 mutant pdh1-1 were an enhanced and prolonged accumulation of Pro during stress and an unexpected hypersensitivity to external Pro supply in the absence of stress. In wildtype plants, external application of harmful amounts of Pro caused the loss of mitochondrial and plastid integrity [21]. Hare et al. (2002) hypothesised that excess Pro degradation would cause misdirection of electrons to O2 in mitochondria and plastids due to electron overflow or acceptor limitation, respectively. Recent results confirmed the Pro-dependent production of reactive oxygen species (ROS) in mitochondria, an effect that was more pronounced in ProDH overexpressing or p5cdh mutant plants [22].
The only obvious gap in the molecular characterisation of Pro metabolism in Arabidopsis remains a second isoform of ProDH (ProDH2, At5g38710), which has been identified as an expressed gene with high homology to ProDH1 [1, 23]. The predicted pre-proteins of ProDH1 and ProDH2 share 75% identical amino acids (aa). Hanson et al. (2008) demonstrated a direct induction of ProDH2 by the sucrose-repressed transcription factor bZIP11 [24]. However, until now the enzymatic functionality of ProDH2 had not been addressed. Here, we demonstrate that ProDH2 expressed in yeast can mediate Pro degradation equal to ProDH1. Overexpression of a ProDH2-GFP construct in Arabidopsis was able to rescue the Pro-hypersensitive phenotype of the pdh1-1 knockout mutant. We detected ProDH2-GFP in the mitochondria and analysis of GUS expression under control of the ProDH2 promoter demonstrated specific expression in the vascular tissue and in the abscission zone of petals, sepals and stamina. In striking contrast to ProDH1, ProDH2 expression was induced by salt stress and was absent in reproductive tissues.
Discussion
Functional expression of Arabidopsis ProDHs in yeast
In the initial characterisation of ProDH1, two groups reported conflicting results concerning the expression of a functional protein from the native Arabidopsis gene in yeast. The contra group circumvented the problem by using the mTP of the yeast ProDH gene Put1, which might in itself interfere with the functionality test [25]. The data provided by the pro group lack proper positive and negative controls, for which it is impossible to tell if there is some strain specificity in the use of non-native mTPs [30]. Both studies suffer from the use of tryptophan auxotrophic strains, which necessitated the addition of low amounts of tryptophan, a potential nitrogen source. We circumvented these limitations by generating a Δput1 deletion strain in the 23344c background, which is wildtype except for the ura3 mutation that served as a selection marker for the expression plasmids. In this background, the native cDNAs of either ProDH gene from Arabidopsis did not confer sufficient ProDH activity to enable Pro utilisation. Exchange of the predicted mTPs for the N-terminus of a metabolically unrelated mitochondrial protein from yeast allowed the expression of functional ProDHs as evidenced by complementation of the Pro utilisation defect of the Δput1 strain. From this we concluded that both ProDH genes from Arabidopsis encode proteins that mediate Pro catabolism to P5C/GSA. Functional expression of the hybrid genes in yeast indicated that protein folding and co-factor insertion of the Arabidopsis proteins worked correctly in the heterologous system. Mitochondrial localisation of ProDH1-GFP and ProDH2-GFP fusion proteins in Arabidopsis demonstrated functionality of the ProDH-mTPs in the native organism. Complementation of the Pro hypersensitive phenotype of Arabidopsis pdh1-1 mutant by overexpression of ProDH1-GFP or ProDH2-GFP provided further evidence that both proteins have the same enzymatic activity. It remains to be investigated, why the native Arabidopsis ProDH genes do not enable the expression of sufficient amounts of active and correctly targeted protein, whereas the Arabidopsis P5CDH gene produced a functional protein with its native mTP [19].
Spatial, temporal and metabolic regulation of ProDH2expression
Analysis of the tissue specificity of ProDH2 expression by promoter-Gus fusion demonstrated that ProDH2 expression is restricted to the vascular tissue. This finding is in agreement with regulation of ProDH2 expression by the transcription factor bZIP11, which is also spatially confined to the vasculature [24, 31]. Translation of bZIP11 is repressed by sucrose, which resulted in reduced transcript levels of ProDH2 in the presence of high sucrose concentrations. High sucrose concentrations (3%) might also be the reason for the absence of ProDH2 transcripts in the root-derived heterotrophic cell culture. The medium of the mixotrophic leaf-derived cell culture contained 1% sucrose (roughly corresponding to 30 mM), which is not sufficient to switch off ProDH2 expression. ProDH2-promoter driven Gus expression increased with leaf age and was strongest in the abscission zone of the floral organs, indicating that developmental signals also play a role in ProDH2 regulation. ProDH1, which had also enhanced promoter activity in the abscission zone, was additionally strongly expressed in pollen, in the stigma and in developing embryos, where no ProDH2 expression was detected [17]. In roots, both ProDH1 and ProDH2 were strongly detected, while P5CDH was only weakly expressed. Potentially, arginine catabolism, which is the second task of P5CDH, is less prominent in roots. Alternatively, the strong ProDH expression could result from the preparation of the roots by extensive washing in (hypotonic) tap water. Expression changes of ProDH1 are reportedly very fast, while regulation of P5CDH was slower [25, 32]. Increased ProDH2 expression in old leaves was confirmed by northern blot analysis and evaluation of publicly available microarray data [28, 29]. The spatial expression pattern was the most striking difference between ProDH1 and ProDH2 expression but also NaCl treatment caused down-regulation only of ProDH1. Similarly, Ribarits et al. (2007) found a differential regulation of two ProDH isoforms during dehydration in tobacco, while under these conditions the Arabidopsis ProDHs were co-regulated [23]. Over the broad range of different treatments documented in the microarray data collection, co-regulation of ProDH1 and ProDH2 is only sparsely observed, supporting our findings that the two ProDH isoforms fulfil at least partially different physiological functions. Up-regulation of ProDH2 expression during salt or drought stress might indicate a special need for proline degradation in the vasculature, while down-regulation of ProDH1 occurs in the remaining tissues and enables proline accumulation. These findings imply that proline accumulation might not be favourable in the vascular tissue and the continued degradation of proline may provide energy and glutamate for other metabolic pathways or for long distance transport.
ProDH2 cannot fully compensate the lack of ProDH1
Loss-of-function mutants of ProDH1 were identified and characterised as sensitive to external Pro supply and heat treatment [20, 33]. The existence and potential activity of ProDH2 was neglected in these studies. Mutants in P5CDH, which is a single copy gene in Arabidopsis, were completely unable to degrade Pro [16]. In a direct comparison of pdh1, pdh2 and p5cdh mutants, we observed that pdh1 and p5cdh mutants were unable to utilise Pro as the sole nitrogen source, whereas pdh2 mutants grew equally well as the corresponding wildtype. When pdh1-1, pdh1-4 and p5cdh-2 mutants were grown on medium containing mineral nitrogen, only p5cdh-2 was more sensitive to growth-inhibition by external Pro than the wildtype. Preliminary characterisation of the pdh2-1 mutant showed a slightly enhanced Pro accumulation in response to salt stress but not after external Pro application (data not shown). Pro sensitivity and stress induced Pro accumulation differed between the Col-8 and Ler wildtypes, confirming that a useful double mutant can only be produced after extensive backcrossing. From these data we conclude that the slightly enhanced ProDH2 expression in Pro treated pdh1 mutants could not fully compensate the loss of ProDH1, while it may be able to diminish the toxic effects of Pro. Alternatively, the toxic effects of Pro supply might result from P5C, which is only expected to accumulate in the p5cdh-2 mutant. Recent results presented by Miller et al. (2009) suggest that ROS production by ProDH rather than P5C accumulation is the cause of the toxic effects of Pro application [22]. Unfortunately, Miller et al. (2009) did not analyse ProDH mutants and from the data presented it is not possible to determine, whether ROS production is the cause or a consequence of the loss of mitochondrial integrity that was observed in earlier studies [21]. Our identification of pdh2 mutants and the possibility to generate double mutants completely devoid of ProDH activity opens new possibilities to dissect the contribution of Pro degradation to Pro toxicity and stress tolerance. The detailed characterisation of the pdh2 mutants will also help to identify the specific physiological function of ProDH2 in the vascular tissue.
Conclusions
Despite numerous biochemical and molecular approaches, the protective mechanism of Pro accumulation remains unclear. Each new piece of experimental evidence added to our picture of Pro metabolism in plants requires careful re-interpretation of previous results. Only by a thorough analysis of all components and also non-obvious side effects it will become possible to understand the seemingly dual nature of Pro as a protective and toxic compound. The functional characterisation of ProDH2 opens up a whole new set of experimental approaches to understand the function of Pro in the stress tolerance of plants.
Declarations
Acknowledgements
We would like to thank Giuseppe Forlani, University of Ferrara, Italy, for communicating unpublished results, for the 23344c yeast strain, for the white Arabidopsis cell culture and for helpful comments on the manuscript. Marc Erhardt, University of Konstanz, is acknowledged for the pFA6a-KanMX6 plasmid and for helpful advice on the construction of the Δput1 knockout strain. We are also thankful to Tsuyoshi Nakagawa, Shimane University, Japan, for the pGWB5 vector. Regina Grimm, Silvia Kuhn, Roswitha Miller-Sulger and the gardeners of the University of Konstanz are acknowledged for technical assistance in the lab and for excellent plant care, respectively. We are indebted to Iwona Adamska for providing a functional working environment and for critical reading of the manuscript. Additional thanks to Helen Gunter, who made helpful suggestions concerning the use of the English language. The University of Konstanz provided financial support for this study and GM is grateful for a fellowship by the Stiftung der deutschen Wirtschaft.
Authors' Affiliations
(1)
Department of Plant Physiology and Biochemistry, Biology Section, University of Konstanz, Konstanz, Germany
Copyright
© Funck et al; licensee BioMed Central Ltd. 2010
This article is published under license to BioMed Central Ltd. This is an Open Access article distributed under the terms of the Creative Commons Attribution License (http://creativecommons.org/licenses/by/2.0), which permits unrestricted use, distribution, and reproduction in any medium, provided the original work is properly cited.