Research article

Open Access
An in silico analysis of the mitochondrial protein import apparatus of plants
BMC Plant Biology
2010
10:249
Received: 26 August 2010
Accepted: 16 November 2010
Published: 16 November 2010
Abstract
Background
An in silico analysis of the mitochondrial protein import apparatus from a variety of species; including Chlamydomonas reinhardtii, Chlorella variabilis, Ectocarpus siliculosus, Cyanidioschyzon merolae, Physcomitrella patens, Selaginella moellendorffii, Picea glauca, Oryza sativa and Arabidopsis thaliana was undertaken to determine if components differed within and between plant and non-plant species.
Results
The channel forming subunits of the outer membrane components Tom40 and Sam50 are conserved between plant groups and other eukaryotes. In contrast, the receptor component(s) in green plants, particularly Tom20, (C. reinhardtii, C. variabilis, P. patens, S. moellendorffii, P. glauca, O. sativa and A. thaliana) are specific to this lineage. Red algae contain a Tom22 receptor that is orthologous to yeast Tom22. Furthermore, plant mitochondrial receptors display differences between various plant lineages. These are evidenced by distinctive motifs in all plant Metaxins, which are absent in red algae, and the presence of the outer membrane receptor OM64 in Angiosperms (rice and Arabidopsis), but not in lycophytes (S. moellendorffii) and gymnosperms (P. glauca). Furthermore, although the intermembrane space receptor Mia40 is conserved across a wide phylogenetic range, its function differs between lineages. In all plant lineages, Tim17 contains a C-terminal extension, which may act as a receptor component for the import of nucleic acids into plant mitochondria.
Conclusions
It is proposed that the observed functional divergences are due to the selective pressure to sort proteins between mitochondria and chloroplasts, resulting in differences in protein receptor components between plant groups and other organisms. Additionally, diversity of receptor components is observed within the plant kingdom. Even when receptor components are orthologous across plant and non-plant species, it appears that the functions of these have expanded or diverged in a lineage specific manner.
Keywords
Brown AlgaGreen PlantIntermembrane SpacePlant MitochondrionReceptor Component
Background
The endosymbiotic event giving rise to the origin of mitochondria is thought to have occurred 1 to 2 billion years ago [1, 2]. Details of the conditions that favoured this event and the exact identity of the host cell that engulfed the α-proteobacterial cell are still unclear. It has been proposed that the endosymbiosis that gave rise to mitochondria occurred under anaerobic conditions, followed by early diversification of eukaryotic cells [3]. For plastids, an endosymbiotic event occurred ~1 billion years ago when a heterocyst forming cyanobacterium was engulfed [4, 5]. Over time the loss and/or transfer of genes and genomes from the endosymbionts to the host cell nucleus has resulted in the formation of organelles with limited coding capacity [6–8]. The majority of proteins located in mitochondria and plastids are encoded by nuclear located genes, translated in the cytosol and imported into these organelles. Notably, the proteomes of both mitochondria and chloroplasts are derived from a variety of sources and are not simply a subset of the proteins derived from the ancestral endosymbiont [9]. In the most extreme cases, it is thought that all genes that were present in the endosymbiont have been lost, resulting in specialized organelles such as hydrogenosomes and mitosomes [10].
Although mitochondria have a single origin there is variation observed between different mitochondria present in the major branches of life [10]. Mitochondria in plants contain many unique features compared to their fungal or animal counterparts. These include a larger genome, ranging from 200 Kb to 2000 Kb in size [11], extensive cis and trans splicing of introns, [12], relatively slow rates of mutations [13, 14], extensive editing of mRNA [15] and incorporation of foreign DNA [16]. Another notable feature is the presence of a branched respiratory chain [17]. Although fungi contain alternative NAD(P)H dehydrogenases and an alternative oxidase, these are usually only expressed under conditions where the cytochrome chain is inhibited [17]. In contrast, plant mitochondria contain components of the alternative respiratory pathways which exhibit both constitutive and stress induced expression [18]. Furthermore, mitochondria of plants and animals have diversified in a lineage specific manner to include or exclude various biochemical pathways, such as the β-oxidation of fatty acids that occurs in peroxisomes in plants and mitochondria in animals [19].
In plants, the presence of plastids in cells also adds to the complexity of protein sorting required to avoid mis-targeting of proteins to organelles. Plastidic and mitochondrial targeting signals, referred to as transit peptides and presequences respectively, are typically located at the N-terminal end of the protein and are enriched in positively charged residues such as lysine and arginine [20]. It is not known how mis-sorting of proteins is prevented between plastids and mitochondria. A combination of the predicted ability of transit peptides and presequences to form different secondary structures, the proposed presence of cytosolic targeting factors and even targeting of mRNA to the surface of organelles, may all combine to achieve the observed specificity of protein targeting [21, 22]. There is a mechanistic difference between recognition of targeting signals by preprotein receptor proteins in plastids and mitochondria, the former involving a GTP/GDP cycle while no energy requirement is observed for receptor binding in mitochondria. This mechanism among others may contribute to the specificity of targeting signal recognition at the surface of each organelle [23, 24].
Our knowledge of the mitochondrial protein import apparatus in plants, both experimental and predicted, is largely derived from studies in Arabidopsis, and to a lesser extent from Solanum tuberosum (potato). Purification of the translocase of the outer membrane (TOM) complex from both Arabidopsis and potato revealed that Tom40 and Tom7 are orthologous with those from yeast, while Tom20 is not orthologous to yeast or mammalian proteins [25–27]. The other import receptors characterized in yeast (and mammals), Tom70 and Tom22, appear to be absent [28, 29]. It has been shown that plant Tom9 is the most likely equivalent to yeast Tom22, but lacks the cytosolic receptor domain [30]. The mitochondrial processing peptidase has been purified from potato and shown to be integrated into the cytochrome bc1 complex [31, 32]. This is also the case in lower plants examined both in the elkhorn fern Platycerium bifurcatum and the field horsetail Equisetum arvense [33]. Biochemical purification of the presequence degradation peptidase (PreP) has shown that it is a dual targeted protein and that it is a zinc metalloprotease [34]. Biochemical studies have shown that small intermembrane space proteins also mediate mitochondrial carrier protein import in potato mitochondria. In addition, the plant TIM17:23 complex differs to that in yeast in that the Tim17 in Arabidopsis contains a C-terminal extension that must be removed before it can complement a tim17 mutant in yeast [35, 36].
However, there are limited studies on the nature of the mitochondrial protein import apparatus from other plants, ranging from single celled algae to monocots. Thus, in order to gain a better overview of the protein import apparatus in plants, compared to fungal and animal counterparts, an
in silico
analysis of these components was carried out. This was based on the fact that complete genome sequences now exist for the single celled green algae,
Chlamydomonas reinhardtii
(Chlorophyte) [
37
] and
Chlorella variabilis
, an intracellular single celled green algae photosynthetic symbiont in
Paramecium bursaria
[
38
], a moss,
Physcomitrella patens
(Bryophyte) [
39
],
Selaginella moellendorffii
, an ancient vascular plant [
40
], and higher plants
Oryza sativa
[
41
],
Arabidopsis thaliana
[
42
] and
Picea glauca
[
43
] (Spermatophytes) (Figure
1
). We have also included analysis from brown algae,
Ectocarpus siliculosus
(Phaeophyceae) [
44
] and the red algae,
Cyanidioschyzon merolae
(Rhodophyta) [
45
] (Figure
1
). Red algae represent a cell lineage with a primary plastid endosymbiosis that is proposed to have been derived from the same event that gave rise to the plastids in green plants, but diverged from the green plant lineage early after this endosymbiotic event [
46
]. Brown algae have obtained their plastids via a secondary endosymbiosis, and contain four plastid envelope membranes. Thus, plastid proteins are first targeted to the outer membrane via a hydrophobic signal sequence and secondary targeting signals mediate uptake into plastids [
47
].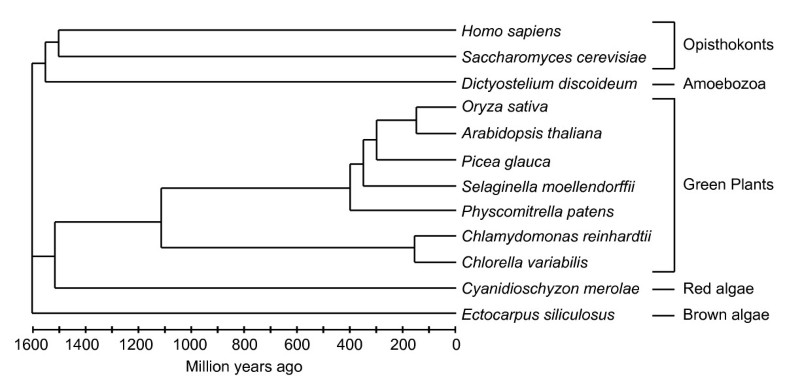 Conclusions
The plant mitochondrial import apparatus displays many differences compared to other non-plant organisms and between plant groups. The TOM complex in plants displays the most variability in that as many as five different TOM complexes exist in plants when red algae, brown algae and green plants are considered. Even in the green plant lineage variation is observed with OM64 only being present in monocot and dicot plants. While the composition of the other protein complexes may appear more conserved, the lack of biochemical characterization of these complexes in any plant group means that the presence of plant specific accessory subunits in various lineages cannot be judged. Additionally for some proteins, such as Mia40 and Tim17, functions have expanded in plants compared to those characterized in yeast.
Methods
The protein sequences for all of the known mitochondrial protein import components from Saccharomyces cerevisiae (Tom20, Tom70, Tom71, Tom40, Tom22, Tom5, Tom6, Tom7, Sam50, Sam37, Sam35, Mdm10, Mim1, Mia40, Erv1, Hot13, Tim9, Tim10, Tim8, Tim13, Tim12, Tim22, Tim54, Tim18, Tim23, Tim17, Tim50, Tim21, mtHsp70, Mge1, Tim44, Pam18, Mdj2, Pam16, Pam17, MPPα, MPPβ, Oct1, Imp1, Imp2, Som1, Yta12, Yta10, Yme1, Mgr1, Mgr3, Pcp1, Icp55, Oxa1, Mba1, Cox18, Pnt1, Mss2, Mdj1, Hsp60, Hsp10, Hsp78 and Zim17) were downloaded from the NCBI protein database (http://www.ncbi.nlm.nih.gov/protein/). The Metaxin protein sequences were also obtained from Homo sapiens. Using the above protein sequences Blastp [84] searches of the protein sequences from Physcomitrella patens, Selaginella moellendorffii, Chlamydomonas reinhardtii, Arabidopsis thaliana, Oryza sativa, Zea mays, Vitis vinifera, Glycine max and Populus tricocarpa were performed using the Phytozome (http://www.phytozome.net) database. Blastp [84] searches of Cyanidioschyzon merolae were performed using the Cyanidioschyzon merolae genome project website (http://merolae.biol.s.u-tokyo.ac.jp/). Blastp [84] searches of Ectocarpus siliculosus were performed at the Bioinformatics online genome annotation system website (http://bioinformatics.psb.ugent.be/webtools/bogas/overview/Ectsi). Blastp [84] searches of Chlorella variabilis NC64A genome [38] was performed at the Chlorella genome website (http://genome.jgi-psf.org/ChlNC64A_1/ChlNC64A_1.home.html). To identify mitochondrial import components of Picea glauca tblastn [84] searches were carried on EST sequences [43] at the NCBI website (http://blast.ncbi.nlm.nih.gov/Blast.cgi).
All multiple sequence alignments were carried out using MAFFT [85] and visualized using Multiple align show (http://www.bioinformatics.org/sms/multi_align.html). The program IQPNNI [86] was used to reconstruct a maximum likelihood phylogeny assuming the Whelan and Goldman model [87]. Phylogenetic trees were finally visualized using the program Geneious (http://www.geneious.com).
TMpred (http://www.ch.embnet.org/software/TMPRED_form.html), TMHMM (http://www.cbs.dtu.dk/services/TMHMM/), and DAS (http://www.sbc.su.se/~miklos/DAS/) [88] were used in the prediction of transmembrane regions. TPR repeats were predicted using TPRpred (http://toolkit.tuebingen.mpg.de/tprpred) [89]. Motif analysis was performed using MEME (http://meme.nbcr.net/meme4_4_0/cgi-bin/meme.cgi) using default parameters for all plant like Metaxin sequences and sequences of the plant Tim17 extensions [90].
Abbreviations
Erv1:

Essential for respiration and vegetative growth 1
FAD:

Flavin adenine dinucleotide
GDP:

Guanosine diphosphate
GTP:

Guanosine diphosphate
GST:

Glutathione S-transferase
Hot13:

Helper of Tim protein 13
Icp55:

Intermediate cleavage peptidase of 55 kDa
Mdm10:

Mitochondria distribution and morphology protein 10
MIA:

Mitochondrial import and assembly
Mim1:

Mitochondrial import 1
MPP:

Mitochondrial processing peptidase
OM64:

Mitochondrial outer membrane protein of 64 kDa
Omp85:

Outer membrane protein of 85 kDa
PRAT:

Preprotein and amino acid transporter
TIM:

Translocase of the inner membrane
TOC:

Translocase of the outer envelope of chloroplasts
TOM:

Translocase of the outer membrane
TPR:

Tetratricopeptide repeat
SAM:

Sorting and assembly machinery
Declarations
Acknowledgements
This work was supported by an Australian Research Council Centre of Excellence Grant CEO561495.
Authors' Affiliations
(1)
Australian Research Council Centre of Excellence in Plant Energy Biology, University of Western Australia, Crawley, Australia
Copyright
© Carrie et al; licensee BioMed Central Ltd. 2010
This article is published under license to BioMed Central Ltd. This is an Open Access article distributed under the terms of the Creative Commons Attribution License (http://creativecommons.org/licenses/by/2.0), which permits unrestricted use, distribution, and reproduction in any medium, provided the original work is properly cited.