Research article

Open Access
Isolation and antisense suppression of flavonoid 3', 5'-hydroxylasemodifies flower pigments and colour in cyclamen
BMC Plant Biology
2010
10:107
Received: 28 October 2009
Accepted: 13 June 2010
Published: 13 June 2010
Abstract
Background
Cyclamen is a popular and economically significant pot plant crop in several countries. Molecular breeding technologies provide opportunities to metabolically engineer the well-characterized flavonoid biosynthetic pathway for altered anthocyanin profile and hence the colour of the flower. Previously we reported on a genetic transformation system for cyclamen. Our aim in this study was to change pigment profiles and flower colours in cyclamen through the suppression of flavonoid 3', 5'-hydroxylase, an enzyme in the flavonoid pathway that plays a determining role in the colour of anthocyanin pigments.
Results
A full-length cDNA putatively identified as a F3'5'H (CpF3'5'H) was isolated from cyclamen flower tissue. Amino acid and phylogeny analyses indicated the CpF3'5'H encodes a F3'5'H enzyme. Two cultivars of minicyclamen were transformed via Agrobacterium tumefaciens with an antisense CpF3'5'H construct. Flowers of the transgenic lines showed modified colour and this correlated positively with the loss of endogenous F3'5'H transcript. Changes in observed colour were confirmed by colorimeter measurements, with an overall loss in intensity of colour (C) in the transgenic lines and a shift in hue from purple to red/pink in one cultivar. HPLC analysis showed that delphinidin-derived pigment levels were reduced in transgenic lines relative to control lines while the percentage of cyanidin-derived pigments increased. Total anthocyanin concentration was reduced up to 80% in some transgenic lines and a smaller increase in flavonol concentration was recorded. Differences were also seen in the ratio of flavonol types that accumulated.
Conclusion
To our knowledge this is the first report of genetic modification of the anthocyanin pathway in the commercially important species cyclamen. The effects of suppressing a key enzyme, F3'5'H, were wide ranging, extending from anthocyanins to other branches of the flavonoid pathway. The results illustrate the complexity involved in modifying a biosynthetic pathway with multiple branch points to different end products and provides important information for future flower colour modification experiments in cyclamen.
Keywords
Transgenic Line
Flower Colour
Cyanidin
Total Anthocyanin
Pelargonidin
Background
Cyclamen persicum
Mill. (cyclamen) is a popular and economically significant pot plant crop in Japan, Germany, Italy, the Netherlands and North America. Flower colour in commercial lines ranges from white, through red, pink, reddish-purple to purple. The pigments present are predominantly anthocyanins and there have been several studies on anthocyanin and flavonoid pigmentation in cyclamen [
1
–
5
]. The main anthocyanins are 3,5-di-
O
-glucosides of peonidin, cyanidin and malvidin (Figure.
1
). There are two missing colour groups in cyclamen, the orange-red of pelargonidin-derived anthocyanins [
6
] and blue, even though some delphinidin-derived anthocyanins often associated with blue flower colours are present in maroon to purple cultivars [
1
–
3
,
6
].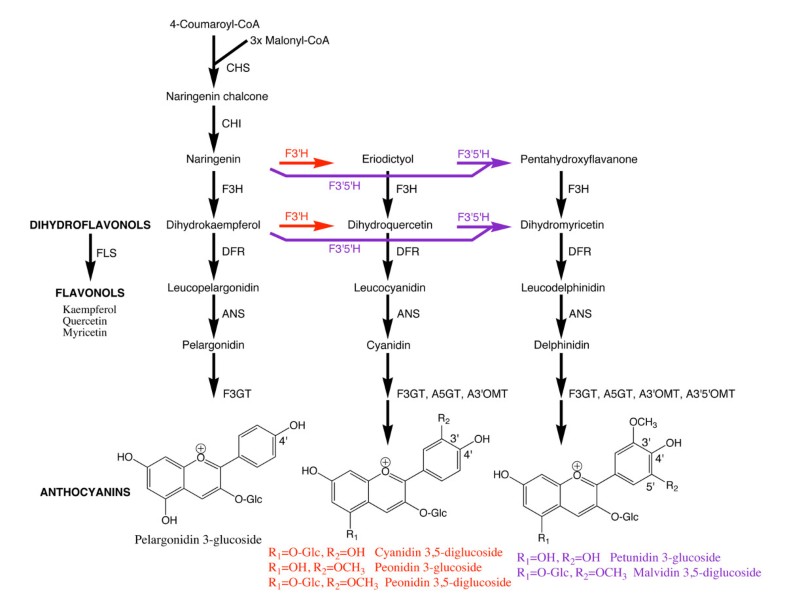 To date there has only been one reported molecular breeding experiment involving flavonoid pigments for cyclamen. It was focused on the generation of yellow flower colours through the production of yellow flavonoid pigments [7]. Our interest is in altering the anthocyanin-based colours [8]. In flower colour modification studies in general, particular attention has been paid to the enzymes responsible for the hydroxylation of the B-ring of the flavonoid molecule, namely F3'H and F3'5'H (Figure. 1) because of their key influence on the colour of anthocyanin pigments [9]. Specific experiments to accumulate delphinidin-derived anthocyanins by over expression of a F3'5'H transgene have been reported for carnation [10] and rose [11], while inhibition of both the F3'H and the F3'5'H genes has been used to modify colour and promote cyanidin- and pelargonidin-based pigment accumulation in flowers in the genera Torenia [12], Nierembergia [13] and Osteospermum [14].
Our strategy for modification of flower colour in cyclamen focused on the F3'5'H. Substrate feeding experiments with DHK and the F3'H/F3'5'H inhibitor tetcyclacis indicate that the cyclamen DFR can use DHK and that cyclamen has the ability to make pelargonidin-derived anthocyanins (K. Schwinn, unpublished data). The cloning of a F3'5'H cDNA and our cyclamen genetic transformation system [15] have allowed us to investigate flower colour formation in cyclamen. In this study we report on the effects of antisense suppression of F3'5'H on flavonoid end-product accumulation and flower colour.
Discussion
Antisense suppression of CpF3'5'H was successful in changing anthocyanin profiles and flower colour in cyclamen. A shift from predominantly delphinidin-derived pigments to a greater relative proportion of cyanidin-derived pigments was achieved and in general this showed up as a concomitant shift in H°, the parameter indicating colour group. It is interesting that the degree of change in H° did not correlate with the degree of shift in pigments. The fact that the transformants also showed variable drops in total anthocyanin levels and changes in flavonol level and type illustrates both the links between the different pools of flavonoid substrates and the importance of the roles that anthocyanin concentration and flavonol copigmentation play in flower colour.
Similar changes in anthocyanin concentration and the accumulation of cyanidin-derived anthocyanins were seen for the two different minicyclamen cultivars and yet the greatest change in H° was seen in the lines of the purple cultivar. This is most likely due to a reduction in the predominant anthocyanin, malvidin 3-5-di-O-glucoside in these lines. This anthocyanin has been reported as being bluer in colour than malvidin mono-glucosides [3]. The predominant anthocyanin in the 'Wine-Red' cultivar is malvidin 3-O-glucoside and this has been reported to give pink/purple colours, closer to the colour associated with cyanidin and peonidin pigments [3].
Pelargonidin-based pigments were not detected in the flowers of the transgenics. One explanation for their absence is that suppression of F3'5'H activity was not complete, as evidenced by the presence of delphinidin-derived anthocyanins. This may be either due to inefficiency of the antisense approach (as opposed to hairpin RNA-induced RNAi [18]), effects due to transgene insertion or copy number [19–21], or the presence of other unaffected F3'5'H family members. The presence of a F3'H enzyme in the petals could have also removed substrate for pelargonidin production. We have searched for a cyclamen F3'H cDNA and found one (GenBank GU808358) with high deduced amino acid similarity to known F3'H sequences of other species (81% identity with the F3'H of gentian). However, transcript levels for this particular F3'H gene were not detectable by northern analysis during cyclamen petal development (unpublished data).
Substrate specificity is an important consideration regarding pelargonidin production. In some species, such as petunia [22], cymbidium [23, 24] and Osteospermum [14], synthesis of pelargonidin-based anthocyanins is limited by the substrate specificity of the endogenous DFR. Our substrate feeding experiments (mentioned previously) showed that cyclamen has the ability to make pelargonidin-derived anthocyanins. It is still possible, however, that cyclamen DFR has low substrate specificity for DHK and the action of flavonol synthase (FLS), F3'H and F3'5'H means that the DHK substrate is not used for the synthesis of pelargonidin. Retransformation of an antisense F3'5'H line from this study, with a transgene encoding a DFR known to efficiently catalyse the reduction of DHK to leucopelargonidin [25–27] could result in transgenic plants accumulating pelargonidin derivatives in flowers, as successfully demonstrated for Osteospermum [14]. It remains to be resolved whether there is a F3'H functioning in the flower. The presence of cyanidin-based pigments in the flowers of the antisense CpF3'5'H lines suggests F3'H activity. Thus, inhibition of either F3'H or FLS gene activity to reduce enzymatic competition for DHK substrate may also be necessary to promote pelargonidin production in DFR/antisense F3'5'H transgenics.
In the cyclamen transgenic lines, total anthocyanin levels decreased markedly while flavonol levels increased and the quercetin/kaempferol ratio changed. Similar results were reported for Nierembergia flowers modified with an antisense F3'5'H construct and were suggested to be due to a modified flow through the flavonoid pathway [13]. A block in F3'5'H activity resulted in an increase in pelargonidin precursors. Low F3'H activity coupled with a DFR that putatively does not recognise DHK, was suggested to have led to limited substrate flow toward pigment production and an increase in the sustrate pool for FLS [13]. The flavonoid enzyme kinetics are not known for cyclamen. However, if the cyclamen DFR has a low specificity for pelargonidin or cyanidin precursors (as the reduction in total anthocyanins (Figure. 6B) suggests) this would provide extra substrate for the FLS enzyme and explain the increased flavonol levels. Competition for substrate between FLS and DFR has also been shown to occur in petunia [28, 29].
It is interesting that while flavonol levels generally increased in the transgenics, there were differences in the quercetin/kaempferol ratios between the lines of the different cultivars. Quercetin flavonols increased in cv 'Purple' lines while kaempferol types increased in cv 'Wine-Red' lines. This inverse result and the consistency of the ratio change within lines of each cultivar argues against the suppression of F3'5'H activity directly altering the balance of DHK and DHQ, and thus what is available for the FLS. Furthermore, differing substrate specificities of their respective FLS cannot account for the observed results. Differing specificities of other enzymes are likely to be the cause. The probable candidate is F3'H, which in other species can not only alter the balance between DHK and DHQ, but also convert kaempferol to quercetin [30]. Further studies of cyclamen flower colour would warrant a continued search for a F3'H.
Conclusions
We report here the first successful alteration of cyclamen anthocyanin pigmentation using genetic modification techniques. Our results highlight the intricate interplay between type and concentration of both anthocyanin pigments and flavonol co-pigments in flower colour and illustrate the complexity involved in modifying a biosynthetic pathway with multiple branch points to different end products.
Authors' information
Ms Marshall and Ms Patel are former team members of the New Zealand Institute for Plant and Food Research Ltd.
Declarations
Acknowledgements
Dr Arie van Diepen of Goldsmith Seeds BV in the Netherlands is thanked for supplying seed of cv 'Purple' and cv 'Wine-Red'. Nigel Joyce at Plant & Food Research Lincoln carried out the LC-MS analysis. Theresa Lill carried out some subculturing in tissue culture. Deepa Bowatte assisted with tissue culture subculturing and TLC analyses. Ian King transplanted the cyclamen plants to soil in the glasshouse and grew them to a flowering state. Drs Bart Janssen, Andrew Gleave and Phillipa Barrell supplied the binary vectors, BJ49, pART27 and pMOA33 and pMOA34 respectively. Andrew Mullan made up the media used in tissue culture. Dr Andrew McLachlan conducted statistical analyses.
Authors' Affiliations
(1)
New Zealand Institute for Plant & Food Research Ltd, Palmerston North, New Zealand
Copyright
© Boase et al; licensee BioMed Central Ltd. 2010
This article is published under license to BioMed Central Ltd. This is an Open Access article distributed under the terms of the Creative Commons Attribution License (http://creativecommons.org/licenses/by/2.0), which permits unrestricted use, distribution, and reproduction in any medium, provided the original work is properly cited.