Correction to: The LsVe1L allele provides a molecular marker for resistance to Verticillium dahliae race 1 in lettuce
BMC Plant Biology volume 19, Article number: 374 (2019)
Correction to: BMC Plant Biol (2019) 19:305
https://doi.org/10.1186/s12870-019-1905-9
Following publication of the original article [1], the author reported a processing error in Fig. 5. This has been corrected in the original article.
The correct version of Fig. 5 is also shown in this correction.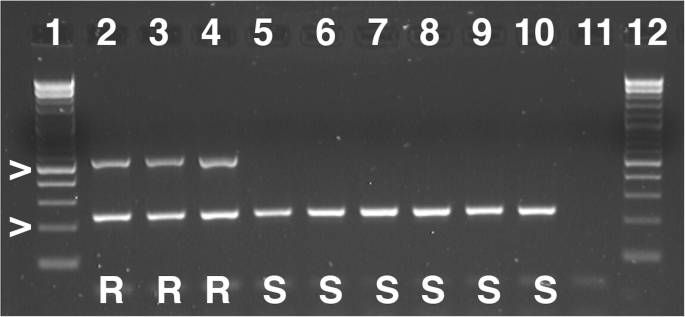 In the Additional file 7, the sequence data for LsVe3L and LsVe4L were swapped. The correct Additional file 7 is shown in the Additional file section below.
Additional file
Nucleotide sequences of six LsVe alleles from cultivars La Brillante (L) and Salinas (S). (DOCX 17.8 kb)
Rights and permissions
Open Access This article is distributed under the terms of the Creative Commons Attribution 4.0 International License (http://creativecommons.org/licenses/by/4.0/), which permits unrestricted use, distribution, and reproduction in any medium, provided you give appropriate credit to the original author(s) and the source, provide a link to the Creative Commons license, and indicate if changes were made. The Creative Commons Public Domain Dedication waiver (http://creativecommons.org/publicdomain/zero/1.0/) applies to the data made available in this article, unless otherwise stated.
About this article
Cite this article
Inderbitzin, P., Christopoulou, M., Lavelle, D. et al. Correction to: The LsVe1L allele provides a molecular marker for resistance to Verticillium dahliae race 1 in lettuce. BMC Plant Biol 19, 374 (2019). https://doi.org/10.1186/s12870-019-1966-9
Published:

DOI: https://doi.org/10.1186/s12870-019-1966-9