Correction to: The transcriptome landscape of early maize meiosis
BMC Plant Biology volume 18, Article number: 12 (2018)
1191 Accesses

1 Altmetric
Correction
Following publication of the original article [1], the authors reported that the number of genes overlaying the bar graph in Fig. 3A were incorrectly counted and inserted (i.e. including a title tile, and in inverse order). The corrected numbers are below and match with the listed genes supplied in Additional File: Table S2.
Previous, published version of Fig. 3A: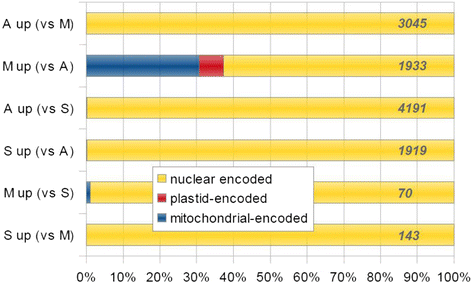 New, corrected version of Fig. 3A: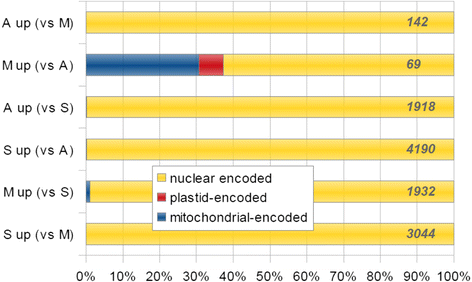 Reference
Dukowic-Schulze S, Sundararajan A, Mudge J, Ramaraj T, Farmer AD, Wang M, Sun Q, Pillardy J, Kianian S, Retzel EF, Pawlowski WP, Chen C. The transcriptome landscape of early maize meiosis. BMC Plant Biol. 2014;14:118. https://doi.org/10.1186/1471-2229-14-118.
Rights and permissions
Open Access This article is distributed under the terms of the Creative Commons Attribution 4.0 International License (http://creativecommons.org/licenses/by/4.0/), which permits unrestricted use, distribution, and reproduction in any medium, provided you give appropriate credit to the original author(s) and the source, provide a link to the Creative Commons license, and indicate if changes were made. The Creative Commons Public Domain Dedication waiver (http://creativecommons.org/publicdomain/zero/1.0/) applies to the data made available in this article, unless otherwise stated.
About this article
Cite this article
Dukowic-Schulze, S., Sundararajan, A., Mudge, J. et al. Correction to: The transcriptome landscape of early maize meiosis. BMC Plant Biol 18, 12 (2018). https://doi.org/10.1186/s12870-017-1224-y
Received:

Accepted:

Published:

DOI: https://doi.org/10.1186/s12870-017-1224-y