Research article

Open Access
De novo sequencing and comparative transcriptome analysis of the male and hermaphroditic flowers provide insights into the regulation of flower formation in andromonoecious Taihangia rupestris
BMC Plant Biology
BMC series – open, inclusive and trusted
2017
17:54
Received: 11 August 2016
Accepted: 31 January 2017
Published: 28 February 2017
Abstract
Background
Taihangia rupestris, an andromonoecious plant species, bears both male and hermaphroditic flowers within the same individual. However, the establishment and development of male and hermaphroditic flowers in andromonoecious Taihangia remain poorly understood, due to the limited genetic and sequence information. To investigate the potential molecular mechanism in the regulation of Taihangia flower formation, we used de novo RNA sequencing to compare the transcriptome profiles of male and hermaphroditic flowers at early and late developmental stages.
Results
Four cDNA libraries, including male floral bud, hermaphroditic floral bud, male flower, and hermaphroditic flower, were constructed and sequenced by using the Illumina RNA-Seq method. Totally, 84,596,426 qualified Illumina reads were obtained and then assembled into 59,064 unigenes, of which 24,753 unigenes were annotated in the NCBI non-redundant protein database. In addition, 12,214, 7,153, and 8,115 unigenes were assigned into 53 Gene Ontology (GO) functional groups, 25 Clusters of Orthologous Group (COG) categories, and 126 Kyoto Encyclopedia of Genes and Genomes (KEGG) pathways, respectively. By pairwise comparison of unigene abundance between the samples, we identified 1,668 differential expressed genes (DEGs), including 176 transcription factors (TFs) between the male and hermaphroditic flowers. At the early developmental stage, we found 263 up-regulated genes and 436 down-regulated genes expressed in hermaphroditic floral buds, while 844 up-regulated genes and 314 down-regulated genes were detected in hermaphroditic flowers at the late developmental stage. GO and KEGG enrichment analyses showed that a large number of DEGs were associated with a wide range of functions, including cell cycle, epigenetic processes, flower development, and biosynthesis of unsaturated fatty acid pathway. Finally, real-time quantitative PCR was conducted to validate the DEGs identified in the present study.
Conclusion
In this study, transcriptome data of this rare andromonoecious Taihangia were reported for the first time. Comparative transcriptome analysis revealed the significant differences in gene expression profiles between male and hermaphroditic flowers at early and late developmental stages. The transcriptome data of Taihangia would be helpful to improve the understanding of the underlying molecular mechanisms in regulation of flower formation and unisexual flower establishment in andromonoecious plants.
Keywords
Male flower
Hermaphroditic flower
Flower formation
Sex differentiation
Taihangia
Transcriptome
Background
Flowering plants display remarkably variable floral architectures, which largely contribute to the diversity of sexual systems in angiosperms [1]. Andromonoecy is a rare sexual system, in which an individual bears both staminate and perfect flowers. In plant kingdom, it has been found in nearly 4000 plant species, comprising 1.7% of flowering plants [2]. As a transitional stage from hermaphroditism to monoecy, andromonoecy has independently evolved many times in different plant groups [3]. Given the important position in the evolution of plant sexual system, the developmental and genetic mechanisms underlying unisexual flower determination have attracted considerable attention in recent years [4–6].
Taihangia rupestris Yu & Li (Rosaceae), an endangered perennial herb belonging to the tribe Dryadeae, is only disjunctively and sporadically distributed on cliff faces in the southern part of the Taihang Mountains of China [7]. Unlike other genera of this tribe, such as Dryas and Geum, Taihangia always produces both bisexual flowers and unisexual male flowers in the same individual (Additional file 1: Figure S1), forming the andromonoecious sexual system [8]. Taihangia unisexual male flowers are bisexual at initiation and become unisexual by arresting the pistil development in consequent developmental stages. During the initiation of floral primordia, temperature is crucial for establishment of the uni- or bisexual flowers. Under low temperature conditions, the pistils of the bisexual flowers tend to abort, resulting in a high proportion of unisexual male flowers [9]. Several MADS-box genes involved in the floral organ development in Taihangia, including B-, C-, D-, and E-Class genes, have been identified in previous studies [10–12]. Of these identified MADS genes, class B MADS-box gene TrPI was expressed in petals and stamens, while class E gene TrSEP3 was strongly expressed in the three inner whorls [10, 11]. For Class C gene TrAG, it was initially expressed in the floral meristem domain that will initiate stamens and carpels, when the stamen primordia are firstly observed. At the late stage of carpel development, TrAG is mainly expressed in the ovules, developing styles, and stigmas [12]. Despite the progresses mentioned above, underlying molecular mechanisms in the floral organ development and regulation of flower formation in Taihangia remain poorly understood, due to limited genetic and sequence information for this non-model plant species.
Currently, the next generation sequencing (NGS) technology provides opportunities for the efficient and comprehensive analysis of gene expression at whole-genome level in non-model plant without a reference genome [13]. The powerful NGS technology has been widely applied to comparative transcriptome studies of male and female flowers on large-scale gene expression profiles in some plant species, generating considerable genomic data for the identification of functional genes involved in sex differentiation and flower development [14–16]. However, the knowledge about unisexual male flower specification and development in andromonoecious plant is still limited, to some extent, due to its infrequent occurrence. Up to now, only a few transcriptome studies have been performed for andromonocious plant species [6, 17, 18].
To investigate the possible molecular mechanisms in the regulation of flower formation within andromonoecious Taihangia, we performed de novo transcriptome sequencing of the male and hermaphroditic flowers at both early and late developmental stages by using the Illumina platform. Based on the differences in unigene abundance among sequencing libraries, we identified the differentially expressed genes (DEGs) between the male and hermaphroditic flowers at early and late developmental stages, respectively. Furthermore, GO and KEGG enrichment analyses were conducted to elucidate the main functions of DEGs, and to identify candidate genes involved in the regulation of flower formation for further functional analysis. The present study would provide a genomic resource for gene discovery in the future and shed light on the underlying molecular mechanisms responsible for establishment of unisexual flowers and sex differentiation in andromonocious plant Taihangia.
Methods
Plant material and RNA extraction
The plant materials were transplanted from Yidoushui (35°28′ N, 113°23′E) and Zhuyufeng (35°27′ N, 113°22′E), Henan, China in April 2014, and were grown in the greenhouse of Henan Polytechnic University. In early spring 2015, the early and late developmental stages of male and hermaphroditic flowers, including male floral bud (EM), hermaphroditic floral bud (EH), male flower (LM), and hermaphroditic flower (LH), were harvested (Fig.
1
). As shown in Fig.
1
, flowers were classified into six developmental stages: young flower buds (stage A, < 0.5 cm), elongated buds (stage B, 0.5-1 cm and stage C, >1 cm), pre-anthesis (stage D), anthesis (stage E, flowers with partially opened petals), and fully opened flowers (stage F). In this study, the flower samples at early developmental referred to flower buds including young and elongated buds (stage A-C). The flower samples at late developmental stage were comprised of young flowers at pre-anthesis (stage D), flowers at anthesis (stage E), and mature flowers with fully opened petals (stage F). The samples of the male and hermaphroditic flowers were collected from six different individuals at each of the developmental stage (stage A-F), respectively, and immediately frozen in liquid nitrogen and stored at −80 °C for RNA extraction.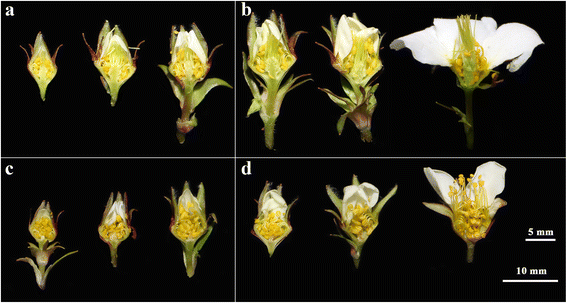 Total RNA was isolated from 100 mg homogenized plant material using an RNeasy Mini Kit (Qiagen, Germany) for plant tissues according to the manufacturer's manuals. RNA quality was preliminarily assessed by 1.5% agarose gel electrophoresis, and then quantified with a UV-visible spectrophotometer (UV-2550, Japan). RNA samples for further analysis were selected according to the following criteria: A260/A280 ratio was 1.9-2.1 and A260/A230 ratio ranged from 2.0 to 2.5. The equal amounts of RNA from male flower buds at each of the early developmental stages (stage A-C) were mixed as one EM sample, while one LM sample was prepared by combinations of the identical amounts of RNA from male flowers at each of the late developmental stages (stage D-F). Similarly, EH and LH samples were obtained using the same method described above. In total, 12 RNA samples with three biological replicates were prepared for cDNA synthesis and qPCR analysis. After that, specific RNA pools of EM, EH, LM, and LH were obtained by combining identical quantities of total RNA from the corresponding biological triplicates. Quality and quantity of the pooled RNA were further analyzed using a Nanodrop 2000 instrument (Thermo Scientific) and a Chip RNA 7500 Series II Bioanalyzer (Agilent), respectively. RNA samples with 260/280 ratios (range 1.9 to 2.1), 260/230 (range 2.0 to 2.5) and RIN (RNA integrity number) more than 8.0 were used to cDNA library construction and Illumina sequencing.
Library construction and RNA-Seq
Construction of the four libraries and the RNA-Seq were performed by the Biomarker Biotechnology Corporation (Beijing, China). Five micrograms of total RNA from each sample (EM, EH, LM, and LH) were used to construct the sequencing libraries. RNA sequencing libraries were generated using the TruSeq RNA Sample Prep Kit (Illumina, San Diego, CA) following the manufacturer's recommendations. Briefly, the poly (A)-containing mRNA molecules were purified from the total RNA by using the poly-T oligo-attached magnetic beads (Illumina, San Diego, CA, USA). Then, mRNA was broken into short fragments, which were used as templates for cDNA synthesis. Double-stranded cDNA was synthesized using SuperScript II, buffer, dNTPs, RNaseH, DNA polymerase I, and random hexamer primers (Illumina). After that, the 'A' tail was added to the 3′ ends of the repaired cDNA fragments and the Illumina's paired-end adapters were ligated to the cDNA ends. The products from the ligation reaction were amplified by PCR. The PCR productions were purified by magnetic beads (Illumina) and dissolved in EB solution to generate the sequencing libraries. The quantity and quality of each sequencing library were tested by the Agilent 2100 Bioanalyzer. Finally, the four libraries were sequenced separately on Illumina HiSeq™ 2500 platform.
Sequence assembly and gene annotation
After sequencing, paired-end raw reads were firstly processed through in-house perl scripts [19, 20]. In this step, clean reads were acquired by removing the reads with adaptor contamination, low-quality sequences (reads with ambiguous 'N' bases larger than 5%), and reads with more than 10% Q < 20 bases. At the same time, Q20, Q30, and GC-content of the clean data were calculated. All the downstream analyses were based on clean data with high quality. De novo assembly of the transcriptome was performed by Trinity software (release 2014-07-17) [13], with default parameters and no reference sequence. In brief, reads were assembled into the contigs by the Inchworm program at the first step. The minimally overlapping contigs were clustered into connected components by the Chrysalis program, and then the transcripts were constructed by the Butterfly program [14]. Finally, the transcripts were further clustered based on nucleotide sequence identity, and the longest transcripts in the cluster units were regarded as unigenes to eliminate redundant sequences. For detection of transcriptional profiles in the male and hermaphroditic flowers at different stages, clean reads from each library were initially assembled separately. To obtain a uniform transcriptome reference across samples, all clean reads from four libraries were pooled together and de novo assembled to generate unigenes for assembly evaluation, gene annotation, and expression analysis. The raw sequencing data were deposited in the NCBI Short Read Archive (SRA) database (http://www.ncbi.nlm.nih.gov/sra/) under the accession number SRP081195.
To identify putative functions of Taihangia unigenes, we performed functional annotation by using a BLASTx search (E-value ≤ 10−5) against a series of protein databases: the National Center for Biotechnology Information non-redundant (Nr), SwissProt, Pfam, Clusters of Orthologous Groups (COG), Gene Ontology (GO), and Kyoto Encyclopedia of Genes and Genomes (KEGG) databases. The Blast2GO software package was used to compare and determine the unigene GO annotations [21]. Finally, WEGO software was used to obtain the GO functional classifications for all annotated unigenes [22].
Transcription factors (TFs) prediction
In order to identify the TFs represented in Taihangia transcriptome, all assembled unigenes were searched against the plant transcription factor database PlantTFDB 4.0 by using blastX with a cut-off E-value of 1 e−5 [23]. To facilitate the transcription factor prediction, the identified TFs were further screened with similarity ≥ 0.6 and coverage ≥ 0.4.
Analysis of differentially expressed genes (DEGs)
To calculate the amount of gene expression for each unigene, RSEM [24] was used to quantify the number of reads mapped to the assembled transcriptome, and read count for each gene was obtained from the mapping results. We used the FPKM [25] (fragments per kilobase of gene per million mapped reads) algorithm to normalize the gene expressional abundances in each library. By pairwise comparisons of the four libraries, the DEGs were identified using the DEGseq (1.18.0) R package based on the read counts for each gene at different libraries [26]. In addition, the false discovery rate (FDR) control method [27] was used to identify the threshold of the P-value in the significance tests. Significance of differential expressed genes was defined at a false discovery rate < 0.01 and an absolute value of log2-ratio ≥ 2. The classification of DEGs were performed with GO and KEGG analysis using the method described above. GO enrichment analysis of the differentially expressed genes (DEGs) was implemented by using the Cytoscape plugin BiNGO using a hypergeometric test with a corrected P-value < 0.05 [28]. KEGG pathway enrichment analysis of the DEGs was performed by using KOBAS with the hyper-geometric distribution model [29]. The enrichment p-values were adjusted by using the Benjamin and Hochberg method.
Validation of sequencing data by quantitative real-time PCR (qPCRs)
Sixteen DEGs were randomly selected and the expression profiles were investigated by qRT-PCR to confirm the transcriptome data. First-strand cDNA was synthesized from the same RNA samples used for library construction by using the PrimeScript RT reagent Kit with gDNA Eraser (Perfect Real Time) (Takara, Japan) according to the instructions. Quantitative real-time PCR (qRT-PCR) was performed by using the SsoFast EvaGreen Supermix RT-PCR kit (Bio-Rad Laboratories) and the MiniOpticon Real-Time Detection System (Bio-Rad). The PCR mix was composed of 10 μL EvaGreen Supermix, 2.0 μL of 1:10 diluted cDNA, 0.5 μL of each primer (10 mM), and 7.0 μl water in a final volume of 20 μL. The reactions were incubated under following cycling conditions: 2 min at 50 °C, 2 min at 95 °C, 40 cycles of 95 °C for 15 s, 58 °C for 15 s, and 72 °C for 30s, and finally 72 °C for 2 min. After the final cycle, a melting curve analysis was performed with a single cycle from 60 °C to 95 °C in 5 s intervals to verify the reaction specificity. The efficiency of the primer sets was calculated by performing real-time PCR on serial dilutions of first-strand cDNAs templates [30]. By using the geNorm software [31], EF1α and UBQ were identified as reference genes for stable expression across developmental stages. The relative expression of each gene was calculated using the standard E-ΔΔCq method [32], and normalized with the internal standard gene EF1α and UBQ. Expression quantification and data analysis were performed according to MIQE guideline suggested by Bustin et al. [33]. Three independent biological replicates and three technical repetitions were performed for each of the quantitative PCR experiments. The relative expression of each target gene was analyzed by one-way ANOVA. Statistical analyses of the data were performed at P < 0.05 significance level using SPSS 16.0 software.
Conclusion
De novo transcriptome sequencing of andromonoecious Taihangia was performed by using the Illumina paired-end sequencing technology in the present study. In total, 59,064 unigenes were obtained from the male and hermaphroditic flowers covering early and late developmental stages, and 25,231 unique sequences were annotated in the public database. Focusing on the regulatory mechanism of flower formation in andromonoecious Taihangia, we identified 1,668 DEGs between male and hermaphroditic flowers. GO and pathway analysis showed that these DEGs involved in a wide range of biological processes, such as flower development and reproduction, cell cycle, epigenetic processes, and transcriptional regulation, and provided numerous candidate genes possible related to sex differentiation for future functional analysis. The transcriptome data of Taihangia could be helpful to improve understanding of the molecular mechanisms in sex differentiation and unisexual flower establishment, and would provide theoretical basis for the regulation of flower formation in this andromonoecious plant species.
Abbreviations
COG:

Clusters of Orthologous Group
DEG:

Differentially expressed gene
FPKM:

Fragments per kilobase of exon per Million fragments mapped
GO:

Gene Ontology
KEGG:

Kyoto Encyclopedia of Genes and Genomes
qRT-PCR:

quantitative reverse transcription polymerase chain reaction
RdDM:

RNA direct DNA methylation
RNA-Seq:

Ribonucleic acid sequencing
Taihangia rupestris :

Taihangia
TF:

Transcription factor
Declarations
Acknowledgements
The authors are grateful to Dr. Sen Liu and Mr Yunxing Zhang for sample collection. It is difficult and dangerous to climb the cliff face for the plant samples. We thank Dr. Yuxiang Mao for valuable comments on revised manuscript and language correction of this manuscript.
Funding
This work was supported by grants from the National Natural Science Foundation of China (No. 31370434, 31170354, and 31100182), and Scientific Innovation Fund from Henan Polytechnic University (B2008-25 and T2013-2).
Availability of data and materials
The raw sequencing data were deposited in the NCBI Short Read Archive (SRA) database (http://www.ncbi.nlm.nih.gov/sra/) under the accession number SRP081195. The other supporting data were included as additional files.
Authors' contributions
WL and YWZ conceived and designed the experiments, ZD carried out the differential expression analysis, QW and YDZ collected samples and performed the experiment, WL and LZ analyzed the data and wrote the paper, LZ, HG, and TC partially revised the manuscript. All authors read, reviewed and approved the final manuscript.
Competing interests
The authors declare that they have no competing interests.
Consent for publication
Not applicable.
Ethics approval and consent to participate
Not applicable.
Open AccessThis article is distributed under the terms of the Creative Commons Attribution 4.0 International License (http://creativecommons.org/licenses/by/4.0/), which permits unrestricted use, distribution, and reproduction in any medium, provided you give appropriate credit to the original author(s) and the source, provide a link to the Creative Commons license, and indicate if changes were made. The Creative Commons Public Domain Dedication waiver (http://creativecommons.org/publicdomain/zero/1.0/) applies to the data made available in this article, unless otherwise stated.
Authors' Affiliations
(1)
College of Life Science, Changchun Normal University, Changchun, China
(2)
College of Resource and Environment, Henan Polytechnic University, Jiaozuo, China