Research article

Open Access
Metabolomic analysis of pathways related to rice grain chalkiness by a notched-belly mutant with high occurrence of white-belly grains
BMC Plant Biology
BMC series – open, inclusive and trusted
2017
17:39
Received: 24 August 2016
Accepted: 25 January 2017
Published: 7 February 2017
Abstract
Background
Grain chalkiness is a highly undesirable trait deleterious to rice appearance and milling quality. The physiological and molecular foundation of chalkiness formation is still partially understood, because of the complex interactions between multiple genes and growing environments.
Results
We report the untargeted metabolomic analysis of grains from a notched-belly mutant (DY1102) with high percentage of white-belly, which predominantly occurs in the bottom part proximal to the embryo. Metabolites in developing grains were profiled on the composite platforms of UPLC/MS/MS and GC/MS. Sampling times were 5, 10, 15, and 20 days after anthesis, the critical time points for chalkiness formation. A total of 214 metabolites were identified, covering most of the central metabolic pathways and partial secondary pathways including amino acids, carbohydrates, lipids, cofactors, peptides, nucleotides, phytohormones, and secondary metabolites. A comparison of the bottom chalky part and the upper translucent part of developing grains of DY1102 resulted in 180 metabolites related to chalkiness formation.
Conclusions
Generally, in comparison to the translucent upper part, the chalky endosperm had lower levels of metabolites regarding carbon and nitrogen metabolism for synthesis of storage starch and protein, which was accompanied by perturbation of pathways participating in scavenging of reactive oxygen species, osmorugulation, cell wall synthesis, and mineral ion homeostasis. Based on these results, metabolic mechanism of chalkiness formation is discussed, with the role of embryo highlighted.
Keywords
Grain chalkinessMetabolomic analysisNotched-belly mutantsRiceWhite-belly
Background
Chalkiness is the opaque portion in rice endosperm due to loose packing of starch granules and protein bodies [1, 2]. Depending on its location on or within the endosperm, chalkiness is grouped into white-belly, white-core, white-back, etc. Grain chalkiness is a highly undesirable trait, with detrimental effects on rice appearance quality as well as milling, eating, and cooking quality. High occurrence of grain chalkiness has been a major problem facing many rice-producing areas throughout the world, in particular in a warming climate [3]. Reducing chalky grain rate has been one of the primary objectives for rice breeders and producers.
Chalkiness is a complex quantitative trait, governed by polygenes and subjected to large variations in environmental factors like temperature and humidity and cultural practices such as fertilization and irrigation [4]. By molecular marker-based QTL analyses of numerous mapping populations, more than 140 QTLs were identified across all 12 chromosomes for the chalkiness trait, mostly among Asian cultivars [2]. Of these, several major QTLs such as on chromosomes 1, 5, 7, 8, and 9 are stably expressed across multiple environments or various populations [5]. In addition, several possible candidate genes responsible for grain chalkiness have been cloned by fine mapping, including pyruvate orthophosphate dikinase, starch synthase IIIa, UDP-glucose pyrophosphorylase, cell wall invertase, and H + -translocating pyrophosphatase (V-PPase), as reviewed by Sreenivasulu et al. [2]. Based on this, the molecular basis of chalkiness formation is partly understood. Li et al. [6] studied the function of Chalk5, which encodes V-PPase with inorganic pyrophosphate hydrolysis and H+-translocation activity. They found that Chalk5 could disturb pH homeostasis in the endomembrane trafficking system, resulting in an abnormal decrease in protein body number and size, causing aberrant shape and spatial arrangements of starch granules and protein bodies.
Rice quality is essentially determined by chemical composition of the storages of starch and protein that derive from carbon (C) and nitrogen (N) metabolism during grain filling. Metabolomics is one of the "omics" studies for integrative analysis of metabolites in organisms [7]. Together with genomics, transcriptomics, and proteomics, it is a powerful tool to provide a link between genotype and phenotype and to generate new knowledge of systems biology. Besides providing an understanding of the metabolic state in plants under various circumstances, it can be applied to clarify the functions of unknown genes by using natural variants or mutants of the target plants, and might be useful in breeding programs because of the close relation between quality traits like taste and metabolic conditions [8]. In rice, metabolomic approaches have yielded new insights into the composition and regulation of seed metabolism [9], correlations between the metabolic phenotype and geographic origin of japonica and indica rice [10], grain filling-related metabolism under high temperature [11], food quality prediction [12], and the bioactive compounds in cooked rice [13]. However, there is little information concerning the metabolomic analysis of grain chalkiness formation, and the metabolic foundation of it remains unclear. In addition, few studies were conducted to investigate the metabolic changes during the early stage of grain filling, which is the critical time point for chalkiness formation.
Using chemical mutagen of EMS, we indentified a notched-belly mutant with high ratio of white-belly grains [14]. The notched-line divided grains into two parts, with the upper part nearly all translucent whereas the bottom part, proximal to the embryo, having high occurrence of white-belly. Using the matured grains of this mutant, Lin et al. [14] developed a novel comparison system that can minimize the influence of genetic background and growing environment, and conducted a comprehensive survey of endosperm proteomics, unraveling diverse but well regulated pathways responsible for grain chalkiness. In this study, we profiled and compared the metabolomes between the upper translucent part and the bottom chalky part of developing grains from the notched-belly mutant. In total, 214 metabolites were identified, among them the abundances of 180 metabolites were significantly altered in the chalky part. These altered metabolites indicated that chalkiness formation was associated with a metabolic shift from C and N metabolism to reactive oxygen species (ROS) scavenging, osmorugulation, cell wall synthesis, and iron homeostasis. Levels of metabolites related to secondary metabolism and plant hormone biosynthesis were also remarkably altered in the chalky part. These results extend our understanding of metabolomic mechanism underlying grain chalkiness.
Results
We obtained a notched-belly mutant with a high ratio of while-belly grains. The notched line can be seed after 5 DAA, possible due to the restriction of the hulls on caryopsis elongation (Fig.
1
). The constriction by bending alters the morphology of the caryopsis, resulting in different shapes between the upper and lower parts, as shown in Fig.
1
. It is possible that this change in morphology is directly responsible for the difference in metabolism between the two halves, perhaps due to constriction of metabolite supply form the lower to the upper parts. Indeed, a germination experiment conducted in our lab in 2014 showed that the upper part remained unchanged at 3 weeks after germination, while the lower part near to the embryo was entirely decomposed (data not shown), indicating the substance flow may be prevented by the notched-line. However, the two parts of the grain are thought to mature independently as they are supplied with assimilates from source organs separately through vascular bundles on the dorsal side [
15
].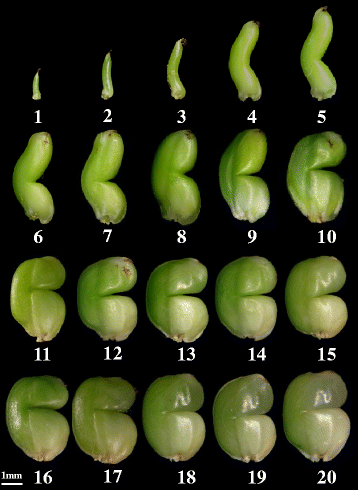 Discussion
The notched-belly mutant
Grain chalkiness is a complex trait, controlled by multiple genes and varying with growing environments. So far, omics approaches have been employed to explore genes or biochemical pathways responsible for chalkiness [2, 14, 21], and our knowledge concerning chalkiness has been enlarged. However, only few QTLs or genes have been identified and functionally analyzed, and the metabolic mechanisms underlying chalkiness are still imperfectly understood.
We obtained a notched-belly mutant with high ratio of white-belly grains. The notched line can be seen on 5 DAA, possibly due to the restriction of the hulls on caryopsis elongation (Fig. 1). The constriction by bending alters the morphology of the caryposis, resulting in different shape of the upper and lower part, as shown in Fig. 1. It is worth studying if this change in morphology should cause disruptions in starch metabolism, granule formation and thereby chalkiness. Future studies on the loading routes of sucrose along the vertical axis of the notched belly seed versus the non-notched parent line are indispensible for clarifying the mechanism of this particular mutant.
The notched-line divided the endosperm into two separate compartments, with the upper part being translucent whereas the bottom being mainly opaque on about 20 DAA. These two parts of grain develop to mature independently, as they are separately supplied with assimilates from source organs through vascular bundles on the dorsal side. Thus the formation of the notched-line makes possible the chasing of the process of chalky tissue formation. Using the upper part as control, we compared the changes in metabolic profiles between the translucent and chalky part. Intriguingly, this comparison was made within the same genetic background, and is different from those performed either between varieties or between chalky grains and perfect grains for a given variety. Therefore, the findings of biochemical pathways such as carbohydrate metabolism, S-containing amino acid metabolism, and ROS scavenging are of relevance to chalkiness formation.
It is obvious that the position within grains contributes to difference in the occurrence of chalkiness between the two parts. Because of the notched-line, the upper endosperm is entirely isolated from the embryo, and thus is hardly affected by it. On the contrary, the bottom part is attached to the embryo, and is subjected to be influenced by the embryo. Thus the difference between the upper and lower parts was mainly associated with the compound effect of the chalkiness and the location within the grain (the effect of the embryo), as also discussed in our previous works on matured grains [14, 22]. Because it is impossible to recognize perfect grains or chalky grains at early stage, the compound effect of chalkiness and embryo can not be dissected at present time. Therefore the findings of this study have limitations when explaining the mechanisms underlying grain chalkiness, and the role of embryo in the formation of grain chalkiness needs to be thorough examined.
Sensing and regulating C and N status
Starch and protein, the products of C and N metabolism, are major factors affecting rice grain quality. Grain chalkiness is the result of poor filling of starch granules or imbalances in the subtle adjustment to starch degradation pathway triggered under stress [2]. In addition, decrease in biosynthesis of proteins also plays crucial roles, as supported by the characterization of the recently cloned Chalk5 [6] and the microscopic observation of chalky tissue [1]. C and N metabolism are therefore the key pathways toward chalkiness formation, and a comprehensive understanding of them is central to the study on grain chalkiness. However, the mechanism by which plants sense signals relating to C and N status and subsequently regulating them still remains open.
In the present study, we detected several key metabolites involved in sensing and regulating carbon and nitrogen status. The chalky part contained lower sucrose content, as was accompanied by decrease in Glu and Gln, while Asp and Asn, carrying more N atoms per C, were increased on 15 DAA and 5 DAA, respectively. The inverse changing patterns of Glu/Gln and Asp/Asn indicate that the C skeletons for biosynthesis of amino acids may be limited in the chalky part so that it uses a more economical compound to transport N. Supporting the argument above, Arg, with a high N:C ratio (4:6) and serving as a main N storage compound, was up-regulated in the chalky endosperm. This was partially due to higher levels of its precursors, N-acetylglutamate and citulline. In addition, Arg plays a major metabolic role in seed maturation and germination, phloem and xylem transport, and accumulates under stress conditions [23].
It has been suggested that GABA, a four-C nonprotein amino acid, constitutes a readily accessible nontoxic reserve of C and N for amino acid metabolism and tricarboxylic acid (TCA) cycle activity, which is of particular relevance during stress events. In Arabidopsis, GABA shunt metabolic pathway that converts Glu to GABA has been shown to have a profound effect on the C-N balance of the seed [24]. Our results showed that chalky endosperm contained significantly lower GABA during seed development, and its role in chalkiness formation merits further investigation.
Pathways involved in chalkiness formation
Conclusions
In summary, the notched-belly mutant is applicable to explore the physiological and molecular foundation of grain chalkiness, for it provides a high efficient comparison under the same genetic background that can minimize the influence of genotype and environment. Using this mutant, we observed a reduction in activity of C and N metabolism used for starch, protein, and cell wall synthesis in the chalky endosperm, which coincided with the disturbance of other pathways like osmoregulation, ROS scavenging, and ion homeostasis, implying a stressful condition (oxidative or osmostic) in the chalky part. It is still uncertain what triggers this metabolic shift. In addition, we cannot rule out the possibility that the differences in metabolite levels between the two sections are caused by some constriction between them due to the notched line; however, there is currently no evidence that this is the case. Clearly the development of chalkiness is a complex trait and this is corroborated by the metabolomic analysis in this study. An integrated approach using a combination of omics platforms and an examination of the physiology of the grain will be needed to understand this phenomenon fully.
Methods
Plant materials
Wuyujing3 had become a popular japonica rice cultivar in southern China with high eating quality since it was released in 1992 [41]. It is an inbred cultivar and not a hydrid or transgenetic cultivar. The seeds of Wuyujing3 were provided by the breeder of Wujin Academy of Agricultural Sciences, Jiangsu China. In 2007, about 2 kg seeds of Wuyujing3 were treated by 0.5% ethyl methane sulfonate, and then were sown in paddy field and mixed harvested as a mutant population. A notched-belly mutant with white-belly (DY1102) was identified from the M2 population [14]. It had high ratio of notched-belly grains, ranging from 66.58% (greenhouse) to 75.67% (ambient temperature) in 2014. Further, it had high occurrence of white-belly mainly on the bottom part, being 85.12% under greenhouse and 93.13% under high night temperature treatments (Table 1). Notably, grains on the middle primary rachis has higher ratio of white-belly, and were sampled for metabolic analysis.
In 2014, five plants of DY1102 were hand transplanted in a plastic pot filled with 15 kg clay soil, 30 cm in height and 34 cm in diameter. The soil contained 0.83 g/kg total N, 10.72 mg/kg available P, and 69.15 mg/kg exchangeable K. The basal fertilizers before transplanting were 1.0 g N, 1.2 g P2O5, and 0.9 g K2O/pot, and those for topdressing at the panicle initiation stage were 1.0 g N, 0.6 g P2O5, and 0.9 g K2O/pot. All the plants were grown under natural environment condition at seedling stage. Approximately 2–3 days before anthesis, 45 pots were transferred to a 28/23 °C plant chamber (12 h day–12 h night cycles; Model FYS-10; Hengyu, Nanjing, China) until maturity. This plant chamber has the light intensity above 75% of ambient light condition, and the relative humidity was maintained 70 ± 5% by a humidity regulator [42]. Flowering dates of caryopsis on middle primary rachis were marked. Sampling time points were 5, 10, 15, and 20 days after antheisis (DAA), conducted at 9:00 am. Grains were frozen by liquid nitrogen and then stored at −80 °C until analysis. Optical photos of developing grains were taken by stereomicroscope (Stemi 2000-C, Zeiss Jena GmbH, Germany) with digital camera (PC1145, Canon, Japan). For metabolomic analysis, the developing grains were dehusked, and the embryos were removed. Subsequently, the remaining endosperms were cut into upper tranlucent parts (Tr) and bottom chalky parts (Ch) along the notched line. Each sample was measured with six biological replicates.
Metabolite profiling by multiple analytical platforms
Metabolite profiling was performed by SJTU-Metabolon Joint Metabolomics Laboratory (http://www.metabolon.com/) by the composite platforms: UPLC/MS/MS positive ion mode, UPLC/MS/MS negative ion mode, and GC/MS [16]. Briefly, the upper and lower parts of the endosperm were grounded into fine powders under liquid nitrogen condition. Metabolites in lyophilized powder (about 40 mg) were extracted using 400 μL of methanol with internal standards. The resulting extraction solution was divided into 3 parts and then freeze-dried. UPLC-MS/MS analysis included both positive and negative ion modes, the products of which were redissolved and then carried out on Waters Acquity UPLC (Milford, USA) coupled with a Thermo LTQ XL MS (Thermo Inc., Massachusetts, USA). For GC-MS analysis, samples were derivatized by bistrimethyl-silyltrifluoroacetamide (BSTFA) and analyzed on Thermo Ultra GC-ISQ platform equipped by an electron impact ionization system (Thermo Inc., Massachusetts, USA).
Data analysis and construction of the metabolic atlas
Raw data of three analytical platforms were extracted, peak-identified and quality control processed using Metabolon Laboratory Information Management System. Metabolites were identified by automated comparison to reference library that was created using approximately 1500 authentic standards in Metabolon. Metabolites quantification, data normalization, and significant changed metabolites analysis were performed according to Lawton et al. [43] and Rao et al. [16]. Briefly, a data normalization step was conducted to correct variations due to instrument inter-day tuning differences. Metabolites quantitative values were derived from integrated raw detector counts of the mass spectrometers. To preserve all of the variation, all compounds of widely different raw data were normalized directly on a similar graphical scale, with the normalized intensities scaled by their median values for each compound (Additional file 1). Significance tests were performed by Welch's two-sample t-test using the programs R. Metabolic pathways were determined by reference to databases Plant Metabolic Network (PMN; http://www.plantcyc.org/) and Kyoto Encyclopedia of Genes and Genomes pathway (KEGG; http://www.genome.jp/kegg/pathway.html) to construct the metabolic atlas.
Abbreviations
5-OP:

5-oxoproline
C:

Carbon
CPGECs:

Cofactors, prosthetic groups, electron carriers
DAA:

Day after anthesis
F6P:

Fructose 6-phosphate
G1P:

Glucose 1-phosphate
G3P:

Glycerol-3-phophosphate
G6P:

Glucose 6-phosphate
GABA:

γ-aminobutyric acid
GSH:

Reduced glutathione
GSSG:

Oxidized glutathione
I6P:

Inositol 6-phosphate
MetO:

Methionine sulfoxide
MTA:

5′-methylthioadenosine
N:

Nitrogen
NAG:

N-acetylglutamate
OAS:

O-acetylserine
ROS:

Reactive oxygen species
SAH:

S-adenosyl-homocysteine
SAM:

S-adenosylmethionine
SMM:

S-methylmethionine
TCA:

Tricarboxylic acid
Declarations
Acknowledgements
We thank Fang Cheng and Sheng Quan from SJTU-Metabolom Joint Metabolomics Laboratory, Shanghai Jiao Tong University for their work in the UPLC/MS/MS and GC/MS analysis.
Funding
This work was supported in part by grants from the National Natural Science Foundation of China (31171485 and 31470086), the National High Technology Research and Development Program of China (2014AA10A605), and the National Science and Technology Supporting Program of China (2012BAD04B08 and 2013BAD07B09).
Availability of data and materials
The data sets supporting the conclusions of this article are included within the article and its additional files. Of note that parameters of MS/MS spectra data process are commercial secrets of Metabolon (http://www.metabolon.com/); however, the raw data of MS/MS spectra (about 1 G) is available by contacting with the correspondent author (liuzh@njau.edu.cn).
Authors' contributions
Z Lin, XZ, and Z Liu conceived and designed the experiments; ZW, YJ, AD, GL, and SW performed part of the experiments; Z Lin, YD, and Z Liu analyzed the data and prepared the manuscript. All authors have read and approved the final manuscript.
Competing interests
All the authors declare that they have no conflict of interest.
Consent for publication
Not applicable.
Ethics approval and consent to participate
Not applicable.
Open AccessThis article is distributed under the terms of the Creative Commons Attribution 4.0 International License (http://creativecommons.org/licenses/by/4.0/), which permits unrestricted use, distribution, and reproduction in any medium, provided you give appropriate credit to the original author(s) and the source, provide a link to the Creative Commons license, and indicate if changes were made. The Creative Commons Public Domain Dedication waiver (http://creativecommons.org/publicdomain/zero/1.0/) applies to the data made available in this article, unless otherwise stated.
Authors' Affiliations
(1)
College of Agronomy, Nanjing Agricultural University/Key Laboratory of Crop Physiology Ecology and Production Management, Ministry of Agriculture, Nanjing, People's Republic of China
(2)
Crops Research Institute, Fujian Academy of Agricultural Sciences, Fuzhou, People's Republic of China
(3)
Jiangsu Collaborative Innovation Center for Modern Crop Production, Nanjing, People's Republic of China
(4)
Metabolon Inc, Durham, USA