Research article

Open Access
Iron homeostasis in Arabidopsis thaliana: transcriptomic analyses reveal novel FIT-regulated genes, iron deficiency marker genes and functional gene networks
BMC Plant Biology
BMC series – open, inclusive and trusted
2016
16:211
Received: 7 July 2016
Accepted: 16 September 2016
Published: 3 October 2016
Abstract
Background
FIT (FER-LIKE IRON DEFICIENCY-INDUCED TRANSCRIPTION FACTOR) is the central regulator of iron uptake in Arabidopsis thaliana roots. We performed transcriptome analyses of six day-old seedlings and roots of six week-old plants using wild type, a fit knock-out mutant and a FIT over-expression line grown under iron-sufficient or iron-deficient conditions. We compared genes regulated in a FIT-dependent manner depending on the developmental stage of the plants. We assembled a high likelihood dataset which we used to perform co-expression and functional analysis of the most stably iron deficiency-induced genes.
Results
448 genes were found FIT-regulated. Out of these, 34 genes were robustly FIT-regulated in root and seedling samples and included 13 novel FIT-dependent genes. Three hundred thirty-one genes showed differential regulation in response to the presence and absence of FIT only in the root samples, while this was the case for 83 genes in the seedling samples. We assembled a virtual dataset of iron-regulated genes based on a total of 14 transcriptomic analyses of iron-deficient and iron-sufficient wild-type plants to pinpoint the best marker genes for iron deficiency and analyzed this dataset in depth. Co-expression analysis of this dataset revealed 13 distinct regulons part of which predominantly contained functionally related genes.
Conclusions
We could enlarge the list of FIT-dependent genes and discriminate between genes that are robustly FIT-regulated in roots and seedlings or only in one of those. FIT-regulated genes were mostly induced, few of them were repressed by FIT. With the analysis of a virtual dataset we could filter out and pinpoint new candidates among the most reliable marker genes for iron deficiency. Moreover, co-expression and functional analysis of this virtual dataset revealed iron deficiency-induced and functionally distinct regulons.
Keywords
Plants
Arabidopsis
Iron homeostasis
FIT
Differential gene expression
Microarray
Background
Iron is an essential micronutrient for plants but excess iron can be toxic. Hence, plant iron homeostasis is tightly regulated. Strategy I plants take up reduced iron. First, the rhizosphere is acidified by proton extrusion to solubilize Fe3+, then Fe3+ is reduced to Fe2+ which is finally taken up into the root epidermis cell by a specific transporter [1–3]. In Arabidopsis thaliana, belonging to the group of Strategy I plants, the P-type H+-ATPase AHA2 extrudes protons into the rhizosphere [4]. Ferric iron is reduced by the ferric chelate reductase FRO2 (FERRIC REDUCTION OXIDASE 2) which is induced by iron deficiency in the root epidermis [5, 6]. Finally, ferrous iron is translocated into the root cell by IRT1 (IRON-REGULATED TRANSPORTER 1) [7–10]. Expression of AHA2, FRO2 and IRT1 is regulated by FIT (FER-LIKE IRON DEFICIENCY-INDUCED TRANSCRIPTION FACTOR) [11–14]. Even under strong constitutive FIT expression IRT1 and FRO2 are induced only under iron deficient conditions [11] and ectopic expression of IRT1 and FRO2 in leaves only occurs under iron deficiency [12]. Hence, FIT activity is post-translationally regulated [12], and FIT protein-protein interactions have been found that can explain this behavior [15–17]. Loss-of-function mutants of fit exhibit symptoms of iron starvation like chlorosis, reduced growth and lethality [11, 12, 18].
To gain better understanding of the gene regulatory processes transcriptomic analyses with regard to iron homeostasis in A. thaliana have been performed with diverse results. Iron deficiency causes activation of distinct functional modules such as the 'transportome' which, among others, includes genes that are involved in transition metal detoxification [19]. Ethylene signaling-related genes and a number of iron-responsive genes are expressed in an ethylene-dependent manner such as FIT, IRT1, NAS1, NAS2, FRD3 and the gene of a 2OG-Fe(II) oxygenase family protein [20]. EIN3/EIL1 appear to be required for reorganization of the photosystems to reduce photo-oxidative damage and this could also be achieved under iron deficiency by EIN3/EIL1-mediated increase of iron uptake [16]. Copper deficiency causes secondary iron deficiency in Arabidopsis and leads to up-regulation of IRT1 and FRO2 [21]. There is crosstalk between copper and iron uptake and phosphate starvation and there are indications for different functions of copper under iron deficiency and phosphate starvation [22]. microRNAs were demonstrated to negatively regulate CuSOD (copper containing superoxide dismutase) genes allowing increased CuSOD expression to functionally replace FeSODs (iron containing superoxide dismutases) under iron deficiency in A. thaliana rosette leaves [23]. Time course transcriptomic analyses showed that distinct sets of genes are up- and down-regulated at different time points after induction of iron deficiency [24]. Another time course experiment revealed that PYE (POPEYE) is involved in iron homeostasis by regulating genes such as FER1, FER4, OPT3, NAS4, FRO3, NRAMP4 and FRD3 [25].
Based on results of many microarray analyses, the creation and analysis of co-regulatory networks of iron-responsive genes have gained increasing interest. Prominent publicly available tools for such network analyses are ATTED II [26] and STRING [27]. Co-expression and interaction network analyses may help identify further important genes as potential targets of future investigations and hence contribute to discover new aspects of the plant's physiological reaction to iron deficiency and the respective underlying control mechanisms. For example, co-expression analyses revealed multiple subnetworks for iron homeostasis functions including the PYE-BTS regulon [25] and iron uptake including FIT targets like IRT1. Some of these genes are robust markers for iron deficiency in A. thaliana roots [13].
So far, there are only few known marker genes for iron deficiency [13]. A number of FIT-dependent genes have been determined in a previous study using the fit-1 mutant [14] which is a promoter T-DNA insertion line with residual FIT expression [11]. Furthermore, this study has been performed using ATH1 Affymetrix chips which to this date lack a number of genes including important iron homeostasis-related genes such as FIT and FRO2. It can be speculated that fit1-1 plants display a rather intermediate reaction to iron deficiency due to their residual FIT expression and that not all FIT-dependent genes could have been detected due to the use of ATH1 Affymetrix chips. So far, no FIT over-expression line has been employed in the search for FIT-dependent genes which might contribute to refinement of the search results. Furthermore, it has not yet been investigated whether the developmental stage of the plants influences the dependence of genes on FIT. To address these questions, we conducted transcriptomic analyses of roots of six week-old plants and six day-old seedlings that were exposed to iron-deficient or iron-sufficient conditions using the Arabidopsis thaliana Col-0 (wild type), fit-3 (exon T-DNA insertion fit knock-out) [12] and HA-FIT (pCaMV35S::HA 7 -FIT) over-expression lines [28]. We stringently filtered the genes by their expression patterns to obtain a comprehensive list of known and novel FIT-dependent genes. This same filtering process was then used to determine genes that were affected by the presence of FIT only in roots or seedlings, respectively. Furthermore, we assembled a virtual dataset based on our gene expression data plus previous transcriptomic analyses to pinpoint more reliably iron deficiency-regulated marker genes and used this dataset to perform co-expression analysis.
Conclusions
FIT is the central regulator of iron homeostasis in Arabidopsis. Until now, 73 genes were known to be regulated downstream of FIT [
11
,
12
]. With stringent expression pattern analysis we divided the regulated genes in multiple subgroups with distinct expression patterns (Fig.
8
). We were able to define 32 robustly FIT-induced genes among which there were 11 novel robustly FIT-induced genes. Additionally, we pinpointed two robustly FIT-repressed genes. Hence, for the first time a repressing effect of FIT could be demonstrated. Furthermore, our results indicate a total of 414 genes that were regulated in a FIT-dependent manner either in seedlings or in six-week-old roots. FIT influenced the expression of far more genes than previously demonstrated. We were able to show that the control by FIT also depends on hitherto unknown factors.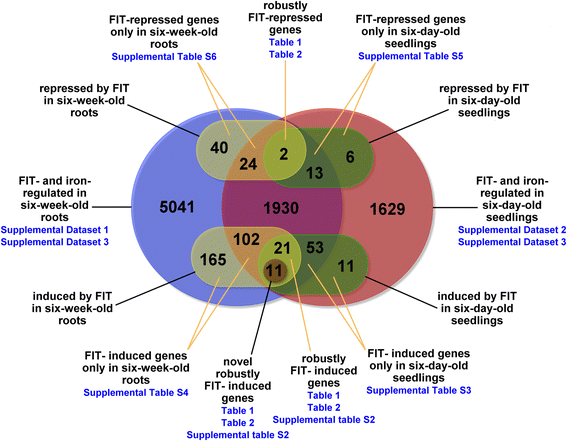 The construction of a virtual dataset based on 14 distinct transcriptomic analyses allowed for removing a great portion of regulatory noise and revealed a total of 598 genes that are stably regulated under iron deficiency in Arabidopsis roots and seedlings. Four hundred thirty-seven of them were found stably induced and 161 stably repressed under iron deficiency with a probability of ≥ 0.25. From the induced genes in this dataset we performed co-expression analysis and found a total of 13 regulons with ≥ 4 nodes. Some of these regulons were enriched with functionally related genes among which parts of the previously known FIT target network and the iron homeostasis PYE-BTS regulon could be identified. The PYE-BTS regulon was almost completely present and could be extended by further genes.
Direct comparisons demonstrated large discrepancies between the proteomic and transcriptomic regulation [29] and remodeling the ribosomal composition has been proposed to cause biased translation [74]. The analysis of our virtual dataset appears to confirm such remodeling processes. However, the data in the virtual dataset display considerable overlap with combined proteomic data [42] at least at the functional level.
Taken together this study not only provides new insight into the effects of FIT abundance on gene expression but also points out the importance of redundant analyses.
Methods
Plant materials and plant growth
In this study we used the wild-type Arabidopsis ecotype Columbia-0 (Col-0) named WT, the fit knock-out line fit-3 (GABI_108C10) [14] named fit and the FIT over-expressing line HA-FIT 8 [28] named HA-FIT. The seeds were sterilized and stratified for 48 h at 4 °C. Hydroponic growth was conducted as previously described using ¼-strength Hoagland medium without sucrose containing 10 μM iron [35]. The medium was exchanged every seven days. To prevent the fit plants from dying they were sprayed with Flory 72 (Fe-EDDHA) twice a week. After five weeks of hydroponic growth all plants were washed with ddH2O to rinse off residual Fe-EDDHA and the treatment was started by transferring the plants to fresh medium containing either 10 μM (+Fe) or 0 μM iron (-Fe). After seven days of treatment the six week-old plants were harvested. In the plate system stratified seeds were germinated in 12x12 cm2 square plates with 1 x Hoagland agar containing 50 μM (+Fe) or 0 μM iron (-Fe). After 6 days the seedlings were harvested.
RNA extraction
One hundred milligrams of the roots of the six week-old hydroponically grown plants or 100 mg whole six day-old seedlings were frozen and homogenized under constant liquid nitrogen cooling, respectively. RNA extraction was performed with the RNEasy Plant Mini Kit (Qiagen) according to the manufacturer's instructions. Total RNA content of the final extracts was measured fluorimetrically with the infinite M200PRO plate reader (TECAN) using the NanoQuant plate. RNA quality was estimated with the OD260/OD280 ratio.
Microarray analysis
Two hundred nanogram of original total RNA were used per hybridization for the microarray analysis. The analysis was performed using CATMA microarrays. Three independent biological replicates were produced. For each biological replicate, RNA samples were prepared and analyzed in two technical replicates as previously described [29]. We analyzed gene expression in roots of six-week-old plants that were grown on  +Fe ¼-strength liquid Hoagland medium for five weeks and then transferred to  +Fe or -Fe for one week. We also analyzed gene expression in six-day-old whole seedlings that were grown on  +Fe or -Fe Hoagland agar for six days. Probes with a p value of ≤ 0.05 and a fold change of ≥1.5 were considered differentially expressed. The microarray data are publicly available at CATdb (http://urgv.evry.inra.fr/CATdb/; projects "AU15-01_Iron-FIT" and "AU13-06_FIT"). Microarray data from this article were deposited at Gene Expression Omnibus (http://www.ncbi.nlm.nih.gov/geo/), accession no. GSE65934 and GSE80281. The RNA preparations were also used for differential gene expression via RT-qPCR of selected genes identified in the microarray analysis (Additional file 2: Figure S2).
Reverse transcription-quantitative polymerase chain reaction (RT-qPCR)
For RT-qPCR 1 μg of total RNA were treated with DNase. cDNA was synthesized using oligo-dT primers. The cDNA was diluted 1:10 with ddH2O, then once more 1:10 and 10 μl of this dilution were used per 20 μl PCR reaction. Using the DyNAmo ColorFlash SYBR Green qPCR Kit (Thermo Scientific) Real-time PCR was performed. A water negative control was treated equally. Quantification was based on mass standard curve analysis. Each sample value was normalized based on EF1Balpha2 expression. The average of 2 technical replicates was used as the sample expression value. The average of three biological replicates was calculated and ANOVA with Tukey's HSD (Honestly Significant Difference) was performed for statistical analysis using the OriginPro 9.0 software. The primer sequences are shown in the Additional file 5: Table S8.
Construction of the virtual dataset
For the construction of the virtual dataset we were interested in qualitative data, and for easier comparison with other experiments the expression data of previous publications as well as our own data were transformed so that in each comparison up-regulation was represented by the value 1 and down-regulation by the value -1. Below-threshold or insignificant regulation was given the value 0. We used our data and the provided expression data from 10 previous publications [11, 13, 19, 20, 24, 25, 63–65, 75]. From time course experiments we used the 24 h [24] or the 48 h and 72 h data [64], respectively. The reconstructed data from two publications [11, 20] must be considered incomplete since they only contain iron deficiency-induced genes. One dataset could not be reconstructed from the available supplementary information [75]. Together, 14 transcriptomic analyses from 9 studies have been taken into account (Additional file 3: Dataset 5).
From the transformed expression change values of the comparison WT -Fe vs. WT  +Fe we counted how often each gene was found regulated in any of the analyses irrespective of the direction of regulation. We abbreviated this value as "ABS" (absolute occurrence). Then we added the expression change values. We named the result "SUM" (sum of regulation values). If a gene was always or mostly regulated in one direction this resulted in a positive or negative value of SUM. We set the SUM threshold to ≥ 2 or ≤ -2 to ensure that a gene has been regulated at least twice more into one direction than into the other direction. Then we divided the absolute value of SUM by ABS to measure how often a contradictory regulation has been observed with the respective gene. We abbreviated this ratio as "RAT" (ratio between SUM and ABS). To ensure that the gene was regulated at least twice as often in one direction than into the other direction the threshold for RAT was set to ≥ 0.5. Only genes that matched the SUM and RAT thresholds were considered predominantly regulated into the respective direction under iron deficiency. All the other genes were considered regulated by other factors and removed from the dataset. To be able to rank the genes according to their uniformity of differential expression we introduced the "VIRT" value (virtual expected expression change) by dividing SUM (including the positive or negative sign) by the total number of analyses and multiplying the result with RAT. The total number of analyses was set to 14 for up-regulated genes (SUM > 2) since 14 analyses were used. For down-regulated genes (SUM < -2) we set the total number of analyses to 12 since 2 of the 14 analyses [11, 20] only contained genes that were induced under iron deficiency. The sign of VIRT indicates the direction of regulation and its absolute value roughly represents the probability to find the gene regulated into this direction. Genes that were found regulated in both directions got lower absolute VIRT values than genes that were found regulated in only one direction. We set the threshold of VIRT to be ≥ 0.25 or ≤ -0.25. Finally, the VIRT value was used to rank the genes in the virtual dataset according to their probability of regulation in the comparison WT -Fe vs. WT  +Fe (Additional file 3: Dataset 6).
Abbreviations
CATMA:

Complete Arabidopsis Transcriptome MicroArray
RT-qPCR:

Reverse transcription quantitative polymerase chain reaction
WT:

wild-type
RNA-seq:

RNA sequencing
JA:

Jasmonic acid
SA:

Salicylic acid
IAA:

Indole-3-acetic acid
MeIAA:

Methyl-indole-3-acetic acid
EDDHA:

Ethylenediamine-N,N'-bis(2-hydroxyphenylacetic acid)
ANOVA:

Analysis of variance
HSD:

Honestly Significant Difference
Declarations
Acknowledgements
We thank Angelika Anna and Elke Wieneke for their help in growing the plants and Elke Wieneke for performing RT-qPCR analyses. The platform POPS (transcriptOmic Platform of iPS2) benefits from the support of the LabEx Saclay Plant Sciences-SPS (ANR-10-LABX-0040-SPS).
Funding
This work was funded by the Deutsche Forschungsgemeinschaft (DFG Ba 1610/7-1) to PB and by the Heinrich Heine University Düsseldorf.
Availability of data and materials
The transcriptomic data used in this study are publicly available at CatDB (http://urgv.evry.inra.fr/CATdb/) under the project names "AU15-01_Iron-FIT" and "AU13-06_FIT" and at Gene Expression Omnibus (http://www.ncbi.nlm.nih.gov/geo/) under the accession numbers GSE65934 and GSE80281. Further relevant data are available in the manuscript and the supporting files.
Authors' contributions
PB and HM designed the experiments. HM wrote the manuscript, performed experiments and analyzed and evaluated the data. SP, transcriptomic platform POPS (transcriptOmic Platform of iPS2), performed the CATMA microarray analyses. PB revised the manuscript critically. All authors have read and approved this manuscript.
Competing interests
The authors declare that they have no competing interests.
Consent for publication
Not applicable.
Ethics approval and consent to participate
Not applicable.
Open AccessThis article is distributed under the terms of the Creative Commons Attribution 4.0 International License (http://creativecommons.org/licenses/by/4.0/), which permits unrestricted use, distribution, and reproduction in any medium, provided you give appropriate credit to the original author(s) and the source, provide a link to the Creative Commons license, and indicate if changes were made. The Creative Commons Public Domain Dedication waiver (http://creativecommons.org/publicdomain/zero/1.0/) applies to the data made available in this article, unless otherwise stated.
Authors' Affiliations
(1)
Institute of Botany, Heinrich Heine University Düsseldorf, Düsseldorf, Germany
(2)
Institute of Plant Sciences Paris Saclay IPS2, CNRS, INRA, Université Paris-Sud, Université Evry, Université Paris-Saclay, Orsay, France
(3)
Institute of Plant Sciences Paris-Saclay IPS2, Paris Diderot, Sorbonne Paris-Cité, Orsay, France
(4)
CEPLAS Cluster of Excellence on Plant Sciences, Heinrich Heine University Düsseldorf, Düsseldorf, Germany