Methodology article

Open Access
A fast and simple LC-MS-based characterization of the flavonoid biosynthesis pathway for few seed(ling)s
BMC Plant Biology
BMC series – open, inclusive and trusted
2016
16:190
Received: 27 May 2016
Accepted: 23 August 2016
Published: 1 September 2016
Abstract
Background
(Pro)anthocyanidins are synthesized by the flavonoid biosynthesis pathway with multi-layered regulatory control. Methods for the analysis of the flavonoid composition in plants are well established for different purposes. However, they typically compromise either on speed or on depth of analysis.
Results
In this work we combined and optimized different protocols to enable the analysis of the flavonoid biosynthesis pathway with as little as possible biological material. We chose core substances of this metabolic pathway that serve as a fingerprint to recognize alterations in the main branches of the pathway. We used a simplified sample preparation, two deuterated internal standards, a short and efficient LC separation, highly sensitive detection with tandem MS in multiple reaction monitoring (MRM) mode and hydrolytic release of the core substances to reduce complexity. The method was optimized for Arabidopsis thaliana seeds and seedlings. We demonstrate that one Col-0 seed/seedling is sufficient to obtain a fingerprint of the core substances of the flavonoid biosynthesis pathway. For comparative analysis of different genotypes, we suggest the use of 10 seed(lings). The analysis of Arabidopsis thaliana mutants affecting steps in the pathway revealed foreseen and unexpected alterations of the pathway. For example, HY5 was found to differentially regulate kaempferol in seeds vs. seedlings. Furthermore, our results suggest that COP1 is a master regulator of flavonoid biosynthesis in seedlings but not of flavonoid deposition in seeds.
Conclusions
When sample numbers are high and the plant material is limited, this method effectively facilitates metabolic fingerprinting with one seed(ling), revealing shifts and differences in the pathway. Moreover the combination of extracted non-hydrolysed, extracted hydrolysed and non-extracted hydrolysed samples proved useful to deduce the class of derivative from which the individual flavonoids have been released.
Keywords
AnthocyanidinProanthocyanidinFlavonoidsSeedSeedlingDeuterated internal standardLC-MSHydrolysis Arabidopsis thaliana
Background
Flavonoids play a role in a wide variety of biological phenomena. In plants, their bright colors attract pollinators while their antioxidant properties offer protection from harmful UV-radiation. For humans, proanthocyanidins from red wine have been discussed to explain the "French paradox" – the co-occurrence of low coronary heart disease deaths and a diet rich in saturated fat [1–3]. In particular the medical implications led to extensive studies on their uptake, metabolism and excretion in animals and humans [4, 5]. Flavonoids are phenylpropanoid-derived secondary metabolites that may accumulate in various plant tissues. Their production is often regulated by environmental factors including light, temperature, pathogen attack and nutrient deprivation. Flavonoids represent a complex group of compounds. The major subgroups comprise chalcones, flavones, flavonols, flavandiols, anthocyanidins and proanthocyanidins [6].
As most structural genes of the pathway are monogenic in Arabidopsis thaliana (A. thaliana) [3], this model species is well suited to analyse the flavonoid core biosynthesis. The underlying genetic loci of structural and regulatory genes were mainly derived from mutant screenings for reduced seed coat pigmentation and were initially named TRANSPARENT TESTA (TT) [7, 8].
CHALCONE SYNTHASE (CHS/TT4) catalyses the first committed step of the pathway (Fig.
1a
): the synthesis of chalcone. Chalcone is isomerized to naringenin by CHALCONE ISOMERASE (CHI/TT5). Naringenin and eriodyctiol are branching points to other flavonoid classes. FLAVANONE 3-HYDROXYLASE (F3H/TT6) converts naringenin to the first compound of the next level in the plant's flavonoid biosynthesis. This level comprises the 3-OH flavanones dihydrokaempferol, taxifolin and dihydromyricetin which are interconverted by FLAVONOID 3'-MONOOXYGENASE (F3'H, TT7) and FLAVONOID 3',5' HYDROXYLASE (F3'5'H). All three substances serve as educts for FLAVONOL SYNTHASE (FLS) and DIHYDROFLAVONOL 4-REDUCTASE (DFR/TT3) resulting in three further branches of the pathway. The flavonols kaempferol, quercetin and myricetin, are the products of FLS. The leucoanthocyanidins leucopelargonidin, leucocyanidin and leucodelphinidin are synthetized by DFR and further converted to the anthocyanidins pelargonidin, cyanidin and delphinidin by LEUCOANTHOCYANIDIN DIOXYGENASE (LDOX/TT11/17/18) and to the epi-flavan-3-ols epiafzelechin, epicatechin and epigallocatechin by ANTHOCYANIDIN REDUCTASE (ANR). LEUCOANTHOCYANIDIN REDUCTASE (LAR) catalyses the synthesis of the flavan-3-ols afzelechin, catechin and gallocatechin from leucoanthocyanidins. Modification by methylation is catalysed by O-METHYLTRANSFERASEs (OMTs) e.g. quercetin to isorhamnetin, cyanidin to peonidin and delphinidin to petunidin and malvidin. Multimerization and further modification of epi- and flavan-3-ols results in proanthocyanidins and condensed tannins [
9
]. Flavonols and (pro)anthocyanidins are the major metabolic sink of the flavonoid biosynthesis pathway [
10
]. After synthesis, flavonoids - mainly flavonols and anthocyanidins - are subjected to multiple successive modifications through glycosyl-, methyl- and acyltransferases to give rise to a plethora of derivatives [
11
]. These modifications are necessary for a stable storage of anthocyanidins
in planta
[
12
].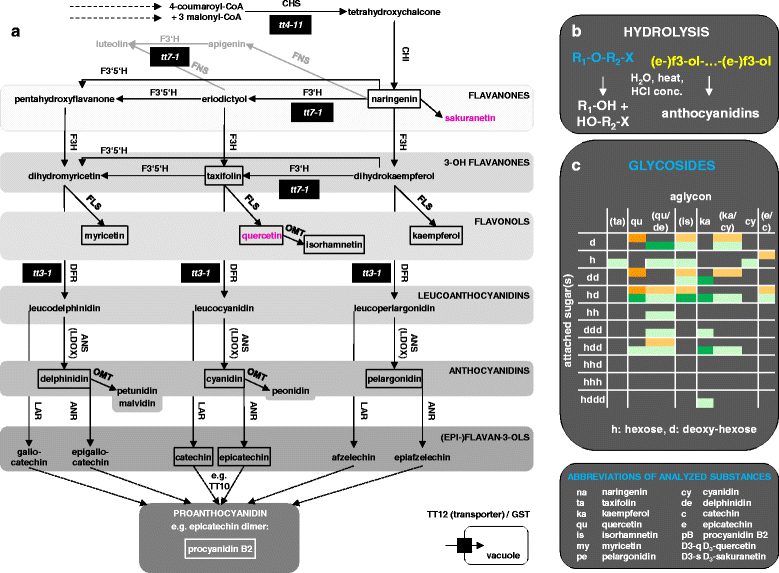 In particular the analysis of A. thaliana mutants has revealed a multi-layered regulation for the key enzymes of the flavonoid biosynthesis pathway [13–15]. Embedded in light signalling, CONSTITUTIVE PHOTOMORPHOGENIC 1 (COP1)/SUPPRESSOR OF PHYTOCHROME A-105 (SPA) complexes mediate posttranslational degradation of light-regulated transcription factors like ELONGATED HYPOCOTYL (HY5) and PRODUCTION OF ANTHOCYANIN PIGMENT 2 (PAP2) which accumulate in cop1 mutants and transcriptionally activate multiple enzymes of the pathway [16–21]. The COP1 protein is inactivated by light and is therefore mainly active in darkness where it suppresses photomorphogenesis [22, 23]. It is also relevant for the regulation of the circadian clock and photoperiodic flowering [24].
Most knowledge of the regulation of anthocyanidin biosynthesis as part of photomorphogenesis by COP1 and HY5 has been derived from studies on protein stability, genetic analysis of mutants, studies on changes in gene expression in mutants and photometric anthocyanidin measurements.
The expression profile of dark-grown cop1 mutants is similar to light grown wild-type seedlings explaining the constitutive photomorphogenetic phenotype of these mutants. In cop1 mutant seedlings, e.g. increased levels of CHS, CHI, FLS1 and F3H were reported [21, 25]. CHS expression serves as one of the markers for COP1-dependent photomorphogenesis. Although COP1 and HY5 act in an antagonistic manner, many HY5-regulated genes overlap with the group of COP1-regulated genes [21]. HY5 activates the expression of early and late anthocyanidin biosynthesis genes (CHS, CHI, F3H, F3'H, DFR and LDOX) by directly binding to the promoters of these genes in seedlings [16].
DFR expression can also be activated by PAP1 and PAP2 [26]. PAP2 can join V-myb myeloblastosis viral oncogene homolog (MYB)/basic-helix-loop-helix (bHLH)/WD40 (MBW) complexes. In the TRANSPARENT TESTA GLABRA 1 (TTG1)-MBW complexes the WD40 protein TTG1 acts together with combinations of different MYB and bHLH proteins to transcriptionally regulate downstream genes [27]. The central role of TTG1 led to a classification of early and late parts of the flavonoid biosynthesis pathway [28] such that late steps are TTG1-MBW-dependent [29–31].
Not only the amount of flavonoids is subjected to regulation but also tissue-specific composition. In A. thaliana seeds, mainly epicatechin, proanthocyanidins and quercetin-based glycosides are detected whereas in leaves kaempferol-based glycosides and anthocyanidins dominate [31–34]. Widely differing compositions were reported between species [35].
A central aspect in all studies is the chosen methodology for the analysis of the flavonoid composition. Methods compromise in many respects: the extraction method determines efficiency of substance recovery and modification. The analysis typically compromises on speed, sensitivity and depth of detail for the substances. Due to chemodiversity, the extraction efficiency of substances with differing polarities depends on the solvent [36]. For polar and semipolar substances MeOH/water is used and apolar substances are extracted with chloroform [37]. Using MeOH/water, glycosylated flavonoids are mainly extracted from seeds in the soluble fraction and condensed tannins occur in the non-extracted fractions. Typically, both are subsequently hydrolysed and subjected to photometrical measurement for quantitative comparisons [33]. Ether cleavage is catalysed under acidic conditions combined with heat [38]. The efficiency of hydrolysis is influenced by acidity, temperature and time of hydrolysis. Multiple substances like ferric agent, TFA, butanol, methanol and HCl have been used for hydrolysis of plant extracts [33, 39, 40]. Hydrolytic conditions do not only release aglycons but also cleave the interflavan bonds of proanthocyanidins eventually leading to the release of anthocyanidins from proanthocyanidins [39, 41].
Analysis of natural products has been highly facilitated by improvements of LC-MS detection techniques. Multiple reaction monitoring (MRM), a mode in tandem mass spectrometry, provides high selectivity and sensitivity to lower thresholds of detection. Time-of-flight detectors allow the identification of single metabolites due to precise ion traces [42]. The identity of non-hydrolysed glycosylated flavonoids can be determined through neutral loss analysis employing e.g. pseudoMS3 following chromatographic separation [43–46]. For a more precise determination, fragmentation patterns and isolated substances may be additionally analysed by NMR [42]. Meanwhile the combination of metabolomics and transcriptomics has been successfully used for decoding gene functions and to analyse the diversity of the pathway [11, 47–49].
Here we describe a method that aims to facilitate high-throughput studies analysing the flavonoid biosynthesis pathway in a reasonable time frame with sufficient precision and sensitivity to obtain a fingerprint of core components. Towards this end we: 1) provide a robust simple extraction and analysis protocol, 2) established external and deuterated internal standards enabling the unambiguous identification of selected core compounds, 3) reduced the number of biological material (i.e. seeds), and 4) revealed shifts and differences of the pathway in a set of mutants as a proof of principle.
Discussion
The qualitative and quantitative analysis of flavonoids in plants is well established. Photometric methods enable a quick estimation of anthocyanidin contents [33, 60] or, in combination with LC and UV detectors, an assessment of their composition (e.g. [33, 61]). A more detailed analysis is done by LC-MS using e.g. MRM, TOF detectors, MSMS or pseudoMS3 [42–46]. Depending on the specific questions either the extracted fractions or the non-extracted hydrolysed fraction are used. Typically, methods compromise in many respects to adapt for the specific goal. The method established here, is optimized for situations in which the whole flavonoid pathway needs to be quantitatively monitored in many samples and with limited biological material. Three aspects were relevant for the optimization. First, we determined the shortest hydrolysis time by considering two criteria: the complete removal of glycosylated modifications and the minimal conversions of flavonoids into others. The latter is important to avoid false signals leading to a misinterpretation of alterations in the pathway. Second, the method is suitable to detect most key flavonoids in only one seed or seedling. Using this fingerprint, it is possible to compare alterations in the flavonoid pathway in many biological samples. Third, we combine three types of samples, the extracted non-hydrolysed, the extracted hydrolysed and the non-extracted hydrolysed samples. This combination proofed to be very useful to decide whether individual flavonoids have been released from extracted or non-extracted derivatives. In our study it was particularly helpful to recognize a role of COP1 in the regulation of enzymes modifying quercetin, isorhamnetin and cyanidin.
Our analysis of the flavonoid pathway in mutants revealed several interesting new findings. It is well accepted that DFR is regulated by TTG1, the bHLH protein TT8 and the R2R3MYB protein TT2 possibly in a TTG1-MBW complex [27, 57]. One would therefore expect that ttg1-1 mutants show a similar flavonoid composition and levels as tt3-1, tt8-3 and tt2-1 mutants. This is clearly not the case. On the one hand, ttg1-1 mutants do not exhibit the expected increase in isorhamnetin levels but rather a reduction. On the other hand, tt8-3 and tt2-1 mutants differ from ttg1-1 as they show wild-type levels of isorhamnetin. Moreover, ttg1-1, tt8-3 and tt2-1 exhibit decreased quercetin levels which is not seen in tt3-1. These data suggest two regulatory features of TTG1. First, the decreased quercetin levels suggest that TTG1, TT8 and TT2 are involved in earlier steps of the pathway or quercetin modification. One likely explanation is its regulation of TT7 as reported before [28]. The different compositions in tt8-3 and tt2-1 mutants indicate that TTG1 also exerts this function independently of TT8 and TT2. Possible targets are OMT or isorhamnetin modifying enzymes.
The role of TTG1 in regulating isorhamnetin is also found in seedlings suggesting that TTG1 regulates OMT or the isorhamnetin modifying enzyme in both tissues in the same manner. By contrast we found a tissue-specific regulation of the flavonoid pathway in light signalling mutants, in particular by COP1.
While COP1 has little impact on the flavonoid pathway in seeds, it is the master regulator in seedlings. This is indicated by the findings that for all detected substances in seedlings, cop1-6 mutants released the highest levels.
Differential regulation of the flavonoid pathway in seeds and seedlings were also observed in mutants of transcription factors downstream of COP1. Similar to cop1-6 mutants, pap1-D seedlings exhibited highly increased cyanidin levels relative to the other flavonoids. In mybRNAi lines naringenin, taxifolin and cyanidin levels are reduced in seedlings but not in seeds. Interestingly, HY5 is equally important in seeds and seedlings but acts at different levels of the pathway. In seeds, kaempferol accumulates in the hy5-215 mutant but is reduced in seedlings, which suggests that HY5 regulates steps upstream of TT7 in seedlings, whereas in seeds, TT7 or downstream enzymes are controlled. Together, our data support a dependence on the developmental stage for COP1 function: while the flavonoid composition of seeds is only moderately dependent on the COP1-dependent light signalling pathway, COP1 is a master regulator of the pathway in seedlings.
Conclusions
In this work, we developed a method for the analysis of the flavonoid biosynthesis pathway optimized for purposes for which quantitative comparison with limited plant material is important. In proof of principle experiments the method revealed a differential regulation of kaempferol by HY5 in seedlings versus seeds and provided evidence for the role of COP1 as a master regulator of the pathway in seedlings but not for flavonoid deposition in seeds. This method will be helpful in genetic studies and in particular for the analysis of natural variation in different ecotypes or genetic mutants.
Abbreviations
(e-)f3-ol:

(epi-)flavan-3-ol
ANR:

Anthocyanidin reductase
ANS:

Anthocyanidin synthase
BF3:

Boron trifluoride
bHLH:

Basic-helix-loop-helix
BuOH:

Butanol
c:

Catechin
CHI:

Chalcone synthase
CHS:

Chalcone syntase
COP1:

Constitutive photomorphogenic 1
cps:

Counts per second
cy:

Cyanidin
d:

Deoxy-hexose
D3-q:

D3-quercetin
D3-s:

D3-sakuranetin
de:

Delphinidin
DFR:

Dihydroflavonol 4-reductase
e:

Epicatechin
EIC:

Extracted ion chromatogram
ESI:

Electrospray ionization
F3'5'H:

Flavonoid 3',5' hydroxylase
F3'H:

Flavonoid 3'-monooxygenase
F3H:

Flavanone 3-hydroxylase
FA:

Formic acid
FLS:

Flavonol synthase
GST:

Glutathione S-transferase
h:

Hexose
HCl:

Hydrochloric acid
HPC:

High precision calibration
HY5:

Elongated hypocotyl 5
is:

Isorhamnetin
ka:

Kaempferol
ka-DIL:

Kaempferol-diluted
LAR:

Leucoanthocyanidin reductase
LC:

Liquid chromatography
LDOX:

Leucoanthocyanidin dioxygenase
LOD:

Limit of detection
LOQ:

Limit of quantification
MBW:

MYB/bHLH/WD40
MeOH:

Methanol
MRM:

Multiple reaction monitoring
MS:

Mass spectrometry
my:

Myricetin
MYB:

V-myb myeloblastosis viral oncogene homolog
na:

Naringenin
NMR:

Nuclear magnetic resonance spectroscopy
OMT:

O-methyltransferase
PAP:

Production of anthocyanin pigment
pB:

Procyanidin B2
pe:

Pelargonidin
qu:

Quercetin
RNAi:

RNA interference
RSD:

Relative standard deviation
S/N:

Signal-to-noise ratio
SPA1:

Suppressor of phytochrome A-105
ta:

Taxifolin
TFA:

Trifluoroacetic acid
THF:

Tetrahydrofuran
TOF:

Time-of-flight
TT:

Transparent testa
TTG1:

Transparent testa glabra 1
WD40 domain:

Consists of WD40 repeats
WD40 repeat:

Usually consists of about 40 amino acids often ending with W-D (tryptophan-aspartic acid).
Declarations
Acknowledgement
The authors acknowledge the significant contribution provided by the Biocenter-MS platform at the University of Cologne. For making available seeds we like to thank: M. Koornneef (tt2-1, tt7-1), B. Weisshaar and I. Appelhagen (tt4-11), A. Lloyd (mybRNAi), ABRC (pap1-D). We thank M. Schäfer for discussion on deuterated substances and required analytics, E. von Elert for providing access to his Thermo Exactive Orbitrap MS and Thomas Sadler for help with this device, B. Welter for technical assistance and S. Metzger for feedback on basic LC-MS data analysis.
Funding
This work was supported by a Grant from the Deutsche Forschungsgemeinschaft SFB 680 to M.H. and by the Cluster of Excellence on Plant Sciences to M.H., U.H., M.B. (CEPLAS; EXC 1028). B.J. was supported by the IMPRS Graduate School. X.Y. was supported by the IMPRS Graduate School and the University of Cologne.
Availability of data and material
All supporting data can be found within the manuscript and its additional files. The raw data are available from the corresponding author on reasonable request. Both internal standards were synthetized by A.O.T./H.-G.S. and handed over into the responsibility of the Biocenter-MS platform, University of Cologne. Details on the synthesis and characterisation of both internal standards can be found within the manuscript and in the additional files (Additional file 3.pdf).
Authors' contributions
MB, UH, MH, AS designed the project; AS did the project administration; MH, AS did the writing; MKU optimized LC-MS setups; CL, MKU applied LC-MS setups; CL, MKU, AS characterized standards; AOT, H-GS developed methodology, performed and validated internal standards synthesis; XY, AS, UH optimized seedling extraction and methodology; BJ, AS optimized seed extraction and methodology; AS did all integration, analysed and validated all data; BJ validated data and did statistic analysis using R; all interpreted data and did proof reading. All authors have read and approved the manuscript.
Competing interests
The authors declare that they have no competing interests.
Consent for publication
Not applicable.
Ethics approval and consent to participate
Not applicable.
Open AccessThis article is distributed under the terms of the Creative Commons Attribution 4.0 International License (http://creativecommons.org/licenses/by/4.0/), which permits unrestricted use, distribution, and reproduction in any medium, provided you give appropriate credit to the original author(s) and the source, provide a link to the Creative Commons license, and indicate if changes were made. The Creative Commons Public Domain Dedication waiver (http://creativecommons.org/publicdomain/zero/1.0/) applies to the data made available in this article, unless otherwise stated.
Authors' Affiliations
(1)
Botanical Institute and Cluster of Excellence on Plant Sciences (CEPLAS), University of Cologne, Cologne Biocenter, Cologne, Germany
(2)
Department of Chemistry, University of Cologne, Cologne, Germany