Research article

Open Access
Abscisic acid transcriptomic signaling varies with grapevine organ
BMC Plant Biology
BMC series – open, inclusive and trusted
2016
16:72
Received: 16 December 2015
Accepted: 15 March 2016
Published: 22 March 2016
Abstract
Background
Abscisic acid (ABA) regulates various developmental processes and stress responses over both short (i.e. hours or days) and longer (i.e. months or seasons) time frames. To elucidate the transcriptional regulation of early responses of grapevine (Vitis vinifera) responding to ABA, different organs of grape (berries, shoot tips, leaves, roots and cell cultures) were treated with 10 μM (S)-(+)-ABA for 2 h. NimbleGen whole genome microarrays of Vitis vinifera were used to determine the effects of ABA on organ-specific mRNA expression patterns.
Results
Transcriptomic analysis revealed 839 genes whose transcript abundances varied significantly in a specific organ in response to ABA treatment. No single gene exhibited the same changes in transcript abundance across all organs in response to ABA. The biochemical pathways affected by ABA were identified using the Cytoscape program with the BiNGO plug-in software. The results indicated that these 839 genes were involved in several biological processes such as flavonoid metabolism, response to reactive oxygen species, response to light, and response to temperature stimulus. ABA affected ion and water transporters, particularly in the root. The protein amino acid phosphorylation process was significantly overrepresented in shoot tips and roots treated with ABA. ABA affected mRNA abundance of genes (CYP707As, UGTs, and PP2Cs) associated with ABA degradation, conjugation, and the ABA signaling pathway. ABA also significantly affected the expression of several transcription factors (e.g. AP2/ERF, MYC/MYB, and bZIP/AREB). The greatest number of significantly differentially expressed genes was observed in the roots followed by cell cultures, leaves, berries, and shoot tips, respectively. Each organ had a unique set of gene responses to ABA.
Conclusions
This study examined the short-term effects of ABA on different organs of grapevine. The responses of each organ were unique indicating that ABA signaling varies with the organ. Understanding the ABA responses in an organ-specific manner is crucial to fully understand hormone action and plant responses to water deficit.
Keywords
Abscisic acid signaling
Organ-specificity
Transcriptomics
Vitis vinifera L
Background
Decreasing water resources and increasing global warming have the potential to reduce food production in the future [1, 2]. Abiotic stresses such as drought, cold and salinity have large impacts on plant growth and development leading to a loss of production and reduced crop quality, which results in the loss of hundreds of millions of dollars each year. Changes in climate that lead to an increase in the frequency and magnitude of drought stress will increase a crop's dependence on irrigation to maintain productivity.
Grapevine (Vitis vinifera L.) is one of the most economically important fruit crops affected by abiotic stresses. Grapes have a multi-billion dollar impact on the economy, as well as having health benefits, such as providing nutrients and antioxidants [3]. Cabernet Sauvignon is one of the most well known red wine grapes in the world and is widely cultivated in water-limited areas of the world (e.g. California, Chile and South Australia) where production is highly dependent on irrigation. Grape yields are influenced by plant water status and water stress can lead to decreases in grape production and affect wine quality [4, 5].
The plant hormone abscisic acid (ABA) plays a crucial role in responding to a variety of environmental stresses such as drought, salinity and chilling stress [1, 6] and has essential functions involved in plant growth and development, including seed germination, seed dormancy and bud dormancy [7–9]. ABA has an important role in vegetative tissues in conserving water loss by closing stomata and reducing the leaf surface area. ABA is increased in response to water deficit in grapevine leaves, xylem sap, and berries [10, 11] and water deficit affects a large number of transcripts involved in ABA metabolism [10–13].
In the past years, ABA signal transduction has been extensively studied at the molecular level [6, 14–17]. As a result, numerous secondary messengers associated with ABA signaling such as calcium (Ca2+), reactive oxygen species (ROS), and nitric oxide (NO) were identified. An ABA model of action utilizing PYR/PYL/RCAR receptors, type 2C protein phosphatases (PP2C) and sucrose non-fermenting-1 (SNF1)-related protein kinase 2 (SnRK2) was proposed and validated [18–20]. The soluble PYR/PYL/RCAR receptors function at the apex of a negative regulatory pathway to directly regulate PP2C, which in turn negatively regulates SnRK2. SnRK2 is auto-phosphorylated and then phosphorylates other transcription factors (TFs), such as members of the bZIP/ABRE, NAC, MYC/MYB, and AP2/ERF TF families. However, their interactions in the framework of an ABA signaling network remain to be clarified.
The first step of de novo ABA biosynthesis in response to stimuli occurs in the plastid and in the final step, ABA-aldehyde is converted to ABA in the cytosol [21]. ABA is catabolized by ABA 8′-hydroxylases and conjugated by ABA glucosyltransferases. ABA-glucose ester (ABA-GE) levels in leaves were shown to be relatively constant under normal conditions and substantially increase during drought stress [22]. ABA-GE is a transport and storage form of ABA, which is critical for ABA homeostasis [23, 24]. There are at least two different plasma membrane-localized ABA transporters; ATP-BINDING CASSETTE G25 (ABCG25) is a transporter for ABA efflux from vascular tissue [25] and ABCG40 is responsible for ABA transport into guard cells in Arabidopsis [26].
Plants contain multiple organs that have specific physiological functions with unique gene expression patterns during different developmental stages and stress responses. For example, leaves specialize in photosynthesis and roots specialize in ion and water transport. ABA affects gene expression differently in seeds and seedlings of Arabidopsis [7]; however little is known about other organs, particularly in a woody perennial fruit crop like grapevine. Physiological responses to ABA differ in different organs and cells types such as roots, shoots and guard cells. We hypothesize that ABA signaling will differ in different organs as well. Investigations of ABA signaling in different organs will improve our understanding of plant responses to osmotic stress and plant development.
This study focuses on ABA signaling, investigating the down-stream transcriptional gene expression in different organs: roots shoot tips, mature leaves, berries and cell culture (meristem-like cells). The work presented here elucidates the effect of ABA on the transcription of genes involved in ABA biosynthesis, degradation, conjugation, transport, signaling pathways and metabolic pathways in different organs of grapevine.
Results
Transcriptomic analysis of grapevine shows organ-specific change in response to ABA
Five different organs (berries, shoot tips, leaves, roots and cell cultures) of Cabernet Sauvignon were directly exposed to 10 μM ABA for 2 h, except the leaf samples, which were harvested from vines that had their roots treated aeroponically. Although anatomically incorrect, we refer to cell cultures as artificial organs representing meristem-like functions in this paper. The NimbleGen
Vitis
whole genome microarray was used to test our hypothesis that different organs had different ABA signaling responses. A two-way ANOVA identified 545 genes with a statistically significant treatment effect, and 644 genes with a statistically significant ABA treatment and organ interaction (adjusted
p
-values with
p
 ≤ 0.05, upon adjustment for the false discovery rate; FDR) (Additional file
1
). The term "significant(ly)" will mean "statistically significant" at a p-value at or below 0.05 throughout this paper. A post-hoc Tukey test was performed to identify significant treatment effects among each organ; there were 839 significant (
p
 ≤ 0.05) differentially expressed genes (DEGs) based upon the Tukey post-hoc test between control and ABA treatment in at least one organ (Additional file
2
). From the post-hoc test, the root had 538 DEGs, which is the largest number of genes in response to ABA, while the shoot tip had the lowest number with 39 genes (Fig.
1a
). To show the distribution of the DEGs between control and ABA treatment among berries, shoot tips, leaves, roots, and cell cultures, a five-way Venn diagram was created (Fig.
1b
). Roots and cell cultures had the most overlap with 74 genes responding in common to ABA. Our hypothesis was confirmed, there was not a single gene whose transcript abundance changed in common with all organs; the response to ABA was organ-specific. Further supporting our hypothesis, principal component analysis (PCA) revealed distinct differences among the different organs and treatments within the transcriptomic data (Fig.
1c
). Principal component 1 and 2 (82.5 and 6 %, respectively) show the overall variance of transcription expression values. Grape organs were clearly separated from each other on the first principal component; however, on the second principal component, berries and shoot tips were separated from leaves as well as cell cultures and roots.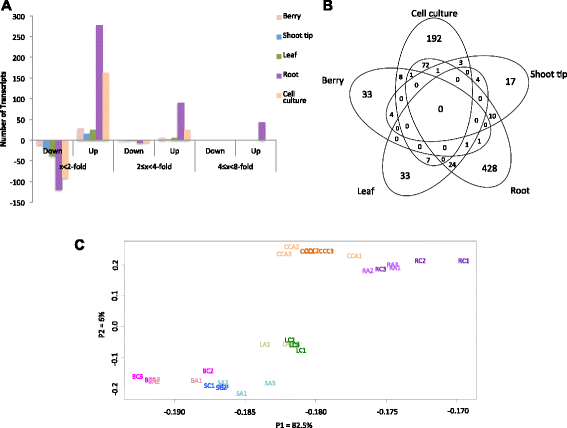 ABA affects ABA biosynthesis, degradation, conjugation, transport, signaling and metabolic pathways
The transcript abundances of genes encoding enzymes in the ABA biosynthesis pathway before the rate-limiting step did not change significantly in response to exogenous ABA in most organs; the exception was a significant increase in transcript abundance for β-carotene hydroxylase [EnsemblPlants:VIT_16s0050g01090] in cell culture (Additional file 3). The transcript abundance of xanthoxin dehydrogenase and abscisic aldehyde oxidase genes, two steps involved in ABA biosynthesis after NCED, was not significantly affected by ABA.
The ABA level in cells is highly regulated by degradation and conjugation processes. ABA is metabolized to 8′-hydroxyabscisic acid by ABA 8'-hydroxylase (ABAHase) and conjugated to ABA-GE by ABA UDP-glucosyltransferase (ABA-UGT). The relative expression of genes involved in ABA catabolism, CYP707As [EnsemblPlants:VIT_06s0004g05050 and EnsemblPlants:VIT_03s0063g00380] [30] were significantly increased in roots and cell cultures in response to ABA. For ABA conjugation, the transcript abundance of the UGT genes was decreased in the shoot tips and roots but increased in cell cultures. The transcript abundance of an ABA transporter, VviABCG40 [EnsemblPlants:VIT_09s0002g05560], significantly decreased in roots. Another transcript annotated as an ABC transporter G member 22-like [EnsemblPlants:VIT_18s0166g00080] may also be involved in ABA transport as it is a paralog of the Vitis ortholog [EnsemblPlants:VIT_08s0032g00790] of AtABCG22 (At5g06530); its transcript abundance increased significantly in berries in response to ABA.
Differential gene expression responses of organs to ABA
ABA affected many biological processes of the gene ontology (GO) functional categories; statistically significant DEGs were involved in protein folding and response to heat, hydrogen peroxide, high light, and temperature (Additional file 4). However, each plant organ had a different response to ABA. The individual responses of each organ are summarized below:
Discussion
Water deficit alters the metabolic homeostasis of plants [11, 36–38]. Plants reduce water loss by closing stomata and decreasing photosynthesis, which can be triggered by ABA [13]. ABA can be synthesized in all cells and organs [39]. A root organ senses the soil water availability, synthesizes de novo ABA and transports ABA via the xylem under mild water deficits [40]. However, it is still uncertain the degree to which ABA is transported from the root to different parts of the plant via the xylem sap or how much ABA is directly synthesized in leaves or guard cells, subsequently causing stomatal closure [8, 9, 40].
Conclusions
Our transcriptomic analysis has revealed unique effects of ABA in different grapevine organs. Supporting our hypothesis that the response to a mild level of ABA was complex and dependent on the organ involved. While there was not a common response to ABA for any gene in all organs, there were common pathways or gene ontologies that were affected by applied ABA, including transcription factor activities, ABA metabolism and signaling, and flavonoid metabolism. This study provides ABA-responsive candidate genes in each grapevine organ. Identifying the differences in gene expression that regulate grapevine ABA responses in individual organs is crucial for fully understanding hormone action and the physiological responses to water deficit in the whole plant. Ultimately this knowledge can be utilized to manipulate the effects of ABA in different organs to reach desirable outcomes such as enhanced drought tolerance and grape quality.
Declarations
Acknowledgements
This research was supported by the USDA National Institute of Food and Agriculture, Hatch Grant (Project NEV00345); part of the multistate project (NE1020): Multi-state Evaluation of Winegrape Cultivars and Clones. The cell culture work was supported by a scholarship award to RG from the Grape Research Coordination Network, part of the National Science Foundation grant no. DBI 0741876. The microarray data analyses were supported by a grant from the National Institute of General Medical Sciences (P20GM103440).
Open AccessThis article is distributed under the terms of the Creative Commons Attribution 4.0 International License (http://creativecommons.org/licenses/by/4.0/), which permits unrestricted use, distribution, and reproduction in any medium, provided you give appropriate credit to the original author(s) and the source, provide a link to the Creative Commons license, and indicate if changes were made. The Creative Commons Public Domain Dedication waiver (http://creativecommons.org/publicdomain/zero/1.0/) applies to the data made available in this article, unless otherwise stated.
Authors' Affiliations
(1)
Department of Biochemistry and Molecular Biology, University of Nevada, Reno, USA
(2)
Bordeaux Sciences Agro, Institut des Sciences de la Vigne et du Vin (ISVV), EGFV, UMR 1287, Villenave d'Ornon, France
(3)
Department of Horticulture, Oregon State University, Corvallis, USA