Research article
Open Access
Metabolome analysis of 20 taxonomically related benzylisoquinoline alkaloid-producing plants
BMC Plant Biology
2015
15:220
Received: 3 April 2015
Accepted: 14 August 2015
Published: 15 September 2015
Abstract
Background
Recent progress toward the elucidation of benzylisoquinoline alkaloid (BIA) metabolism has focused on a small number of model plant species. Current understanding of BIA metabolism in plants such as opium poppy, which accumulates important pharmacological agents such as codeine and morphine, has relied on a combination of genomics and metabolomics to facilitate gene discovery. Metabolomics studies provide important insight into the primary biochemical networks underpinning specialized metabolism, and serve as a key resource for metabolic engineering, gene discovery, and elucidation of governing regulatory mechanisms. Beyond model plants, few broad-scope metabolomics reports are available for the vast number of plant species known to produce an estimated 2500 structurally diverse BIAs, many of which exhibit promising medicinal properties.
Results
We applied a multi-platform approach incorporating four different analytical methods to examine 20 non-model, BIA-accumulating plant species. Plants representing four families in the Ranunculales were chosen based on reported BIA content, taxonomic distribution and importance in modern/traditional medicine. One-dimensional 1H NMR-based profiling quantified 91 metabolites and revealed significant species- and tissue-specific variation in sugar, amino acid and organic acid content. Mono- and disaccharide sugars were generally lower in roots and rhizomes compared with stems, and a variety of metabolites distinguished callus tissue from intact plant organs. Direct flow infusion tandem mass spectrometry provided a broad survey of 110 lipid derivatives including phosphatidylcholines and acylcarnitines, and high-performance liquid chromatography coupled with UV detection quantified 15 phenolic compounds including flavonoids, benzoic acid derivatives and hydroxycinnamic acids. Ultra-performance liquid chromatography coupled with high-resolution Fourier transform mass spectrometry generated extensive mass lists for all species, which were mined for metabolites putatively corresponding to BIAs. Different alkaloids profiles, including both ubiquitous and potentially rare compounds, were observed.
Conclusions
Extensive metabolite profiling combining multiple analytical platforms enabled a more complete picture of overall metabolism occurring in selected plant species. This study represents the first time a metabolomics approach has been applied to most of these species, despite their importance in modern and traditional medicine. Coupled with genomics data, these metabolomics resources serve as a key resource for the investigation of BIA biosynthesis in non-model plant species.
Keywords
AlkaloidBerberineOpium PoppyNoscapineMagnoflorine
Background
Metabolomics, generally defined as the measurement of all metabolites in a given system under particular conditions [45], is a key functional genomics tool with widespread applications ranging from genotype discrimination to pathology phenotyping and natural product discovery. Compared with animals, plants represent a special problem for metabolomics studies as they contain a remarkably large number (>200,000 compounds) and wide variety of metabolites [42]. Plants accumulate a plethora of specialized metabolites, many which possess potent pharmacological activities. Prominent examples include compounds of the benzylisoquinoline alkaloid (BIA) class, which occur abundantly in the order Ranunculales, particularly within Papaveraceae, Ranunculaceae, Berberidaceae and Menispermaceae families (Additional file 1). Although BIAs share a common biosynthetic origin beginning with tyrosine, branched biosynthetic pathways – many which remain unresolved at the biochemical and genetic levels – lead to the formation of diverse molecular structures (Additional file 2). Targeted study of alkaloid content has been performed for many BIA-accumulating plants, especially those with importance in modern or traditional medicinal and cultural practices [17, 51]. The emergence of increasingly sophisticated analytical platforms has supported high-resolution mass spectrometry (MS)-based BIA profiling of Hydrastis canadensis [29, 30], opium poppy (Papaver somniferum; [49]) and Corydalis species [27]. Hyphenated techniques such as liquid chromatography (LC)-NMR and LC-MS-NMR have been applied to alkaloid analyses of Eschscholzia californica [14] and Nandina domestica [26] cell cultures.
Only a limited number of reports have attempted to define the biochemical networks underpinning alkaloid biosynthesis. Broad-scope metabolomics encompassing both primary and secondary metabolism has been largely restricted to model plant species, including opium poppy, a longstanding model system for the study of BIA metabolism. 1H NMR was used to identify and quantify 34 root and 21 latex metabolites in opium poppy plants [18]. Similarly, 42 diverse metabolites were monitored in opium poppy cell cultures using NMR, revealing extensive reprogramming of primary and secondary metabolism following induction with fungal elicitor [69]. NMR-based metabolomics was reported for Chelidonium majus, although capacity for compound identification was limited [43]. Compound identification similarly restricted a more detailed profile of opium poppy cell cultures analyzed using FT-ICR-MS, although the occurrence of 992 distinct analytes was confirmed [70]. Technical advances made since these reports have improved the capacity for compound identification. Analyses of animal metabolomes now boast routine identification and quantification of hundreds metabolites (e.g. human urine, >400 metabolites; [6]) and progress is mirrored in plant metabolomics studies [54]. Key strategies now include the integrated use of multiple extraction procedures and analytical platforms to improve metabolic coverage and reduce bias. For example, separate extractions with water, alcohol, and organic solvents can yield different metabolite profiles [62]. Proton NMR of aqueous extracts remains a field standard in terms of the number and structural diversity of compounds identified and quantified, and a variety of biochemical databases and secondary analysis tools are now available [5, 61]. MS-based approaches complement NMR by offering enhanced spectral resolution and sensitivity for the analysis of low-abundance compounds [50] while numerous open-source and commercial software packages aid downstream analysis [53]. Choices concerning sample fractionation (i.e. type of chromatography), ion generation, and MS analyzer type [e.g. triple quadropole, time-of-flight (TOF), Orbitrap, Ion Cyclotron Resonance (ICR)] impact the nature of the resulting datasets. Both NMR and MS-based platforms are well suited for chemometric methods such as principal component analysis (PCA) and hierarchical clustering, which are often required to derive biologically relevant conclusions from complex datasets [63].
We designed a multi-platform approach incorporating four different analysis methods to acquire a more complete view of the biochemical networks operating in non-model, BIA-accumulating plants (Fig.
1
). This study represents the first time a metabolomics approach has been applied to most of these species, despite their importance in modern and traditional medicine [
17
]. The large data collections reported herein serve as a key resource for (i) research of the biochemical mechanisms governing alkaloid metabolism, (ii) novel gene discovery, and (iii) future metabolic engineering efforts. Metabolite and transcript resource development has greatly expedited novel gene discovery in model systems such as opium poppy, permitting the near-complete elucidation of several major BIA pathways. In tandem with our accompanying transcriptome analysis [
19
], the goal of this work was to establish equivalent resources for plants displaying distinct and unexplored BIA profiles.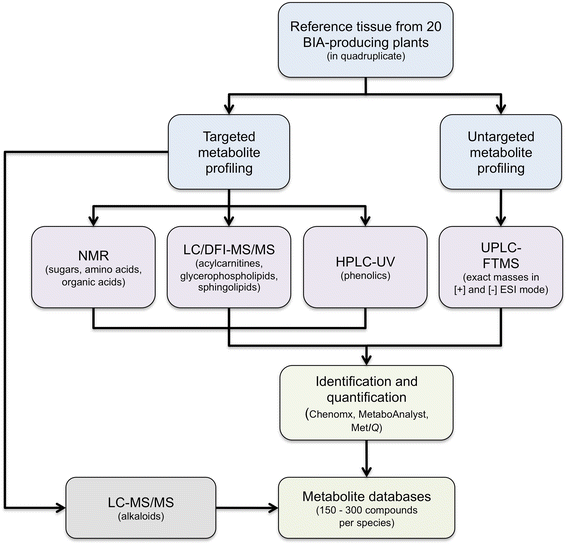 Conclusions
An important goal of metabolomics is to acquire information regarding as many metabolites as possible, which requires the use of more than one analytical platform. The multi-faceted approach taken in this study combined five different techniques in order to gain a broader and more accurate snapshot of primary and secondary metabolism within 20 different BIA-accumulating plant species. Differences in the profile of primary metabolites were observed between different source tissues (e.g. callus versus differentiated organs, stem versus root/rhizome) that could relate to variation observed in alkaloid content. Factors such as UV light and the presence of fungi in the rhizosphere are among myriad elements contributing to the overall biochemistry of plants. Environmental factors impact both primary and secondary metabolism, and strong evidence suggests that plant responses are highly coordinated [17, 70]. The production of alkaloids as defense metabolites is likely underpinned by biochemical events that can only be visualized through broad-scope metabolite profiling. Elucidation of these complex mechanisms depends on persistent and iterative metabolomics studies, which in turn rely on continuously improving analytical technologies.
Methods
Plant material and tissue preparation
Selected tissues were harvested from Hydrastis canadensis, Sanguinaria canadensis, Nigella sativa, Mahonia aquifolium, Menispermum canadense, Stylophorum diphyllum, and Xanthoriza simplicissima plants cultivated outdoors at the Jardin Botanique de Montréal (Montréal, Québec; http://espacepourlavie.ca). Jeffersonia diphylla and Berberis thunbergii plants were purchased from Plant Delights Nursery (Raleigh, North Carolina; www.plantdelights.com) and Sunnyside Greenhouses (Calgary, Alberta; www.sunnysidehomeandgarden.com), respectively. Chelidonium majus, Papaver bracteatum, Argemone mexicana, Eschscholtzia californica, Nandina domestica, Glaucium flavum, Thalictrum flavum and Corydalis chelanthifolia were grown from seed germinated in potted soil under standard open air greenhouse conditions. Seeds were obtained from B and T World Seeds (http://b-and-t-world-seeds.com) with the exception of T. flavum and P. bracteatum, which were obtained from Jelitto Staudensamen (www.jelitto.com) and La Vie en Rose Gardens (www.lavieenrosegardens.com), respectively. Callus cultures of Cissampelos mucronata, Cocculus trilobus, and Tinospora cordifolia were purchased from Deutsche Sammlung von Mikroorganismen und Zellkulturen (DSMZ, Braunschweig, Germany; http://www.dsmz.de) and maintained as described previously [13]. Tissues were flash-frozen in liquid nitrogen and stored at −80 °C. Four biological replicates were processed per species for all analyses except targeted HPLC-MS/MS, in which case only one replicate was performed. Tissues for each biological replicate were lyophylized, ground to a fine powder, and partitioned for extraction using water (NMR, HPLC-UV analyses), organic solvent (LC/DI-MS/MS) or methanol (UPLC-FTMS).
NMR spectroscopy
Lyophylized tissue powder was extracted three times with water, and reduced to dryness. This dry, water-soluble fraction was reconstituted in 600 μL sodium phosphate buffer (50 mM, pH 7). Seventy microliters D2O and 30 μL of a standard buffer solution [3.73 mM DSS (disodium 2,2-dimethyl-2-silapentane-5-sulfonate), 0.47 % (w/v) sodium azide] were added. Samples were vortexed for 1 min, sonicated for 30 min, and transferred to a standard Shigemi microcell NMR tube. All 1H-NMR spectra were acquired on a 500 MHz Inova (Varian Inc., Palo Alto, California) spectrometer equipped with a 5-mm HCN Z-gradient pulsed-field gradient (PFG) cold probe. Data was collected at 25 °C using the first transient of the NOESY-presaturation pulse sequence, which was chosen for its high degree of quantitative accuracy. Spectra were collected with 256 transients using an 8-second acquisition time and a 1-second recycle delay.
NMR compound identification and quantification
All FIDs (free induction decays) were zero-filled to 64 k data points and subjected to line broadening of 0.5 Hz. The singlet produced by DSS methyl groups was used as an internal standard for chemical shift referencing (set to 0 ppm) and for quantification purposes. All 1H-NMR spectra were processed and analyzed using the Chenomx NMR Suite Professional software package v. 6.0 (Chenomx Inc., Edmonton, Alberta). This software allows for qualitative and quantitative analysis of an NMR spectrum by manually fitting spectral signatures from an internal database of reference spectra to the full NMR spectrum [59]. The spectral fitting for each metabolite was done using the standard Chenomx 500 MHz metabolite library. For most samples, 90 % of all visible peaks were assigned to a compound and more than 90 % of the spectral area could be routinely fit using the Chenomx spectral analysis software. Most of the visible peaks were annotated with a compound name. It was shown previously that this fitting procedure provides absolute concentration accuracies of 90 % or better [59]. Each spectrum was processed and analyzed by at least two NMR spectroscopists to minimize compound misidentification and misquantification. Where necessary, sample spiking was employed to confirm the identities of assigned compounds. Sample spiking involved the addition of 20–200 μM of the candidate compound followed by observations of whether NMR signal intensities changed as expected.
DFI-MS/MS analysis
Lyophilized tissue powder was processed for targeted quantitative metabolomics analysis using the commercially available kit AbsoluteIDQ 150 (Biocrates Life Sciences AG, Innsbruck, Austria). This kit assay employs direct flow injection (DFI)-MS/MS technique, and is specifically adapted for an ABI 4000 QTrap (Applied Biosystems/MDS Sciex, Foster City, California). Using this method, up to 163 different metabolites, including amino acids, acylcarnitines, glycerophospholipids, sphingolipids, and sugars can be identified and quantified. The kit assay relies on selective derivitization and extraction, and resulting analytes are profiled using pre-defined multiple reaction monitoring (MRM) pairs, neutral loss measurements and precursor ion scans. Isotope-labeled internal standards are included as part of the kit plate filter for metabolite quantification. The AbsoluteIDQ 150 kit contains a 96 deep-well plate with a filter attachment, along with reagents and solvents used to prepare the plate assay. For standardization and calibration purposes, the first 8 wells in the kit were used for the following: one blank, three zero samples, seven standards and three quality control samples. Plant samples were processed and analyzed according to manufacturer's instructions. Briefly, lyophilized tissue was extracted with organic solvent and 10 μL of each organic fraction was loaded onto the center of the filter on the upper 96-well kit plate and dried with a stream of nitrogen. Subsequently, 20 μL of derivatizing agent 5 % phenylisothiocyanate was added. Following an incubation period, filter spots were dried again and subjected to extraction with 300 μL methanol containing 5 mM ammonium acetate. Extracts were obtained by centrifugation into the lower 96-well plate and diluted with kit MS running solvent. MS analysis was performed according to manufacturer instructions on an ABI 4000 QTrap (Applied Biosystems/MDS Sciex, Foster City, California). byDFIBiocrates MetIQ software was used to control assay workflow, from sample registration to automated calculation of metabolite concentrations to data export.
HPLC-UV analysis
To determine polyphenol content, lyophilized plant tissue was subjected to extraction [31] and high performance liquid chromatography with (HPLC)-UV analysis [48] as described previously, with some modifications. Dried powder was homogenized in 8–10 mL of water and incubated in a boiling water bath for 30 min with intermittent vortexing. Extracts were cooled and centrifuged at 3000 rpm for 20 min. The extraction was repeated and supernatants were pooled and filtered through a 0.45 μm nylon membrane (EMD Millipore, Billerica, Massachusetts). Filtrate was lyophilized, dissolved in HPLC running buffer (Solvent A; 50 mM sodium phosphate pH 2.5) and passed once more through a 0.45 μm nylon filter prior to injection. Analysis was performed using an Agilent 1100 series HPLC system consisting of an Agilent G1311A quaternary pump equipped with an Agilent G1315B diode array detector (Agilent Technologies, Santa Clara, California). Separation was achieved using a Synergi RP-polar C18 column (Phenomenex, Torrance, California) and a gradient elution profile of Solvent A and Solvent B (100 % methanol) as follows: 0 min, 5 % B; 15 min, 30 % B, 40 min, 40 % B; 60 min, 50 % B; 65 min, 55 % B; 90 min, 100 % B. Flow rate was 1.0 mL/min and injection volume was 40 μL. Absorbance was monitored at 254, 280, 306 and 340 nm. Phenolic compounds were identified by comparison of retention time (Rt) and UV spectral data with those of known standards and quantification was achieved using routine procedures based on calibration curves.
UPLC-FTMS analysis
Lyophilized plant tissue was extracted twice with methanol, and supernatants were pooled and re-lyophilized. Residues were precisely weighed (~4-5 mg each sample) and dissolved in 20 % methanol to a concentration of 5.0 mg/mL with the aid of vortex mixing and sonication. Each solution was then diluted 1:5 with 5 % methanol and centrifuged at 10,000 g to remove insoluble matter. A Dionex Ultimate 3000 RSLC ultrahigh-performance liquid chromatography (UPLC) system coupled to a Thermo LTQ-Orbitrap Velos mass spectrometer (MS) equipped with heated electrospray ionization (ESI) source was used. The plant metabolites were separated on a BEH C18 UPLC column (2.1 × 100 mm, 1.7 μm, 130 Å). The mobile phase was 0.01 % formic acid in water (solvent A) and 0.01 % formic acid in isopropanol (solvent B) for binary gradient elution. The gradient was 2 % to 100 % B over 16 min; 100 % B for 2 min before the column was equilibrated for 4 min between injections. The column flow rate was 0.3 mL min−1 and the column temperature was set to 40 °C. The injection volume was 10 μL. MS detection was in the Fourier transform (FT) full mass-scan mode (i.e. FTMS) within a range of m/z 100 to 1000. The mass resolution was set at 30,000 FHMW and the automatic gain control (AGC) target was 1×106 with an allowable maximum injection time of 500 ms. Two UPLC-FTMS runs per sample were performed in each of the positive-ion and negative-ion detection modes, and the LC-MS data files were recorded in centroid mode. To ensure mass accuracy, real-time internal mass calibration was applied in addition to standard external calibration procedures throughout all runs by using two reference masses from two ubiquitous background ions, i.e., m/z 391.28429 from the (M + H)+ ion of bis(2-ethylhexyl) phthalate for the (+) ion mode detection and m/z 112.98563 from the (2 M + Na-2H)− ion of formic acid in (−) ion mode detection. In this way, all the measured mass errors, as checked, were within ±2.5 ppm. Typical ESI parameters were as follows: ion source spray voltage, 3500 V for (+) ESI and 3000 V for (−) ESI; sheath gas flow 40 arbitrary units (AU); auxiliary gas flow 15 AU; heated nebulizer temperature 350 °C; and capillary temperature 325 °C. The (+) and (−) ion mode datasets from each sample were respectively processed with the freely available XCMS suite [52, 55] downloadable at http://xcmsonline.scripps.edu/ for automatic peak extraction, retention time shift correction, peak grouping and alignment. The detected metabolites from 4 samples for each plant species were saved in individual CSV peak tables in the format of mono-isotopic m/z values, and retention times (Rt in min) versus corresponding peak areas (ion counts), for detected metabolites across samples. Manual peak de-isotoping was applied for each of the resultant peak tables and those chemical and electronic noises were also removed during this step. Positive ion mode mass lists were mined for ionic masses (m/z) corresponding to those predicted for known BIAs based on established empirical formulae. Matching observed ionic masses with predicted BIA ionic masses was performed using an allowable error range of ± 2.0 ppm.
Triple quadrupole LC-MS/MS analysis
LC-MS/MS was performed using a previously described method [13] with minor modifications. Briefly, tissue was extracted with Bieleski's solution (15:1:4 methanol:formic acid:water, v:v) and centrifuged at 14 000 g for 10 min at 4 °C. Supernatant was filtered through 22 μm Millex filters (EMD Millipore, Billerica, MA), lyophylized and reconstituted (5 mg/mL) in Solvent A (10 mM ammonium acetate, 5 % acetonitrile, pH 5.5). Dilutions of 1:10 and 1:100 were prepared for LC-MS/MS analysis, which was performed using an Agilent 1200 series HPLC coupled to an Agilent 6410B triple quadrupole MS analyzer (Agilent, Santa Clara, California). Separations were achieved with a Zorbax Eclipse Plus C18 column at a flow rate of 0.5 ml/min using the following gradient of Solvent A and Solvent B (100 % acetonitrile): 0 min, 100 % Solvent A; 10 min, 50 % Solvent A; 12 min, 1 % Solvent A; 13 min, 1 % Solvent A. Eluent was introduced to the MS operating in positive ion mode via an ESI source. Source and interface conditions were optimized for BIAs (gas temperature 350 °C, gas flow rate 10 L/min; nebulizer gas pressure 50 psi, fragmentor 100 V, capillary 4000 V). Quadrupole 1 and 2 were set to RF only with quadrupole 3 scanning from 200–700 m/z. These wide scans were used to select BIAs whose identities could be confirmed by comparing 1) retention times and 2) collision-induced dissociation (CID) spectra with those of authentic standards. For CID spectra, 25 eV was applied to quadrupole 2 and resulting fragments were detected in quadrupole 3 by scanning from m/z 40 to 2 units greater than the precursor ion m/z.
Multivariate analysis
To compare metabolite compositions and concentration differences between samples derived from different plant species, principal component analysis (PCA) was performed using MetaboAnalyst v. 2.0 [65], a web-based metabolomics data processing tool which accepts a wide variety of input data such as NMR or MS peak lists and compound/concentration information (http://www.metaboanalyst.ca/MetaboAnalyst/). Metabolite quantities formed the basis for PCA of NMR, LC/DFI-MS/MS, and HPLC-UV data. Relative abundances (i.e. ion counts) of ionic masses (m/z) corresponding to those predicted for known BIAs formed the basis for PCA of extracted UPLC-FTMS data. Data treatment was performed essentially as described previously [15]. Briefly, data normalization was performed using MetaboloAnalyst's built-in normalization protocols [65] including row-wise and column-wise normalization and auto-scaling procedures. These original variables were summarized into much fewer variables (scores) using their weighted averages (loadings). Graphical summaries were provided as two-dimensional scores and loadings plots, respectively.
Abbreviations
BIA:

Benzylisoquinoline alkaloid
CID:

Collision-induced dissociation
DFI:

Direct-flow injection
EI:

Electrospray ionization
FTMS:

Fourier-transform mass spectrometry
UPLC:

Ultrahigh-performance liquid chromatography
ICR:

Ion cyclotron resonance
LC:

Liquid chromatography
MS:

Mass spectrometry
NMR:

Nuclear magnetic resonance
PCA:

Principal component analysis
TOF:

Time of flight
Declarations
Acknowledgments
We are grateful to Stéphane Bailleul and Renée Gaudette from the jardin botanique de Montréal for invaluable assistance and access to plant collections. This work was funded through grants from Genome Canada, Genome Alberta and the Government of Alberta. PJF held the Canada Research Chair in Plant Metabolic Processes Biotechnology.
Open Access This article is distributed under the terms of the Creative Commons Attribution 4.0 International License (http://creativecommons.org/licenses/by/4.0/), which permits unrestricted use, distribution, and reproduction in any medium, provided you give appropriate credit to the original author(s) and the source, provide a link to the Creative Commons license, and indicate if changes were made. The Creative Commons Public Domain Dedication waiver (http://creativecommons.org/publicdomain/zero/1.0/) applies to the data made available in this article, unless otherwise stated.
Authors' Affiliations
(1)
Department of Biological Sciences, University of Calgary, Calgary, Canada
(2)
Department of Biological Sciences, University of Alberta, Edmonton, Canada
(3)
University of Victoria-Genome BC Proteomics Centre, University of Victoria, Victoria, Canada