mirEX 2.0 - an integrated environment for expression profiling of plant microRNAs
BMC Plant Biology
2015
15:144
Received: 22 April 2015
Accepted: 23 May 2015
Published: 16 June 2015
Abstract
Background
MicroRNAs are the key post-transcriptional regulators of gene expression in development and stress responses. Thus, precisely quantifying the level of each particular microRNA is of utmost importance when studying the biology of any organism.
Description
The mirEX 2.0 web portal (http://www.combio.pl/mirex) provides a comprehensive platform for the exploration of microRNA expression data based on quantitative Real Time PCR and NGS sequencing experiments, covering various developmental stages, from wild-type to mutant plants. The portal includes mature and pri-miRNA expression levels detected in three plant species (Arabidopsis thaliana, Hordeum vulgare and Pellia endiviifolia), and in A. thaliana miRNA biogenesis pathway mutants. In total, the database contains information about the expression of 461 miRNAs representing 268 families. The data can be explored through the use of advanced web tools, including (i) a graphical query builder system allowing a combination of any given species, developmental stages and tissues, (ii) a modular presentation of the results in the form of thematic windows, and (iii) a number of user-friendly utilities such as a community-building discussion system and extensive tutorial documentation (e.g., tooltips, exemplary videos and presentations). All data contained within the mirEX 2.0 database can be downloaded for use in further applications in a context-based way from the result windows or from a dedicated web page.
Conclusions
The mirEX 2.0 portal provides the plant research community with easily accessible data and powerful tools for application in multi-conditioned analyses of miRNA expression from important plant species in different biological and developmental backgrounds.
Keywords
microRNA
Gene expression
Database
Arabidopsis thaliana
Hordeum vulgare
Pellia endiviifolia
Background
MicroRNAs are short, predominately 20–22 nucleotide small RNAs that function as versatile gene expression regulators in development and stress responses. Plant miRNAs are produced from primary transcripts (pri-miRNAs) that form a miRNA/miRNA*-containing stem-loop structure. They are processed by the DICER-LIKE 1 enzyme (DCL1) [1] which forms a microprocessing complex with SERRATE (SE) [2] and HYPONASTIC LEAVES 1 (HYL1) [3] proteins. Another ssRNA-binding protein, TOUGH (TGH), plays an important role in the efficient recruitment of the DCL1-HYL1-SE complex to pri-miRNA [4]. Additionally, SERRATE interacts with the Cap-Binding Complex (CBC), which is a heterodimer of CAP BINDING PROTEIN 20 (CBP20) and CAP BINDING PROTEIN 80 (CBP80) [5]. These interactions mainly ensure the proper efficiency of pri-miRNA processing [6, 7]. The miRNA/miRNA* duplex is exported to the cytoplasm with the help of the HASTY1 (HST1) protein which is involved in the nuclear export of microRNAs [8]. In the cytoplasm the miRNA guide strand is selectively loaded into ARGONAUTE1 (AGO1) to form the RNA-Induced Silencing Complex (RISC) responsible for mRNA slicing [9]. HUA ENHANCER 1 (HUA1) methylates miRNA/miRNA* duplexes probably before they are loaded onto the AGO1 protein and renders microRNAs more stable [10–12]. The miRNA-loaded RISC directs the posttranscriptional silencing of the complementary target mRNA. The target mRNA is predominantly cleaved or its translation is repressed [13–16].
Genes that encode transcripts that are processed to the same or similar mature microRNA species are grouped into families. In many cases it is only possible to observe the expression of all family members as a group rather than that of individual members by using Northern hybridization, RT-qPCR or sequencing approaches. However, individual members of a given microRNA family may be expressed in different developmental stages or in response to various biotic/abiotic stimuli [17–20]. In addition, most of the plant miRNA genes are family- or species-specific, and unlike the conserved genes, young miRNAs are often weakly expressed and imprecisely processed. In these cases the analysis of microRNA primary transcripts (pri-miRNA) expression can be informative and point to an individual family member gene that undergoes expression changes.
Recently, genome-wide analyses from several plant species have revealed that variation in miRNA expression and processing has an impact on micro RNA unique functionality [21, 22].
At present, the amount of expression data produced by sequencing technologies in many cases overbalances the potential of data exploration tools. Therefore, it is of outmost importance to create user-friendly and powerful tools that will allow for new hypothesis testing and application of novel approaches for data exploration. Although a few databases include expression information of miRNAs [23–26], their coverage is quite limited and fail to integrate most of the high-throughput experimental results. Additionally, in most cases the available repositories do not provide ability to simultaneously compare expression levels between various microRNA genes in diverse organs and developmental stages.
We have developed mirEX – a portal dedicated to comparative data mining of microRNA expression information in plants, from the studies of wild-type and mutant species, covering various developmental stages and including data from RT-qPCR, northern blot and NGS experiments. The portal contains data, which present MIR gene expression at the level of transcript (pri-miRNA) and mature miRNA [27]. Currently, the enhanced system (mirEX 2.0; see Additional file 1: Table S1 for a full list of updated features in current release of mirEX portal) allows for comparative miRNA data exploration with a simple, graphical querying system as well as with advanced visualization and data presentation tools within plant species representing three major groups: dicots (Arabidopsis thaliana), monocots (Hordeum vulgare), and bryophytes (Pellia endiviifolia). Arabidopsis, the well-established reference plant model, is represented by wild-type plants as well as by several miRNA-biogenesis mutants. Barley represents one of the most agronomically important plants that can serve, in many aspects, as a model organism for other closely related grass species. P. endiviifolia belongs to liverworts, i.e., plants that are most probably the basal group of land invaders [28]. The mirEX 2.0 database is the first resource to provide comparative data on the microtranscriptome of these land-pioneering organisms.
The mirEX 2.0 portal is dedicated to researchers working on specific microRNA functions and expression profiles of entire microRNA family members during a particular organ/developmental stage or on microRNA biogenesis and evolution.
Utility and discussion
Data access
The mirEX 2.0 portal offers a modern and graphical interface that allows to query and explore all of the information contained in it. The data can be accessed by searching for a particular microRNA name or by browsing the database content. We employ a simple, two-step querying system despite the vast amount and variability of data contained in the mirEX 2.0 database. The first step in the data selection process is provided in the form of a graphical query builder (Fig.
1
) to supply the functionality for selecting any combination of species, developmental stages and microRNAs.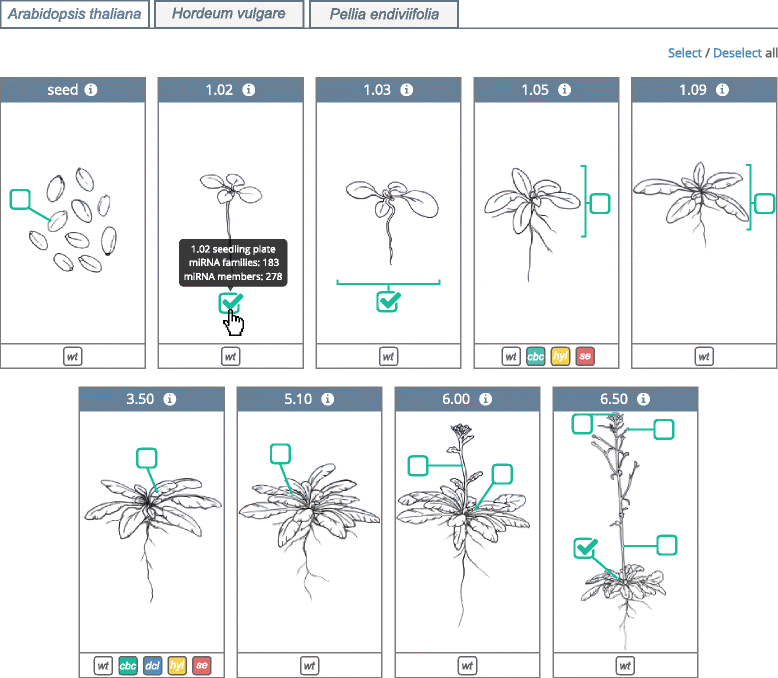 Selecting a mutant ID (Fig. 1) results in the presentation of a profile expression fold change between the mutant and the control plant for all miRNAs. The provided range slider allows to quickly filter the records with a desired span of differentially expressed miRNAs. Additionally, the expression data for miRNA biogenesis mutants for any particular molecule can be accessed from the corresponding miRNA record.
The real potential of the mirEX 2.0 portal is based on its ability to combine different datasets into one display. There is no limit as to the number and type of selected plant species, developmental stages and microRNAs that can be combined in a single query. Depending on the complexity of the search, the interface determines the most user-friendly and informative way of presenting the results; for example, in addition to line and bar graph outputs, mirEX 2.0 offers a heat map-based display of multiple miRNA entries across complex (multi-tissue/multi-species) comparisons (Fig.
2
). The new display functionalities allow for dynamic sorting of the expression level in a given tissue/species or for particular miRNA records as well as simple hierarchical clustering for data mining applications. Another visual feature of the profiling expression for large collections of miRNA records in a single stage/tissue is also provided in the form of a tag-based cloud where the level of expression is indicated by the color and size of the sequence ID. In this way the user can quickly identify the highest, lowest and similarly expressed miRNAs in the analyzed data set.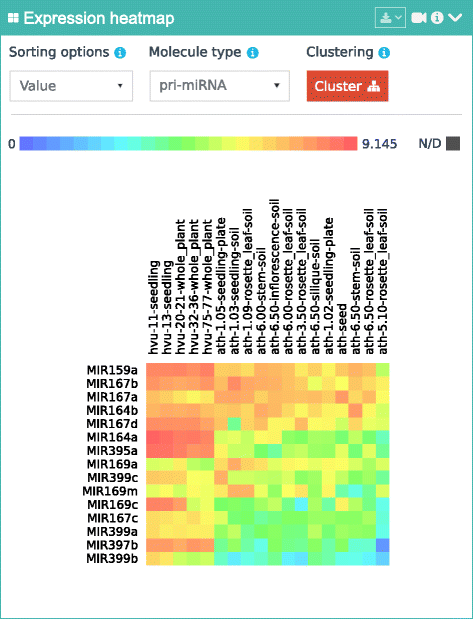 A key feature available in the mirEX 2.0 database is the integration of NGS sRNA-seq data into graphical expression plots along with the RT-qPCR-based transcript level measurements in the context of multiple developmental stages and tissues. This type of presentation provides a unique opportunity to simultaneously investigate expression levels for multiple miRNAs at different stages of processing (Fig.
3
). The expression for RT-qPCR-analyzed pri-miRNAs is presented as a fold change value, and the accumulation of mature molecules is presented as RPM (reads per million) counts normalized to all miRNAs identified in the sample.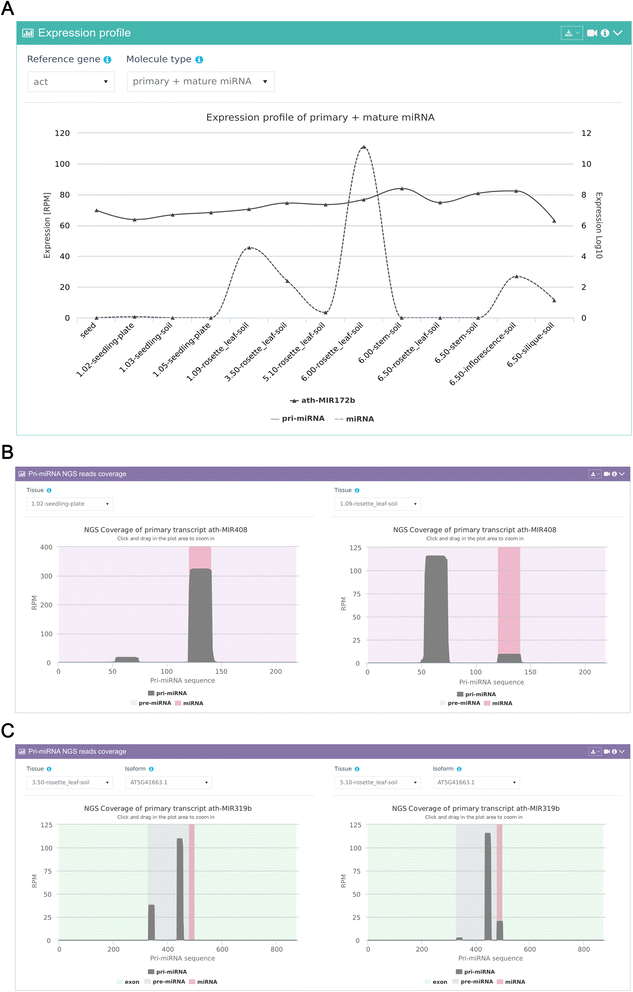 From the analysis of the expression data deposited in the mirEX 2.0 database it is clear that the relation between the level of a given pri-miRNA and its mature miRNA may be complex; for example, in the case of miR172b from arabidopsis (Fig. 3A) we observe modest variation in the expression of the pri-miRNA transcript across all of the tested stages and tissues when compared to the increased accumulation of mature molecules observed in the leaves and the inflorescence. Such differences in transcript accumulation can be the result of pri-miRNA transcription and maturation efficiency and/or miRNA stability within the RISC complex. The integration of the sRNA sequencing results with the miRNA precursor information allows to identify novel processing patterns of the pre-miRNA transcripts; for example, by using the tools built into the mirEX 2.0 interface a clear change can be identified between the processing efficiency of miR408/miR408* across various stages of arabidopsis development (Fig. 3B). The coverage pattern of sRNA on pri-miR319b (Fig. 3C) shows another example of the mirEX 2.0 data mining potential towards the exploration of complex processing patterns of plant microRNA precursors.
The single miRNA record window constitutes the central part of the mirEX 2.0 database. Among the basic data characterizing each miRNA molecule, e.g., hairpin pre-miRNA structure, Northern hybridizations, or external database links, it also includes: (i) a graphical presentation of the expression levels in all of the tested growth stages and tissues in the form of "Electronic Fluorescent Pictographs" [62], (ii) expression profiles in mutant plants (where applicable), (iii) mature miRNA NGS-based data with multiple sequence alignment, (iv) the exon-intron structure of the pri-miRNA transcripts with options to highlight and download all of the presented features, and (v) automatic retrieval of the most recent articles from PubMed.
Web interface
The portal is accessed through a clean, intuitive web design which provides the user with an optimal viewing experience of the website's features by adapting the web page layout to the operated device (e.g., tablets or desktop computers). A major point of emphasis of the mirEX 2.0 design has been to develop individual pages that are intuitive, thus giving the user freedom to focus on the biological query being addressed.
With this in mind, several user-centered solutions have been provided to enhance the general efficiency of the data mining experience. All results displayed in mirEX 2.0 are presented as separate, clearly labeled windows with the graphical elements providing contextual clues as well as mouse-over tooltips and short video tutorials with feature details. Users can adjust the amount of information that is present on the page to their needs, as any window can be minimized or expanded at any given moment. Depending on the data type, each of the windows may contain tools for data presentation, e.g., for sorting, filtering and changing the data source, thus allowing the user to generate customizable and integrated results. Other features that enhance the readability of the presented information include interactive charts as well as searchable and sortable table views.
Other general functionalities incorporated in the portal include a status message prompter presented at every query-building step and results screens. This widget informs the user about the current status of the request; for example, the status window will contain information about selected species, stages and the number of microRNAs, or it will show the progress of data loading. Through the 'Comment' feature, users can comment on any resource present in the database and start discussions. We encourage feedback from the bioscience community in terms of verifying the information we provide as well as obtaining relevant data either from ongoing research or from previous research, both published and unpublished.
Future perspectives
We constantly continue to collect high-quality expression data for already incorporated plant species following new discoveries and annotations. In the future, we also plan to include data from other, not-well-established model organisms. The database schema as well as the user interface are now tuned to allow for the exploration of any number of combination of species/tissues/mutants and developmental stages. We also plan to incorporate microRNA expression profiles from plants exposed to various biotic and abiotic stresses. Work on drought and heat effects on the microtranscriptome in arabidopsis and barley is already under way. The currently established modular scheme of data presentation and wizard-like querying interface create an environment that guarantees further expansion toward the assimilation of new datasets and the development of novel visualization tools.
Conclusions
The mirEX 2.0 web-based portal is a one-stop solution for the exploration of plant microRNA expression data covering mutants and three plant species representing scientifically (Arabidopsis thaliana), economically (Hordeum vulgare), and evolutionarily (Pellia endiviifolia) attractive research models. The provided user-friendly tools allow to explore expression data in any combination of species, tissues and developmental stages, thus leading to the rapid discovery and hypothesis-building of underlying relations and regulatory mechanisms. The developed technology also allows for unlimited further expansion of the data content and provides an environment for the design of novel tools following the needs of the plant community involved in the exploration of microRNA biology.
Availability and requirements
Project name: mirEX 2.0
Project home pages: http://www.combio.pl/mirex
Operating system(s): Platform independent.
License: Not required.
Any restrictions to use by non-academics: None.
Abbreviations
AGO:

Argonaute protein
CBP:

CAP BINDING PROTEIN
DCL1:

DICER LIKE 1
ADP 1:

ADENOSINE DIPHOSPHATE RIBOSE-RIBOZYLATION FACTOR 1
EF1-alpha:

Elongation factor 1-alpha
gapdh:

Glyceraldehyde-3-phosphate dehydrogenase C subunit 1
HST1:

HASTY1
HUA1:

HUA ENHANCER 1
HYL1:

HYPONASTIC LEAVES 1
miRNA:

microRNA
pri-miRNA:

Primary transcript of miRNA
NGS:

Next generation sequencing
RISC:

RNA-induced silencing complex
RPM:

Reads per million
SE:

SERRATE
ubq10:

Polyubiquitin 10
Declarations
Acknowledgments
This work was supported by grants from the National Science Centre: 2011/03/B/NZ2/01416 (to WK, AZ), 2011/03/N/NZ2/01440 (to AZ), 2012/04/M/NZ2/00127 (to ZSK, KS, AS), 2011/03/N/NZ2/03147 (to DB), 2012/05/N/NZ2/00880 (to AS), 2012/05/N/NZ2/00955 (to KS), 2013/10/A/NZ1/00557 (to AJ), 2014/12/T/NZ2/00246 (to JD), and 0028/B/P/1/2009/37 (to ZSK, HP). JD's and DB's PhD fellowships are a part of the International PhD Program titled "From genome to phenotype: a multidisciplinary approach to functional genomics" (MPD/2013/7 and MPD/2013/3) funded by the Foundation for Polish Science (FNP). DB was a scholarship holder within the START 2014 program of the Foundation for Polish Science (FNP). The project was also funded by the European Regional Development Fund through the Innovative Economy for Poland 2007–2013, project WND-POIG.01.03.01-00-101/08 POLAPGEN-BD "Biotechnological tools for breeding cereals with increased resistance to drought", and by KNOW Poznan RNA Centre, 01/KNOW2/2014 (to KK, AP, ASB, ZSK). AZ was a scholarship holder within the "Scholarship support for PhD students specializing in majors strategic for Wielkopolska's development" project, Sub-measure 8.2.2 Human Capital. IS was supported by the Parent Bridge Program of the Foundation for Polish Science (POMOST/2012-5/7).
Authors' Affiliations
(1)
Department of Computational Biology, Institute of Molecular Biology and Biotechnology, Faculty of Biology, Adam Mickiewicz University, Poznan, Poland
(2)
Department of Gene Expression, Institute of Molecular Biology and Biotechnology, Faculty of Biology, Adam Mickiewicz University, Poznan, Poland
Copyright
© Zielezinski et al. 2015
This is an Open Access article distributed under the terms of the Creative Commons Attribution License (http://creativecommons.org/licenses/by/4.0), which permits unrestricted use, distribution, and reproduction in any medium, provided the original work is properly credited. The Creative Commons Public Domain Dedication waiver (http://creativecommons.org/publicdomain/zero/1.0/) applies to the data made available in this article, unless otherwise stated.